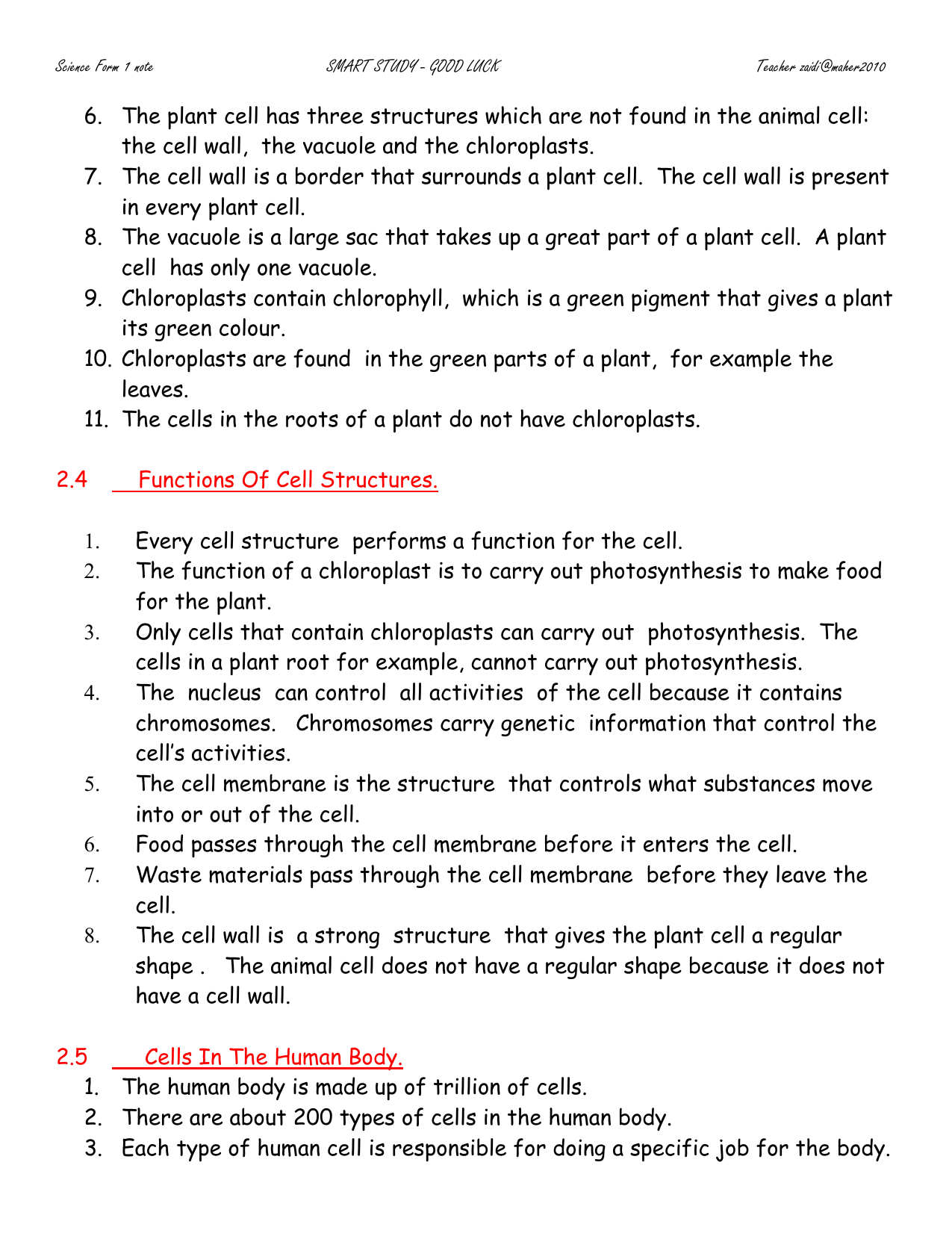 Science Form 1 note
SMART STUDY - GOOD LUCK
Teacher [email protected]
6. The plant cell has three structures which are not found in the animal cell:
the cell wall, the vacuole and the chloroplasts.
7. The cell wall is a border that surrounds a plant cell. The cell wall is present
in every plant cell.
8. The vacuole is a large sac that takes up a great part of a plant cell. A plant
cell has only one vacuole.
9. Chloroplasts contain chlorophyll, which is a green pigment that gives a plant
its green colour.
10. Chloroplasts are found in the green parts of a plant, for example the
leaves.
11. The cells in the roots of a plant do not have chloroplasts.
2.4
1.
2.
3.
4.
5.
6.
7.
8.
Functions Of Cell Structures.
Every cell structure performs a function for the cell.
The function of a chloroplast is to carry out photosynthesis to make food
for the plant.
Only cells that contain chloroplasts can carry out photosynthesis. The
cells in a plant root for example, cannot carry out photosynthesis.
The nucleus can control all activities of the cell because it contains
chromosomes. Chromosomes carry genetic information that control the
cell's activities.
The cell membrane is the structure that controls what substances move
into or out of the cell.
Food passes through the cell membrane before it enters the cell.
Waste materials pass through the cell membrane before they leave the
cell.
The cell wall is a strong structure that gives the plant cell a regular
shape . The animal cell does not have a regular shape because it does not
have a cell wall.
2.5
Cells In The Human Body.
1. The human body is made up of trillion of cells.
2. There are about 200 types of cells in the human body.
3. Each type of human cell is responsible for doing a specific job for the body.