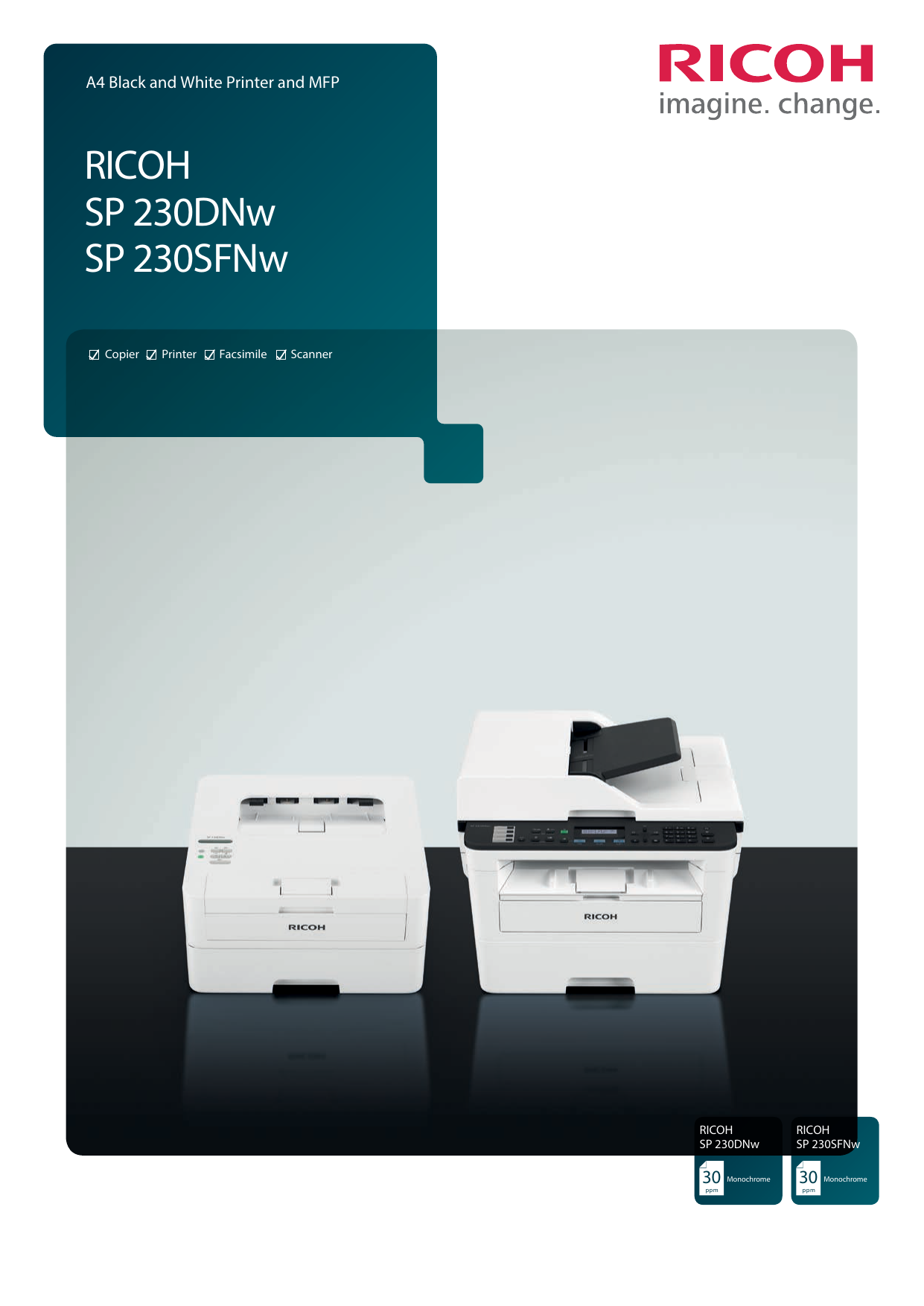 A4 Black and White Printer and MFP
RICOH
SP 230DNw
SP 230SFNw
Copier
Printer
Facsimile
Scanner
RICOH
SP 230DNw
RICOH
SP 230SFNw
30
30
ppm
Monochrome
ppm
Monochrome
Compact and Robust
The SP 230 series are A4, Mono laser printers providing print speed up to 30 pages per minute (ppm). The
SP 230DNw is a single function printer while the SP 230SFNw is a multifunction printer (MFP) providing
copy, print, scan, and fax functions.
The devices provide high-quality prints at 1200 x 1200 dpi resolution, automatic duplex printing, and
support for 60 - 230 g/m2 paper weights. The support for Windows, Macintosh, and Linux operating
systems ensure that the devices can be used in a wide variety of workplaces.
The SP 230DNw and SP 230SFNw come with Wi-Fi Direct connectivity as standard and are Google Cloud
Print-ready, which allows any smart device or PC with a cloud-aware application to print to the devices.
Direct mobile printing from Android and Apple devices are also supported via Mopria and AirPrint
standards respectively.
Additionally, the devices are compact in size and provide quiet operation, leading to greater efficiency
and user productivity especially in smaller office environments.
Productivity at 30ppm
The SP 230 series provides crisp and clear output at
1200 x 1200 dpi resolution, which makes them ideal
for business use without straining the budget.
Support for 60-230 g/m2 paper weights as well as
envelopes enable customers to print a wider variety
of applications in-house.
Enable your mobile workforce
Easy mobile printing via Wi-Fi Direct, Mopria, AirPrint
and Google Cloud Print. No longer locked down to
your desk, print on the go, anytime, anywhere.
The SP 230 series come with standard duplex for mono
printing and color scanning, boosting your work
efficiency.
Environment conscious
SP 230 series features quiet operation that is beneficial
for placement in small rooms.
Reduce paper costs with default duplex print. Cut
energy costs with Sleep Mode when device is inactive.
These devices are compliant with the industry-leading
Energy Star energy saving standard.
RICOH SP 230DNw / SP 230SFNw
MAIN SPECIFICATIONS
MODEL
SP 230DNw
SP 230SFNw
GENERAL
Configuration
Desktop
Technology
Laser (Mono)
Functions
Print
Display
Print, Copy, Scan, Fax
1 line LCD
2 line LCD
Processor
600 MHz
Memory
128 MB
256 MB
Mobile Capability
Airprint, Google Cloud Print, Mopria
Printer Language
GDI
Interface
Ethernet 10Base-T / 100Base-TX, IEEE802.11b/g/n, USB 2.0
Network Protocol
Operating System
TCP/IP
Windows 7/8.1/10, Windows Server 2008/2012/2012 R2/ 2016, MAC OS X10.11 - 10.13, Redhat Enterprise7 x64, Fedora24x32, Fedora25x64, Mageia5 x32,
Mageia5 x64, openSUSE13.2 x32, openSUSE42.2 x64, SUSE Enterprise12.2 x64, Debian8.3.0 x32, Debian8.3.0 x64, Ubuntu17.04 x32, Ubuntu17.04x64,
Ubuntu17.10x64, LinuxMint18 x32, LinuxMint18 x64, Ubuntu14.04 x64
PRINT
Duplex Printing
Auto
Print Speed (A4)
30 ppm (Simplex), 7.5 ppm (Duplex)
First Print Out Time
8.5 seconds or less
Warm Up time
28 seconds or less
600 x 600 dpi (Default)
300 x 300 dpi, 600 x 600 dpi, 1,200 x 1,200 dpi, 2,400 x 600 dpi
Print Resolution
Average Print Volume
400 - 1,000 pages
400 - 1,000 pages
Duty Cycle
15,000 pages/month
COPY
Copy Speed (A4)
-
Document Feeder Type
-
Document Feeder Capacity
-
Resolution
-
Multiple Copy
-
Copy Features
Up to 30 ppm
Automatic Document Feeder
50
600 x 600 dpi (ADF), 1,200 x 1,200 dpi (Platen)
Up to 99
Zoom Range: 25%-400%,
-
Image Quality:
Auto/Text/Photo/Receipt,
Image Density: 5 levels, ID Card Copy
SCAN
Scan Speed (A4 ADF)
-
Mono: 22.5 impressions/minute,
Color: 7.5 impressions/minute
Resolution
-
600 x 600 dpi (ADF)
1,200 x 1,200 dpi (Platen)
Original Size
-
Bundled Drivers
-
Scan To
-
A4
Network TWAIN
Scan to folder, Scan to searchable PDF, Scan to PDF/A, TWAIN scanning
FAX
Circuit
-
PSTN, PBX
Compatibility
-
V34 (Super G3)
Resolution
-
Horizontal: 203 dpi-8dots/mm,
Vertical 98 dpi-3.85dots/mm, 196 dpi-7.7dots/mm, 392 dpi-15.4dots/mm
Transmission Speed
-
Compression Method
-
MH, MR, MMR, JBIG
Reception Features
-
Automatic, Manual, Substitute, Authorised (100 addresses), Time stamp printing, Toner saving mode, Duplex
Other Supported Features
-
adjustment, User parameter settings, User data transfer Transmitter Terminal Identification (TTI), Called Subscriber Identification (CSI), All document
33.6 Kbps with automatic shift down
Memory backup, Quick dial/speed dial, Direct fax number entry, Dual access, User code, Auto reduction, Summer time, User function key, Clock
transfer, Double check destination address, Paperless fax reception, Universal send - simultaneous fax and scan
PAPER HANDLING
Recommended Paper Size
A4, B5(JIS), A5, A6, LT, Executive
Paper Input Capacity
250 sheets (Bypass: 1sheet), Maximum: 251 sheets
Paper Output Capacity
150 sheets
120 sheets
Paper Weight
60 to 163 g/m
2
(Bypass: 60 to 230 g/m
2
)
ECOLOGY
Dimensions (W x D x H)
Weight
356 mm x 361 mm x 183 mm
410 mm x 399 mm x 318 mm
Less than 7.3 kg
Power Consumption (Max)
Less than 11.8 kg
1,104 W or less
Ready Mode
48 W
42 W
Energy Saver (Sleep)
6W
6.2 W
Power Source*
Energy Star
Green Labels
220 - 240 V, 50/60 Hz, 4.6 Amps or less
Energy Star v2.0
Blue Angel Mark (BAM), Hong Kong Energy Saving Label
CONSUMABLES
Toner Cartridges (K) (Regular Yield)
Black: Approx. 1,200 pages
Toner Cartridges (K) (High Yield)
Black: Approx. 3,000 pages
Photo Conductor/Developer Unit
Approx. 12,000 pages
Consumable yield measuring method ISO/IEC 19752
Shipped with Starter Toner that yield approximately (Black: Approx. 700 pages)
www.ricoh-ap.com
All brand and/or product names are trademarks of their respective owners. Specifications and external appearance are subject to change without notice. The colour of the
actual product may vary from the colour shown in the brochure. The images in this brochure are not real photographs and slight di erences in detail might appear. Copyright ©
2017 Ricoh Asia Pacific Pte Ltd. All rights reserved. This brochure, its contents and/or layout may not be modified and/or adapted, copied in part or in whole and/or incorporated
into other works without the prior written permission of Ricoh Asia Pacific Pte Ltd.