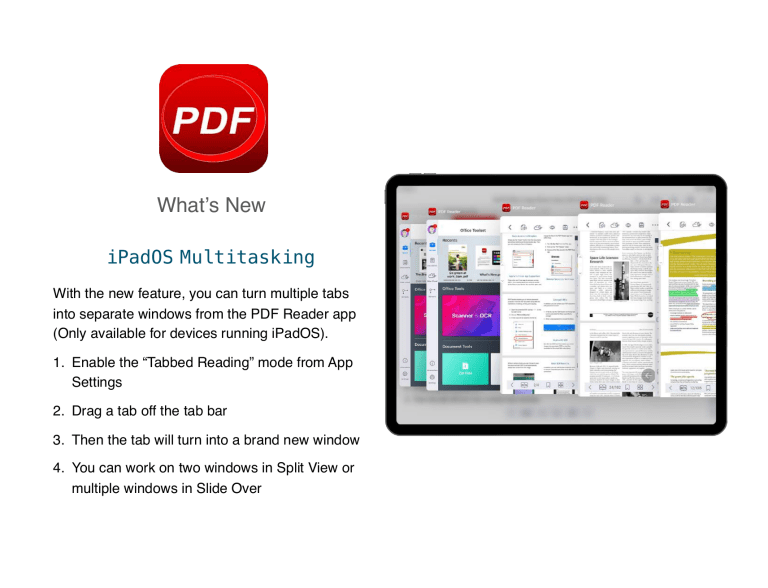 What's New
iPadOS Multitasking
With the new feature, you can turn multiple tabs
into separate windows from the PDF Reader app
(Only available for devices running iPadOS).
1. Enable the "Tabbed Reading" mode from App
Settings
2. Drag a tab off the tab bar
3. Then the tab will turn into a brand new window
4. You can work on two windows in Split View or
multiple windows in Slide Over
iPadOS Dark Mode
This update brings full support for the latest iOS 13
and iPadOS.
You can choose Light or Dark mode from Device
Settings > Display & Brightness. Then the PDF
Reader app will change the theme automatically
based on your system preference.
(PDF Reader Mac version also supports Dark
Mode for devices running macOS Mojave and
later.)
Gain Access to Dropbox
Simply tap the "Import" button from the Documents
tab without switching to the Connection tab. Then
you can access you files on Dropbox.
mange the files in the PDF Reader app from
within Files.
1. Tap "On My iPad" from the Files app.
2. Find out the "PDF Reader" folder.
3. Access all the files stored in the PDF Reader
app.
Apple's Files App Supported
Files is the new Finder app for devices running
iOS11. It is a central place from which to access
all the files on your device. You can find, open, and
Remove Security Settings
PDF Reader enables you to remove password
protection from the PDF document along with the
restrictions on editing, printing, and copying.
1. Open the protected PDF and tap
top right corner.
2. Choose "Remove Security".
3. A new copy will be saved to the file list.
Encrypt PDFs
In addition, you can protect your PDF documents
with passwords as well.
on the
1. In file list, tap the "Edit" button on the top right
corner and select the file(s) you'd like to
encrypt.
2. Enter a new password to encrypt the file(s).
Scan with OCR
We offer the OCR tool that enables you to turn
images into searchable PDFs or text files
(available for Document 365 subscribers).
While in camera mode, you can choose to scan
the document with OCR. It will automatically
extract text content from the image.
Edit OCR Results
In addition, you can edit the text content to correct
or remove unwanted part of the result after the
conversion.