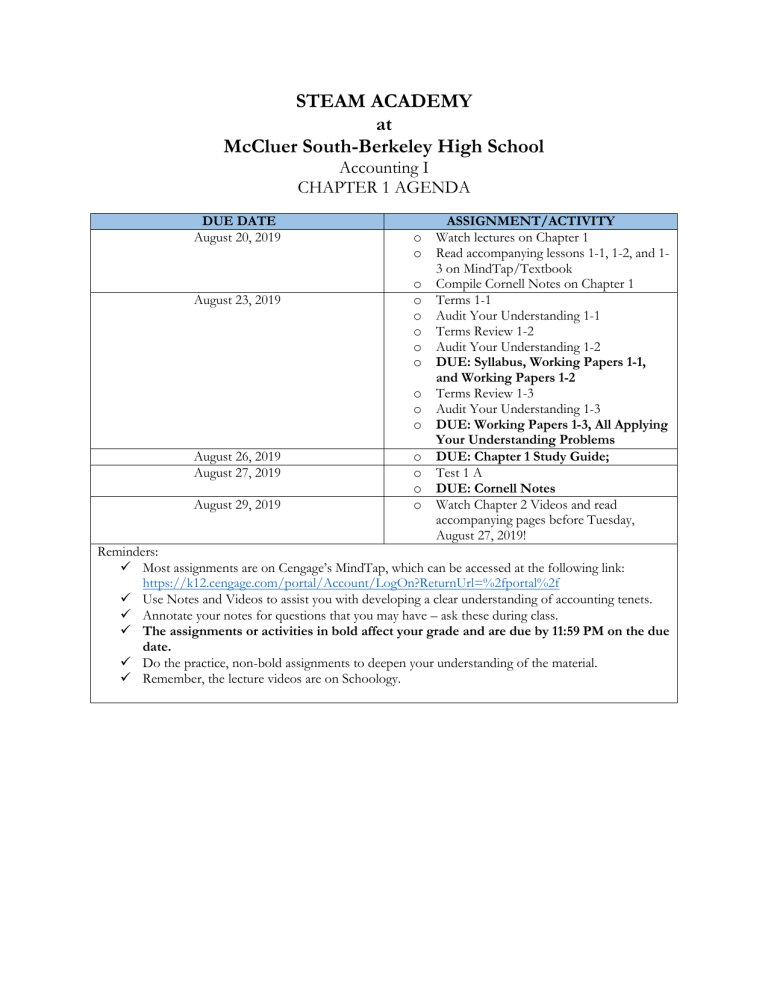 STEAM ACADEMY
at
McCluer South-Berkeley High School
Accounting I
CHAPTER 1 AGENDA
DUE DATE
August 20, 2019
August 23, 2019
o
o
o
o
o
o
o
o
o
o
o
August 26, 2019
August 27, 2019
August 29, 2019
o
o
o
o
ASSIGNMENT/ACTIVITY
Watch lectures on Chapter 1
Read accompanying lessons 1-1, 1-2, and 13 on MindTap/Textbook
Compile Cornell Notes on Chapter 1
Terms 1-1
Audit Your Understanding 1-1
Terms Review 1-2
Audit Your Understanding 1-2
DUE: Syllabus, Working Papers 1-1,
and Working Papers 1-2
Terms Review 1-3
Audit Your Understanding 1-3
DUE: Working Papers 1-3, All Applying
Your Understanding Problems
DUE: Chapter 1 Study Guide;
Test 1 A
DUE: Cornell Notes
Watch Chapter 2 Videos and read
accompanying pages before Tuesday,
August 27, 2019!
Reminders:
 Most assignments are on Cengage's MindTap, which can be accessed at the following link:
https://k12.cengage.com/portal/Account/LogOn?ReturnUrl=%2fportal%2f
 Use Notes and Videos to assist you with developing a clear understanding of accounting tenets.
 Annotate your notes for questions that you may have – ask these during class.
 The assignments or activities in bold affect your grade and are due by 11:59 PM on the due
date.
 Do the practice, non-bold assignments to deepen your understanding of the material.
 Remember, the lecture videos are on Schoology.