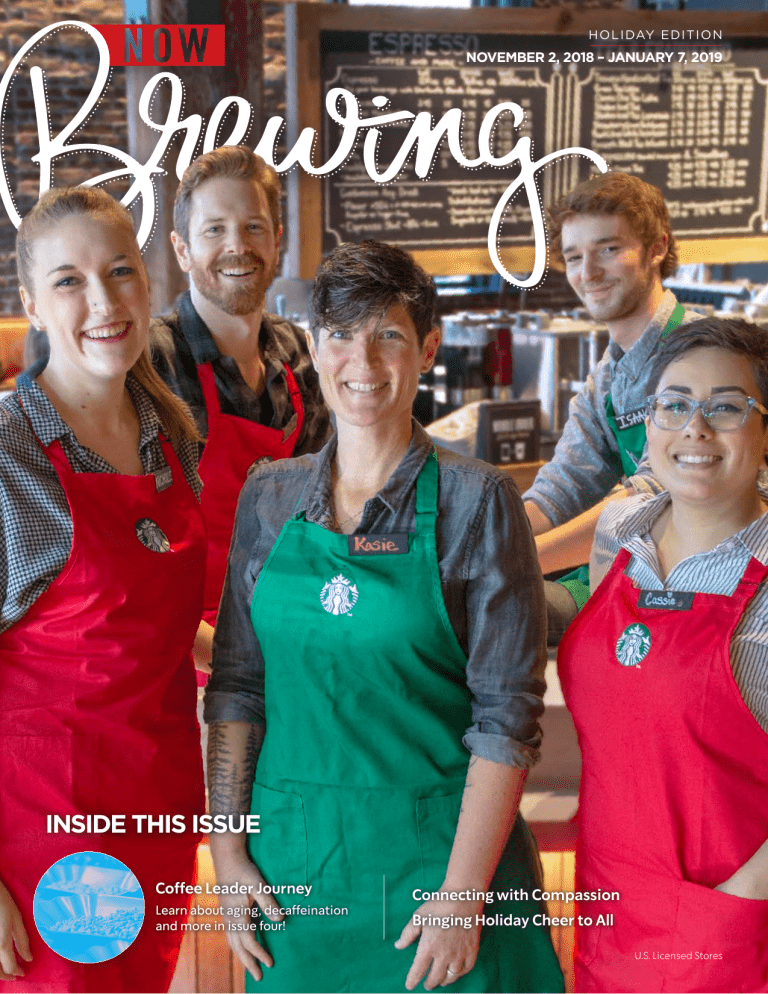 HOLIDAY EDITION
NOVEMBER 2, 2018 – JANUARY 7, 2019
INSIDE THIS ISSUE
Coffee Leader Journey
Learn about aging, decaffeination
and more in issue four!
Connecting with Compassion
Bringing Holiday Cheer to All
U.S. Licensed Stores
making a difference
IN A CUSTOMER'S DAY
When Susanne and her son, Luca, walked into the
Starbucks in Levittown, NY, only a couple of minutes
went by when Nicole V., the store manager, noticed that
Luca began to get antsy while Susanne looked a little
worried. Nicole saw 8-year-old Luca walking around the
store, looking in the pastry case and then walking back
and talking to his mom. Here is a portion of her post:
"Upon entering (the store), we were greeted by a woman
dressed in black with very short hair, possibly the
manager. My son, Luca, was with me.
Luca is a special needs child. His disabilities are worn
on the interior, so most people have no clue unless his
behavior is an indicator.
We are there (in the store) every other week, and he gets
the same items. He walked around and asked me what
everything said. Then he wanted something, and they no
longer had them. I was waiting for the meltdown, and I
watched his hands get all intertwined with each other.
The manager came to the register and showed him other
choices that he might like, and he chose a croissant.
She spoke to him, like a person, like someone who
mattered. She asked his name for the order. We walked
down to the end of the counter waiting for his tea and
she said, 'Luca, I have your croissant,' and came over to
deliver it to him. When we left, she spoke from behind
the counter, 'Bye, Luca!' He looked at me and said, 'That
lady was so nice to me.' He mattered to someone. He was
acknowledged, and this woman who was being kind made
a difference to him."
V.
Nicole
O N T H E COV E R
Kasie M. and team from store #49976 in Portland, OR
How do you and your team connect with compassion?
"It all starts with listening and making it easy to be a customer.
right questions and be respectful. Understand that not every
By removing any confusion or barriers, we are allowed to truly
customer expects the same experience, and that is okay. It is
connect with compassion. Never make assumptions. Ask the
up to us to make every experience unique for every customer."
© 2018 Starbucks Coffee Company. Confidential. For internal use only. Do not share with customers.
LEVITTOWN, NY
Nicole wasn't aware of the personal struggles that Luca
faces and the positive impact she had on him until
Susanne told her later. But she did pick up on their
cues that day.
For Nicole, the interaction reminded her that we have
great opportunities to meet customers from all walks of
life and being present and connecting with compassion
help us provide the best Starbucks Experience possible.
"I could tell he was disappointed that we didn't have his
sandwich, so I wanted to help him make another choice,"
Nicole said. "I have twin girls and know how hard it can
be for parents when your kids aren't happy, especially
in public."
"I want to create a third place that feels like home —
where everyone feels welcome and comfortable," she
said. "I like to engage with customers as if I've known
them for years to make them feel relaxed and want to
come back for the personal connection."
Nicole looks for customer cues to help her make an
authentic connection, just as she did with Luca. The
kindness and respect that she showed Luca and empathy
and compassion she felt toward Susanne made a lasting
impression on them.
B R I N
G I N G
H O L I
D A Y
CHEER
TO ALL
Every year, you and your
customers look forward to
the much-anticipated arrival
of Holiday at Starbucks. Will
the cups be red? What will
the store look like and what
merchandise will we carry?
When customers walk into the
store after the Holiday set, they will
not only feel the joy and magic of
the holidays, they can find special
gifts to share with friends and
family. This year, based on barista
and customer feedback, the lobby
will be stocked with an assortment
of products that make it easy for
everyone, from the planners to
the last-minute shoppers, to find
that something special. There will
be more mugs and tumblers, more
holiday designs and more sparkle!
While focusing on the customer
experience is at the core of
everything we do, there is
something special about Holiday
that brings this to life more than
any time of the year.
When you're in the lobby stocking
and cleaning, take the time to
connect with customers. Find out
what they are looking for and share
your favorites! The holidays are
all about connection and taking
the time to help customers find
the right gift is a great way to
connect and make their Starbucks
Experience even more magical.
Juniper
GREETINGS
E
This Holiday brings an
innovation unlike anything your
store has seen before! Inspired
by a top seller at the Starbucks
Reserve® Roastery in Seattle, the
Juniper Latte's evergreen aroma
combines with tingly sage and a
dusting of Pine Citrus sugar. This
beverage is designed to be less
indulgent than other Holiday
classics, appealing to customers
looking for a flavorful, wintry
beverage!
V
E
TO
R
G R E E N
T I N G LY
S
A
G
E
P
I
N
E
C I T R U S
H O L I D AY
FFEE COFFEE COFF
SNA
CKA
BLE
SNEAK
PEEK!
BAN.DO
S PA R K L E
S PA R K L E
© 2018 Starbucks Coffee Company. Confidential. For internal use only. Do not share with customers.
VETERANS DAY
NOVEMBER 11
On Veterans Day, a simple way to thank your veterans and active duty
service member customers and their spouses for their service is by giving
them a tall hot brewed coffee on us. NEW this year, Starbucks will donate
$.15 for every brewed coffee purchased on November 11 to Blue Star
Families, a Military Service Organization supporting military families.
Blank postcards will also be available to baristas and customers, to fill out
with a greeting for deployed troops.
WEEK OF CHEER
WORLD AIDS DAY
NOVEMBER 26 – DECEMBER 2
DECEMBER 1
The holidays are a season of giving,
and it can go beyond buying your
aunt a mug for Christmas — it's a time
to connect with your community,
give an #extrashotofgood and
perhaps make the season brighter
for someone in need.
For the first time ever, Starbucks
is taking a week during the
holidays to focus on volunteering.
We'll be partnering with various
organizations, or you can also look
for a service project or create your
own on this website:
starbucks.volunteermatch.org
T H E M AG I C O F
Giving
Back
DURING
T H E H O L I DAY S
On World AIDS Day, December 1;
Starbucks will contribute $.20 for
every Starbucks latte purchased
across North America to the Global
Fund. This is the 11th year we've
teamed up with (RED).
To date we've contributed over $15 million to
the Global Fund to help fight AIDS. Chalk your
name tag red to support the cause!
THE STARBUCKS
FOUNDATION
ETHOS® WATER
FUND
The Starbucks Foundation is a
separate 501(c)(3) charitable
organization that receives funding
from Starbucks Corporation and
private donations. Founded in 1997,
The Starbucks Foundation originally
funded literacy programs across
North America. Now the foundation
strengthens communities around
the world by providing grants and
advancing opportunities for youth,
veterans, refugees and coffee,
tea and cocoa farmers and their
families, supporting communities
affected by disaster and promoting
civic engagement.
If your store sells Ethos® Water,
that's one way that you have helped
The Starbucks Foundation! For every
sale of a bottle of Ethos® Water,
$.05 is contributed to the Ethos®
Water Fund, which is managed by
the foundation. Ethos® Water was
created to help raise awareness and
provide clean water to the 1 billion
individuals who don't have access
to clean drinking water. The Ethos®
Water Fund supports grants to
nonprofit organizations working to
provide access to clean, safe water
and related educational programs
both in the U.S. and globally. So far
over $20 million has been granted,
benefiting over 500,000 people
around the world!
Mawazo Mirindi, member of a cooperative
supported by the partnership between The
Starbucks Foundation and the Eastern Congo
Initiative (ECI)
© 2018 Starbucks Coffee Company. Confidential. For internal use only. Do not share with customers.
BEVERAGES
RETURNING 11|2
TOASTED WHITE
CHOCOLATE MOCHA
Toasted White Chocolate Mocha
sauce, espresso and steamed
milk topped with whipped cream,
red Holiday Sugar Sparkles.
CHESTNUT PRALINE LATTE
Caramelized chestnuts and holiday
spices with espresso and steamed
milk. Topped with whipped cream
and Chestnut Praline topping.
CARAMEL BRULÉE LATTE
Espresso, steamed milk and rich
Caramel Brulée Sauce, topped
with whipped cream and
Caramel Brulée topping.
Tear poster here to display.
New
LAYERED
FRAPPUCCINO®
BLENDED
BEVERAGE
BUILD
Peppermint
Hot Chocolate
gets Dark
Chocolate
curls, too!
PEPPERMINT MOCHA
Espresso, steamed milk, Mocha
sauce and Peppermint syrup.
Topped with whipped cream
and Dark Chocolate curls.
GINGERBREAD LATTE
Sweet and spicy Gingerbread syrup
with espresso and steamed milk,
topped with whipped cream and
ground nutmeg.
EGGNOG LATTE
Steamed eggnog and nonfat milk
combined with espresso and
topped with ground nutmeg.
CHECK OUT BEVERAGE RECIPE CARDS FOR DRINK BUILDS, CUSTOMIZATIONS AND CUP IDS.
Juniper
LAUNCHING 11|27
LATTE
New
RETURNING 11|2
SNICKERDOODLE
HOT CHOCOLATE
Steamed milk with White Chocolate
Mocha sauce and Cinnamon Dolce
syrup, topped with whipped cream
and Cinnamon Dolce sprinkles.
RETURNING 12|26
Espresso, steamed milk and Juniper syrup topped
with foam and a dusting of Pine Citrus sugar.
BLACK & WHITE MOCHA
Espresso and steamed milk
with a swirl of white and
dark chocolate, topped with
whipped cream and a stripe
of chocolate sequins.
FOOD
LAUNCHING 11|2
SNOWMAN COOKIE
A buttery shortbread cookie topped
with white chocolate, dressed for the
season with a scarf and earmuffs.
CRANBERRY BLISS ® BAR
Love it! A blondie cake base, topped
with sweet cream cheese icing, tart
dried cranberries and orange
flavored drizzle.
New
PISTACHIO HONEY
CROISSANT
Layered with ground
pistachios and sweet
honey icing.
CHOCOLATE SWIRL BRIOCHE
Know it! Layered with a dark chocolate
filling and a hint of cinnamon, lightly
glazed with honey syrup.
New
CHECK OUT FOOD CARDS FOR SHELF LIFE, THAW TIMES AND ALLERGENS.
SUGAR PLUM CHEESE DANISH
A croissant pastry topped with a tangy
creamy cheese filling and plum jam.
New
New
PENGUIN CAKE POP
Vanilla cake and icing, dipped in
chocolatey coating with a penguin face.
PEPPERMINT BROWNIE CAKE POP
Peppermint chocolate cake mixed with
buttercream and candy cane pieces,
dipped in candy coating and sprinkled
with candy cane bits.
GINGERBREAD LOAF CAKE
The sweet and spicy flavor of ginger, topped
with orange zest-infused vanilla icing.
HOLIDAY TURKEY & STUFFING PANINI
Serve it with pride! Sliced turkey breast topped with
cranberry-herb stuffing, savory herbs and turkey gravy,
served on warm and toasty ciabatta bread.
ALSO FEATURED
ROASTED HAM & SWISS
BREAKFAST SANDWICH
Delicately flavored ham, Swiss cheese and
scrambled eggs on our signature croissant.
COFFEE
LAUNCHING 11|2
CHRISTMAS BLEND
ESPRESSO ROAST
Dense, spicy and sweet. A delicious variation
of our beloved signature Espresso.
These special coffees are anticipated all
year long. Take a look at when we first
began offering these holiday favorites.
VIA ® INSTANT PEPPERMINT
MOCHA LATTE
Rich and creamy — an instant holiday classic.
HOLIDAY BLEND
A balanced blend of coffees from Latin
America and Indonesia with layers of
sweet maple notes.
EST. 1984
2008
2010
THANKSGIVING BLEND
Herbal notes from Sumatran beans and
distinctive soft spice from the Guatemala
Antigua region, it pairs beautifully with
dishes savory and sweet.
CHRISTMAS BLEND
A tradition for over 30 years! Distinctive
cedary spice layers balanced by a sweet,
rich smoothness.
Also available in ground, decaf whole bean, VIA®.
2012
SE
ASONAL
20
HA
R V EST
18
2013
2015
STA R B U C KS R E S E RV E ®
CHRISTMAS BLEND 2018
Woodsy aromas and flavors of
sweet mandarin and mulled spices.
It's the gift of extraordinary flavor and
a celebration of all the season's beauty.
The design on this card was created with Costa
Rican artist Erykah Zeledón Salazar. It tells the
story of two lush coffee-growing ecosystems
coming together in this year's distinctive blend.
CHECK OUT COFFEE NOTES FOR FLAVOR PROFILES, TASTING IDEAS AND STORIES.
LAUNCHING 11|2
STARBUCKS RESERVE® COFFEES
PANAMA CARMEN ESTATE
Juicy orange tones with milk
chocolate and toffee notes. Bright
with pronounced citrus notes, rich
volcanic soil and the perfect climate
contribute to the quality of this coffee.
AG E D S U M AT R A V I N TAG E 2 01 8
Deep and robust flavors with earthy
cedar notes. Ripe Sumatran coffee
cherries are harvested and aged in
burlap bags to develop peak flavors
and an unforgettable experience.
© 2018 Starbucks Coffee Company. Confidential. For internal use only. Do not share with customers.
WHAT'S HAPPENING
NOVEMBER
2
Licensed Exclusive Bakery Offer
23
Black Friday
Starbucks® Happy Hour
26
Week of Cheer
Holiday Reusable Cup Giveaway
27
2 for $3 cookies and cake pops all day!
Through November 26
Through December 2
Continues through Holiday!
Starbucks for Life
Holiday Reusable Cup Offer
Through December 31
$.50 off handcrafted Holiday beverages after 2 p.m.
Through January 7
Spend $20 and Sa
Through December 10
While supplies last
DECEM
4
Daylight Savings Time ends
7
Licensed Exclusive Beverage Offer
1
World AIDS Day w
Through November 11
3
Hanukkah
$3 Grande Holiday handcrafted beverage.
Through December 10
11
Veterans Day
15
Licensed Exclusive Warming Offer
18
50% off a warm and toasty breakfast sandwich with
purchase of any Grande or larger handcrafted beverage.
40% off Cranberr
Through January 7
Starbucks Rewards™ Shopping Event
50 Bonus Stars with any purchase of $20 or more.
30% off Holiday At Ho
Merchandise with the
handcrafted beverag
Through December 25
Through November 21
20
Last Minute Gifti
24
Christmas Eve
Black Friday Sale Cold Cup Offer
25
Christmas Day
Through November 26
26
End of Year Holid
Through November 23
30% off all 16 oz. cold cups
30% off Cranberry Bliss® Bar Tray
Through January 7
Through December 17
Starbucks Reward
Gift with Purchase
Through January 9
Black Friday offer! Free tote bag with $25 purchase.
While supplies last
Brewed Coffee Tumbler
Customers can return throughout January
for a free fill-up of brewed coffee or tea.
While supplies last
22
Thanksgiving Day
26
Kwanzaa
Through January 1
31
New Year's Eve
JANUARY
1
New Year's Day
Save $5
@tremo
ss_3
Raleigh, NC
e
MBER
h, CA
Huntington Beac
with (RED)
ing
ome Coffee and
e purchase of a
ge.
ry Bliss® Bar Tray (select stores)
day Lobby Sale
rds™ Sleeves
70% of all Starbucks Card activations
occur during Holiday; it's a great time
to share with customers why there is so
much more to a Starbucks Card when
they sign up for Starbucks Rewards™.
FOR THE GIFTEES
Make sure to register the Starbucks
Card that you got for the holidays
and download the app — that way
you can pay digitally and earn Stars.
Spread the cheer — you can
also Gift through the app!
Send gift cards to friends
and family — they make
perfect last minute presents
or are a great way just to
show someone you're
thinking of them.
check out the new
FOOD SAFETY ASSESSMENT
To support the goal of always being Clean, Safe & Ready for
customers, a new Food Safety Assessment will replace the
Quality Assurance Standards Assessment (QASA).
Coming Soon: New Cleaning Tools
This new way of assessing food safety
will help you focus on key behaviors
and standards and indicate when there
is a need for improvement. The new
assessment content focuses on what
matters most to food safety without
jeopardizing cleanliness, facilities
standards or food safety.
There will be distinguished foodcontact vs non-food-contact tools
to make cleaning easier for you!
As we continue to improve our food safety
culture and systems, it is important to
remember we strive for excellence every
day for customers, families and ourselves.
Providing the Starbucks Experience in all
we do ensures we deliver the best to each
customer, every day.
Share your #tobelsstarbucks moments:
/starbuckspartners
@starbucksprtnrs
@starbuckspartners
/starbucksprtnrs
© 2018 Starbucks Coffee Company. Confidential. For internal use only. Do not share with customers.