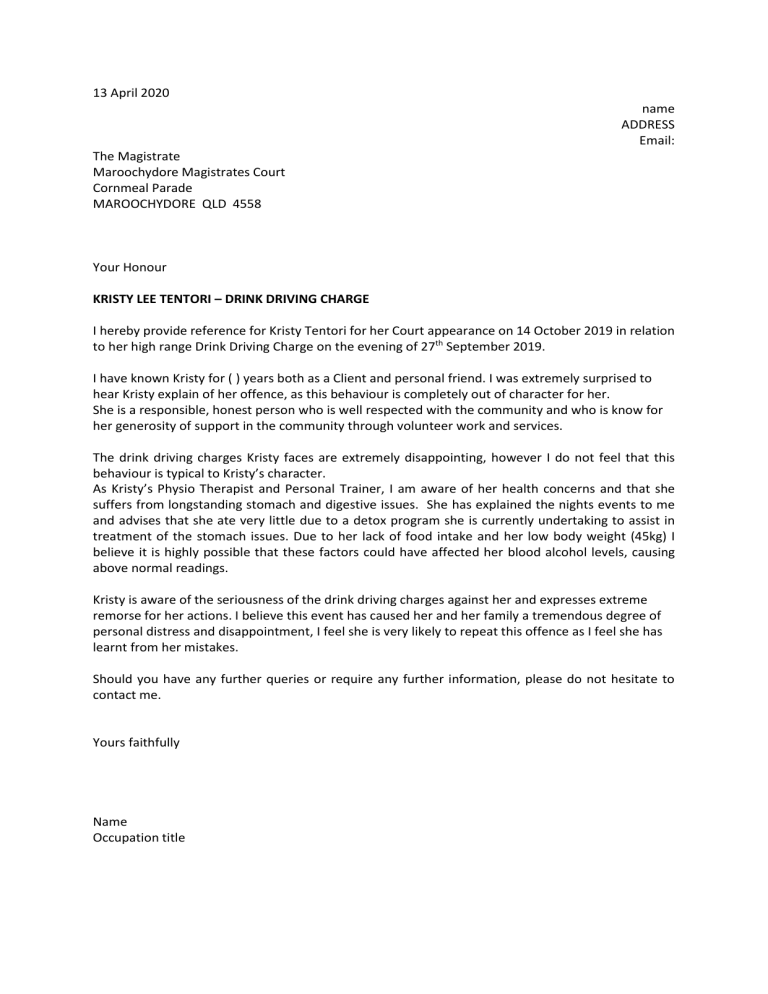 13 April 2020 name
ADDRESS
Email:
The Magistrate
Maroochydore Magistrates Court
Cornmeal Parade
MAROOCHYDORE QLD 4558
Your Honour
KRISTY LEE TENTORI – DRINK DRIVING CHARGE
I hereby provide reference for Kristy Tentori for her Court appearance on 14 October 2019 in relation to her high range Drink Driving Charge on the evening of 27 th September 2019.
I have known Kristy for ( ) years both as a Client and personal friend. I was extremely surprised to hear Kristy explain of her offence, as this behaviour is completely out of character for her.
She is a responsible, honest person who is well respected with the community and who is know for her generosity of support in the community through volunteer work and services.
The drink driving charges Kristy faces are extremely disappointing, however I do not feel that this behaviour is typical to Kristy's character.
As Kristy's Physio Therapist and Personal Trainer, I am aware of her health concerns and that she suffers from longstanding stomach and digestive issues. She has explained the nights events to me and advises that she ate very little due to a detox program she is currently undertaking to assist in treatment of the stomach issues. Due to her lack of food intake and her low body weight (45kg) I believe it is highly possible that these factors could have affected her blood alcohol levels, causing above normal readings.
Kristy is aware of the seriousness of the drink driving charges against her and expresses extreme remorse for her actions. I believe this event has caused her and her family a tremendous degree of personal distress and disappointment, I feel she is very likely to repeat this offence as I feel she has learnt from her mistakes.
Should you have any further queries or require any further information, please do not hesitate to contact me.
Yours faithfully
Name
Occupation title