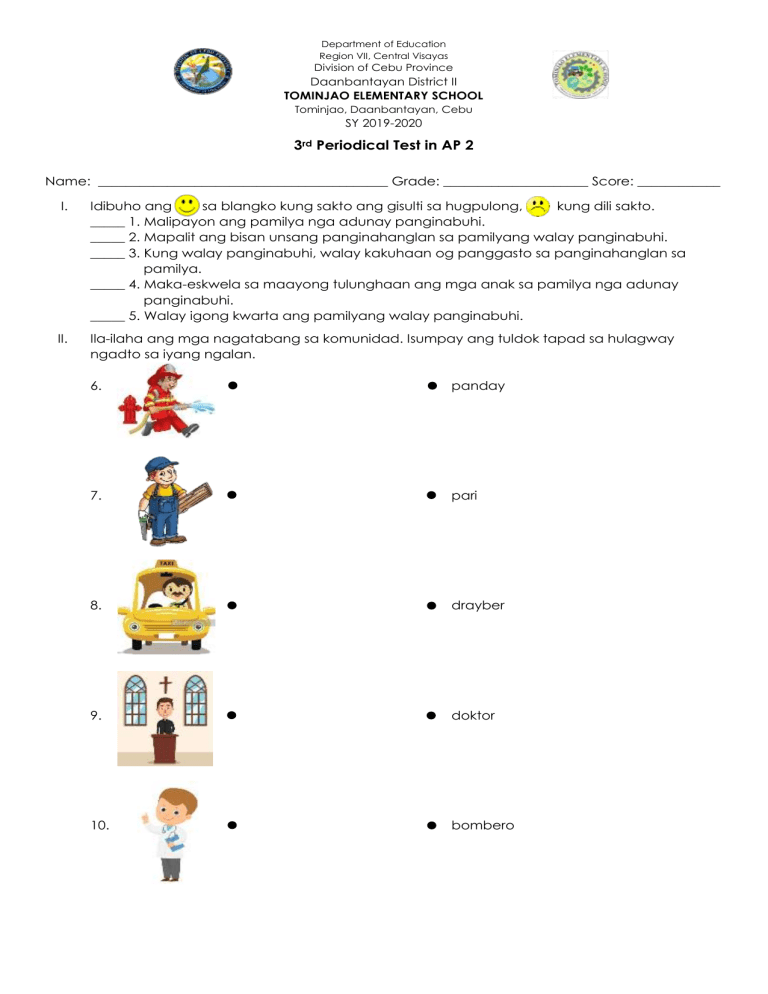 Department of Education
Region VII, Central Visayas
Division of Cebu Province
Daanbantayan District II
TOMINJAO ELEMENTARY SCHOOL
Tominjao, Daanbantayan, Cebu
SY 2019-2020
3rd Periodical Test in AP 2
Name: __________________________________________ Grade: _____________________ Score: ____________
I.
Idibuho ang
sa blangko kung sakto ang gisulti sa hugpulong,
kung dili sakto.
_____ 1. Malipayon ang pamilya nga adunay panginabuhi.
_____ 2. Mapalit ang bisan unsang panginahanglan sa pamilyang walay panginabuhi.
_____ 3. Kung walay panginabuhi, walay kakuhaan og panggasto sa panginahanglan sa
pamilya.
_____ 4. Maka-eskwela sa maayong tulunghaan ang mga anak sa pamilya nga adunay
panginabuhi.
_____ 5. Walay igong kwarta ang pamilyang walay panginabuhi.
II.
Ila-ilaha ang mga nagatabang sa komunidad. Isumpay ang tuldok tapad sa hulagway
ngadto sa iyang ngalan.
6.
panday
7.
pari
8.
drayber
9.
doktor
10.
bombero
III.
Bag-oha ang posisyon sa mga letra aron maporma ang ngalan sa pangulo/lider sa
komunidad. Isulat ang ngalan sulod sa giya nga kahon.
11. ohsknela
14. adagkaw
12. nakapit
15. ormay
13. manchair
IV.
Biktima ang kasikbit ninyong lugar sa usa ka bagyo. Nangayo sila og mga donasyon. Asa sa
mga mosunod nga butang ang pwede nimo ihatag para tubagon ilang panginahanglan?
V.
Butangi og / kung ang mga bahandi gikan sa hulma sa yuta, X kung ang mga bahandi gikan
sa hulma sa tubig.