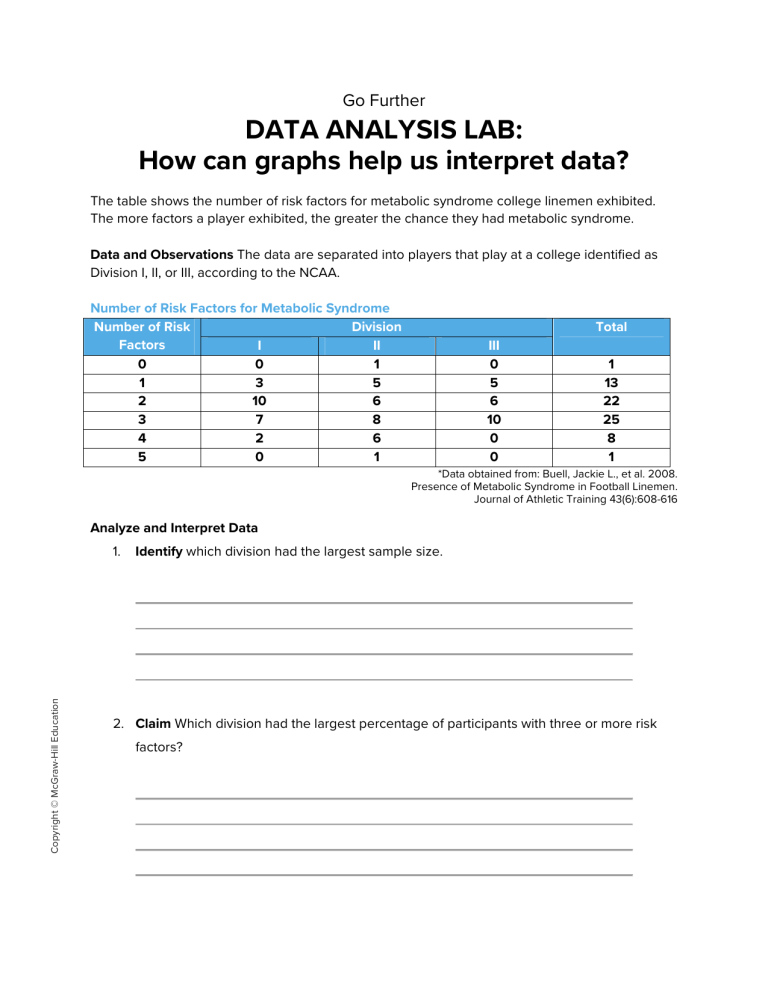 Go Further
DATA ANALYSIS LAB:
How can graphs help us interpret data?
The table shows the number of risk factors for metabolic syndrome college linemen exhibited.
The more factors a player exhibited, the greater the chance they had metabolic syndrome.
Data and Observations The data are separated into players that play at a college identified as
Division I, II, or III, according to the NCAA.
Number of Risk Factors for Metabolic Syndrome
Number of Risk
Division
Factors
I
II
0
0
1
1
3
5
2
10
6
3
7
8
4
2
6
5
0
1
Total
III
0
5
6
10
0
0
1
13
22
25
8
1
*Data obtained from: Buell, Jackie L., et al. 2008.
Presence of Metabolic Syndrome in Football Linemen.
Journal of Athletic Training 43(6):608-616
Analyze and Interpret Data
Copyright © McGraw-Hill Education
1.
Identify which division had the largest sample size.
2. Claim Which division had the largest percentage of participants with three or more risk
factors?
3. Evidence Construct a line graph that shows the number of risk factors and the number of
athletes that possess these risk factors.
4. Reasoning If you were a doctor treating these athletes, what would your advice to
Copyright © McGraw-Hill Education
them be?