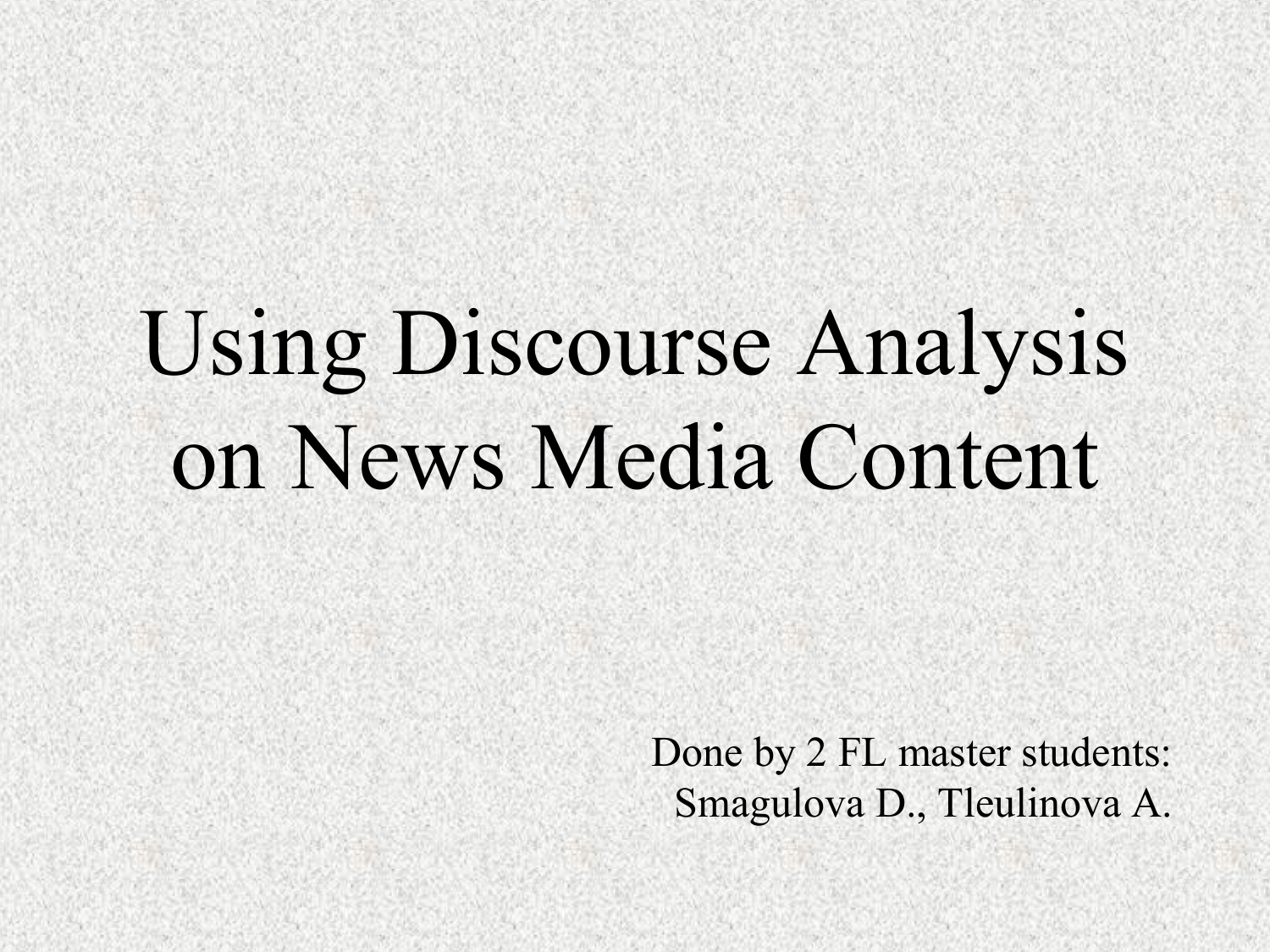 Using Discourse Analysis
on News Media Content
Done by 2 FL master students:
Smagulova D., Tleulinova A.
Outline
• Defining discourse analysis
• Discourse and Power
• Three key discourse analytical
frameworks
– Michel Foucault
– Teun A. van Dijk
– Norman Fairclough
• Flaws of existing frameworks for
analysis of news media texts
• Critique of suggested improvements
Defining Discourse Analysis
• Two main definitions
– As social action and interaction between
human agents
– As social construction of reality that
creates a knowledge system; influences
our social practice and relations
• Effective qualitative supplement to
quantitative content analysis
• Considers link between media content and
wider sociopolitical framework
Discourse and Power
• Discourse linked to power and social
interests
• Language use and social practice
framed by institutions
– Institutions determine rules and and
positions of agents
Three Key Scholars
• Michel Foucault's system of representation
• Teun van Dijk's socio-cognitive approach
• Norman Fairclough's critical discourse
analysis
Foucault's System of
Representation
• Discourse as system of representation
• Discourse – Knowledge – Power
• Discursive formation can sustain "regime of
truth"
• Subjects constructed through discourse
• Opposes Marxist theory of ideology
• Intertextuality and interdiscursivity
Foucault's System of
Representation
• Criticisms:
– No structured and comprehensive methodology
– Subject as mere product of discursive practices
Van Dijk's Socio-Cognitive
Approach
• Reducing textual info to fundamental themes
• On thematic level:
– Looks at overall description of text/ macrostructures
– Reduces complicated info to macro-propositions
• On schematic level:
– Analyse schematic structures that influence form of the
text
Van Dijk's Socio-Cognitive
Approach
• Criticisms:
– Ignores intertextual relations
– Difficult to compare across large number of
texts
– Uncritical reproduction of power relations and
ideologies
Fairclough's Critical Discourse
Analysis
• Discourses influence social relations and
knowledge systems through language
• Group together to form discursive order
• Discourse analysis = analysis of discursive event +
analysis of discursive order
• Three dimensions:
– Analysis of 1) language texts, 2) discourse practice, 3)
discursive events as instances of sociocultural practice
• Impt terms: Discourse practice, intertextuality
Fairclough's Critical Discourse
Analysis
• Criticisms:
– Textual-oriented approach
– Over-ambitious methodical frame
– Questionable linkage between textual
description and interpretation
– Lack of understanding of human agency
Discourse Analysis for News
• Shaping presentation of media texts
– Professional ideology of journalists, news
organizations
– State and corporate pressures
– Ownership of media
– Profit motivation of news organization
Discourse Analysis for News
• Key considerations neglected in current
frameworks
–
–
–
–
Origins of competing discourses
Presence of divergent social accounts
Influence of external factors
Meaning of the text to different audiences
Discourse Analysis for News
• Other issues
–
–
–
–
–
Accuracy of representations
Views included/ excluded in a text
Rhetoric of political stories
Time-sensitivity
Interaction between discourse and social
realities: Circulation of meaning
Suggested Improvements
• Carvalho (2000)
– Textual analysis
•
•
•
•
Language and rhetoric
Discursive strategies and processes
Ideological standpoints
(Surface descriptors, objects, actors)
– Contextual Analysis
• Comparative-synchronic analysis
• Historical-diachronic analysis
Suggested Improvements
• Pros
– Intertextual and contextual
– Time-sensitive
– Accounts for journalistic intervention
• Cons
– Neglects production processes of text and
audience reception
Suggested Improvements
• Greg Philo (2007), Glasgow University
Media Group
– Interviews and focus groups with journalists
and audiences
– E.g. Coverage of Israeli-Palestinian conflict in
the UK
Israeli-Palestinian Conflict
• Reports on killing of young Palestinian boy
Mohd Al-Durrah in Oct 2000
• Images of him and his father crouched
against wall widely shown
Israeli-Palestinian Conflict
• Israelis issued statement that boy's death
was unintentional
• Israelis focused on "war on terror": Israel as
threatened and "responding" to attacks
• Palestinians rejected this account
• Israeli view dominant in news
Israeli-Palestinian Conflict
• Influences on UK journalists
–
–
–
–
–
Strong support in US for Israel
Close political link between UK and US
Well-organized lobbying and public relations
Views of political and public figures
Aim for balance: Sympathetic, acknowledge
boy killed by Israelis
Israeli-Palestinian Conflict
• Audience reception of messages
– Reproduced content and structure of news
progs
• Little reference to Palestinian viewpoint
– Reproduced structure and sequence of accounts
based on news reports
• Reorganized memories to give meaning to the event
Conclusion
• Need to analyze media texts against total
system
• Consider processes of production, content,
reception and circulation
• Comprehensive discourse analysis: Better
understanding of generation and
reproduction of social meanings through
news media
References
1.Fairclough, N.L. (1985) Critical and Descriptive Goals in Discourse
Analysis , Journal of Pragmatics 9: 739-63. Fairclough, N. (1989)
Language and Power. London: Longman.
2. Foucault, M. (1980) Power/Knowledge: Selected Writings and
Other Interviews 1972- l977, ed. C. Gordon. New York: Pantheon.
3. Van Dijk, T.A. (1984). Prejudice in Discourse. Amsterdam:
Benjamins. Van Dijk, T.A. (19187a) Communicating Racism.
Newbury Park. CA: Sage.
4.Van Dijk, T.A. (1987b) Episodic Models in Discourse Processing ,
in R. t Horowitz and S.J. Samuels (eds) Comprehending Oral and
Written Language, pp. 161-96. New York: Academic Press.
5.Van Dijk, T.A. (1989a) Social Cognition and Discourse , in H. Giles
and R.P. Robinson (eds) Handbook of Social Psychology and
Language, pp. 163-83. Chichester: Wiley.