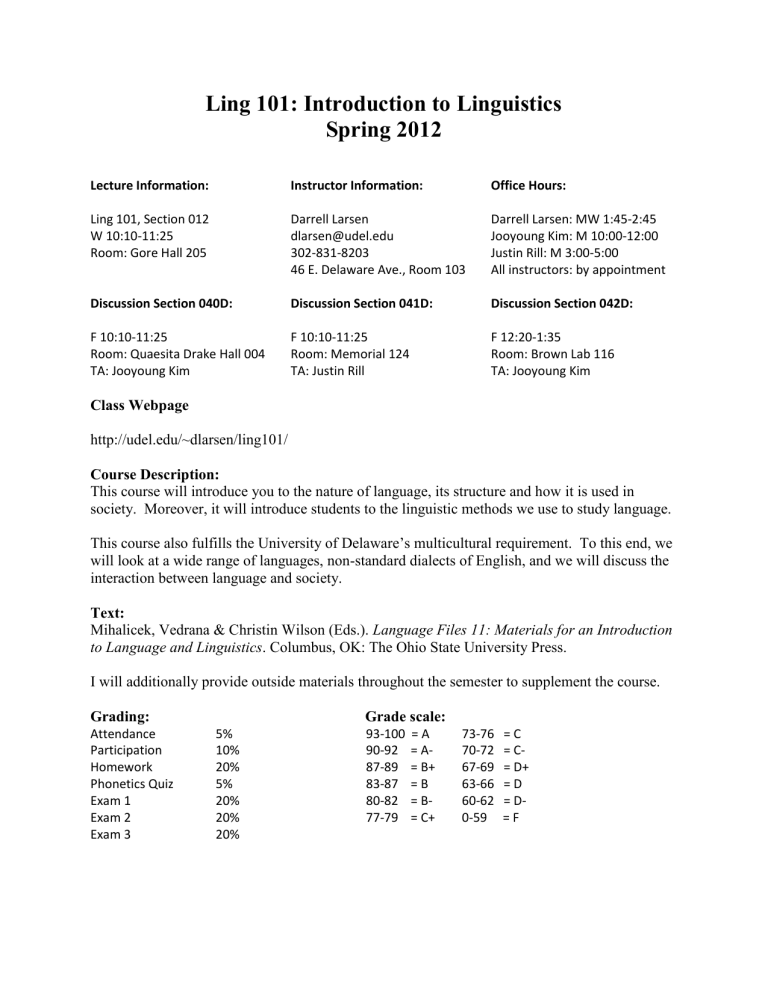 Ling 101: Introduction to Linguistics
Spring 2012
Lecture Information:
Instructor Information:
Office Hours:
Ling 101, Section 012
W 10:10-11:25
Room: Gore Hall 205
Darrell Larsen
dlarsen@udel.edu
302-831-8203
46 E. Delaware Ave., Room 103
Darrell Larsen: MW 1:45-2:45
Jooyoung Kim: M 10:00-12:00
Justin Rill: M 3:00-5:00
All instructors: by appointment
Discussion Section 040D:
Discussion Section 041D:
Discussion Section 042D:
F 10:10-11:25
Room: Quaesita Drake Hall 004
TA: Jooyoung Kim
F 10:10-11:25
Room: Memorial 124
TA: Justin Rill
F 12:20-1:35
Room: Brown Lab 116
TA: Jooyoung Kim
Class Webpage
http://udel.edu/~dlarsen/ling101/
Course Description:
This course will introduce you to the nature of language, its structure and how it is used in
society. Moreover, it will introduce students to the linguistic methods we use to study language.
This course also fulfills the University of Delaware's multicultural requirement. To this end, we
will look at a wide range of languages, non-standard dialects of English, and we will discuss the
interaction between language and society.
Text:
Mihalicek, Vedrana & Christin Wilson (Eds.). Language Files 11: Materials for an Introduction
to Language and Linguistics. Columbus, OK: The Ohio State University Press.
I will additionally provide outside materials throughout the semester to supplement the course.
Grading:
Attendance
Participation
Homework
Phonetics Quiz
Exam 1
Exam 2
Exam 3
Grade scale:
5%
10%
20%
5%
20%
20%
20%
93-100
90-92
87-89
83-87
80-82
77-79
=A
= A= B+
=B
= B= C+
73-76
70-72
67-69
63-66
60-62
0-59
=C
= C= D+
=D
= D=F
Homework:
 Will be due at the beginning of lecture on Wednesdays.
 Late homework is not accepted.
 Absent students must e-mail homework to their TA by the beginning of class time.
 If absent, it is your responsibility to e-mail your TA to ask about homework assignments.
 Incomplete assignments, in which any part is left unanswered, will be returned ungraded. At
the TAs discretion, you may be allowed to resubmit it with all exercises completed by the
following class period. You will receive a late penalty of 10%. Failure to resubmit will
result in a 0.
 Discussing homework problems together is allowed and even encouraged; however,
assignments must be turned in individually and copying of others' answers is not allowed.
 Homework should be stapled to avoid a 5% penalty.
 Illegible answers will be marked wrong, without the possibility of clarification later.
Attendance:
 Attendance will be taken during discussion sections. If you show up late, it is your
responsibility to remind your TA immediately after class or you may remain marked absent.
 Students absent from class for an officially excused reason will not be penalized for the date
in question. Please see http://www.udel.edu/provost/fachb/III-1-l-attendance.html for details.
Excused absences will require verifiable evidence.
 Students who are officially excused are still required to complete the assignments on time
and take any tests they missed.
 Unexcused absences on the day of an exam will result in a 0 for the exam.
Participation:
 Essay questions designed to make you think about the material will be assigned throughout
the semester. Unless otherwise specified, responses must be a minimum of 250 words and
will be graded 0,  (=75) or + (=100), depending on originality of thought, support for
claims, etc.
 Alternatively, participation credit will be given to students who participate regularly during
the discussion sections (attendance ≠ participation).
Exams:
 Exam 2 and 3 are pseudo-cumulative. While the questions will not directly ask about
previously-learned material, they will require the use of methods and concepts taught during
the previous portions of the course.
Other Policies:
 Students shall adhere to UD's Academic Honesty policy (http://www.udel.edu/stuguide/1112/code.html). Engaging in academic dishonesty on an assignment or exam will result in a
minimum of a 0 for that assignment or exam.
 Any student needing any accommodations for reasons of a disability, family situation (e.g.
parent with children), etc. should notify me as soon as possible.
Schedule:
Week
1
2
3
4
5
6
7
8
9
10
11
12
13
14
Date
2/8
2/10
2/15, 2/17
2/22
2/24
2/29, 3/2
3/7
3/9
3/14, 3/16
3/21, 3/23
3/28, 3/30
4/4, 4/6
4/11
4/13
4/18, 4/20
4/25, 4/27
5/2, 5/4
5/9
5/11
Topic
Introduction
Animal vs. Human Communication
Phonetics
Reading
Ch. 1, (17)
Ch. 14
Ch. 2
Phonetics Quiz
Phonology
Ch. 3
Exam 1
Morphology / Morphophonology
Semantics
SPRING BREAK - NO CLASS
Ch. 4
Ch. 6
Syntax
Ch. 5
Exam 2
Language Acquisition
Ch. 8
Sociolinguistics
Ch. 10, 12
Psycholinguistics / Neurolinguistics
Exam 3
Ch. 9
Please note that homework assignments will be given during class and will be due on
Wednesdays. Additional reading assignments will occasionally be posted online.