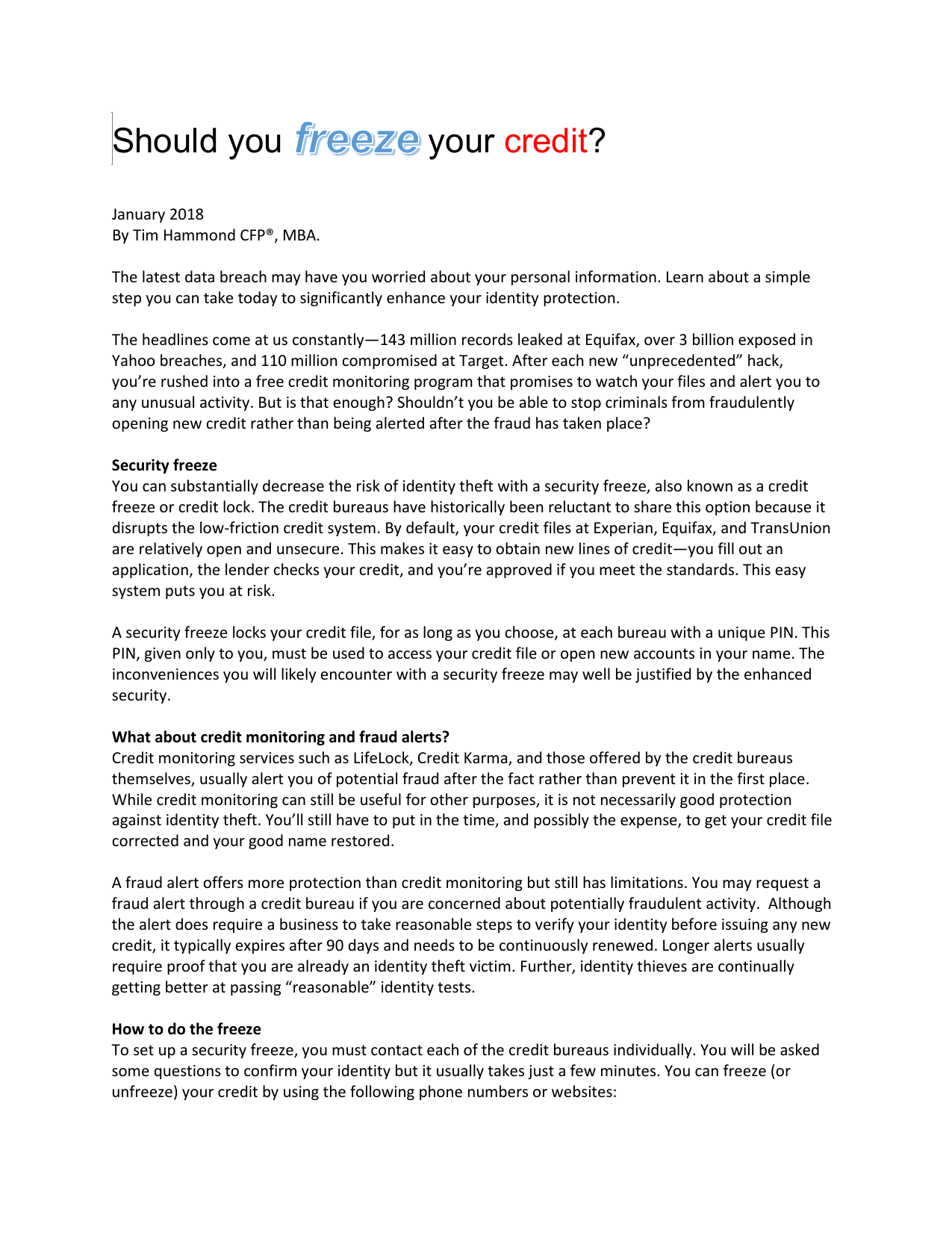 Should you
your credit?
January 2018
By Tim Hammond CFP®, MBA.
The latest data breach may have you worried about your personal information. Learn about a simple
step you can take today to significantly enhance your identity protection.
The headlines come at us constantly—143 million records leaked at Equifax, over 3 billion exposed in
Yahoo breaches, and 110 million compromised at Target. After each new "unprecedented" hack,
you're rushed into a free credit monitoring program that promises to watch your files and alert you to
any unusual activity. But is that enough? Shouldn't you be able to stop criminals from fraudulently
opening new credit rather than being alerted after the fraud has taken place?
Security freeze
You can substantially decrease the risk of identity theft with a security freeze, also known as a credit
freeze or credit lock. The credit bureaus have historically been reluctant to share this option because it
disrupts the low-friction credit system. By default, your credit files at Experian, Equifax, and TransUnion
are relatively open and unsecure. This makes it easy to obtain new lines of credit—you fill out an
application, the lender checks your credit, and you're approved if you meet the standards. This easy
system puts you at risk.
A security freeze locks your credit file, for as long as you choose, at each bureau with a unique PIN. This
PIN, given only to you, must be used to access your credit file or open new accounts in your name. The
inconveniences you will likely encounter with a security freeze may well be justified by the enhanced
security.
What about credit monitoring and fraud alerts?
Credit monitoring services such as LifeLock, Credit Karma, and those offered by the credit bureaus
themselves, usually alert you of potential fraud after the fact rather than prevent it in the first place.
While credit monitoring can still be useful for other purposes, it is not necessarily good protection
against identity theft. You'll still have to put in the time, and possibly the expense, to get your credit file
corrected and your good name restored.
A fraud alert offers more protection than credit monitoring but still has limitations. You may request a
fraud alert through a credit bureau if you are concerned about potentially fraudulent activity. Although
the alert does require a business to take reasonable steps to verify your identity before issuing any new
credit, it typically expires after 90 days and needs to be continuously renewed. Longer alerts usually
require proof that you are already an identity theft victim. Further, identity thieves are continually
getting better at passing "reasonable" identity tests.
How to do the freeze
To set up a security freeze, you must contact each of the credit bureaus individually. You will be asked
some questions to confirm your identity but it usually takes just a few minutes. You can freeze (or
unfreeze) your credit by using the following phone numbers or websites:
• Equifax: 866-349-5191 / freeze.equifax.com
• Experian: 888-397-3742 / experian.com/freeze
• Transunion: 888-909-8872 / freeze.transunion.com
Although in some circumstances the fee may be waived, Arizona law currently limits the fee for
freezing/unfreezing credit to $5 per request, per bureau. It may take a few days for the freeze to be
lifted, so be sure to initiate it a few days in advance of any deadline you are trying to meet.
Stay vigilant
Freezing your credit can provide peace-of-mind when you hear of the latest data breach. You should,
however, continue to keep an eye on your credit. The FTC provides for one free credit report from each
of the credit bureaus every year at annualcreditreport.com. For more guidance on preventing and
reporting any type of identity theft, go to: ftc.gov/idtheft
The opinions voiced in this material are for general information only and are not intended to provide
specific advice or recommendations for any individual. Article content partly from Horsesmouth, LLC ©
2017, used by permission.
Securities offered through LPL Financial, member FINRA/SIPC. Investment advice offered through
Wealthcare Advisory Partners, a registered investment advisor. Wealthcare Advisory Partners and
FocalPoint Wealth Management are separate entities from LPL Financial.