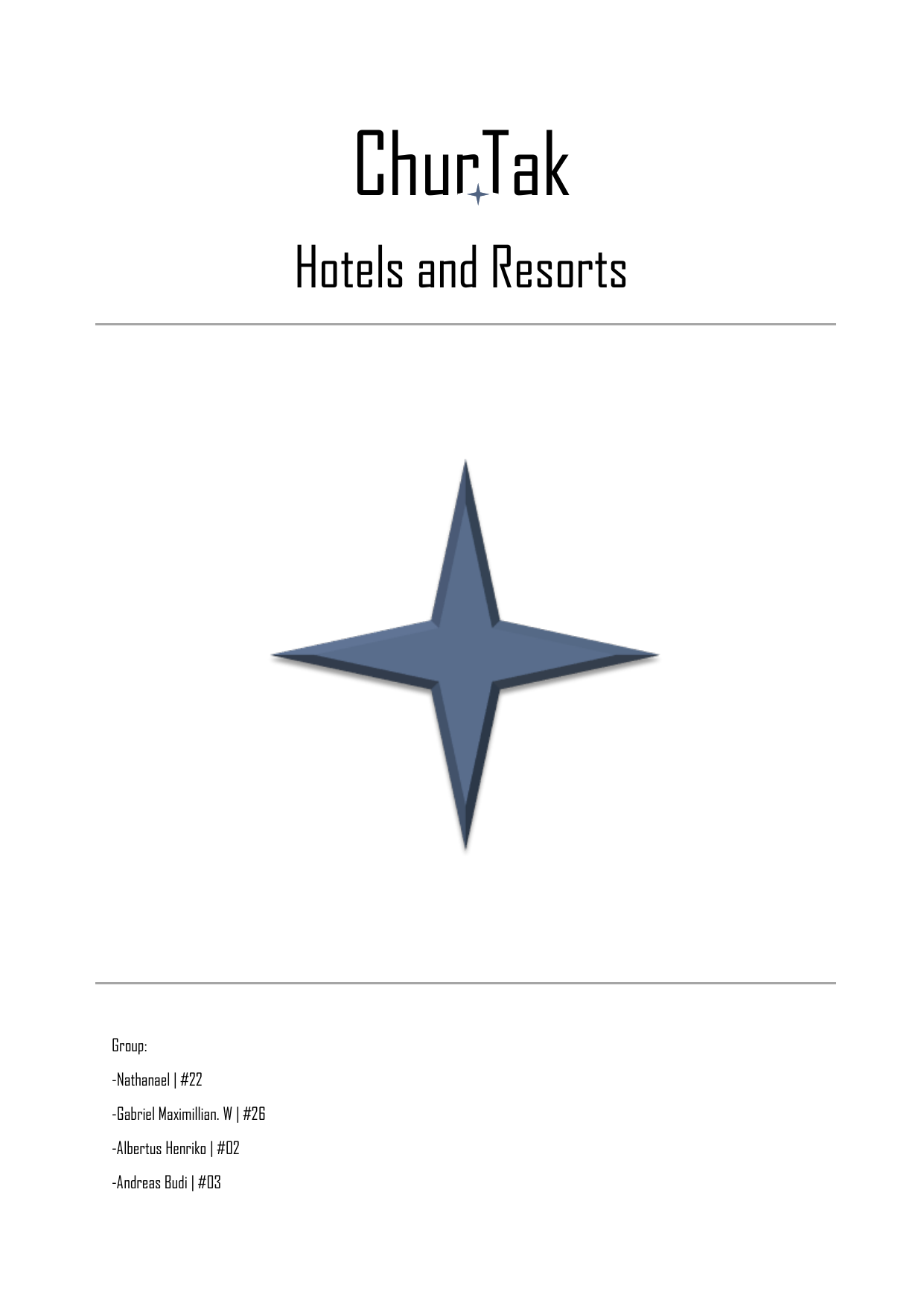 ChurTak
Hotels and Resorts
Group:
-Nathanael | #22
-Gabriel Maximillian. W | #26
-Albertus Henriko | #02
-Andreas Budi | #03
ChurTak
Hotels and Resorts
STANDARD OPERATING PROCEDURE:
SOP REFERENCE NUMBER
SOP DATE:
EFFECTIVE DATE:
Fire Protection and Fire Life Safety Design Requirements
RM-Fire-002
11/Jan/2010
10/Aug/2009
DEPARTMENTS IMPACTED:
Architecture & C
onstruction, Development, Engineering.
APPLICABLE DIVISIONS: All
APPLICABLE PROPERTY TYPE:All
APPLICABLE OWNERSHIP: All
APPLICABLE BRAND(S): All
SOP AUTHOR: Chip Carson, Carson Associates, inc.
SOP CONTRIBUTORS/EDITORIAL TEAM : David Kimmins, Starwood Global Risk Management
Michael Gaddis, Starwood Estate Development Group
Gus Newbury, Starwood NAD Engineering
Brian Wilson, Starwood EAME Engineering
Mike J. Rzeznik, Schirmer Engineering
Marc Meunier, Marsh Risk Consulting
SOP APPROVER: David Marshall, Legal
Kathie Lee, Legal
1. GOAL:
Application of these requirements will provide Starwood prope
rties with a comprehensive fire protection and fire life
safety program to protect its guests and employees and a
ssets in the event of a fire or similar emergency.
2. SCOPE:
These Fire Protection and Fire Life Safety Design require
ments apply to all Starwood brands globally, including owned,
managed, joint ventures, vacation ownership and franchised.
The requirements apply to new builds, conversions,
acquisitions and properties undergoing major renovations.
These requirements are subject to review and may c
hange for reasons such as code advancements, technology
advancements or for other reasons at the sole discret
ion of Starwood Hotels & Resorts Worldwide, Inc.
In some instances these requirements may exceed NFPA code
or local jurisdictional requirements. Conforming to a
less stringent code requirement will not be a reason for an ex
emption from Starwood's Requirements. Decisions to
grant exemptions will be based on risk. If there is a
request for an exemption, then Starwood Risk Management may
engage a third party engineering consultant of its choice to vi
sit the location and undertake a risk assessment. If an
exemption is granted based on a risk assessment then additio
nal mitigating measures may be required. All costs
associated with this assessment will be borne by the owner
and/or developer. These costs are additional to those
associated with the submittal process.
All exemptions are temporary and can be revoked at any time at the sole discretion of Starwood
Hotels & Resorts
Worldwide, Inc.