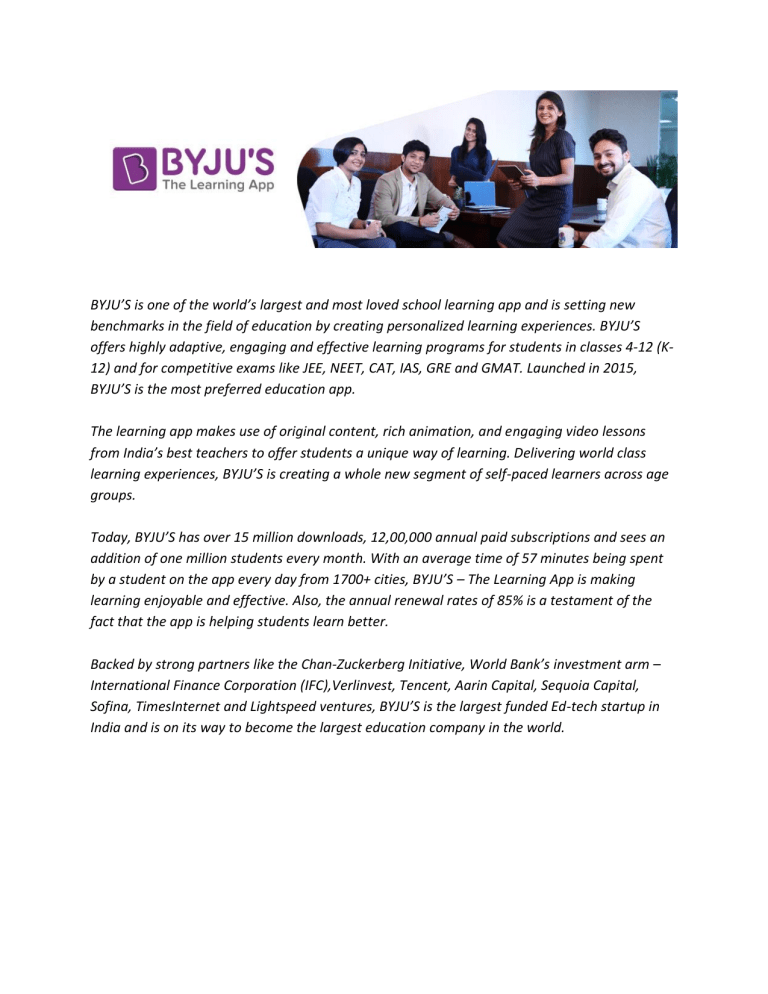 BYJU'S is one of the world's largest and most loved school learning app and is setting new
benchmarks in the field of education by creating personalized learning experiences. BYJU'S
offers highly adaptive, engaging and effective learning programs for students in classes 4-12 (K12) and for competitive exams like JEE, NEET, CAT, IAS, GRE and GMAT. Launched in 2015,
BYJU'S is the most preferred education app.
The learning app makes use of original content, rich animation, and engaging video lessons
from India's best teachers to offer students a unique way of learning. Delivering world class
learning experiences, BYJU'S is creating a whole new segment of self-paced learners across age
groups.
Today, BYJU'S has over 15 million downloads, 12,00,000 annual paid subscriptions and sees an
addition of one million students every month. With an average time of 57 minutes being spent
by a student on the app every day from 1700+ cities, BYJU'S – The Learning App is making
learning enjoyable and effective. Also, the annual renewal rates of 85% is a testament of the
fact that the app is helping students learn better.
Backed by strong partners like the Chan-Zuckerberg Initiative, World Bank's investment arm –
International Finance Corporation (IFC),Verlinvest, Tencent, Aarin Capital, Sequoia Capital,
Sofina, TimesInternet and Lightspeed ventures, BYJU'S is the largest funded Ed-tech startup in
India and is on its way to become the largest education company in the world.
Job Profile: Business Development Associate (BDA)
Description: You will start your journey at BYJU'S as an individual contributor working in a team
to introduce and showcase the unique way in which BYJU'S-The Learning App helps students
learn better. You will also be responsible for mentoring these students and will play a role in
their learning journey. Your key role will be to connect with students and parents across the
country (depending on your zone) and explain to them in person, about one of the world's most
loved learning apps and how it will help the student learn not just for exams, but much beyond.
Sector: Sales and Business Development in one of the fastest growing sectors. In the segment of
Education, not only is it the most rewarding monetarily, but the one which will create the
maximum impact
Required skill sets:
If you are:






Passionate about changing the way millions of children learn globally
Super energetic and driven to spread better learning
A strong believer that good Education can create an everlasting impact
Someone who has strong communication skills and can persevere
Interested in speaking to , counseling and guiding students
Driven by the idea of helping children become lifelong learners
BYJU'S is the place for you where you can enjoy and chart out your professional
life.