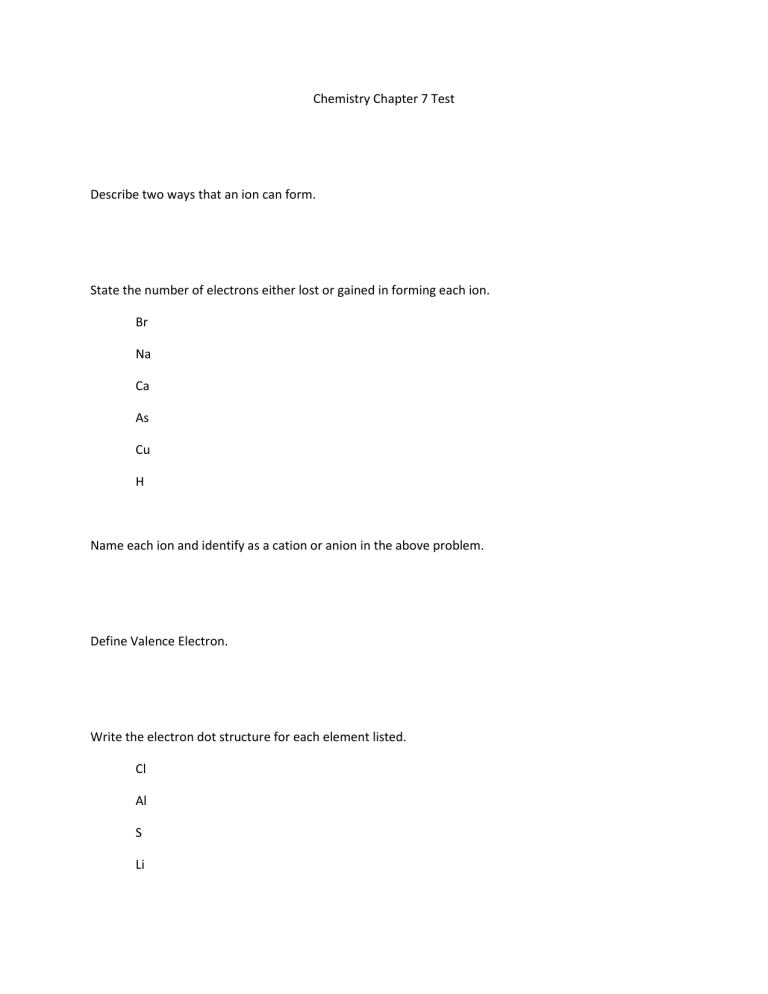 Chemistry Chapter 7 Test
Describe two ways that an ion can form.
State the number of electrons either lost or gained in forming each ion.
Br
Na
Ca
As
Cu
H
Name each ion and identify as a cation or anion in the above problem.
Define Valence Electron.
Write the electron dot structure for each element listed.
Cl
Al
S
Li
How many electrons must each atom lose to attain a noble gas configuration?
Ca
Li
Al
Ba
Write the formula for the ion formed when each of the following elements loses its valence electrons.
Aluminum
Lithium
Barium
Potassium
Calcium
Strontium
Why do nonmetals tend to form anions when they react to form ionic compounds?
What is the formula of the ion formed when the following elements gain or lose valence electrons and
attain noble gas configuration?
Sulfur
Fluorine
Sodium
Phosphorus
How many electrons must be gained by each of the following atoms to achieve a stable electron
configuration?
N
S
Cl
P
Which of the following pairs of atoms would you expect to chemically combine to form an ionic
compound?
Li and S
Al and O
O and S
F and Cl
I and K
H and N
Identify the kinds of ions that form each ionic compound.
CaF
AlBr
Lio
AlS
KN
Explain why ionic compounds are electrically neutral.
Why are most ionic compounds brittle?
Explain why metals are good conductors of electricity.
Explain why the properties of all steels are not identical.
In terms of electrons, why does a cation have a positive charge?
Bonus:
What types of bonds have a sea of electrons?