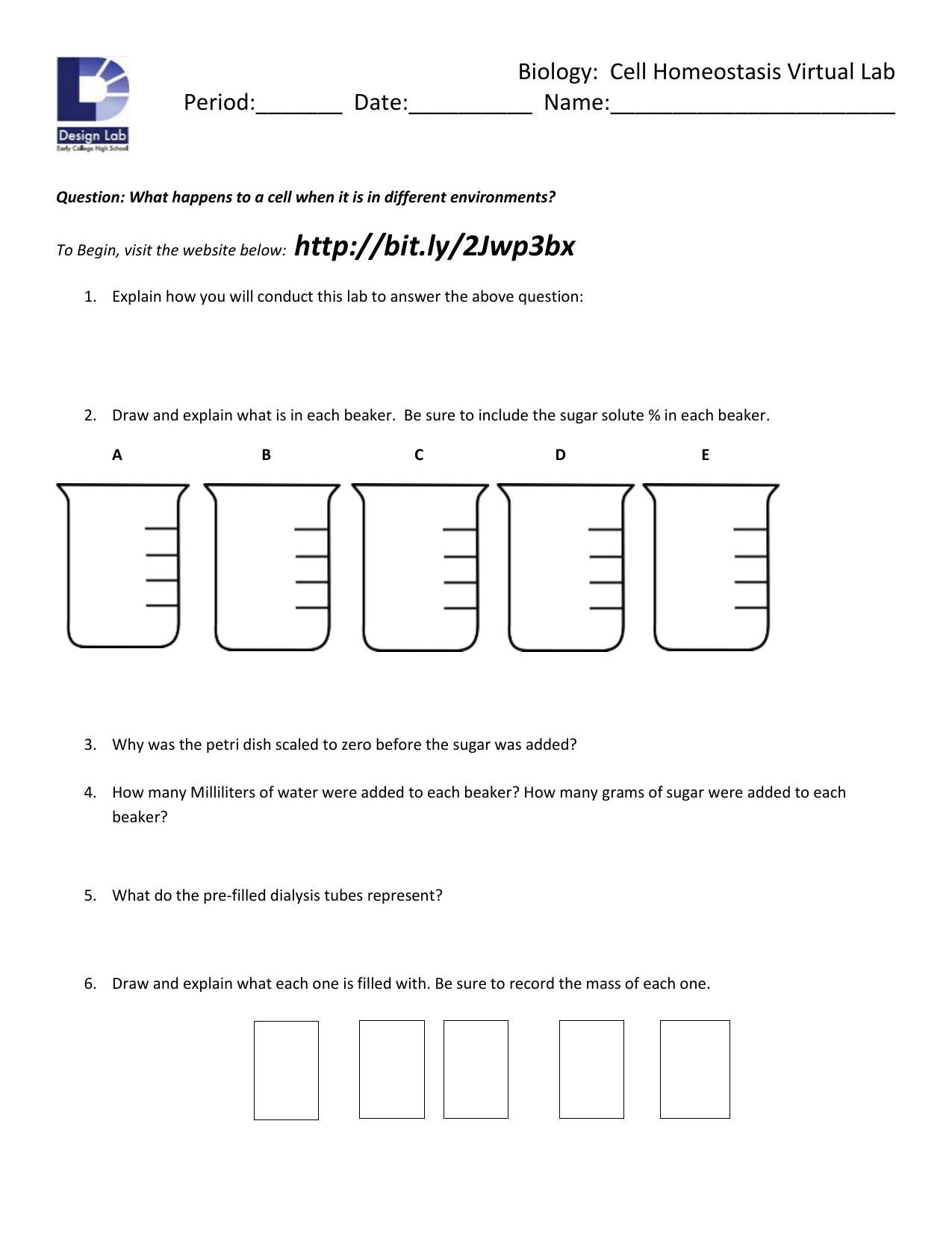 Biology: Cell Homeostasis Virtual Lab
Period:_______ Date:__________ Name:_______________________
Question: What happens to a cell when it is in different environments?
To Begin, visit the website below:
http://bit.ly/2Jwp3bx
1. Explain how you will conduct this lab to answer the above question:
2. Draw and explain what is in each beaker. Be sure to include the sugar solute % in each beaker.
A
B
C
D
E
3. Why was the petri dish scaled to zero before the sugar was added?
4. How many Milliliters of water were added to each beaker? How many grams of sugar were added to each
beaker?
5. What do the pre-filled dialysis tubes represent?
6. Draw and explain what each one is filled with. Be sure to record the mass of each one.
7. How long do the dialysis tubes remain in the beakers?
8. Record the mass of the dialysis tubes before and after they sat in the beakers for 24 hours.
Before:
Before:
Before:
Before:
Before:
After:
After:
After:
After:
After:
9. Calculate the difference in the initial and final masses of each dialysis tube? Create a graph that depicts the
behavior of water in different concentrations of sugar solution.
Answer and explain the Questions below:
10. Which dialysis tubes had little or no change in mass after a 24-hour period?
11. Why was pure water used as a control group?
12. Why didn't the mass of dialysis tubes "A" and "C" change over the 24-hour time frame?
13. Which statement below best describes how a cell responds to its external environment?