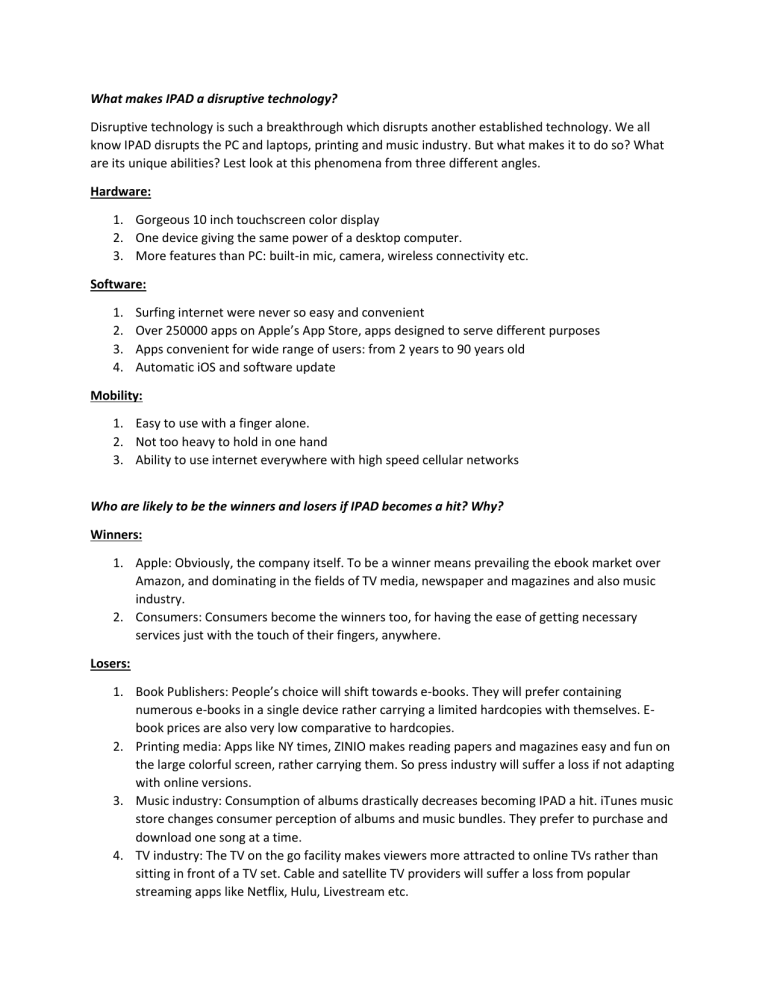 What makes IPAD a disruptive technology?
Disruptive technology is such a breakthrough which disrupts another established technology. We all
know IPAD disrupts the PC and laptops, printing and music industry. But what makes it to do so? What
are its unique abilities? Lest look at this phenomena from three different angles.
Hardware:
1. Gorgeous 10 inch touchscreen color display
2. One device giving the same power of a desktop computer.
3. More features than PC: built-in mic, camera, wireless connectivity etc.
Software:
1.
2.
3.
4.
Surfing internet were never so easy and convenient
Over 250000 apps on Apple's App Store, apps designed to serve different purposes
Apps convenient for wide range of users: from 2 years to 90 years old
Automatic iOS and software update
Mobility:
1. Easy to use with a finger alone.
2. Not too heavy to hold in one hand
3. Ability to use internet everywhere with high speed cellular networks
Who are likely to be the winners and losers if IPAD becomes a hit? Why?
Winners:
1. Apple: Obviously, the company itself. To be a winner means prevailing the ebook market over
Amazon, and dominating in the fields of TV media, newspaper and magazines and also music
industry.
2. Consumers: Consumers become the winners too, for having the ease of getting necessary
services just with the touch of their fingers, anywhere.
Losers:
1. Book Publishers: People's choice will shift towards e-books. They will prefer containing
numerous e-books in a single device rather carrying a limited hardcopies with themselves. Ebook prices are also very low comparative to hardcopies.
2. Printing media: Apps like NY times, ZINIO makes reading papers and magazines easy and fun on
the large colorful screen, rather carrying them. So press industry will suffer a loss if not adapting
with online versions.
3. Music industry: Consumption of albums drastically decreases becoming IPAD a hit. iTunes music
store changes consumer perception of albums and music bundles. They prefer to purchase and
download one song at a time.
4. TV industry: The TV on the go facility makes viewers more attracted to online TVs rather than
sitting in front of a TV set. Cable and satellite TV providers will suffer a loss from popular
streaming apps like Netflix, Hulu, Livestream etc.