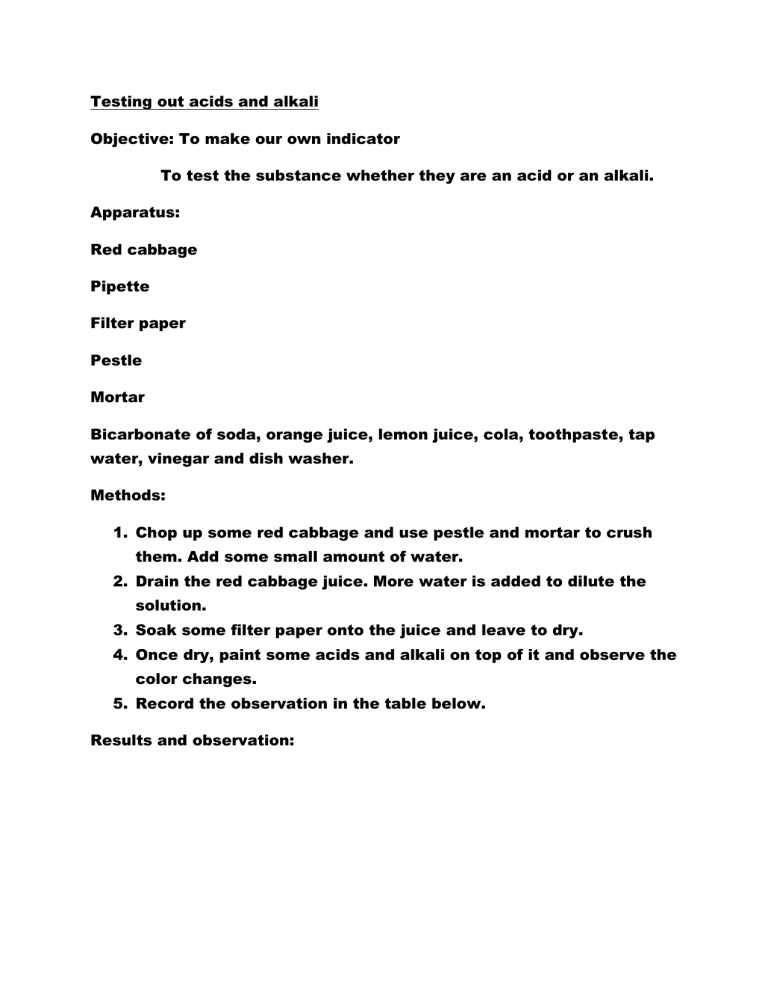 Testing out acids and alkali
Objective: To make our own indicator
To test the substance whether they are an acid or an alkali.
Apparatus:
Red cabbage
Pipette
Filter paper
Pestle
Mortar
Bicarbonate of soda, orange juice, lemon juice, cola, toothpaste, tap
water, vinegar and dish washer.
Methods:
1. Chop up some red cabbage and use pestle and mortar to crush
them. Add some small amount of water.
2. Drain the red cabbage juice. More water is added to dilute the
solution.
3. Soak some filter paper onto the juice and leave to dry.
4. Once dry, paint some acids and alkali on top of it and observe the
color changes.
5. Record the observation in the table below.
Results and observation:
Substance
Colour (before)
Colour (after)
Acid or
alkali
Bicarbonate
of soda
Cola
Lemon juice
Orange juice
Toothpaste
Dish washer
Tap water
Vinegar
Conclusion:
Indicator turns ________ when tested with acids and it turns _________
when tested with an alkali.
The red cabbage have to be crushed to get its juice.