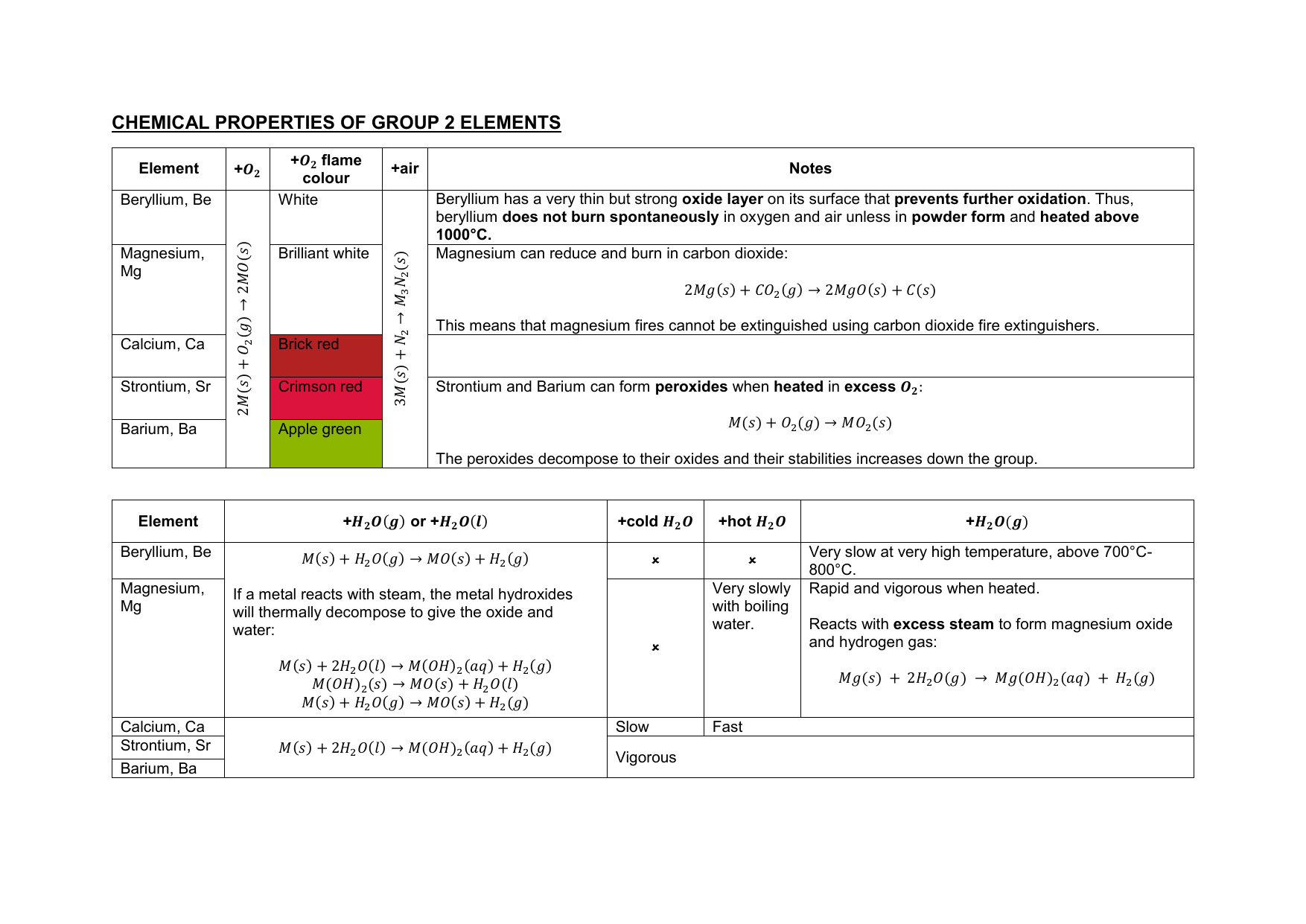 CHEMICAL PROPERTIES OF GROUP 2 ELEMENTS
+𝑶𝟐
Magnesium,
Mg
Calcium, Ca
Strontium, Sr
Barium, Ba
2𝑀(𝑠) + 𝑂2 (𝑔) → 2𝑀𝑂(𝑠)
Beryllium, Be
+𝑶𝟐 flame
colour
White
Brilliant white
Brick red
Crimson red
+air
3𝑀(𝑠) + 𝑁2 → 𝑀3 𝑁2 (𝑠)
Element
Notes
Beryllium has a very thin but strong oxide layer on its surface that prevents further oxidation. Thus,
beryllium does not burn spontaneously in oxygen and air unless in powder form and heated above
1000°C.
Magnesium can reduce and burn in carbon dioxide:
2𝑀𝑔(𝑠) + 𝐶𝑂2 (𝑔) → 2𝑀𝑔𝑂(𝑠) + 𝐶(𝑠)
This means that magnesium fires cannot be extinguished using carbon dioxide fire extinguishers.
Strontium and Barium can form peroxides when heated in excess 𝑶𝟐 :
𝑀(𝑠) + 𝑂2 (𝑔) → 𝑀𝑂2 (𝑠)
Apple green
The peroxides decompose to their oxides and their stabilities increases down the group.
Element
+𝑯𝟐 𝑶(𝒈) or +𝑯𝟐 𝑶(𝒍)
+cold 𝑯𝟐 𝑶
+hot 𝑯𝟐 𝑶
Beryllium, Be
𝑀(𝑠) + 𝐻2 𝑂(𝑔) → 𝑀𝑂(𝑠) + 𝐻2 (𝑔)


Magnesium,
Mg
Very slowly
with boiling
water.
If a metal reacts with steam, the metal hydroxides
will thermally decompose to give the oxide and
water:

𝑀(𝑠) + 2𝐻2 𝑂(𝑙) → 𝑀(𝑂𝐻)2 (𝑎𝑞) + 𝐻2 (𝑔)
𝑀(𝑂𝐻)2 (𝑠) → 𝑀𝑂(𝑠) + 𝐻2 𝑂(𝑙)
𝑀(𝑠) + 𝐻2 𝑂(𝑔) → 𝑀𝑂(𝑠) + 𝐻2 (𝑔)
Calcium, Ca
Strontium, Sr
Barium, Ba
Very slow at very high temperature, above 700°C800°C.
Rapid and vigorous when heated.
Reacts with excess steam to form magnesium oxide
and hydrogen gas:
𝑀𝑔(𝑠) + 2𝐻2 𝑂(𝑔) → 𝑀𝑔(𝑂𝐻)2 (𝑎𝑞) + 𝐻2 (𝑔)
Slow
𝑀(𝑠) + 2𝐻2 𝑂(𝑙) → 𝑀(𝑂𝐻)2 (𝑎𝑞) + 𝐻2 (𝑔)
+𝑯𝟐 𝑶(𝒈)
Vigorous
Fast
Unlike the oxides formed by the other group 2 elements (alkaline earth metals), beryllium oxide is amphoteric rather than basic.
Beryllium dissolves readily in non-oxidizing acids, such as HCl and diluted H2SO4, but not in nitric acid or water as this forms the oxide. This behaviour is
similar to that of aluminium metal. Beryllium also dissolves in alkali solutions.[6][32]
Group 2 Element
Group 2 Oxides
Beryllium, Be
BeO
Magnesium, Mg
Calcium, Ca
Strontium, Sr
Barium, Ba
MgO
CaO
SrO
BaO
Physical Properties
Atomic/Ionic Radius
Ionisation Energy
Melting Point
Electronegativity
No.
1.
2.
3.
4.
Element
Physical state
Ionisation energy
Conductivity of element
Chloride
4.2.
4.3.
5.
6.
7.
8.
9.
10.
11.
12.
13.
14.
15.
Conductivity of chloride
Hydrolysis of chloride
Oxide
Hydroxide
Complex formation
Aqueous solution of ions
Electronic configuration
Aluminium, Al
Metal
𝐴𝑙2 𝐶𝑙6 /𝐴𝑙𝐶𝑙3
Covalent molecule (dimer)
Beryllium, Be
Other Group 2 Metals
Very high
High
𝐵𝑒𝐶𝑙4
Covalent molecule (dimer)
Ionic crystal
Amphoteric
1s22s22p63s23p1
Basic
1s22s2
10.3 USES OF GROUP 2 COMPOUNDS
Element
Magnesium,
Mg
Compound
Magnesium oxide, MgO
Magnesium chloride,
MgCl2
Magnesium hydroxide,
Mg(OH)2
Agriculture
Industry
 High melting point (2852°C) makes it useful to
be used in heating elements, refractory liners in
furnaces and in the ceramics and glass
industries.
 Low electrical conductivity makes it a good
insulator for electrical cables.
 Manufacture of cement
 Textile and paper industries
 Making fireproof equipment.
 Important coagulants in food.
Medicine
 Remedy for indigestion, used
as antacid and laxatives.
 Purgative, also used in bath
salts to relieve sore muscles
and stress.
 Antiseptics.
Magnesium sulphate,
MgSO4 (Epsom salts)
Calcium, Ca
Magnesium borate,
B2Mg3O6,
magnesium salicylate,
C14H10MgO6 and
magnesium sulphate
Magnesium acetyl
salicylate
Calcium oxide, CaO
(quicklime/lime)
 Analgesic and to reduce fever.
 Agricultural lime
to neutralise
acidic soils.
Calcium hydroxide,
Ca(OH)2 (slaked lime)
Calcium carbonate,
CaCO3 (limestone)
Calcium sulphate,
CaSO4
 Fertiliser and soil
conditioner.
Calcium phosphate,
Ca3(PO4)2
 Supplement for
animal feed and
fertiliser.
Calcium chloride, CaCl2
Calcium fluoride, CaF2
 Major component of cement and mortar.
 Water softener to remove hardness by reacting
with soluble carbonates and bicarbonates to
form the insoluble calcium carbonate.
 Flocculants in water and sewage treatment.
 Widely used in the food industry because of its
low toxicity and mild basic properties, such as
sugar industry, processing water for beverages
and making of pickles.
 Exists as limestone, chalk and marble and is
very important in the construction industry and in
road building.
 Important coagulants in food.
 Calcium sulphate naturally occurs as gypsum,
(𝐶𝑎𝑆𝑂4 · 2𝐻2𝑂), is used in fireproof plasterboard
and ceilings, as common blackboard chalk, as a
filler in paint, paper and rubber industries.
 Anhydrous calcium sulphate is used as
desiccant.
 Desiccant.
 Make cells and windows for infrared and
ultraviolet spectrometers as it is transparent over
a range of wavelengths.
 Used in antacids, toothpaste
and chewing gum.
 Calcium supplement to
maintain bone density.
 Make Plaster of Paris which is
used in casts.
Strontium,
Sr
Barium, Ba
Strontium oxide, SrO
Barium sulphate,
BaSO4
Barium carbonate,
BaCO3
Barium fluoride, BaF2
 Primarily used in colour television cathode ray
tubes glass as X-ray absorbing materials
 Permanent white in paint. As whitener in
photographic paper, as filler in paper fibre and
polymer.
 Rat poison
 Barium fluoride is used for optics in infrared
applications.
 'Barium meals' are used as
radiocontrast agents in X-ray
imaging of the gastrointestinal
tract.