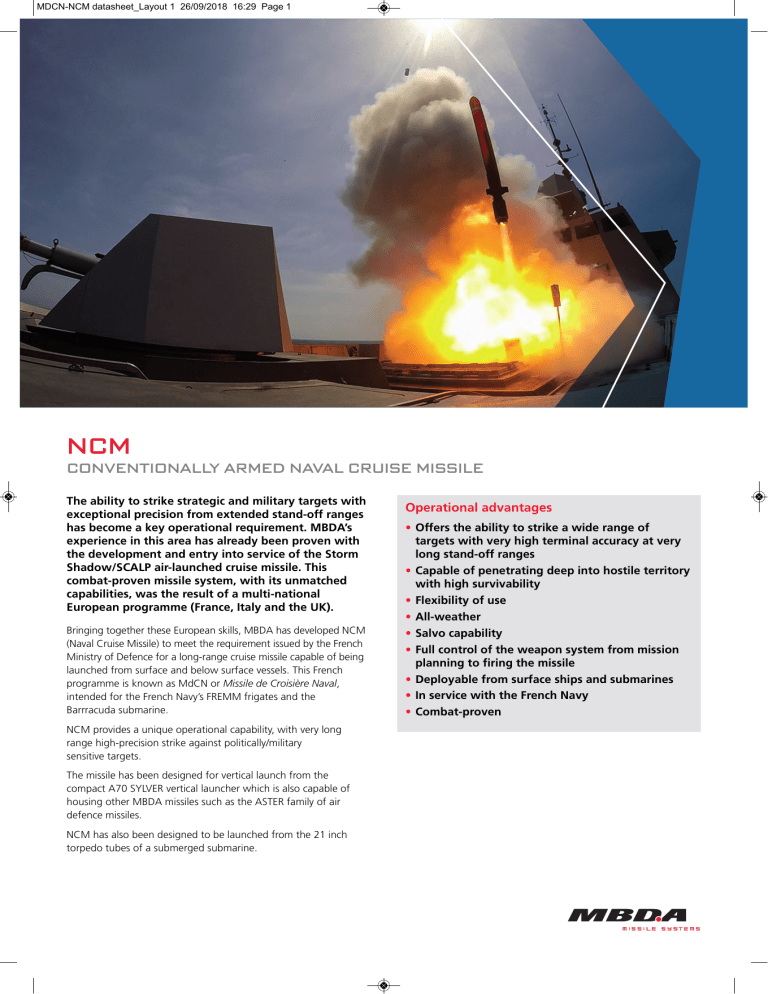 MDCN-NCM datasheet_Layout 1 26/09/2018 16:29 Page 1
NCM
CONVENTIONALLY ARMED NAVAL CRUISE MISSILE
The ability to strike strategic and military targets with
exceptional precision from extended stand-off ranges
has become a key operational requirement. MBDA's
experience in this area has already been proven with
the development and entry into service of the Storm
Shadow/SCALP air-launched cruise missile. This
combat-proven missile system, with its unmatched
capabilities, was the result of a multi-national
European programme (France, Italy and the UK).
Bringing together these European skills, MBDA has developed NCM
(Naval Cruise Missile) to meet the requirement issued by the French
Ministry of Defence for a long-range cruise missile capable of being
launched from surface and below surface vessels. This French
programme is known as MdCN or Missile de Croisière Naval,
intended for the French Navy's FREMM frigates and the
Barrracuda submarine.
NCM provides a unique operational capability, with very long
range high-precision strike against politically/military
sensitive targets.
The missile has been designed for vertical launch from the
compact A70 SYLVER vertical launcher which is also capable of
housing other MBDA missiles such as the ASTER family of air
defence missiles.
NCM has also been designed to be launched from the 21 inch
torpedo tubes of a submerged submarine.
Operational advantages
• Offers the ability to strike a wide range of
targets with very high terminal accuracy at very
long stand-off ranges
• Capable of penetrating deep into hostile territory
with high survivability
• Flexibility of use
• All-weather
• Salvo capability
• Full control of the weapon system from mission
planning to firing the missile
• Deployable from surface ships and submarines
• In service with the French Navy
• Combat-proven
MDCN-NCM datasheet_Layout 1 26/09/2018 16:29 Page 2
MBDA contacts
MARITIME
Sales and Business Development
1 avenue Réaumur 92358, Le Plessis-Robinson cedex – France
Tel. + 33 (0) 1 71 54 10 00
Fax + 33 (0) 1 71 54 00 01
salesenquiries@mbda-systems.com
www.mbda-systems.com
Technical characteristics/specifications
Weight:
1,400kg
Length:
6.5m
Speed:
High subsonic
Copyright © MBDA France S.A.S. – 2018-09-v01.
Photo credits: Copyright © Michel Hans, Né un 15 février, NAVAL GROUP.