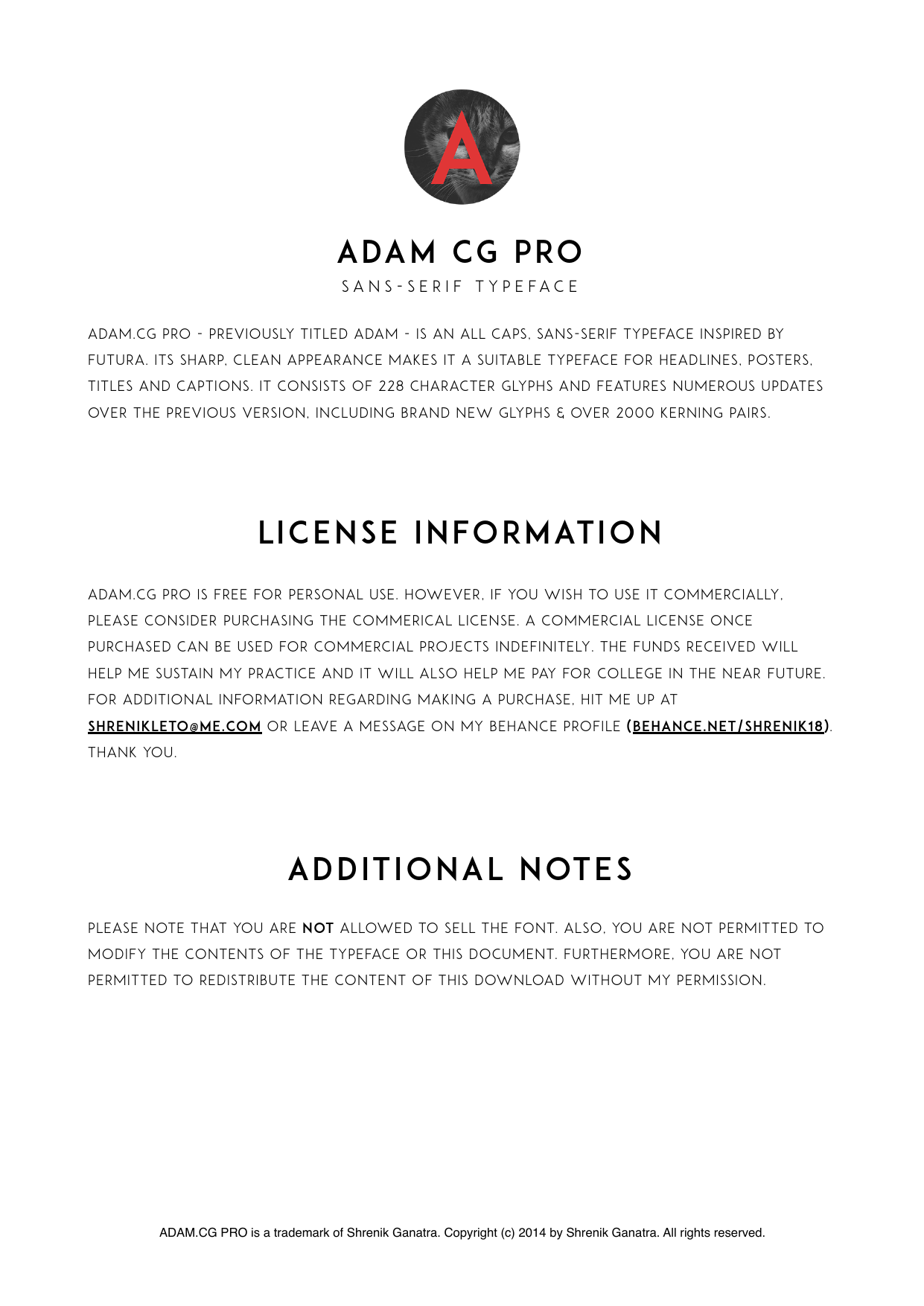 !
!
!
!
A DA M CG P RO
S A N S - S E R I F T Y P E FAC E
!
ADAM.CG PRO - PREVIOUSLY TITLED ADAM - IS AN ALL CAPS, SANS-SERIF TYPEFACE INSPIRED BY
FUTURA. ITS SHARP, CLEAN APPEARANCE MAKES IT A SUITABLE TYPEFACE FOR HEADLINES, POSTERS,
TITLES AND CAPTIONS. IT CONSISTS OF 228 CHARACTER GLYPHS AND FEATURES NUMEROUS UPDATES
OVER THE PREVIOUS VERSION, INCLUDING BRAND NEW GLYPHS & OVER 2000 KERNING PAIRS.
!
!
L I C E N SE I N FO RM AT I O N
!
ADAM.CG PRO IS FREE FOR PERSONAL USE. HOWEVER, IF YOU WISH TO USE IT COMMERCIALLY,
PLEASE CONSIDER PURCHASING THE COMMERICAL LICENSE. A COMMERCIAL LICENSE ONCE
PURCHASED CAN BE USED FOR COMMERCIAL PROJECTS INDEFINITELY. THE FUNDS RECEIVED WILL
HELP ME SUSTAIN MY PRACTICE AND IT WILL ALSO HELP ME PAY FOR COLLEGE IN THE NEAR FUTURE.
FOR ADDITIONAL INFORMATION REGARDING MAKING A PURCHASE, HIT ME UP AT
[email protected] OR LEAVE A MESSAGE ON MY BEHANCE PROFILE (behance.net/shrenik18).
THANK YOU.
!
!
!
A D D I T I O N A L N OT E S
PLEASE NOTE THAT YOU ARE NOT ALLOWED TO SELL THE FONT. ALSO, YOU ARE NOT PERMITTED TO
MODIFY THE CONTENTS OF THE TYPEFACE OR THIS DOCUMENT. FURTHERMORE, YOU ARE NOT
PERMITTED TO REDISTRIBUTE THE CONTENT OF THIS DOWNLOAD WITHOUT MY PERMISSION.
!
!
!!
!
!
!
ADAM.CG PRO is a trademark of Shrenik Ganatra. Copyright (c) 2014 by Shrenik Ganatra. All rights reserved.