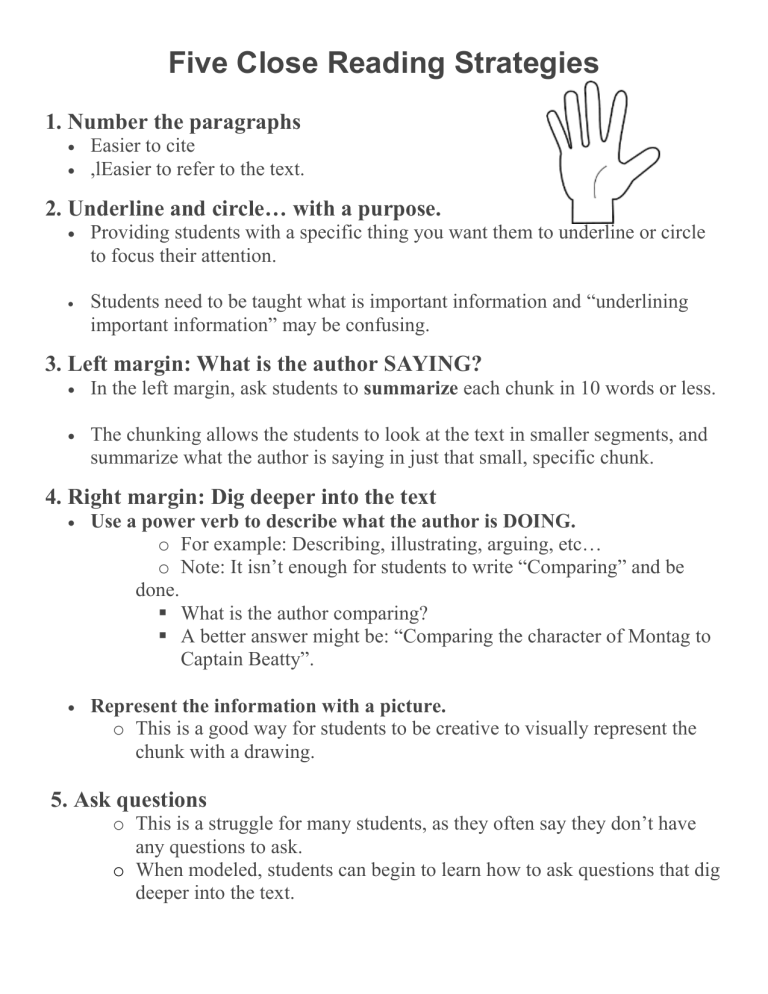 Five Close Reading Strategies
1. Number the paragraphs


Easier to cite
,lEasier to refer to the text.
2. Underline and circle… with a purpose.

Providing students with a specific thing you want them to underline or circle
to focus their attention.

Students need to be taught what is important information and "underlining
important information" may be confusing.
3. Left margin: What is the author SAYING?

In the left margin, ask students to summarize each chunk in 10 words or less.

The chunking allows the students to look at the text in smaller segments, and
summarize what the author is saying in just that small, specific chunk.
4. Right margin: Dig deeper into the text

Use a power verb to describe what the author is DOING.
o For example: Describing, illustrating, arguing, etc…
o Note: It isn't enough for students to write "Comparing" and be
done.
 What is the author comparing?
 A better answer might be: "Comparing the character of Montag to
Captain Beatty".

Represent the information with a picture.
o This is a good way for students to be creative to visually represent the
chunk with a drawing.
5. Ask questions
o This is a struggle for many students, as they often say they don't have
any questions to ask.
o When modeled, students can begin to learn how to ask questions that dig
deeper into the text.