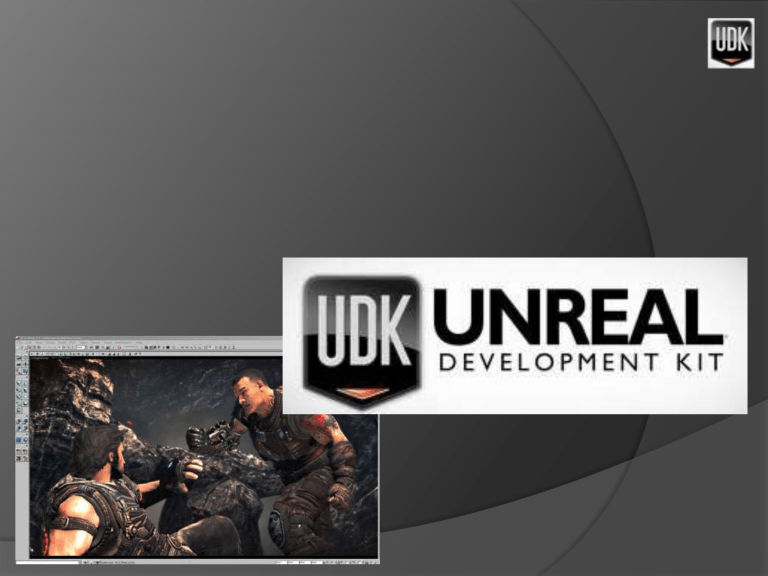 Equipo de Trabajo
para Desarrollar un Videojuego
Productor
Marketing
Sicólogo / Sociólogo / Antropólogo
Guionista (Story Board)
Artista Gráfico
(Bocetos, Imágenes)
Texturizador (Fotografia)
Modelador 3D
Animador 3D
Diseñador de
Niveles
Musicalizador
Programadores
QA tester
Lanzamiento
Eventos
Generan las Ventas
Repartir porcentajes
(%s)
CASA PUBLICADORA
CASA DESARROLLADORA
Director (Gerente del Proyecto)
Partes de un Motor (Engine)
de Desarrollo de Videojuegos
1. Editor de
Mundos
Plugins Externos
Editor de Scripts
(Código Fuente)
2. Objetos
(personajes y
ambientación)
2.1. Controlador de
Físicas de los
Objetos
2.2. Texturización
y Renderizado
2.3. Módulo de
Inteligencia
Artificial (AI)
2.4. Módulo de
iluminación y
Sombras
Unreal engine 3

El Unreal Engine 3 es un motor gráfico compatible
con las plataformas Xbox 360, PlayStation 3 y PC.
Unreal engine 3

Incluye componentes para herramientas complementarias al
igual que las anteriores versiones del motor. Se sustituye a
Karma por PhysX de Ageia (posteriormente adquirido por
NVIDIA), y FaceFX se incluye además para generar
animaciones faciales
Unreal engine 3

En cuanto al hardware soportado, la gente de Epic ha hecho un
gran esfuerzo en aprovechar todas las plataformas actuales, ya
sean procesadores de 64 bits, procesadores que soporten HyperThreading o procesadores multicore, en este último caso de dos,
cuatro u ocho núcleos en el caso del PC, o los específicos de Xbox
360 (3.2 GHz PPC Tri-Core Xenon) y PlayStation 3 (3.2 GHz Cell
con 1 PPE y 7 SPEs dedicados).
Unreal engine 3


64-bit and 128-bit color High Dynamic Range (HDR)
El HDR (High Dynamic Range) es una técnica bastante
novedosa en los videojuegos (Half-Life 2 fue el primer juego
en incluirlo), que intenta imitar el funcionamiento del iris del
ojo.
Novedades

Esta ha sido una de las grandes innovaciones
gráficas que el mundo de los videojuegos recibió
en los últimos tiempos y casi la totalidad de los
juegos actuales la incluyen.
Novedades

La novedad en el Unreal Engine 3 es que permite
HDR de 64 bits (el actual) y de 128 bits, el cual
permite una mayor precisión. Quizás esta
explicación se entienda mejor con una imagen
QUE SE PUEDE HACER CON UDK
(Alcance)

El Unreal Engine 3 además de permitir el desarrollo de
videojuegos, se aplica en sectores no relacionados con los
videojuegos como simulación de construcciones,
simuladores de conducción, previsualización de películas y
generación de terrenos.
Biomecánica
Endorphin es un programa de síntesis de movimiento dinámico
desarrollado por Natural Motion. Endorphin puede ser usado para
simular físicas con objetos simples (cubos, esferas, cilindros, etc.) y
para crear una animación 3D utilizando "comportamientos", los
cuales son una serie de movimientos predeterminados que pueden
ser usados en un personaje.
AI (Inteligencia Artificial)
Lo que hace a Endorphin único es que estos movimientos
predeterminados no son como las animaciones 3D, sino que, al
mismo tiempo en el que el personaje está haciendo ese movimiento,
el programa lo hace interactuar con el resto del escenario y con el
jugador en sí, logrando así que no se produzcan penetraciones entre
objetos 3D, como pasa muchas veces con las animaciones comunes.
A diferencia de Euphoria, Endorphin no es un motor, sino que es un
software para crear animaciones de una manera totalmente nueva.
iluminación

Nos explicamos, cuando nuestro ojo ve una zona
oscura (un pasillo por ejemplo) y pasamos a una
zona iluminada, nuestro ojo tarda cierto tiempo en
adaptarse a este cambio de luminosidad.
iluminación

El HDR reproduce esta transición que realiza
nuestro iris. De esta forma, se simula la luz que va
más allá del 100% del brillo máximo que puede
aceptar un monitor.
Programando con UDK

Clases y Objetos.
Programando con UDK

Flujo principal de Eventos del Videojuego.
Programando con UDK

Flujo principal de Eventos del Videojuego.
Programando con UDK

Programación por Eventos…(Editor gráfico)
Programando con UDK

Proceso de Compilación…
Programando con UDK

Árbol de Clases.
1.
2.
3.
4.
The is the class tree. It shown the
inheritance of all classes. It's the main
part of the user interface and it's the only
part you can not reposition or disable.
Right-clicking this tree will show some
additional functionality.
This is the package tree. It shows the
various packages and the classes it
contain. You can easily switch between
the two trees based on the select class
using Ctrl+Tab.
Source preview. This shown a read only,
syntax highlighted version of the source
code of a selected class. You can click
on known UnrealScript classes to view
the source code of that class.
This is the log. Besides reporting various
information like errors and warnings
during source code analysis and program
errors it is also used to display the full
text search results.
Programando con UDK

Integración con otras aplicaciones (FLASH).