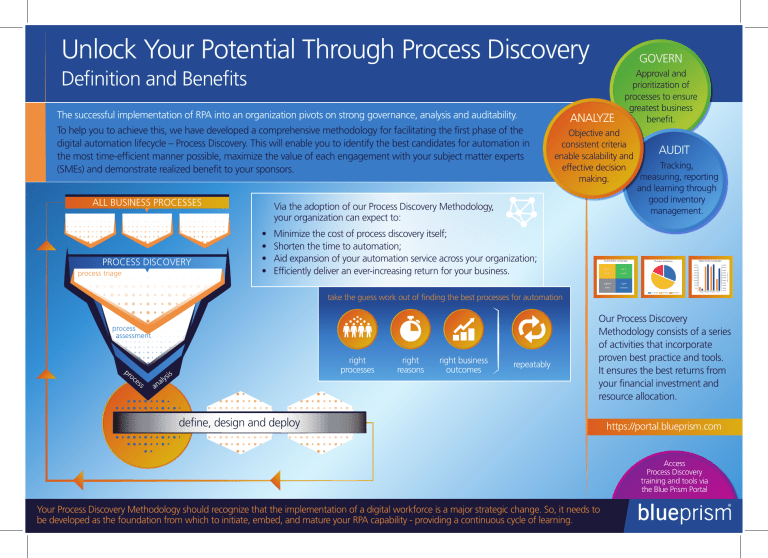 Unlock Your Potential Through Process Discovery
GOVERN
Definition and Benefits
ALL BUSINESS PROCESSES
PROCESS DISCOVERY
•
•
•
•
Objective and
consistent criteria
AUDIT
enable scalability and
Tracking,
effective decision
measuring, reporting
making.
and learning through
good inventory
management.
Minimize the cost of process discovery itself;
Shorten the time to automation;
Aid expansion of your automation service across your organization;
Efficiently deliver an ever-increasing return for your business.
Automation Landscape
16 55%
2 7%
Pipeline
Ready
10 34%
Opportunity Landscape
Process Inventory
50000
220000
45000
200000
40000
180000
35000
160000
30000
140000
25000
120000
20000
100000
15000
1 3%
80000
10000
Defer
Incubate
0
take the guess work out of finding the best processes for automation
right
processes
right
reasons
right business
outcomes
repeatably
60000
5000
Accepted
Pending
Rejected
Potential Capital
process triage
Via the adoption of our Process Discovery Methodology,
your organization can expect to:
ANALYZE
Potential Hours
The
RPABlue
intoPrism
an organization
on strong
auditability.
Thesuccessful
role of theimplementation
Developer is to of
build
solutions inpivots
accordance
withgovernance,
the Solutionanalysis
Design and
documents
To help you to achieve this, we have developed a comprehensive methodology for facilitating the first phase of the
digital automation lifecycle – Process Discovery. This will enable you to identify the best candidates for automation in
the most time-efficient manner possible, maximize the value of each engagement with your subject matter experts
(SMEs) and demonstrate realized benefit to your sponsors.
Approval and
prioritization of
processes to ensure
greatest business
benefit.
40000
Ready
Pipeline Incubate
Defer
20000
Our Process Discovery
Methodology consists of a series
of activities that incorporate
proven best practice and tools.
It ensures the best returns from
your financial investment and
resource allocation.
define, design and deploy
https://portal.blueprism.com
Access
Process Discovery
training and tools via
the Blue Prism Portal
Your Process Discovery Methodology should recognize that the implementation of a digital workforce is a major strategic change. So, it needs to
be developed as the foundation from which to initiate, embed, and mature your RPA capability - providing a continuous cycle of learning.