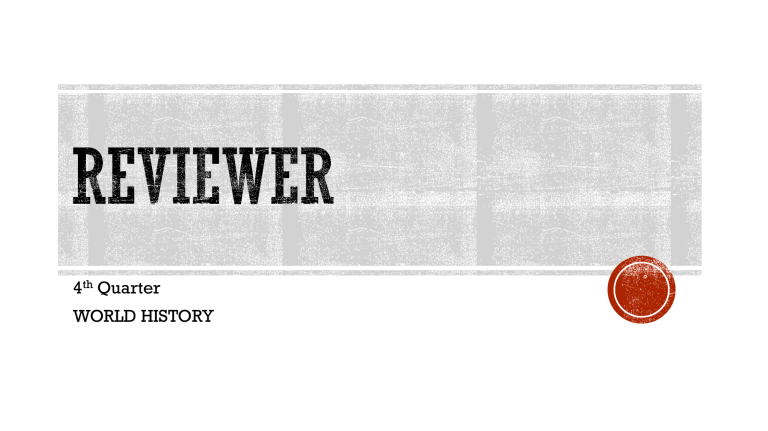 4th Quarter
WORLD HISTORY
SCHLIEFFEN PLAN
WW I
BLITZKRIEG
WW II
ASSASINATION OF FRANZ
FERDINAND
WW I
TRIPLE ALLIANCE AND TRIPLE
ENTENTE
WW I
ATTACK ON LUSITANIA
WW II
EFFORTS TO OUTLAW WAR AND
ACHIEVE PERMANENT PEACE HAD
BEEN GAINING MOMENTUM IN
EUROPE SINCE THE MIDDLE OF 19TH
CENTURY
WW I
THE GROWTH OF NATIONALISM
CAUSED INTENSE COMPETITION
AMONG THE GREAT POWERS
WW I
GENOCIDE OF THE JEWS WAS THE
FINAL SOLUTION
WW II
AT THE END OF THIS WAR,
GERMANY SUFFERED HUGE LOSS
WW I
BATAAN DEATH MARCH
WW II
RUSSIA AND FRANCE UNITED TO
THE FEAR OF BISMARK
WW I
DWIGHT EISSENHOWER LED ONE
OF THE BIGGEST BATTLE AT
NORMANDY CALLED THE D-DAY
WW II
GEN. DOUGLAS MACARTHUR LED
THE US FORCES IN THE PHILIPPINES
WW II
BENITO MUSSOLINI ROSE POWER IN
ITALY
WW II
IMPERIALISM PUSHED THE
EUROPEANS TO THE BRINK OF WAR
WW I
GROWING RIVALRIES AND
MISTRUST LED TO THE CREATION
OF SEVERAL MILITARY ALLIANCES
AMONG THE GREAT POWERS
WW I
POLAND WAS ATTACKED
WW II
THE BIG THREE MET AT A
CONFERENCE IN TEHRAN
WW II
COUNTRIES DEVOTED ALL THEIR
RESOURCES FOR THE WAR
WW I
BOMBING OF PEARL HARBOR
WW II
ACCORDING TO HIM, THE MASTER
RACE WERE THE ARYANS
WW II
 FALSE—ASSISMILATION IS A METHOD OF MANAGEMENT (DIRECT CONTROL)
WHICH IS THE ADAPTAYION OF LOCAL PEOPLE TO RULING CULTURE
 TRUE
 TRUE
 FALSE—THEY WERE ECONOMICALLY SELF-SUFFICIENT
 FALSE—HE SUPPORTED INDUSTRIALIZATION OF JAPAN
 FALSE—THE PANAMA CANAL WAS BUILT ACROSS CENTRAL AMERICA TO SPEED
UP TRAVEL BETWEEN THE ATLANTIC AND PACIFIC COASTS
 TRUE
 TRUE
 TRUE
 FALSE---IF A EUROPEAN POWER WANTED TO COLONIZE AND OCCUPY AN
AFRICAN TERRITIRY, THEY SHOULD SAY IT, SO THAT THEY COULD CLAIM THAT
COLONY
 TRUE
 FALSE—THEY STARTED WITH KOREA
 FALSE—INDIA WAS THE JEWEL IN THE CROWN
 TRUE
 FALSE—IT WAS DURING THE TAIPING REBELLION, BOXER REBELLION WAS A
MOVEMENT AIMING TO END THE FOREIGN INFLUNECE IN THE COUNTRY
 TRUE
 FALSE---OPEN DOOR POLICY; SPHERE OF INFLUENCE IS AN AREA WHEREIN
FOREIGN NATIONS CONTROLS TRADE AND INVESTMENT
 FALSE—BRITISH, THEY IMITATED AMERICANS' EDUCATION SYSTEM
 FALSE—THEY USED GERMANY'S
 FALSE---TRUMAN DOCTRINE, MARSHALL PLAN IS TO GIVE ECONOMIC AID PLAN
TO EUROPE TO HELP IT RECOVER FROM TH E DAMAGE CAUSED BY THE WAR
 FALSE—WARSAW PACT, NATO WAS ALLIES TO THE US
 TRUE
 TRUE
1.Warned all European powers not to interfere in
the Western Hemisphere
2. US wouldn't involve itself in European affairs
3. US wouldn't interfere w/ existing European
colonies in the Americas
1.The establishment of the United Nations
2.Division of Germany into four zones
3.Free elections allowed in the states of Eastern Europe
4.Russia's promise to join the war against Japan
1.Leadership of Mikhail Gorbachev
2.Glasnost-openness to democracy
3.Perestroika-reshaping of economy
4.Economic movements
5.Freedom Movements
1.Formation of Commonwealth of Independent States
2.Loss of role as superpower
3.End of Cold War
4.Economic Hardship
5.Minority Revolts and ethnic conflicts
 INDIA WAS DIVIDED—MODERN INDIA WAS HINDU, EAST AND WEST PAKISTAN
WERE THE MUSLIMS
 PAKISTAN SPLIT FROM INDIA-THERE WAS A FIGHT BETWEEN EAST AND WEST
PAKISTAN. EAST PAKISTAN DECLARED IT'S INDEPENDENCE FROM PAKISTAN
AND CALLED THEIR COUNTRY BANGLADESH. INDIA SISED WITH BANGLADESH
 SRI LANKA HINDUS DESIRED A SEPARATE NATION ON THE ISLAND (THEY DID
NOT WANT TO BE WITH THE BUDDHISTS)—WAR BETWEEN THE TEWO IS
ONGOING
 PHILIPPINES GAIEN INDEPENDENCE FROM THE US BUT SUFFERED DECADES OF
DICTATORSHIP UNDER FERDINAND MARCOS, CURRENT PROBLEMS WITH A
MILITANT MUSLIM GROUP CALLED THE MOROS WHO DESIRE INDEPENDENCE
 BURMA (MYANMAR) SUFFERED MANY POLITICAL UPHEAVALS
 SINGAPORE SPLIT FROM MALAYSIA AND BECAME AN INDEPENDENT CITY-
STATE, IT IS NOW AN IMPORTANT BANKING AND TRADE CENTER AND HAS A
VERY STRONG ECONOMY
 INDONEISA GAINED INDEPENDENCE FROM NETHERLANDS, EAST TIMOR WHICH
HAS PREDOMINANTLY CHRISTIAN POPULATION SPLIT FROM INDONESIA TO
BECOME INDEPENDENT
 PAN-AFRICANISM SPREAD
 GENOCIDES IN AFRICA (RWANDA, DARFUR)
 ISRAEL AND PALESTINE CONFLICT
 CENTRAL ASIA COUNTRIES (Armenia, Azerbaijan, Georgia, Kyrgyzstan, Uzbekistan,
Turkmenistan, Kazakhstan, Afghanistan, + Tajikistan ) ARE STILL SOME OF THE
POOREST COUNTRIES IN THE WORLD
 AFGHANISTAN- were unhappy b/c they believed communism went against many
Islamic beliefs. They formed a group known as the mujahideen (Muslim holy warriors).
 THE RISE OF THE TALIBAN-A CONSERVATIVE ISLAMIC GROUP AND CONTROLLED
90% OF THE COUNTRY
-Initially, the Taliban was viewed positively b/c it brought law + order, fought
corruption, + encouraged business growth.
-Eventually looked down on b/c it followed an extreme interpretation of Islam –
women were forbidden from going to school or holding jobs + had to be completely
covered when out in public, tv + movies were banned, etc… Breaking laws resulted in
severe punishments (beatings, amputations, execution). Especially troubling was their
support of terrorism.
DEAR GRADE 12, THIS IS IT! I WISH YOU
WELL ON YOUR FUTURE ENDEAVORS. I
HAVE LOTS OF THINGS TO SAY, BUT I'LL
SAVE IT FOR NEXT TIME. I WILL REALLY MISS
YOU ALL.
DEAR GRADE 11, THE NEXT YEAR WOULD BE
CHALLENGING. I'M JUST HERE TO SUPPORT
YOU. I'LL SEE YOU GUYS AROUND!