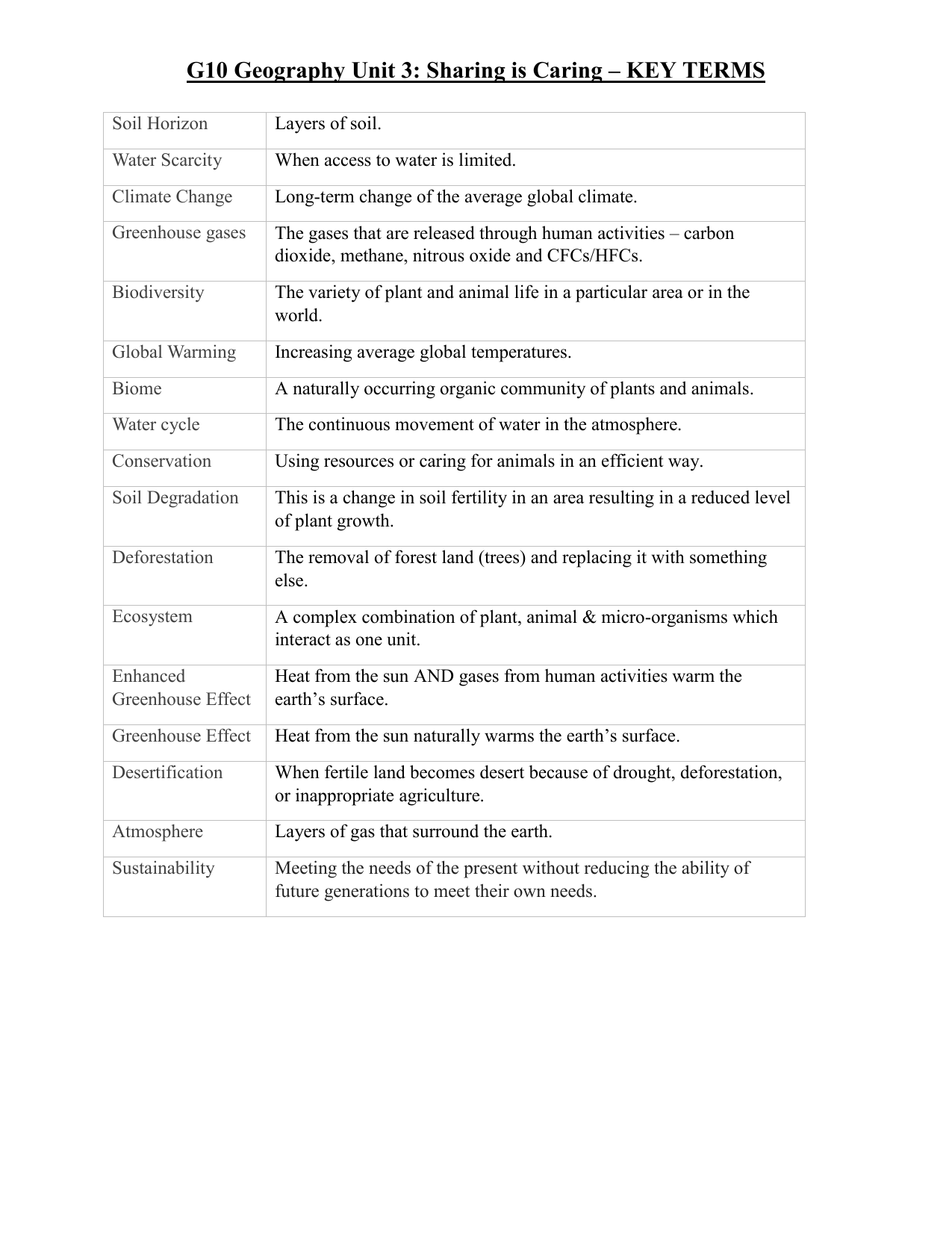 G10 Geography Unit 3: Sharing is Caring – KEY TERMS
Soil Horizon
Layers of soil.
Water Scarcity
When access to water is limited.
Climate Change
Long-term change of the average global climate.
Greenhouse gases
The gases that are released through human activities – carbon
dioxide, methane, nitrous oxide and CFCs/HFCs.
Biodiversity
The variety of plant and animal life in a particular area or in the
world.
Global Warming
Increasing average global temperatures.
Biome
A naturally occurring organic community of plants and animals.
Water cycle
The continuous movement of water in the atmosphere.
Conservation
Using resources or caring for animals in an efficient way.
Soil Degradation
This is a change in soil fertility in an area resulting in a reduced level
of plant growth.
Deforestation
The removal of forest land (trees) and replacing it with something
else.
Ecosystem
A complex combination of plant, animal & micro-organisms which
interact as one unit.
Enhanced
Greenhouse Effect
Heat from the sun AND gases from human activities warm the
earth's surface.
Greenhouse Effect
Heat from the sun naturally warms the earth's surface.
Desertification
When fertile land becomes desert because of drought, deforestation,
or inappropriate agriculture.
Atmosphere
Layers of gas that surround the earth.
Sustainability
Meeting the needs of the present without reducing the ability of
future generations to meet their own needs.