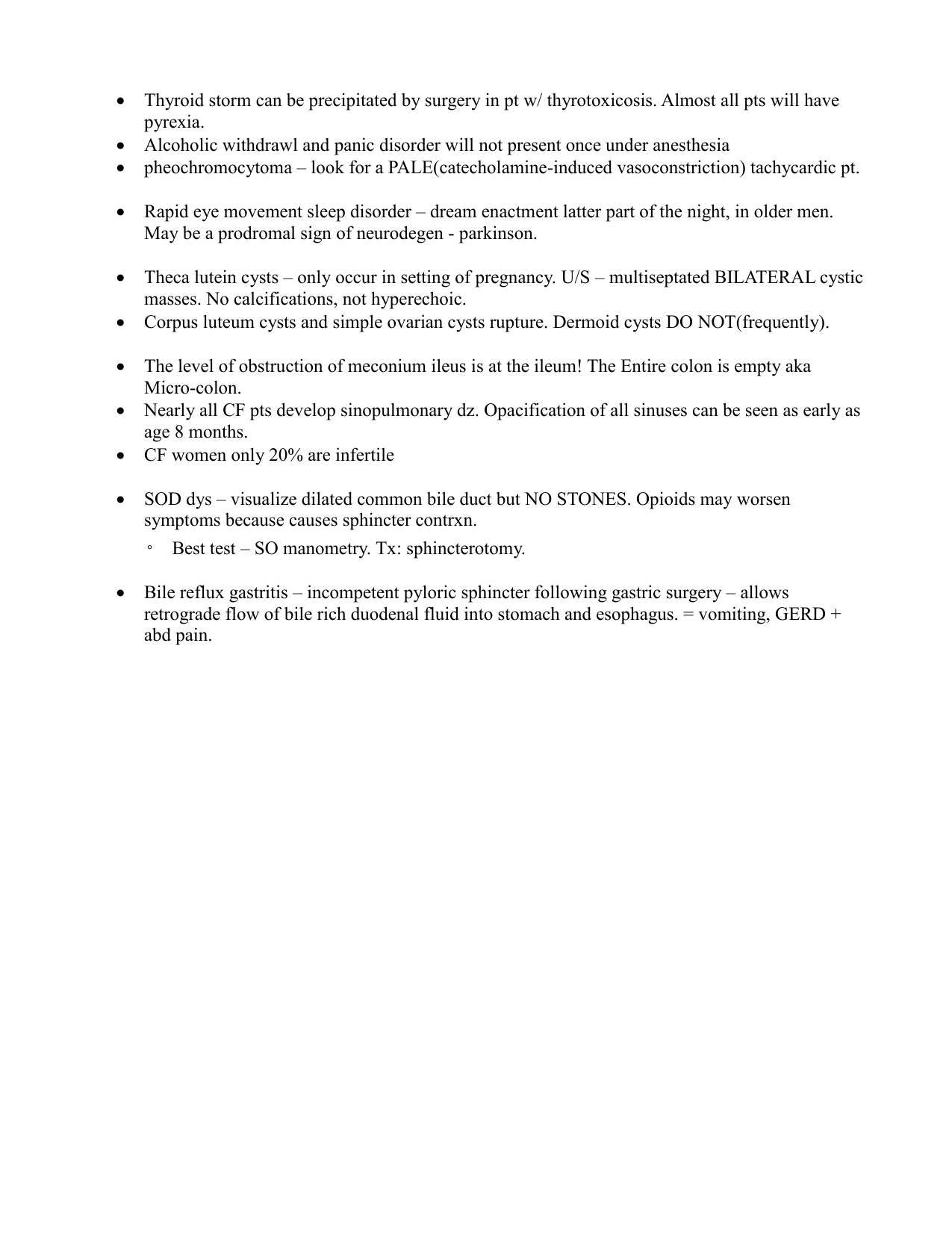 


Thyroid storm can be precipitated by surgery in pt w/ thyrotoxicosis. Almost all pts will have
pyrexia.
Alcoholic withdrawl and panic disorder will not present once under anesthesia
pheochromocytoma – look for a PALE(catecholamine-induced vasoconstriction) tachycardic pt.

Rapid eye movement sleep disorder – dream enactment latter part of the night, in older men.
May be a prodromal sign of neurodegen - parkinson.

Theca lutein cysts – only occur in setting of pregnancy. U/S – multiseptated BILATERAL cystic
masses. No calcifications, not hyperechoic.
Corpus luteum cysts and simple ovarian cysts rupture. Dermoid cysts DO NOT(frequently).




The level of obstruction of meconium ileus is at the ileum! The Entire colon is empty aka
Micro-colon.
Nearly all CF pts develop sinopulmonary dz. Opacification of all sinuses can be seen as early as
age 8 months.
CF women only 20% are infertile

SOD dys – visualize dilated common bile duct but NO STONES. Opioids may worsen
symptoms because causes sphincter contrxn.
◦ Best test – SO manometry. Tx: sphincterotomy.

Bile reflux gastritis – incompetent pyloric sphincter following gastric surgery – allows
retrograde flow of bile rich duodenal fluid into stomach and esophagus. = vomiting, GERD +
abd pain.