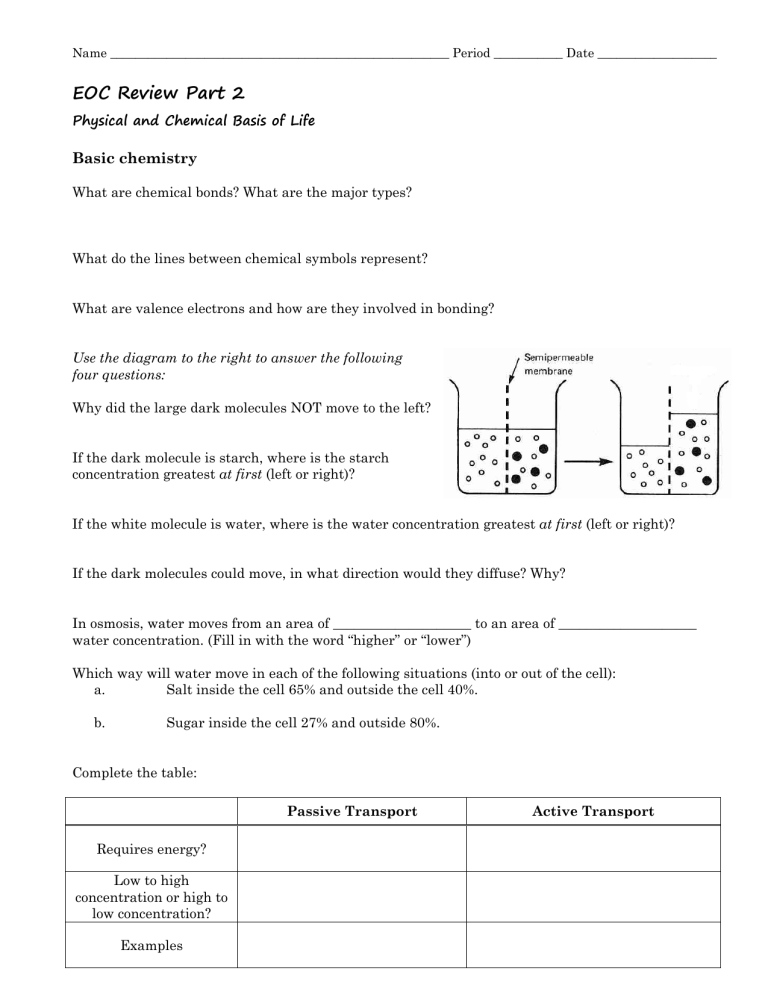 Name ______________________________________________________ Period ___________ Date ___________________
EOC Review Part 2
Physical and Chemical Basis of Life
Basic chemistry
What are chemical bonds? What are the major types?
What do the lines between chemical symbols represent?
What are valence electrons and how are they involved in bonding?
Use the diagram to the right to answer the following
four questions:
Why did the large dark molecules NOT move to the left?
If the dark molecule is starch, where is the starch
concentration greatest at first (left or right)?
If the white molecule is water, where is the water concentration greatest at first (left or right)?
If the dark molecules could move, in what direction would they diffuse? Why?
In osmosis, water moves from an area of ____________________ to an area of ____________________
water concentration. (Fill in with the word "higher" or "lower")
Which way will water move in each of the following situations (into or out of the cell):
a.
Salt inside the cell 65% and outside the cell 40%.
b.
Sugar inside the cell 27% and outside 80%.
Complete the table:
Passive Transport
Requires energy?
Low to high
concentration or high to
low concentration?
Examples
Active Transport
Macromolecules
Complete the tables:
Macromolecules
Function(s)
Monomer
Examples
Carbohydrates
Proteins
Lipids
Nucleic Acids
Specific
Molecule
Specific Function(s)
Glucose
Starch
Glycogen
Cellulose
Enzymes
Insulin
Hemoglobin
DNA
mRNA
What are some of the functions of the proteins and other molecules found in the cell membrane?
What is the function of hormones?
How do hormones travel throughout a body?