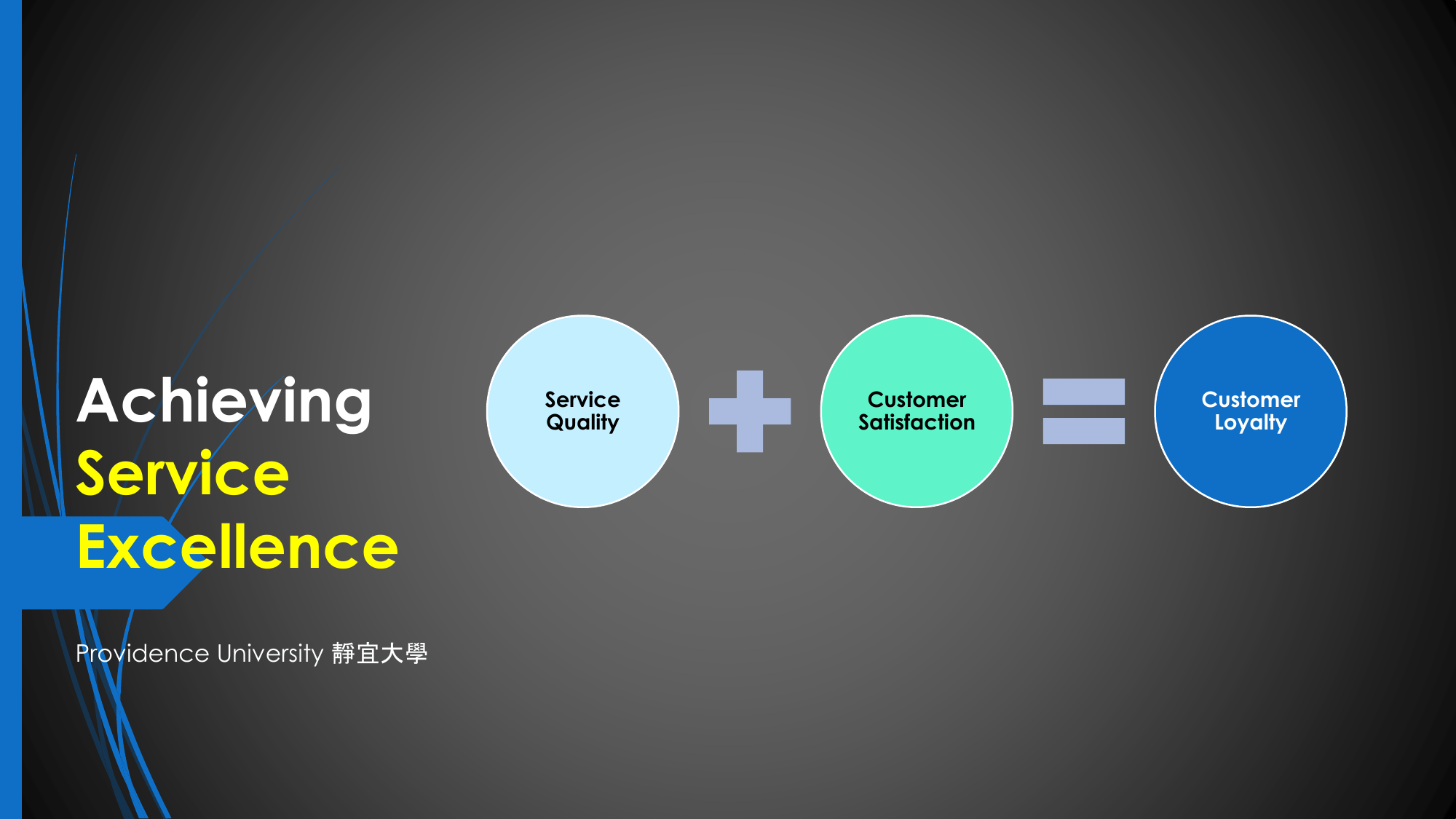 Achieving
Service
Excellence
Providence University 靜宜大學
Service
Quality
Customer
Satisfaction
Customer
Loyalty
Customer Service Model
Speed & Time
Personal Interaction
Service
Expectation
Courtesy
Information
Long-Term Relationship
Introduction
WHAT IS
CUSTOMER
FOCUS?
THINK ABOUT A
PERSONAL
EXPERIENCE IN
WHICH YOU WERE
TREATED VERY
WELL AS A
CUSTOMER. WRITE
3 WORDS TO
DESCRIBE YOUR
FEELING IN THAT
EXPERIENCE
THINK ABOUT A
PERSONAL
EXPERIENCE IN
WHICH YOU WERE
TREATED VERY
POORLY AS A
CUSTOMER. WRITE
3 WORDS TO
DESCRIBE WHAT
YOU WANTED TO
DO IN RESPONSE
TO THAT POOR
TREATMENT.
Customer Focus
Listen
Learn
Act
It's the organizations' concerns with (past,
present, and future) customers' needs, wants,
and expectations and their commitment to
understand and satisfy them in a productive
manner for long-term relationship.
Customer
Focus
TRUST
 Creates moments of
trust
Customer
organization
RELATIONSHIP
Customer interaction cycle
 It's all factors involving
products or services
which lead to customer
loyalty such the customer
interaction cycle.
The four basic elements
Receiving
 Be ready
To answer.
 Welcome
A truly effective welcoming
statement (tone of voice,
verbal and body
language).
The way how they are received
They want to continue or not
What would you do to improve the way of welcoming
Understanding
 Listen
To understand you need to
listen (request, needs, wants,
expectations)
 Ask
Ask questions to clarify
(delivery time, payment
term, packing, No of copies).
 Restore
Ask again to restore, show
and assure them that you
understand the problem.
ACTION PLANNING:
Listen
What are the biggest challenges in listening to your
customers? What skills can you use to listen more effectively?
Ask
Write two questions you could ask of your most important
customers. Focus on uncovering more information about their
needs, level of satisfaction with the organization, product, etc.
Restore
Think of recent experience in which the facts were
complicated. How might you have restored the facts to show
that you understand?
Helping
 Offer information
Suggest to ensure they make
the right choice (this builds
trust)
 Set expectations
Educate customers offering
choices that you can do
based on what works best
for customers.
 Get agreement
Check if the problems have
been addressed
ACTION PLANNING:
What are the most commonly asked questions from
customers? Prepared clear and effective answers.
Make sure that all customers services staff have
information sources to hand
Review basic knowledge. How well do people know what
they should and can they explain it clearly?
How well do you offer options? Be ready to offer
alternatives at each decision point in a customer int.
How well can you manage expectations? Make a list.
Keeping
 Check for satisfaction
Make sure both possible
scenarios (satisfied and
unsatisfied customers)
 Thank
Thank customers every time
and specially when the
situation has been difficult.
 Bridge
Consider both positive and
negative experience to
increase service.
 Follow-up
Ask yourself what else to do
to acquire or retain
customers.
ACTION PLANNING:
Consider your own work situation.
Which of the keeping skills will you want to focus on in
your work with customers?
How will you focus on these skills?
Customer interaction cycle
Experience
Prospect
Customer
Service
Loyal
Reference
 Business Dictionary. (n.d.). businessdictionary.com. Retrieved March 2019,
from businessdictionary.com:
www.businessdictionary.com/definition/customer-focus.html
 Bartley, B., Gomibuchi, S. and Mann, R. (2007), "Best practices in achieving
a customer-focused culture", Benchmarking: An International Journal, 2007,
14(4), 482-496.
 Singh, R.K. and Garg, S.K. (2008), "Strategy development by SMEs for
competitiveness: a review", Benchmarking: An International Journal, 15(5),
525-547.