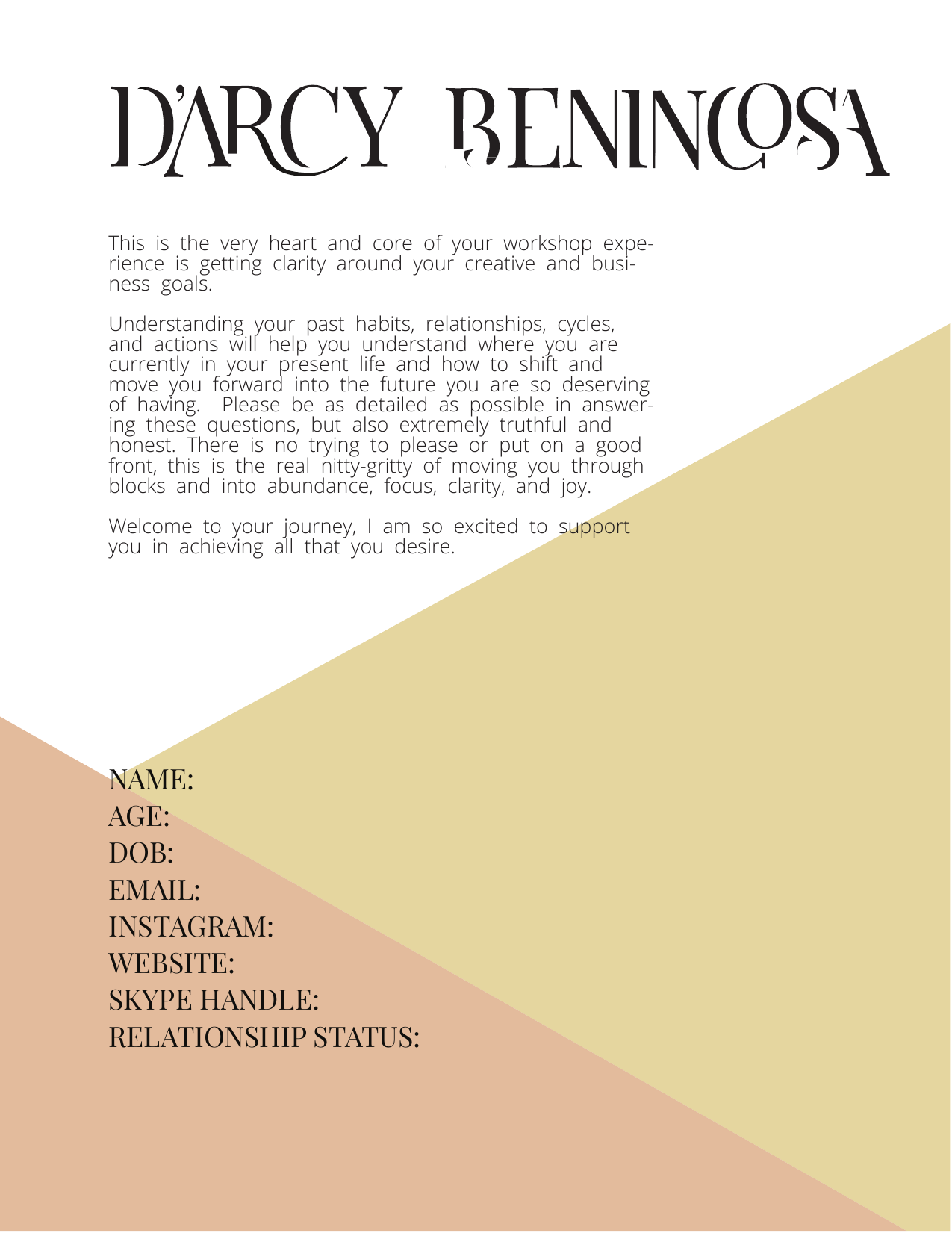 This is the very heart and core of your workshop experience is getting clarity around your creative and business goals.
Understanding your past habits, relationships, cycles,
and actions will help you understand where you are
currently in your present life and how to shift and
move you forward into the future you are so deserving
of having. Please be as detailed as possible in answering these questions, but also extremely truthful and
honest. There is no trying to please or put on a good
front, this is the real nitty-gritty of moving you through
blocks and into abundance, focus, clarity, and joy.
Welcome to your journey, I am so excited to support
you in achieving all that you desire.
NAME:
AGE:
DOB:
EMAIL:
INSTAGRAM:
WEBSITE:
SKYPE HANDLE:
RELATIONSHIP STATUS:
WORKSHOP PERCEPTION & ANALYSIS
WHAT ARE YOUR MAIN REASONS FOR WANTING TO ATTEND THE
WORKSHOP AT THIS TIME?
WHAT ARE THE MAIN GOALS YOU WANT TO ACHIEVE IN THE NEXT 90 DAYS?
CREATE A VISION FOR YOUR LIFE AS YOUR WRITE THIS.
WHAT ARE THE MAIN GOALS YOU WANT TO ACHIEVE IN THE NEXT 6 MONTHS,
YEAR, 3 YEARS, and 10 YEARS.
WHAT DO YOU FEEL HAS KEPT YOU FROM ACCOMPLISHING
THESE GOALS IN THE PAST? BE SPECIFIC.
WHAT ARE YOU WILLING TO CHANGE ABOUT YOURSELF OR
YOUR BUSINESS TO ACCOMPLISH YOUR GOALS? BE SPECIFIC.
WHY DO YOU THINK YOU HAVE NOT ACHIEVED THESE GOALS
IN THE PAST?
HOW MANY HOURS A WEEK DO YOU SPEND MARKETING?
WHAT OTHER PERSONAL AND BUSINESS DEVELOPMENT WORK HAVE YOU
DONE? PLEASE LIST ALL PROGRAMS, SEMINARS, TEACHERS, MENTORS, HEALERS, BOOKS ETC. THAT HAVE BEEN PART OF YOUR DEVELOPMENT IN THE
PAST SEVERAL YEARS.
WHICH OF THESE RESOURCES HAVE BEEN THE MOST HELPFUL FOR YOU AND
WHY?
WHICH OF THESE PROGRAMS HAVE BEEN THE LEAST HELPFUL FOR YOU AND
WHY?
WHAT IS YOUR PERCEPTION ABOUT WHAT THIS WORKSHOP
WILL OFFER TO YOU?
WHAT WOULD SUCCESS LOOK LIKE AND FEEL LIKE TO YOU?
WHAT WOULD IT BE EXCITING FOR YOU TO ACHIEVE IN YOUR
BUSINESS? BE SPECIFIC.
BUSINESS GOALS & DESIRES
WHAT DID YOUR PARENTS TEACH YOU ABOUT MONEY THROUGH THEIR
ACTIONS AND DISCUSSIONS ABOUT WEALTH?
DESCRIBE YOUR OWN RELATIONSHIP WITH MONEY. HOW DO YOU BRING IT
INTO YOUR LIFE?
HOW MUCH MONEY DO YOU CURRENTLY MAKE IN YOUR BUSINESS?
HOW STRESSFUL IS BRINGING IN MONEY TO YOU AT THIS TIME?
IF YOU SUDDENLY FOUND AN EXTRA $50,000 RIGHT NOW, HOW
WOULD YOU SPEND IT?
BUSINESS GOALS & DESIRES
WHAT ARE YOUR STRENGTHS AND WEAKNESSES IN LIFE AND
IN BUSINESS? BE SPECIFIC.
HOW LONG HAVE YOU BEEN IN BUSINESS? WHAT IS THE CURRENT STATUS
OF YOUR BUSINESS? I.E. WELL-DEVELOPED, PROFITABLE, ETC.
WHO IS YOUR TARGET MARKET? THE PEOPLE YOU WANT TO SERVE AND ADD
VALUE TO? PLEASE DESCRIBE.
WHICH MARKETING CHANNELS ARE YOU CURRENTLY USING, AND/OR WHAT
HAVE YOU USED IN THE PAST? (I.E. GOOGLE AD WORDS, MAGAZINE ADVERTS,
SUPPLIER RELATIONSHIPS, SHOWS, FACEBOOK, EDITORIAL FEATURES, TRADE
SHOWS ETC). WHICH HAVE BEEN THE MOST SUCCESSFUL FOR YOU?
HOW MANY CLIENTS DO YOU WANT PER YEAR?
HOW MANY CLIENTS DID YOU HAVE LAST YEAR?
WHAT IS YOUR SINGLE BIGGEST BUSINESS CHALLENGE? HOW
DO YOU KNOW THIS IS YOUR CHALLENGE?
WHAT WOULD YOUR LIFE LOOK LIKE HAVING ACHIEVED YOUR BUSINESS
GOALS?
WHY DID YOU START YOUR OWN BUSINESS? WHAT BUSINESS TRAINING DID
YOU RECEIVE?
HOW MASCULINE ARE YOU? HOW FEMININE ARE YOU IN YOUR
RELATIONSHIPS AND IN YOUR BUISNESS?
PLEASE NOTE THE FOLLOWING EXPLANATION:
Masculine Traits:
Freedom, Logic, Focus, Integrity, Stability, Passion, Independence, Discipline. Confidence. Aware. Strength. Organized. Task Oriented.
Driven by Success. Decisive.
Feminine Traits:
Creative, Creative Flow, Empath and Empathetic, Intuitive,
Loving, Patient, Receptive, Flow, Sensuality, Nurturing, Affectionate, Sharing,
Tender, Radiance, Beauty, Spontaneous, Happy, Artistic, Emotional (feels emotions on a deep and healthy level)
HAVE YOU EVER HAD AN EXPERIENCE WITH ENERGY HEALING
OR WORKING THROUGH ENERGETIC BLOCKS?
WHAT DO YOU UNDERSTAND/BELIEVE ABOUT THE LAW OF ATTRACTION?
WHAT DO YOU BELIEVE IS THE MAIN PURPOSE OF YOUR LIFE RIGHT NOW?
IF YOU COULD CHANGE THREE THINGS IN YOUR LIFE OR BUSINESS, WHAT
WOULD THEY BE?
WHAT'S THE ONE THING IN LIFE YOU WANT TO ACCOMPLISH
(CAN BE NON-BUSINESS RELATED)
WHAT, SPECIFICALLY, DO YOU WANT FROM D'ARCY DURING
THIS WORKSHOP?
YAY! You did it! That was no small task and the first step in a MAJOR process
to bring clarity and movement to your life at a faster rate than before. I can't
wait to get started with you!!