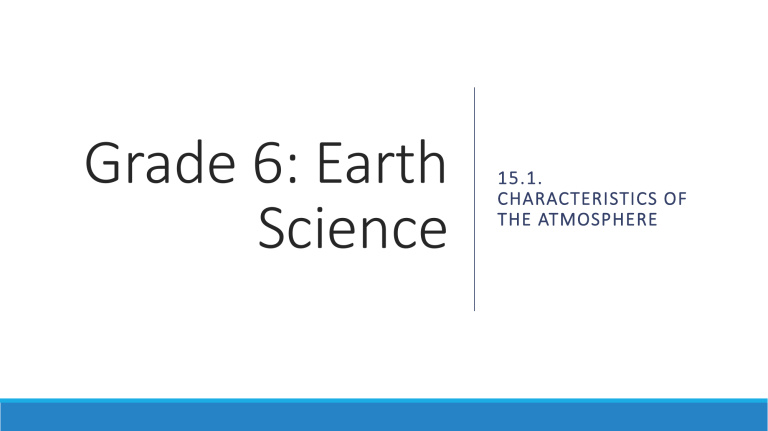 Grade 6: Earth
Science
15.1.
CHARACTERISTICS OF
THE ATMOSPHERE
What is the
atmosphere?
Definition: A mixture of gases
that surround the Earth.
Effects of the Atmosphere:
•Supports life. Contains all the
gases needed for humans and
other living organisms to
breathe and survive.
•Protects life on Earth from the
sun's damaging rays.
Nitrogen: The most common atmospheric
gas. Makes up 78% of the atmosphere.
Oxygen: Makes up approximately 21% of
the atmosphere. This is the gas we breathe
and is necessary for most life on Earth to
survive.
Other gases: Carbon dioxide, methane,
argon and many other gases also form part
of the atmosphere. Carbon dioxide is a
greenhouse gas.
Water Vapour: Together with other gases,
water vapour makes up approximate 1% of
the atmosphere. May turn into rain or
snow depending on weather conditions.
Small Particles: The atmosphere contains
many of these particles, including dust, sea
salt, dirt, smoke and volcanic ash.
Atmospheric Pressure
What is Air Pressure?
The measure of the force with which air
pushes on a surface.
•Close to the Earth's surface, at sea level (low
altitude), more air is above you.
•This increases pressure at lower altitudes.
•Further away from sea level (higher altitude),
less air is above you.
•This decreases pressure at higher altitudes.
Atmospheric Composition affects
Temperature
•As altitude increases the temperature also changes.
Why?
•This is due to different gases present in each layer of the atmosphere.
•Some gases absorb solar energy. Layers of the atmosphere with these gases are
warmer.
•Other layers of the atmosphere have less of these gases. These are cooler.
Layers of the
Atmosphere
The atmosphere is
divided into 4
layers:
•Troposphere
•Stratosphere
•Mesosphere
•Thermosphere
Layers of the Atmosphere
Troposphere:
•Lies next to the Earth's surface.
•All life forms, carbon dioxide, water vapour, weather conditions and clouds occur here.
•Is constantly changing.
Stratosphere
•Contains the ozone layer.
•Is extremely cold (except for where the ozone layer occurs) and has little water vapour.
•The Ozone layer absorbs ultra-violet rays.
Layers of the Atmosphere
Mesosphere:
•The middle layer of the atmosphere.
•Is the coldest layer.
•Temperatures decrease as altitude increases.
Thermosphere:
•Uppermost layer of the atmosphere.
•Has the highest temperature of all the layers of the atmosphere.
•Is the least dense of the layers.