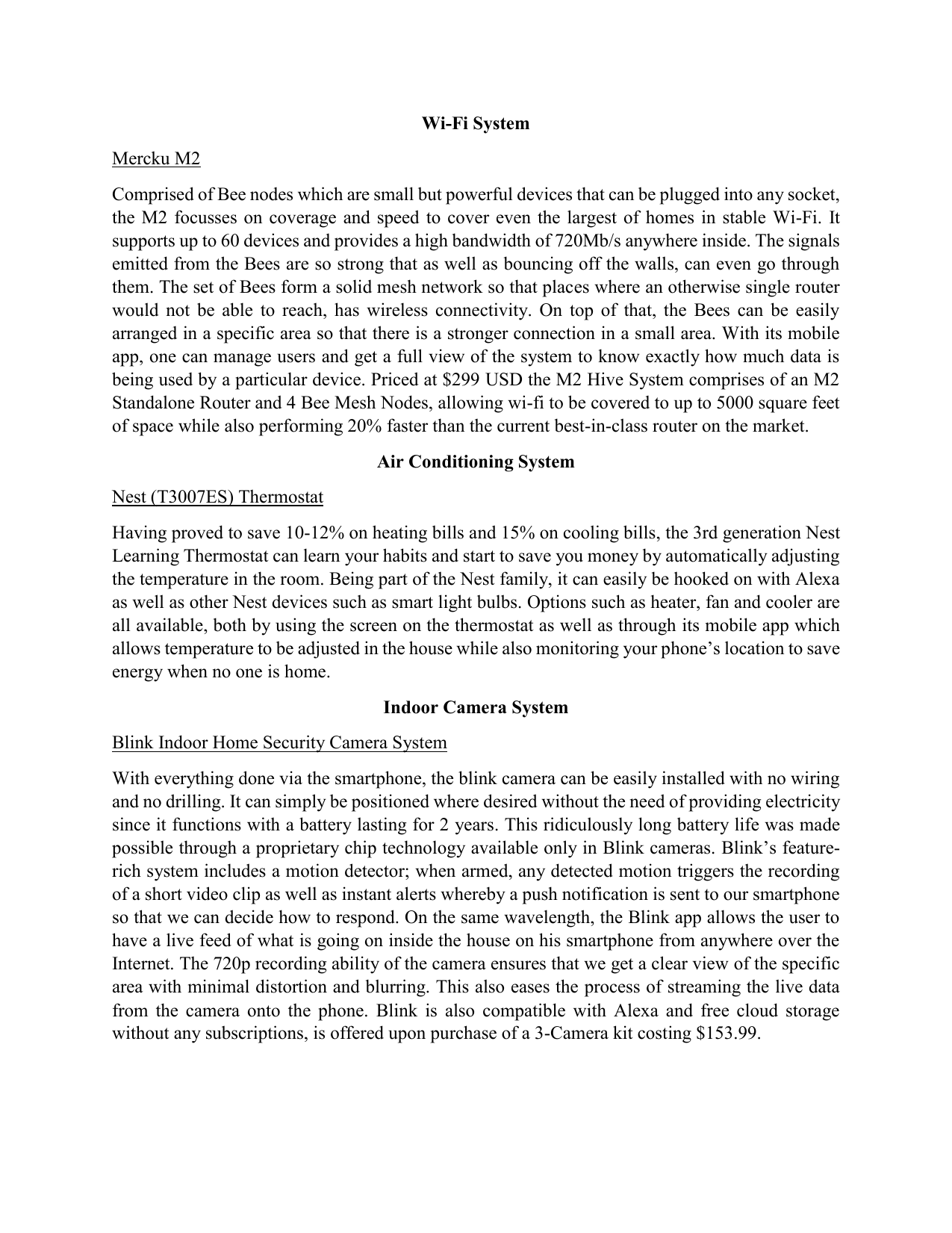 Wi-Fi System
Mercku M2
Comprised of Bee nodes which are small but powerful devices that can be plugged into any socket,
the M2 focusses on coverage and speed to cover even the largest of homes in stable Wi-Fi. It
supports up to 60 devices and provides a high bandwidth of 720Mb/s anywhere inside. The signals
emitted from the Bees are so strong that as well as bouncing off the walls, can even go through
them. The set of Bees form a solid mesh network so that places where an otherwise single router
would not be able to reach, has wireless connectivity. On top of that, the Bees can be easily
arranged in a specific area so that there is a stronger connection in a small area. With its mobile
app, one can manage users and get a full view of the system to know exactly how much data is
being used by a particular device. Priced at $299 USD the M2 Hive System comprises of an M2
Standalone Router and 4 Bee Mesh Nodes, allowing wi-fi to be covered to up to 5000 square feet
of space while also performing 20% faster than the current best-in-class router on the market.
Air Conditioning System
Nest (T3007ES) Thermostat
Having proved to save 10-12% on heating bills and 15% on cooling bills, the 3rd generation Nest
Learning Thermostat can learn your habits and start to save you money by automatically adjusting
the temperature in the room. Being part of the Nest family, it can easily be hooked on with Alexa
as well as other Nest devices such as smart light bulbs. Options such as heater, fan and cooler are
all available, both by using the screen on the thermostat as well as through its mobile app which
allows temperature to be adjusted in the house while also monitoring your phone's location to save
energy when no one is home.
Indoor Camera System
Blink Indoor Home Security Camera System
With everything done via the smartphone, the blink camera can be easily installed with no wiring
and no drilling. It can simply be positioned where desired without the need of providing electricity
since it functions with a battery lasting for 2 years. This ridiculously long battery life was made
possible through a proprietary chip technology available only in Blink cameras. Blink's featurerich system includes a motion detector; when armed, any detected motion triggers the recording
of a short video clip as well as instant alerts whereby a push notification is sent to our smartphone
so that we can decide how to respond. On the same wavelength, the Blink app allows the user to
have a live feed of what is going on inside the house on his smartphone from anywhere over the
Internet. The 720p recording ability of the camera ensures that we get a clear view of the specific
area with minimal distortion and blurring. This also eases the process of streaming the live data
from the camera onto the phone. Blink is also compatible with Alexa and free cloud storage
without any subscriptions, is offered upon purchase of a 3-Camera kit costing $153.99.
Door Lock System
PIN Genie Keyless Digital Door Lock (PGD718)
The personalized Password Verification Technology works by making use of a 6-8-digit access
code on the touchscreen display. The unique algorithm reshuffles the number combination after
each entry of the correct code so that others peeking, cannot copy the smart code. Each family
member can get their own smart code for keyless entry and for parents who want to monitor when
their kids are home, that is also possible. The PIN Genie lock offers features such as smart
automatic locking in 30 seconds and remote control of the lock from anywhere within the available
Bluetooth range that it provides for access to the app. Powered by long lasting batteries, the lock's
app comes with a load of functions. For example, one can send an extra code to a friend or family
member which expires in a specified period of time so that the person can only access the door
during that period. It is priced at $199.00.
Bedroom
Eight Sleep Tracker
The Eight Sleep Tracker is centred around health and sleep monitoring while acting as a dualzoned smart mattress topper, designed to personalize and improve your ideal sleep routine. The
wide variety of data discoveries provided by the Eight every morning includes details such as a
sleep score, the time slept, how many times the person has tossed and turned, heart rate as well as
the temperature of the room and the bed. A process known as ballistocardiography is used to sensor
our body and thus calculate such information. The built-in heater allows 2 sides of the bed to be
temperature-controlled while having additional functions such as a timer, a heating schedule and
the intensity of the heat. An alarm can also be set, making the Eight a complete accessory for the
bed i.e. customizing a good night's sleep. Available at $210.21, the sleep tracker can seamlessly
synchronise with Alexa, Nest or Philips Hue through its mobile app.
Security/Alarm System
Digoo DG-HOSA
With tons of options available, this alarm system proves to be efficient as well as affordable,
costing only $59.99 for a complete set. Having a sim card slot, it allows immediate notification on
our phone since a call is automatically made to a pre-registered phone number whenever the alarm
goes off. The main system also has a 500 mAh battery as backup and comprises of several sensors
which are basically PIR sensors that can be placed at windows and doors. The latter can be labelled
on the main alarm system which is hooked to a loudspeaker for the alarm. A remote is also
provided for a quick and easy enabling and disabling of the alarm system.
Fire Detector System
Onelink First Alert 1042136
As a photoelectric smoke sensor and electrochemical carbon monoxide sensor, First Alert can get
remote notifications of an emergency in our home while also tracking carbon monoxide levels,
and customizing a nightlight using First Alert's Onelink Home app. It is equipped with the power
of Alexa and has a price of $119.99.
Lights
Sengled Smart LED
At a price of $59.99 for a starter pack comprising of 4 light bulbs and a pre-sync hub, the Sengled
light bulb can be manipulated by using the Sengled Element app. With the hub connected to the
home router, the bulb works with Alexa as well as Google Assistant so that voice commands can
be used. Smart lighting can easily be incorporated in the smart home with the hub able to support
up to 64 bulbs. The lights can individually be customized to match the perfect setting for every
room and they can also be accessed from anywhere with the app. One example of that would be to
be able to switch on the lights from outside before even getting home.