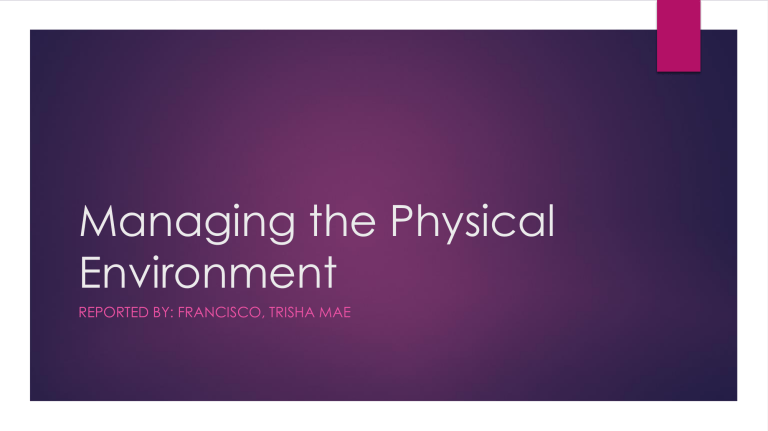 Managing the Physical
Environment
REPORTED BY: FRANCISCO, TRISHA MAE
introduction
A
well-designed utilization of classroom
space is of utmost necessity if the aim is to
be able to manage all learning activities
to successful completion.
Furniture Arrangement

The physical features in the classroom must be
located in areas where the contents could be
viewed well and be made available for use.
Well-arranged, they make the room look
spacious and orderly.

Furnitures such as chairs and tables for
demonstrations or displays must be positioned
appropriately.
Seating Arrangement

The seating arrangement deserved foremost
consideration since the students stay in each at
the longest time during the day. They either
remain seated if there is a lecture
demonstration or leave every now and then to
gather the materials needed for an experiment
or to operate a single equipment.
Physical Conditions of the Classroom
 Clean
rooms, hallways and surroundings
are wholesome places to stay in. the
teacher should schedule who is
responsible for their neatness on a regular
basis.