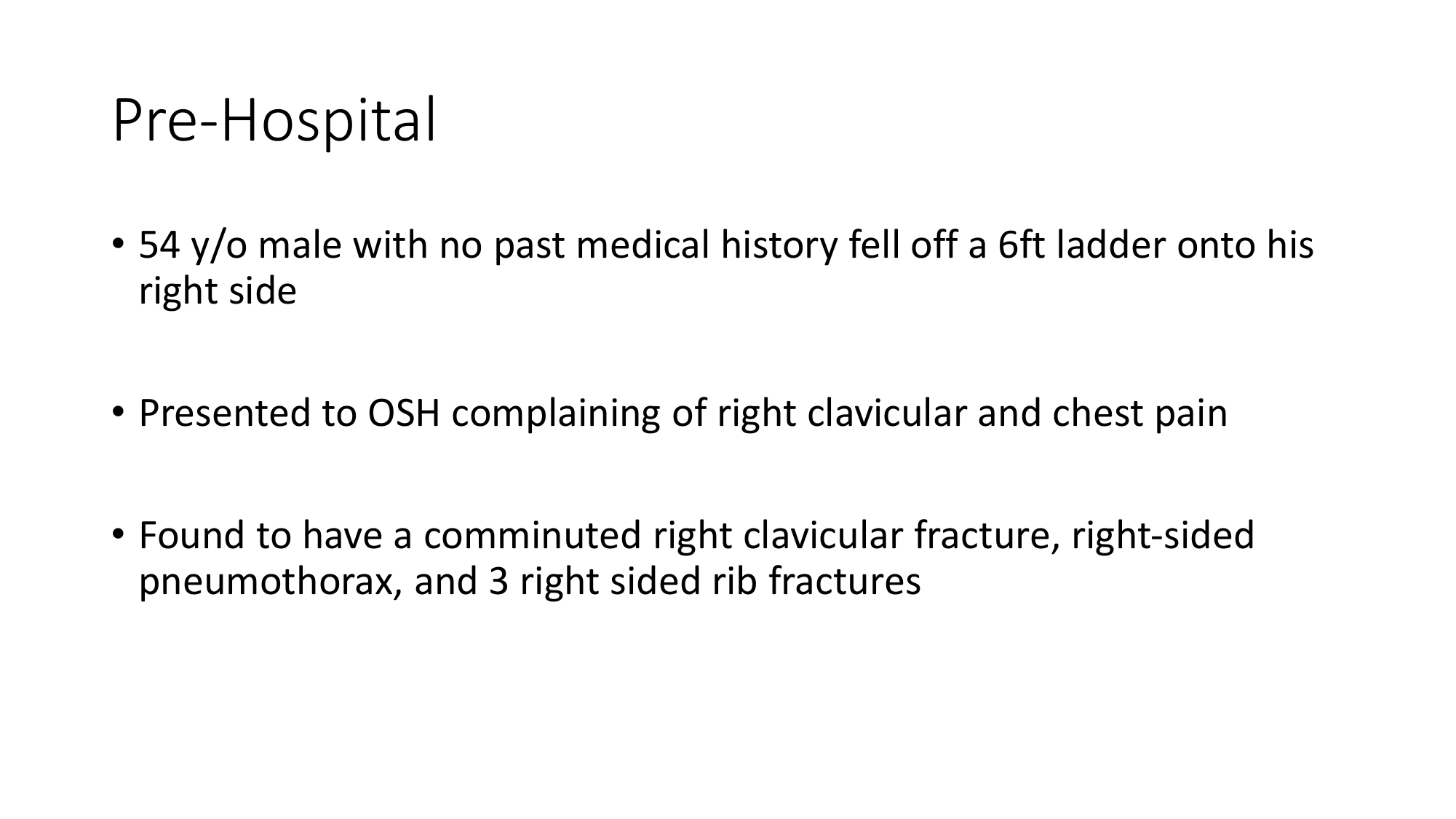 Pre-Hospital
• 54 y/o male with no past medical history fell off a 6ft ladder onto his
right side
• Presented to OSH complaining of right clavicular and chest pain
• Found to have a comminuted right clavicular fracture, right-sided
pneumothorax, and 3 right sided rib fractures
Presentation to DUMC
• Arrived as a level 2 trauma
• Vital signs stable, O2 sat 96% on room air
• Exam showed a patient in no acute distress with tenderness over
right chest wall and clavicle
• Primary, secondary, and tertiary surveys did not reveal other injuries
Hospital Day 0-1
• Pigtail placed in the trauma bay
• RUE made non-weight bearing and
put in sling
• Refused epidural due to good pain
control with dPCA and oxy prn
• Able to use IS to 1300cc
Hospital Day 2
• Pigtail removed
• dPCA removed and pain wellcontrolled on oral medications
• Able to use IS to >1500cc
• Discharged home with orthopedic
follow-up for clavicle fracture
Rib Fractures in Trauma
• Most common injury in
blunt chest trauma
• Overall mortality rate
between 10-22%
Holcomb, et al., 2004
Rib fractures cause morbidity and mortality via three mechanisms:
• Pain
• Damage to the underlying lung
• Altered breathing mechanics
Flail Chest
• Most severe form of chest trauma
• Can be hidden in intubated patients
• Mortality of 15-25%
Wilcox, et al., 2013
Location Matters
https://longuetraine.fr/index.php?article1312/anatomie-humain
Disposition
• Some patients with rib fractures may be discharged home from the
emergency department
• Low admission threshold for:
•
•
•
•
Age >65 or younger patients with underlying disease
>3 rib fractures
Any signs of respiratory compromise
Inadequate pain control
https://www.uptodate.com/contents/image?imageKey=EM%2F117179&topicKey=EM%2F246&search=rib%20fracture&rank=1~111&source=see_link
Non-Operative Management
• Pain control
• Non-opiates are effective
• Pulmonary toilet
• Regional anesthesia
Contraindications to loco-regional anesthesia
Absolute contraindications
Relative contraindications
Hypovolemia
Spinal Trauma
Elevated ICP
Coagulopathy
Infection at catheter site
Thrombocytopenia <100K
Allergy to anesthetic
Unreliable neuro exam
Patient refusal
Abnormal anatomy
Brasel, et al. 2016
Surgical Management
• Goal: reduce pain and normalize
pulmonary mechanics
• Early surgery is preferred
• Potential candidates:
• Flail chest
• ≥3 displaced fractures
• 24 hours of failed maximal medical
therapy
Battle, et al., 2013
Surgical Outcomes
• Complications:
• Short term:
•
•
•
•
Pneumonia
Tension Pneumothorax
ARDS
Implant infection
• Long term:
• Implant irritation
• Plating system failure
• Limited data showing good long term outcomes after fixation
References
• Battle, C., Hutchings, H., Evans, P. Blunt chest wall trauma: A review. Trauma. 15.10.1177, 2013.
• Bulger EM, Arneson MA, Mock CN, Jurkovich GJ. Rib fractures in the elderly. J Trauma.
2000;48:1040–7.
• Holzmacher, J, Sarani, B. Surgical Stabilization of Rib Fractures. Curr Surg Rep 2017;5:22
• Kasotakis G, Hasenboehler EA, Streib EW, Patel N, Patel MB, Alar-con L, et al. Operative fixation of
rib fractures after blunt trauma:a practice management guideline from the Eastern Association
for the Surgery of Trauma. J Trauma Acute Care Surg. 2017;82:618–26.
• Majercik S, Cannon Q, Granger SR, VanBoerum DH, White TW, Van Boerum DH, et al. Long-term
patient outcomes after surgical stabilization of rib fractures. Am J Surg. 2014;208:88–92.
• Moore, SM, Pieracci, FM, Jurkovich, GJ. Chest Wall, Pneumothorax, and Hemothorax in Current
Surgical Therapy, 1151-1158. Elsevier Inc. 2017.
• Wilcox, SR, Bittner, EA, Flail Chest and Pulmonary Contusion in Critical Care Secrets (Fifth Edition),
Elsevier Inc, 2013.
Questions?