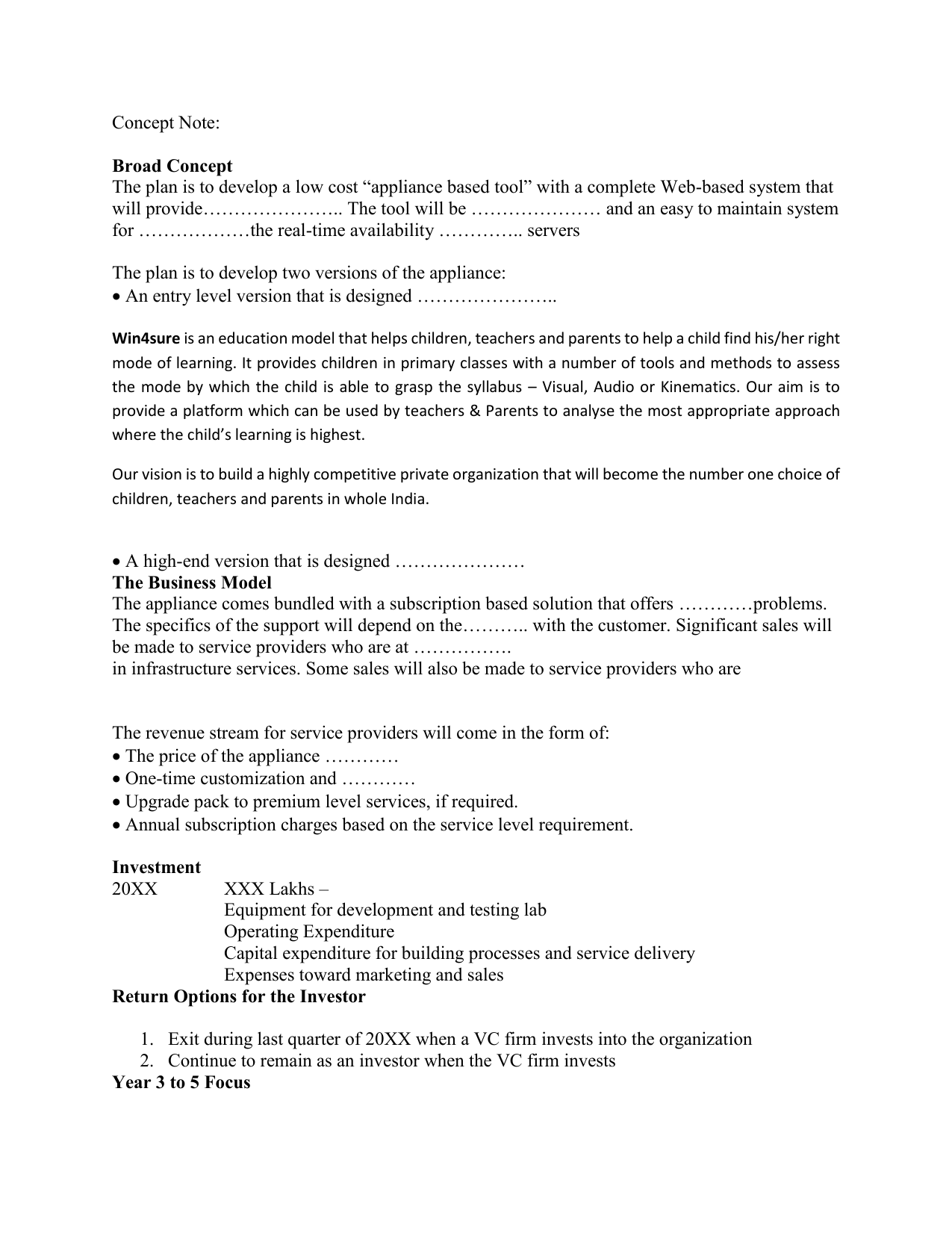 Concept Note:
Broad Concept
The plan is to develop a low cost "appliance based tool" with a complete Web-based system that
will provide………………….. The tool will be ………………… and an easy to maintain system
for ………………the real-time availability ………….. servers
The plan is to develop two versions of the appliance:
An entry level version that is designed …………………..
Win4sure is an education model that helps children, teachers and parents to help a child find his/her right
mode of learning. It provides children in primary classes with a number of tools and methods to assess
the mode by which the child is able to grasp the syllabus – Visual, Audio or Kinematics. Our aim is to
provide a platform which can be used by teachers & Parents to analyse the most appropriate approach
where the child's learning is highest.
Our vision is to build a highly competitive private organization that will become the number one choice of
children, teachers and parents in whole India.
A high-end version that is designed …………………
The Business Model
The appliance comes bundled with a subscription based solution that offers …………problems.
The specifics of the support will depend on the……….. with the customer. Significant sales will
be made to service providers who are at …………….
in infrastructure services. Some sales will also be made to service providers who are
The revenue stream for service providers will come in the form of:
The price of the appliance …………
One-time customization and …………
Upgrade pack to premium level services, if required.
Annual subscription charges based on the service level requirement.
Investment
20XX
XXX Lakhs –
Equipment for development and testing lab
Operating Expenditure
Capital expenditure for building processes and service delivery
Expenses toward marketing and sales
Return Options for the Investor
1. Exit during last quarter of 20XX when a VC firm invests into the organization
2. Continue to remain as an investor when the VC firm invests
Year 3 to 5 Focus
The focus during the above period will be to build the revenue/profitability of the company by
scaling across market segments including other geographies.
This will be done through strategic partnerships.
The exit route available to the investor at the end of year 5 will be through one of the following:
Acquisition by a large player who is in the technology business and who has synergy with IT
Infrastructure services
IPO
Key Assumptions Made
SMBs will have business critical applications that require 24x7 support for their IT
infrastructure. Their scale of operations is too small for the large players in the IT infrastructure
service to show interest; the smaller service providers cannot afford to deploy expensive tools.
The low cost tools available in the marketplace do not have the features to support business
critical application.