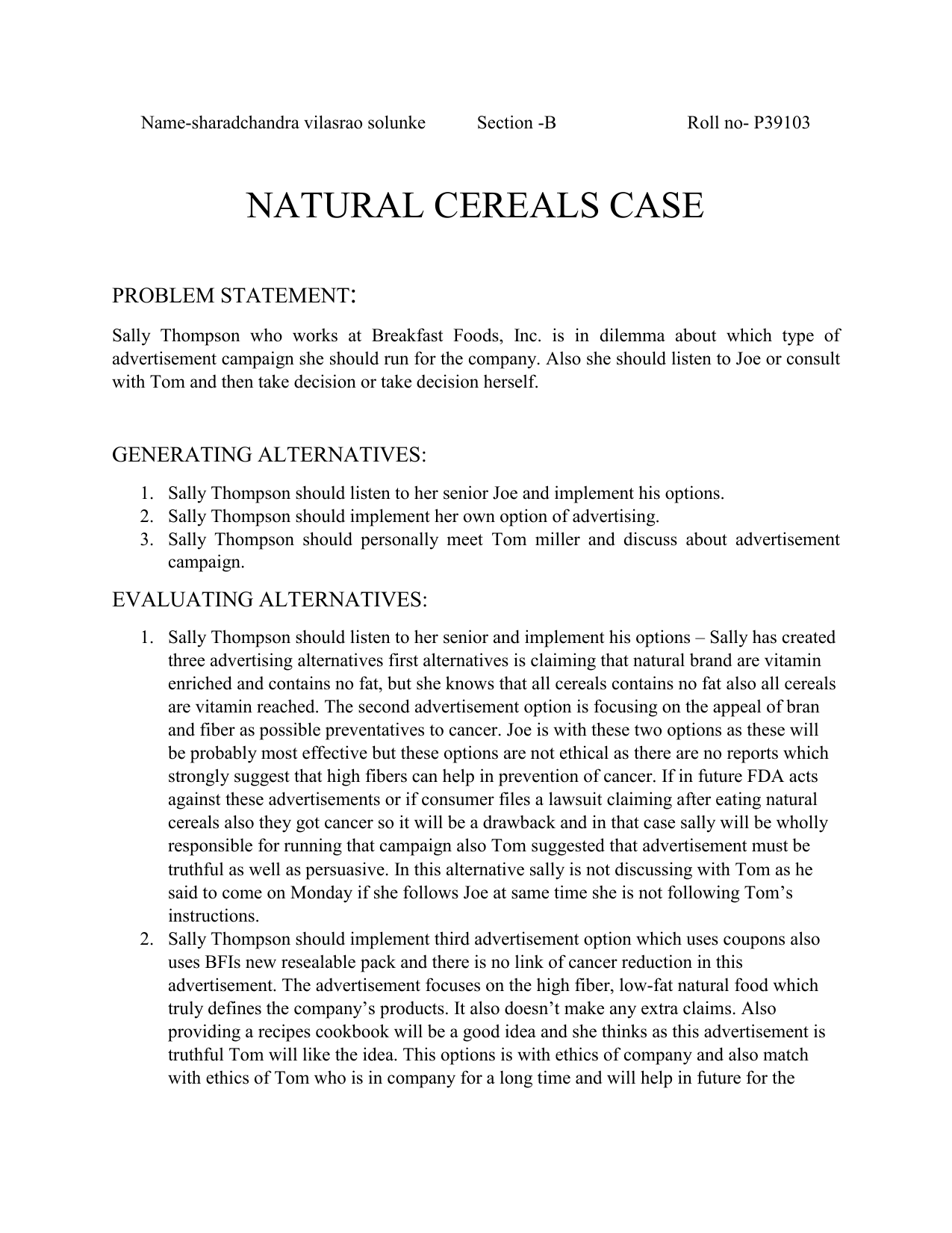 Name-sharadchandra vilasrao solunke
Section -B
Roll no- P39103
NATURAL CEREALS CASE
PROBLEM STATEMENT:
Sally Thompson who works at Breakfast Foods, Inc. is in dilemma about which type of
advertisement campaign she should run for the company. Also she should listen to Joe or consult
with Tom and then take decision or take decision herself.
GENERATING ALTERNATIVES:
1. Sally Thompson should listen to her senior Joe and implement his options.
2. Sally Thompson should implement her own option of advertising.
3. Sally Thompson should personally meet Tom miller and discuss about advertisement
campaign.
EVALUATING ALTERNATIVES:
1. Sally Thompson should listen to her senior and implement his options – Sally has created
three advertising alternatives first alternatives is claiming that natural brand are vitamin
enriched and contains no fat, but she knows that all cereals contains no fat also all cereals
are vitamin reached. The second advertisement option is focusing on the appeal of bran
and fiber as possible preventatives to cancer. Joe is with these two options as these will
be probably most effective but these options are not ethical as there are no reports which
strongly suggest that high fibers can help in prevention of cancer. If in future FDA acts
against these advertisements or if consumer files a lawsuit claiming after eating natural
cereals also they got cancer so it will be a drawback and in that case sally will be wholly
responsible for running that campaign also Tom suggested that advertisement must be
truthful as well as persuasive. In this alternative sally is not discussing with Tom as he
said to come on Monday if she follows Joe at same time she is not following Tom's
instructions.
2. Sally Thompson should implement third advertisement option which uses coupons also
uses BFIs new resealable pack and there is no link of cancer reduction in this
advertisement. The advertisement focuses on the high fiber, low-fat natural food which
truly defines the company's products. It also doesn't make any extra claims. Also
providing a recipes cookbook will be a good idea and she thinks as this advertisement is
truthful Tom will like the idea. This options is with ethics of company and also match
with ethics of Tom who is in company for a long time and will help in future for the
sustainability of company. But if the advertisement campaign doesn't work then the
consequences of failure has to be bared by sally as she went on using her own idea.
3. Sally Thompson should personally meet Tom miller and discuss with him the
advertisement options. In this case she will be on safe side if something wrong happens
against the advertisement campaign. As Tom is most experienced guy and also backbone
of marketing department of company. As Joe is insisted her to use combine first two
options for the sells but he is just supervisor she is not bounded to his orders in this case
also the first two options are unethical and Joe has not given Tom full details of campaign
he is just concentrated on increasing market share so if something wrong happens all will
blame sally as she is new in company and Tom also requested to come her back so she
should consult him first and then go with campaign.
SELECTED ALTERNATIVE
Sally Thompson should meet with Tom miller and discuss the advertisement alternatives she
has created. In this alternative she will be on safe side. As Tom miller had said that they
should meet him next Monday therefore she should consult with him and then go away with
advertisement campaign. She can discuss about implementation of the third advertisement
option which is truthful and persuasive also it comes with many incentives such as coupons
recipe cookbooks and promotes company's new resealables packs. This advertisement is also
good with respect to FDA criteria and if Tom gives green signal then Joe cannot restrain sally
from implementing option three advertisement campaign.