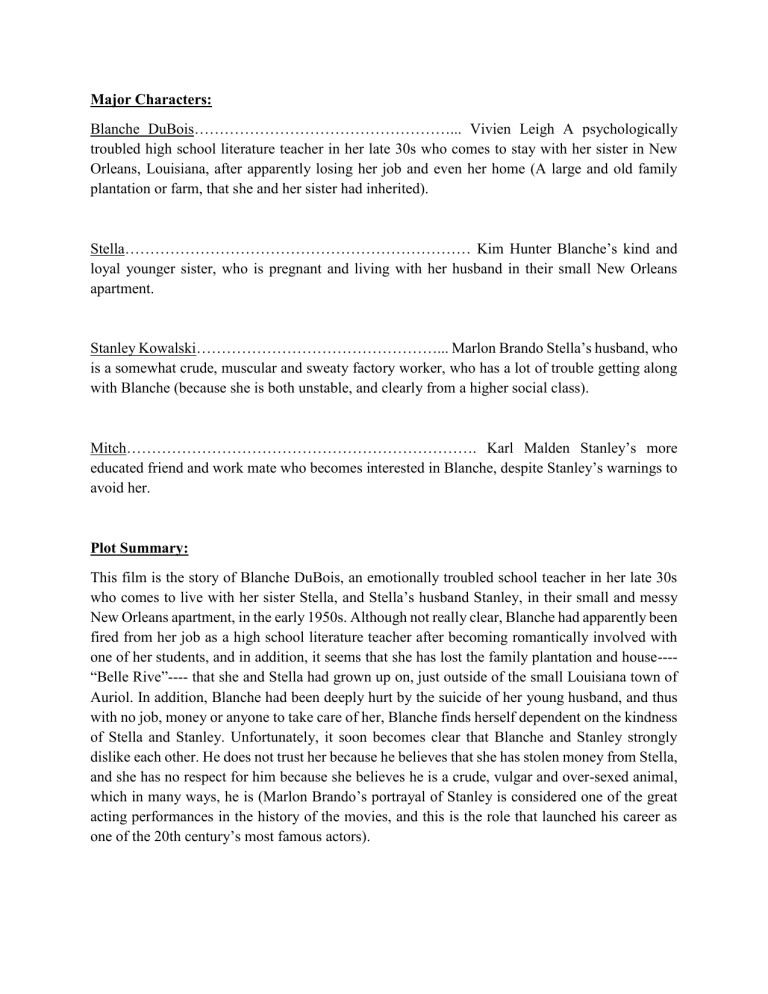 Major Characters:
Blanche DuBois……………………………………………... Vivien Leigh A psychologically
troubled high school literature teacher in her late 30s who comes to stay with her sister in New
Orleans, Louisiana, after apparently losing her job and even her home (A large and old family
plantation or farm, that she and her sister had inherited).
Stella…………………………………………………………… Kim Hunter Blanche's kind and
loyal younger sister, who is pregnant and living with her husband in their small New Orleans
apartment.
Stanley Kowalski…………………………………………... Marlon Brando Stella's husband, who
is a somewhat crude, muscular and sweaty factory worker, who has a lot of trouble getting along
with Blanche (because she is both unstable, and clearly from a higher social class).
Mitch……………………………………………………………. Karl Malden Stanley's more
educated friend and work mate who becomes interested in Blanche, despite Stanley's warnings to
avoid her.
Plot Summary:
This film is the story of Blanche DuBois, an emotionally troubled school teacher in her late 30s
who comes to live with her sister Stella, and Stella's husband Stanley, in their small and messy
New Orleans apartment, in the early 1950s. Although not really clear, Blanche had apparently been
fired from her job as a high school literature teacher after becoming romantically involved with
one of her students, and in addition, it seems that she has lost the family plantation and house---"Belle Rive"---- that she and Stella had grown up on, just outside of the small Louisiana town of
Auriol. In addition, Blanche had been deeply hurt by the suicide of her young husband, and thus
with no job, money or anyone to take care of her, Blanche finds herself dependent on the kindness
of Stella and Stanley. Unfortunately, it soon becomes clear that Blanche and Stanley strongly
dislike each other. He does not trust her because he believes that she has stolen money from Stella,
and she has no respect for him because she believes he is a crude, vulgar and over-sexed animal,
which in many ways, he is (Marlon Brando's portrayal of Stanley is considered one of the great
acting performances in the history of the movies, and this is the role that launched his career as
one of the 20th century's most famous actors).