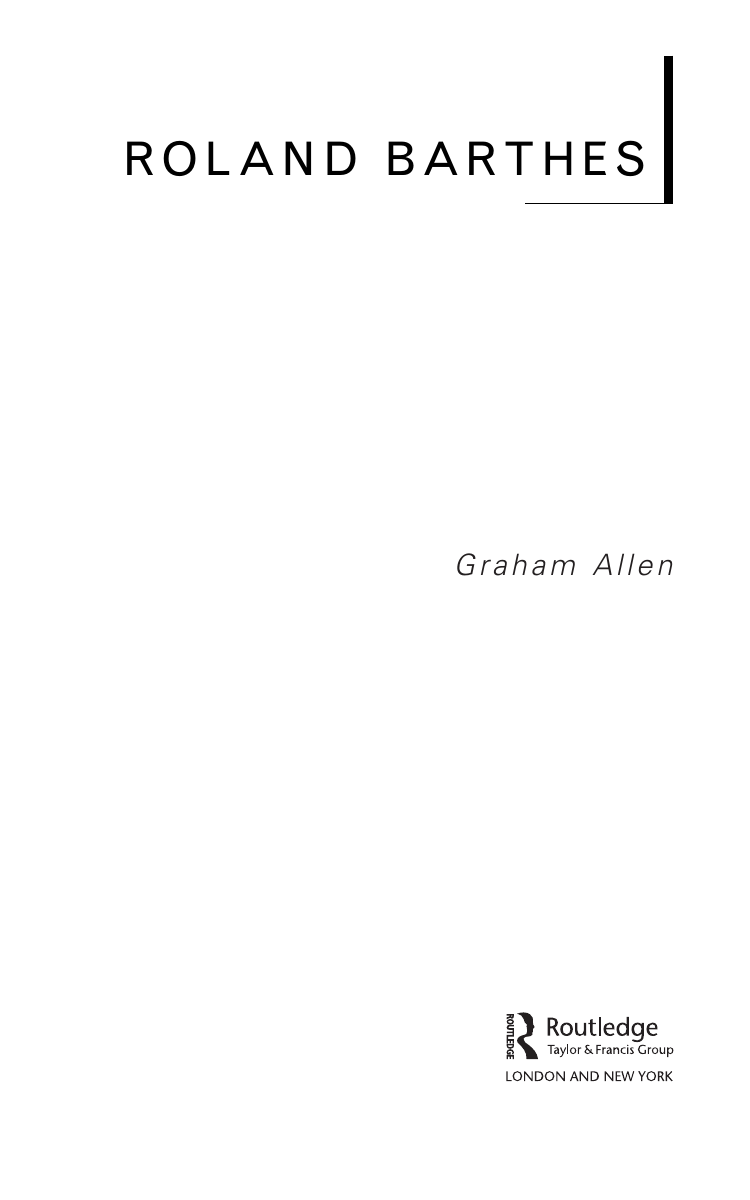 111
4
R O L AN D BAR T H E S
6
7
9
0
1
4
6
7
111
9
0
4
6
7
9
0111
4
6
7
911
Graham Allen
First published 2003
by Routledge
11 New Fetter Lane, London EC4P 4EE
Simultaneously published in the USA and Canada
by Routledge
29 West 35th Street, New York, NY 10001
Routledge is an imprint of the Taylor & Francis Group
This edition published in the Taylor & Francis e-Library, 2004.
© 2003 Graham Allen
All rights reserved. No part of this book may be reprinted or
reproduced or utilized in any form or by any electronic,
mechanical, or other means, now known or hereafter invented,
including photocopying and recording, or in any information
storage or retrieval system, without permission in writing from
the publishers.
British Library Cataloguing in Publication Data
A catalogue record for this book is available from the
British Library
Library of Congress Cataloging in Publication Data
Allen, Graham.
Roland Barthes/Graham Allen.
p. cm. – (Routledge critical thinkers)
Includes bibliographical references and index.
1. Barthes, Roland. I. Title. II. Series.
P85.B33A79 2003
410′.92 – dc21
ISBN 0-203-63442-X Master e-book ISBN
ISBN 0-203-63797-6 (Adobe eReader Format)
ISBN 0–415–26361–1 (hbk)
ISBN 0–415–26362-X (pbk)
2003002340
111
CONTENTS
4
6
7
9
0
1
4
6
7
111
9
0
Series editor's preface
Acknowledgements
List of abbreviations
WHY BARTHES?
4
6
7
9
0111
4
6
7
911
KEY IDEAS
1
Writing and Literature
2
Critical distance
3
Semiology
4
Structuralism
5
The death of the author
6
Textuality
7
Neutral writing: pleasure, violence and the novelistic
8
Music and photography
9
Camera Lucida: the impossible text
ix
xiii
xv
1
7
9
25
33
53
63
79
95
115
125
AFTER BARTHES
133
FURTHER READING
141
Works cited
Index
155
163
111
3
4
6
7
SEMIOLOGY
9
0
1
4
6
7
111
9
0
4
6
7
9
0111
4
6
7
911
The next two chapters deal with Barthes's major work in the fields of
semiology and structuralism respectively. While the ideas promoted by
these theoretical movements influenced Barthes's work until his death
in 1980, it is possible to locate a period in which they dominated his
writing. This period takes us from the late 1950s, in which Barthes
composed his Mythologies, to the latter part of the 1960s. Although the
two terms, semiology and structuralism, are intimately related, it is
possible to distinguish between work primarily concerned with semiology (dealt with in this chapter) and work of a more fundamentally
structuralist nature (dealt with in the next chapter).
READING BOURGEOIS CULTURE
Mythologies is one of Barthes's most influential and widely read books.
Composed of articles written monthly for the journal Les Lettres
nouvelles between 1954 and 1956, it was published as a single text in
1957. The English version of the text is available in two smaller collections (see 'Further Reading', p. 142). Barthes's articles were all
published under the heading of 'Mythology of the Month' and they
range prolifically through a host of subjects. From the tacit conventions
of amateur wrestling to the language of advertising, from the descriptions in travel guides through to the French love of wine, from the
34
KEY IDEAS
MYTH
In ancient Greece myth (mūthos) came to mean a fiction. Nowadays usually
associated with fictions which include the gods or supernatural forces,
myth also has the general meaning of the major fictional stories that have
abided since ancient times. Thus myth, while denoting what is fictional,
also tends to refer to stories that have an apparently timeless and universal
appeal and truth. Barthes's use of the word myth is therefore particularly
telling in that what he designates by the term presents itself as natural and
even timeless but is, in fact, an expression of a historically specific ideological vision of the world.
media image of Einstein's brain, the visit to Paris of the American evangelist Billy Graham and the ritual of the Tour de France to the image
of the newly released Citröen D.S., Barthes's monthly mythologies
present a compelling and invariably witty description of French cultural
life in the 1950s.
In his 1957 'Preface', Barthes makes clear the connection the project
has to his earlier work. If Writing Degree Zero and the essays associated
with it sought to establish the manner in which bourgeois culture assimilates writing into what Barthes calls Literature, then his reading of the
diverse aspects of modern French culture equally demonstrates the
tenaciousness of such an assimilative process. Barthes writes:
The starting point of these reflections was usually a feeling of impatience at
the sight of the 'naturalness' with which newspaper, art and commonsense
constantly dress up a reality which, even though it is the one we live in, is
undoubtedly determined by history.
(MY: 11)
Just as bourgeois Literature assimilates writing into its apparently timeless values, so culture generally, Barthes argues, constantly presents
artificial, manufactured and, above all, ideological objects and values as
if they were indisputable, unquestionable and natural. Indeed, this
process (presenting cultural phenomena as if they were natural) is, for
many theorists, what we mean by the word ideology. Ideology, at least
in this sense, is the process whereby what is historical and created by
specific cultures is presented as if it were timeless, universal and thus
111
4
6
7
9
0
1
4
6
7
111
9
0
4
6
7
9
0111
4
6
7
911
natural. At times this process can simply seem the product of a kind of
laziness. In 'The Romans in Films' (MY: 26–8), a contemporary movie,
Julius Caesar, employs an 'insistent' fringe in the hairstyles of its actors
in order to generate the illusion of 'Romanness'. In this film, as in so
many others, characters who sweat must be anxious. The descriptions
of Spain in the popular travel guide, The Blue Guide, reduce everything
(towns, landscape and inhabitants) to stereotypes and display what
Barthes calls 'the disease of thinking in essences' (MY: 75). In 'Bichon
and the Blacks' (ET: 35–8), the magazine Paris-Match indulges in an
infantile narrative of heroic Westerners travelling into 'Cannibal
country' while wars in the Far East devastatingly contextualize such
simplistic forms of imperialism.
Other examples of ideology (or the naturalization of culturally
specific phenomena) are more directly the product of bourgeois disingenuousness. Politicians include photographs of themselves in their
electoral prospectuses in order to make themselves seem one of the
people and thus outside of ideology. Billy Graham utilizes a series of
primitive tricks in order to whip up a mass hysteria and receptivity
to his religious and, Barthes adds, stunningly 'stupid' rhetoric. In
'Dominici, or The Triumph of Literature' (MY: 43–6), the legal
process which deals with the case of a farmer from the Alps refuses to
countenance any form of language other than its own, transforming a
specific bourgeois language of psychological values culled largely from
novels into the supposedly universal language of all French men and
women. Gaston Dominici, with his rural discourse, is legally silenced
in this process. In 'Poujade and the Intellectuals' (ET: 127–35), the
extreme right-wing politician Pierre Poujade capitalizes on bourgeois
stereotypes about intellectuals (unrooted, abstract, ultimately both
dreamy and inhuman) to sell his ideology to the petit bourgeoisie.
In between simple-mindedness and maliciousness, however, come
the vast majority of the myths studied by Barthes. These are, perhaps,
the most interesting examples and the most significant in that they tell
us more about the process that Barthes here calls myth. Some of the
best examples of these more subtle forms of myth come from the world
of advertising. In 'Soap-Powders and Detergents' (MY: 36–8), for
example, Barthes begins to analyse the manner in which certain
substances are given specific ideological meanings within culture.
Despite the fact that both Persil (a soap-powder) and Omo (a detergent) are made by the one firm, Unilever, a whole categorization of
SEMIOLOGY
35
36
KEY IDEAS
substances rules their presentation. Soap-powders like Persil are presented as creamy, separating agents which liberate clothes from stains,
while detergents like Omo, based on chlorine and ammonia, are seen
in terms of fire and thus perform a kind of purging and penetration
which wages a war on dirt. Persil polices stains, while Omo penetrates
the apparent depth of clothing, conducting a kind of military strike
against grime. In another essay, on the occasion of a plastics exhibition
in Paris, Barthes notes how plastic is treated less as a material for
making things than a miraculous embodiment of the human ability to
transform nature into wholly domestic, wholly bourgeois objects
of utility (MY: 97–9). Unlike more natural materials, such as wood,
plastic objects are negative and have no other value than their use.
Plastic offers up a vision of a human world in which all objects are transformed objects or, in other words, of human origin.
Plastic is a miraculous substance; it clearly demonstrates the human
power over nature, and yet it is ultimately naturalized, filled with the
self-image of a bourgeois culture which views itself as timeless and
universal. In the same manner, wine, as a substance, is full of contradictions: sustenance for the worker, it is a sign of virility for the
intellectual; in winter it apparently warms the drinker, in summer it
apparently cools and refreshes; source of inebriation, wine, Barthes
argues, is never associated in France with the desire for intoxication
or with the causes of crime (MY: 58–61). All these contradictions
can be sustained around the image of wine because ultimately wine
signifies French identity. To drink wine is to be part of France, is to be
French: 'to believe in wine is a coercive collective act' (MY: 59).
This is the manner in which myths function in modern society,
according to Barthes. Myth takes a purely cultural and historical object
such as wine and transforms it into the sign of a universal value: here,
the notion of a collective French identity. Wine comes to signify something, a comfortable, domesticated and yet social French cultural
identity (drink wine and be French!), which hides the historical reality and
tensions within and around the nation of France. Barthes concludes his
essay by reminding us that, despite its mythology, wine is produced by
the processes of colonialization, in countries such as Algeria which
'impose on the Muslims, on the very land of which they have been
dispossessed, a crop of which they have no need, while they lack even
bread. There are thus very engaging myths which are however not
innocent' (MY: 61).
111
4
6
7
9
0
1
4
6
7
111
9
0
4
6
7
9
0111
4
6
7
911
The lasting impression of Barthes's practice is captured here. Taking
very common images and ideas of modern cultural life, Barthes does
not simply expose the mythology behind them, but perhaps more
importantly exposes the fact that we were somehow aware of the
mythological character of such images and ideas all along. In his
'Ornamental Cookery' (MY: 78–80), for example, Barthes notes the
manner in which glossy magazines such as Elle, marketed at mainly
lower-class female audiences, present fantasy food in a glazed form
(caramelized, oiled, embalmed and sheened). Elle, that is, presents food
to be looked at (outside the readers' weekly budget), while L'Express,
marketed at a higher wage-earning readership, presents real food: food
to be bought and eaten. In a similar fashion, commenting on a Paris
exhibition entitled 'The Great Family of Man' (MY: 100–2), Barthes
notes how work is represented in the exhibition on the same level as
birth and death. Thus, an exhibition supposedly demonstrating the
diversity of human cultures ultimately homogenizes (essentializes) all
humanity into a timeless and universal idea which denies the historical
and cultural differences which make work an act of individual or
collective agency in some cultures and an act of alienated labour under
capitalism in others.
Mythology transforms one culture's values, in Barthes's case bourgeois French culture, into a universal and natural value: it turns culture
into nature, often while still recognizing its status as myth, as a cultural
product. It is this duplicity of myth, a construct which represents itself
as universal and natural, which characterizes its ideological function.
Barthes gives an example from a copy of Paris-Match offered to him at
a barber's shop. The cover photograph shows a young black man in a
French military uniform saluting, 'his eyes uplifted, probably fixed on
a fold of the tricolour'. The reality of the photograph seems indisputable: this young black man is a French soldier caught here in a
moment of time. There is, however, another meaning, which Barthes
describes in terms of the idea: 'that France is a great Empire, that all
her sons, without any colour discrimination, faithfully serve under her
flag' (MY: 116). The ideological implication of the image, as described
by Barthes, is unavoidable. And yet for those who want to deny the
ideological and thus historically specific character of this idea of
the all-inclusive French nation, for those who want to present that idea
as indisputable, universal and even natural, there is always the possibility of simply invoking the image in its literal sense. How can one,
SEMIOLOGY
37
38
KEY IDEAS
after all, argue with a photograph: the camera, as people say (thus
evoking another general myth), never lies. A similar phenomenon has
occurred in the week in which I am writing this chapter. The British
Queen Mother having died, thousands of people have decided to queue
for hours to pass by her coffin as it lies in state. The British media is
thus able to portray such a phenomenon, involving a tiny fraction of
the British public, as proof of the abiding love of the whole of the British
people for its monarchy. The British people, suggests the press and
television coverage, are ultimately united, linked by common values
and beliefs.
Frequently, the ideological meaning of such images does not need
to be stated openly, since it is an ideology which requires little effort
to reactivate. Barthes writes:
The whole of France is steeped in this anonymous ideology: our press, our
films, our theatre, our pulp literature, our rituals, our Justice, our diplomacy,
our conversations, our remarks about the weather, a murder trial, a touching
wedding, the cooking we dream of, the garments we wear, everything, in
everyday life, is dependent on the representation which the bourgeoisie has
and makes us have of the relations between man and the world. These 'normalized' forms attract little attention, by the very fact of their extension, in which
their origin is easily lost.
(MY: 140)
The role of the mythologist, therefore, is to expose, or often simply
to remind us, of the artificial and constructed nature of such
images. Barthes's project in Mythologies is to demystify myth. However,
as we have just seen, myths are not simply delusions, tricks played upon
us by those in positions of power. The cover image of Paris-Match
suggests an ideology, and yet it is also simply a photograph of a
real soldier. The British media makes an ideological point out of the
long queues waiting to pass by the Queen Mother lying in state;
yet the people in those queues exist and no doubt believe in and
actually live that ideology themselves. There is a clear need for a more
sophisticated model of meaning when confronting the numerous
myths that make up a national culture. Such a model would need to be
able to explain how an image, a filmed event, a court case, a sporting
occasion, a routine piece of journalism, a building such as the Eiffel
Tower or a construction such as the London Eye, can sustain and indeed
111
4
6
7
9
0
1
4
6
7
111
9
0
4
6
7
9
0111
4
6
7
911
propagate different and often conflicting levels of meaning. Such a
model would need to explain how something can at one and the
same time be literally itself and the medium through which ideology
propagates itself. Barthes attempts to present such a model in his
essay 'Myth Today', which demonstrates the profound impact on
his work of the linguistic theories of Ferdinand de Saussure
(1857–1913).
THE INFLUENCE OF SAUSSURE: SEMIOLOGY
AND STRUCTURALISM
In a lecture given in Italy in 1974 Barthes states that he was first influenced by the theories of the Swiss linguist Ferdinand de Saussure in
between completing the articles which make up Mythologies and writing
the 'postface', 'Myth Today', which in 1957 was included with them
(SC: 4–5). 'Myth Today', Barthes states there, was his first, euphoric
reaction to a theory which promised to add a scientific rigour to the
project he had so far pursued: the project of critiquing bourgeois
culture. In this way he links the articles which make up Mythologies with
earlier works such as Writing Degree Zero and represents 'Myth Today'
as the beginning of a new phase of work focused on the idea of a science
of criticism, more precisely structuralism and semiology.
What does Barthes mean by semiology? Sometimes referred to as
semiotics, semiology is the general science of signs posited by Saussure
in his lectures on linguistics published posthumously in 1915 as Course
in General Linguistics. Saussure imagined a science that would be able to
read systematically all human sign systems. Semiology is therefore
frequently used to refer to the analysis of signs other than those found
in linguistic sign systems. To understand semiology and what it does
for Barthes at the end of his Mythologies, of course, we need to understand what Saussure means by a sign and, indeed, the theory of language
out of which that definition of signs emerges.
Saussure's linguistic theories revolutionized the approach to language, formerly dominated by philology (the study of the history of
words). The influence of these theories on Barthes comes from the
development of structural linguistics in France and elsewhere in
Europe, particularly after the Second World War. Structural linguistics takes up the approach to language laid down in Saussure's work.
In that work Saussure takes language not as a historical phenomenon
SEMIOLOGY
39
40
KEY IDEAS
SPEECH AND LANGUAGE
Saussure, in redefining linguistics, is faced with the problem that there is
an infinity of actual and potential acts of language or speech. How could a
linguist ever account for every act of language that occurs? Saussure's solution, the centre of his new linguistics, is to distinguish between speech or
acts of language (parole) and language itself (la langue). All the numerous
possible acts of language (parole) are created from a system (la langue).
The language system (la langue) is comprised of the rules which make
utterances (acts of language, parole) possible. Structural linguistics, after
Saussure, studies the language system, its rules and codes, rather than
studying speech, actual acts of language (parole).
but as a system existing in the present moment of time. The idea of
language as a system presumes a distinction, in fact an opposition
between speech and language.
The idea of structure enshrined in the name structuralism stems
from this Saussurean differentiation between speech and language.
When theorists such as Barthes refer to structure they are referring
to the idea of a system (la langue) out of which utterances (parole) are
generated. We might, therefore, refer to the structure of a literary text
(out of which all the text's meanings are generated), but we can
equally refer to the structure of literature as a whole, or the structure
of the realist novel out of which all particular realist novels are generated. If we have signs, of whatever kind, then, according to Saussure
and the structuralist movement after him, we must be dealing with an
overall structure, a system (la langue). In structuralism, signs are
understood in terms of the systems or structures which generate
them. But we need, at this stage, to be slightly more specific about
what a sign is. For Saussure, and structuralism after him, a sign is the
product of an arbitrary (a conventional) relation between a signifier and
a signified.
Semiology is the idea of a general study of the sign systems
which make up our societies. Taking its cue from Saussure's model of
linguistics, semiology should ultimately encompass linguistics, since
language is merely one of the systems of signs which semiology
will study. Semiology shares with structuralism a basis in Saussurean
linguistics and its extension to other sign systems. Structuralism, as a
111
4
6
7
9
0
1
4
6
7
111
9
0
4
6
7
9
0111
4
6
7
911
SIGN, SIGNIFIER, SIGNIFIED
Saussure redefines the relationship between language and the world
through a new definition of words or the sign. Signs do not have their
meaning because of a direct relationship with objects or actions in the
world. A sign is the combination of a material signifier (sound or written
mark) and a signified (concept). The signified is not the object or action but
its mental concept. In English the combination of the sounds k + a + u (cow)
is linked to the signified (the concept) cow ('the female of the domestic or
any bovine animal'). In German, of course, it is the signifier kuh which
performs this task; in French it is the signifier vache. The sign is arbitrary;
it has meaning not directly in terms of the world, but in terms of its place
in a language system (la langue). But language is merely one kind of sign
system. There are numerous sign systems in our world, from the Highway
Code to architectural design, from the clothes we wear to the food we eat.
Everything in society is a sign in this sense and thus belongs to a system
which, Saussure argues, can be studied like the system of language.
movement in post-war European thought, manifests itself in all the
major disciplines of the Humanities and Social Sciences: literary study,
sociology, history, anthropology, psychoanalysis, philosophy and, of
course, linguistics. Believing that a focus on language (after Saussure)
would bring such disciplines a greater objectivity and even scientific
status, structuralism rejects more traditional Humanistic approaches to
meaning and history by focusing on the rules and codes of structural
systems rather than on the human subjects who work with and under
such systems. Structuralism is, therefore, not concerned with the
content (meaning) of utterances, such as individual literary texts, but
with establishing the rules and codes (the system) which allow for the
articulation of that content in the first place. Structuralism, as a critical approach, studies the system out of which literary texts emerge: it
does not, therefore, study literary texts in and for themselves.
Ultimately, structuralism and semiology as terms feed into each other
and are thus difficult to define separately. In the work of Barthes,
however, semiology is often reserved for his work on sign systems,
whereas structuralism is more frequently employed in his analysis of
literary narratives.
SEMIOLOGY
41
42
KEY IDEAS
SEMIOLOGY AND MYTH
As a model of how meaning is produced, semiology contributes greatly
to Barthes's project in Mythologies. It provides him with a clear and
coherent explanation as to how myth does its work. The concept of the
sign is crucial in this regard. In 'Myth Today' Barthes reminds us that
the sign is, in fact, involved in a three-part relationship. A sign is, after
all, the relation between a signifier and a signified, a sound or mark and
a concept. The sign is the relation we draw between signifier and signified. If roses, for example, are a sign of romance in our culture, then
they are so because, when used, say, in a love poem or pictured on a
Valentine's Day card, they combine a signifier (the word or the image)
with a signified (the cultural concept of roses) to produce the rose as a
sign of romance, passion and love. The sign, then, is the equivalence
we draw between a signifier and a signified. The relationship can be
portrayed as shown in Figure 1.
There is one important difference between language, as described
by Saussure, and the signs of myth, however; a difference which takes
us back to our recognition of the duplicity or doubleness of such signs.
The image of the black French soldier is on one level simply that, an
image, a photograph. Yet, as we saw, it has another, ideological, mythic
meaning which can be reduced to a phrase such as 'French patriotism'
or even 'the inclusive, unified French nation'. The language studied by
Saussure is a first-order system: it involves a signifier, a signified and their
combination in a sign. Myth acts on already existent signs, whether they
be written statements or texts, photographs, films, music, buildings
or garments. The sign in the photograph of the black French soldier is
Signifier
(word or image:
'roses')
Signified
(concept of 'roses':
romance, passion, love)
Sign
(relation or equivalence =
'passionate roses')
Figure 1
111
4
6
7
9
0
1
4
6
7
111
9
0
4
6
7
already that, a sign. Mythology takes this sign and turns it into a signifier for a new signified, a new concept. As Barthes puts it: 'myth is a
peculiar system, in that it is constructed from a semiological chain which
existed before it: it is a second-order semiological system. That which is a
sign (namely the associative total of a concept and an image) in the first
system, becomes a mere signifier in the second' (MY: 114). A newspaper picture of crowds waiting to see the coffin of the Queen Mother
is a first-order sign: signifier = the photographic image of crowds, signified = the crowds that waited to see the Queen Mother lying in state,
sign = press reportage of a topical event which we might gloss as 'large
crowds have queued for hours to see the Queen Mother lying in state'.
Mythology raises the image to a second order level, however, turning
that sign into a signifier for a new signified and thus a new sign: 'the
unified, British public or nation or the British people's love of (acceptance of) the monarchy'. Barthes represents this relationship in the following manner (MY: 115), shown in Figure 2.
Myth, then, transforms first-order meanings into second-order
meanings. Barthes explains by way of an example taken from the French
writer Paul Valéry (MY: 115–16). The example is of a schoolboy who
opens his Latin grammar book and reads the phrase quia ego nominor leo.
The first-order meaning of the Latin phrase is obviously its literal
meaning: 'because my name is lion'. However, it is clear that this
meaning signifies something else, which Barthes paraphrases in the
following way: 'I am a grammatical example meant to illustrate the rule
about the agreement of the predicate' (MY: 116). Which is to say, the
phrase is hardly there to convey something about the lion itself, but
uses a first-order meaning to convey a second-order meaning
concerning grammatical rules and conventions. If we switch from the
9
0111
1. Signifier
2. Signified
Language
3. Sign
4
MYTH
II. SIGNIFIED
III. SIGN
6
7
911
I. SIGNIFIER
Figure 2
SEMIOLOGY
43
44
KEY IDEAS
Language
1. Signifier
sentence
2. Signified
concept
3. Sign lion/seated cat
MYTH
I. SIGNIFIER
II. SIGNIFIED – Grammar
III. SIGN
Pedagogy/Instruction
Figure 3
teaching of Latin to English grammar, we might think here of the rather
more prosaic but certainly ubiquitous example of 'The cat sat on the
mat.' We can chart the transformation involved in these examples as
shown in Figure 3.
We now have a sense of how to read the duplicity or doubleness of
myth. Myth, as it were, hijacks meaning and turns it into a secondorder meaning or what Barthes calls signification. Signification here
refers to the second-order sign, it is meaning which has been produced
through the transformation of already existent meaning, already existent (first-order) signs. Myth is a metalanguage: a second-order language
which acts on a first-order language, a language which generates
meaning out of already existent meaning. However, as Barthes also
reminds us, the original, first-order meaning is not completely
forgotten. A photograph of a young black soldier, although mythically
signifying something about the French nation, can always also simply
be seen as a photograph of a single individual. This is precisely why
myth is so important to the perpetuation and dissemination of bourgeois ideology. Since the signifier of myth can always point towards
two directions, it is maddeningly difficult to criticize. If we attempt to
criticize the photograph of the young soldier in terms of its mythical
propagation of French imperialism, its signifier can simply be turned
towards the first-order literal meaning: one individual soldier salutes
the flag. If we try to find out about the literal level of the photograph's
meaning, we find that this level is emptied of all content, since the
point is not the actual, individual soldier (his origins, beliefs, biography)
but what he represents (or signifies). Myth, writes Barthes, acts like an
alibi and says, always: 'I am not where you think I am; I am where you
111
4
6
7
9
0
1
4
6
7
111
9
0
4
6
7
9
0111
4
6
7
911
think I am not' (MY: 123). Thus, the Paris-Match image of the young
soldier empties the history (the specificity) of that young man, transforming him into a type, an essence of French patriotism. Whatever
way it turns its signifier (this is a young man and nothing more, this is every
French man and woman), it evacuates the image of any real history and
presents it as unquestionable, the essence of French society, a kind of
nature. The promise of semiology, and the reason for Barthes's enthusiastic adoption of it, is that it seems to be able to bring myth to order,
to read it and therefore to provide the basis for a viable critique.
We must be careful at this point, however. At the end of 'Myth
Today' Barthes returns to a theme which is familiar to readers of Writing
Degree Zero and his Critical Essays: the irrepressible power of absorption
evidenced by bourgeois culture. The method of semiological analysis
of myth practised by Barthes in Mythologies can be absorbed by bourgeois culture as easily as forms of avant-garde writing are absorbed into
Literature. Indeed, as Andy Stafford notes, within a few years of the
publication of Mythologies Barthes was being consulted by the Renault
car company on a new advertising campaign and 'asked to write in
Marie-Claire on the battle between two rival fashion designers' (Stafford
1998: 157). As Jonathan Culler puts it: 'demystification does not
eliminate myth but, paradoxically, gives it greater freedom' (Culler
2002: 28). The only answer to this inexorable absorption of demystification or critique, of course, is to continue to change the manner in
which it is produced and presented. As Barthes pursues the promise of
semiological analysis in his work of the 1960s, he also continually shifts
his terminology and offers not a fixed model but always a beginning, a
prospect, a prelude to a science which must change and mutate if it is
to retain any potential for critique.
SEMIOLOGY, LINGUISTICS AND FASHION
The willingness to change, adapt and even radically revise the model
of semiology received from Saussure can be immediately registered in
Barthes's Elements of Semiology, an introductory study, first published in
1964 in the journal Communications. Barthes begins by noting that
Saussure 'thought that linguistics merely formed a part of the general
science of signs' (ESe: 77); semiology, that is, would eventually subsume linguistics. There is, however, Barthes argues, no escaping language: 'to perceive what a substance signifies is inevitably to fall back
SEMIOLOGY
45
46
KEY IDEAS
on the individuation of a language: there is no meaning which is not designated, and the world of signifieds is none other than that of language'
(ESe: 78). While semiology is best defined as the study of signs other
than those of language, it cannot, Barthes argues, escape from the linguistic model, since it is in that model that we find the most compelling
and comprehensive account of what signs are and how they work.
Furthermore, semiological systems invariably rely at some point on language, whether that reliance involves a caption added to a photograph
in a newspaper or magazine, a utilization in advertisements or political
presentations of certain clichés or stereotypical statements, or the more
complex transformations from first-order to second-order meanings we
have just studied.
The most significant example of Barthes's reversal of Saussure's hierarchy, the subsumption of semiology into what Barthes in his Elements
of Semiology calls a 'trans-linguistics', comes in his most extensive semiological study, Système de la Mode, translated as The Fashion System.
Researched and written between 1957 and 1963, The Fashion System was
finally published in 1967. By then Barthes had begun to radically question the semiological system he had described in 'Myth Today', Elements
of Semiology and in other essays of the period. The Fashion System is
offered, then, as evidence of an approach that has already mutated into
something else; as a 'certain history of semiology' (FS: ix). Barthes
explains that while his initial objective was to study 'actual Fashion
(apprehended in clothing as worn or at least as photographed)' (FS: x),
he has actually focused merely on fashion as it is written. This might at
first seem a poor alternative to a semiological study of actual fashion.
Reducing fashion to the captions or little bits of text added to fashion
photographs in a very limited set of women's magazines (mainly Elle
and Le Jardin des Modes) in one particular fashion year (1958–9, from
June to June) will inevitably appear just that, a huge reduction of what
we mean by fashion. And yet, as much of Barthes's study is concerned
to demonstrate, this is precisely how the fashion system works: it passes
real garments through a series of structures until it finally meets the
public with a meaning, a sign, which is thoroughly linguistic, thoroughly
dependent upon language. Barthes asks rhetorically: 'Is there any
system of objects . . . which can dispense with articulated language? Is
not speech the inevitable relay of any signifying order?' (FS: xi).
The reversal of the Saussurean model is a propitious one in this
study, since Barthes, faced with fashion writing, can produce a sustained
111
4
6
7
9
0
1
4
6
7
111
9
0
analysis of the 'myths' that underpin and naturalize the fashion system.
The fashion industry, after all, depends greatly on a series of 'myths' in
order to produce an innocent façade which, in fact, acts to speed up consumption. That is to say, without a mythology of clothing people might
well be happy to exist within 'the slow time of wear' (FS: xii). Clothes,
generally, take a long time to wear out. The myths of the fashion system
exist to speed up consumption, to lock people (women in the main) into
an annual system which can generate consumption through a vocabulary
of interchangeable, layered and repeatable functions.
Fashion statements come down, Barthes argues, to a simple formula,
or what he terms a matrix, which can be described in terms of an Object
of signification, a Support of signification and a Variant (O, S, V).
Thus 'skirts with a full blouse' can be represented in the following
way (FS: 64):
skirts with a full blouse
O
V
S
The point about both the Variant (V) and the Support of signification
(S) is that once they are established in one example we can immediately start thinking about alternative examples. Thus:
skirts with a half blouse
O
V
S
4
6
7
or
skirts with a denim blouse
O
V
S
9
0111
or
4
6
7
911
skirts with a see-through blouse
O
V
S
Clearly, one of the chief features of this formula (or matrix) is that it
is so eminently repeatable. Once a successful formula has been established, it can be revised again and again with the simplest of adjustments
to the Variant or the Support of signification. We should also note that
SEMIOLOGY
47
48
KEY IDEAS
the distribution of O, V and S can be changed around: to take some
examples (FS: 73):
a cardigan with its collar open
O
S
V
high waists for (evening) gowns
V
S
O
collars that are small for (sports) shirts
S
V
O
We should also note here the possibility of layered matrices, such as
(FS: 73):
a matched ensemble, straw-hat and cache-peigne
S1
S2
V
S3
O
and that there is even the possibility of containing the Object of signification, the Support of signification and the Variant in a single word
(FS 77):
This year blue is in Fashion
This year's Fashion ≡
(colour) blue
OS
V
The fashion system, on such a basis, can then be understood in terms
of a yearly changing of the Variant. Dresses remain each year, obviously, but their Variant, whether they are long or short, pleated or
tapered, closed with a zip or with buttons, allows the fashion system
to perpetually recreate and regenerate its messages from a simple stock
of elements.
111
4
6
7
9
0
1
4
6
7
111
9
0
4
6
7
9
0111
4
6
7
911
Barthes spends a great deal of time distinguishing between the
different structures involved in the fashion system. The semiologist,
faced with this system, is, after all, confronted with a 'real garment',
the visual representation of garments and the 'written garment'. Many
of the problems faced by Barthes when reading the fashion system
concern the fact that he is dealing with multiple structures. His solution is to employ approaches from linguistics to demonstrate how levels
of meaning build up messages which signify something either about
the world (A-ensembles) or Fashion itself (B-ensembles). A statement
such as 'Prints are winning at the races', for example, gives us an
A-ensemble in that it not only says what is currently fashionable, but
also provides us with an image of social power. A statement such as
'Women will shorten skirts to the knee, adopt pastel checks, and wear
two-toned pumps', however, functions more as a direct statement of
what is fashionable and thus is an example of a B-ensemble.
Using a distinction that is important throughout his work, Barthes
states that fashion in A-ensembles is a connoted value (one infers that
wearing a printed dress at social events will make one fashionable),
whereas fashion is a denoted value in B-ensembles.
Fashion writing, Barthes demonstrates, works by building up chains
of combinations (indicated thus '䊉') and equivalences (indicated thus '≡')
which take a large set of elements and build basic messages out of them.
We are extremely familiar with such processes within the world of
advertising, a world in which such combinations and equivalences are
the stock techniques by which a huge array of products are presented
and sold to us. Combine a brand of lager with the idea of Alpine skiing
and the result will be the production of an equivalence: coolness,
sophistication, refreshment, active masculinity. The possibilities, as
those who work within the world of advertising know, are endless.
Thus, faced with a statement such as 'daytime clothes in town are
accented with white', Barthes can reconstruct the set of equivalences
and combinations in the following way: 'daytime clothes 䊉 accents 䊉
white ≡ city'. This then allows us to reconstruct the following proposition: 'White accents on daytime clothes are the sign of the city' (FS:
48). The various levels or codes of the fashion system, therefore, work
by turning signifieds into signifiers for new signifieds. Here, for
example, what looks like a statement of fact on one level (signified =
'daytime clothes in town are accented with white') becomes a signifier
for a new signified at another level (signified = 'White accents on
SEMIOLOGY
49
50
KEY IDEAS
DENOTATION AND CONNOTATION
In Elements of Semiology Barthes takes up the distinction, developed by the
linguist Louis Hjelmslev (1899–1965), between denotation and connotation.
A denotative statement is a first-order statement: a statement which concerns the literal (first-order) meaning of the words that make up that statement. When faced with the statement 'Prints are winning at the races', for
example, we have the words used, or what Barthes calls a plane of expression (E), we have what the words literally mean, or the plane of content (C),
and we then draw a relation between the two (R) to find the statement's
meaning. On the level of denotation, 'Prints are winning at the races' is a
rather strange statement. Does this statement seriously expect us to believe
that its meaning involves printed clothes and the winning of horse races? If
we simply expect to find the meaning by moving from
(E)
plane of expression (words used/selected: 'Prints are winning at
the races')
to
(C) plane of content (literal meaning of the statement 'Prints are
winning at the races'),
then we will be disappointed. Simply moving from (E) to (C) here gives us
a nonsensical first-order (denotative) meaning. We need to move to the
relation (R) between (E) and (C), and thus to a second-order meaning
(connotation) to make any sense of the statement. There is clearly another
meaning implied in this statement and this meaning exists at the level of
connotation. To move from the plane of denotation to connotation involves
the same processes we have already seen in the reading of myth: we
move from a first-order meaning (denotation) to a second-order meaning
(connotation). In our example the connotation involves a statement about
what is fashionable and also an analogy between being fashionable
(wearing prints) and power (winning, being seen as a winner). Barthes
expresses the relation in the following manner (ESe: 149):
2
1
E
ERC
R
C
111
4
6
7
9
0
1
4
6
7
111
9
0
4
6
7
9
0111
4
6
7
911
As Barthes puts it: 'the first system (ERC) becomes the plane of expression,
or signifier, of the second system' and thus can also be expressed: (ERC)
R C. As Barthes adds: 'the first system is then the plane of denotation and
the second system (wider than the first) the plane of connotation. We shall
therefore say that a connoted system is a system whose plane of expression
is itself constituted by a signifying system' (ibid.). Connotation, an implied,
second-order, plane of meaning will continue to be of enormous importance
in Barthes's structuralist, and indeed his post-structuralist, phases.
daytime clothes are the sign of the city'). As we proceed through these
levels we enter more thoroughly into the realm of connotation or
connotative meaning. Ultimately, however, the signified of the statement we are looking at here signifies something else than is literally,
denotatively contained in its expression and content. An image of
modernity, the urban or metropolitan, or of hygiene or simplicity is
ultimately at stake in the statement. How we respond to this last level
of signification, which Barthes styles in terms of the 'rhetorical code',
will depend on the context of the magazine or journal in which the
statement is presented.
The rhetorical code involves the world-view or the ideological signs
which such examples of the fashion system wishes its readers to accept.
Barthes's study of the fashion system ultimately leads, therefore, to a
reconstruction and analysis of the 'myths' which are the end-product
of such complex sign systems. Fashion works in ways already familiar
to readers of Barthes's Mythologies: it either hides its meanings behind
the appearance of utility or naturalness (as in A-ensembles) or declares
them as a kind of legal fact (as in B-ensembles) (FS: 263–4). Fashion,
as a form of 'myth', converts the artificial into a sign of 'nature' and
then hides the fact that it has performed this transformation
(FS: 283–4).
Based on equivalences and combinations (between Fashion and the
world, between clothing and Fashion), the fashion system, which we
should remember is based on the decisions of a very small number
of editors and consultants, ultimately presents such arbitrary relations
as if they were inevitable, natural or a kind of inescapable law. As
Barthes writes: 'it is obviously because Fashion is tyrannical and its signs
arbitrary that it must convert its sign into a natural fact or a rational
law' (FS: 263). In this sense, The Fashion System is the largest, most
SEMIOLOGY
51
52
KEY IDEAS
extensive and, perhaps, as Rick Rylance has suggested, the most
depressing and pessimistic 'mythology' Barthes was ever to write
(Rylance 1994: 42). It is also, however, Barthes's most devastatingly
rigorous critique of bourgeois ideology and its tendency to naturalize
the signs that it produces. As such, The Fashion System is a crucial
stage in our understanding of the development of Barthes's thought in
the 1960s and our sense of the link between his work on myth and
social semiological systems and his work on the structural analysis of
literary texts.
SUMMARY
In this chapter we have seen the manner in which Barthes extends the
critique of bourgeois culture presented in his earlier work into a full-scale
critical analysis of modern 'mythology'. Myth, a thoroughly ideological
process, works by presenting culturally specific objects and relations as if
they were timeless, natural, and thus unquestionable. Barthes employs
semiology to establish a rigorous technique for the demythologizing of
modern French culture's all-pervasive mythological meanings.