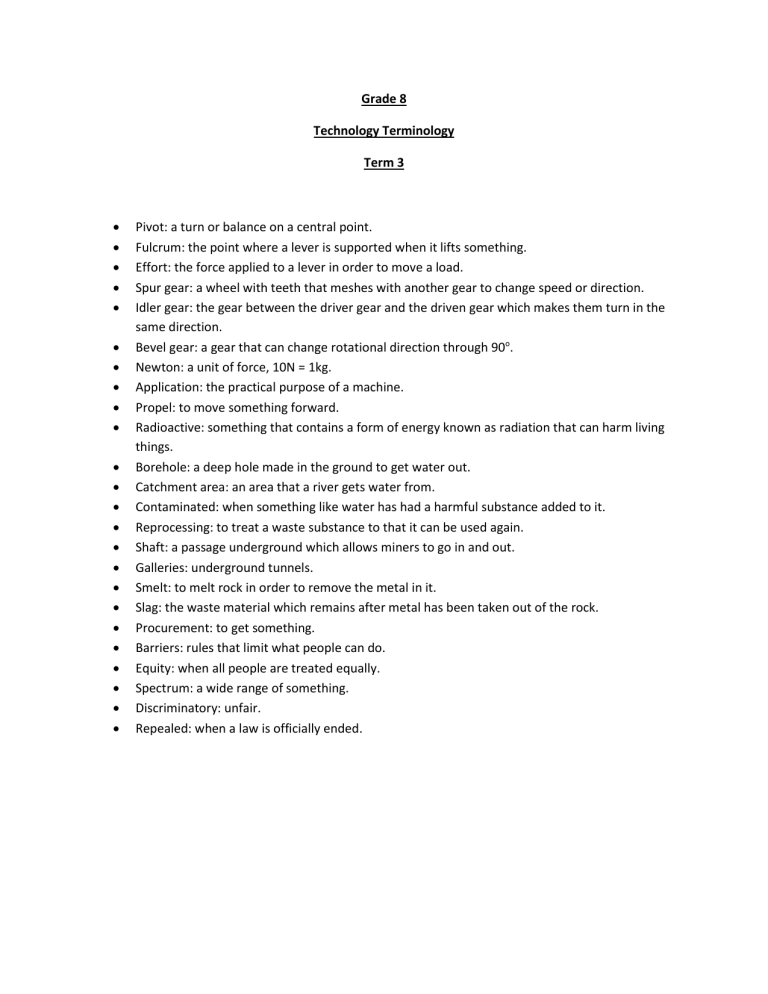 Grade 8
Technology Terminology
Term 3
























Pivot: a turn or balance on a central point.
Fulcrum: the point where a lever is supported when it lifts something.
Effort: the force applied to a lever in order to move a load.
Spur gear: a wheel with teeth that meshes with another gear to change speed or direction.
Idler gear: the gear between the driver gear and the driven gear which makes them turn in the
same direction.
Bevel gear: a gear that can change rotational direction through 90o.
Newton: a unit of force, 10N = 1kg.
Application: the practical purpose of a machine.
Propel: to move something forward.
Radioactive: something that contains a form of energy known as radiation that can harm living
things.
Borehole: a deep hole made in the ground to get water out.
Catchment area: an area that a river gets water from.
Contaminated: when something like water has had a harmful substance added to it.
Reprocessing: to treat a waste substance to that it can be used again.
Shaft: a passage underground which allows miners to go in and out.
Galleries: underground tunnels.
Smelt: to melt rock in order to remove the metal in it.
Slag: the waste material which remains after metal has been taken out of the rock.
Procurement: to get something.
Barriers: rules that limit what people can do.
Equity: when all people are treated equally.
Spectrum: a wide range of something.
Discriminatory: unfair.
Repealed: when a law is officially ended.