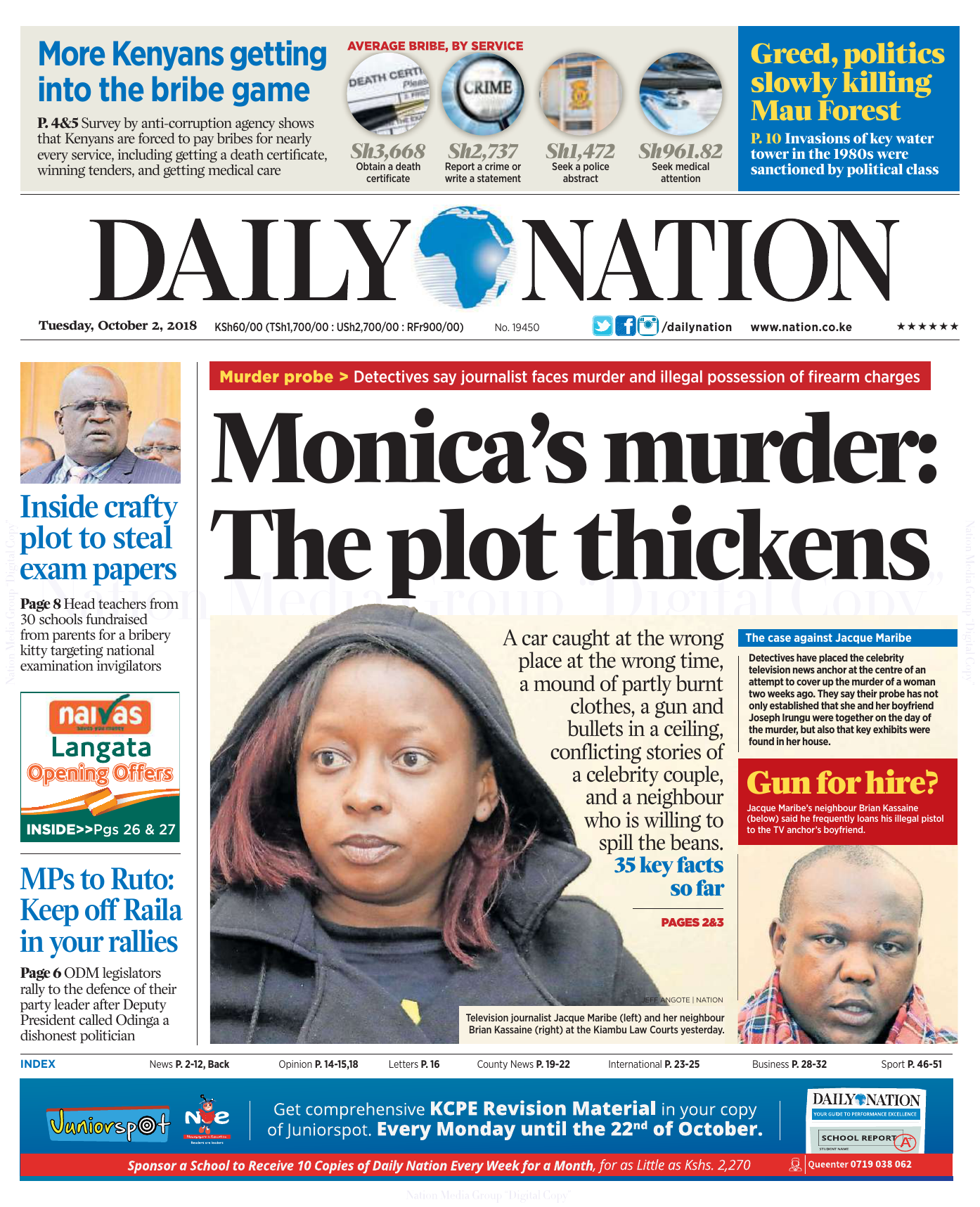 More Kenyans getting
into the bribe game
P. 4&5 Survey by anti-corruption agency shows
that Kenyans are forced to pay bribes for nearly
every service, including getting a death certificate,
winning tenders, and getting medical care
Tuesday, October 2, 2018
Greed, politics
slowly killing
Mau Forest
AVERAGE BRIBE, BY SERVICE
Sh3,668
Obtain a death
certificate
Sh2,737
Report a crime or
write a statement
KSh60/00 (TSh1,700/00 : USh2,700/00 : RFr900/00)
Sh1,472
Seek a police
abstract
No. 19450
Sh961.82
Seek medical
attention
/dailynation
P. 10 Invasions of key water
tower in the 1980s were
sanctioned by political class
www.nation.co.ke
∫∫∫∫∫∫
Murder probe > Detectives say journalist faces murder and illegal possession of firearm charges
Inside crafty
plot to steal
exam papers
Page 8 Head teachers from
30 schools fundraised
from parents for a bribery
kitty targeting national
examination invigilators
Monica's murder:
The plot thickens
A car caught at the wrong
place at the wrong time,
a mound of partly burnt
clothes, a gun and
bullets in a ceiling,
conflicting stories of
a celebrity couple,
and a neighbour
who is willing to
spill the beans.
35 key facts
so far
INSIDE>>Pgs 26 & 27
MPs to Ruto:
Keep off Raila
in your rallies
News P. 2-12, Back
Detectives have placed the celebrity
television news anchor at the centre of an
attempt to cover up the murder of a woman
two weeks ago. They say their probe has not
only established that she and her boyfriend
Joseph Irungu were together on the day of
the murder, but also that key exhibits were
found in her house.
Gun for hire?
Jacque Maribe's neighbour Brian Kassaine
(below) said he frequently loans his illegal pistol
to the TV anchor's boyfriend.
PAGES 2&3
Page 6 ODM legislators
rally to the defence of their
party leader after Deputy
President called Odinga a
dishonest politician
INDEX
The case against Jacque Maribe
JEFF ANGOTE | NATION
Television journalist Jacque Maribe (left) and her neighbour
Brian Kassaine (right) at the Kiambu Law Courts yesterday.
Opinion P. 14-15,18
Letters P. 16
County News P. 19-22
International P. 23-25
Business P. 28-32
Sport P. 46-51
2 | National News
Tuesday, October 2, 2018 | DAILY NATION
35 key facts> Monica Kimani had just arrived home from South Sudan two weeks ago when she was killed inside
Chronology of a murder investigation
WEDNESDAY, SEPTEMBER 19
6.21pm- Monica Kimani, 28, a
businesswoman, calls her brother
to announce her arrival in Nairobi
from Juba, tells him she will leave
for Dubai the next day.
7.30pm — Ms Kimani is dropped
off by a taxi at her Lamuria
Gardens Apartment in Kilimani, Off
Dennis Pritt Road.
8.00pm — Ms Kimani leaves her
third floor flat to collect a delivery
from the gate.
8.30pm- A neighbour, Owen,
arrives at Ms Kimani's house to
deliver a South Sudanese car
number plate she had given
him earlier and requested it be
insulated.
8.30pm- Another neighbour, a
Lebanese, having realised that Ms
Kimani was at home, joins the two
neighbours at her A8 apartment.
8.45pm — Another man, dressed
in a pair of jeans, a grey hoodie,
a cap and a white robe, popularly
known as a kanzu, arrives, hugs
Monica and goes straight to the
kitchen then returns with a glass
of wine. At the gate, he registered
himself as "Dominic Kamau".
9.00pm — The neighbours leave
Ms Kimani and the man in the white
robe in the flat.
break into Ms Kimani's flat and find
her dead in the bathtub, her neck
slit from ear to ear. Her mouth is
taped shut, her hands tied at the
back. Her feet were also bound.
The killer left the water running.
3.30pm- Police, having analysed
the scene of crime, take Ms
Kimani's body to Chiromo
Mortuary.
THURSDAY, SEPTEMBER 20
3.35am — The man in the white
robe calling himself Dominic
Kamau leaves the apartment,
driving a Silver Toyota Allion, KCA
031E. Later, street cameras capture
him in the car with an unidentified
man.
4.00am — Joseph Irungu Kuria
arrives at his girlfriend's house
dressed in a hoodie, a cap and a
jacket.
11.30am — Ms Kimani's brother,
George Kimani, having failed to
reach his sister the whole night
decides to visit her apartment
together with his girlfriend, to
ascertain her safety.
12.00pm — George Kimani with
the help of neighbours and a friend,
9.00pm- Jacque Wangui Maribe,
a news anchor at Citizen Television
reads the news, with the death of
Ms Kimani being one of the items,
before heading home.
The Serious Crimes Unit of
the Directorate of Criminal
Investigations, DCI Headquarter's
Homicide Section, takes over the
investigations into the killing and
open a file; CR141/335/2018.
FRIDAY, SEPTEMBER 21
1.00am — Jacque Maribe and
her fiancé Joseph Irungu get into
an argument at her Royal Park
Apartment house number 626,
where Mr Irungu is suspected to
have grabbed a pistol and shot
himself on the right side of the
chest. The bullet exits from the
back and hits the wall, leaving a
hole.
1.02am — Mr Irungu runs out of
the house into house number 620,
belonging to a friend and former
collegemate. He tells the owner, Mr
Brian Kassaine Spira, that he had
shot himself and asks him to go
and secure the gun at Ms Maribe's
house.
1.05am — Ms Kassaine gets into Ms
Maribe's house and finds the gun, a
Ceska Serial Number B467102 with
28 rounds of 9mm ammunition and
one spent cartridge on the floor at
the entrance to the walk-in closet
adjacent to the bedroom.
1.30am- Ms Maribe, Mr Kassaine
and Mr Kassaine's wife, Ms
Catherine Piyon, rush Mr Irungu
to hospital but the wound is only
dressed — the hospitals demands a
police OB number.
8.00am- Ms Maribe goes to work,
leaving her fiancé in the house
nursing the gunshot wound. She
later returns home.
Prosecution: News anchor could face
The reporter at
Citizen TV may also
be charged with
handling of an illegal
firearm
BY ERIC WAINAINA
@EWainaina
[email protected]
C
elebrated television news
anchor and reporter Jacque
Maribe faces a murder
charge for being an accessory
in the killing of businesswoman
Monica Nyawira Kimani, whose
body was found in her house in
Kilimani, Nairobi, two weeks ago.
Director of Public Prosecutions
Noordin Haji, through his assistant Jacinta Nyamosi, yesterday
said Ms Maribe could also face
charges related to illegal handling
of a firearm after a nine-millim-
eter live bullet was recovered in
her bedroom.
Ms Nyamosi said the TV star
could face a charge of murder or
being an accessory to murder,
subject to the completion of
investigations. The news anchor
and reporter at Royal Media
Services' Citizen TV could also
have crucial information that
might help in solving the puzzle
of Ms Kimani's murder, said Ms
Nyamosi.
Ms Maribe and her fiancé
Joseph Irungu, alias Jowie, who
is being held at Muthaiga Police
Station, have been described as
prime suspects in the gruesome
murder of Ms Kimani.
Mr Irungu was last week
presented before Kiambu Senior Principal Magistrate Stella
Atambo, who allowed police to
continue holding him at Gigiri
Police Station for 10 days as
investigations continue.
Mr Brian Kassaine, a mutual
friend and neighbour of Mr
Irungu and Ms Maribe at Royal
Park Estate in Lang'ata, Nairobi, has also been arrested on
suspicion that he could be an
accomplice after it emerged that
Mr Irungu may have used his gun
in an alleged attempted suicide.
He was among those who took
Mr Irungu to hospital after he
shot himself in the chest inside
Ms Maribe's house last Thursday.
It is not clear whether Mr
Irungu wanted to commit suicide
or lay a false trail when he turned
the gun on himself, but detectives
suspect a strong link between Ms
Kimani's macabre killing and the
gunshot wound on Mr Irungu's
chest, both hours apart.
Yesterday, Kiambu Principal
Magistrate Justus Kituku allowed
police to detain Ms Maribe and
Mr Kassaine for 11 days to facilitate investigations, which include
having some of the items recovered in the journalist's house
taken for forensic and ballistic
examination.
Ms Nyamosi said the results
will guide the investigating team
on what charges to prefer against
DAILY NATION | Tuesday, October 2, 2018
National News | 3
her apartment in Nairobi. Here, a blow-by-blow account of how the probe into her horror murder has evolved
7.05pm- Mr Kassaine, Ms Maribe
and Mr Irungu go to Lang'ata
Police Station, some 200 metres
from their estate, and report
under OB/79/21/9/2018 that Mr
Irungu had been shot very early
that morning by three thugs as he
entered the house.
8.00pm — Lang'ata OCPD Mutisi
visits the alleged scene of shooting,
and interrogates watchmen who
deny hearing any gunshots or
having information about the
shooting.
10.30pm — The OCPD receives
a signal from Kilimani, asking for
assistance in tracing Mr Irungu and
the Toyota Allion car seen at the
scene of Ms Kimani's murder in
Kilimani.
SUNDAY, SEPTEMBER 23
Police interrogate Mr Kassaine, Ms
Maribe and Mr Irungu about Ms
Kimani's death and the alleged
shooting.
MONDAY, SEPTEMBER 24
Mr Irungu is arrested at Ms Maribe's
house and taken to the Lang'ata
police station. Ms Maribe goes
missing, but later reveals that she
panicked and went to her parent's
house after her fiancé was arrested
in connection with the killing she
had reported on TV.
Police recover a live bullet under
Ms Maribe's bed and take it for
ballistic tests. Police also find a
bullet hole on the wall, covered
with wheat flour dough.
TUESDAY, SEPTEMBER 25
Police seize Ms Maribe's car, the
Toyota Allion KCA 031E, from her
home and take it to the Kilimani
Police Station. It is dusted and cans
of beer, a wig and some clothes
found inside are taken by police.
Forensic investigators also camp at
Ms Kimani's flat, combing the area
for samples to be taken for DNA
analysis.
Mr Irungu reveals that the bullet
found by detectives at Ms Maribe's
house may have dropped from the
gun of a friend, Mr Kassaine, which
he claims, he usually services.
Police discover he had had the gun
since September 9.
FRIDAY, SEPTEMBER 28
THURSDAY, SEPTEMBER 27
Ms Maribe records a statement
at the Kilimani Police Station
and is later taken to the
Directorate of Criminal
Ms Kimani is buried at her home
in Gilgil, her family says they have
forgiven her killers but are keen to
ensure that justice is done.
Investigations headquarters.
Police recover a partially burnt
white robe, T-shirt, cap and
other clothing in Ms Maribe's
compound, collect them for
forensic exam.
Police arrest Mr Kassaine at his
house at Royal Park Estate, officers
led by Mr Maxwell Otieno recover a
Ceska Pistol, Model CZP-07, Serial
Number 467102, a spent cartridge
and 62 rounds of 9mm ammunition
hidden in the ceiling. They also
confiscate a firearms certificate for
verification by the Central Firearms
Bureau.
Mr Brian Kassaine at
the Kiambu Law Courts
yesterday, where a
magistrate ordered
his detention at
Lang'ata Police
Station for 11 more
days.
SATURDAY, SEPTEMBER 29
Ms Maribe is arrested at her house
at the Royal Park Estate and
detained at Gigiri Police Station.
MONDAY, OCTOBER 1
Ms Maribe and Ms Kassaine are
produced at Kiambu Law Courts
on separate schedules, court
grants investigating officers
10 days to detain each. Days
will not include the October 10
public holiday.
WEDNESDAY, SEPTEMBER 26
Police produce Mr Irungu at the
Kiambu Law Courts, court
grants Investigating Officer
Maxwell Otieno 10 days to
detain him to allow for more
investigations.
murder or accessory to murder charges
Mr Joseph Irungu
alias Jowie when
he appeared before
Kiambu Senior
Principal Magistrate
Stella Atambo on
September 26. He
is the main suspect
in the killing of
businesswoman
Monica Nyawira
Kimani, whose body
was found in her
house in Kilimani,
Nairobi, two weeks
ago.
JEFF ANGOTE | NATION
the TV anchor, who interestingly
was the one who broke the news
about Ms Kimani's murder after
her body was recovered.
Detectives have placed Ms
Maribe, who was arrested on
Saturday night, at the centre of
an attempt to cover up the murder of Ms Kimani. According to
them, their investigations have
not only established that she and
Mr Irungu were together on the
day of the murder, but also that
some of the key exhibits in the
incident were found in her house.
Concealing evidence
The items, according to chief
lead investigator in the murder
Maxwell Otieno, include a robe
and a jacket worn by Mr Irungu
on the day Ms Kimani was
slaughtered inside her apartment
shortly after arriving into the
country from Juba, South Sudan,
and which were partly burnt at
Ms Maribe's residence.
Police believe Ms Maribe knew
about the attempt to conceal evidence by burning the garments. It
is not clear yet whether she was in
the house when the incineration
occurred.
Further, her mobile phone, an
iPhone 7+ loaded with a Safaricom Sim card, will be subjected
to a forensic examination, with
the police saying its report could
contain crucial material in relation to the murder investigation.
The TV star was ferried to the
Kiambu court precincts at around
8:30am yesterday in a Subaru
Outback by four detectives. Her
case, in which she was represented by lawyer Katwa Kigen,
was the first to be heard, shortly
after 9am.
Throughout the session, and in
spite of the gravity of charges fac-
ing her, she appeared unmoved,
staring blankly into the forest
of cameras in front of her and
every now and then attempting
a faint smile.
Her family, led by her father
Mwangi Maribe, was in court. Mr
Maribe also sat through the court
proceedings in the case against
his daughter's co-accused, Mr
Kassaine, a few hours later.
Within the period during which
Ms Maribe will be incarcerated
at Gigiri Police Station, police
will also extract DNA samples
from her and compare them with
samples collected at Ms Kimani's
residence as well as the journalist's Lang'ata house.
The new developments came
as it emerged that both Mr Irungu
and Ms Maribe, whom police
believe were living together at
the latter's residence, may have
lied about how the former suffered a wound on the left side
of his chest.
On Wednesday last week, while
seeking permission to hold Mr
Irungu for two weeks to facilitate
further investigations, Mr Otieno
told Senior Principal Magistrate
Stella Atambo that detectives
suspected Mr Irungu faked or
stage-managed the gunshot
wound on his left shoulder to
conceal the truth.
Mr Irungu, who was arrested
last week after preliminary investigations linked him to the
murder, claimed that he was attacked by gunmen as he dropped
his fiancée, Ms Maribe, at her
house.
He told police that he was exiting Ms Maribe's Lang'ata estate
when he encountered three men
who shot him and sped off using
a motorbike.
He was taken to several hos-
pitals by Ms Maribe, he added.
But in Mr Otieno's sworn affidavit, Ms Maribe is said to have
told the police that her fiancé
attempted to commit suicide by
shooting himself after a disagreement between the two of them
at 1am on September 21.
Police said investigations show
that the gun used in the "shooting" belonged to Mr Kassaine,
and that he had a habit of giving
his firearm to Mr Irungu, who has
previously worked as a security
guard in the Middle East.
In her statement, Ms Maribe,
who was questioned by detectives
at Kilimani Divisional Headquarters and the Directorate
of Criminal Investigations on
62
The number of bullets
found in Mr Brian Kassaine's
house. He has been
arrested on suspicion that
he could be an accomplice.
Detectives
have placed
Ms Maribe at
the centre of an
attempt to cover
up the murder.
Investigations
have established
that some of
the key exhibits
in the incident
were found
in her house.
Kiambu Road thrice, said that
after the incident, Mr Irungu
rushed to Mr Kassaine's house,
which is within the same compound, and asked Mr Kassaine
to go take his gun.
Spent cartridge
This was corroborated by Mr
Kassaine in his statement to the
police. He told the police that
Mr Irungu woke him up and
informed him to go and secure
the gun at Ms Maribe's house.
At the journalist's house, Mr
Kassaine found the gun, 28
bullets, and one spent cartridge,
which lay on the floor at the
entrance to the walk-in closet in
Ms Maribe's master bedroom.
Mr Kassaine, incarcerated yesterday at Lang'ata Police Station
on the court's orders, said that
he, together with his wife Ms
Catherine Piyon and Ms Maribe,
rushed Mr Irungu to hospital
before reporting the matter at
Lang'ata Police Station.
This is contrary to what Mr
Irungu had earlier claimed — that
he was attacked by gunmen after
he dropped the TV anchor home.
When police raided the house
of Mr Kassaine, they found a
Ceska pistol model CZP-70,
some 62 bullets, and one spent
cartridge hidden in the ceiling.
The items, particularly the gun,
are being examined by experts
to ascertain their source and
whether they have been used to
commit other criminal offences
in the country.
Police are also seeking to establish whether a person reported to
have been in the company of Mr
Irungu near the scene of crime
when the murder occurred was
Mr Kassaine.
4 | National News
Tuesday, October 2, 2018 | DAILY NATION
Graft survey > Getting government tenders will set you back by at least Sh100,000.
Survey shows number of people who
paid bribes to get services has risen
While the
average
bribes
Kenyans
gave
dropped
by almost
Sh2,000
from 2016,
those who
paid bribes
rose to 62.2
per cent in
2017, from
46 per cent
in 2016.
BY PATRICK LANG'AT
@PatoSuge
[email protected]
E
ach time you walk into a
government office to seek services, be sure to have at least
Sh5,000 in your pocket because that
is the average that will be demanded
of you in bribes.
And if you are seeking a government tender, your starting figure
will be in the region of Sh100,000,
a survey by the Ethics and Anti-Corruption Commission (EACC) has
shown.
In the survey released yesterday,
which was done between September
18 and October 24, the EACC sampled 5,977 households in Kenya's 47
counties. A staggering two-thirds of
Kenyans interviewed revealed they
did not receive government services
after failing to pay a bribe.
Those seeking employment, the
survey showed, parted with an average of Sh28,606 — slightly over
a quarter of what Kenyans were
willing to lose to get a government
tender, a lucrative business going
by the various reports on plunder
and exaggeration of projects costs.
When Kenyans went to collect a
building or construction certificate,
they parted with Sh17,611, almost
Sh2,000 more than the Sh15,240
they gave as bribes to seek a transfer from their government work
stations.
To register a group, pass a driving test, and follow up on pension,
Kenyans had to part with an average
of Sh10,500, Sh8,649, and Sh7,241
respectively.
Half of those who paid bribes said
it was the only way to access the
services, with two in 10 saying they
EVANS HABIL | nation
Students from Moi Girls High School, Nairobi, recite a poem during the launch of the Ethics and Anti-Corruption
paid them to hasten the delivery of
the service. At least 13 per cent told
EACC in the month-long survey
that they paid the bribe "to avoid
problems with authorities."
And while the national average of
the bribes Kenyans gave dropped
by almost Sh2,000 from 2016,
the survey showed that those who
paid bribes to obtain services from
public offices shot up to 62.2 per
cent in 2017, from 46 per cent the
previous year.
Three in 10 Kenyans said that
given the opportunity, they would
happily engage in corruption. Two in
10 said they had done so in the past.
And while the payment of bribes
to access services is a problem, what
could be more concerning is that
Kenyans are paying for government
services.
In the 2017 survey, Kenyans paid
Sh6,080 for land rates, Sh2,737 to
report a crime or write a statement,
Sh3,688 to obtain a death certificate
and Sh2,065 to seek relief food or
water.
Kenyans had to pay Sh7,241 to follow up on their pension, Sh4,400 to
register and collect land title deeds
and Sh6,052 to get agricultural
extension services.
At the bottom of the services that
Kenyans pay for is a Sh200 bribe
to apply for the National Social
Security Fund card, a PIN number
from the Kenya Revenue Authority,
with a Sh460 bribe required to
get a National Hospital Insurance
Fund card.
Eight out of 10 Kenyans who said
they had paid a bribe received the
service they wanted, with an alarming 93 per cent saying they never
reported the vice to the authorities.
The huge number of Kenyans not
reporting corruption may be due to
the fact that of those that reported,
six out of 10 of them said no action
was taken, with a discouraging 12
per cent saying those responsible
were warned by their superiors, and
an even more disappointing five per
cent were fired from their jobs.
A first degree-holder, the survey
said, was four times more likely to
bribe as compared to a Kenyan with
no formal education, with an average
of Sh11,222 being dished out by the
former, and Sh3,954 by the latter.
Those with Master's degree and
above were only willing to part with
Average bribe by services
Services
Obtaining a Tender
Seeking Employment
Collection of Building or Construction
Certificate
Seeking Transfer
Registering a Group
Undergoing Driving Test
Following Up On Pension
Paying Land Rates
Seeking Agricultural Extension Services
Solving Land Conflict
Registration and Collection of Land Title Deeds
Bailing of Arrested Individuals
Obtaining a Death Certificate
Following Up On A Case
Seeking Driving License
Registration of Business
Reporting a Crime or Writing A Statement
Filing Tax Returns
Application for Bursary
Power Connection and Bill payment
Educational Services and Administration
Changing of ID Particulars
Seeking Police Security and Protection
Application For A Passport
Seeking Relief Food or Water
Release of Impounded Goods
Obtaining a reference Letter
Seeking A Police Abstract
Seeking of CDF Funds
Application and Collection of Birth Certificate
Seeking Business Permit
Registration, Collection and Renewal of ID
Seeking Police Certificate of Good Conduct
Seeking P3 Forms
Seeking Medical Attention
Seeking of Government Funds- Uwezo, Youth,
Women or Elderly
Application For College Admission
Registration or Transfer of Vehicle
Educational HELB Loan
Seeking Health Clearance Certificate
Seeking School Documents or certificates
Application for NHIF Card
Application for KRA Pin Number
Application for NSSF Card
Total
Average
Bribe in
Kshs.
102,921.75
28,606.99
17,661.11
15,240.33
10,500.00
8,649.92
7,241.0525
6,080.10
6,052.13
5,924.08
4,389.37
3,973.72
3,688.62
3,090.95
2,924.83
2,806.53
2,737.22
2,591.52
2,534.79
2,500.00
2,361.61
2,232.47
2,231.88
2,145.17
2,065.86
1,727.90
1,662.01
1,472.52
1,287.17
1,285.84
1,234.08
1,130.81
1,067.30
999.67
961.82
917.29
820.77
745.29
615.37
500.00
500.00
464.80
200.00
200.00
5,058.75
Sh3,694, the third lowest average
after those with informal education
(Sh2,430) and Sh2,636 that a primary school education holder was
willing to part with.
Women, the study showed, are
more likely to bribe more, with
an average of Sh5,579 against the
Sh4,718 average that men were
willing to give.
Mater Misericordiae Hospital will hold a FREE breast examination camp on
Saturday 6th October 2018 from 8:00am - 2:00pm within the hospital grounds.
Take this opportunity to have your breasts examined and learn more about:
• Breast cancer
• How to do Breast Self -Examination(BSE)
• Mammography
• Breast Ultrasound
• Fine Needle Aspiration (FNA)
• Treatment and side effects
• Recovery and Renewal
Our Mammogram, Breast Ultrasound and Pap Smear charges will be drastically
reduced throughout the month of October.
Additionally all our Medical Centres will do free breast examination throughout the
month of October 2018 as follows:
Embakasi: Wednesday, Friday & Saturday- 9:00am-11:00am
Kasarani : Wednesday 8:00am-9:30am
Westlands : Wednesday & Friday 9:00am-2:00pm
Buruburu: Monday 8.00am-10:00am
Development: Tuesday & Thursday 9:00am-2:00 pm
Thika: Monday – Friday 8:00am-10:30am
Please share this information with your colleagues, friends and relatives. Women aged
30 years and above are at a higher risk of breast cancer and are encouraged to attend.
The Mater Misericordiae Breast Clinic runs every Wednesday between
8:00am-11.00am.
Please call 0732-163132, 0719-073132, 020-6903132 to book an appointment
National News | 5
DAILY NATION | Tuesday, October 2, 2018
Study: Interior
ministry is
most corrupt
Corruption > Kericho has the lowest average at Sh508 against Sh5,058 nationally
Sh35,000: Average bribe in Mandera
BY PATRICK LANG'AT
@PatoSuge
[email protected]
BY PATRICK LANG'AT
K
9 in bad sugar claim charged
afresh after Haji merges cases
BY BRIAN OCHARO
Nine people have been charged
afresh for releasing 10,000 bags
of contaminated brown Egyptian
sugar into the Kenyan market.
This is after Director of Public Prosecutions Noordin Haji
consolidated their cases where
they were accused separately of
releasing bad sugar.
The six Kenya Revenue Authority and Kenya Bureau of
Standards officials as well as
three directors of Air Menzies
International and Flora Bakers
Ltd companies, yesterday appeared before Mombasa resident
magistrate Christine Ogweno
and denied the charges.
KRA custom head verification
officer Vivian Moraa Rioba,
verification officers Monica
Waceke and Stephen Ochieng,
Kebs inspection manager Samuel
Onjolo and inspection officer
Daniel Samuel Musta and Peter
Mwadziwe (Kilindini Port health
officer) were charged with releasing bad sugar.
Mr Ali Abdi Mohamed (director Air Menzies), and directors
of Flora Bakers Hassan Abdi
Mohamed and Abdulahi Abdi
Mohamed were also charged
with a similar offence.
Ms Moraa, Ms Waceke, Mr
Ochieng, Mr Onjolo, Mr Musta
and Mr Mwadziwe were further
charged with wilful disobedience
of statutory duty, abuse of office
and breach of trust.
DPP Noordin Haji
They are accused of wilfully
causing to be released to the
public 10,000 bags of 50kg bags
of sugar that failed to comply
with the requirements of Kenya
standards, that ought to have
been destroyed.
They are additionally charged
with abuse of office, where
they are accused of unlawfully
authorising the release of the
substandard brown sugar with
moisture content and water
insoluble matter to Flora Bakers
Ltd, both exceeding the Kenya
standard which was prejudicial
to the public health and safety.
The three are further charged
with breach of trust, where
as custom officers, unlawfully
authorised the release of the
contraband sugar to the Flora
Bakers Ltd in breach of trust,
affecting the standard of health
of the public.
Mr Onjolo and Mr Musta are
further accused of entering into
an agreement permitting release
of contaminated goods into the
Kenyan market.
The court heard the suspects
entered into agreement with Air
Menzies to permit the release of
the cargo, which failed to comply
with Kenyan standards.
Mr Mwadziwe is further
charged that as a health officer,
he wilfully disobeyed statutory
duty by failing to ensure full
compliance of Section 30 (11) of
the Food, Drugs and Chemical
Substances Act by releasing
the goods before obtaining a
certificate of the results of the
analysis of the samples taken
from the said bags of sugar from
the government chemist.
Flora Bakers limited is said to
have imported the contaminated
sugar while Air Menzies cleared
the sugar when it arrived from
Egypt before being stored at
Boss Freight Container Station
at the Mombasa port.
The offences were allegedly
committed between June 29 and
July 11, at Boss Freight Container
station, Kilindini port.
The suspects are out on bond.
The case is scheduled for
hearing on November 28 and 29.
they witnessed.
In the counties, the departments
of finance and planning were rated
as the most prone to corruption
at 18 per cent. Other departments
are health facilities, roads, lands
survey and housing, the public
Wajir 77.2%
Bungoma 77.6%
Nyandarua 80.0%
Makueni 80.0%
Busia 80.9%
Kirinyaga 81.3%
Kajiado 81.5%
Trans Nzoia 83.3%
Top 10 counties by proportion of those who paid bribes
Meru 88.5%
enyans living in Mandera
County part with bribes
70 times more than those
in Kericho to access government
services, a survey by the anti-corruption agency has shown.
While those in Mandera pay
an average Sh35,440 as bribe,
Kenyans in Kericho pay Sh508.86.
This is against a national average of Sh5,058, down from Sh7,081
in 2016, shows a survey carried out
by the Ethics and Anti-Corruption
Commission (EACC), released
yesterday.
In the survey, done between
September 18 and October 24, 76
per cent of Kenyans revealed that
they did not receive government
services if they failed to pay a bribe.
Those in Kisumu parted with
bribes averaging Sh26,762, with
Kenyans in Busia, Nyamira, Murang'a and Nairobi parting with
Sh18,866, Sh10,967, Sh9,297
and Sh8,916 respectively, to close
the list of the six counties where
Kenyans parted with the highest
amount in bribes in 2017.
Half of those polled said they
paid a bribe because it was the only
way to get government services,
with 17 per cent saying it was the
only way to hasten service delivery.
Of those who were denied services, 93 per cent said they did
not report the acts of corruption
Wajir 90.0%
Two in three Kenyans rank the Interior ministry as the most corrupt, with
three in 10 saying they had paid bribes
in the chief's office and police stations
while seeking government services, a
survey has shown.
Other Ministry of Interior departments where Kenyans said they had
paid bribes are Registrar of Persons,
county commissioner's office, as well
as immigration and civil registration
departments, all coming in the top 10
institutions where Kenyans paid bribes.
At 64.7 per cent in 2017, the Interior
ministry jumped from 45.7 per cent in
2016 in the study where 93 per cent said
they did not report acts of corruption
witnessed, the survey by the Ethics
and Anti-Corruption Commission has
shown.
In the survey done between September 18 and October 24, 2017, and
which sampled 5,977 households in
the 47 counties, the Interior ministry
is followed by Health with three out
of 10 Kenyans ranking it as corrupt,
compared to 24 per cent who passed
the same judgment on Lands ministry.
Transport, Education, Defence,
Finance, and Water are the other ministries with more than five per cent
perception of those prone to corruption.
The ministry Kenyans see as least
prone to graft is Tourism, followed by
Mining, Information and Environment,
all carrying a below 0.5 per cent ranking.
In counties, Finance and Planning
dockets were the most prone to graft.
service boards, as well as licensing.
Rift Valley counties of Kericho,
Bomet and Elgeyo-Marakwet
took the top three spots in the
list of counties where Kenyans
are likely to give the lowest bribes.
Machakos is the only other county
EVANS HABIL | NATION
EACC Chairperson Eliud Wabukala
and Assets Recovery Agency
director Muthoni Kimani at KICC
in Nairobi, yesterday during the
launch of a report on corruption.
where Kenyans part with less than
Sh1,000 on average as bribe.
But while residents in Turkana
paid an average of Sh6,791, the
eighth highest nationally, a Kenyan was five times more likely to
receive a demand for a bribe in the
vast county, compared to Nyeri,
which has the lowest number of
times a bribe is demanded.
At an alarming 90 per cent,
Wajir County recorded the highest
proportion of service seekers who
paid bribes.
6 | National News
Tuesday, October 2, 2018 | DAILY NATION
Dispute > DP tells ODM leader not to politicise war on graft, saying he should leave it to State agencies
Keep Raila out
of your politics,
MPs urge Ruto
ODM legislators accuse DP
of trying to block the war
on graft and warn him
against attacking their boss
BY NATION TEAM
[email protected]
O
pposition MPs have hit back at the
Deputy President William Ruto,
warning him against dragging the
name of their leader Raila Odinga into
his own political problems.
Mr Anthony Oluoch (Mathare), Samuel Atandi (Alego Usonga), Godfrey
Osotsi (nominated) and Kwale Woman
Representative Zulekha Hassan also accused Mr Ruto of trying to frustrate the
fight against corruption, lifestyle audit
and plans for constitutional reforms.
"All these things you are hearing
from Mr Ruto are desperate attempts
to frustrate the ongoing war against
corruption," Mr Osotsi said on behalf
of the four who addressed journalists at
parliament Buildings yesterday.
But speaking in Taita Taveta yesterday, the Deputy President criticised the
Nasa leader for claiming that the unity
deal between him and President Uhuru
Kenyatta would end corruption.
Mr Ruto said his opponents should
leave the Ethics and Anti-Corruption
Commission, the Judiciary and other
government independent institutions
to fight the vice.
"The independent institutions are
mandated to deal with corrupt government officials," the DP told a fundraiser
at Mwambeta Pefa Church in Voi Constituency, adding that the war on graft
should not be
"Don't pretend you are the one spearheading the fight against corruption, the
constitution is very clear. Our duty as
politicians is to plan for development,"
he added.
But Mr Atandi spoke out in defence of his
party leader who he said deserved respect.
"Mr Ruto has told us that he used to sell
chicken in Eldoret but the Ruto I saw
yesterday (Sunday) is like a chicken that
has been rained on. Mr Odinga is not
in his league and should he continue to
disrespect Mr Odinga, we shall take a
decision that he will not like."
Mr Osotsi said the war on corruption
has engendered fear among politicians
used to receiving money illegally from
parastatals.
More info
SH120M HOSPITAL
EQUIPMENT LAUNCHED
Deputy President commissioned
CT Scan Imaging Centre at the Moi
Voi County Referral Hospital. He
said the Sh120 million equipment
will help injury patients referred
to hospitals outside the county for
specialised scans. "There will be
no need for patients to travel to
Nairobi or Mombasa to seek medical
care. All services will be provided
at the county referral hospital,"
he said. Mr Ruto said the national
government will partner with the
county government in coming up
with an Intensive Care Unit to bring
healthcare closer to people.
DENNIS KAVISU | NATION
Nasa leaders Raila Odinga (right) and Kalonzo Musyoka in a jig during the opening of
a hospital in Mlolongo, Mavoko Constituency yesterday.
"Mr Ruto's sole strength as a politician has been his capacity to distribute
money whose sources are not clear. We
call on the President and Mr Odinga
not to be distracted. The idea of leaders
turning parastatals into cash cows and
positioning themselves as generous
contributors at fundraisers must end,"
the nominated MP said.
Mr Ruto however said accused Mr
Odinga of pretending to be sincere about
the Building Bridges Initiative as he
undermined efforts to unite the country.
"If their goal is to unite Kenyans why
are they bitter when I unite with coastal
leaders for development for the Coast
and Kenya at large?" he posed and said
he will continue discharging his duties
as the Deputy President despite criticism by his opponents. Mr Ruto said
criticism would not bring development
to poor Kenyans who are yearning for
development that will change their lives.
"I will not stop working on serious
issues affecting Kenyans. Let them
dwell on propaganda that will not
take them anywhere. I will work with
leaders who were elected by Kenyans.
Kenyans made a choice last year and
all of us have agreed to work together
for development," he said as he ended
his five-day tour of Coast. He said he
will work closely with President Uhuru
Kenyatta on the Big Four Agenda.
"Our politics is development focused.
Our main agenda is to empower all Ken-
yans economically. We are not like those
other greedy politicians who waste their
time to talk about others," he said at Voi
town while addressing residents during
the launch of the town's Modern Market.
He said as he endeavoured to boost
living standards, his competitors were
discussing people.
He was accompanied by Taita Taveta
Governor Granton Samboja, Suleiman
Dori (Msambweni MP), Ali wario (Bura),
Hashaka Wario (Garsen), Owen Baya
(Kilifi North), Senator Juma Wario (Tana
River), Said Haribae (Galole), Senator
Anuar Loitiptip (Lamu), Badi Twalib
(Jomvu), Stanley Muthama (Lamu West)
and Danson Mwashako (Wundanyi).
Others were Benjamin Tayari
(Kinango) nominated Senator Christine Zawadi, Khatib Mwashetani (Lunga
Lunga), Shariff Ali (Lamu East) Aisha
Jumwa (Malindi), Lydia Haika (Taita
Taveta), Michel Kingi (Magarini) and
Gertrude Mbeyu (Kilifi).
Police quiz Narok senator
over Mau Forest violence
BY GEORGE SAYAGIE
AND VITALIS KIMUTAI
Narok Senator Ledama ole
Kina was grilled yesterday over
alleged incitement even as a
section of Rift Valley leaders
mounted pressure on Inspector
General of Police Joseph Boinnet
to order his arrest.
Mr Ledama appeared before
Narok security committee chairman George Natembeya, County
Police Commander Thomas
Ngeiwua and his Criminal Investigation counterpart Zachary
Kariuki. He was interrogated for
two hours over his recent public
comments, which are said to
have caused a rift between members of the Maasai and Kipsigis
communities.
The first-time senator denied
the incitement accusations
levelled against him, saying they are a distraction
from State's main agenda of
evicting people from Mau.
He said the clip that went viral on
social media and led to his summoning was fabricated to suit a
certain propaganda narrative.
"The video clip was completely
distorted to serve certain political interests of some people
who are against the Mau Forest
evictions," said Mr Ole Kina.
The summons came after two
Kericho MPs petitioned the
National Cohesion and Integration Commission (NCIC)
Narok senator Ledama ole Kina
to investigate Mr Kina over the
escalating clashes around the
Mau forest complex in Nakuru
and Narok counties.
On Thursday, the NCIC
warned Mr Kina against incitement. In a statement issued in
Nakuru town, the commission
said the senator's utterances
were aimed at inciting communities in the clash-torn region.
However, Mr Kina took issue
with the NCIC for summoning
him through mainstream and
social media, and threatened
to take the agency to court.
After the grilling, the senator
took to the streets in Narok with
his supporters and insisted that
people must move out of Mau.
He said politicians from outside Narok have politicised the
Mau matter at the expense of
environmental conservation.
But Mr Natembeya said he
had summoned the senator to
warn him and other politicians
against politicising the ongoing
evictions, saying this could lead
to ethnic tensions.
And in Bomet County, area
Senator Christopher Langat,
Woman Rep Joyce Korir, MPs
Beatrice Kones (Bomet East),
Ronald Tonui (Bomet Central),
Hillary Koskei (Kipkelion West),
Gideon Koskei (Chepalungu) and
Mr Nelson Koech (Belgut) called
for his arrest and prosecution.
Dr Langat said it is the responsibility of leaders to unite people,
but not to incite them to violence.
"Leaders should not be allowed to incite communities to
violence and be left to go scotfree. There is clearly enough
evidence to charge the senator
in court over hate speech and
incitement," Mr Tonui said.
Mr Koech said: "The government
should not engage in a public
relation stunt as witnessed this
morning in a sensitive matter
where people have lost lives,
hundreds displaced, houses
torched and property destroyed."
Mr Korir said hundreds of children, women and the elderly
have been subjected to untold
suffering having spent nights
in the cold after houses were
torched.
DAILY NATION | Tuesday, October 2, 2018
7
8 | National News
Tuesday, October 2, 2018 | DAILY NATION
Spotlight> Affected institutions will be closely monitored by government agencies during exam time
How 30 schools hatched exam cheating plan
Head teachers collected
money from parents to
buy exam materials or
'facilitate' invigilators
No action will be taken
against the principals
at this time. We do not
want to create panic in
schools during exam time."
BY OUMA WANZALA
Knec chair George Magoha
[email protected]
D
etails on how principals in 30
secondary schools across the
country — with the support of
parents — have been planning to cheat
in national examinations can now be
revealed.
Kenya National Examinations Council
(Knec) yesterday explained how the
scheme — which started last term — was
hatched, with principals collecting money
from parents and clearly indicating to
them that the money is to help buy examination materials or 'facilitate' those
who will administer the examinations.
This was revealed during a closeddoor meeting presided over by Education
Principal Secretary Belio Kipsang
and attended by Knec officials led by
chairman George Magoha, acting chief
executive officer Mercy Karogo, officials
of secondary and primary school heads
associations and regional co-ordinators
of education. The meeting held at the
Kenya Institute of Curriculum Development (KICD) was called to deliberate on
measures to stamp out cheating in the
2018 national examinations.
The cheating plan was unearthed after
the government managed to have its
security officers and Education ministry officials attend prayer day meetings
MARTIN MUKANGU | NATION
Education Principal Secretary Belio
Kipsang (centre) and Knec chairman
Prof George Magoha (right) during the
press briefing at the Kenya Institute
of Curriculum Development offices in
Nairobi yesterday.
in schools where they pretended to be
parents or guardians. They managed
to record all proceedings without the
knowledge of the school managements.
And despite the ban on prayer days in
schools in third term by Education Cabinet Secretary Amina Mohamed, many
institutions still organised the events
without the approval of the ministry and
which saw parents interact with students.
It also emerged that some principals
were on record (audio and video) thanking parents for 'co-operating' with them
and assuring them that all will be well
in the national examinations.
It also emerged in the meeting that
principals are aware that the only way
candidates can manage to cheat in the
exams is through early exposure — it
means that examination materials are
opened before time in order to have
candidates know which questions they
will be tackling.
Sources at the meeting also indicated
that some schools have plans to provide
accommodation to supervisors and invigilators in order to effectively run the
plan to cheat in the exams effectively.
This is because some principals have
asked teachers to vacate staff quarters
in order to create room for supervisors.
Some are also relying on photocopying
of examination materials for those who
are allegedly shortsighted in order to
facilitate cheating. Some principals also
registered ghost candidates.
It emerged that the government will
dispatch officers to visit the affected
schools with a clear message that it will
not be business as usual.
Addressing journalists after the
meeting, Prof Magoha said action will
not be taken against the principals who
are involved in the deals at this time
but they will be closely monitored by
government agencies.
"We do not want to create panic in
schools during examination time," he
said. Some 26 teachers, among them
principals, were interdicted for last year's
examination irregularities.
Prof Magoha disclosed that three
schools that are involved in plans to
cheat are in Garissa, four schools in Kisii
and five schools in Meru, among others.
Other hotspot counties are Kiambu,
West Pokot, Wajir and some parts of
Nyanza. "We are closely monitoring
those schools and we want to ask them
to stop such plans immediately," said
Prof Magoha.
He said he had visited schools in Migori, Homabay, Nyamira and Kisiii while
Knec acting chief executive officer Mercy
Karogo had visited Central region in an
examination pre-monitoring exercise.
Dr Kipsang will today visit Nyeri and
Isiolo counties while other Knec officers
will visit other regions.
Dr Kipsang asked school heads not
to be tempted into cheating, saying the
penalties will be severe. "We are determined to deliver credible examination
the way we have done in the last two
years," said Dr Kipsang.
The PS said the government will not
tolerate blackmail from candidates such
as demand to have mobile phones in
schools. "Some students are causing
destruction so that they can do the examinations as day scholars but we won't
allow that to happen," said Dr Kipsang.
Prof Magoha said the exam cheating
plan involves a cartel of 20 people across
the country.
Kenya Secondary Schools Heads
Association chairman Kahi Indimuli
assured the country that they will support the move to maintain high integrity
of examinations. "We had results of 10
schools cancelled last year and we are
determined to have zero cases this year,"
Mr Indimuli said.
The national exams will start on October 22 with Kenya Certificate Secondary
Education (KCSE) examination papers
for orals, aural and practicals while
the written examination will start on
November 5.
The number of candidates sitting
Kenya Certificate of Primary Education
exam this year is 1,060,759 in 27,161
centres while KCSE exam candidates
are 664,586 in 10,078 centres.
Sh15bn sent Teacher transfers top
to schools for agenda in TSC talks
free learning
BY MACHARIA MWANGI
KWALE COUNTY GOVERNMENT
PUBLIC PARTICIPATION
The Kwale County Government through the County Department of Finance
and Economic Planning wishes to invite the general public for this year's public
participation on the County's Finance bill, Physical Planning Bill, Rating Bill,
Cess Bill,ø3FWFOVF"ENJOJTUSBUJPO#JMM & Revenue Authority Bill 2018 pursuant
to section 125(2) of the Public Finance Management Act 2012.
The planned schedule is as presented hereunder
DATE
October 9th,
Tuesday,2018
TIME
SUB-COUNTY
10:00am Kinango
10:00am Lunga-Lunga
October
10th,Wednesday
,2018
10:00am Msambweni
10:00am Matuga
VENUE
Maendeleo ya
Wanawake Hall
4VC$PVOUZ0GmDFT
Lungalunga
Red Cross, Mvindeni
Kwale Cultural Centre,
Kwale
Participation will be in oral but for written memoranda, can be presented
EVSJOHUIFNFFUJOHPSDBOCFTFOUUPUIF$IJFG0GmDFS'JOBODF&DPOPNJD
Planning, vide email address DIJFGPGmDFSmOBODF!HNBJMDPN on or before
October 19th, 2018.
Bakari H. Sebe
CEC MEMBER, FINANCE & ECONOMIC PLANNING
BY OUMA WANZALA
The government has finally released
Sh15.4 billion for free day secondary
and primary education after a one
month delay.
Education Principal Secretary Bellio
Kipsang yesterday announced that
Sh12.6 billion will go to secondary
schools while Sh2.8 billion is for primary schools. "We have this morning
(Monday) released funds to schools
to enable them to run their activities
effectively," said Dr Kipsang.
He made the remarks during a
meeting at Kenya Institute of curriculum development on measures to
stamp out cheating in the national
examinations.
Kenya Secondary School Heads
Association Chairman Kahi Indimuli
welcomed the development. Kenya
Primary School Heads Association
national treasurer Joseph Otiende
lauded the government for releasing
the funds. Primary, special needs
and secondary school heads had
complained of difficulties in providing
essential services to learners due to
the delay.
Schools re-opened for third term
late last month and are expected
to close on October 26 to allow 1.7
million candidates to sit the national
examinations.
Last month, Kessha asked Parliament to help address the issue. "Delays
lead to failure to provide services and
payment of salaries to non-teaching
staff and board of management teachers," said Mr Indimuli.
Deliberations between the
Teachers Service Commission and the Kenya National
Union of Teachers (Knut)
on promotions, performance
appraisals among other issues
began yesterday at Sawela
Lodge in Naivasha.
The two parties, which are
also expected to look into the
transfer of teachers outside
their home counties, held a
closed-door meeting. Sources
said the meeting started
smoothly and in a cordial
atmosphere.
Journalists were not allowed
in the meeting that brought
together TSC top brass and
Knut leadership led by Secretary-General Wilson Sossion
(below).
But officials promised to
give a press briefing on the
deliberations. An insider told
Nation the make-or-break
meeting went on smoothly
with the four key agendas on
the table for discussion.
The commission and the
union have exuded confidence
that they will resolve their differences during the meeting.
"I believe after the five days
of talks, both parties will forge
a common front. So far the
meeting has started well and
there is hope," said the source.
The meeting was organised
after teachers threatened to go
on strike, and it is expected
to iron out the contentious
issues. Mr Sossion has maintained that the union wants
the employer to meet their
demands to enable them to
have a conducive environment
in the education sector.
Some of the demands put
forward by Knuts include
clear guidelines on career
progression, delocalisation,
promotions, performance
tools and career guidelines.
The meeting will decide
whether the more than
300,000 teachers will continue to sign the controversial
performance appraisal tools,
and the fate of automatic
promotion for teachers.
In August, President Uhuru
Kenyatta said the teachers'
delocalisation policy will be
reviewed to ensure it does
not break up families.
10 | National News
Tuesday, October 2, 2018 | DAILY NATION
Genesis > The problems can be also traced to the politics of the defunct Narok County Council since the 1970s
The influx
of Kalenjin
settlers in
the 1980s
was a result
of collusion
between the
political elite
and corrupt
Lands
ministry
officials
BY GATUA MBARIA
A section of
the vast Maasai
Mau Forest in
Narok County
showing the
destruction of
indigenous trees.
The defunct
Narok County
Council did not
pass a resolution
declaring parts
of Maasai Mau an
adjudication area
— a loophole
that is now being
used to evict the
settlers.
Special Correspondent
T
he destruction of the Mara
was bound to happen after it
was turned into a playground
as political and commercial interests
converged inside the Maasai Mau
Forest.
The original goal was the control
of then Narok County Council, which
held the Maasai Mau Forest as trust
land for the community.
It was the arrival of members of the
Kalenjin community as new settlers
in the Maasai Mau that appears to
have changed the matrix in the 1980s.
Starting from 1998, the Nation was
told, there was collusion between
officials from the Ministry of Lands
(most of who were from the Kalenjin
community) and politicians such as
Mr Anthony Kimetto, who was the
MP for Chepalungu.
"He used to go to Narok each week
to supervise the printing of title deeds
on an industrial scale. But unknown
to Mr Kimetto and the people who
bought the land, the Narok County
Council and the Lands ministry had
not gazetted the relevant areas as
adjudication areas," says Mr Parselelo
Kantai, a journalist who watched
and documented the destruction as
it started.
Mr Kantai says the defunct Narok
County Council did not pass a resolution declaring parts of Maasai Mau
an adjudication area — a loophole
that is now being used to evict the
settlers. "Until an area is declared an
adjudication zone, any title cannot be
legally recognised," says Mr Kantai, a
position supported by Narok County
Commissioner George Natembeya.
"The titles are mere pieces of
paper," says Mr Natembeya.
"If the titles held by the people
there are legal, can the owners go to
the banks to seek loans?" asks Mr
Natembeya.
To understand where we are today,
Mr Kantai says, one must know the
legal status of Maasai Mau Forest
and look at the very politics of Narok
County since the 1970s when the
late William ole Ntimama was the
chairman of Narok County Council.
Records show that Maasai Mau is
not a government forest; it used to be
trust land and ideally, it is still under
the Narok County government. "The
fundamental problem is that every
attempt to demarcate the forest was
never concluded."
Mr Kantai says the first attempt
was made in 1999 after Chief Lerionka ole Ntutu (now deceased) was
commissioned by former President
Daniel Moi to do so. This was not
concluded, neither was a similar
attempt 10 years later. As a result,
what the government is doing today
(evicting those who have invaded the
forest) is based on legal quicksand
and can be easily challenged in a court
of law, especially when one looks at
how the issues have unfolded over
the last four decades.
"The encroachment of the Maasai
Mau was a deliberate political move
that was executed commercially."
According to Mr Kantai, the Ogiek
owned the five group ranches located
at the southern end of the forest. As
an ethnic minority in Narok, who
traditionally engaged in less 'offensive' forest uses such as beekeeping
and hunting of small mammals, the
Ogiek have always been painted as
a community that lives-and-letsforests-live.
But some prominent members of
the community adopted the land and
timber-selling culture that gripped
Kenya, especially during Mr Moi's
time. The Kipsigis saw an opportu-
FILE | NATION
Deadly mix of politics, greed
to blame for Mau Forest ruin
46,000
The size in hectares of the
Maasai Mau indigenous forest
from where nine of the rivers
that feed Lake Victoria with
water rise.
The
encroachment of
the Maasai Mau
was a deliberate
political move
that was executed
commercially."
Mr Parselelo Kantai
nity. All along, the community had
had a long-running border dispute
with the Maasai that goes back to
the late 1920s. They, therefore,
strategised and became members
of the five Ogiek's group ranches.
"Soon, the ranches started expanding very fast and having an
avalanche of members." Mr Kantai
adds that one group ranch, Reyia,
had an initial area of 36 hectares
but was expanded to 3,600 hectares
between 1988 and 2003. The group
ranch officials behind this relied on
Kalenjin politicians for support and
sought the services of surveyors
who helped them to encroach into
the forest as they "stuffed in new
members from Kericho, Bomet and
other areas."
But the entry of non-Maasai
members into the Maasai Mau
and outlying areas created a new
environmental challenge that has
resulted in the situation the Mara
River is in today. For one, the Ogiek
went on, to a certain extent, to
change their lifestyle. The forest
cover was dwindling and with it
the resources they had earlier relied
upon for survival (wild animals and
honey). Some started engaging in
cultivation and as Mr Kantai found
out, there were five-acre pieces of
cultivated land inside the forest.
At the same time, the Maasai
mode of resource use (pastoralism),
that is credited with forest preservation, was now not the dominant
resource-use model there.
The Kipsigis were more interested in farming and were
determined to remain so. After
all, they had not broken any law.
"These are people who used their
life-savings to buy the farms and
were doing well," says Mr Kantai,
adding that some of the people
who invested there were ex-soldiers
involved in the UN peacekeeping
mission in Sierra Leone.
It was also apparent from the
field excursions the Nation undertook that blame cannot entirely
be levelled against any one ethnic
group.
"A majority of the Kalenjin
people support conservation," says
Mr Natembeya. He warns against
generalising, saying the blame
should be laid on politicians, and
especially those who incite one
group against another.
Indeed, prominent members
of the Maasai community are not
entirely blameless. "The late William
ole Ntimama pushed the Narok
County Council to sell its land in
Olenguruoni side of the forest to
himself and to Moi," says Mr Kantai,
who adds that this is how Mr Moi
acquired the Kiptagich Tea Farm.
Interestingly, Mr Ntimama's
claim that selling the land to himself
and Mr Moi would contribute to the
protection of the forest appears to
have worked to some extent because
the former President's tea farm
created some kind of a barrier that
has prevented the invasion of the
forest in the section.
Other elite from the Maasai community, including members of the
Ole Ntutu family are said to have
made a killing by selling off part of
the land to residents of Bomet, Kericho and Nakuru. "There are very
few elites who were not involved,"
says Mr Kantai.
Official records show that Maasai
Mau Forest is still trust land — the
reason why the government seems
determined to kick out the invaders,
most of whom are Kalenjins.
Mr Natembeya told the Nation
that the government has already
evicted some 8,000 people during
phase one and is set to kick out
between 18,000 and 20,000 people
in phase two.
Mr Natembeya seems alive to
the fact that the entire issue has
many layers of complications. He
says that the scam surrounding the
Mau invasion involved "big people
who colluded with group ranch officials, surveyors and lands officers",
adding that the "convergence of
interests has now made it a very
hot issue although it is supposed
to be a straight forward matter."
But the matter is hardly a straight
forward one. According to Mr Kantai, one cannot comprehensively
understand why the Mara River
has lost water without taking into
consideration the many sensitive
dimensions that have culminated
in what has become of the Maasai
Mau Forest today.
Considered part of the Mau Forest Complex, Maasai Mau is a very
important forest from where nine
of the rivers that feed Lake Victoria
with water rise.
"This is 46,000 hectares of sensitive indigenous forest," Mr Kantai
says. From its upper catchment area
emanates the Ewaso Ngiro River
that flows to Lake Natron in Tanzania, which is the main flamingo
breeding ground. On its part, the
Mara River comes from the western
part of the forest.
The political goal, it is now clear,
was to control Narok County politically. This has somewhat succeeded
because any gubernatorial candidate in Narok cannot win without
securing support from members of
the Kipsigis community, which also
creates tension.
Any eviction is always seen by
members of the Kalenjin community as a political attack on them.
The last time a major eviction was
undertaken in the Mau Complex
was in 2005.
This was three years after Kanu
government lost power. Before then,
the Kalenjin — who were believed
to have dominated the Kenya Defence Forces, parastatals and other
governmental institutions — were
angered by the fact that the Narc
government started laying them off
and replacing them with members
of other communities. The Kalenjin felt aggrieved and their leaders
started inciting them stay put in
the forest.
Forest can recover but what
about Narok?
The government says that kicking the people out of the forest is
a major move aimed at enabling it
to recover by itself, which will, in
turn, return water to the Mara. This
view is shared by ecologists who
also say that recovery of the forest
will nevertheless take longer where
all the trees have been cut down.
But the recovery of the Maasai
Mau Forest and survival of the Mara
River partly depends on whether
the Narok County government
is willing to go the extra mile to
manage the Mara ecosystem in a
more efficient manner. Currently,
the county government is accused
of doing a shoddy job, if a report
compiled by lecturers from the
Maasai Mara University and their
overseas counterparts is anything
to go by.
Dubbed 'Building a Sustainable
Management System for Maasai
Mara National Reserve', the 76-page
report paints a gloomy picture of
how the county is managing this
globally-important resource. The
county's Environment executive
refused to talk with us even after
promising to do so.
The Nation wanted the county
government to address claims that
it has neither come up with its own
management plan for the Maasai
Mara nor does it seem keen to implement the one formulated through
a process funded by the Wild Wide
Fund (WWF) NGO that covered
the 2012-2022 period. This plan
not only provides for an ecological
management plan, but calls for
zoning off critically important areas
of the Mara into high and low use
areas and the Mara River corridor.
The dons say that licensing
new lodges and airstrips in the
Mara ecosystem is inconsistent
with recommendations of the environmental impact assessments
conducted to protect the ecological
balance of the reserve and that unregulated growth in and very near
the reserve is beginning to affect
the ecosystem by interfering with
animal habitats, creating environmental pollution and destroying the
watershed that feeds the Maasai
Mara and Serengeti.
DAILY NATION | Tuesday, October 2, 2018
National News | 11
Case > Tarus and 18 other suspects facing charges
Auditor testifies as
KP graft trial begins
OFFICE OF THE REGISTRAR (ACADEMIC AND STUDENT AFFAIRS)
Court told some
companies listed
to render services
belonged to staff
NOTICE FOR 3rd GRADUATION CEREMONY &
INSTALLATION OF VICE-CHANCELLOR
Machakos University hereby announces the 3rd Graduation Ceremony and installation of the
F<=> &3-/\2+8-/669< >9 ,/ 2/6. 98 Friday 30th November, 2018. The ceremony is scheduled
to take place at the Graduation Square, Main Campus, Machakos starting at 8.00 a.m. All
-+8.3.+>/[email protected]/;?+63F/.09<>2/-980/<7/8>[email protected]+<39?=/1<//=+8.+A+<.903:697++8.
/<>3F-+>/=+</[email protected]>/.>9+>>/8.M
BY RICHARD MUNGUTI
@Richard munguti
[email protected]
T
he trial of former Kenya
Power (KP) Managing
Director Ken Tarus and 18
other suspects facing corruption
charges began yesterday, with
revelations that 39 companies
pre-qualified to offer services
were not registered at the Attorney General chambers.
Dr Tarus and the 18 suspects
have been charged with granting
tenders to unqualified companies
occasioning loss of millions of
shillings to the company.
Testifying yesterday against Dr
Tarus and the others, Mr Charles
Kipng'eno, an internal auditor,
said he established that companies which were listed to offer
services were not pre-qualified.
"Out of the 525 companies listed
to render services to KP, which I
checked at the registrar of companies, 136 were not authenticated
and therefore did not meet the
criteria set to offer services to
the sole power distributor," he
told Anti-Graft Court Magistrate
Lawrence Mugambi.
Mr Kipng'eno further said 262
companies pre-qualified by KP
did not have the National Constructions Authority certificates
mandating them to offer services.
The auditor, who was instructed to carry out an in-depth
audit on the acquisition of faulty
transformers that caused KP a
huge loss, said he established that
due diligence was not followed.
He said alterations on specifications were done after the
opening of the tender documents.
Mr Kipng'eno established that
EXAMINATION RESULTS & GRADUATION LIST
The Examination results for 2017/2018 Academic )/+< +</ [email protected]+36+,6/ 0<97 >2/ 9I-/= 90
the respective Deans of Schools. All students who completed their Programmes in 2017/2018
Academic Year are advised to check their names on the website www.machakosuniversity.ac.ke
+8.-98F<7A3>2>2/3<</=:/->[email protected]/#-2996=A3>2/H/->0<97<3.+CN28th September, 2018.
APPLICATION FOR GRADUATION & CONFIRMATION OF NAMES
Suspects accused of corruption involving Kenya Power at Milimani Law
Courts in July.
FILE I NATION
there was conflict of interest as
some of the companies listed to
render services belonged to KP
employees. The auditor said he
found that the valuation committee and the accounting officer did
not discharge their duties.
He said he recommended
administrative action be taken
against Beatrice Meso, the company secretary, Joshua Mutua,
general manager commercial
services, Abubakar Swaleh, general manager human resource
and administration, Samuel
Ndiirangu, the general manager
408m
The amount of loss that
Kenya Power incurred after
substandard transformers
were procured.
MPs probe scholarship
awards to Kibaki relatives
BY DAVID MWERE
The name of retired President
Mwai Kibaki was mentioned
yesterday during the proceedings
of a parliamentary committee
after it emerged that he used his
position to push the awarding
of scholarships to his relatives.
Former head of public service
and secretary to the Cabinet Ambassador Francis Muthaura told
the Public Accounts Committee
that Mr Kibaki directed him to
ensure two children of his nephew
Philip Githinji, got government
sponsorship to study in Australia.
The sponsorship of Mr Ian
Githinji and Ms Sandra Githinji
has seen the government pay
about Sh25 million for their
education at Royal Melbourne
Institute of Technology.
Mr Githinji was enrolled for
MACHAKOS UNIVERSITY
a master's degree in analytics
his sister went for a bachelor's
degree in interior design even as
committee members questioned
why the two could not pursue the
courses locally.
Although their programmes
were to last four years from 2011,
six years down the line, they are
Former President Mwai Kibaki
ICT, Stanley Mutwiri, general
manager infrastructure development, Benson Muriithi, general
manager network management,
Peter Mwicigi, general manager
regional co-ordination and John
Ombui, the head of supply chain.
The managers have been
charged with procuring substandard transformers that caused
Kenya Power a Sh408 million
loss. They are accused of conspiring to commit an economic
crime on diverse dates between
August 3, 2013 and June 12, 2018,
when they procured transformers
worth Sh408, 533, 221 from Muwa
Trading Company.
Muwa's director James Njenga
was also in court. The other
suspects are nine were members
of the tender committee. The
accused have denied the charges
and are out on bond. The hearing
continues.
Graduands are required to apply for the 2018 Graduation. Application forms are available at
>2/%[email protected]/<=3>CA/,=3>/09<<+.?+8.=>9.9A869+.NF66+8.=?,73>>9"/13=><+<V#W,/09</2nd
November 2018. Each graduand should ensure the correctness of their name as it should
+::/+< 98 >2/ -/<>3F-+>/ 38 >/<7= 90 9<./< +8. =:/66381M 9 8/A 8+7/= =29?6. ,/ 38><9.?-/.
which were not originally presented during admission.
CLEARING OF FEES BALANCES
Graduands are expected to have cleared any outstanding fee balances by Friday, 2nd November,
2018. Those who will not have cleared fees by the stated date will be excluded from the Graduation
list.
GRADUATION FEES, ACADEMIC DRESS & ALUMNI FEE
A mandatory non-refundable fee as stated below must be paid not later than Friday, 23rd
November, 2018.
S/NO
1.
2.
3
AWARD
Masters/Postgraduate diploma
Bachelors Degree
3:697+m/<>3F-+>/
Total Payable
Kes. 6,000
Kes.4,500
Kes.4,500
Payments should be made to the University Bank accounts at any branches of the banks listed
below:-
S/NO
1.
2.
3
Bank Name
Kenya Commercial Bank
National Bank of Kenya
Standard Chartered Bank
Account Nmae
Machakos University
Machakos University
Machakos University
Account No.
1137145064
01020078499400
0152016845602
COLLECTION AND RETURN OF GOWNS
He made an
appeal to the
president to be
assisted through
the government
scholarship
programme."
Gowns are available for collection upon presentation of the Original National Identity card and
clearance receipt from Students Finance. Gowns will be collected from respective schools in the
Main campus starting from Monday 26th November, 2018 to Wednesday 28rd November, 2018.
The gowns should be returned by 14th December, 2018. Failure to return the gown by the stated
date will attract a penalty of Ksh.500 per day.
Amb Francis Muthaura
All Graduands are expected to attend the rehearsal on Thursday, 29th November, 2019 at 10.00
a.m at the Main Campus in full academic attire.
yet to complete their studies.
According to Mr Muthaura,
the former president directed
him to liaise with former Higher
Education PS Chrispus Kiamba
to have the students assisted
after their father lost his job at
Oil Libya.
"He made an appeal to the
president to be assisted through
the government scholarship
programme. The president considered the request and directed
me to present the case to the
Ministry of Education," he told
the watchdog committee chaired
by Ugunja MP Opiyo Wandayi.
REHEARSAL
INVITATION
Upon payment of graduation fee, each Graduand will be given three Invitation Cards & one
car sticker for their guests. Persons without Graduation Cards will not be allowed into the
Graduation Square.
PUNCTUALITY
Graduands and their guests are required to be seated by 8.00 a.m. Those who will be late will
not be allowed into the Graduation Square.
9<0?<>2/<3809<7+>398:6/+=/-98>+->>2/"/13=><+<V-+./73-+8.#>?./8>H+3<=W98O\
Telephone: 0714206730 or E-mail: [email protected]
"/13=><+<V-+./73-+8.#>?./8>H+3<=W
12 | National News
Tuesday, October 2, 2018 | DAILY NATION
Counties asked to join war on fake pharmacists
BY GITONGA MARETE
The Pharmacy and Poisons
Board (PPB) wants county
governments to issue operating
licences to pharmacists working
in hospitals within their jurisdiction to curb proliferation
of quacks in the health sector.
The board said those working in the hospitals will not be
allowed to use their licences to
open private chemists.
Nairobi region PPB Senior
Inspector of Drugs Julius Kaluai
said the practitioners open
chemists and employ untrained
personnel with no medical
background.
"This practice is frustrating
efforts in the fight against
quacks because medical personnel working in government
health facilities have registered
pharmacies where they employ
unqualified people to dispense
drugs," Mr Kaluai said yesterday
in a telephone interview.
"We are working with counties so that those operating in
government hospitals can be
issued with their licences, which
Medical
personnel
have registered
pharmacies
where they employ
unqualified people to
dispense drugs"
Julius Kaluai, PBB
official
will only be used to practice
but not to open pharmacies.
Counties that are already issu-
ing licences to pharmacists are
Tharaka Nithi, Trans Nzoia and
Uasin Gishu. We urge others
to follow suit and help us rid
the industry of these quacks,"
he added. He said the board is
investigating how a college in
Meru purporting to train students on pharmacy to certificate
level was registered.
"There is no certificate in
pharmacy and our officers have
done preliminary investigations,
where we discovered that the
students have been coached
on how to respond to anybody
inquiring whether they are undertaking the course."
The officer said the students
lie to investigators that they are
undertaking a course in medical
laboratory technician but when
they read their notes, the indication is that they are learning
pharmacy. Last week, the board
shut down 83 illegal chemists
and arrested owners. At least
23 outlets in Lower Eastern and
another 23 in Upper Eastern a23
were closed. In Central Kenya,
37 pharmacies were closed and
their owners arrested.
Scam > Four people have been charged
Businessman
loses Sh89m in
tender fraud
Mr Buro was awarded
three fake tenders
amounting to Sh230m for
laptops and lubricant
BY NYABOGA KIAGE
[email protected]
A
city businessman has lost nearly
Sh89 million in a scheme involving fake tender deals.
Mr Idris Ahmed Buro parted with
millions of shillings after a cartel that
allegedly operates within government
offices, used fake letters and Local
Purchase Order to award him tenders.
According to documents seen by the
Nation, Mr Buro was awarded three
tenders that amount to Sh230 million.
In one tender, he was required to
supply Panolin Hydraulic Lubricant
to the government printer at a cost of
Sh74.5 million.
In two other tenders, that were to be
delivered to the ICT ministry, he was
asked to supply 797 laptops at Sh125.9
million and software at Sh28.7 million.
Four suspects have been charged in
relation to the fraud and their case will
be mentioned on Monday next week at
the Kiambu Law Courts.
Mr George Ochieng' Onyango, Ms
Mercy Wahiga Wanjiku, Mr Jackson
Kiharo Mwondi and Mr David Mapili
are said to have obtained Sh88.8 million
from Mr Buro.
On his affidavit, Mr Buro said one of
the suspects introduced himself as the
acting head of procurement at the ICT
ministry. "I would even meet him at the
ministry's offices on either the 9th or
10th floor," he said.
Through his company, Naliye Agency,
the businessman said he ordered computers from China which he delivered
to the ministry, but was asked to take
them to a store in Hurlingham.
Mr Douglas Chikanda, the Director
of Criminal Investigations at the Kasarani police station, said they have also
impounded vehicles that might have
been acquired using the money received
from Mr Buro.
The cars include a Ford Ranger double
cabin and a V8 Land Cruiser which he
described as "brand new".
Mr Mapili also faces similar cases and
last year he was charged at the Kibere
Law Courts with conning a businessman
200 iPhones worth Sh30 million.
Mr Mapili allegedly tricked the businessman that the phones were to be
supplied to delegates during the Tokyo
International Conference on African
Development summit.
What's alleged
SUSPECTS FACE
CHARGES
On his affidavit, Mr Buro said one of
the suspects introduced himself as
the acting head of procurement at
the ICT ministry. One of the suspects
also faces similar cases and last year
he was charged at the Kibere Law
Courts with conning a businessman
200 iPhones worth Sh30 million.
Developer on the spot over sewer
BY COLLINS OMULO
A section of Nairobi West residents
have accused a private developer of
grabbing a public parcel of land where
a sewer line is built in order to expand
his parking lot.
They claimed Mr Joseph Claudio has
blocked the last manhole of the sewer
line with concrete and stones interfering
with the flow of sewage.
The residents said the encroachment
exposed them to health risks. The land
is located opposite T-Mall on Lang'ata
Road. Mr Harun Nyamboki, a resident,
accused the private developer of demolishing the sewer line several times even
after intervention by Nairobi City Water
and Sewerage Company. "This sewer
line was approved by Nairobi Water in
1998," said Mr Nyamboki.
But Mr Claudio maintained that the
land is his and the Environment Court
ruled in his favour after Mr Nyamboki
sued him. "Whoever is telling you this
is not giving you proper information,"
said Mr Claudio on Thursday.
Court okays
meeting for
landowners
BY MAUREEN KAKAH
Members of the Mohotetu Farm,
the company which owns majority
shares in the expansive Kedong'
Ranch in Naivasha, have been allowed
to conduct an annual general meeting.
High Court judge Roselyne Aburili
ruled that the landowners are free to
do so as long as they follow procedures set out in the law.
Despite the reprieve, Justice Aburili
faulted them for failing to disclose
that a similar suit had been filed in
Nakuru hence dismissed their case,
saying that orders requested for in the
case had been framed for a specified
period which had already lapsed.
She consequently declined to
compel the Registrar of Companies
to convene an AGM of the farm's
shareholders.
"The applicants have every opportunity to follow the procedures
set out in the Companies Act to call
for an AGM as the earlier requisition
has been overtaken by events," said
Justice Aburili.
The Muhotetu Farm mainly comprises Mau Mau descendants.
A row started between landowners
and directors with the news that the
Standard Gauge Railway and the Naivasha dry port are to be constructed
on part of their land.
Some 40.66 shares in the 75,000acre Kodeng ranch are to be sold for
the SGR project. But the farmers are
against the plans by their directors to
sell their shares at a paltry Sh2.1 billion to a third party for the Naivasha
dry port project which would see them
sidelined from getting compensation
from the government.
BRIEFLY
PHOTO | PSCU
Uhuru meets Qatari minister
President Uhuru Kenyatta welcomes Qatari Minister for
Transport and Communication Jassim Bin Saif Al Sulati to
State House yesterday where the two held a meeting. Mr
Al Sulati led a delegation of senior Qatari state officials.
Detectives seize tonnes of
sandalwood at Mombasa port
BY MOHAMED AHMED
Detectives yesterday seized 16.9
tonnes of the endangered sandalwood
in a container at the port of Mombasa.
The consignment in the 20-foot container, according to security sources,
was exported from Uganda and destined for Saudi Arabia.
Trade in sandalwood, whose scientific name is Osyris lanceolata and
which is exported for use in the pharmaceutical and perfume industries, has
been banned.
The sandalwood harvesting ban
was imposed by President Kibaki on
April 4, 2007, under the protected tree
species law.
Cartels involved, including politicians, administration and security
officials, have made it almost impossible to bring the illegal trade under
control, making extinction of the endangered plant a near certainty.
Mombasa Port OCDP Patrick Lo-
bole yesterday said the plant worth
millions of shillings had been grinded
and packed in sacks.
"We are working to have the container
taken to the yard for further verification
before we know the worth. We have
managed to know the weight as per
now," said Mr Lobole.
He said a manhunt had been launched
for the owner of the container and the
clearing agent who he said vanished
after the seizure.
The Mombasa port has been used
as a channel for importation and exportation of illegal cargo especially in
East Africa.
The leading port in the region has
in the recent past been on the spot for
the smuggling of contraband goods
putting security agents on high alert
leading to major arrests.
The latest arrests involved top officials of Kenya Revenue Authority,
Kenya Port Authority and the Kenya
Bureau of Standards.
LAMU
Residents benefit from
free medical camp
At least 100 residents of
Hulugho village on the border of
Lamu and Garissa counties have
received treatment from the Kenya
Defence Forces (KDF) soldiers.
Residents usually face difficulties
accessing medical care due to
the insecurity and infrastructural
challenges in the area. Linda Boni
Operation director Joseph Kanyiri
said: "KDF personnel offered
treatment for diarrhoea, urinary
tract infections, intestinal worms,
chest coughs and vaccinated
children under fives years."
— Kalume Kazungu
NAKURU
Ruling on Thursday in
MP Gikaria wife's case
The fate of the wife of Nakuru
Town East MP David Gikaria,
who is facing a civil jail term
for failing to compensate an
accident victim, will be known on
Thursday. Ms Violet Nzisa Katua,
who was arrested on Friday after
a warrant of arrest was issued
against, yesterday appeared before
Resident Magistrate Wilson Kitur
for directions on the contempt
case. She failed to pay Sh738,739
to Ms Martha Ongaga, a police
officer she allegedly hit with her
vehicle two years ago.
— Joseph Openda
DAILY NATION | Tuesday, October 2, 2018
13
14 | Opinion
Tuesday, October 2, 2018 | DAILY NATION
Let us not change the
Constitution so soon
W
hat started as isolated calls for a referendum to change
the Constitution are steadily gaining momentum and,
although the default reaction would be to ignore them,
doing so may be imprudent. We acknowledge from the outset that
no Constitution is perfect. Ours has very positive reviews and is
characterised as robust and progressive. Even so, it has deficiencies,
some of which were identified before its passage in 2010.
But the framers of the Constitution were alive to the fact that
a Constitution should not be subjected to whimsical changes and
provided, first, a long implementation period and, second, stipulated a high threshold should the necessity for revision arise. But
the mounting calls are not inspired by altruism. On the contrary,
they are triggered by selfish interests, driven by politicians either
for self-preservation or to create opportunities for personal gain.
First, a narrative is being peddled that the Constitution is too
expensive, that it is the reason for increasing taxes, hence the need
for a review to chop excess fat. That is not an honest discussion.
A critical review of the Budget shows that we suffer due to poor
planning, poorly thought-out political decisions, an irresistible
appetite for borrowing, inefficiency, pilferage and outright theft.
Kenyans had a reason for creating many institutions of governance. Precisely, the objective was to disperse power from the
centre. This was informed by the experience of the Independence
Constitution that, because of colonial heritage, inherited institutions
that essentially lorded over citizens and which, with time, became
too oppressive and suffocating. Democracy cannot be cheap. At
any rate, the alternative is catastrophic.
Secondly, and quite ominously, the push is driven by succession politics. Those seeking to ascend to power or rooting for
self-preservation are pulling everyone else into the noise, which
is unnecessary. It is not lost on us that even as the calls grow
louder, the Constitution has not been fully implemented. Several
provisions, like the gender equity law, have not come to pass. In
other words, it is premature to contemplate constitutional changes.
Thirdly, the timing and circumstances are not right. A referendum
is very explosive, more so when laced with succession politics. The
country is still reeling from rancorous elections last year that created
deep divisions that are yet to heal. It is injudicious to contemplate
a referendum so soon. Not only will it raise temperatures, but also
entrench divisions and create new fault lines. We cannot afford that.
This is the time for economic recovery, political reconciliation
and forging social stability. Calls for referendum are premature as
they only serve to divert attention from what matters to the citizens.
Curb road project losses
R
oad construction is an area in which the government has lately
won accolades all around. Good roads ease transportation
of goods and passengers and cut costs, boosting business.
The good roads that have sprang up across the country are also
a reflection of development and prosperity. However, when roads
are shoddily done, the benefits end up being short-lived.
A key indicator of the premium attached to good roads is the high
number of national and local agencies involved in the construction
and maintenance of roads. The major ones are the Kenya National
Highways Authority, the Kenya Urban Roads Authority and the
Kenya Rural Roads Authority. And, of course, every county has its
own roads department to manage the colossal local and national
resources channelled into these projects.
These agencies are not just custodians of the standards in construction and maintenance; they also have the expertise, personnel
and accumulated experience to monitor and ensure that contractors do what is expected of them. It is, therefore, disappointing to
note that some road construction firms are fleecing the country
of billions of shillings under the very nose of these professional
organisations. We have cases where some contractors start with
a flourish only to later abandon projects or just do shoddy work.
This boils down to lack of proper supervision. It's inconceivable that, with all the scrutiny and approvals, a contractor would
just, soon after beginning work on a project, abandon it, alleging
financial difficulties. Of course, such projects end up being awarded
again at an extra cost. This wastefulness is unforgivable. The Auditor-General's report on Kerra for last year details how billions
of shillings allocated for building rural roads have gone to waste.
The supervision of road projects must be enhanced so that the
public gets value for money from these undertakings.
A PUBLICATION OF THE NATION MEDIA GROUP
STEPHEN GITAGAMA: Chief Executive Officer
TOM MSHINDI: Editor-in-Chief
MUTUMA MATHIU: Executive Editor, Daily Editions
Published at Nation Centre, Kimathi Street, and printed at Mombasa Road,
Nairobi, by Nation Media Group Limited
POB 49010, Nairobi 00100
[email protected]
Registered at the GPO as a newspaper
POLITICS
Raila's referendum call before
national dialogue premature
I
was surprised recently
to hear former official
opposition leader Raila
Odinga tell Kenyans to start
getting ready for a referendum.
Referendum on what?
Referendum for what?
Referendum for who?
Frankly, I think the man is
losing it. Mr Odinga should
know as well as anyone that
a plebiscite unleashed before
voters have had the chance to
openly discuss the questions
and reach broad consensus is
bound for abject failure.
Kenyans are not mindless
robots. The era when they
followed like sheep the
dictates of tribal chieftains is
coming to an end.
Mr Odinga may be
suffering the delusion that
any referendum question
pushed jointly with his
'handshake' partner, President
Uhuru Kenyatta, is bound
for adoption because of the
powerful political formations
they respectively head.
He will be in for a rude
shock. His Nasa 'opposition'
grouping exists in name only.
The pallbearers are at the
ready and the grave diggers
have swung into action. There
is little left for Mr Odinga to
command.
President Kenyatta is in
a similar situation with his
'ruling' Jubilee Party. With
all key players turning their
attention to their place in
the post — Kenyatta era, the
President is being reduced to
irrelevance.
Even when the issue
is condensed to the
baser elements of ethnic
chieftainship, neither of
the two holds the awesome
sway they once held in their
respective blocs.
Mr Odinga's 'Luo Nation' in
his ODM vehicle will no longer
board, disembark, stop, turn
left, turn right or reverse at his
command. They will want to
know why, the destination and
the route map.
He succeeded his father,
Jaramogi Oginga Odinga, as
the unchallenged champion
of the community political
aspirations but the allure
is fading as prospects of
reaching the 'Promised Land'
diminish.
President Kenyatta's hold
on his own 'Kikuyu Nation'
within the TNA wing of Jubilee
is even more tenuous. He
rode to power on the back of a
mind-numbing personality cult
built around his emergence as
the son of his father, President
Mzee Jomo Kenyatta, defender
of his peoples' political,
economic and security
interests. The allure is fading,
too, as he serves out a final
term and constituents cast
their eyes over his head.
Involve the people
If Mr Odinga and President
Kenyatta have determined
that their 'Building
Bridges' initiative will need
constitutional amendments
of a magnitude that requires
a referendum, they must first
involve the people in genuine
national dialogue.
Many applauded the famous
handshake on the steps of
Harambee House, Nairobi,
when the President and his
principal foe declared that
they had put aside postelection rancour. Support
for the handshake was built
MACHARIA GAITHO
Before we can
even talk about
a referendum,
Building Bridges
must go beyond a
Raila-Uhuru deal."
around the hope that it was
not just about a temporary
political accommodation or
a cessation of the OdingaKenyatta dynastic feud.
We all hoped it was the
beginning of an honest
national conversation towards
resolving the intractable
ethnic, political, economic and
social schisms that pollute the
land and every so often wreak
death and destruction on a
genocidal scale.
Some of the issues were
identified, a secretariat
established and elders named
to drive the dialogue.
Nearly seven months
later, other than a call for
submissions and periodic
updates supplied to President
Kenyatta and Mr Odinga,
there has been no progress
towards the convention of a
'Kenya We Want' dialogue.
Before any meaningful
discussion has taken place,
we are suddenly confronted
with that stuck record of the
demand for a referendum.
A referendum cannot be an
end in itself. It cannot be a
simple mechanism to give Mr
Odinga a place at the feeding
trough or confer on Mr
Kenyatta some relevance after
expiry of his presidential term.
Neither can it be called for
the purpose of settling Jubilee
rifts as Deputy President
William Ruto abandons the
party purpose and focuses
all his efforts on the race to
replace President Kenyatta in
2022.
Before we can even talk
about a referendum, 'Building
Bridges' must go beyond a
Raila-Uhuru deal. Only allinclusive dialogue can identify
our most pressing problems
and recommend solutions
that can then be presented for
consideration by all Kenyans.
The two principals may
have accurately identified our
problems and come up with
fairly solid prescriptions.
Kenya, however, is bigger
than the duo. National
healing, reconciliation and
renewal must extend beyond
two individuals and secure
the participation, trust and
ownership of all in Kenya.
Without that, anything
brought for a referendum is
destined for crushing defeat.
Within Jubilee it will be fought,
openly or covertly, by Mr Ruto
and his 2022 hordes. In Nasa,
it will be fought by all those
who think Mr Odinga has sold
the opposition down the river.
[email protected]
Twitter: @MachariaGaitho
Opinion | 15
DAILY NATION | Tuesday, October 2, 2018
TOURISM
THE CUTTING EDGE
Kenya's hospitality industry on
the rise despite past challenges
BY THE WATCHMAN
T
he country's hospitality
industry is on an upward
growth trajectory, having
been resilient and surmounting
numerous challenges over the
years to secure a place for itself
among the top in Africa.
The travel and hospitality
sector has immensely
contributed to the economy
by driving tourism earnings,
providing foreign exchange and
creating employment for many
Kenyans.
Last year, the sector overcame
election uncertainties and travel
advisories to post increased
earnings — Sh119.9 billion,
20.3 per cent higher than the
Sh99.7 billion recorded in 2016.
The rise was achieved on the
back of an 8.1 per cent increase
in international visitor arrival
numbers. Arrivals stood at 1.45
million, up from 1.33 million
in 2016. This was the highest
number of visitors Kenya had
received in four years.
According to 'African
Insights Hotel Outlook 20172021' report by audit firm
PricewaterhouseCoopers, in
the next five years, Kenya is
expected to open 13 new hotels,
which will add 2,400 guest
rooms, increasing the country's
hotel capacity by 13 per cent.
The country has the secondhighest number of branded
hotels in sub-Saharan Africa,
ahead of Nigeria, Ethiopia and
Tanzania.
According to the report,
Kenya's hospitality sector is
expected to grow by more than
eight per cent this year, with
the expansion being linked to
increased investment in the
hotel segment.
The PwC report projects
that, by 2022, the growth in the
occupancy rate will be 58.1 per
cent, up from 47.3 per cent in
2017. By the end of last year, the
country had an estimated 19,100
rooms with an occupancy of
47.3 per cent.
Kenya has witnessed an
upsurge in the number of
property owners queuing up
for a piece of the market share.
A 2018 report by leading real
estate consultancy Knight Frank
predicts growth of hotels to be
mostly in the large cities of subSaharan Africa.
It is against the backdrop of
this positive outlook for Kenya's
hospitality that the country will
host more than 500 delegates
and 30 exhibitors at the 2018
Africa Hotel Investment Forum
(AHIF) taking place from today
until Thursday.
Grow market share
The three-day forum at
Radisson Blu Hotel in Nairobi
is a showcase of high-growth
destinations and emerging
opportunities across Africa.
The event will further enable
the continent to grow its market
share of the global tourism
industry through increased
investments in tourism and
hospitality.
The conference, which is
being hosted in Nairobi for the
third time, is a one-of-a-kind
NAJIB BALALA
Kenya's hospitality
sector is expected
to grow by more
than eight per cent
this year, with the
expansion being linked
to increased investment
activity in the hotel
segment."
annual event bringing together
investors, developers, owners
and operators within the
continent's tourism sector. The
forum also attracts financiers
and intermediaries such as
architects, transaction advisers
and senior policy makers in
government from the global
tourism sector.
Kenya is honoured to have
such high-calibre international
hotel investors at the
conference, which will connect
business leaders from both the
international and local markets
in the hotel industry.
It is through such meetings
that the country will drive
investment in tourism projects,
infrastructure and hotel
development.
Kenya will also benefit
from deals to develop highend hotels, alongside capital
injection to the economy.
This will, therefore, be an
opportune moment for the
country, which has always
emerged as a favourite
destination for investments
in luxury hotels owing to its
friendly policies, tax incentives,
political stability and an
abundance of trained personnel.
Additionally, Kenya has
diversified tourism products
with Nairobi being the region's
business hub. The conference
will, therefore, make a
compelling case for investing in
Kenya's hospitality sector.
The last time Kenya hosted
the AHIF was in 2013.
As the hospitality sector
leaps forward, the future is
bright. With the 'National
Tourism Blueprint 2030',
which is intended to bridge
the gap between supply of
tourism products, facilities and
services as well as demand
for international, regional and
domestic tourism, we can only
hope for the best.
Indeed, this is Kenya's best
moment to shine, and shine it
will.
Mr Balala is the Cabinet Secretary, Ministry of Tourism and
Wildlife. [email protected]
ROAD RESERVE. Looking at the stretch from the
site of the recently demolished Airgate Centre (ex-Taj
Mall), Avenue Park Estate and Tumaini, all the way to
the NCPB silos at Donholm in Nairobi's Eastlands, Prof
Maina Muchara says, it is clear that part of the Kenya
Pipeline Company staff housing is on the Outering
Road reserve. Citing the demolition of a part of the
staff quarters at Central Police Station, he adds: "It
will be unfortunate to leave the confusion created by
redesigning the road, ending up with dead-end service lanes." His contact is [email protected]
FUEL TAX. There is hypocrisy in the public criticism of the way the government pushed through Parliament the Finance Bill to levy an eight per cent value
added tax on fuel. "It's true that many Kenyans are angry about what transpired in Parliament that day. They
must now shut up and just pay taxes. Many of you
say the motion was rigged and are mad just because
it touches your own pockets! How come you never
express similar anger whenever national elections are
stolen? What happened in Parliament is quite normal
in Kenya." His contact is [email protected]
PARLIAMENTARY HYPOCRISY. Most of the MPs
who opposed the fuel levy during the acrimonious debate in the House were just playing to the public gallery and not necessarily keen to alleviate the suffering
of fellow Kenyans, claims Chris Kiriba, describing it as
hypocrisy at its best. If they were, he adds, they would
have supported an earlier proposal to reduce by 1.5
per cent all the salaries above Sh100,000. The loud
ugly show in the debating chamber of the National
Assembly was a "sideshow meant to dupe innocent
Kenyans". His contact is [email protected]
LONG WAIT. Kitale resident Laura Kamuren applied for a passport at the Immigration Department
headquarters in Nyayo House, Nairobi, in early August
and was assured that it would be ready in 15 working
days. But on returning to collect it, she was told it was
being processed and would be ready in two weeks.
The four trips between Kitale to Nairobi have cost
her Sh4,800. "I think we are drifting back to the days
when one could not get a passport without paying a
bribe," says Laura, who intends to travel in mid-October. Her contact is [email protected]
ENTREPRENEURSHIP
Support to youth business plus for economy
F
ive years ago, the
Presidential Task Force
on Parastatal Reforms
submitted its report to President
Uhuru Kenyatta. Its most
notable proposal was scrapping
or merging parastatals as part
of austerity measures. That
included the amalgamation
of the Youth Enterprise
Development Fund, Uwezo
Fund, Women Enterprise
Development Fund, and Micro
and Small Enterprise Authority.
Critics and analysts gave
the report a thumbs-up, saying
the recommendations would
align state corporations to the
Constitution as they contribute
to national development goals
while reducing over-dependence
on the Exchequer.
Despite the President's
immediate directive to
implement the reforms, there
has been little progress. For
instance, it was not until
May that regulations to guide
the operationalisation of
Biashara Kenya Fund were
approved. Nonetheless, in a
recent interview, the Public
Service Cabinet Secretary,
Prof Margaret Kobia, gave
AJOWI LORNA JUMA
The fund is a huge
policy achievement
that could help
to curb the twin
challenges of youth
unemployment and
poverty."
the clearest signal yet on the
execution schedule, saying the
fund would be actualised within
six months.
Over the years, taxpayers
have asked the government
to implement the
recommendations to avoid
duplication and overlaps in state
agencies. The government's
focus on creating an enabling
environment for youth, women
and people with disabilities
to do business by providing
credit and capacity building
is laudable. Access to credit
has been difficult since the
introduction of interest rate
caps on bank loans in 2018.
A number of beneficiaries
have established businesses,
joining the much-needed pool of
micro, small- and medium-sized
enterprises (MSMEs).
High failure rate
However, statistics paint a
grim picture as most MSMES
don't live to celebrate their third
birthday with a high failure
rate among them. Most have
a very low survival rate within
the first three years. This is
not sustainable, especially for
entrepreneurs who borrow to
establish business entities.
Biashara Kenya Fund gives
us a perfect opportunity to
invest in business development
support for the start-ups to
ensure their sustainability. With
the amalgamation of these
Send your opinion article to: [email protected]
funds, the government can
pool resources to adequately
provide that support. The
President allocated Sh2 billion
annually to the fund to lend at a
concessionary six per cent rate.
With long-term business
development support,
businesses would access
funding only when they commit
to receiving these services.
To upscale the training
countrywide, Huduma Centres
can provide a hub for the
business development services.
The fund is a huge policy
achievement that could help
to curb the twin challenges
of youth unemployment and
poverty. Additionally, it could
facilitate the development of a
database, research and reports
on MSMEs' performance.
Considering the huge
public debt, supporting the
MSMEs would ensure they are
sustainable and, therefore, raise
their contribution to the gross
domestic product (GDP), a sure
win for youth and our country.
Ms Juma is a co-founder of Six
Degrees Consultancy. [email protected]
Some of the MPs who opposed the fuel VAT protest.
POOR SERVICE. Public Service CS Margaret Kobia, Moses Mwenda notes, was spot on in her criticism
of the inefficiency in the civil service. Besides adopting online solutions and establishing Huduma Centres
to ease delivery of public services, the steering committee appointed to look into the various challenges
should "recommend more stringent measures and implement a system to monitor and ensure efficiency".
Kenyans, Moses laments, "are just known for good
paperwork on proposals that are simply never implemented". His contact is [email protected]
REVERSE GEAR. Agreeing with Taabu Tele that
lowering the minimum entry grade to teacher training
colleges is like engaging the reverse gear, Irene Njenga
says she is also baffled that the Teachers Service Commission is turning away jobseekers with higher qualifications. Holders of postgraduate diplomas in education have applied to teach in secondary schools but rejected. Is this a way of restricting teaching to Bachelor
of Education graduates? I thought the more qualified
the better!" Her contact is [email protected]
Have the best day, won't you!
E-mail: [email protected]
or write to: Watchman, POB 49010, Nairobi 00100.
Fax 2213946
16 | Letters
Tuesday, October 2, 2018 | DAILY NATION
To the editor
Let ministry assure us
of integrity of exams
As the examination season nears,
there is fear that all might not be
well in the preparations. Rumours
are rife of parents being conned
to pay for leaked test papers and
school's principals being alerted
to get ready with some amount
for "assistance" during exams.
The Education Cabinet Secretary
and Knec officials should issue a
stern warning on those planning
to facilitate or engage in exam
cheating.
PAUL KIPROTICH RONO, Bomet.
Speaker did well to stop
MPs' volleyball junket
national Assembly Speaker Justin
Muturi's decision to deny MPs
permission to go to Japan for the
Women's World Championship
was just. It is an extreme shame
that the legislators wish to have
the taxpayer to fund for the trip,
especially when Kenyans are
shouldering heavy taxation and
increased debt. That would have
been a total misuse of public
money. The leaders aren't after the
interests of the common wananchi.
CHRISTINE WAIRIMU, Mombasa.
Train workforce for
direct flights to USA
Kenya is set to have direct flights
to and from the US after intense
lobbying and tightening of security
at the JKIA. The tourism sector will
the major beneficiary of this move.
Industry players have classified the
American tourists as high spenders.
This makes them the most soughtafter travellers. Local players
should invest in quality training to
tap into the lucrative market. The
flights present a perfect chance to
impress US tourists.
BENARD AMAYA, Nairobi.
Deal with unwholesome
clauses in Constitution
President Uhuru Kenyatta has
been telling us that there is no
point of changing the Constitution.
Yet when his predecessor President
Mwai Kibaki asked us to vote 'Yes'
despite 20 per cent of the clauses
not being good, and which he said
would be removed, we voted as he
and Mr Raila Odinga asked us to.
That was in 2010. Eight years later,
the unwholesome bit still sits in
the Constitution. When will it be
extirpated?
GITHUKU MUNGAI, Nairobi.
The Editor welcomes brief letters on topical issues. Write on e-mail to:
[email protected] You can also mail to : The Editor, Daily
Nation, P.O. Box 49010, Nairobi 00100
Ogiek are not evicting anyone
from Mau, they are also victims
T
he story, Many factors to
blame for violence, conflict
in Mau region (DN,
September 19), made several
misrepresentations of fact and
glaring omissions, creating the
false impression that the Ogiek
are the aggressors in the recent
violence in Mau Forest.
The article only presents
one side of the story. We agree
that there are many factors
contributing to violence in the
Mau region. But the writer
evidently spoke to many sources
among non-Ogiek people and not
to the Ogiek.
The writer completely fails to
mention that there is an ongoing
legal eviction of irregular settlers
from Mau Forest, carried out
by government agencies and
targeting anyone, regardless of
ethnicity, who does not have a
right to settle there.
However, politicians have
portrayed these legal evictions
as ethnic discrimination. The
article plays right into the hands
of these politicians as it merely
reiterates the ethnic rhetoric
being propagated in the Mau
region and makes no attempt to
investigate the root of the crisis.
The writer says, "It is said
that the Ogiek were the original
settlers in the eastern periphery
of Mau Forest." If he had done
even basic research, he would
know that the Ogiek are, indeed,
the original inhabitants of not
just the eastern periphery but of
the Mau Forest as a whole.
It is also misleading to claim
that the Ogiek sold their land
when it is well documented
FILE | NATION
A house that was razed in eastern Mau, Nakuru County, on September 13.
that non-Ogiek were settled on
degazetted land excised from
Mau Forest and irregularly
allocated by the then-government
while the Ogiek were supposed
to be the beneficiaries, rendering
them landless. And if residents
of Nessuit claim that they do not
have title deeds, how is that the
responsibility of the Ogiek?
The claims that the Ogiek have
formed armed gangs operating
from the forest is hearsay. Some
of the reported statements
from residents are essentially
incitement and hate speech.
The article also conflates
language and culture. Speaking
the same language does not make
all the speakers to have the same
culture. The Ogiek are a distinct
ethnic group with their own
culture and customs. Attempts
to subsume them within the
Kalenjin are nothing new, and we
have always opposed them.
Also, we object in the strongest
terms possible to the use of the
term "Ndorobo" to describe
the Ogiek. The outdated and
derogatory label has been placed
on the Ogiek by other peoples.
The Ogiek refer to ourselves as
"Ogiek" and we expect everyone
else to do the same.
The Daily Nation has a good
record of covering issues in the
Mau. A case in point is, Mau
settlers given notice to vacate the
water tower (DN, June 1), which
comprehensively addressed the
issues and noted that illegal
settlers, including Ogiek, were to
be evicted by the government.
OGIEK COUNCIL OF ELDERS,
Nakuru.
Apartments must implement new security measures to curb crime
Due to most murders occurring
in apartments and hotels, Interior
Cabinet Secretary Fred Matiang'i
ought to further increase safety
and identification measures there.
Most criminals have shifted
their activities to apartments,
even murdering their victims
during the day.
A good example is when more
than five young men booked a
room and called their peer by
phone. On entering the room,
they killed him.
The culprits were clearly
identified on CCTV cameras and
I hope they are in jail.
Most apartment owners
take their tenants' security for
granted. A poorly paid security
guard only opens huge gates for
vehicles and people, records the
particulars of those entering and
exiting, patrols the compound
and even takes visitors to rooms.
Since there are no washrooms
nearby, the guard leaves the gate
unattended to go to the toilet.
Apartment owners must
employ at the bare minimum
three guards. All visitors must
be registered with their national
identity cards or passports as
some visitors use fake names and
turn out to be criminals.
All vehicles entering
apartments must roll down all
windows. They must be searched
and occupants escorted to their
supposed hosts' rooms.
The tenant must escort them
out to ensure they are alive.
Any police officer must be free
to identify all visitors.
Lastly, all apartments must
have good quality CCTV
surveillance cameras at all times.
ROBERT MUSAMALI, Nairobi.
Do you believe ODM's claim that Ruto is behind its rebel MPs?
dent, so they blame Ruto.
BENARD WARUI: No. They
are just worried by Ruto's
invasion in opposition zones,
especially Coast and Western.
SUMUNI BEN: Certainly not.
Raila threw ODM into a ditch
EMAILS FROM CORRESPONDENTS
DROPPED GUARD: Police officers,
given the nature of their work, are
supposed to be ever alert and mentally
present. But I often see them on duty
at banks and other sensitive security
locations, casually fidgeting or scrolling
on their mobile phones or even deeply
engaged in conversations, completely
oblivious of their surroundings. The
worst of it is seeing them eating mandazi
and tea as they 'guard' the premises!
What if they got drugged by robbers?
ROBINSON NGANO, Nairobi.
SKILLED LABOUR: The government
should have a strategy for development.
Borrowing money and hiring Chinese
won't cure our debt crisis. The State
should start training youths on road and
railway construction. Also, the society
should not underrate trained, educated
Kenyan workers as having our own
skilled manpower will promote growth
and better lives for us. Borrowing for
recurrent expenditure will be disastrous
for economic growth and development.
FIDELIS WANGARI KIMANI, Kiambu.
TEACHER TRAINING: The story on
the TSC boss's rejection of the proposal
to allow D+ students to join teacher
training colleges (DN, Sept. 28) refers.
With 290,000 registered teachers not
yet absorbed by the TSC, that would be a
mockery to them as they were recruited
to colleges with a minimum of C plain.
Teaching will be deemed as a last resort
and the career will be shunned. The
government should instead integrate the
training of ECDE with P1 teachers.
OLIVER JUMBA HYUGA, Kakamega.
SOUR GRAPES: President Cyril
Ramaphosa took advantage of the
UN General Assembly to outline his
government's policy on land reforms
in South Africa amid opposition from
former president Thabo Mbeki. The land
reforms aim at fostering inclusiveness
and transformation in an economy.
Mbeki is attacking this policy and trying
to bring in a racial angle yet he, Zuma
and Motlanthe failed to address this
issue since Apartheid ended in 1994
DAVID M. KIGO, Nairobi.
WOMEN MURDERS: Following the
increasing number of young women
(mostly university students) dating older
men in the name of 'sponsors' just to get
the lavish lifestyle they see their friends
leading, it's high time somebody took the
blame. These girls fall to peer pressure
and end up breaking people's marriages.
Parents need to impart good morals in
their children. Take time to talk to and
discipline your child and stop delegating
your role to the society and social media.
RACHEL BITTAH, Mombasa.
DEBATE QUESTION
YESTERDAY'S QUESTION
MERCY CHEPNGETICH:
No. Deputy President William
Ruto has only been launching
projects and getting supporters. Maybe ODM MPs fear that
their party might die or are
afraid to say Mr Raila Odinga
was wrong to join the Presi-
SHORT TAKES
in broad daylight the moment
he entered into an amorphous
arrangement with Uhuru.
FRANKLIN MUKEMBU:
It is not easy to validate the
claim because what we have
in Jubilee is just but blame
game and finger pointing.
BELINDA ACHIENG: Ruto
is an attention seeker. He just
wants to be in the headlines.
COWBOY OMBAIRE:
Where there is smoke, there
is fire.
MMASI EVANS: This is all
political intrigues. The DP has
a big reason to be worried!
KAMAU JOHN: No. That is
just propaganda to tarnish Mr
Ruto's name. That is politics.
ANN GAKII: Yes. Politics is
about amassing supporters.
Do you believe DP
Ruto's claim that
Raila plots to split
Jubilee Party?
Send your comments to:
[email protected]
17
DAILY NATION | Tuesday, October 2, 2018
MOTOR VEHICLES FOR SALE
We are inviting offers from interested parties for the purchase of motor vehicles as listed hereunder:
REPUBLIC OF KENYA
No. DESCRIPTION
COUNTY GOVERNMENT
OF MOMBASA
INVITATION TO TENDER
The County Government of Mombasa invites sealed tenders from
=?3>+,6C;?+63F/.-98><+->9<=\?36.381'9<5=38-98=9<>3+
/ Joint Venture with the prescribed subcontractors and design
consulting team,the contractors MUST be able to demonstrate
/B:/<3/8-/N >/-283-+6 +8. F8+8-3+6 -+:+,363>C to bid or the
proposed development of MombasaCounty Stadium
S/NO
1.
Tender Number
CGM/PRO/T/
5/2018-2019
Description
TENDER FOR
PROPOSED
DEVELOPMENT OF
MOMBASA COUNTY
STADIUM
Eligibility
OPEN
Interested eligible candidates may obtain further information from
and inspect the tender documents from the CountyGovernment
of Mombasa website; www.mombasa.go.ke. A complete set of
tender documents may be obtained FREE OF CHARGE from the
website given above.
Completed tender documents are to be enclosed in plain
sealed envelopes marked with tender reference number and be
deposited in the Tender Box at $2/ 9?8>C $</+=?<C I-/N
P.O. Box 90290, Mombasa or be addressed to The County
Secretary , P.O. Box 90290, Mombasa So as to be received on or
before Monday 16th October 2018 at 10:00 am .
Tender must submit tender security in the amount of Ksh.
5,000,000 (Five Million in the form of a Bank or Insurance
?+<+8>//3==?/.,CF<7=+::<[email protected]/.,C>2/ ?,63- <9-?</7/8>
regulatory in the format provided
Prices quoted should be net inclusive of all taxes and delivery
must be in Kenya Shillings and shall remain valid for (120) days
from the closing date of the tender.
$/8./<=A366,/9:/8/.377/.3+>/6C>2/</+L/<38>2/:</=/8-/90
the Candidates or their representatives who choose to attend at
9?8>[email protected]/<87/8>9097,+=+$</+=?<CI-/M
REG. NO.
Y.O.M
1 Bell Telelogger
KHMA 958L
2008
RESERVE PRICE (KES)
1,830,000.00 Flamingo Auction Centre - Nakuru
STORAGE YARD
YARD CONTACT
2 Faw CA3320
KCE 195K
2015
1,360,000.00 Legacy Connections - Nakuru
722740612
3 Faw P380
KBW 169H
2013
1,740,000.00 Auckland Yard-Ruaka
722519586
4 Faw Tipper CA3250
KBX 958E
2013
1,710,000.00 Muwasa Motors- Kisii
726669945
5 Ford Ranger Double/Cab
KCP 193R
2016
6 Ford Ranger T6
KBZ 113X
2013
4,570,000.00 Carmax Karen
710,000.00 Bungoma Storage-Bungoma
777111044
720553774
7 Isuzu FRR
KCG 320F
2015
2,895,000.00 Legacy Connections - Nakuru
8 Isuzu FRR
KCJ 199A
2016
3,140,000.00 Leakeys Storage - Mombasa Road
708207055
722740612
708207055
9 Isuzu FVZ 23
KBQ 773J
2010
1,670,000.00 Leakeys Storage-Kitui Road
10 Isuzu FVZ 23S
KBG 322E
2008
1,625,000.00 Central Farmers-Kitale
721244128
11 Isuzu FVZ Truck
KBW 845J
2010
3,230,000.00 Integra Yard - Kitengela
722738962
725077948
12 Isuzu NKR Truck
KCN 016G
2017
2,270,000.00 Purple Royal Yard-Kiambu Road
13 Isuzu NPR
KCM 288A
2017
3,140,000.00 Joyland yard - Eldoret
722276287
14 Isuzu NPR
KBY 100A
2013
1,410,000.00 Leakeys Storage-Kitui Road
708207055
15 Isuzu NPR
KCJ 215A
2015
2,290,000.00 Auckland Yard-Ruaka
722519586
16 Isuzu NPR
KCK 039C
2016
2,980,000.00 Purple Royal Yard-Kiambu Road
725077948
708207055
17 Isuzu NPR
KCG 470W
2015
2,920,000.00 Leakeys Storage-Kitui Road
18 Isuzu NQR 33 Seater
KCK 972L
2016
4,580,000.00 Thika motor Dealers-Ruaka
721726654
19 Isuzu TFR 86 Single Cab
KCH 579Z
2016
1,460,000.00 Auckland Yard-Ruaka
722519586
7,890,000.00 Muwasa Motors- Kisii
726669945
20 JCB JS205LC Excavator
KHMA 909J
2016
21 Kehar 3 Axle Trailer
ZE 3041
2013
910,000.00 Matriz Moves- Mombasa
22 Man TGA P/Mover
KBP 350F
2005
1,310,000.00 Matriz Moves- Mombasa
23 Mazda DBA S.Wagon
KCE 326R
2008
719336185
719336185
550,000.00 Purple Royal Yard-Kiambu Road
725077948
685,000.00 Purple Royal Yard-Kiambu Road
725077948
24 Mazda Premacy
KCL 652Y
2010
25 Mercedes Benz Actros
KCQ 044A
2012
4,550,000.00 Auckland Yard-Ruaka
26 Mercedes Benz Axor 2540
KCC 870S
2009
2,590,000.00 Dan Park Yard-Mtwapa
722410316
27 Mercedes Benz Axor 2540
KCC 871S
2009
2,620,000.00 Dan Park Yard-Mtwapa
722410316
28 Mercedes B170
KCH 631V
2009
29 Mitsubishi FH 215
KCD 364C
2014
30 Nissan Wingroad
KBY 038Y
2007
31 SDLG Wheel Loader LG956L KHMA 125J
2015
32 Skeleton Trailer
ZF 5826
2016
33 Suzuki Omni Maruti
KBZ 285B
2014
34 Tata LPK Tipper
KBY 475V
2012
780,000.00 Carmax Karen
2,730,000.00 Joyland yard - Eldoret
510,000.00 Flamingo Auction Centre - Nakuru
3,600,000.00 Capitol Diamond-Ruiru
1,370,000.00 Leakeys Storage - Mombasa Road
260,000.00 Central Farmers-Kitale
1,210,000.00 Leakeys Storage-Kitui Road
722519586
777111044
722276287
721862680
721391678
708207055
721244128
708207055
35 Toyota Allion
KCG 238Q
2009
860,000.00 Purple Royal Yard-Kiambu Road
36 Toyota Axio
KCK 113B
2009
820,000.00 Legacy Connections - Nakuru
722740612
37 Toyota Axio
KCG 167X
2009
760,000.00 Pambo Storage - kisumu
721544702
38 Toyota Corolla
KCA 455L
2014
1,295,000.00 Leakeys storage - Lunga Lunga road
39 Toyota Fielder
KCN 834N
2010
1,050,000.00 Bamburi Storage Yard - Mombasa
701092182
40 Toyota Fielder
KCN 014J
2010
910,000.00 Purple Royal Yard-Kiambu Road
725077948
725077948
725077948
708207055
41 Toyota Harrier
KCE 680Z
2008
1,390,000.00 Purple Royal Yard-Kiambu Road
42 Toyota Harrier
KCC 563W
2008
1,340,000.00 Flamingo Auction Centre - Nakuru
721862680
43 Toyota Hillux
KCJ 054K
2010
2,160,000.00 Leakeys storage - Lunga Lunga road
708207055
44 Toyota Hilux Single Cab
KBQ 329U
2011
720,000.00 Leakeys storage - Lunga Lunga road
708207055
45 Toyota Landcruiser
KCH 262Y
2009
3,150,000.00 Carmax Karen
46 Toyota Noah
KCL 285V
2010
1,190,000.00 Auckland Yard-Ruaka
47 Toyota Passo Settee
KCK 523J
2009
410,000.00 Matriz Moves- Mombasa
48 Toyota Ractis
KCK 819X
2010
610,000.00 Leakeys Storage-Kitui Road
777111044
722519586
719336185
708207055
49 Toyota voxy
KCK 532K
2009
940,000.00 Nyaluoyo Storage Yard-Kisumu
722329463
50 Toyota Wish
KCK 534K
2009
840,000.00 Leakeys storage - Lunga Lunga road
708207055
51 Volkswagen Touareg
KAZ 685V
2007
1,685,000.00 Auckland Yard-Ruaka
722519586
52 Volkswagen Touran
KCH 951D
2009
670,000.00 Auckland Yard-Ruaka
722519586
53 XGMA Wheel Loader
KHMA 178J
2015
4,880,000.00 Integra Yard - Kitengela
722738962
Vehicles are sold on "AS IS WHERE IS" basis.
Bids with full contacts details should be submitted through email on: [email protected]
or placed in a sealed envelope marked " Tender for Motor Vehicle" addressed to;Recovered Assets Sale Committee,
P.O Box 44599-00100, Nairobi. To reach the Committee not later than 09th October 2018
For further details, contact us on Tel : 0711041111; 0711 041497; 0702005627; 0711041463; 0718686069
County Secretary
COUNTY GOVERNMENT OF MOMBASA
721862680
You can also check out for more vehicles on sale from our website address below:
http://www.nic-bank.com/ke/borrow-from-us/asset-finance/vehicles-on-auction/
Finance can be arranged subject to credit appraisal.
18 | Opinion
Tuesday, October 2, 2018 | DAILY NATION
GENDER
SYSTEMS
Support women to deliver in leadership
Best way to
end graft is
to prevent it
T
he wheels of change
in the women's
empowerment
movement turn rather slowly.
In Kenya, 55 years after
Independence, there are
fewer women than men in
leadership despite nearparity in population and
education. Elective and
appointed positions in most
sectors are male-dominated.
And this is not from want
of women leaders trying.
Pioneer women's leader
Phoebe Asiyo chronicles
in her recently launched
memoirs, It's Possible, how
ambitious women leaders
approached President
Mzee Jomo Kenyatta with a
proposal for a 50-50 gender
leadership appointment at
independence. But until
the 1980s, no woman had
occupied a Cabinet position.
Things are much better now
and Kenya boasts six female
Cabinet Secretaries.
Sadly, history is fraught
with cases of women who
rose to senior positions but
suffered harassment and
intimidation in an effort to
wrest power from them.
Recently, Nairobi
County Assembly Speaker
Beatrice Elachi suffered
an impeachment scare,
seemingly for her reluctance
to authorise foreign trips
for her tormentors. Only the
courts saved her.
Egerton University
Council sent Vice-Chancellor
Rose Awuor Mwonya
on compulsory leave for
allegations of "skewed"
awards of scholarships
and authorisation of
projects. Prof Mwonya's
removal was executed
before investigations by
Inspector-General of State
Corporations, as required.
This is a familiar script.
Would these women
leaders have been treated
the same way had they been
men? Why should Kenyan
women face such an arduous
time in leadership positions,
suffer social ignominy and
be easy targets for removal?
MARGARET KOBIA
Women must be
protected from
undue social
and cultural biases
and prejudices and
be judged on their
ability to deliver."
Equated to children
The reason is our socially
and culturally validated
attitude towards female
leaders: It is male hegemony.
Our cultures have idealised
the man as the natural
leader and the woman as the
natural subservient follower.
In some cultures, women
are equated to children and
treated in the same manner
as those they bore.
Sadly, this notion has been
so culturally dominant that
some women leaders are
blind to the paradox of their
participation in it. That is a
card that many male leaders
play in patriarchal societies
to intimidate and depict
women leaders as weak.
In the United States, 2016
Republican presidential
candidate and eventual
winner Donald Trump
repeatedly described his
female rival, Hillary Clinton,
as a weakling who could
not handle the threat
of terrorism and other
challenges, despite her
impeccable record as the
Secretary of State.
In her memoir on the
campaign, What Happened,
Ms Clinton describes how
the male candidate stalked
her on stage to intimidate
and pressure her to blow
up so as to prove her
incapable of taking political
pressure. Women leaders in
Kenya have faced such and
worse gendered abuse with
physical violence the choice
tactic to scare them away.
Male hegemony is
pervasive, even with a fullfledged United Nations
programme, UN Women,
to advance women's rights.
There is also a host of global
and continental conventions
to ensure fair and equal
treatment of women. Our
Constitution provides
for women's protection
through the Bill of Rights.
The National Gender and
Equality Act 2011 and
the National Gender and
Equality Commission
(NGEC) have done a lot to
enhance women's rights.
Only in the Judiciary
do we have near-parity in
gender job distribution — at
47 per cent, going by the
2016 NGEC survey.
UN Women's 'World
Survey on the Role of
Women in Development
(WSRWiD 2014)', calls for
embracing women's equal
participation as leaders and
decision makers in society.
The endeavour by
conscientious leaders in
Kenya to actualise the onethird gender rule in public
appointments will go a long
way in giving women the
opportunity to serve and
prove their worth.
The transformative
community projects
that many Woman
Representatives have
established with the limited
funds from the National
Government Affirmative
Action Fund (NGAAF) have
demonstrated their abilities.
Just last month, President
Uhuru Kenyatta feted 29
women leaders with State
honours for their exemplary
service to the country.
Women must be
protected from undue social
and cultural biases and
prejudices and be judged on
their ability to deliver. Due
process must be followed
in the evaluation of their
performances. Gender
must not be an overriding
criterion.
Prof Kobia is the Cabinet Secretary, Public Service, Youth
and Gender Affairs. [email protected]
go.ke
The is a need to prioritise deterrence
to punishment in order to permanently
win the ongoing war against corruption.
Every day, the people are talking about
it. Thy are demanding more openness,
more accountability and more and faster
convictions for perpetrators of graft.
Going by that very basic medical
axiom that prevention is better than cure,
perhaps the reason our anti-corruption
war records rather limited success is that
we favour punishment over deterrence.
There is a need to simplify the nation's
bureaucracy and administrative procedures because it is in the complexity and
red tape that the corrupt profit.
We must build systems that make it a
lot more difficult to carry out corrupt acts
or find a safe haven for proceeds of graft
within and without our borders. We must
strengthen accountability, significantly
limit discretion in public spending and
promote greater openness.
It is imperative for governments to
demonstrate that they are not in office
for the pursuit of private gain, but to
make the people happier by helping them
to meet their legitimate aspirations and
achieve a higher quality of life.
Kenyans have not accepted corruption
as normal; we recognise it as a problem
and are determined to make a break with
our past and live by different rules. Providing more opportunities for Kenyans
will help in winning the crusade.
KARL MARX ODHIAMBO, governance expert.
MODERN
MEDICAL & LABORATORY
EQUIPMENT
Choosing medical and laboratory equipment that is best suited to your organizational goals
and budget may be quite challenging. Affordability and quality of these equipment can also be
compromised if proper sourcing is not taken into account.
The Daily Nation will publish an in depth and informative feature on this topic on both print
and online editions.
To advertise as a Supplier of Medical and Laboratory equipment Contact
Judy: [email protected] or call 0722-375484
Winnie: [email protected] or call 0713-351695
DAILY NATION | Tuesday, October 2, 2018
County | 19
COUNTY NEWS
ASSEMBLY UNDER FIRE FOR CHAOS >
Nyandarua County Assembly Speaker taken to
task over chaos in the House. PAGE 20
For comprehensive
stories, go to
nation.co.ke/counties
GOVERNOR EYES MORE REVENUE >
Laikipia County automates revenue collection to
reduce workforce and lower costs. PAGE 22
Kirinyaga > Government in pilot programme to improve production
Agriculture Chief Administrative
Secretary Andrew Tuimur
(right) gives awards to officials
of the best performing coffee
co-operatives in the country
during International Coffee
Day celebrations at Kianyaga
stadium in Kirinyaga yesterday.
The government has launched a
campaign to encourage farmers
to go back to coffee farming in a
move aimed at increasing coffee
production in the country.
BRIEFLY
Embu>
Convene meeting to halt imminent
fallout, MCAs tell Wambora
JOSEPH KANYI | NATION
Woman awarded for top coffee
yields amid free fertiliser plan
Poor earnings, greedy
cartels at Nairobi
auction have painted
venture as low earning
BY GRACE GITAU
@MumbiGitau
[email protected]
W
hen Ms Florence Karambu
revealed that she earned
Sh1.7 million from selling coffee beans, very few people
believed her. No wonder she has
won Best Woman in Agriculture
consistently.
And as the world celebrated
International Coffee Day
in Kirinyaga yesterday, Ms
Karambu was yesterday
recognised as the Woman
Producer of the year in
celebrations marked at General
Kassum Stadium.
The theme of this year's
celebration was 'Women
in Coffee' which is aimed
at recognising women's
contribution along the entire
value chain.
"Women put in a lot of work
in ensuring that at the end of
the season, the coffee bushes
have produced the cherries but
their effort is never recognised.
We are happy that our work is
being appreciated today," she
said.
Farmers like her in Nyeri,
Kirinyaga and Meru counties
received news that they would
get free fertiliser from the
government under a pilot
programme aimed at increasing
production of the crop.
Agriculture Cabinet Secretary
Mwangi Kiunjuri said the pilot
programme is being carried out
in conjunction with the three
county governments.
"We are encouraging coffee
farmers and we are carrying
Cash crop
STATISTICS
Production has from the
all-time high of 128,862
metric tonnes of coffee in
1988 to 38,620 metric tonnes
recorded in the 2017.
The size of land under coffee
farming has also reduced
from 160,000Ha to 114, 500Ha
recorded in 2016/17 coffee
year.
out trials in the three counties
where we want to give 100 per
cent subsidised fertiliser to
farmers so that we can be able
to increase production," said Mr
Kiunjuri.
The constant outcry by coffee
farmers over poor earnings,
unscrupulous middlemen and
greedy cartels at the Nairobi
Coffee Auction has painted
coffee farming as a low return
venture.
Some farmers have uprooted
coffee bushes and ventured in
other lucrative crops.
But according to Ms
Karambu, farming the black
gold has been rewarding and
even earned her the coveted
Best Woman in Agriculture
award four years ago.
The award gave her the
rare opportunity to meet
with President Kenyatta in
State House earning her
public admiration from her
constituents and other coffee
farmers countrywide.
The farmer has gradually
increased the number of coffee
bushes from 700 to 1,000
mature trees and 500 seedlings
which yield at least 25,000kg of
cherries.
She has also improved the
production from 2kg per coffee
bush to 25kg which has resulted
in better pay.
Murang'a>
Arrest warrant against Gakuyo extended
BY NDUNGU GACHANE
A warrant of arrest issued
against Gakuyo Real Estate
Director Bishop David Ngari
has been extended after he
failed to appear at Kigumo law
courts to take plea over charges
relating to the residential
houses his company has
constructed at Kabati.
The director is facing
three counts of constructing
residential houses without
an approved plan from
Murang'a County Government,
subdividing a private land
without following the
requirements of the county
physical development plan and
developing commercial houses
without applying for certificate
of compliance from the director
of physical planning.
The case was filed at Kigumo
laws courts on August 13. He
was summoned to appear before
the court on August 27, but he
did not show up, prompting the
magistrate to issue a warrant
of arrest. Kigumo Resident
Magistrate Ogonda Agnetta
yesterday extended the warrant
after Mr Ngari, also known as
Gakuyo, failed to show up.
The resident magistrate
ruled that the matter will be
mentioned on November 6.
The controversial bishop and
televangelist-turned- politician
has been on the spotlight
after his outfit, Ekeza Sacco,
was shut following members'
complaints.
Embu County Assembly members have demanded
an urgent meeting with Governor Martin Wambora to
address imminent fallout between the legislature and
the executive that led them to skipping Saturday's
peace meeting. Led by Majority Leader Michael
Njeru and Minority Leader Lenny Masters Mwaniki,
the MCAs said there was a strained relationship that
needed urgent attention. They demanded that the
governor involves them in the planning of future
meetings to ensure inclusivity. Some 22 out of the
33 MCAs boycotted the forum that had hoped to
reconcile Mr Wambora and former Senator Lenny
Kivuti, who also skipped the meeting. He has
contested Mr Wambora's win at the Supreme Court.
— Charles Wanyoro
Tharaka-Nithi>
Two charged with impersonating
Nema officials, demanding bribes
Two people from Kiambu County have been
charged in a Chuka court for impersonating National
Environment Management Authority (Nema) officers
and asking for bribes from traders found with plastic
bags. The court in Tharaka-Nithi County heard that
Mr Joseph Kiarie and Mr John Njenga were reported
by the public on September 28 after they asked for
a bribe from a business person at Kaanwa market in
Chuka Sub-County. The two were also charged with
forgery of Nema staff identity cards. The court was
also told that the two were in the company of two
others who fled. The accused denied the charges and
were released on a bond of Sh200,000. The case will
be mentioned on October 15 and heard on November
12.
— Alex Njeru
Meru>
Hospital CEO calls for more focus
on non-communicable diseases
Karen Hospital chief executive Betty Gikonyo
has called for policies and action plans to fight noncommunicable diseases in the country. Speaking in
Meru during a heart diseases medical camp at St
Theresa's Mission Hospital-Kiirua over the weekend,
Dr Gikonyo said while the diseases can be prevented,
they remain one of the leading causes of death in the
world. The medical camp coincided with the World
Heart Day on Saturday. She praised the National
Health Insurance Fund, saying it has enabled Karen
Hospital to carry out more than 150 heart surgeries
this year. "Statistics indicate that seven to 10 children
are born with heart diseases and a majority of these
die before they are five years old," she said.
— David Muchui
County | 21
DAILY NATION | Tuesday, October 2, 2018
COUNTY > ROUND-UP
COAST
Tana River>>
County to spend over Sh50m to repair roads damaged by May rains
BY STEPHEN ODUOR
T
he county government of Tana
River will spend more than Sh50
million to rehabilitate roads that
were damaged by the heavy rains in May.
In an interview with the Nation, county
Roads executive Stephen Wachira said
they were planning to repair roads in
Tana Delta villages that were affected
by the floods namely Gamba, Hewani,
Wema, Kulesa, Sailoni, Kinyadu, Mkomani, Salama, Mnazini and Kitere.
Mr Wachira said the works scheduled
using the Road Maintenance Fuel Levy
funds 2018/19, will be on course starting
next month and the county government
had already advertised for contractors.
He said the roads will also serve as
an alternative to the upper Kenya Rural
Roads Authority (Kerra) road from
Gamba to Masalani which was destroyed
by floods in May.
Mr Wachira added that the road will
serve as the ideal detour for investment
because it is far from the Tarda canals
which always burst during floods.
"Commuters will no longer have to
worry about the long distance travel
200km
Travel distance from Hola to
Nairobi expected to be slashed by
new road under construction.
as this road is also going to serve as a
short cut, and also as an ideal detour for
investment," he said.
Further, the executive said the county
in partnership with Kenha (Kenya Na-
tional Higways Authority) had started
the construction of Hola main road
through Wayu, Kitui, Machakos and
finally Nairobi.
The road is expected to cut the travel
distance by 220km with the county
sourcing labour from communities living
along the road.
He said Kenha had already done more
than 300km to reach Waldena from the
Kitui side, while the county had started
from the Hola side to Wayu and Wayu
Boro through to Wayu Duka.
He said the road is gazetted as a Kerra
road but the county government and
Kenha had taken up its construction
as this will open up the region horizontally, cross cutting through a number
of villages.
However, Mr Wachira said plans to
finance the development will face a
challenge in their budget following the
8% VAT bill that saw Treasury slice the
county's equitable share.
"Budgets were slashed from National
Government affecting Both Government
and County Roads. So the numbers we
had to finance this have changed."
MOUNTAIN
Nyeri>
Two officials picked to
oversee Good Life Sacco
Embu>
Mentally ill patient 'kills
self' inside hospital
The government has revoked
the licence of Good Life Sacco
Society Ltd. Ms Mary Mungai, the
Commissioner for Co-operative
Development, cancelled the
registration of the sacco through
a Gazette notice published Friday
and appointed Mr Johnson
Njoroge and Gerald Mwai to take
charge of its liquation within a
year.
—Joseph Wangui
A mentally ill patient reportedly
committed suicide using a
bedsheet inside Embu Level Five
Hospital's psychiatric ward. The
body of Mr Martin Njeru, 24, was
yesterday found dangling from the
window grills by a nurse. Embu
West DCIO George Etyang said
the patient had been taken to the
facility on Wednesday. He said
crime officers visited the scene.
—Charles Wanyoro
Nyeri>
Court services disrupted
as magistrates absent
Nyeri>
Two traders in officer's
murder case acquitted
Operations at Karatina law
courts have been disrupted as
the two magistrates are away.
Senior Principal Magistrate
Florence Macharia's is said
to be unwell while Principal
Magistrate Elvis Michieka is on
a weeklong seminar. The court's
executive officer said all cases will
be referred to Mukurweini law
courts, about 30 kilometres away.
— Stephen
The High Court in Nyeri has
acquitted two chang'aa traders
charged with murder of a police
officer for lack of sufficient
evidence. Moses Karani and
Douglas Kuria were set free by
Justice Teresiah Matheka after
battling the charges for more
than six years while in remand.
" Investigations did not gather
enough evidence," said the judge.
— Joseph
RIFT VALLEY
GEORGE SAYAGIE I NATION
Governor calls for peace, unity in clash zones
Narok > Governor Samuel Tunai speaks at Olmekenyu area on Saturday evening, during which
he expressed concern over the clashes between the Maasai and Kipsigis in Narok. Mr Tunai
said the conflict, triggered by cattle thefts and Mau forest evictions poses a threat to peace
and security in region and called for tolerance. He urged church leaders to preach peace and
reconciliation in the affected areas.
NYANZA
Baringo>
Uasin Gishu>
Kisumu>
Homa Bay>
Kisumu>>
Over 1,000 IDPs to be
taken back their homes
Guard burnt to death
after pub catches fire
Youth told to stop being
used to cause violence
ICT centres to help
youth get jobs in new
Cancer awareness walk
to encourage screening
More than 1,000 people who had
been displaced from their homes
by rampant banditry attacks in the
volatile Mukutani, Baringo South,
last year are set to be taken back
home today. This came amid calls by
leaders asking government to assure
them of their security intensifies.
The IDPs were displaced following
clashes between the Ilchamus and
Pokots, which led to the killing of
more than 11 people, most of them
children and women. Residents fled
the area for fear of more attacks.
— Florah Koech
A watchman was burnt to death
in a pub fire at Chembulet shopping
centre on the Eldoret — Iten Road
in Moiben Sub-county. The guard
who was burnt beyond recognition
was said to have been sleeping in one
of the rooms during the midnight
inferno. Neighbours said the fire
started after the bar was closed and
attempts to save the guard failed as
the door was locked. Eldoret East
OCPD Richard Omanga said that
the cause of fire had not yet been
established.
— Titus Ominde
Human right activists have urged
youth in Kisumu to avoid being
used as instruments of violence by
politicians. Speaking during a peace
and leadership forum at University
of Nairobi's Kisumu campus, activist
Boniface Mwangi said that many
youth pay dearly during political
unrest in the country. "We are telling
the youth to stop being used by
politicians for their own end. They
are the ones who get killed, get shot,
and go to jail whenever such violence
breaks out," said Mr Mwangi.
— Elizabeth Ojina
Youth in Kasipul constituency,
Homa Bay County, are set to
access jobs through ICT centre
services. This was revealed during
the launch of the constituency's
2018-2023 Strategic Plan yesterday.
The plan is aimed at ensuring the
implementation of development
projects in all five wards in Kasipul.
All wards will have an ICT centre.
Speaking during the launch, Kasipul
MP Ong'ondo Were said: "ICT
services are the genesis of economic
development for our youth."
— Nation Correspondent
A month-long cancer awareness
walk was launched in Kisumu
yesterday, with the aim of
encouraging Kenyans to go for early
screening. Dubbed "Mulika Saratani
National Cancer Awareness Walk," a
group of about 50 men and women
will criss-cross 17 counties, in a
move which also aims at encouraging
both the national and county
governments to set aside more funds
to fight the killer disease. Africa
Cancer Foundation MD, Ms Dorothy
Nyong'o, flagged off the walk.
— Victor Otieno
22 | County
Tuesday, October 2, 2018 | DAILY NATION
West Pokot >
Laikipia> Measure one of those put in place by Governor Ndiritu since he took office
Job cuts loom as county focuses on
savings with digital revenue system
This move would see
workforce reduced
from the current
1,800 to about 1,400
BY STEVE NJUGUNA
[email protected]
AND MWANGI NDIRANGU
[email protected]
L
aikipia County has embarked
on automation of revenue
collection processes, with
a view to reducing its workforce
and cutting back on expenditure.
The move could see the number
of workers reduced from the current 1,800 to about 1,400.
According to Governor Ndiritu
Muriithi, the move is intended to
reduce the wage bill and streamline
the county's workforce.
"We are also moving a step further and from October, traders will
now be able renew their business
permits online through a mobile
phone application.
"Such a system will also be in use
for the over 1,800 public servants
who will now apply for leave, travel
or allowances online," he said.
According to the county boss,
his administration was reaping
KWS taken
to task over
stray animals
Additional info
COUNTY REVENUE
FIGURES
Laikipia was among six
counties penalised by the
National Treasury for failing
to meet revenue collection
targets for the year 2016/2017.
Its allocation for the year
2018/2019 was, consequently,
reduced by Sh386 million. A
similar fate befell Kirinyaga,
Trans Nzoia, Narok, Tharaka
Nithi and Kiambu counties.
But in 2017/2018, the county
has collected Sh609million
compared to over Sh400
million raised the previous
year.
the fruits of automated revenue
collection, with monthly collection
in the form of taxes increasing to
Sh65 million, a 32 per cent rise.
But since taking over from his
predecessor, Mr Joshua Irungu, a
year ago, Mr Muriithi has initiated
reforms in his administration targeting services to the public and
streamlining revenue collection as
well as tendering and procurement
procedures.
KWS Acting Director-General Charles
Musyoki.
BY OSCAR KAKAI
Upon assuming office, he was
confronted with pending bills totalling over Sh1 billion but maintained
he would only clear them after an
audit to establish genuine ones.
Of the Sh1 billion claimed by
various contractors, the ongoing
audit has established claims worth
Sh460 million as genuine and so
far, a total of Sh260 million has
been paid out.
His latest initiative is to digitise
all administrative systems, with
the aim of interconnecting all
departments online to reduce pa-
perwork and streamline day-to-day
operations.
"This computer-backed system
gives me updates in real time.
"For instance, with a click of a
button I can tell you how much has
been collected in the form of cess
at this particular minute and by
who," the governor said at a press
conference.
He said this system of cashless
transactions has sealed loopholes
that corrupt employees used to
exploit and deny the devolved unit
the much needed revenue.
Laikipia Governor
Ndiritu Muriithi
(second right),
inspects the
Nanyuki Old
market last week.
The county is
digitising its
services to cut
the workforce and
reduce costs.
JOSEPH KANYI I
NATION
Leaders in West Pokot County
have called on the Kenya Wildlife
service (KWS) to stop animals from
wandering into residential areas to
avert conflict with people.
The leaders said many areas are
affected by human-wildlife conflict
and accused KWS officers of laxity,
saying they hardly ever respond in
time when residents are in trouble
and many times fail to show up.
"We want to the Kenya Wildlife
Service to take action and look for
the animals because residents will
start killing them," said West Pokot
County Assembly Majority Leader
Thomas Ng'olesya.
Speaking in Sekeer ward, Mr
Ng'olesya said elephants roaming
in the area have killed many people,
animals and destroyed crops.
"There is laxity among rangers
in containing the animals and the
animals are endangering residents'
lives," he said.
Laikipia >
Kwale >
Calls to
review land
report
Over 600 pupils brave
harsh conditions to learn
in dilapidated schools
BY STEVE NJUGUNA
Residents of Laikipia County
want the government to review the
Ndung'u task force report to resolve
land conflicts in the region.
They said the move will resolve
major land tussles and enable residents whose parcels of land have
been adversely mentioned in the
report to develop them or access
financial aid.
Former Nyahururu deputy mayor
Fredrick Thairu faulted the government for failing to act on the report
since the Ndung'u Commission completed its mandate and forwarded
recommendations 15 years ago.
"It is wrong for the government
to form commissions and sit on the
reports without acting on them for
more than 10 years," he said.
Mr Thairu alleged that the report
had many faults, citing Ol'arabel,
Nyahururu, Marmanet and Lariak
settlement schemes that were adversely mentioned. He questioned
why the commission mentioned
land in the schemes that neighbours
Marmanet Forest instead of the ones
that have encroached on forest land.
The report recommended among
other things to revoke illegally
acquired titles, regularise land allocation and lands in question be
investigated further.
BY FADHILI FREDRICK
XXXXX
Raising cancer awareness
Kisumu> From left: County CEC Health Rosemary Obara,
Mulika Saratani Foundation founder Florence Kitsao
and Africa Cancer Foundation MD Dorothy Nyong'o
participate in the Mulika Saratani Cancer Awareness Walk
from the county headquarters in Kisumu yesterday.
Two public primary
schools in Kinango, Kwale
County, have been left
with the burden of increased pupil enrolment
and strained resources,
which has in turn affected
the quality of education.
Mbandi and Mwangani Primary Schools are
grappling with lack of adequate infrastructure and
shortage of permanent
classrooms.
A recent visit to the
school by the Nation revealed the schools are in
pathetic condition. Some
of the pupils sit on the
floor and place books on
their laps when they are
writing because they have
no desks.
The situation at Mbandi
Primary School is worse.
With more than 400
pupils, the school has
only two permanent
classrooms and some
mud-walled ones.
The dilapidated infrastructure has made it
difficult for the pupils to
concentrate in class as
Kwale Deputy Governor
Fatuma Achani
their attention is easily
disrupted by the happenings outside.
The head teacher Mr
Kyengo Musili said his
school is in dire need of infrastructure improvement
to enable pupils to learn in
a good environment.
"Our pupils learn in
mud-walled classrooms
and they do not have
enough desks," he said,
adding that the school is
congested and also needs
more classrooms.
Last week, Kwale Deputy Governor Fatuma
Achani led the ground
breaking ceremony at the
school for the construction of two classrooms
sponsored by Children
of Africa.
Mr Musili thanked
well-wishers and NGOs
who have partnered with
the school to ensure
learning conditions are
improved.
The state of Mwangani Primary School is
also wanting. The head
teacher, Mr Albert Kussa,
said the school has only
three permanent classrooms while the rest are
mud-walled and usually
suffer damage when it
rains.
He said although the
construction of two classrooms through the CDF is
ongoing, more are needed.
"We have only three
permanent classes since
its inception in 2011," he
said of the school that has
a total of 239 pupils.
Mr Kussa urged the
government to ensure
enough resources are
allocated to build better
DAILY NATION | Tuesday, October 2, 2018
World News | 23
WORLD
GBAGBO SEEKS FREEDOM AT ICC
Former Cote d'Ivoire president Laurent Gbagbo
asks the International Criminal Court to acquit him
of crimes against humanity and free him after seven
years in detention. PAGE 24
Pick > Party is expected to endorse president this weekend as opposition also decides
Buhari promises 'credible polls' as
Nigeria marks independence day
President
says social
media
being
misused
to provoke
passions
BY MOHAMMED MOMOH
NATION Correspondent
and Agencies
ABUJA, Monday
P
resident Muhammadu Buhari
today expressed commitment to a credible General
Election in Nigeria next year.
Addressing the nation in a live
broadcast from Abuja, to mark
Nigeria's 58th independence anniversary, he said the Independent
National Electoral Commission
(INEC), would be "exactly independent" and properly staffed and
resourced.
"I have committed myself many
times to ensure that elections are
fully participatory, free and fair
and that the Independent National
Electoral Commission will be
exactly independent and properly
staffed and resourced," said President Buhari.
He frowned at the way the social media was being misused to
provoke passions, describing it as
an abuse of the new technologies.
"As with other countries, we learn
how to manage those tendencies
that, instead, look to abuse new
technologies to provoke passions
and stir tensions," he said.
"Never before have we faced such
a challenge. We must all rise to the
Background
OUT TO ERASE
'LAZY' REMARK
In what could be seen as an
attempt to mend fences after
describing young Nigerians
as "lazy" earlier this year,
President Buhari said young
people "play a central role" in
the country from technology
to the arts.
More than half of Nigeria's
over 180 million people are
under 24. February's elections
will be the first involving
young people who have never
lived under military rule.
responsibility of shutting out those
disruptive and corrosive forces
that hide in today's world of social
media. We need critical minds and
independent thinking, to question
and question until we are satisfied
we have the facts."
President Buhari also pledged
that his administration would continue addressing "the challenges
of our times'', including conflicts,
terrorism, trans-border crime and
climate change.
On Nigerian youths, the president noted that they had been
at the vanguard of the struggle
for independence, saying that
they fought in the war to keep the
country united.
He added that the youth were the
ones who kept alive the struggle for
democracy and human rights at
times when they were at a risk, especially following the June 12, 1993
election and the historic 2015 poll.
President Buhari said Nigeria
would continue to remain a responsible and respected member of the
international community.
He maintained that Nigeria
would continue to play "active
positive roles within ECOWAS,
the African Union and the United
Nations as well as all other regional
and international organisations
and institutions of which we are
members''.
However, the president vowed
that the perpetrators of murder
and general mayhem in the name
of defending or protecting herders
or farmers would face the full wrath
of the law. "We will sustain and continue to support the commendable
efforts by all including civil society
organisations, local and state governments and our traditional and
religious leaders in finding durable
solution to this problem.
"This being a 'transhumance'
issue, we are working with countries in our region that are also
facing similar difficulties to complement our common efforts.
"In this context, I must warn
that the perpetrators of murder
and general mayhem in the name
A 48-hour curfew imposed on the
English-speaking regions of Cameroon
entered second day today, as separatists
marked the first anniversary of a symbolic declaration of the independence of
the Republic of Ambazonia.
Authorities announced a temporary
curb on travel and public meetings
across the Northwest on Sunday, adding
to a dusk-to-dawn curfew that has been
effective in the region. "Movement of
people within the Northwest is hereby
prohibited for a period of 48 hours from
Sunday, September 30 until Monday,
October 1," Northwest governor, Adolphe
Lele Lafrique said in a statement.
"During this period, public gatherings
and assembly of more than four persons
shall be strictly forbidden … any person
or persons who violate this order shall be
prosecuted in conformity with the laws
and regulations in force," the governor's
statement stated.
ACCRA
Akufo-Addo home
after near accident
Ghanaian President Nana
Addo Dankwa Akufo-Addo
returned home Sunday after
a near-fatal air accident in
Washington D.C., United States
late Saturday, local media has
reported. Minister of Information
designate Kojo Oppong Nkrumah
who addressed the media soon
after the president's arrival,
confirmed that one of the
engines of Ghana's presidential
jet carrying the president and
his entourage who had attended
the UN General Assembly went
off about 20 minutes after takeoff in Washington D.C., reports
indicated. (Xinhua)
HARARE
Zimbabwe joins fight
against card cloning
The Bankers Association of
Zimbabwe (BAZ) on Monday
said it has joined hands with
the Reserve Bank of Zimbabwe
to protect the banking public
from rampant card-cloning.
More than 150 cases of cardcloning were reported between
January and June this year, with
the police warning businesses
and private individuals to be
wary when conducting point of
sale transactions. Card-cloning
involves the production of
counterfeit cards by criminals
after fraudulently acquiring
debit or credit card information
contained in the magnetic strip of
cards. (Xinhua)
KAMPALA
PHOTO/AFP
A Nigerian Air Force officer is being consoled by his colleague during the
burial of two colleagues killed in a fighter jet crash in Abuja in a rehearsal
for the nation's independence day anniversary, marked yesterday.
of defending or protecting herders
or farmers will face the full wrath
of the law,'' he said.
The 75-year-old former military
ruler is currently the only candidate in the running to secure the
presidential ticket of his ruling
All Progressives Congress (APC)
party. The APC national convention
is expected to endorse him this
weekend at the same time as the
main opposition Peoples Democratic Party picks its challenger.
But with candidates and parties
jockeying for position at party primaries, the head of state's message
takes on added significance.
Mr Buhari came to power in
2015 on a pledge to defeat Boko
Haram insurgents, take tougher
action on corruption and improve
the economy.
Lockdown order on Cameroon's anglophone region
BY NDI EUGENE NDI
NATION Correspondent
YAOUNDÉ, Monday
BRIEFLY
Similar measures have been taken by
the administration of the Southwest, the
other troubled region.
Not even church services were allowed
on Sunday.
Observers say the measures were
intended to frustrate any attempts to
commemorate the first anniversary
of the 'independence' of the Republic
of Ambazonia. Anglophone separatist
groups declared the independence of
the Republic of Ambazonia on October
1, 2017 when protesters gathered across
the two English-speaking regions to
mark the symbolic declaration of the
self-styled state and were confronted
by police firing tear gas canisters and
live ammunition.
Formerly administered as part of Nigeria as a UN trust territory under British
control, Southern Cameroon was incorporated into francophone Cameroon in
1961. At the beginning of the crisis in
2016, most English speaking activists
demanded a return to the federal system
of government.
Museveni claims major
terror cell destroyed
Ugandan President Yoweri
Museveni on Monday said
security agencies have busted
a suspected terror cell in the
capital Kampala, killing one
suspect. In a statement on his
Twitter handle, Mr Museveni
said Chieftaincy of Military
Intelligence squads arrested a
number of suspects on Friday
night. He said one of the
suspects, Kateregga Abdu, was
shot and later died of his injuries
in the operation. (Xinhua)
KINSHASA
Kabila torches ivory
stockpile, frees parrots
Democratic Republic of
Congo President Joseph Kabila
on Sunday set light to an ivory
stockpile to highlight the problem
of poaching in the central African
country. The president also
released five grey parrots and set
light to a stockpile of pangolin
scales in a ceremony at the Nsele
Nature Park on the outskirts
of Kinshasa. "We wanted to
discourage criminals," said
Cosma Wilungula, director of the
Institute for Nature. (AFP)
24 | International News
Tuesday, October 2, 2018 | DAILY NATION
Innocent > He simply defended his country, says one Ivorian from Paris
Namibia to
expropriate
land with
payment
Gbagbo demands freedom as he
launches appeal at Hague court
WINDHOEK, Monday
Namibian President Hage Geingob
today called for the expropriation of land
with just compensation, admitting that
the willing-buyer willing-seller concept
adopted since independence in 1990 is
failing to achieve the required results.
"The willing buyer willing seller
concept has failed to attain the required
results, with those with the land inflating the prices, making it difficult for
Government to acquire land because
of exorbitant prices," Mr Geingob said.
"We need to move toward an era where
we acquire land with just compensation."
Namibia has been following a willing-buyer willing-seller corrective model
that encourages the largely white commercial farmers who hold about 70 per
cent of the country's land to sell to the
government for redistribution among
the landless black population.
"The land issue affects all of us. We
are first and foremost Namibians and
this country belongs to all of us. We
acknowledge the need to fast track the
distribution of land to all Namibians.
Mr Geingob was delivering a keynote
address at the country's second land
conference.
The conference is attended by all
stakeholders, including civil society,
government, traditional leaders and lobby
groups, to map a way forward toward land
redistribution in the Southern African
Development Community. (Xinhua)
State has
opposed
his bid for
dismissal
of case
'before
the trial is
completed'
THE HAGUE, Monday
F
ormer Cote d'Ivoire president Laurent Gbagbo today
asked the International
Criminal Court to acquit him of
crimes against humanity and free
him after seven years in detention.
On trial since 2016, Gbagbo
is the first-ever head of state to
be handed over to The Haguebased ICC.
He faces four counts of crimes
against humanity for his role in
fomenting a wave of post-electoral
violence eight years ago in the west
African nation.
After more than two years on
trial, Gbagbo's lawyers believe
the prosecution failed to prove
the charges and are demanding a
"full dismissal, an acquittal on all
charges" and Gbagbo's immediate
release. "We are confident that
president Laurent Gbagbo will
be acquitted, released and will be
able to return to his country," said
Justin Koua, the youth chairman
of a coalition of political parties
including Gbagbo's own Ivorian
Popular Front (FPI) as well as
civil society groups.
" M r G b a g b o i s s u f f e ring an injustice," he told AFP.
Defence lawyers want the same
for Gbagbo's right-hand man
Charles Ble Goude, 46, leader of
the "Young Patriots" group which
PHOTO | AFP
Laurent Gbagbo and his wife Simone are pictured after he was formally sworn-in as Ivorian president during
a ceremony in Abidjan despite international rejection of his disputed re-election victory leading to clashes
that killed over 3,000 people in this December 04, 2010 photo.
allegedly murdered and raped
hundreds of people in order to
keep Gbagbo in charge.
Judges joined the two men's
cases before trial started and both
pleaded not guilty. Prosecutors,
however, argued in court that the
judges should reject the attempt
to throw out the case.
Mr Eric MacDonald said that
evidence of the crimes committed
against supporters of Gbagbo's
rival Alassane Ouattara were
never investigated or followed up
"including in very serious cases involving murder. Nobody was ever
US, Japan duo win Nobel Medicine Prize
STOCKHOLM, Monday
Two immunologists, James
Allison of the US and Tasuku
Honjo of Japan, won the 2018
Nobel Medicine Prize for research
into how the body's natural defences can fight cancer, the jury
said on today.
Unlike more traditional forms
of cancer treatment that directly
target cancer cells — often with
severe side-effects — Allison and
Honjo figured out how to help the
patient's own immune system
tackle the cancer more quickly.
The pioneering discoveries led
to treatments targeting proteins
made by some immune system
cells that act as a "brake" on the
body's natural defences killing
cancer cells.
The Nobel Assembly in Stockholm said the therapy "has now
revolutionised cancer treatment
and has fundamentally changed
the way we view how cancer can
be managed".
In 1995, Allison was one of two
scientists to identify the CTLA-4
molecule as an inhibitory receptor
on T-cells, a type of white blood
cell that play a central role in
the body's natural immunity to
disease.
The 70-year-old, whose mother
died of cancer when he was 10,
"realised the potential of releasing
the brake and thereby unleashing our immune cells to attack
tumours," the Nobel jury said.
Around the same time, Honjo
discovered a protein on immune
cells, the ligand PD-1, and eventually realised that it also worked
PHOTO | AFP
Dr James Allison, flanked by his wife Padnamee Sharma holds a press
conference in New York yesterday after winning the Nobel Prize in
physiology or medicine along with Kyoto University's Tasuku Honjo.
as a brake but in a different way.
On the website of his University
of Texas MD Anderson Cancer
Center, Allison said he was "honoured and humbled to receive this
prestigious recognition".
"I never dreamed my
research would take the direction it has," he said.
"It's a great, emotional privilege
to meet cancer patients who've
been successfully treated with
immune checkpoint blockade.
They are living proof of the power
of basic science, of following our
urge to learn and to understand
how things work."
Dr Honjo, 76, meanwhile vowed
to push ahead with his work.
"I want to continue my research …
so that this immune therapy will
save more cancer patients than
ever," he told reporters at the University of Kyoto where he is based.
Scientists have attempted to
engage the immune system in
the fight against cancer for more
than 100 years, but until the
seminal discoveries by the two
laureates, progress into clinical
development was modest.
Antibodies against PD-1 have
been approved by the US Food and
Drug Administration as an investigational new drug and developed
for the treatment of cancer.
Former US President Jimmy
Carter, 94, a 2002 Nobel Peace
Prize laureate, survived melanoma, a severe stage of skin
cancer which spread to his brain,
after undergoing a form of immunotherapy, among others.
Research by Allison's team has
meanwhile led to the development of a monoclonal antibody
drug, which was approved by
the US Food and Drug Administration (FDA) in 2011 for the
treatment of melanoma. It is
known commercially as Yervoy.
"I'd like to just give a shout
out to all the patients out there
to let them know we are making
progress now," Allison told a
news conference in New York.
Allison and Honjo have previously
shared the 2014 Tang Prize,
touted as Asia's version of the
Nobels, for their research.
Other cancer treatments have
previously been awarded Nobel
Prizes, including methods for
hormone treatment for prostate
cancer in 1966, chemotherapy
in 1988 and bone marrow transplantation for leukaemia in 1990.
The Nobel Assembly said advanced cancer — the second
biggest killer worldwide — remains immensely difficult to treat
(AFP)
punished." Around 200 supporters
wearing "free Gbagbo" T-shirts,
some of them waving Ivory Coast
flags, rallied outside the court
on Monday before the hearing
"We demand that our president is
freed. Mr Gbagbo simply defended
his country," said Jules Okou, a
58-year-old Ivorian from Paris.
On Monday, the court's proceedings were being televised on
a giant screen in an Abidjan neighbourhood stronghold of Gbagbo
and Ble Goude. Several opposition
figures are expected to attend the
event billed as the "last steps before
an acquittal" for the two leaders.
But the Ivorian state has blasted
the move.
Unrest wracked Cote d'Ivoire
for five months from December 2010 until early 2011, after
Gbagbo refused to accept his
internationally-recognised defeat
by bitter rival Alassane Ouattara.
The crisis — which saw both sides
level allegations of gross abuses
— paralysed the world's largest
cocoa producer and west African
powerhouse for several months.
About 3,000 people died when
rival supporters clashed. (AFP)
Quake-battered
Indonesia can now
accept foreign aid
JAKARTA, Monday
Indonesia's president formally invited foreign donors
to contribute to rescue and
recovery efforts on the quakeand-tsunami-struck island of
Sulawesi Monday, but his government was at pains to stress
the situation was under control.
"The President has decided
to accept aid from abroad," said
army general-turned-minister
Wiranto — who like many Indonesians goes by one name.
Giving a less than fullthroated welcome to offers
of help — even as the United
Nations warned that 191,000
people were in urgent need —
Wiranto explained president
Joko Widodo's acceptance in
almost apologetic terms.
"There are a lot of offers from
other countries to help the
disaster in Palu, of course, we
appreciate the requests," said
Wiranto, citing the need to keep
up good bilateral relations with
many countries.
"Another consideration is,
Indonesia has also often contributed and given aid," he said.
"Helping each other is an
international tradition which
we n e e d to a p p re c i a te. "
Around 18 countries and scores
of non-governmental aid groups
PHOTO/AFP
People queue for gasoline
in Palu, Indonesia's Central
Sulawesi yesterday after an
earthquake and tsunami.
have offered to help in the four
days since the quake and tsunami that killed hundreds, but
until now have not been able to.
Many in the humanitarian
sector have privately expressed
frustration about sitting on
the sidelines as residents of
Sulawesi turn to looting for
water, food or petrol and many
trapped in the rubble cannot
be freed for lack of heavy machinery. Since the quake and
tsunami on Friday the Indonesian military has taken a lead
role, flying in some aid. (AFP)
International News | 25
DAILY NATION | Tuesday, October 2, 2018
Kanye West is
now 'Ye', but
unchanged on
backing Trump
NEW YORK, MONDAY
Kanye West has decided that he now
wants to be called Ye. But on political
matters, nothing has changed for the
pro-Donald Trump rapper.
"The being formally (sic) known as
Kanye West. I am Ye," he wrote on Twitter.
Ye has long been a nickname for West,
along with Yeezy, and he chose "Ye" as
the title of his last album.
He has previously said that he found a
spiritual significance to "Ye" — the plural
or formal version of the second-person
pronoun in Middle English — as he so
frequently read it in the Bible.
West — or, rather, Ye — announced the
name change shortly before he appeared
on "Saturday Night Live."
He performed with fellow rapper Lil
Pump dressed as water bottles, drawing
an overwhelmingly negative reaction on
social media where a number of professed
fans questioned his creative direction.
West closed the show by singing a track
off "Ye" while wearing one of President
Donald Trump's signature red "Make
America Great Again" caps.
After the live show ended, West
stayed on the microphone and gave an
impromptu speech about politics, again
voicing his support for the president.
"So many times I talk to a white person
about this and they say, 'How could you
like Trump? He's racist,'" West said.
"Well, if I was concerned about racism, I
would have moved out of America a long
time ago." (AFP)
Attack > 'It was probably meant to send a message to Russians living elsewhere'
UK blames Russia military over spy poison
Premier says
if suspects
travel
outside of
Russia, the
UK would
act to
have them
arrested
LONDON, Monday
B
ritish Prime Minister Theresa May has claimed that
the two men suspected of
carrying out the poisoning attack
in Salisbury were officers of the
Russian military intelligence
agency GRU, citing classified
intelligence.
Speaking to Parliamen, Ms May
reiterated her previous accusation
that the Russian government was
involved in the Skripal poisoning
case. "We were right to say in
March that the Russian state is
responsible," she said.
While British police investigators said earlier they had no
evidence linking the Russian
government with the suspects,
Ms May insisted that British
intelligence services provided
evidence, which identifies them
as officers of Russian military
intelligence, the GRU. She said
she would update party leaders on
why her government came to that
conclusion behind closed doors.
Ms May said that such an operation would require authorisation,
at a high level, from the Russian
government.
When asked what possible
motive the Kremlin may have had
in ordering the attack, Ms May
suggested that it was probably
meant to send "a message to
those Russians who were living
elsewhere who had been involved
in matters relating to the Russian
state." She said that it was up to
We were right to
say in March that
the Russian state is
responsible''
Ms Theresa May
PHOTO/AFP
Britain's Prime Minister Theresa May (right) on the second day of the
Conservative Party Conference 2018 at the International Convention
Centre in Birmingham, yesterday.
Russia to explain itself.
Ms May stated that if the two
individuals ever travel outside of
Russia, the UK would act to have
them arrested and extradited to
be tried on British soil.
She reiterated that her government will continue putting
pressure on Russia, exposing what
she called a "pattern of malign
activity", with particular focus on
the GRU. Sergei Skripal, a former
double agent living in the UK after
a spy exchange with Russia, and
his daughter fell ill in March in
Salisbury.
The British government accused Moscow of carrying out
the attack on them, claiming the
poison used was Novichok — developed in the Soviet Union.
The UK's PM argued that only
the Russian government had the
means and the motive to try to
kill the Skripals.
Meanwhile, a Russian citizen
arrested in Norway on suspicion
of spying during a seminar in
parliament rejects the claim and
says it is a "misunderstanding",
his lawyer told AFP.
Norway's intelligence service
PST said it had arrested a 51-yearold Russian suspected of "illegal
intelligence activity".
The man, who has not been
named, was ordered held in
custody for two weeks, the day
after his arrest at Oslo airport.
''He says he doesn't understand
why he's being accused of this and
believes it is a misunderstanding,''
his lawyer said. (AFP, Agencies)
NATIONAL GOVERNMENTCONSTITUENCIES DEVELOPMENT FUND
MOSOP CONSTITUENCY
P.O. BOXES 4600-30100 ELDORET.
NG-CDF OFFICE NEXT TO COUNTY COMMISSIONERS OFFICE KABIYET
Mobile: 0721817241,
Email: [email protected]
website: www.cdf.go.ke
A. TENDER INVITATION NOTICE
MOSOP NG- CONSTITUENCY DEVELOPMENT FUND STRATEGIC PLAN (2018-2022)
Professional
Wellness
SERVICES
MOSOP NG-CDF committee intends to develop a 5 year strategic plan as a framework within which integrated Constituency Development
can be focused, implemented as well as monitored and evaluated to facilitate a participatory and inclusive development. Therefore the
NG-CFC# [email protected]>/=-98=?6>[email protected]?+6=9<F<[email protected]/>2/</;?3=3>//B:/<>3=/>9+::[email protected]/>2/09669A381P
1.
3837?790:9=>1<+.?+>/;?+63F-+>398=38+8C90>2/09669A381F/6.=O=><+>/13-7+8+1/7/8>N#>+>3=>3-=N/-98973-=N <94/->7+8+1/7/8>N7983>9<381+8./@+6?+>3989<+8C9>2/<</6/@+8>F/6.38.3-+>/.98>2/:<9:9=+6M
2.
@/<[email protected]/C/+<=c/B:/<3/8-/38</=/+<-2+8.=><+>/13-:6+88381M
3.
Extensive knowledge and workings on NG-CDF operations
4.
Proof of previous work experience especially on constituency strategic plans
5.
High organizational and facilitation skills and ability to handle complex tasks with tight deadlines.
6.
Have an excellent command of English and Kiswahili both spoken and written
7.
&+63.-9:3/=90">+B-97:63+8-/+8.-/<>3F-+>/90,?=38/==</13=><+>398
8>/</=>/. [email protected]?+6 -98=?6>+8>V=WmF<7= =29?6. -966/-> >2/ >/8./< :<9:9=+6 .9-?7/8> 0<97 \ MOSOP 9I-/ ?:98 :+C381 90
non-refundable fee of ksh 1,000>9>2/9=9:#?,\-9?8>C--9?8>+8>M?66CF66/.>/-283-+6NF8+8-3+6:<9:9=+6=+8.</0/</8-/=m&=
.9-?7/8>==29?6.,/./:9=3>/.38+>/8./<,9B+>9I-/989<,/09</17/10/2018 10.00am+8.9:/8/.377/.3+>/6C>2/</+L/<38
the presence of respondents or their representatives who choose to attend at N-GCDF boardroom.
B. REGISTRATION OF SUPPLIERS, CONTRACTORS, SERVICE PROVIDERS AND CONSULTANT FOR FINANCIAL YEAR
2018/2019 &2019/2020
S/NO
1
2
3
4
5
6
7
8
9
10
11
12
13.
14.
15.
</;?+63F-+>3989M
MOSOP/NG-CDF/ 01/2018-2019
MOSOP /NG-CDF /02/2018-2019
MOSOP /NG-CDF/ 03/2018-2019
MOSOP/NG-CDF/ 04/2018-2019
MOSOP /NG-CDF/05/2018-2019
MOSOP /NG-CDF/06/2018-2019
MOSOP /NG-CDF/07/2018-2019
MOSOP /NG-CDF/08/2018-2019
MOSOP /NG-CDF/09/2018-2019
MOSOP /NG-CDF/10/2018-2019
MOSOP /NG-CDF/11/2018-2019
MOSOP /NG-CDF/12/2018-2019
MOSOP /NG-CDF/13/2018-2019
MOSOP /NG-CDF/14/2018-2019
MOSOP /NG-CDF/15/2018-2019
Description
#?::6C90</F8/.0?/6+8.?,<3-+8>=
#?::6C+8../[email protected]/<C901/8/<+69I-/=>+>398+<C
Supply and maintenance of computers and accessories
Repair and maintenance of motor vehicles
Supply and delivery of furniture and Equipment
Supply and delivery of Sports items
Supply and delivery of newspapers and magazines
provision of consultancy and training services
Supply and delivery of hardware and building materials
Supply and delivery of tree seedlings
provision of internet services, networking and development of website
Supply and delivery Gas piping , electrical installation and mechanical services
Supply and installation of CCTV cameras
Supply and delivery of ordinary desks, Lockers, tables and chairs for schools
Provision of contraction services for buildings and related works(contractors)
Eligibility
Open
YPWD
YPWD
Open
Open
Youth/women
Open
Open
Open
Youth/women
Open
Open
Open
Open
Open
8>/</=>/.+8./6313,6/,3../<=7+C9,>+38 </;?+63F-+>398m"/13=><+>398.9-?7/8>=+>\9I-/.?<381>2/89<7+6A9<538129?<=
(Monday – Friday 8.00 am to 5:00pm).
The Business Daily newspaper is working on a special journal on Professional
Wellness Centres, to share up-to-date information with readers who need expert
wellness services.
Complete documents should be submitted in a clear marked envelop to the following address or hand delivered and dropped in the tender
,9B+>\9I-/989<,/09</10.00am on 17/10/2018+8.9:/8/.377/.3+>/6C>2/</+L/<38>2/:</=/8-/=90</=:98./8>=9<>2/3<
representatives who choose to attend at the NG-CDF Mosop board room.
,I\RXDUHDTXDOLÀHGSURYLGHURIZHOOQHVVVHUYLFHVUDQJLQJIURP1XWULWLRQ)LWQHVV
Counselling, Health Checks and so on, this special journal provides you with a
relevant platform to inform our millions of readers across the country and in the
diaspora about your brand.
Applicants wishing to participate must attach the following documents
x
9:C90":38</13=><+>398-/<>3F-+>/M
x
9:C90-/<>3F-+>/90,?=38/==</13=><+>398m38-9<:9<+>398
x
9:C90&$</13=><+>398-/<>3F-+>/
x
9:C90">+B97:63+8-//<>3F-+>/
x
9:C90 -/<>3F-+>/09<)9?>2+::63-+8>=
x
Copy of registration with National Construction Authority(N.C.A) for contractors
x
C.V detailing on past assignments and experience
For more details on how to advertise,
kindly contact: Salim +254 720 626 896
[email protected]
The Fund Account Manager,
Mosop NG—CDF
P.O Box 4600-30100
Eldoret.
26
Tuesday, October 2, 2018 | DAILY NATION
DAILY NATION | Tuesday, October 2, 2018
27
DAILY NATION | Tuesday, October 2, 2018
Business News | 28
BUSINESS
INQUIRY
Ex-CJ wants inquiry into Kenya's Sh5
trillion debt PAGE 30
Toyota counts over Sh24m loss in Kampala fire
CHRISTINE KASEMIIRE
[email protected]
Toyota Uganda says an inferno that gutted its showroom in Kampala has cost the firm an equivalent of
more than Sh23.7 million loss.
The fire, which began at about 4pm on Sunday, damaged property including a Land Cruiser Prado estimated
to cost $90,000 (about Sh9 million), a Land Cruiser
Double Cabin pickup $70,000 at (about Sh7 million)
and a Toyota Fortuner at $65000,(about Sh6.6 million).
Three motorcycles, workstations and furniture, among
other items were destroyed in the blaze, whose cause
is yet to be determined. "A rough estimate because we
still have assessors evaluating the situation is about
USh800m to UShs900m," Toyota Uganda general
manager Pieter Ovebeek said during a press briefing
yesterday. He said the firm would only give exact figures
after a report from investigations is revealed.
While police and independent investigations into the
cause of the fire are still ongoing, Mr Ovebeek said a
quick analysis indicated that the cause of the fire could
have been an electrical short circuit. "The fire was
contained within the showroom by the gallant men
and women of the fire services department at about
5pm," he said. The firm said no employees were hurt in
the incident. The cars that were burnt will be scrapped
after an assessment of whether or not they could cause
harm to users if sold.
"We shall not just sell them. We have to first ensure
they are safe. While one is burnt out and written off,
the others might have minor damage and we are not
sure of what has affected them," he said.
Wrangle> County claims Sh30m
Sonko ends row
with Kenya Power
over Sh1bn bill
This is the second time in
less than 24 months that
City Hall and firm are
locked in pay dispute
JOHN MUTUA
JAMES NGUNJIRI
State-owned pension scheme
National Social Security Fund
(NSSF) has been directed to
reduce its expenses and increase
investment return to its members.
Labour and social protection
cabinet secretary Ukur Yatani
has said in seeking improved
efficiency, NSSF must
demonstrate reduced costs,
increased value-for-money for
members and improved quality
of services especially in the
settlement of claims.
Speaking at the weekend during
NSSF's board of trustees and
management strategy retreat
in Nanyuki, Mr Yatani said he
expect the fund to be creative and
innovative to save costs, increase
net contributions and reduce time
taken to settle members' claims.
"Investments should be well
diversified to ensure good returns
for members. In line with recent
government's directives, you will
further be required to ensure that
there is complete transparency in
procurement processes and in the
overall utilisation of resources by
the fund," said Mr Yatani.
The overall NSSF portfolio is
heavily invested in government
and quoted securities.
SALATON NJAU | NATION
[email protected]
Launch of taxpayers' month
C
ity Hall yesterday turned the tables
on Kenya Power in the stand-off
over Sh950 million unpaid electricity bills, arguing the utility owes it
Sh1.26 billion in unpaid rents in a row
that could plunge City Hall into darkness.
The city government led by Mike
Mbuvi Sonko is now claiming Sh374 million from Kenya Power after deducting an
initial electricity payment of Sh30 million
and asked the power firm's acting chief
executive Jared Othieno for a Thursday
meeting to settle the row.
The power distributor had on September 24 sent a demand letter to Nairobi
for the Sh950 million bill, which raised
fears the utility was preparing to disconnect City Hall.
"We also want to remind you that
NCCG had a claim against Kenya Power
on wayleave amounting to Sh748 million and sub-station rent amounting to
Sh68 million," City Hall said in a letter
to Kenya Power.
Nairobi added that Kenya Power
owes it a further Sh451 million for wayleaves — land hosting power lines and
transformers — which is to be settled
by the Treasury.
This is the second time in less than
24 months that City Hall and Kenya
Power are locked in a row over claims
and counter claims involving millions
of shillings in debt.
In 2016, Kenya Power disconnected
City Hall, forcing the utility to seek
court protection after Nairobi County
threatened to clamp and impound the
electricity distributor's vehicles over the
unpaid land rates.
City Hall also threatened to barricade
NSSF asked to
cut expenses,
raise payments
National Treasury Cabinet Secretary Henry Rotich (left)
and Kenya Revenue Authorities (KRA) CommissionerGeneral John Njiraini during the launch of the KRA
Taxpayers' Month at Times Towers in Nairobi yesterday.
Fairview targets
extra income
with coffee tours
BY IVY NYAYIEKA
NATION | DENNIS ONSONGO
The Nairobi Governor Mike Sonko Mbuvi.
Kenya Power premises with a truck of
garbage.
The latest debt row comes after Kenya
Power accused City Hall of breach a June
agreement in settling the Sh950 million
debt, adding the bill had grown to Sh1.13
billion as at last month.
Under the agreement, City Hall was
to pay upfront Sh15 million, followed
by an undisclosed amount in monthly
instalments.
Mr Othieno last week informed Energy Cabinet Secretary Charles Keter of
difficulties in reaching Governor Mike
Sonko over the bills row.
The bills disagreement is emerging
as Nairobi City County struggles to
meet revenue targets under Mr Sonko
whose government raised Sh8.8 billion
in the 10 months to June, compared to
Sh9.8 billion under his predecessor,
Evans Kidero.
Botswana's Choppies snaps
up Uchumi's Rongai space
DOREEN WAINAINAH
[email protected]
Botswana retailer Choppies is expanding to Ongata Rongai, taking
over the space previously occupied by
Uchumi Supermarkets Ltd.
Choppies will be joining Tuskys,
Tumaini, and Cleanshelf to capture
the populous Rongai area as part of
its Kenya expansion plan.
In its second half for 2017 results, the
retailer indicated that it would Sh237
million ($2.27 million) on new Kenyan
stores. Uchumi Supermarket's branch
in the town was shut down following a
Sh21 million default on rent.
Choppies also opened a new store in
South Field Mall in Embakasi, Nairobi
and plans to open another in Kiambu
Mall, on the outskirts of Nairobi, taking
up space that was previously meant
for Nakumatt. The retailer has also
put up coming-soon signs in Nanyuki
Town as it eyes the space that hosted
Nakumatt, before the latter was evicted
from Cedar Mall.
Choppies' move to replace Uchumi
replicates similar actions by Naivas,
Carrefour and Tuskys who have stepped
in to occupy spaces from which the
financially-strapped retail chains Nakumatt and Uchumi have been kicked out.
The spirited entry into Kenya by
multinational chain stores is stiffening
competition, pitting new players against
the local family-owned retailers.
The South Africa and Botswana-Choppies in March last year said
it would spend $2.5 million (about
Sh250 million) in refurbishing the eight
branches of Ukwala Supermarkets,
which it took over in December 2016.
It currently has 12 stores in Kenya.
One-time market leader Nakumatt,
now in administration, and cashstrapped Uchumi have shut several of
their branches in Nairobi.
The Fairview Coffee Estate
is investing in coffee tourism in
order to attract individual buyers
as well as potential partners
through tours of its farms in
Kiambu County.
The company reckons the
tours will diversify its sources
of revenue as well as demystify
the value chain for investors and
potential buyers.
So far, the company says it has
hosted 2,000 international and
domestic tourists over a period
of three years with 80 per cent of
the visitors being international.
"Coffee tourism is a new
business proposition which
we released about three years
ago and it is led by coffee tours
specialists. This last year we
had about 2,000 visitors but the
intention is to grow these to over
70,000", said Fairview Estate
Ltd Executive Director Michael
Warui at the launch of the Kahawa
Festival yesterday.
According to the Economic
Survey, Kenya produced 33,700
tonnes of coffee in 2017.
DAILY NATION | Tuesday, October 2, 2018
29
30 | Business News
Tuesday, October 2, 2018 | DAILY NATION
Funds Move will examine how money was used, he says
Ex-CJ wants inquiry
into Sh5trn debts
BY BRIAN NGUGI
[email protected]
F
ormer Chief Justice Willy
M u t u n ga s ays Ke nya
should set up an independent public inquiry into the
Sh5 trillion debt amassed since
independence, sparking opposition from the Treasury. Public
debt stood at Sh5.04 trillion in
June this year, up from Sh1.89
trillion in June 2013.
He was speaking in Nairobi
yesterday, when he was unveiled
as the Kenya Revenue Authority
(KRA) ambassador.
"We need a commission of public inquiry into public debt since
independence," said Dr Mutunga.
The inquiry would help to
examine how the debt had been
utilised by the State so far, boosting transparency in the use of
public resources.
In a swift rejoinder, however,
Treasury Cabinet Secretary
Henry Rotich dismissed the need
for an inquiry, saying records on
Kenya's public debt had been publicly available since independence.
Mr Rotich added the government had been transparent in
how it has used borrowed funds.
"All the public information is
Money matters
BORROWING ON
THE INCREASE
The ex-CJ spoke when
he was unveiled as the
Kenya Revenue Authority
ambassador in Nairobi.
In a rejoinder, Treasury CS
Henry Rotich dismissed the
need for an inquiry, saying
records on Kenya's public
debt are publicly available.
President Uhuru Kenyatta
is expected to accumulate
nearly Sh2.13 trillion more in
public debt by the time his
final five-year term ends in
August. 2022
available, the government has
been transparent," he said.
President Kenyatta is expected
to accumulate nearly Sh2.13
trillion more in public debt by
the time his second and final
five-term ends in August 2022,
Treasury projections signal increased pressure on taxpayers'
funds. According to the Treasury
projections in the Budget Review
and Outlook Paper, total debt will
jump to nearly Sh7.17 trillion in
the year ending June 2022.
Dr Mutunga said the issue of
public debt was an emotive one
for the already overburdened
taxpayers, adding that such an
inquiry would help clear the lingering questions on the prudent
use of public funds.
"The questions may never go
away if we don't address this,"
said Dr Mutunga.
Early this year, Auditor-General Edward Ouko renewed the
controversy surrounding the
Sh215.5 billion that Kenya borrowed via a Eurobond, saying its
receipt and spending were yet to
be ascertained.
The Jubilee administration has
ramped up spending since 2013
to build much-needed new roads,
a modern railway, bridges and
electricity plants. There has been
concern over the debt load, especially because its rate of increase
is ahead of the revenue growth.
The increased debt has seen
the country commit more than
half of tax revenue to repaying
loans, leaving little for building
roads, and affordable housing
and revamping the ailing health
sector in June 2013.
DIANA NGILA | NATION
Launch of investor week
Capital Markets Authority chief executive officer Paul Muthaura with CMA
chairman James Ndegwa (right) during the launch of the World Investor
Week 2018 in Nairobi yesterday.
Kenya meets key IMF conditions
BY GEOFFREY IRUNGU
[email protected]
Kenya's compliance with conditions from the International
Monetary Fund has improved
with the recent legal enactments,
even after a fallout.
The country met at least eight
of the conditions specified in the
March 2018 IMF staff report, but
was only partially in compliance
for several others, while information is lacking on the status of
some such as modernisation of
the monetary policy framework.
The conditions that have so
far been met include effecting
fiscal consolidation through
austerity implemented via a
supplementary budget, and
increase of tax revenues.
This included widening the
tax base by introducing new
measures to remove value added
tax exemptions and meeting
the fiscal deficit target for the
2017/18 fiscal year.
Parliament passed new tax
measures that are expected to reduce the deficit and cut reliance
on debt by raising more revenue
for the Exchequer. While it cut
VAT on fuel to eight per cent
instead of applying the standard
16 per cent, it introduced several
other measures that effectively
counteracted the effect of the
lower VAT on fuel. Analysts said
the Treasury was in a better
position to negotiate with the
IMF a new precautionary facility.
"We are of the view that the
austerity measures will give
the Treasury ammunition to
renegotiate a new precautionary
facility," said Genghis Capital, an
investment bank.
MURANG'A COUNTY GOVERNMENT
PUBLIC AUCTION
REQUEST FOR EXPRESSION OF INTEREST:
CONSULTANCY FOR THE DESIGN,
PREPARATION OF TENDER DOCUMENTS AND
SUPERVSION OF THE IMPLEMENTATION OF
THE SHIPLINC- ISCOS/CSLT/SVS/01/18-9
The Intergovernmental Standing Committee on Shipping (ISCOS) is
a regional body established in 1967 by the Governments of Kenya,
Tanzania, Uganda and Zambia to coordinate, promote and protect
their Shipping, Logistics and Maritime Interests of the region.
Given the international nature of Shipping, ISCOS' activities extend
throughout much of the region to include the States of Rwanda,
Burundi, South Sudan, Malawi and Mozambique. The Organization's
main objective is to serve the region and the international community
as one stop Center of Excellence for regional Maritime matters and
total logistics.
ISCOS Secretariat is inviting Qualified and Interested firms to express
their Interest for a consultancy involving the design, preparation of
tender documents and supervision of the implementation of the
SHIPLINC.
Detailed information and Terms of Reference can be found on our
website:
https://iscosafricashipping.org/index.php/opportunity2/#1531840457011-7499ca3b-38d8
OFFICE OF THE GOVERNOR
IFMIS TRAINING INVITATION TO
SUPPLIERS
The County Government of Murang'a in conjunction
with the National Treasury invites all its Suppliers
to a training on IFMIS e-procurement Module
including registration to suppliers portal scheduled
to take place on 10th October 2018 starting at 9.00
am.
The training will be conducted at the conference
hall at the County Headquarter building.
Ag Director, Supply Chain Management
For: County Secretary
Duly instructed by our principals, the Chargees, we shall sell by Public Auction the properties described herein- below together with all the developments and improvements erected thereon:1. ON FRIDAY 5" OCTOBER 2018 AT 11.30 AM AT OUR OFFICES SITUATED AT NACICO PLAZA 4" FLOOR
ROOM 411B ALONG LANDHIES ROAD NAIROBI.
All that freehold property known as LR NO. Ruiru/Ruiru East Block 2/7371 Kiambu County measuring 0.2Ha
or 0.4942 Acres approximately and registered i.n.o Empire Africa International Limited of P.O. Box
66326-00800 Nairobi. This property is situated within ?</<+</++,9?>57=9H$235+"9+.+8.8/+<
Full Gospel Church — Magomano and Grace Information Centre Church. Developed thereon is an incomplete
(65%) four bedroom double storey house (all ensuite) with family, study rooms, and semidetached garage. Entrance to the property is a double hinged steel plate gate, opening onto a short driveway laid in pre- cast concrete
,69-5=6/+.381>9>2/:+<5381,+CM$9>+6:638>2+</+3=+::<9B37+>/6C
N=;ML+38=/6/-><3-3>C+8.:3:/.A+>/<
can be easily obtained from the neighbourhood while foul drainage is to a septic tank. This is a very prime property,
which is currentiy vacant and ready for occupation.
2. ON FRIDAY 12TH OCTOBER 2018, AT 1.00 P.M. AT KISUMU TOWN, CENTRAL SQUARE ALONG OGINGA
ODINGA STREET.
All that freehold interest parcels of land known as:(a) LR. No. East Kisumu/Dago/515 measuring approximately 0.7 Ha (1.7297 Acres) and registered in the name
ofFRANCISCAN FAMILY ASSOCIATION OF KENYA of P.O. Box 2672 Kisumu.
(b) LR. No. East Kisumu/Dago/516 measuring approximately 0.6 Ha (1.4826 Acres) and registered in the
name of C.C.F.M.C. WOMEN'S PROJECT of P.O. Box 2672 Kisumu.
$2/=/>A9:<9:/<>3/=+</=3>?+>/.9H"$<9+.+,9?>7>=M9H+5+7/1+3=?7?>+<7+-<9+.A3>238+19
area Kisumu County. Developed thereon include a Conference Hall, Hostel block, Managers residence, Power
house, Ablution blocks and a Water supply unit comprising a borehole, surface and overhead water tanks. Tap
water is obtained from a borehole sunk at the Valley and pumped to overhead tanks using a generator, which
also provides electricity to the premises. Foul drainage is directed into septic tanks. NB: This is a very prime development designed as "Retreat Centre" situated outside Kisumu City which is ideal for an education institution
or a hotel.
CONDITIONS OF SALE
1. All prospective purchasers are hereby requested to view and verify for themselves all the necessary details pertaining to the above-named properties as the same is not warranted either by the Auctioneers or their principals.
2. A deposit of 25% per cent of the purchase price must be paid either by Bankers Cheque or RTGS only at the fall
of the hammer and balance directly to our principals within Ninety (90) Days for property No. 1 and Sixty (60)
Days for properties No. 2 a and b from the date of sale failure to which any money received including the Deposit
will be forfeited absolutely.
3. Prospective bidders are hereby requested to obtain a buying number prior to the date of sale by depositing with us a refundable deposit of Kshs. 500,000/= to enable them participate in the sale.
Note: There will be no bidding whatsoever without a Bidding number.
4. The sale is subject to a Reserve Price and other necessary consents.
M./>+36=2/</38=?-2+=/8-?7,<+8-/=N<+>/=/M>M-M-+8,/9,>+38/.0<979?<9I-/=A236/:938>3819?>-+8,/.98/
.?<38189<7+69I-/29?<=M
DAILY NATION | Tuesday, October 2, 2018
Business News | 31
Deal > New agreement replaces the North America Free Trade Agreement
US-Canada deal boosts global markets
The two
countries
signed a
new trade
agreement
on Sunday
LONDON, Monday
A man walks past
an electronics stock
indicator in Tokyo
yesterday. Japanese
shares powered to
a new 27-year high
after the US and
Canada clinched a
long-awaited trade
deal.
W
orld stock markets rose
yesterday on news of a
historic trade deal between Canada and the United
States.
The United States-Mexico-Canada Agreement (USMCA), agreed
on Sunday, replaces the North
American Free Trade Agreement
(Nafta) — which American President Donald Trump had threatened
to cancel.
"Late last night … we reached
a wonderful new trade deal with
Canada, to be added into the deal
already reached with Mexico,"
President Trump tweeted.
"It is a great deal for all three
countries, solves the many deficiencies and mistakes in Nafta,
greatly opens markets to our
farmers and manufacturers, reduces trade barriers to the US
and will bring all three great
nations closer together in competition with the rest of the world.
"The USMCA is a historic transaction!" he added.
Frankfurt , London and
Paris stocks advanced in reaction to the announcement.
The Canadian dollar leapt to a
four-month pinnacle against the
greenback at 1100 GMT, with the
loonie at 1.2787 to one US dollar
— a level last seen in May.
"There's been a bright start
to the week for equities," said
PHOTO | AFP
Late last night … we
reached a wonderful
new trade deal with
Canada, to be added
into the deal already
reached with Mexico,"
. Trump, US President
XTB analyst David Cheetham.
"The main catalyst for these gains
is the agreement reached late last
night. The Canadian dollar has reacted positively to the news hitting
a four-month high against the buck."
The news also helped send Tokyo
stocks to a 27-year peak, but shares
struggled elsewhere in Asian holiday trade.
Tokyo's leading Nikkei index
closed at 24,245.76 — the highest
since November 1991 — as traders
shrugged off disappointing business
confidence data and a weekend typhoon that hit the country.
Japanese equities also won support from the weaker yen against
the US dollar.
Analysts warned, however, that
traders could be looking to take
some cash off the table following
recent healthy gains.
However, markets in Hong Kong
and China were shut for holidays.
Separately, the pound rose versus
the dollar as British Prime Minister
Theresa May gathered her ruling
Conservative Party in the central
city of Birmingham, facing an open
revolt by former colleague Boris
Johnson over her plans for Brexit.
The British Finance minister, Mr
Philip Hammond, yesterday blasted
former Foreign Secretary Johnson in
a fresh outbreak of infighting in the
ruling Conservative camp. (AFP)
Struggling GE
sacks boss,
warns about
2018 earnings
LONDON, Monday
Embattled US engineering giant
General Electric on yesterday removed its CEO and warned it would
fall short of its 2018 earnings guidance as the conglomerate's cash flow
struggles continue.
The ouster of Mr John Flannery, a 30-year GE veteran, comes
barely a year after he took over in
a bid to rescue the company, long
a pillar of American industry that
has seen its shares tailspin 35 per
cent since the start of the year.
The company was stricken from the
prestigious Dow Jones Industrial
Average in June.
Mr H. Lawrence Culp, named to
the board in April, will replace Mr
Flannery immediately, the firm said
in a statement, following a unanimous decision.
The company said because of weaker performance
in the GE Power business, the
company would fall short of previous profit guidance for this year.
GE will also book a $23 billion noncash charge related to its power
business.
Executives are due to brief investors on the charge when GE reports
third quarter results later this month.
The once mighty conglomerate,
long a standard-bearer of US industrial pre-eminence, is still working to
right the ship following the global
financial crisis of a decade ago. (AFP)
32 | Stocks
Tuesday, October 2, 2018 | DAILY NATION
Investment Services
NAIROBI SECURITIES EXCHANGE
Last 12 Mths
High Low
Security
Prices
Yesterday
25.00
Previous
Eaagads Ord 1.25
Kakuzi Plc Ord. 5.00
Kapchoruar Tea Kenya Plc Ord 5.00
The Limuru Tea Co. Ord 20.00
Sasini Ltd Ord 1.00
Williamson Tea Kenya 5.00
20.00
88.00
550.00
20.75
144.00
19.75
320.00
86.00
540.00
20.00
140.00
200
100
200
2,400
300
Automobiles & Accessories
29.00
16.00
UNIT TRUSTS
Nairobi Securities Exchange. Ord 4.00
14.00
13.60
80.00
581.00
10.75
191.00
3.40
80.00
580.00
11.00
185.00
3.25
14.00
0.55
41.00
20,600
Manufacturing & Allied
Agricultural
28.00 17.50
390.00 304.00
97.00 65.00
600.00 500.00
32.00 20.00
199.00 138.00
12.75
Shares
Car & General (K) Ord 5.00
110.00 74.50 B. O. C Kenya Ord 5.00
920.00 565.00 British American Tobacco Kenya Ord 10.00
14.40 10.05
Carbacid Investments Ord 1.00
272.00 192.00 East African Breweries Ord 2.00
6.00
3.15
Flame Tree Group Holdings Ord. 0.825
97.00 14.00 Kenya Orchards Ord 5.00
1.40
0.50 Mumias Sugar Co. Ord 2.00
60.00 27.00 Unga Group Ord 5.00
18.50
0.60
37.00
100
100
5,000
1,900
1,200
143,000
1,400
Telecommunication & Technology
Banking
13.50
7.80
220.00 120.00
57.00 31.00
13.40
6.05
130.00 74.50
55.00 23.00
12.25
5.00
44.50 20.50
105.00 81.00
243.00 165.00
20.00 11.30
Barclays Bank Ord 0.50
Diamond Trust Bank Ord 4.00
Equity Group Holdings Ord 0.50
HF Group Plc Ord 5.00
I & M Holdings Ltd Ord 1.00
KCB Group Ord 1.00
NBK Ord 5.00
NIC Bank Ord 5.00
Stanbic Holdings Ord. 5.00
StandardChartered Ord 5.00
The Co-op Bank of Kenya Ord 1.00
10.65
170.00
39.75
6.05
95.00
40.50
5.95
25.00
193.00
15.25
10.60
174.00
40.00
5.80
99.00
40.00
5.80
24.50
90.00
191.00
15.15
102,600
89,600
813,700
2,400
3.100
31,900
4,400
18,100
2,100
17,900
Commercial & Services
1.30
5.10
4.65
5.40
18.50
6.25
8.40
125.00
3.30
39.50
38.00
5.00
25.50
1.00 Atlas African Indistries
0. 45 Deacons (East Africa) Ord 2.50
0.90 Eveready EA Ord 1.00
2.45
Express Kenya Ord 5.00
2.10
Kenya Airways Ord 1.00
3.90 Longhorn Publishers Ord 1.00
1.35
Nairobi Business Ventures Ord 1.00
69.00
Nation Media Group Plc Ord. 2.50
2.10
Sameer Africa Ord. 5.00
17.15
Standard Group Ord 5.00
18.05 TPS Eastern Africa Ord 1.00
0.90 Uchumi Supermarket Ord 5.00
14.05 WPP ScanGroup PLC Ord. 1.00
0.45
1.10
10.70
4.95
69.50
2.25
15.70
ARM Cement Ord 1.00
BamburiCement Ord 5.00
Crown Paints Kenya Ord 5.00
E. A. Cables Ord 0.50
E.A. Portland Cement Ord 5.00
84.00
2.85
BANK RATES
ABC
Barclays
Co-op
1.05
0.45
1.00
4.25
10.00
4.95
1.60
69.00
2.25
28.00
25.00
0.90
15.70
106,800
2,400
31,600
7,700
Equity
NBK
KCB
3,800
300
CBA
Stanbic
200
Construction & Allied
23.50
2.40
200.00 140.00
85.00 42.00
7.20
2.85
35.00 17.50
33.50 18.70
Safaricom Ltd Ord. 0.05
24.00
24.50
2,902,300
13.00
.9.20 Stanlib Fahari I- Ord. 20 (Real Estate I. Trust) 10.25
10.20
700
1268.00 1246.00 Barclays New Gold ETF (Exchange Trd Funds) 1160i
1175.00
NSE ALL SHARE INDEX (NASI)-01st Jan 2008= 10 Dwn 0.69 to close at 148.98 NSE 20-SHARE INDEX(1966=100 Up 8.47 pts to close 2883.98 NSE 25-SHARE INDEX-01st Sep 2015=4101.67 Dwn 6.87- 3812.28
GulfAfrican
FCB
5.55
150.00
84.00
3.00
19.20
3,300
1,600
Prime
buy
sell
buy
sell
buy
sell
buy
sell
buy
sell
buy
sell
buy
sell
buy
sell
buy
sell
buy
sell
buy
sell
Euro
116.97
117.41
117.79
117.23
116.86
117.10
117.80
118.30
116.75
117.21
116.90
117.30
117.05
117.35
117.36
117.61
116.74
116.98
117.00
118.00
116.95
117.20
5.20
11.55
4.60
5.00
6.00
16.00
8.50
KenGen Ord 2.50
KenolKobil Ltd Ord 0.05
KP & LC Ord 2.50
KP & LC 4% Pref. 20.00
KP & LC 7% Pref. 20.00
Total Kenya Ord 5.00
Umeme Ltd Ord 0.50
6.75
16.00
4.60
28.00
8.95
6.70
15.95
4.65
5.00
6.00
27.75
8.60
29,000
91,600
723,600
1,600
4,000
Insurance
16.00
9.05
7.10
3.10
540.00 400.00
23.50 15.20
14.50
11.85
31.00 19.80
Britam Holdings Ord 0.10
CIC Insurance Group Ord. 1.00
Jubilee Holdings Ord 5.00
Kenya Re Corporation Ord 2.50
Liberty Kenya Holdings Ord 1.00
Sanlam Kenya Plc Ord 5.00
10.60
4.20
15.30
11.90
24.00
10.80
4.20
456.00
15.35
11.90
22.00
40,300
173,000
9,700
200
600
Investment
48.25 27.50
2.75
0.60
1,500 1,500
3.85
2.10
8.90
3.20
Centum Investment Co Ord 0.50
Home Afrika Ltd Ord. 1.00
Kurwitu Ventures Ltd Ord. 100.00
Olympia Capital Holdings Ltd Ord. 5.00
Trans-Century Ltd Ord. 0.50
29.00
0.65
2.50
3.40
£
131.43
131.90
131.23
131.63
131.31
131.58
132.40
132.85
131.18
131.69
131.73
132.13
131.60
131.95
131.91
132.17
131.35
131.45
131.50
132.50
131.80
132.05
C$
78.52
78.67
78.40
78.67
78.49
78.87
77.21
77.55
78.41
78.73
78.65
79.05
76.30
77..05
77.44
77.59
78.41
78.57
76.00
77.00
78.60
78.80
SF
102.77
103.08
102.61
103.02
102.88
102.89
103.62
103.92
102.57
102.98
102.48
102.88
102.55
102.75
104.11
103.50
102.65
102.86
100.80
101.80
102.50
102.80
IR
1.38
1.39
1.39
1.39
1.38
1.39
1.40
1.42
1.38
1.39
1.38
1.39
1.38
1.38
1.38
1.39
1.38
1.39
1.36
1.70
1.39
1.39
JY
88.52
88.78
88.42
88.75
88.51
88.69
89.20
89.46
88.42
88.78
88.46
88.86
88.50
88.71
88.83
89.01
88.45
88.60
89.60
90.60
88.50
88.70
ZR
7.08
7.15
7.12
7.14
6.97
7.25
7.06
7.27
7.12
7.15
7.03
7.33
7.16
7.19
7.15
7.24
7.11
7.13
7.00
9.00
7.10
7.20
CBK RATES
Energy & Petroleum
10.20
19.50
12.00
5.50
6.00
36.00
17.00
$
100.90
101.10
100.80
101.00
100.80
101.00
100.90
101.15
100.70
101.10
100.85
101.05
100.85
101.05
100.85
101.05
100.70
100.90
100.40
100.70
100.85
101.10
28.50
0.65
1,500.00
2.50
3.45
9,500
82,200
1,300
18,000
1 US Dollar
1 Sterling Pound
Euro
1 South African Rand
Ksh/USh
Ksh/TSH
Ksh/Rwf
Ksh/Burundi Franc
1 UAE Dirham
1 Canadian Dollar
1 Swiss Franc
100 Japanese Yen
1 Swedish Kroner
1 Norwegian Kroner
1 Danish Kroner
1 Indian Rupee
1 Hong Kong Dollar
Singapore Dollar
1 Saudi Riyal
1 Chinese Yuan
1 Australian Dollar
Mean
100.9028
131.3131
116.8111
7.1183
37.9079
22.6803
8.7683
17.5710
27.4734
77.8211
103.2465
88.9207
11.3296
12.3521
15.6881
1. 3916
12.8870
73.6087
26.9060
14.6899
72.7459
Buy
100.8028
131.1617
116.6772
7.1085
37.8207
22.6429
8.7349
17.5288
27.4436
77.7319
103.1336
88.8208
11.3157
12.3360
15.6713
1.3901
12.8742
73.5304
26.8786
14.6735
72.6486
Sell
101.0028
131.4644
116.9450
7.1281
37.9950
22.7176
8.8018
17.6132
27.5032
77.9102
103.3594
89.0206
11.3434
12.3681
15.7049
1.3930
12.8998
73.6870
26.9334
14.7063
72.8432
UNIT TRUSTS
Money Market Funds
African Alliance Kenya Shilling Fund
Old Mutual Money Market Fund
British-American Money Market Fund
STANLIB Money Market Fund
CIC Money Market Fund
Zimele Money Market Fund
Amana Shilling Fund
Madison Asset Money Market Fund
CBA Money Market Fund
ICEA LION Money Market Fund
Sanlam Pesa Market Fund
Seriani Money Market Fund
Apollo Money Market Fund
Nabo Africa Money Market Fund
Nabo Africa Money Market Fund
Dry Associates Money Market Fund
Dry Associates Money Market Fund
EIB Equity Money Market Fund
GenCap HeLa Imara Fund
British American Bond Plus Fund
Fixed Income Funds/Equity Funds/Balanced Funds
African Alliance Fixed Income Fund
CIC Fixed Income Fund
Nabo Africa Fixed Income Fund
African Alliance Kenya Equity Fund
ICEA LION Equity Fund
Apollo Equity Fund
British-American Equity Fund
CBA Equity Fund
CIC Equity Fund
Old Mutual Equity Fund
STANLIB Equity Fund
Madison Asset Equity Fund
Nabo Africa Equity Fund
ICEA LION Growth Fund
Amana Growth Fund
African Alliance Kenya Managed Fund
British-American Balanced Fund
CIC Balanced Fund
Nabo Africa Balanced Fund
Old Mutual Balanced Fund/Toboa
Madison Asset Balanced Fund
EIB Equity Balanced Fund
Sanlam Chama Fund
Amana Balanced Fund
Zimele Balanced Fund
STANLIB Balanced Fund
Dry Associates Balanced Fund
Apollo Balanced Fund
STANLIB Bond Fund B1
STANLIB Bond Fund A
Old Mutual East Africa Fund
ICEA LION Bond Fund
Old Mutual Bond Fund
Sanlam Pata Fund Kenya Shilling
Daily Yield Effective Annual Rate
Kenya Shilling
7.50%
7.77%
Kenya Shilling
5.65%
5.80%
Kenya Shilling
8.84%
9.20%
Kenya Shilling
7.40%
7.66%
Kenya Shilling
9.84%
10.23%
Kenya Shilling
9.56%
9.91%
Kenya Shilling
5.86%
5.96%
Kenya Shilling
9.61%
10.05%
Kenya Shilling
7.87%
8.14%
Kenya Shilling
8.02%
8.35%
Kenya Shilling
7.43%
7.71%
Kenya Shilling
11.08%
11.66%
Kenya Shilling
8.40%
8.42%
USD
3.26%
3.31%
Kenya Shilling
10.80%
11.50%
USD
2.20%
2.22%
Kenya Shilling
8.83%
9.19%
Kenya Shilling
4.62%
4.72%
Kenya Shilling
8.40%
8.66%
Kenya Shilling
6.96%
7.19%
Buy
Sell
Kenya Shilling
11.57
11.19
Kenya Shilling
9.13
9.36
USD
105.05
102.73
Kenya Shilling
165.62
155.54
Kenya Shilling
126.55
133.21
Kenya Shilling
108.76
103.58
Kenya Shilling
162.78
168.45
Kenya Shilling
153.38
153.38
Kenya Shilling
9.13
9.56
Kenya Shilling
361.88
361.88
Kenya Shilling
149.47
149.47
Kenya Shilling
36.92
36.92
USD
102.01
99.76
Kenya Shilling
124.70
131.26
Kenya Shilling
143.61
143.61
Kenya Shilling
20.93
19.71
Kenya Shilling
178.59
184.37
Kenya Shilling
9.10
9.58
USD
104.67
102.36
Kenya Shilling
151.84
151.84
Kenya Shilling
51.22
51.22
Kenya Shilling
114.41
115.38
Kenya Shilling
13.40
13.80
Kenya Shilling
132.05
132.05
Kenya Shilling
6.90
7.10
Kenya Shilling
124.39
124.39
Kenya Shilling
1,126.42
1,126.42
Kenya Shilling
121.18
116.52
Kenya Shilling
91.73
91.73
Kenya Shilling
91.59
91.59
Kenya Shilling
147.56
147.56
Kenya Shilling
100.19
101.20
Kenya Shilling
100.00
100.00
Kenya Shilling
9.30
9.583
ARAB CURRENCY/$
Algerian Dinar
Bahrain Dinar
Djibouti Franc
Egyptian Pound
Lebanese Pound
Omani Riyal
Qatar Riyal
Saudi Riyal
Tunisian Dinar
UAE Dirham
Currencies are quoted against the US Dollar
108.4883
0.37708
176.21
8.1799
1504.4
0.38486
3.30486
3.7513
2.2447
3.6729
PUBLIC AUCTION
Under instructions received from the chargees we shall sell the following properties.
ONE ACRE RESIDENTIAL PROPERTY AT RUNDA GROVE, OLD RUNDA
NAIROBI COUNTY
REQUEST FOR PROPOSAL (RFP) FOR IMPLEMENTATION
OF HOSPITAL ENGINEERING AND FACILITY
MAINTENANCE MANAGEMENT SOFTWARE
The Nairobi Hospital is the leading provider of healthcare services throughout East
Africa, equipped with the latest technology, highly skilled specialists and modern
buildings.
The Hospital is seeking an experienced firm to implement a Hospital Engineering
and Facility Maintenance Management Software in order to automate the current
work processes to be able to meet its long term business strategy.
ON 9TH OCTOBER, 2018 AT 10.30A.M AT OUR OFFICES AGIP HOUSE, 3RD FLOOR, ROOM NO.
301, HAILE SELASSIE AVENUE.
All that piece or parcel of land known TITLE NO. 7785/311 (ORIGINAL NO. 7785/10/309) RUNDA GROVE, OLD RUNDA ESTATE measuring approximately 0.4364 Hectares or 1.0784 acres.
The property is situated along Runda groove, approximately 400 metres due west of its junction
with Runda Road and a further 1.2 Kilometres due North West of the junction of Runda Road and
United Nations Avenue within Old Runda Estate and registered in the name of RUPINDER SINGH
SEHMI. The Property is improved with an all ensuite 5 bedrooms townhouse with an attached
1+<+1/09<-+<=+8.+./>+-2/.=>+H;?+<>/<A381M>3=+0<//296.38>/</=>M
PRIME RESIDENTIAL PROPERTY IN NYALI, MOMBASA COUNTY
ON 18TH OCTOBER, 2018 AT 10.30AM IN THE OFFICES OF KINYUA AUCTIONEERS 1ST FLOOR
SYNDICATE BUILDING MERU ROAD MOMBASA.
All that piece or parcel or land known as L.R. NO. MAINLAND NORTH/1/16409 (C.R.45995)
NYALI MOMBASA COUNTY measuring approximately 0.0981 Hectares. The property is within
C+63=>+>/3897,+=+9?8>CM>3=#3>?+>/.+::<9B37+>/6C7/>/<=9H+8.>9>2/6/L90385=
Road deviating at Nyali Health Centre and is adjacent and to the east of Jacyjoka Apartments and
Restaurant and registered in the name of SAID MOHAMED ABDI. The Property is improved with a
5 bedrooms double storey residential house and a servants quarter block.
CONDITIONS OF SALE.
6638>/</=>/.:?<-2+=/<=+</</;?/=>/.>[email protected]/[email protected]/<30C>2/./>+36=+=>2/F8+8-3/<=9<
the Auctioneers do not warrant these. A deposit of 25% must be paid in Banker's Cheque or
RTGS during the day of the auction and the balance within 90 days. Viewing of the property
can be done between 10.00 Am to 4.00 Pm and conditions of sale to be obtained from our
9I-/=M#+6/3==?,4/->>9+</=/<@/:<3-/M
Interested bidders are required to obtain the bid documents from Procurement &
Stores Department at the main Hospital upon payment of a non-refundable fee
of Kshs. 5,000 (Five Thousand only). This Fee should be paid at the Cash point
located next to the main entrance at the ADT Cashiers office.
A Pre-Bid Conference shall be held at the Hospital on 10th October 2018 at 1100
Hours East African Time.
Proposal documents must be submitted in hard copy and soft copy on CD-ROM
and deposited in the tender box located at the Nairobi Hospital Corporate Services
Centre, 2nd floor, not later than 30th October, 2018 at 1100 Hours East African
time at the following address:
The Procurement & Stores Manager
The Nairobi Hospital
P.O. Box 30026 – 00100, Telephone: 020-2845000,
NAIROBI, KENYA
with the envelope clearly marked "Request for Proposal - REFERENCE NO.
TNH/037/18/ENG"
The Hospital is not obliged to offer the tender to the lowest or any other
bidder or give any reasons thereof.
INVITATION TO BID NOTICE
The Nairobi Hospital, a leading health care provider
in Eastern Africa wishes to invite interested bidders
to bid for Supply, Delivery, Installation, Training &
Commissioning of Physiotherapy Equipment and
Consumables, and Security Equipment in lots.
Detailed specification documents can be obtained during
normal working hours from our Procurement and Stores
offices located at our Main Hospital, Corporate Services
Centre, 2nd floor, at a non-refundable fee of Kshs.
3,000/- (Three Thousand) payable for each lot at the
Main Hospital Cashier's desk from 8.30am to 4.30pm
Monday to Friday, or via Lipa na Mpesa buy goods Till No.
173821.
The bid documents must be submitted on or before
Thursday, 4th October, 2018 Midnight.
The Nairobi Hospital reserves the right to accept or
reject any bid without giving reasons for its decision
NOT FOR SALE.
FREE WITH YOUR DAILY NATION.
May 29, 2018
October
2, 2018
DAILY NATION | Tuesday, October 2, 2018
smart
smart
company
company
the weekly business magazine
FINANCE
Accountants
seek Treasury
approval for new
fee guidelines
JAMES NGUNJIRI
[email protected]
Why allure of
Nairobi bourse
is on the wane
PATRICK ALUSHULA
[email protected]
I
mproved returns in developed markets and
uncertainty in local regulations have taken
the shine off Nairobi Securities Exchange
(NSE), hurting the momentum that the bourse
had established in the first quarter.
Despite NSE having basked in the glory of
ACCOUNTANTS ARE banking on the Treasury
to get approval to introduce a fee guideline for
their advisory services following the amendment of the Accountants Act, in the Finance Bill
2018.
The amendments have taken into consideration the work of an accountant and the professionals consider this is a big plus for them.
The Institute of Certified Public Accountants
of Kenya (Icpak) now says it is engaging the
Treasury on the matter.
"Now that it has been legislated it does not
need to go to Parliament. All we need to do is
to engage the CS Treasury (Henry Rotich)……
present a paper to him highlighting what we
are proposing and allow him to make a decision
based on that," said Julius Mwatu, Icpak chairman, on Thursday.
"The Treasury has powers to give us permission to go ahead. I don't think we'll have problem with that because other professionals have
it and they understand the benefits of having
regulated pricing models as a profession," added Mr Mwatu (below).
After the rejection of the Icpak proposal
to fix prices by the Competition Authority of
Kenya (Icpak), the institute started the push for
amendment of the Accountants Act.
The amendment was meant to redefine who
an accountant is, since the previous Act only
recognised the auditor as an accountant.
The new law defines an accountant as a
person who does bookkeeping, forensic audit,
public finance management, budgeting and
planning.
Mr Mwatu said accountancy has been one of
the profession lagging behind in terms of being
able to define how much an accountant should
be paid. Now the new changes, he added will
give the institute powers to guide on the remuneration for accountants. In 2015, Icpak request-
Sh320 billion growth in investors' wealth in the
first three months as banks and Safaricom led
a sparkling show on the trading floor, the tide
has turned.
Investors have suffered unrealised losses of
Sh671 billion since April, making the past five
months some of the toughest for East Africa's
largest bourse.
On Friday, market capitalisation stood at
CONTINUED ON PAGE 34
CONTINUED ON PAGE 34
34 | Smart Company
Tuesday, October 2, 2018 | DAILY NATION
TRADE >> SINCE NOVEMBER LAST YEAR, FOREIGN INVESTORS HAVE BEEN SELLING MORE THAN BUYING, CMA DATA SHOWS
Investors hunt for higher
returns outside Kenya
CONTINUED FROM PAGE 33
Sh2.211 trillion down from early April 5's
peak of Sh2.896 trillion – translating to
erosion of nearly a fifth of the market value
since April.
The Capital Markets Authority (CMA)
attributes this to investors search for higher
returns in markets such as US following a
hike in interest rates. Other analysts add
that the proposals that were contained in
the Finance Bill 2018 such as the Robin
Hood tax pricked and burst the confidence
bubble at NSE.
CMA director of policy and strategy Luke
Ombara told the Smart Company that since
about 70 per cent of the market turnover
was being controlled by foreign investors,
their selling out to buy in other markets
has contributed to the decline.
"When they get their capital gains especially after the announcement of dividends
on blue-chip companies, they exited since
returns are much higher in the US and other
developed markets following interest rate
hike by Federal Reserve," said Mr Ombara.
Since November last year, foreign investors have been selling more than buying,
leading to accumulated sell-off of $178.07
million (Sh17.94 billion) in the seven
months to July, data from CMA shows. The
worst months were in February and May
with a net sales of Sh5.14 billion and Sh4
billion respectively.
Market brief published by AIB Capital
showed that on Friday alone, 96 per cent of
the activities were in the hands of foreigners. They sold Sh349.05 million shares of
Safaricom and a further Sh130.99 million in
Kenya Commercial Bank, making the two
counters top the chart of foreign investor
sales on Friday.
Foreign investors are always searching for
higher yields and easily fall for US market
given that the bonds there are highly rated
compared to Kenya's.
Commenting on the NSE performance,
Aly-Khan Satchu, the chief executive of investment advisory firm, Rich Management
Ltd, said that it has been a "blood bath."
He agreed with Mr Ombara's sentiments,
adding that the failed attempt by National
Treasury to remove the capping of interest
rates on bank loans has also contributed
to the decline.
"Banking stocks in particular, which had
been bright-eyed and bushy-tailed ahead of
the expected rate cap amendment led the
down-draft," he says in an email.
He adds that in the absence of the International Monetary Fund precautionary
arrangement, the Kenyan shilling has traded
"like a dream" and the biggest risk to this
remains the surging price of oil.
"If we see a triple-digit oil print, the shilling will find itself hard-pressed. The stock
market is a leading indicator. The signal
is ringing loud and clear but no one in the
government is listening it seems," he added.
With rate cap staying in place and Treasury proposing introduction of Robin Hood
tax but later dropping it to double excise
duty on money transfer from 10 per cent
to 20 per cent, another uncertainty set
in. The environment created was akin to
the one that prevailed at the bourse when
capital gains tax and withholding tax on
securities traded was introduced before
being dropped in 2016."
"One of the things investors don't like is
uncertainty. I believe it had an impact as
investors waited to see if the taxes would
be passed," reckons Einstein Kihanda,
chief executive of the ICEA-Lion Asset
Management.
On Wednesday, the Central Bank of
Kenya governor Patrick Njoroge said that
he expects the increased excise duty to
slow down money transfers.
Mr Kihanda told Smart Company that
Sh 2.211trn
Market capitalisation of the Nairobi
Securities Exchange as at last Friday,
down from Sh2.896 trillion peak in April
the market would have been worse off with
Robin Hood tax than the doubled excise
duty. But even so, while the full impact
of excise duty is yet to be seen, the NSE
has shown signs of catching the excise
duty fever.
"The tax will affect momentum of services such as M-Pesa. That is why we have
probably seen a decline in the price of Safaricom last week because it will be expected
that fewer transactions will translate into
reduced income," said Mr Kihanda.
With the NSE having pulled a resilient
performance last year despite tighter credit
market, drought and lengthy electoral
process, the fourth quarter that kicks in
tomorrow may decide if this resilience
will stay.
For Mr Satchu, it's all but a cautious
approach.
"Of course, there is an adage that buyers
should buy when there is blood in the water
because that's when the sharks circle after
all. I would be very careful on the buy side
...momentum still points lower," says Mr
Satchu.
FINANCE
Accountants renew push for powers to set own fees
CONTINUED FROM PAGE 33
ed to be exempted from competition rules, in
a move which was expected to allow the institute have powers to set minimum professional
fees for accounting services.
In November 2016, Icpak rejected the request stating that the benefits of minimum
fees were outweighed by potential harm they
would cause in the marketplace.
The authority had stated that introduction
of fee guidelines would hamper competition,
increase costs, reduce innovation and efficiencies, limit choices for customers and was
likely to raise the cost of accountancy services
beyond the reach of a section of consumers.
Icpak planned to set minimum fees for
services offered to different classes of business which included pension schemes, saccos,
public benefit organisations and non-assurance services companies.
Presently, accountants negotiate with the
clients and agree on fees without any price
guide, sometimes leading to low-quality services and price undercutting.
Mr Mwatu said the amendments will also
enable the institute to issue multiple licences
because most of the 22,000 members have
different specialisations and initially they had
been having challenges issuing them with
permits because the Act was defining the accountant as an auditor.
"Now we will see more members getting
specific licences to do specific specialisations
like tax," said Mr Mwatu.
The changes will also allow the Kenya
Accountants and Secretary National Examinations Board (Kasneb) to first of all register
with Icpak. This will enable the institute to
trace its students and facilitate them obtain
internship opportunities.
Accountants
follow proceedings during
their Annual
Enterprise Risk
Management
Conference in
Mombasa.
FILE | NATION
Smart Company | 35
DAILY NATION | Tuesday, October 2, 2018
ECONOMY>> COUNTY PLANS TO START VALUE ADDITION ONCE FACILITY IS UP AND RUNNING
Kisii farmers bank on banana
factory to keep off brokers
Exporters of fresh
produce raise the
alarm over fake
agro chemicals
BY MACHARIA MWANGI
BY RUTH MBULA
[email protected]
B
anana farmers in Kisii will
soon bid goodbye to middlemen who have been exploiting
them after the county government renewed plans to have a
banana-processing factory at the
Kisii Agricultural Training Centre.
Farmers say the factory will offer
them a ready market for their produce. Currently, they are forced to
sell at throwaway prices especially
when there is a high demand.
Farmers get about Sh300 for a
sizeable bunch of banana but when
processed into different products,
the value is expected to increase to
over Sh1,000.
Ms Mary Omwansa, a farmer
at Gesonso area, said the factory
brings hope of better earnings as
there will be value addition of their
produce.
"I am excited about the factory.
We have suffered for many years.
This is indeed good news," she said.
The farmers will have an option
of organising themselves into
groups and then linking up with
AGRICULTURE
FILE | NATION
Women vending bananas in the streets of Kisii town.
the factory. Alternatively, they can
sell bananas to groups that are
dealing directly with the processor
at predetermined prices.
Already, the Kisii County Gov-
ernment has received a Sh110
million grant from the European
Union to strengthen the banana
value chain.
The project will take 19 months
to complete. The total cost for the
project is Sh155 million with the
county government contributing
Sh45 million.
Governor James Ongwae says
the need to create more wealth
out of bananas informed the government's decision to invest in
the factory.
"If (banana) fully exploited, we
will no longer be talking of food
insecurity and unemployment here
and in other parts of the country
endowed with this crop," he said.
Banana is the main food crop in
Kisii County which is the leading
producer of the cooking variety of
the crop in Kenya.
Current acreage under banana is
6,350ha with an average production
of 56 tonnes per hectare annually.
Apart from the cooking variety,
Kisii has another type of banana
used for making desert. The
cooking type banana, including
Ng'ombe and Nusu Ng'ombe, has a
niche market due to its good taste.
The region also produces ripening varieties like Apple, Cavendish,
Glandwine and Williams. Banana is
grown in virtually every household
in Kisii.
Mr Ongwae says the county's
economy is largely driven by agriculture.
Exporters of fresh produce have asked the government to rein in on fake chemicals being sold
in the country.
Fresh Produce Exporters Association of Kenya,
chief executive officer, Hosea Machuki said 18 per
cent of agro chemicals being used in the country
are fakes, calling on the government to address the
issue of porous borders.
He said the influx of contraband will hurt the
industry, calling for stringent measures to curb
the vice.
"With the increase of VAT, our fear is that we
are going to have cheaper agro chemicals which
might lead to the influx of fakes," said Mr Machuki.
He warned that if the counterfeits chemicals found
there way into the market, they might be used in
growing some of the fresh produce.
"The net effect of that is that we might be caught
in the same scenario we were in 2013, where supplied
pesticides in the country exceeded recommended
maximum residue levels," said Mr Machuki.
He said some of the agro chemicals banned in
various countries such as the European Union
(EU), are registered for use in Kenya.
"We are using them here in Kenya but they are
not allowed in the countries of destination for the
various crops," he noted.
Mr Machuki called on the government to harmonise the list for agro chemicals in tandem with
the destination markets.
He said the sector is in the process of venturing
into new markets including China, known for their
stringent measures.
Tuesday, October 2, 2018 | DAILY NATION
36 | Smart Company
MANAGEMENT> ONCE YOU DELEGATE A TASK KEEP OFF AND GIVE TASK-DOER SPACE
You are better off with
instructions than orders
The better the person
understands what to do,
the greater the chance of
successful execution of
the task assigned
BY DAVID MUTURI
G
d[email protected]
iving and receiving instructions is
a skill that is often ignored in the workplace. There are many avoidable quarrels,
underperformance, confusion, wastage
and other inefficiencies that could be
sidestepped by ensuring that instructions
are properly given and well received.
Yet this skill is so ignored that everyone assumes that they give proper
instructions and equally receive the same
clearly. When you instruct you do well if
you provide context and are specific. You
do this by providing all the details with
necessary background to help that person
better understand the task at hand rather
than just the instructions. You do very well
if are as detailed as you can, especially
when you have set up your mind on how
the task should be handled.
Instructions will be well received if
you ask politely rather than issue orders,
the way and the tone used can change
everything. You need to speak at a reasonable tone with kind and respectful
words. Negative language regardless of the
urgency and pressure do not help much.
It is necessary to offer the person receiving instructions the opportunity to ask
questions and seek any clarifications that
they may have. When you leave the person
receiving the instructions unsure, you
have created room for confusion, wastage
and other inefficiencies. It is important
that you allow them time to ask questions.
The better the person understands what
to do, the greater the chance of successful
execution of the task assigned.
You must follow through the instruction
but equally must resist the temptation
to micromanage, if you do a good job in
giving the instructions in the first place
you should not feel the need to micromanage the execution of the task. You have
delegated the tasks, it helps to keep off
in order to instil faith in your task-doer.
By letting them do the task without you
they are more likely to do it to the best
of their ability without constant reference to you. This can only make them
dependent on you which is not helpful to
you or them. That is why you would find
yourself more useful in providing positive feedback and appropriate gratitude
when the task is well done. You do well
when the task is complete by positively
reinforcing the person.
This will make your team feel respected
and trusted. To be effective the feedback
must also be clear and helpful. Equally
important is constructive criticism if the
task was not done to your satisfaction.
You must clearly state where your expectations were not met and how they
should have been achieved.
Equally when you are the receiver of
the instruction you do well for yourself
if you actively listen and not just hear.
When you actively listen, you can better
understand what you need to do. This is
when you will find it necessary to take
notes. This will be more helpful than
trying to remember everything, it is a
lot easier when it is written down. There
is nothing wrong with keeping notes; it
shows that you are prepared, organised
and want to do the job correctly.
Even as you take notes seek clarification, even if you are slightly unsure of
what you are being asked to do, do not
hesitate to ask a question. In as much as
you expect respectful language you also
must respond with a good attitude. Just
as the person giving directions needs to
speak respectfully, it is also important to
respond respectfully. Behaviour breeds
behaviour if you go into the conversation
with a bad attitude you are most likely to
generate the same attitude and behaviour.
Indeed it is likely that the attitude will
stream into performing the task which
will only make it much more challenging.
Whenever there is a job that requires
multiple steps, try organising a to-do
list. This will help you check things off
to make sure you do not miss anything.
It will even make it easier to review your
work. The effectiveness of giving and receiving instructions is often not accorded
the attention it deserves in attaining the
organisational objectives.
It is necessary
to offer the
person receiving
instructions the
opportunity to
ask questions
and seek any
clarifications
that they may
have.
FILE | NATION
Coast plans to
roll out regional
fund in November
BY KAZUNGU SAMUEL AND DIANA MUTHEU
A fund for the development of the six coast counties is to be established in November to spearhead
development, Jumuiya ya Kaunti za Pwani (JKP) chief
executive Emmanuel Nzai has said.
He said Jumuiya Fund will help address problems
facing the region.
"We are upbeat of establishing the fund. Each county
will also have its own investment company. Tana
River has already formed an investment company,"
Mr Nzai said.
Mombasa, Kilifi, Kwale, Taita Taveta, Lamu and
Kilifi counties are to contribute money to the fund
meant to spur growth with the major focus being on
blue economy.
He cited the problems facing the region as poverty, marginalisation, corruption and failed political
leadership.
"We need to change the story as we are a sea land of
opportunities. We want to work together as universities,
industries and county governments to steer the region
to prosperity," said Mr Nzai, who is a strategist, policy
and ICT analyst.
Mr Nzai was a running-mate of Third Way Alliance
presidential candidate Dr Ekuru Aukot in last year's
elections.
He said public universities at the coast — Pwani,
Technical University of Mombasa (TUM) and Taita
Taveta University — will also form Jumuiya Institute
of Innovations.
Despite being the first to form an economic bloc
after devolution, the region has little to show for the
initiative.
Mr Nzai said the coast economic bloc, which has its
secretariat at TUM, was keen on achieving its Vision
2030 blue print.
Recently, Kilifi deputy governor Gideon Saburi also
vouched for the common fund for coast counties and
called for exploitation of the blue economy.
"The blue economy is a project that surrounds the
coastal counties, which have the longest shoreline. We
want to ensure we leverage on the resource and put all
things we need to share with partners and investors
so that they understand what we need as JKP" Mr
Saburi said.
Mr Saburi said the blue economy which encompasses
maritime transport, fisheries and tourism will aid in
creating more job opportunities and opening up the
region to economic development.
Taita-Taveta deputy Governor, Majala Mlaghui said
the coastal counties are now putting aside their political
differences and coming together for the sake of the
economic development of the region.
Ms Mlaghui said that JKP will focus on attracting
investments to ensure all the six counties of Mombasa, Kilifi, Kwale, Taita-Taveta, Lamu and Tana
River develop.
"We will focus on development attracting investments
into the region to realise an increased and shared
prosperity," she said.
Muturi is a management consultant
Everything business>> Lucy Kiruthu
Place excellence at the centre during Customer Service Week
IT IS THAT TIME OF the year again when
customer-centric organisations around the
globe create awareness about the importance
of customer service excellence in their organisations. Celebrated by many organisations,
the Customer Service Week (CS Week) is commemorated every first full week of October.
Many organisations have held different activities to mark the CS Week since 1992. In Kenya,
CS week continues to be a flagship event and a
number of organisations have been celebrating
this special week for the last three to six years.
I take this opportunity to wish all a happy Customer Service Week and reflect on what CS
week really means.
Organisations that participate in the CS Week
celebrations do so for a number of reasons.
Many do so to communicate the strategic role
that customer service plays in their organisations. Others do so to raise awareness about
the value they place on their customers, as well
as the staff who serve customers. Many others
use the week to renew their commitment to focus more on the customer and to communicate
the efforts they are making in driving service
excellence. Organisations do so by having a
wide range of initiatives directed towards driving service improvement and appreciating both
their staff and their customers. Most of the past
initiatives have seen organisations bring to life
service excellence. Have your CS Week initiatives added any value to your organisation?
What value?
Many Kenyans have witnessed the CS week
celebrations. The Institute of Customer Experience (ICX) Kenya, a body that brings together
customer experience professionals, has been
driving CS Week awareness and inviting all
business to participate in their own small or big
way. This year, the CS week theme in Kenya is
"sustaining customer service excellence". ICX
Kenya will be awarding organisations that are
most innovative in executing this theme. A key
question that every smart company must ask
itself is "what must we do consistently to create happy and loyal customers at every point of
interaction?" The answer to this question lies in
our everyday attitudes and actions as we interact with one another and with our customers.
Globally"Excellence Happens Here" is this
year's CS Week theme.
The theme recognises the spaces where
customers and service professionals come
together and where excellence is expected
to happen. I believe that such spaces should
include boardrooms, offices, contact centres
to all other points of interaction. The major
question for all of us is "does excellence really
happen in these places?" If it does, well done!
If it does not, what positive action will you take
to make it happen?
Anyone who has been involved in improving
customer service can confirm that it is not as
simple as ABC. Service improvement is a complex endeavour that involves every aspect of
the organisation. At the centre of service improvement is the culture of the organisation. As
organisations mark CS week, they must detest
from just having activities and be intentional
about creating a culture of service excellence.
They can do this by focusing on their strategy,
management commitment and involvement,
people competences, processes and standards,
performance measurements and being innovative. Let every business consider the CS week
as an opportunity to rethink its customer service experience and push it to the next level.
Dr. Lucy Kiruthu is a Management Consultant
and Trainer. Connect via twitter @KiruthuLucy
37
DAILY NATION | Tuesday, October 2, 2018
MOTOR VEHICLES (SALVAGES) FOR SALE BY PUBLIC AUCTION
Duly instructed by our principals, BRITAM INSURANCE LIMITED, we shall sell by public auction the under mentioned motor vehicles on
Tuesday, 9th October 2018 starting 10:30 am at Britam Assessment Centre, Road A, off Enteprise road/off Likoni Road near Alpine
Coolers.
NO.
1
2
3
4
5
6
REG NO.
KBP 630Z
KCE 293G
KCF 683K
KMEH 765Q
KBL 074M
KBR 366D
Y.O.M
2004
2008
2008
2017
2009
2005
MAKE
SUBARU
TOYOTA
TOYOTA
YAMAHA
DAIHATSU
TOYOTA
7
KCG 267T
2009
MERCEDES BENZ
8
9
10
11
12
13
14
15
16
17
18
19
20
21
22
23
24
25
26
27
28
29
30
31
32
33
34
35
36
37
38
39
40
41
42
43
44
45
46
47
48
49
50
51
52
53
54
55
56
57
58
59
60
61
62
63
64
65
66
67
68
69
70
71
72
73
74
75
76
KBU 136F
KBV 702Y
KCK 734X
KBW 639S
KAX 991R
KCK 910G
KBQ 030M
KAY 035Z
KBZ 967Y
KCB 883B
KBV 841V
KBV 967C
KCH 962T
KCP 685J
KBZ 695W
KBX 808C
KAY 802R
KCE 011G
KBS 780Y
KCE 115A
KAE 253G
KBW 379B
KBR 453L
KBZ 474U
KBU 629Y
KBU 624T
KBC 966G
KBW 490C
KBV 834C
KCB 571W
KCL 032S
KCF 554H
KCJ 132J
KCC 317B
KBM 209W
KBJ 535S
KBH 583U
KBK 201M
KAX 916D
KCG 409B
KBT 069W
ZC 2323
KBK 004G
KCH 673H
KCL 794Y
KCB 659Q
KBW 887H
KBK 004G
KCM 396L
KCD 284S
KAY 320Q
KCH 007Y
KCD 030S
KCC 002H
KCH 746L
KCQ 649A
KBY 848F
KBZ 552W
KAQ 162Z
KAX 544T
KBN 624T
KAY 252G
KBC 280F
KAS 169L
KAW 494L
KBT 768C
KBY 588F
KCM 500H
KCQ 040D
2006
2006
2010
2006
2000
2009
2004
2000
2008
2007
2006
2006
2015
2010
2007
2006
2000
2008
1998
2015
1989
2006
2005
2007
2006
2013
2008
2007
2013
2007
2010
2008
2009
2007
2003
2003
2002
2002
1999
2008
1990
2005
2002
2009
2017
2007
2007
2002
2012
2008
2000
2010
2008
2008
2009
2012
1990
2007
2003
2000
2010
2001
2001
1998
1999
2005
2013
2016
2018
HONDA
SUBARU
TOYOTA
NISSAN
TOYOTA LANDCRUISER
TOYOTA
TOYOTA
TOYOTA
TOYOTA PREMIO
TOYOTA
TOYOTA
TOYOTA
TOYOTA
NISSAN
NISSAN
SUBARU
TOYOTA LANDCRUISER
HONDA
TOYOTA
TOYOTA
BMW
NISSAN
VOLKSWAGEN
MAZDA
SUBARU
MITSUBISHI
TOYOTA
TOYOTA CORONA
FAW
TOYOTA
NISSAN
TOYOTA
NISSAN
NISSAN
TOYOTA
TOYOTA
TOYOTA
TOYOTA
TOYOTA
TOYOTA
NISSAN
BHACHU
TOYOTA
TOYOTA
HINO
NISSAN
TOYOTA
TOYOTA
HONDA
TOYOTA
MITSUBISHI
MERCEDES BENZ
TOYOTA
NISSAN
TOYOTA
TOYOTA
NISSAN
NISSAN
FORD
RENAULT
NISSAN
MERC BENZ
TOYOTA
PEUGEOT
AUDI A4
TOYOTA
FORD RANGER
TOYOTA
TOYOTA
MODEL
BL5
DBA-SCP92
DBA-NZE151H
YD110
TERIOS SX
DBA-ZZT240
C180 SE
KOMPRESSOR A
DBA-GJI
DBA-BP9
BODY TYPE
SALOON
SALOON
ST. WAGON
MOTORCYCLE
ST. WAGON
SALOON
LOCATION
ASSESSMENT CENTRE
ASSESSMENT CENTRE
ASSESSMENT CENTRE
INSURED'S YARD
ASSESSMENT CENTRE
ASSESSMENT CENTRE
SALOON
WESTKAM
ST. WAGON
ST. WAGON
SALOON
DBA-Y12
ST. WAGON
PRADO
ST. WAGON
RUSH
ST. WAGON
CBE-NCP50V
ST. WAGON
SCP10
ST. WAGON
ZRT260
ST. WAGON
CBE-NCP51V
ST. WAGON
CBE-NCP55V
ST. WAGON
CBA-NCZ20
ST. WAGON
HILUX
PICKUP
X-TRAIL
ST. WAGON
ABF-SK82VN
VAN
CBA-SG5
ST. WAGON
PRADO
ST. WAGON
DBA-GE9
ST. WAGON
AVENSIS
SALOON
D/CABIN
PICKUP
BMW
SALOON
BLUEBIRD
SALOON
GOLF
ST. WAGON
BKG-LHR85A
P/UP
TA - BP5
ST. WAGON
PAJERO
ST. WAGON
COROLLA
SALOON
DBA- ZRT260
SALOON
CA4161
PRIME MOVER
DBAGRX120
SALOON
WINGROAD
ST. WAGON
DBA-NZE141
SALOON
DBF-VY12
ST. WAGON
DBA-C25
ST. WAGON
UA-NZE121
SALOON
KDJ120
ST. WAGON
UA-ZZT240
SALOON
TA-NZE121
SALOON
PREMIO
SALOON
CBENCP51V
ST. WAGON
UA-NT30
SALOON
SALOON
UA-ZZT241W
ST. WAGON
CBA-M502E
ST. WAGON
FNBJR1A-SG2
LORRY
DBA-SC11
SALOON
DBA-ZZT240
SALOON
UA-ZZT241W
ST. WAGON
CR-V
ST. WAGON
DBA-NZE141G
ST. WAGON
H76W
ST. WAGON
DBA-21207C
SALOON
DBAGRS200
SALOON
PATHFINDER SPORT ST. WAGON
DBA-ZNE10G
ST. WAGON
TIIDA
SALOON
XTRAIL
ST WAGON
NAVARA
PICK UP
RANGER
PICK UP
VF622
PRIME MOVER
NAVARA
PICK UP
2540
PRIME MOVER
TA-GX110
SALOON
406
SALOON
SALOON
NOAH
ST WAGON
PICK UP
PICK UP
LAND CRUISER
ST. WAGON
HILUX
PICK UP
ASSESSMENT CENTRE
ASSESSMENT CENTRE
ASSESSMENT CENTRE
ASSESSMENT CENTRE
MOTORWAYS
WALKER AUTOMECH - MERU
PATHMOST - NANYUKI
ASSESSMENT CENTRE
ASSESSMENT CENTRE
ASSESSMENT CENTRE
TOPVIEW GARAGE - KERUGOYA
ASSESSMENT CENTRE
ASSESSMENT CENTRE
DEEM GARAGE - MERU
ASSESSMENT CENTRE
ASSESSMENT CENTRE
ASSESSMENT CENTRE
ASSESSMENT CENTRE
ASSESSMENT CENTRE
ASSESSMENT CENTRE
MOTORWAYS YARD
AUTO EXTREME GARAGE
DAC MOTORS
SEAS MOTORS NAKURU
ASSESSMENT CENTRE
MOTORWAYS
AMANI VENTURES
JAFFERY MOTORS
CRYSTAL MOTORS
ASSESSMENT CENTRE
ASSESSMENT CENTRE
AUTOFINE GARAGE
GOLDEN MOTORS - NAKURU
RACE AUTO
AUTOSPIN
WESTKAM YARD
ECHO KENYA
CRYSTAL MOTORS
MURANGA MOTORS
HARNESS AUTO - MWINGI
AUTO-DEVINE - THIKA
WESTKAM YARD
WESTKAM YARD
WESTKAM YARD
NAIVABOCH
MOTORWAYS YARD
CONCODE
MEADS GARAGE
TOP QUALITY
WESTKAM
MASH AUTO GARAGE
ASSESSMENT CENTRE
ASSESSMENT CENTRE
ASSESSMENT CENTRE
ASSESSMENT CENTRE
ASSESSMENT CENTRE
JOGI MOTORS MALINDI
JAFFERY
WESTKAM
CRYSTAL MOMBASA
JAFFERY
CRYSTAL -MSA
WESTKAM
WESTKAM
TERYX MOTORS
CRYSTAL MOTOR(MOMBASA)
NDWIGA GARAGE - KITALE
ASSESSMENT CENTRE
WESTKAM YARD
CONDITIONS OF SALE
1. Viewing will be from 02.10.2018 to 08.10.2018 during normal working hours at the respective yards/garages.
2. All interested buyers are requested to view and verify the details by themselves as the auctioneer or Britam Insurance Limited does not
warrant these, as the units are being offered for sale "AS THEY ARE".
3. All intending buyers are requested to make a refundable deposit of KShs. 50,000 to Britam Insurance Limited by way of banker's
DIFRVFTBOEUIFSFBGUFSPCUBJOBCJEEJOHCVZJOH
OVNCFSQMVTBDBUBMPHVFBU,TITGSPNUIFBVDUJPOFFSTPGmDFTCFGPSFUIFEBUF
of the auction. Please note that there will be no bidding whatsoever without a bidding number. Further note that no banker's
cheques or cash will be accepted at the venue of auction.
4. Please note that each Kshs. 50,000 bidding deposit will be limited to purchasing one (1) vehicle only. Any bidder intending to purchase
more vehicles must pay the requisite amount of bidding deposits before the auction date.
5. Any vehicle whose bid price is KShs. 1,200,000 or above shall require an additional non-refundable deposit of KShs. 200,000.
6. Unsuccessful bidders shall be refunded their deposits immediately after the auction.
7. Successful bidders will have to pay 25% of the bidded price at the fall of the hammer which amount will include the deposit of Kshs.
50,000. The 75% balance shall be payable in the seven days following the auction but vehicles shall be released upon clearance of the
cheque. Please note that failure to pay the balance will result in forfeiture of all deposits paid.
8. Britam insurance Limited shall bear storage charges up to 7 days after the date of auction. Any further accrued storage will be borne by
the buyer.
9. Sale will be subject to reasonable reserve prices and the full amount for all vehicles bided shall be paid before release of any other
vehicles.
10.Bidders who successfully bid for more than one vehicle will have to pay the full purchase price for all vehicles bidded for before any of
them is released.
38
Tuesday, October 2, 2018 | DAILY NATION
DIRECTORATE OF CRIMINAL INVESTIGATIONS
BANKING FRAUD INVESTIGATIONS UNIT
WANTED PERSON
Name
Vivian Adhiambo Ombuta
Id No.
25179995
Residence details Kisumu, Nairobi
Cash Reward
Ksh 100,0000
Information to
be passed to
Investigating officer C/O BFID Tel 0722 938 744,
0735 792 396, 020-2861948 or the nearest police
station/CID office
Warrant
Milimani CM's Court Miscellaneous Application
no. 3372 of 2018.
Duly instructed by our principals in the matter of distress for rent we
shall on 9th October 2018 starting at 10.30am sell by public auction
all the properties mentioned below, insitu, at the premises of Micro
.PCJMF-UE*14#VJMEJOHUIáPPS
PDM LTD – VS-MICRO MOBILE LTD
Devan Plaza, 1st Floor, Suite No. 11. Crossway Road, Westlands
Tel: 0722730030, 0720948180 | P.O. Box 38968-00100, NAIROBI.
PUBLIC AUCTION
Duly instructed by our Principals, the CHARGEES, we shall sell by public auction the property described herein.
VACANT AGRICULTURAL PROPERTY IN NGECHA AREA, NAKURU
ON 9th OCTOBER 2018 STARTING FROM 11.00 A.M. OUTSIDE NATIONAL BANK OF KENYA
NAKURU
All that parcel of land known as L.R.NO. Njoro/Ngata block 2/4061,Nakuru county, measuring 0.815
HA approximately (2.01 Acres) and registered in the name of Amos Mutemi Vele of P.O. Box 1851820100 Nakuru.
The property is in Ngecha Area about 20 km west of Nakuru town. About1.3Km off and to the left of NakuruEldoret Road, deviating opposite A.I.P.C.A Thiririka church.
Tenure is freehold. The land is suitable for subdivision for residential dwelling.
No main services connected to the property. Immediate access road is earth surfaced.
CONDITIONS OF SALE
1. All interested Purchasers are required to view the property and verify the details as these are not warranted
by the Auctioneers or the Principals, viewing is on appointment.
2. A deposit of at least 25% must be paid in BANKERS CHEQUE at the fall of the hammer and the balance to
be paid within 30 days to the Chargees.
3. Sale subject to reserve price.
4. 5IFDPOEJUJPOTPGTBMFNBZCFPCUBJOFEGSPNPVSPGàDFT
Email: [email protected]
PUBLIC AUCTION
%VMZJOTUSVDUFECZPVSQSJODJQBMUIFàOBODJFS
XFTIBMMTFMMCZQVCMJDBVDUJPOUIFVOEFS
mentioned Motor Vehicles on Friday 12th October 2018 at PVS PGàDFT BMPOH
Kijabe street next to universal Church starting at 10:30 a.m.
No.
Reg. No.
Make
Model
Body
1.
KCK 422Y
TOYOTA
HILUX
DCAB P/UP 2013
Y.O.M.
Leakey Storage Yard Lunga
Lunga
To be Viewed at
2.
KCA 062Q ISUZU
FVZ 23S
H/S/D/SIDE 2014
Purple Royal Yard
CONDITIONS OF SALE
1.Viewing can be done at the indicated location to verify details as these are not
warranted by the auctioneers or our principals.
2.All interested bidders are required to pay a refundable deposit of Kshs. 100,000/=
UPPCUBJOBCJEEJOHOVNCFSBUPVSPGàDFJOGPSNPGBBANKERS CHEQUE.
3.The declared purchaser must deposit 25% of the purchase price by close of business
auction day and the balance paid within fourteen (14) days from the auction date,
failure to which the money received including the deposit will be forfeited.
4.Sale is subject to reasonable reserve price.
8work stations, 4 high stools, rolling chairs 38 pieces, two executive
PGàDF EFTLT GPVS SPMMJOH DIBJST CPBSE SPPN UBCMF XBUFS EJTQFOTFS
GPVSUFFO UFMFQIPOF IBOETFUT DPNQVUFS NPOJUPS UXP NFUBMMJD àMJOH
cabinets, small HP printer, Panasonic printer, Hp printer, two small round
tables, six visitors chairs, one reception desk, microware, electric kettle,
two chairs, two burner electrical cooker, switch board console.
CONDITIONS OF SALE
1. Cash at the fall of the hammer
2. Viewing by appointment
3. Cash deposit of Kshs. 20,000/= to obtain a bidding number
REPUBLIC OF KENYA
IN THE ENVIRONMENT & LAND COURT AT NYERI
ELC CASE NO. 43 OF 2016 – FAST TRACK
1. ANNAH NYAGUTHII KAMAU……………………….................…...………………1ST PLAINTIFF
2. SIMON MWANGI WERU………………………...............…………...……………..2ND PLAINTIFF
3. IDAH NYAGUTHI MUHIU ………………………………................…...…………..3RD PLAINTIFF
VERSUS
ZUBERA NJUGUNA ………………………...............…………………………....…...1ST DEFENDANT
SHAFI GREWAL KAKA ……………………..............……...…………………...….2ND DEFENDANT
SUBSTITUTED SERVICE OF HEARING NOTICE BY ADVERTISEMENT
TO:1. Annah Nyaguthii Kamau 2. Simon Mwangi Weru 3. Idah Nyaguthi Muhiu
P. O Box 110-10400
P.O. Box 48399-00100
P.O. Box 1216-10101
NANYUKI
NAIROBI
KARATINA
TAKE NOTICE that the hearing of an Application by the Defendants dated
15/05/2018ŏ * ŏ ü(! ŏ %*ŏ +1.0ŏ +*ŏ 16/05/2018 in NYERI ELC CASE NO. 43 OF
2016 shall be on 24/10/2018 at 9.00 a.m. The Court has ordered that service of
the Application upon you to be by means of this advertisement. A copy of the
,,(%0%+*ŏ)5ŏ!ŏ+0%*! ŏ".+)ŏ0$!ŏŏ+1.0ŏ!#%/0.5ŏ0ŏ5!.%ŏ+.ŏ0ŏ0$!ŏþ!/ŏ
of the Defendants' Advocates being Adera & Co. Advocates, Embassy House, 5th
Floor, Harambee Avenue, Nairobi.
FURTHER TAKE NOTE that, unless you reply to the Application and attend Court on
24/10/2018, the Application will be heard and Orders may be issued in your absence.
DATED at NAIROBI this 28TH day of SEPTEMBER, 2018.
ADERA & COMPANY
ADVOCATES FOR THE DEFENDANTS
– Tel. 0712216228, Email; [email protected]
Leisure | 39
DAILY NATION | Tuesday, October 2, 2018
SIMPLE CROSSWORD
ACROSS:
1.Magnificence, grandeur
etc.
7.To direct a weapon at a
specific person or object
8.Fuss
10.A projecting part as the
tine of a fork
12.Any six-line stanza
13.To hurry
14.To rent or lease
16.The woolly coat of a
sheep
18.To breathe with a coarse
rasping sound during sleep
20.A number
21.A charge for professional
service rendered
22.A cleansing substance
DOWN:
1.To cut by striking forcibly,
and at random as with a
knife
2.Not firmly fastened
3.The back of the neck
4.Filth
5.Ethiopian river the
largest one draining into L.
Turkana
6.To manipulate
dishonestly as elections
9.To stoop
11.A female relation
SUDOKU
YESTERDAY'S
SOLUTION
ACROSS:
1. Viaduct
7. Rhino
8. Spinner
10. Tit
11. Self
13. Cos
14. Mesh
16. Jet
18.Torture
20. Score
21. Wedlock
DOWN:
1. Vest
2. Adit
3. Urn
4. Chess
5. Tire
6. Hoof
9. Pile
12. Leer
13. Chore
14. Moss
15. Stow
16. Judo
17. Teak
19. Red
14.Forgetfulness
15.A principle held by one
as true
16.Liberated
17.To look at slyly
18.Melancholy
19.Many times
Sudoku with Steers
Two winners win a Free Meal
with Steers daily on 20567!
Fill in the 3 shaded digits and send the
values ABC to 20567 for your chance
to win a Free Meal with Steers. Start the
SMS with the word Sudoku e.g Sudoku
1,2,3 Check your Wednesday paper to
see if you are a winner. Winners will be
contacted directly by Steers within 2
weeks to receive their prize
SMS cost: 10/=
YESTERDAY'S SOLUTION
CODEWORD
COMPLEX CROSSWORD
ACROSS
1 Six-footer's since ruined front
of trousers (6)
4 Gauche Tory leader pretends
to welcome the French (8)
9 Initially, person always taking
regular old nook? (6)
10 Bishop accepting first female
objective becoming minister (8)
11 Clear container maintained
by record temperature (8)
13 Pans left corroded on board
(6)
15 Prison rebel is turning
reckless … (13)
18 … adapting pine bed's nails to
make key (13)
22 Force of speech for the
audience (6)
24 Sporty cyclist's end in ethical
upset (8)
26 Bond part involves hell,
occasionally (8)
27 Heartless sucker embracing
former wife? That's more
sensual (6)
28 Sailor's plan to circle
opening of the deep (8)
29 Breed's first bird dog (6)
DOWN
1 This compiler's exercise does,
oddly, hinder (6)
2 Settled, one's nourished
keeping middle of insides full (9)
3 Archbishop's cross about
more ruddy … (7)
5 … bishops perhaps after a
final word (4)
6 What's used to hold bloomers
YESTERDAY'S
SOLUTION
ACROSS
1 Signpost
5 Topics
9 Dungarees
11 Inner
12 Create
13 Repaired
15 Reincarnation
18 Pyramid scheme
22 Moralist
23 Trance
26 Cheap
27 Soap opera
28 Setter
29 Licensee
Each number in our Codeword grid represents a different letter of the alphabet. For example,
today 20 represents N so fill in N every time the figure 20 appears. You have two letters in the
control grid to start you off. Enter them in the appropriate squares in the main grid, then use
your knowledge of words to work out which letters should go in the missing squares. As you get
the letters, fill in other squares with the same number in the main grid and control grid. Check
off the list of alphabetical letters as you identify them.
DOWN
up? (7)
7 Take part in eleven, team
fixture (5)
8 Avoid son, despite changes (8)
12 Bite, eating for instance, nut
(6)
14 Fancy outfit revealing
bodice (6)
16 'Living' undergarment
clothing sweetheart's body (9)
17 Climber is wariest
scrambling round island (8)
19 Hesitate then speak
following good person (7)
20 Contradict victory over
European judge (7)
21 It's rare to see Conservative
in panic (6)
23 Regrets holding Liberal
principles (5)
25 Slumber party on boat? (4)
1 Sidecars
2 Genre
3 Plastic
4 Suet
5 Potboiler
6 Origami
7 Ignorance
8 Shreds
10 Stewards
14 Premises
16 Imperfect
17 Vegetatate
19 Relapse
20 Corrode
21 Smacks
24 Needs
25 Maxi
YESTERDAY'S
SOLUTION
YOUR STARS
AQUARIUS | JAN 21 - FEB 19
This is an important time to really listen to what
other people are saying. You may be feeling out
of sync as powerful forces limit your ability to
take charge as you would like. Those who put
their practical and hard working energy into
team projects can make the best progress.
PISCES | FEB 20 - MAR 20
Not everything will be as it appears. Pay
attention if you are warned about, or suspicious
of, someone's motives. This is especially true if
you are in a position to champion someone more
vulnerable. Consult people you trust and do your
best to ask the right questions.
ARIES | MAR 21 - APR 20
There is an optimistic flow today that will help
you feel positive. It will be easier to have a "glass
half full" view of events. At the same time, be
cautious and realistic when it comes to making
plans and setting personal goals. Luck is built on
common sense. At times such as this it is difficult
to tell exactly where you will end up and with
whom.
TAURUS | APR 21 - MAY 20
The day is off to a strong start for you when
energy calls for peace and harmony. Reset the
balance by taking a more diplomatic approach
to stressful situations. Recycle or give away what
you are not using.
GEMINI | MAY 21 - JUNE 21
You aren't going to permit anyone to take
advantage of you. Any suspicions or fears you
have may not be just in your mind. Your intuition
is likely to be correct. Do your best to get to the
truth of anything that has you feeling jealous or
suspicious.
CANCER | JUN 22 - JULY 22
This is likely to be a busy day. You can become
over-extended without even trying. Draw clear
boundaries to make time for yourself. It is
important not to let unfounded fears dictate your
actions. This evening events are likely to break
with tradition in a big way.
LEO | JULY 23 - AUG 22
Be honest about your feelings and don't be
afraid to ask other people where they stand as
well. An honest flow of ideas is vital to a healthy
relationship. This includes drinking, bathing,
swimming, and being near where it flows.
VIRGO | AUG 23 - SEP 23
You'll need a sense of order to feel comfortable.
Take some time to get better organized. Piles
of papers, especially, need to be sorted out.
Concentrate your efforts on getting as much
done as you can with as little effort as possible.
This includes asking others to help. A little extra
confidence will help but too much will land you
in trouble.
LIBRA | SEP 24 - OCT 23
The cosmic energy encourages a slow and careful
approach with anything close to your heart. With
patience and perseverance, you will get what you
want. This is an important day to make needed
changes in any serious relationship. Under stress,
you may hide your real feelings or intentions.
SCORPIO | OCT 24 - NOV 22
A scattered energy is in the air. Be patient with
mechanical breakdowns and miscommunications
today. There is the potential for silly arguments
starting when you least expect them. Worry,
criticism, or just the wrong tone of voice can
escalate domestic dramas. .
SAGITTARIUS | NOV 23 - DEC 21
This can be a complicated day full of
opportunities and challenges. Sometimes
things that appear to be roadblocks can end up
bringing the best results. So it's best to keep
moving forward and not put too much emphasis
on results.
CAPRICORN | DEC 22 - JAN 20
Your negotiating skills are quite strong today.
You will be able to move things to your strongest
advantage, one small step at a time. Also
can ask for what someone else might think is
unreasonable, and you are likely to get it!
To receive NATIONmobile
horoscopes on your mobile, SMS
the Star you want, eg LEO
to 20667 at 5/- above normal rates.
40 | Leisure
Tuesday, October 2, 2018 | DAILY NATION
CINEMA GUIDE
TREAT OF THE DAY
NAIROBI
5:00am Password Plus
6:00am AM Live
8:00am Living With
Ess
9:00am NTV Today
11:00am NTV Sasa
1:00pm NTV at 1
1:30pm Mafundi
2:00pm On The Wings Of
Love
3:00pm Wild Skin
4:00pm NTV Alasiri
4:30 pm Password
5:00pm The Heat
6:00pm If Only
7:00pm NTV Jioni
7:30pm Auntie Boss!
8:00pm The girl Named
Feriha
9:00pm NTV Tonight
10:00pm Side Bar
11:00pm The Heat
12:00am CNN
THE GIRL NAMED FERIHA
8:00PM
Today's highlight:
This heart wrenching drama reveals the dreams and
desires of a young girl stuck between two worlds.
Feriha is in the middle of a world, where desires and
opportunities seem endless.
IF ONLY
@6:00PM
AUNTIE BOSS!
@7:30PM
NTV SASA 1:30PM
Tune in for the latest news on NTV
Sasa with Daniel Mule and the rest of
your favourite news anchors.
NTV TONIGHT 9:00PM
Join us for the latest local and
global news on NTV Tonight with
Trevor Ombija and his colleagues.
TELEVISION
CITIZEN TV
4:00 Pambazuka Music
5:30 Dance With Chiky
6:00 Day Break
10:00 Sema Na
Citizen
1:00 Live @ 1
2:00 Afrosinema
4:00 Citizen Briefs
4:20 Mseto East Africa
5:00 La Rosa De Guadalupe
6:00 Friends To
The Rescue
7:00 Citizen Nipashe
7:35 Tahidi High
8:05 My Sweet Curse
9:00 News Night
10:00 Fall Into
Temptation
11:00 Afrosinema
01:00 Citizen Late Night
News
02:00 Afrosinema
ANDY CAPP
KTN TV
5:00 Club 700
5:30 Praise And Worship
6:00 Morning Express
7:00 Life N' Style
8:30 The Entrepreneur Rerun
9:00 Afriscreen 11:00
Forevermore 12:00 Chini ya
Mnazi 12:30 Junior
1:00 Newsdesk
1:30 Turning Point 2:00
Afriscreen
4:00 World Peacemakers
4:30 Winx Club 5:00 Baseline
6:00 The Better Half
7:00 KTN Leo 7:30 Daktari
8:00 King David
9:00 KTN Prime 10:00 I Will
Never Say Goodbye 11:00 Life
N' Style
11:30 Andrew Wommack
Ministries
12:00 CNN
K24 TV
5.00 Switchmix
5.30 Tizi
7.00 K24 Alfajiri
9.00 Isabella
10.00 The Daily Brief
1.30 Sports Hub
2.00 Arena 254
2.30 DW Documentary
3:30 Playlist
4.00 K24 Mashinani
4.30 Juskids
5.00 Beatbox
6.00 Madhubala
6.30 K24 Mashinani
7.00 K24 Saa Moja
7.30 Sumu La Penzi
8.05 River Of Passion
9.00 K24 Evening
Edition
10.00 Kenyan Movie
11.00 DW
Feed
KBC TV
5:00 BBC
5:30 Gear Up
6:00 Good Morning Kenya
9:00 Layd Back
10:00 Beyond the Headlines
11:00 Documentary
12:00 Worship Experience
1:00 KBC Lunchtime
News
1:30 Business Defined
2:00 Grapevine
2:30 Daytime Movie
5:30 Club 1
6:30 Documentary
7:00 Taarifa
7:30 Health Diaries
8:00 Elena's Ghost
9:00 KBC News
10:00 First Lady
11:00 CGTN News
12:00 Layd Back
12:30 BBC
CENTURY CINEMAX JUNCTION, NGONG ROAD
SCREEN I
"PEPPERMINT "-(2D) (18)
10AM, 12PM, 2PM, 4PM, 6PM
"THE NUN" (2D) (18) 10PM
SCREEN II
"SMALLFOOT" (3D) PG
10AM, 12PM, 4PM, 6PM, 8PM
"THE PREDATOR" (3D) (18) 10PM
SCREEN III
"JOHNNY ENGLISH " (TBA)
10AM, 12PM, 4PM, 6PM, 8PM, 10PM
SCREEN IV
"NIGHT SCHOOL" (2D) ( 16)
10AM, 12PM, 2PM, 4PM. 6PM, 8PM, 10PM
PRESTIGE CINEMA, PRESTIGE PLAZA, NGONG
ROAD
"JOHNNY ENGLISH 3" (PG)
10AM, 7.15PM
"NIGHT SCHOOL"
12.30PM, 2.50PM, 9.10PM
"PEPPERMINT "-(R18)5.20PM, 7PM
"SMALLFOOT "-(G) 11AM, 1.05PM, 3.10PM
"THE NUN" 5.10PM, 9.15PM
WESTGATE CINEMA, WESTGATE MALL
"SMALLFOOT "-(3D) 11AM, 2.30PM, 4.30PM, 6.40PM
"NIGHT SCHOOL" 11.10AM, 2.10PM, 4.30PM, 6.50PM,
9.10PM
"PEPPERMINT "-(R18) 11AM, 2PM, 6.40PM, 9PM
"NUN" (18) 2.30PM, 8.50PM
"JOHNNY ENGLISH " (TBA) 11.20AM, 4.30PM,
6.30PM, 8.40PM
"CRAZY RICH ASIANS" (2D) 4.10PM
"SUI DHAAGA" (PG) 11.10AM, 3.10PM, 6.10PM, 8.50PM
"BATTI GUL METER CHALU" (PG) 11.20AM, 2.40PM,
5.50PM, 9PM
CENTURY CINEMAX IMAX GARDEN CITY, NAIROBI
"NIGHT SCHOOL" (2D) ( PG) 10.45AM, 1PM, 3.15PM,
5.30PM, 7.45PM, 10PM
"HOTEL TRANSYLVANIA 3"-(2D) (PG)
10.30AM, 12.30PM, 2.30PM
"SUI DHAAGA" (2D) ( PG) 4.30PM, 7PM, 9.30PM
"JOHNNY ENGLISH 3" (2D) ( PG) 10AM, 12PM, 2PM,
4PM, 6PM, 8PM,
"THE PREDATOR" (3D) ( 18) 10PM
"SMALLFOOT "-(3D)
10AM, 12PM, 2PM, 4PM, 6PM
"PEPPERMINT "-(2D) (18) 8PM, 10PM
"THE PREDATOR" ( IMAX) (3D) (18)
10.45AM, 1PM, 3.15PM, 5.30PM, 7.45PM,
"THE NUN" 10PM
IMAX KENYA 20TH CENTURY PLAZA
"THE NUN"
3.20PM, 7.20PM, 9.20PM
"THE PREDATOR" 3D
5.20PM.
ANGA DIAMOND , PARKLANDS
"ALPHA" 1:30PM.
"BATTI GUL METER CHALU 2D 12PM, 5.45PM, 8.45PM
"MANMARZIYAAN 2D 5PM, 9:40PM
"PEPPERMINT" 2D 1PM.
"SMALLFOOT" 3 11.40AM
"STREE" 10.30AM.
THE MEG 3D 5.40PM.
"NUN" 2D 3PM, 7:40PM.
"THE PREDATOR" 3D 3.40PM, 8PM, 10PM.
"YAMLA PAGLA DEEWANA PHIR SE "2D 3PM
ANGA SKY CINEMA, PANARI HOTEL
"SIMPLE FAVOR" 2D 11.20AM
"BATTI GUL METER CHALU"2D
8.15PM
"PEPPERMINT" 2D 1.40PM, 6PM
"SMALLFOOT" 3.20PM
"THE NUN "2D
4PM, 5.20PM, 9.30PM, 11.10PM
"THE PREDATOR" 3D
11.20AM, 1.20PM, 7.20 PM, 11.30 PM
MEGA CINEMA - KISUMU
"BATTI GUL METER CHALU"2 6.40PM
"MANMARZIYAAN "2 9.30PM
"PEPPERMINT" 5.30PM
"SMALLFOOT" 3.20PM
"THE MEG" 3D 1:20 PM
"THE NUN" 2.10PM, 9.20PM
"THE PREDATOR" 7.30PM
NYALI CINEMAX - MOMBASA
"THE NUN"
10.30AM
":MANMARZIYAAN"
11.00AM
"PREDATOR" 3D 12.30PM:
"ALPHA" 3D 2.30PM:
"BATTI GUL METER CHALU"2.45PM:
"PREDATOR" 33D 4.30PM:
"MILE 22" 6.45PM
"A SIMPLE FAVOUR" 6.45PM:
"BATTI GUL METER CHALU" 9.00PM
"CRAZY RICH ASIANS" 9.15PM
Classified | 41
DAILY NATION | Tuesday, October 2, 2018
PUBLIC NOTICE
CHANGE OF USER
The owner of Plot No. Kisumu
Municipality/ Block 6/295 located near
M.M Shah Primary School, Kisumu City
proposes to change the use of the land
from Single dwelling Residential to Multidwelling Residential subject to approval
by the City of Kisumu. Any individuals,
institutions, organizations etc. with
objections to the proposal are hereby
requested to forward them in writing within
(14) days of this notice to:
The City Manager, City of Kisumu
P.O. BOX 105 - 40100 Kisumu
NAIROBI &
UPCOUNTRY
A052
Birthday Greetings
PERSONAL
NOTICES
A109 Lost
Loss of title deed
A871 Miscellaneous
M/CYCLES & SCOOTERS
B173 Motor Cycles
YAMAHA MOTORCYCLE 110CC
ndeiya/makutano/322
owner John Ngugi
LOSS of title LR. No. 26695/163 I.R 92624
Owner Richard Gatumu Munyi
LOST title deed Gakawa/Kahurura block
1/1272 owners Susan Wathiri Kahembe
and Purity Wangui Kahembe
LOST title Limuru/Kamirithu/2154 of Alice
Nyakio Njenga
LOST Title ref: wamunyu / Kilembwa / 3
A116 Marriage
AASMAN solves all problems immediately
. call 0732936038
LOVE:DATING services 0722219480
PERSONAL SERVICES
A167 Acupuncture
PUBLIC
NOTICE
Physical Planning Act (Cap 286)
CHANGE OF USE
The registered owners of plot LR No. 209/9901,
situated in Dam Estate, off Langata road,
Langata Area within the jurisdiction of Nairobi
City County are proposing to change use of their
property from Residential to a Kindergarten
subject to approval by the Nairobi City
County. Any individual(s), institutions(s) and
organisation(s) with objection(s) to the proposal
BSF IFSFCZ OPUJàFE UP EP TP JO XSJUJOH XJUIJO
fourteen (14 days) as granted by PPA to:
County Secretary,
Nairobi City County Government,
P. O. Box 30075, 00100, NAIROBI.
Now At Kes
92,500/Vat
Inclusive!
PUBLIC NOTICE
PHYSICAL PLANNING ACT (CAP 286)
CHANGE OF USE
The owners of this Plot LR. No. 209/16974
(+0! ŏ %*ŏ %(!(!/$3ŏ .!ŏ +ûŏ !!.!ŏ
Cresent, Nairobi, proposes to Change its
Use from Single Dwelling Residential to
Multi-Dwelling Residential (Apartments)
subject to approval by the Nairobi
City County. Individuals, Institutions,
Organizations etc. with objections or
comments to the proposal are requested
to forward the same in writing within 14
days of publication of this notice to:
County Secretary, Nairobi City County,
P.O. Box 30075, NAIROBI
Fuel Consumption upto 70km/l
Free Registration!
MOTOR VEHICLES
PUBLIC NOTICE
The Land Registration Act (No. 3 Of 2012)
Issue Of A New Land Title Deed
Joseph Mugo Githu ID 3677869 P.O.
Box16814–20100 Nakuru, is registered as
proprietor in absolute ownership interest
of land in the district of Naivasha, title No.
Nakuru/Miti Mingi/73 and is to be issued
with a new title deed after the expiry of sixty
(60) days as per Gazette Notice NO. 6704.
Members of the public are hereby required
to submit any objections within fourteen
(14) days of this notice to:
C M WACUKA
Land Registrar Naivasha District
NAIROBI BRANCH – 0720 792900/
0722 536429/ 0720 459840
KISUMU BRANCH – 0722536994/
0711 654120,
B049 Car Hire
MAZDA Bongo '11 1.150m 0722316590
BETA-HIRE 2k 24hrs 0724762455
M/CANTER 2014 2.8m 0722316590
CARS Wntd 40-250pm 0724655860
MIT.FH CANTER New&Used Dep.from
MOMBASA BRANCH – 0725 364941/
07211 22845
ELDORET BRANCH- 0722 815792.
LODWAR- 0702 442307
350K Repay in 48mnths 0773026735
EMAIL [email protected] ;
www.toyotakenya.com
CAR wanted 40k/250k 0728067027
ROYAL carhire 2k24h0798824737
MITS FH lorry KBC local asking 1,850,000/call me 0722940058
B070 Exhaust Pipes and Silencers
PAINS-
Neck, Shoulder, Back, Hip.
3744885, 0737-540562, 0721-170217
SILENTFLOW.ANY
Vehicle +
Generator+H/equip.H/Duty. 0774135011
A230 Health
B077 For Sale, Dealers
0202245564 Rhino Blue power tabs
TOY Hilux p/up KBQ 1.8M 0722319284
0723408602 MagnaRX size pills
B085 For Sale, Private
0723408602 Savage power capsule
.0726545566 We buy off carloan
B212 Tractors for Sale
FIAT 80-66 4WD 1.8M 0722611494
SITUATIONS VACANT
B250 (FOFSBM
N/XTRAIL 2004 750K 0722316590
A265 Medical
PAJERO i0 KBQ 490k 0721794163
MEN'S FAILURE - and Size / Low Desire.
HEAVY COMMERCIAL
(7)SUPERMARKET att.0795564600
BANK clnrs cashier/messgr 0757159555
CASUAL jobs intake 0716897532
3744883, 0733-718337, 0722-242243
PROBOX KCR 2012 675K 0743790531
DATA-CLERKS
A279 Notices
RACTIS KCJ 550k 0703370814
PUBLIC NOTICE
PHYSICAL PLANNING ACT (CAP 286)
CHANGE OF USER.
The owner of plot no. 742, Aimi ma Kilungu situated
8/+< 373 7+ 36?81? 9I-/= 38 ?5++ 7+<5/> -/8></N
Makueni County proposes to change its use from
Commercial to Residential subject to approval by
County Government of Makueni. Individuals, institutions
or organizations with objections or comments to the
proposal are requested to forward the same in writing
within 14 days of publication of this notice to:
SUCCED
2013 @860k, 2011 @830
Probox KCR @ 780k, Bongo KCR man
950k dep 35% bal. 18months 0711971952
WHERE TO STAY
TOYOTA LANDCRUISER
SAHARA
A571 Hotels
jobs
[email protected]
apply
INSTANT loan 5k-150k 0790716115
IT: Assistant restaurant requires Diploma
Holder with experience in Business
software installation and Hardware
Troubleshooting and Maintenance apply
with CV indicating present salary to
[email protected]
VACANCIES
The County Secretary
County Government of Makueni
P.o Box 78- 90300
Wote-Makueni.
Jordan College of Technology
Thika, which is a leading Technical,
Business and Hospitality training
Institution has the following
vacancies for Tutors:
BRAND NEW 2018,DIESEL,SUNROOF,
LEATHER INTERIOR. CHOICE OF(2)
ALSO AVAILABLE 2016 PETROL.
TRADE IN ACCEPTED
Call:0720943666
Daily:
Kshs 1,500
T/HILUX 2012 1.85M 0722316590
T/ Hilux Vigo p/up 5L dsl 940k, Mazda
Ranger p/up petrol 860k 0721387528
FOR SALE OR WANTED
TOY. Noah Townace Wish Sienta Isis Axio
Ractis Demio Note New&Used Dep.
250K 4yrs 0773026735
ESCUDO
BX 1.2m Vista AX 380k
0781695439 neg
ISUZU DMax '12 1.650m 0722316590
A822 Computers
ISUZU FRR FSR used 3units Dep.600K
TOYOTA Prado KCC,yr 08,2700cc price
2,450,000/- call 0722940058
T/PROBOX kbw 485k 0720532410
blnc financed 0773026735.
ETR-APPROVED
KRA, CCTV POS
Systems Dejavu Technologies, Rahimtulla
bld opp Bazaar/ TSC 1st floor rm 16 Moi
Avenue 0711558758
1. Electrical & Electronics
Engineering
Minimum requirements
- Diploma in Electrical & Electronics
Engineering – Power Option
- 2 years teaching experience in a
technical institution
- Diploma from KTTC an added
advantage
- NITA Grade I an added advantage
2. Laboratory Science
[email protected]
ISUZU NPR 4.3 canter local YR 2008
coverboard KBE good working condition
0722653949
T/RACTISS kcm 720k 0726914238
T/VITZ 2006 495K 0722316590
at
Minimum requirements
- Bachelor's degree in Science
(Laboratory Science)
- 2 years teaching experience in a
technical institution.
NB: Registration with the TSC an
added advantage for all positions.
Interested
candidates
are
invited to come for interviews
on 04.10.2018 at Jodan College
of Technology, ALISA PLAZA,
Opposite Safaricom Customer
Care, THIKA at 9.00am.
42 | Classified
Tuesday, October 2, 2018 | DAILY NATION
NAIROBI Sales job 0700383928
NEWLY qualified physiotherapist needed.
NGO jobs 48k p.m 0795115424
VACANCIES
B457 Bar Codes
PMD Group Ltd plans to open branches
across East Africa. The group seeks to
recruit 120 young and energetic individuals
LQYDULRXV¿HOGVWRZRUNRQIXOOWLPHEDVLV
The applicant
• Must be unemployed
• Form 4 leavers and above
• Have a valid ID/Waiting card
• &HUWL¿FDWHVDQGSDVVSRUWVL]HSKRWRV
• Experience not needed.
Competitive remuneration after orientation.
Nairobi 0703 749 700 | Nyeri 0790 254 492
Nakuru 0797 652 714
QUICK loans 5k-250k 0790212271
SUPERMRKT
messengers
rq
Loaders/cleaners
0711-717717, 2229962, 0738-717717 or
www.bgs1eastafrica.com
B462 Business for Sale
To make necessary enquiries and take advice before sending money, incurring expenses or
entering into binding commitments in relation to an advertisement.
/"5*0/.&%*"(3061TIBMMOPUCFMJBCMFGPSMPTTPSEBNBHFJODVSSFEPSTVòFSFEBTBSFTVMU
PG B SFBEFS BDDFQUJOH PS PòFSJOH UP BDDFQU BO JOWJUBUJPO DPOUBJOFE JO BO BEWFSUJTFNFOU
published in its newspapers.
rq
3.25ACRES 100metres from Mt Kenya
Holiday Homes 8m 0722342848
ARE you selling your land, plot, house,
A/RIVER Emba comm60x130 0722260243
...0723408602 Instant loan on laptops
ATHIRIVER Gimu 2M 0722784395
KIAMBU Road Thindigua busy salon on
sale tel 0722711930 walk in walk out
INVEST 50K and earn 10K monthly.
BANKERS Nakuru/Nairobi 0777744622
INVEST & earn 0773083909
B498 Construction
AGRICULTURE & HOME
well serviced 7M Per Acre 0722342848
KRA Approved Etr machines Esd Machines
Fiscal&receipt printers Tel 0728787118/
0736579066 Upper Hill Nairobi
LOAN on cars/Pslip /laptop 0722740375
ROOTSCREDIT Ltd, SME loans call
B657 Farm Machinery & Implements
ENGINEER
(Kinangop) 15acres river
frontage 1.2M/acre Tell: 0736-727838
FEDHA 1 & 2brm call 0706420523
GACHIE 1/4acre ring 0729020610
GILGIL-LANGA 0724673397
0722728722, 0721511227, 020244200
medium fast food in Nairobi send CV to
[email protected]
1ac 2ac 3ac with title
water&stima o721594804.
NYAHURURU Town plot for sale, ready
title Call: 0721878173
NYANDARUA
5 ACRES 2km from
Engineer Town Call 0750636126
OLKALOU 20acres 0722808455
JOSKA - KAMULU
DENIS Pritt rd 3/4acre 0790404994
ELEMENTITA 5 acres next to the Lake
0796107971
WAITRESSES /Waiters/general staff for
B740 Land, Plots for Sale
NYAHURURU
within Thika, Juja, Ruiru, Utawala, Kenol.
Call us 0720612570
0722617940/ www.bakven.com
TUMAINI loans 0743907272
TURNBOYS
BARCODE GSI EA Cannon Hse. Tel:
B476 Business Opportunities
0796107957
RESIDENTIAL &
BUSINESS PROPERTIES
COMMERCIAL
Distance 3km from proposed Muthwani - JOSKA tarmac Road (KENHA)
Site visits: Wednesdays @ 9.30a.m & Saturday @8.00a.m
PAN AFRICAN PROPERTIES
Reli Co-op Hse 4th Flr. Bus station
REDHILL,2KM
off Limuru rd,opp
muguku sch.7.5 Acre farm ksh 160M tel
0722522946
RONGAI 1/4ac, 1/2ac, 1acre 0720903187
RUIRU
B257 .FO
Eastern Bypass Juja 400-1M
Maimahiu 250K Family Shade Africa Ltd
0720511818, 0733952817
B499 Tenders
PROF Barbers wanted Msg 0708-105426
TW
GI
EDUCATIONAL
RLS SEC
E GI
ONADRY
RUIRU & Juja, 1 acre fronting tarmac &
S CH
OO
L
80x40 & 1/4, 0705812813, CDCM Ltd
RUIRU Murera 1/2ac 4br 0727558194
P.O. Box 90-00216, Githunguri. | Tel: 0706515199
INVITATION TO TENDER
RUIRU Plot with Hse 8.2M 0722319284
Tenders are invited for supply and delivery of goods
and services for the year 2019.
B403 Colleges
TENDER
NO
GGS/1/2019
GGS/2/2019
GGS/3/2019
GGS/4/2019
GGS/5/2019
GGS/6/2019
GGS/7/2019
GGS/8/2019
GGS/9/2019
GGS/10/2019
GGS/11/2019
GGS/12/2019
GGS/13/2019
GGS/14/2019
GGS/15/2019
B445 Technical
GGS/16/2019
GGS/17/2019
GGS/18/2019
GGS/19/2019
GGS/20/2019
GGS/21/2019
GGS/22/2019
GGS/23/2019
GGS/24/2019
GGS/25/2019
GGS/26/2019
GGS/27/2019
GGS/28/2019
GGS/29/2019
GGS/30/2019
GGS/31/2019
GGS/32/2019
GGS/33/2019
GGS/34/2019
B525 Financial
DESCRIPTION
Dry maize and beans.
3JDFNBJ[FáPVSBOE
wimbi
Fresh Meat
Fresh bread
Fresh fruits
Fresh kales/cabbages/
onions/potatoes
Shop goods i.e. sugar,
cooking fat etc.
Eggs
Firewood (mature
blue gum)
Detergent and
disinfectant
Cleaning materials
Sanitary Services
Exercise books with
school logo
(FOFSBMPGàDF
Stationery
Computers accessories
printer tonners.
Hardware materials
Sand, ballast and
building stones
Plumbing materials
Electrical materials
Laboratory chemicals
and equipment
Medical drugs
Students and nonteaching staff uniform
Sports uniform and
equipment
Servicing of generator,
borehole and water
pumps
4FSWJDJOHPGPGàDF
machines
Vehicles fuel
Repair & supply of
kitchen equipment
Servicing of school
vehicles
Electrical maintenance
services
Provision of Plumbing
labor
Provision of Fumigation
services
Insurance services for
vehicles & Assets
Computers & CCTV
Servicing
Security services
GGS/35/2019 General maintenance
and small contracts
GGS/36/2019 Maintenance of
àSFàHIUJOHFRVJQNFOU
STATUS
RUMURUTI 50acre @100K 0726341993
Open
Open
SYOKIMAU 1/4a prime6.8m 0722260243
Reserved
Reserved
Reserved
Open
TASSIA II plot 33 x 66 0729475785
Open
Reserved
Open
Open
Open
Reserved
Open
Open
Reserved
Open
Open
Open
Open
Open
Open
Open
Open
Thika Kisii 40x80 250K-2M 0723929964
ITHANGA 8acs water front 0723402830
JOSKA 10acres 1.5m p.a 0725423682
JOSKA
50x100 200,000/= 375,000/=,
300,000/=, 250,000/= Kantafu 700,000/=,
Malaa 900,000/= Viewing Wed 9.30 am &
Sat. (9.30am) Truelands, Reli Co-op Hse,
Rm 404, Mfangano St. 0720738141,
0710343334
KAHAWA
Wendani plot 75x100
bordering Githurai side 4 rows from
Thika Super Hghway. Access opp. GSU.
Asking 20M 0736-570327
KAJIADO land for sale 20acres along KjdNamanga rd @900k p/acre 20m off
tarmac contact owner 0704372441
KAMULU 5acre near reflector best for
farming, residential houses, subdivision
3.5m p.a. Call 0721455478, 0722491170
Open
KAMULU 5Acres 32m 0738137908
Reserved
Open
Open
Reserved
KAREN 2.6acres prime loc 0722526408
KASARANI 30X90FT 0742233113
KERARAPON 1/4ac 0712600893
Open
Open
Open
Reserved
Reserved
Open
Open
KIAMBU County 50x100 plots in Ruiru
East 350K call 0728253283
KISERIAN 1/8ac 1.7M 0720449699
KISERIAN Pipeline rd 2 & 8 acre for sale
call 0711997099
LIMURU bibirioni
1/8,1/4,3/4,11/2,3,4,5
acres plots 0722725196
Reserved
LIMURU:
(Tiekunu) 2acres 2nd row
t/deed v/ideal 20M T. 0722889102
MUSHROOM 0.5 acre 0777526794
@ Jijenge Credit Ltd L/book Loans in 1hr
Tender documents giving more details are available
BUBDDPVOUTPGàDFVQPOQBZNFOUPGOPOSFGVOEBCMF
fee of Ksh.1000 per set on week days. Completed
forms in plain sealed envelopes should be addressed
to the secretary BOM Gitwe Girls Secondary School.
P. O. Box 90 – 00216 Githunguri and deposited in
the tender box in the school before 24/10/2018
at 9:00am. Opening will be done immediately
thereafter. Avail yourself for witnessing. All applicants
TIPVMEBUUBDIUBYDPNQMJBODFDFSUJàDBUF
.0710746831 adv/ buy/sale ur car/ title,lpt
NB ITEMS MARKED RESERVED ARE FOR
YOUTH, WOMEN AND PEOPLE WITH
DISABILITY.
NGONG Matasia 1/8 & 1/4 plots for sale.
The school reserves the right to accept or reject any
tender either in whole or in part and is not bound to
give reasons for its decision.
NGONG Rd 5br+Conference Hall with
..0202245564 Instant cash on laptops
.0700070261 Loan Buy off on car
0700282727, 0717282727, 0711282727
..0722694340 Processing Car/Logbook
Loans in Less than 30 Minutes
LONGONOT 1/8 tarmac 1m 0726341993
NAIVASHA Land for sale 5acres within
Greenpark complex @26m for whole
block contact owner on 0704372441
call 0711997099
compund. V/spacious 0722809362
THIKA-
maguguni
0736727838
1acre
5M
tel
THIKA Ngoingwa area 3 br hse 7.5 m,
50X100 plots from 2.9M-7.5M near main
road.call 0720612570
THIKA Weteithie plot 0729475785
Classified/Transition | 43
DAILY NATION | Tuesday, October 2, 2018
A Life well Lived
It's with God's acceptance that we announce the
death of Paul Kiptoo Chemjor (Kipsaman) on 26th
September 2018 of Kimwogo village, Tambul Sublocation, Elgeyo Marakwet County.
KAJIADO @ IBISSIL
Mombasa Rd @ EMALI -LOITOKTOK HIGHWAY
KITENGELA @ KCA
PAN AFRICAN PROPERTIES
Reli Co-op Hse 4th Flr. Bus station
RONGAI 3br Bungalow 1/4ac Control
Gated Community 7M 0722-342848
WESTLANDS 1 acre with 3br Bungalow
700 Million Neg. 0722342848
SOUTH C corner plot 0733183372
UMO2 3-units 1br 5.5m 0722260243
LANGATA rd yard to let 0722526408
B789 Properties to Let
NEW Godowns Msa Rd, Juja, Industrial
1BR, 2br Westland 15k-28k 0722342848
Area etc 4,000sqft-10,000sqft @ Kshs 20
per sqft 0720903187
WESTLANDS office 3br 0720903187
B782 Properties for Sale
The body will be removed at MTRH, Eldoret on 5th
October 2018 for home and followed by the funeral
on 6th October 2018 at Kimwogo Village, Tambul
Sub-location, Elgeyo Marakwet County.
SHOP @Mlolongo 3.5M 0722754043
B768 3UHPLVHV2I¿FHVWR/HW
plot 6.9M 0731713538
AKILA 4br with DSQ 0722719560
PRIME PLOTS
FOR SALE
• Old Muthaiga – 1.7Ac with 2
houses Ksh. 420m
• Redhill – Limuru – 1/4 Ac plot
@ Ksh. 9m per plot
• Kilimani – Near Yaya – 1/2 Ac
plot @ Ksh. 250m
• Mombasa Rd – Behind Airtel
1Ac Ksh. 135m
• Carnivore – 3Ac @ Ksh. 200m
per Ac
• Donholm – 22Ac @ Ksh. 60m
per Ac
• Kitengela
–
at
Kenchic
ĆĀĀ)!0.!/ŏ +ûŏ 0.)ŏ Ksh.
2.75m per plot
0722 837 457
I/CORE flats inc 200k 0722260243
It is with deep sorrow that we announce
the death of Margaret Adhiambo OdhiamboOduor.
ADAMS 1br 7k owner 0723119452
AT South B 1br & bedsitter Studios, water
24/7 & parking 0712007616, 0714538594
extended sitting rm/brm 0722644620
BURU 5sq one br 0722629197
EMBA telaviv to let 1br, 8,600/- s/room
3k,4k 0710230683/ 0786874453 owner
IMARA daima 2br bungalow vacant 25k
0739264263 no agents
Funeral service will be held at the ACK Lundha
St. Luke's and burial will be on 3rd October
2018 at their home in Gem Lundha.
Margaret Adhiambo
Odhiambo - Oduor
Fare Thee Well Nyar Masumbi.
Call: 0701414082
N/WEST, 1&2br 24&36k p/m 0721739611
TIGONI 4br Hse 60k 0733297773
WAGA Karen- Hardy 5br+2br Guest
Wing hse 0.5ac @250k 2213022
WAGA Kileleshwa-Mandera rd 2br apt
@70k lift, pool 2213022
WAGA Parklands 1st ave 3br (2 ensuite)
Mansionette @80k 0701340967
WAGA Westlands near School Lane 1br
WAGA
Westlands - Westlands
4bedrms [email protected] 2213022
B810 Wanted to Buy
only Tel: 0722740364
BANK Requires Hses 0722297773
KIBRA 4br Hse 5.3M 0733297773
HARAMBEE Sacco Plots 0712422955
LANGATA 4br maisonette 0733297773
Wife of Mika O. Odido of Gem Lundha.
Daughter of the late Reuben Odhiambo and
Mama Jenipher Odhiambo of Alego, Masumbi.
Doting mother of Beryl Odido, Jael Odido
and Graciella Awuor Odido. Sister of the late
Christopher, the late Zipporah, Roselinda,
Lilian, the late Raphael, Pamela and Isaac. Aunty
of many nieces and nephews.
KAHAWA Sukari 2br 20k Baringo Rd.
furnished [email protected] 2213022
KAYOLE Plot for sale 5M Serious Buyers
(1923 - 26/09/2018)
Death and Funeral Announcement
KANGEMI hse 1/4 plt 0722297773
KAYOLE 4storey house 0729475785
Paul Kiptoo
Chemjor
Death and Funeral Announcement
AVENUE Park 3br + 2sqs masionette
3BEDROOMS house Ngoingwa 50x100
The third son of the late Torot Arap Chekurui and
the late Teriki Torot of Kapsegut Village. Husband of
Teriki Kiptoo and the late Targok Kiptoo. Father of
Musa, Salinah, Mary, Samuel, Margaret, Jane, Michael,
Sheilla, Mercy, Kandie, Lilian and Caren. Father-inlaw of late Mary, Elizabeth and Winnie. Uncle of
Sarah,Fred (ExKcb), Mary (TSC), the late Cheruiyot
(Nyaru), among others. Nephew of Orguts of
Musgut. Grandfather of Jelagat, Martin (NIC),
Jepchirchir, Faith, Kipkorir, Kiprop, Jepchumba, Jebet,
among many. Great Grandfather of 18.
rd
Death and Funeral Announcement
It is with deep sorrow and humble acceptance
of God's will that we announce the passing on
of our beloved mother Miriam Wangechi Kanyiri
which occurred at Karira Hospital-Mwea on 26th
September 2018 (and body transferred the same day
to Outspan Hospital Mortuary).
Daughter of the Late Kiragu Kanyora and late Nduta.
Wife of the late Paul Kanyiri Ndegwa. Sister of the late
King'ori, late Ndiritu, late Wachera, Wagaki, Waruguru
and Mathenge. Mother of Beatrice Wanjiru, Margaret
Wambui, Joseph Ndung'u, Elijah Maina (kiragu), David
Kabuga of Embu Commercial Garage, John Nderitu of
Ministry of Education Mathira, Mary Nyambura, Peter
Kiragu (Juma) of Embu. Grandmother and Great
grandmother of many.
We regret to announce the promotion
to glory of Mrs. Rose Akinyi Nyakangi,
which occurred on the 26th of September
2018 after some illness and subsequent
hospitalization at Nairobi west hospital.
%BVHIUFS PG UIF MBUF -VDBT 0LVXBø BOEø the late Magret Ondu of Sigomre, Siaya
County. Beloved wife of James Nyakangi
Nyabwari (OP Sameta). Mother of Godfrey
(BOI), Joan, Felix (KENAFF), Winnie (BHL),
Thomas (Pwani University), Jackline
(JKUAT) and Mirium. Mother-in-law of John
(PSC) and Tom. Grandmother of Victor,
Mirium, Joseph and Tyrah. Daughter-in-law
of the late Nyabwari and the late Teresia,
Omwange, Omoori and Mong'eri. Sister
PG4FMMBUIFMBUF5PN0OEVUIFMBUF0KVLBø
and others. Step -sister of Maurice, Jenipher,
Ayiecha, Omare, Hellen and others. SisterJOMBXPGUIFMBUF0CBSB+PBC+PIOø0OHFTB.JOJTUSZPG4QPSUT
"MJDF+PHJOEB+FOJQIFS
Cyrus, Jane Ondu and others.Cousin of Tom, Bonface Angolo, the late Anastacia, David,
Roseline and others.
Rose Akinyi Nyakangi
Family and friends are meeting daily at Drips Grill, Dagoretti and Garden Square from
5.00pm for prayers and preparations of the funeral which will take place on 12th of
October 2018 at her home in Kenyoro village, Nyamarambe Sub-county, Kisii County.
The cortege leaves Umash funeral home on the 10th October.
Mum, your life was a blessing, your memory a treasure; you are loved
CFZPOEXPSETBOENJTTFECFZPOENFBTVSF(PPECZFTIVSUNPTUXIFOø
UIFTUPSZXBTOPUàOJTIFE
Apostolic Faith Church Bahati, Nairobi
Death and Funeral Announcement
Miriam Wangechi
Kanyiri
Friends and family are meeting daily at 6.30pm for
prayers and funeral arrangements at Kabuga's HomeEmbu (Airstrip), Sunrise Comfort Hotel-Embu and at
her home in Gaturuturu Village at 3.00pm.
Cortege will leave Outspan Hospital Mortuary-Nyeri for prayers at AIPC church Gaturuturu
Branch on Friday 5th October,2018 at 8.00AM and for burial same day at her home in Kihuri
farm, Gaturuturu Village-Othaya.
"Mother we dearly loved you, but God loved you more, Rest in peace"
B817 Wanted to Rent
LAVINGTON- Lux. Exq. Ap'ts. for Sale:
2,3 & 4 bdrms, all ensuite + DSQs: 922M, Gd pay plan: 0723240160
EMBASSY Require apts 0733297773
MLOLONGO flats inc. 150k 0722260243
Mrs. Margaret Waithera Mburu
AIMING TO
RECRUIT
THE BEST?
Advertise in the paper
read by people from
all spheres of life and
cuts across diverse
demographic groups
It is with humble acceptance of God's will that we announce the
promotion to glory of Mrs. Margaret Waithera Mburu a church elder
with Apostolic Faith Church, Bahati, Nairobi, which occurred on 30th
September 2018.
Daughter of the late Wilson Mwangi and the late Milkah Wairimu
Mwangi. Daughter-in-law of the late Thomas Kahari and late Rebecca
Njeri. Wife of Mr. Simon Mburu Kahari (PC) of Kerarapon, Ngong,
mother of Mercy Njagi, Millicent Wairimu, Florence Wambui, Catherine
Wambui and Anthony Kahari. Grandmother of many. Mother-in-law
of Rev. John Njagi (Rwanda), Robert Musomba and Naomi. Sister of
Wilson, Njoroge, Irene and Alice.
Burial meetings going on at their home (Kerarapon, Ngong) and
Cardinal Otunga Hall (Nairobi) every evening from 5.00pm. A special
meeting (prayers & Contributions) to be held on 3rd October 2018
at Apostolic Faith Church, Bahati, Nairobi.
The cortege leaves, Montezuma Funeral Home for burial at Kerarapon
(Ngong) on Friday 5th October 2018.
i*IBWFGPVHIUBHPPEàHIU*IBWFàOJTIFENZDPVSTF*IBWF
kept the faith." (2 Timothy 4:7)
44 | Transition
Tuesday, October 2, 2018 | DAILY NATION
Death and Funeral Announcement
It is with humble acceptance of God's will
that we announce the death of Gideon
Wambugu Mwangi, which occurred on
28th September, 2018 after battling
with Leukemia. He was working with
the Ministry of Agriculture, Livestock &
Fisheries – State Department of Livestock
stationed at AHITI Ndomba.
Beloved husband of Agnes Wangui
Wambugu. Loving father of Jacqueline
Wangeci, Linda Njeri and Joan Wanjiru.
Son of the late Danson Mwangi and
Ann Njeri and son-in-law of the late Mr.
Hezron Kirara, the late Tabitha Wangeci
and Peninah Wangari. Brother of Wanjiru;
Ndirangu & Wairimu; Wangari & Mwalugho;
Ndiritu & Nancy and Wanjiku. Brother-inlaw of late Jane Wairimu, the late Counselor
Karina, Kamotho, Mbaru, late James Karina,
Wacuka, Beatrice, late Margaret, among
others. Cousin and uncle of many.
Celebration of Life
Daughter of the late Joseck and Miriam Chemao.
Dotting Mother of Isaac, Donna, Christine and
Robert. Grandmother of Miriam, Steve, Lloyd,
Yvonne, Keegan, Leon and Brandon. Motherin-law of Mark, John and Eunice. Sister of Joel,
Dorcas, Andrew, Beldin, James, the late Robert,
Judith and Josephine and many others. Sisterin-law of Rtd. Archbishop ELiud Wabukala,
Evans,Thaddeus, John, Isabella, Daneah, Metrine
and many others. Cousin of the Wandabwa's,
Okwara's, Kasuti's, Wanjekhele's, Kundu's and
many others.
Gideon Wambugu
Mwangi
Family and Friends are meeting daily from 5pm at his home PIAI, Embu.
The cortege leaves Gakwegori Funeral Home Thursday 4th October, 2018 at 8:00am
for a church service at PCEA Gateway Church near PIAI at 10:30am. The burial will
be at his home at PIAI.
Jesus said to her "I am the resurrection and the life those who believe in
me will live even though they die" John 11:25
Death and Funeral Announcement
It is with humble acceptance of God's will that we
announce the tragic death of Dickson Jared Jayalo
Samba, of Club Signature.
The Lord gives and the Lord takes , we bless
the name of the Lord who gave and has taken
Eugeneah Nasimiyu Masambu wife of Hudson
Masambu.
4PO PG #FOTPO 4BNCB /HPO BOE ø #FBUSJDF
Olumasai Samba, Kabondo Kasewe, Homabay
County. The 2nd among the 4 boys but the 7th
child in the family of 13 children. Brothers of Flo,
Judy, Jane, Jacob, Grace, Dorine, Violet, Hanny,
Denis and the late Rozina. Nephew of Rollins,
Moses, Washingtone, Asher, Amos, Adongo and
Peter.
Eugeneah Nasimiyu
Masambu
Family and friends will gather for a fund raising
on Tuesday 2/10/2018 at PCEA St. Andrews church at 5:00pm.
The cortege leaves Chiromo Morgue at 1:30pm on
UI 0DUPCFS ø GPS NFNPSJBM TFSWJDF BU 0VUSFBDI
Church Mathare near Moi Base that from 2:30pm.
He will be laid to rest, on Saturday 6th, at Kabondo
Kasewe Location, Ogenga School.
"Nind gi kwe Jawaya."
Dickson Jared
Jayalo Samba
1987 - 2018
There will be a requim mass on Wednesday 3/10/2018 at St. Marks Westlands.
Thereafter the family shall proceed to Bungoma where she will be laid to rest at her
home in Namwesi on 6/10/2018.
Let us celebrate her life together.
Promotion to Glory
It is with deep sorrow we announce the death
of Mzee Richard Njagi Kamau formerly of the
Kenya Police (PCIO) Eastern Region and CEO
'RIGI' Services Nairobi; of Gikuuri Village which
occurred on 13/09/2018.
Son of the late Julius Kamau Kamunyori and the
late Susan Mukami Kamau. Husband of Millicent
Marigu Njagi. Father of Dr. Humphrey Ndwiga
(African Development Bank), Teacher Lucy
Richard (Nduuri Primary), the late Julius, the
late Leadys, Dr. O. Njagi (Director of Veterinary
Services), Teacher Violet of Kitengela, Ezekiel K.
Njagi (Kenya Police – Port Victoria) and the late
Cornelius Mwangi. Father-in-law of Lawrence –
Tharaka Nithi, the late Susan, Teacher Phoebe
– Mwea, the late Lucy Nyaga, Christine (Embu
County Government) and Lucy (DASCO
– Runyenjes). Brother of Obadiah (Kimuri),
the late Peninah, Hannah, the late Mary, John
Kamunyori (Kamunyori Advocates), Ernest and
Naomi. Brother-in-law of the late Alice (Kimuri),
the late Gachanja, Mwaniki Kabesa, Josphine, Joy
and Ephantus. Grandfather of Dennis, Richard
Munene. the late Rita Susan, Mary Jullie, Gladwell,
Bonnie, Richard, Nancy, Kennedy, Richie, Debbie,
Milly Kentis, Ian Rodney, Cecilia and Victoria.Great
grandfather of Sadra, Joshua, Baby Jeremy and
Baby Gabbie.
Mzee Richard Njagi
Kamau
Sunrise: 17/7/1936
Sunset: 13/9/2018
Prayers and funeral arrangements are going on at his residence, Gikuuri – Kirigi village. The
cortage leaves Gakwegori funeral home of Friday 5th October 2018 at 9.00am and thereafter
burial ceremony at his home Gikuuri-Kirigi in Runyenjes Sub- County . Contributions can be sent
to Lucy Richard – 0723 165 583.
"Romans 14:8 says for whether we live, we live unto the Lord, and whether we die,
we die unto the Lord; whether we live therefore or die, we are the Lord".
Death and Funeral Announcement
It is with deep sorrow and humble
acceptance of God's will that we announce
the passing on of Charles Macharia Kiguta,
who until his demise on 26th September
2018, was an employee of New KCC based
at Kiganjo Factory.
Son of the late Nahashon Kiguta and the
late Phylis Wanjiru of Naromoru.
Beloved husband to Ann Wambui Macharia
and Loving father to Phylis Wanjiru Mwangi
(Naivas- Eldoret), Winfred Njeri Mija
(Nairobi), Emmanuel Kiguta Macharia
(Kiburu Boys) and Shadrack Nderitu
(Emmanuel Academy).
Brother to Joseph Mwangi, the late Simon
Kamau, the late Agnes Wanjiru and the late
Mary Gathoni. Son in- law to Loise Nderitu
of Kahiga village and Brother in- law to
Pastor Peter Maina (Nakuru), Lilian Thuku
(Othaya), Gerald Mwangi (Nairobi), and
William Theuri (Samburu) among others.
The cortege leaves Mathari Mission Hospital on Wednesday, 3rd October 2018 at 8.30
am. Funeral service and burial will follow thereafter starting 11.00 am at his home in
Kabati village, Murichu sub-location, Kiamathaga Location, Kieni East, Nyeri County.
Charles Macharia
Kiguta
'And the peace of God which is deeper than all knowledge will keep your
hearts and minds in Christ Jesus.' Philipians 4:7
Death and Funeral Announcement
Promotion to Glory
1st Anniversary
Esther Mukiri Kairanya
John Javeti Kasema Maithya
6th June 1956 - 28th September 2018
Leonard Philip Ochieng Nyambuya
It is with humble acceptance of Gods will to announce the passing of John
Javeti Kasema Maithya on 28th September 2018 after a long illness.
It's been exactly one year since you got your wings.
Our mind still talks to you, our heart still looks for you and our soul
knows you are at peace.
We thank God for the gift of your life.You physically departed from
this world but your spirit lives on and continues to be increasingly
cherished always in our hearts.
Those we love don't go away, they walk besides us every day, unseen,
unheard but always near.
You are fondly loved, remembered and missed by your loving wife,
your mum, your children, grandchildren, family relatives and friends.
Son of the late Joseph Mulala Maithya and the late Teresia Nduku Maithya.
Loving husband of Rose Mumbua Kasema. Father of the late Nicholas
Musia Kasema, Justine Nduku Kasema, Theresa Ngethe Kasema, Katherine
Kamanthe Kasema, Francisca Kavuli Kasema and Francis Muuo Kasema.
Grandfather of John Mikael and Chelsea Njoki. Brother of the late Patrick
Kikubi Maithya, the late Salome Muasya, Jane Ndeleve, the late Elizabeth
.VUFTJBOE-BXSFODF.VUIJBOJ.BJUIZBBOEVODMFPGNBOZø
"I am the resurrection and the life. He who believes in Me,
though he may die, he shall live" John 11:25
It is well.
Family and friends will be meeting from Tuesday 2nd October 2018 to 4th
October 2018 at the All Saints Cathedral Church along Valley Road from
QNBOEBMTPBUUIFJSGBNJMZIPNFJO0OHBUB3POHBJø
It is with humble acceptance of God's will that we announce the death of our adored mother, Mrs
Esther Mukiri Kairanya that occurred on Saturday 29th September 2018.
Beloved wife of the late Lawrence Kairanya. Daughter of the late Mr. and Mrs Mukindia M'Rimbere.
Daughter in-law of the late Mr.and Mrs M'Mukindia. Mother of Rose Kaburu, Catherine Mbaya, John
Kirimi, Jeremiah Kamathi, Mwenda Kairanya, Susan Murithi, Late Luka Mwiti, Martin Muriki, Jane
Gitonga and Ezra Muguna.Mother in law of Late Jacob Kaburu, Washington Mbaya Muthamia, Mary
kirimi, Lilian Kamathi, Martha Mwenda, Murithi Gituma and Dennis Gitonga.
Sister of M'Anampiu, Kamunde, Rosaria, Joyce, Julia and Mburugu. Sister in law of the Late Duncan
Kibwa, Late Kariuntu, Mrs Kamunde, Mrs Rael M'Anampiu, Late Mutungi, Late M'Marete and Mrs
Mburugu.
Grandmother of Murithi Kaburu, Susan Mbaya,Tony Mbaya, Mike Mbaya,Toshi Mbaya, Betty Nkirote
Kirimi, Maureen Mwendwa Kirimi, Brenda Rose Kendi Kirimi, Linda Kanyiri Kirimi, Eric Gitonga
Kamathi, Evans Munene Kamathi, Joy Gatwiri Kamathi, Janet Kathure Kamathi, Jacqualine Kagwiria
Murithi, Teddy Chris Munene Murithi, Caroline Makandi Luka, Collins Munene Gitonga and Ian
Kimathi Gitonga.
Great grandmother of Kenzo Mutethia, Zoey Kanana, Ethan Mutuma, Zamael Joel Mutethia and Alex
Bright Mwenda. Aunt of many.
The funeral and Requiem Holy Mass will be held on Saturday 6th October
2018 at their home in Ongata Rongai starting at 11.00 a.m. The cortege will
MFBWF6NBTI'VOFSBM)PNFBUBNPOUIFTBNFEBZGPSCVSJBMø
The cortege leaves Kiirua Hospital Mortuary on Friday 5th September 2018 at 10.am for the
funeral Service at St John Catholic Church Kithoka and thereafter burial will take place at her
home in Kithoka Farm North Imenti District in Meru County. Family and friends are meeting
daily at Paramount Hotel in Meru Town from 5.00pmand at her Kithoka home for prayers and
funeral arrangements.
John, loving husband and dear father, may God grant your soul
eternal rest and peace.
In God's hands you rest in our hearts you live forever. Rest in peace Mum.
Transition | 45
DAILY NATION | Tuesday, October 2, 2018
Celebration of Life
It is with deep sorrow that we announce the death of
Tabitha Gathigia Gichuki. She hailed from Gitunduti sub
location Magutu location Mathira in Nyeri County.
Wife of the late Gerald Gichuki Gachara and co-wife
of the late Charity Wangui Gichuki. Daughter of the late
Kabiru Kario and late Wanjugu Kabiru. Sister of the late
Solomon Muraguri, the late Joseph Gitemi and late Esther
Gathoni Kariamatu. Dear mum of Mrs Veronica Ngibuini,
late Scolastica Wanjugu, Lawrence Gachara, Christine
Wairimu Matu, Judy Wamuyu Gaiku, Purity Njoki Munyiri,
Godfrey Kibiru, Antony Mwangi, Lucy Wamaitha Gatu,
Benson Kabugi, Rose Nyawira Wachira and Watson
Muraguri. Mother-in-law of the late Ngibuini Gichuhi,
Anastasia Wanja and Regina Gachara, Major Matu, Kimani
Gaiku, late Munyiri Kimiti, Tom Wachira and Sally Wanjiru.
Grandmother of Gichuki Murithi, Maranga, matu, Tom
Munyiri, Getrude Gathigia, late Muthoni Mutindi, Sheila
Gaiko, Purity Wakiuru among others. Great grandmother
of around forty and several great grandchildren.
Tabitha Gathigia
Gichuki
Family and Friends are meeting at her home in Gitunduti
village and at Holy Family Basilica Cardinal Otunga Hall for
funeral arrangements. Cortege leaves Karatina Jamii Hospital mortuary at 8.00am Saturday 6th
October for funeral service at her home Gitunduti Village starting 10am.
Death and Funeral Announcement
It is with deep sorrow that we announce the death of
Esther Gathoni Kariamatu on 28th September 2018.
Daughter of the late Kibiru Kario and Wanjugu. Sister of
the late Solomon Muraguri, the late Tabitha Gathigia and
late Joseph Gitemi. Wife of the late Clement Kariamatu.
Mother of Margaret Wanjugu, Charity Nyokabi (NSSF),
the late Duncan Muriuki, late Winnie Mweru, Elizabeth
Gathigia (Mt. Kenya), Charles Kibiru, Caroline Wanjiru,
Alex Muraguri and Martin Munuhe. Auntie of Lawrence
Gichuki, Ian Gitemi, Michael Miano, Watson Murigu among
others. Grandmother of Purity, Mundia, Eva, Dan, Joyce,
Angela, Edwin, Kelvin, Gathoni, Jenine, Jensen, Jojo, Clinton,
Celine and Gathoni among others. Maito of Joe, Nyagu ,
Cugu, Shiru, Jasmine and Janice among others.
Family and friends are meeting daily for prayers and burial
arrangements at Holy Family Basilica Cardinal Otunga Hall
from 5.00pm.
The cortege leaves Karatina Jamii Morgue on Friday 5th
October 2018 at 8:00am for a funeral mass service at
her farm in Kihuri Village, Gitunduti Sub-location, Magutu
Location in Nyeri County from 11.00am.
Celebration of a Joyful Life
It is with profound sadness that we announce the sudden
death of Goretti Mbula Muema, following a cardiac arrest.
Daughter of the late Munguti Mulinge and late Katoko
Munguti. Loving wife of Francis Muema Kamau. Loving
mother of Marion Mwende, Lawrence Muia and
Emmaculate Ndanu. Mother-in-law of Paul Nderitu. Sister
of Mutindi Maithya, Mbete Kanziku, Rose Musau, Elizabeth
Kimatu and David Munguti. Step-sister of John Kimono
Munguti and late King'oo Munguti. Daughter-in-law of
the late Paul Kamau and Elizabeth Nduku Kamau. Sisterin-law of Eunice Kasele Kithome, Joseph Mutua Kamau,
Stephen Mwanzia Kamau, Nzomo Kamau, Kambua Mutua
and Beatrice Mwanzia. She is loved by many of her Nieces,
Nephews and Cousins.
Meetings for her funeral arrangements are being held at
Tents-Sahara City (behind total petrol station) and at her
Athi River home. The cortege leaves Montezuma Monalisa
Funeral home on Saturday 6th October, 2018 at 7:00am.
Mass and burial will be at Kanyangi, Kitui rural.
Esther Gathoni
Kariamatu
(PEDPNFTUPIJTHBSEFOBOEQMVDLT)JTGSVJUTBU)JTXJMM)JTOBNFCFHMPSJàFEBOE
may her soul rest in eternal peace. Amen!
Celebration of a Life Well Lived
Death Announcement
We celebrate a long and well lived life of our
mother. Wife of the late Stanley Kabia Ngambi.
Kenya Forestry Research Institute
Death and Funeral Announcement
It is with great sadness that the KEFRI Management
announces the sudden Demise of Dismas Omwega
Orwaru of KEFRI Headquarters which occurred
on 23rd September 2018 at PCEA Hospital Kikuyu.
The late Dismas hails from Nyamira County.
Son of the late Orwaru Omwega, Mosomi and
Milka Nyangweso. Husband of Victoria Boyani,
Father of Lilian Nyaboke,Lydiah Kemunto, the late
(Okemwa), Philip Omwega and Ruth Nyabinge,
Brother of, Norah Kerubo, Rose Kwamboka,
Mboya, Elijah, Nyangara, Nyangau Mercy and Omari.
Step-brother of the late (John Luka and Okiabera),
Barongo and Ochengo, Alex and Nyakundi. Son-inlaw of Nyangau and Orobi, Uncles include the late
(Onchieku, Okemwa, Kaumba, Omwenga Nyatuga)
Guku and Nyangau. Grandfather of Erick, Stecy,
Chepkoech, Sheila, Venesa and Emmanuel, Cousin
of the late (Momanyi) and Jerusa. Son-in-law of the
late Onduko and Mama Nyaboke.
Daughter of the late Johnstone Munene
Rwara and Raheli Muthoni, Jerioth Wambui
na Phyllis Mugure. Sister of the late William
Nderitu, Douglas Muthui, Charles Kimotho,
Agnes Wangechi Douglas, the late Joseph Kiboi,
Miriam Wangari Wathuta, Esther Njeri Maina,
Penninah Muthoni Ngigi, Grace Wangari Ngugi,
Francis Rwara, Wilson Wahome, Rose Wanjiru
Kimani, Christopher Nderitu, Florence Njeri,
Eunice Wangechi, Jane Wangari, Charity Wanjiku,
Joseph Ndumia, Catherine Wacheke, George
Kimotho, Catherine Wanjiru and David Mwangi.
Co-wife of the late Susan Wanjiru Kabia, Mother
of Richard Munene, Rachel Kabia, Timothy
Ngambi, Esther Mwiyeria Kariuki, Shiphrah
Wairimu, Charles Mbau and Agnes Wangechi.
Step-mother of James Ngambi, the late Simon
Wambugu and Grace Wairimu Ndegwa. Loving
mother-in-law of Jane Murago Munene, Robert
Kariuki Munyi, Rose Wanjiku Ngambi and
the late Virginia Wahiga Mbau. Grandmother
24/03/1934 - 26/09/2018
of Charity Njeri Mugo, Elizabeth Mwiyeria,
Rebecca Wairimu, Nadia Wangari, Tshaka Kabia,
Wanjiku Kariuki, Njeri Kariuki, Wangui Kariuki, Munyi Kariuki, Stanley Gachimbi, Denis Kabia,
John Ndegwa, Edwin Munene, Jaqueline Njeri Mbau, Lena Muthoni Mbau, Shenan Wangari and
Stanley Kabia (Kanyu). Great grandmother of Jermaine Munene, Sharom Wahito, Muthoni Mugo,
Kariuki Gathogo, Kota Watiri Kabia, Lisa Muthoni, Jasmine Nemo Kabia, Noni Gathoni Gathogo,
Curtis Liko Agufana, Nyakweya Agufana, Jeremy Kamiru, Olive Wangechi, Daphine Wangeci Kabia,
Mahira Agufana and Sikhaye Agufana.
Tabitha Njeri Kabia
Dismas Omwega
Orwaru
Family members, relatives and friends are meeting
daily at his KEFRI residential House Nguriunditu at
5.00pm for funeral and burial arrangements. Main
Harambee will be at his residence and those in town
at Professional Centre on Tuesday 2nd October 2018 at 5.00pm
The cortege leaves the PCEA Hospital Kikuyu on 4thSeptember 2018, for a stopover at his residence
Nguriunditu, and thereafter the body will be transported to Nyamira for Burial on 5th September, 2018
at his home Nyagenge Village, Enjoro Sub-location, Bosamaro Masaba Location of Nyamira County.
May the Lord rest His Soul in Eternal Peace.
Death and Funeral Announcement
Solomon Mburu Githinji
It is with humble acceptance of God's will that we announce the passing on of
Solomon Mburu Githinji of Karen, Nairobi, which occurred on 26th September
2018.
Beloved husband of Alice Wambui Mburu. Son of the late Solomon and Tabitha
Githinji of Kahuho, Kiambu. Father of Robert Kangethe, Leonard Kamunyu (Aus),
Patrick Ngugi (Aus), Dorcas Wanjiru (Eth), Joan Wairimu, Arch. Edward Githinji
and Joe Mwangi (KNEB).
Father-in-law of the late Wairimu Kangethe, Teresiah Kamunyu (Aus), Margaret
Ngugi (Aus), and Wamachi Githinji (Nokia). Grandfather and Great Grandfather
of many.
Brother of DS Njoroge, Joseph Githenji, Ms. Gladys Mungai and Ms. Leah
Muthemba, the late Timothy Ngugi, the late Jane Wanjiku, the late Mbote Githinji,
the late Beth Waithera Munjua.
Family and friends are meeting at his home in Hardy, Karen at 5:30pm daily. A
memorial service will be held on Wednesday, 3rd October 2018, at CITAM Karen
from 12:00pm to 2:00pm.
Goretti Mbula
Muema
People are meeting for prayers and funeral arrangements at her home in Kangaru - Mbauland
Tetu starting at 4.30 pm daily. The cortege leaves Outspan Hospital Funeral Home Nyeri - at
9.00am. on 3rd October 2018. Prayers and funeral service will take place at her home in Kangaru.
It is with humble acceptance of God's will that
we announce the sudden death of Spencer
Jayden Obiero Obiero (Spendy), a 1st year
student of Computer Science at Strathmore
University. Spencer died unexpectedly, at the
tender age of 18 in a tragic car accident in
the wee hours of Sunday 30th September,
2018.
Spencer is survived by his loving parents
Michael Joseph Achola Obiero and
Scholastica Khamete Bukhala; his siblings
Actarus Caeron Magawa Obiero and Lindsay
Akinyi Obiero; sister-in-law Sylvia Naliaka
Wamalwa; grandparents Maria Bukhala and
Joyce Otika; Uncles – Carilus Okidi, Remjus
Obiero, Eugene Obiero, Francis Oyoo
Obiero, Josphat Bukhala, Silver Bukhala,
Dismas Bukhala, Ronnie Bukhala, Yufnalis
Okubo; Aunt's Abigael Obiero, Resi Obiero,
Jane Obiero, Mary Bukhala, Susan Bukhala,
Mary Bukhala, Lily Bukhala, Agripina Bukhala,
Rostella Okubo; Cousins, Joseph, Omondi,
Leah, John, George, Ezra, Alice, Alex, Lucky,
Ruth, Lucy, Phenny, Francis, Emma,Teddy, Brenda, Ferdinand,Valary,Vandross, Gerald,Tamara,
Abigael, Elvira, Mark, Zaratun, Beheram, Zarina, Lisa, Sylvanos, Ian, Cedric, Malcolm.
Spencer Jayden
Obiero Obiero
(Spendy)
The family and friends are meeting at The Nairobi Club on Tuesday & Wednesday in
preparation for the funeral and burial arrangements with Wednesday's meeting culminating
with a fundraising towards the funeral & burial arrangements. A funeral service is scheduled
for 10.30 am on Thursday October 4, 2018 at the Holy Trinity Kileleshwa Church.
Death And Funeral Announcement
Salome Kemunto Mosata
It is with profound sadness and humble acceptance of God's will that we announce the sudden demise
of Mama Salome Kemunto Mosata (the queen) which occurred on 27th September 2018 in Nairobi at
M.P Shah Hospital after a short illness.
Beloved daughter to the late Mark Getonto and late Sabina Moraa. Beloved mother to Mr Philip
Nyachoti Advocate (Nyachoti & Co. Advocates), Ms. Jackline Kemunto (Business-lady, Kitengela) and
Ms. Judith Nyaboke and late Jared Ongeri. Mother in law to Carolyne Odongo Nyachoti. Grandmother
to Ian Phillips Nyachoti, Spencer Phillips Nyachoti, Leone Phillips Nyachoti, Keziah Phillips Nyachoti,
Mitchelle Moraa and Carl Leshan. Sister to Mary, Elizabeth, Brigitta, late Joseph, John, Franciscah,
Florence and late Bundi. Sister in law to Mary, Gesare, Martin, Thomas, Osano, Philip and Jacob. Aunt
to Vincent Makori (VOA Washington DC), Eric (EABL), Philemon, Florence, Lenox, Sabina, Tabby, Mark
among others.
There will be a fundraising harambee on 3rd October 2018 at Nairobi Club from 5.00pm. Contributions
can be made to Mpesa numbers 0717-555 780, 0714-379 191, 0725-937 077.
The cortege shall leave PCEA Kikuyu Mission Hospital Mortuary on Friday 5th
October 2018 at 9.00am and there after Service and Burial shall take place at
10:00am same day, at Kahuho Village, in the Solomon Githinji Farm next to PCEA
Gatuanabu Church.
The Cortege leaves Lee Funeral Home on 4th October 2018 for Kitale. Burial will be held at Kibomet,
Naisambu in Kitale on 5th October 2018 starting from 10.00a.m.
In God's hands you rest, in our hearts you live forever.
In God's Hands you Rest in our Hearts You Remain Forever.
46 | Sports
Tuesday, October 2, 2018 | DAILY NATION
SPORT
Volleyball>
Kenyans fall to
Puerto Rico
BY DAVID KWALIMWA
Kenya yesterday collapsed under strong serves
from Stephanie Enright to eventually lose 3-0 sets
(20-25, 22-25,15-25) to Puerto Rico in the team's
third match of the FIVB Women's World Championship in Japan.
In other results, Cameroon - Africa's only other
representatives at this 24-nation tournament - were
also gunned down 3-0 (16-25,24-26,18-25) by an
impressive Netherlands side in Yokohama.
Yesterday's loss to Puerto Rico in Hamamatsu
was Kenya's second in the competition. Coach
Japheth Munala's charges have also lost to Serbia
in straight sets, but the team beat Kazakhstan in a
similar fashion. Two assignments - against Brazil
and the Dominican Republic - remain for the Kenyan
team which is also referred to as Malkia Strikers.
"Our aim today was to qualify for the second
round (with a win) but Puerto Rico have stopped
us. We still have two games left. We will try to grow
in the coming matches. We led 19-15 in the second
set but did not receive well after that. We must get
ready for Brazil next. We will go all out against
them," said Munala after the match.
Overall it would have been a different ball game
had Enright not been in the picture.
In the second set, Lugulu Girls alumnus Edith
Mukuvilani's good blocking saw Kenya assume a
19-15 advantage but Enright, a right attacker, responded in style, winning five consecutive points
directly from her serves for a 25-22 victory.
Football>
Eighth Brigade hit
Laikipia in tourney
BY NICHOLAS KOMU
[email protected]
Kenyan Premier League team Ulinzi Stars can look
forward to a steady supply of players if the talent
on display at the ongoing Chief of Defence Forces
football tournament is anything to go by. Yesterday,
Eighth Brigade started their campaign in the tournament with a 4-1 thrashing of hosts Laikipia Airbase.
David Ouma was on target twice, guiding his
team to the convincing win over last year's finalists
Laikipia Airbase.
Shadrack Munene scored Eighth Brigade's fiest
goal after firing home from close range early in the
first half, and Ouma grabbed the second goal less
than five minutes later to put the visitors two goals
up before half time.
Ouma completed his double in the opening minutes
of the second half, and Samuel Barasa made it four
goals for Eighth Brigade, putting the game beyond
the reach of Laikipia Airbase. James Amuko scored
the hosts' consolation in the 71st minute, but it was
too little too late.
In the women's category, visitors Kenya Navy
proved no match for the home team Kenya Airforce
who won 2-1. The tournament, which will run for 12
days, offers Ulinzi Stars head coach Dunstan Nyaudo
to scout for fresh talent. Nyaudo watched the match
from the sidelines. Secretary General of Defense
Forces Football Association Major Edwin Muta told
Nation Sport that the games offer a perfect ground
for talent development for Ulinzi.
"There are player here who have never been scouted
by Ulinzi before and this is a chance for them to shine.
Hopefully the scouts will identify some talented
players at the end to join Ulinzi Stars," Major Muta.
FOOTBALL >
Man United host Valencia
tonight, Juventus welcome Ajax
as champs Madrid visit CSKA
Moscow in Uefa Cmpions
League group stage matches.
PAGES 50,51
RUGBY
Ryder Cup>Europe seals resounding win
The 2020 European
club rugby finals
will be played at the
Velodrome in Marseille
on May 22 and 23,
the competition
organisers announced
yesterday. The
European Professional
Club Rugby (EPCR),
which runs the
European Champions
Cup and Challenge
Cup, did not name
any other bidders.
British media had
reported that English
Premier League club
Tottenham Hotspur,
who are putting the
finishing touches to
a 62,000 stadium in
North London, were
interested.
Italy lauds
'Mr Ryder'
Molinari
after Cup
exploits
FOOTBALL
China's veteran Italian
head coach Marcello
Lippi has confirmed
that he will more than
likely retire when his
contract with the
Asian side expires
early next year. The
70-year-old former
Italy and Juventus
coach expects to
leave management
after the Asian Cup
in January. "I want
to go home," he told
Radio Anch'io Sport.
"I have a contract that
expires on January
31, at the end of the
Asian Cup. We'll
see after that, but I
think it'll be my last
experience. Am I
likely to leave China in
February? Yes."
Italian hailed
at home
for aweinspiring
performance
that helped
deliver title
MILAN
F
rancesco Molinari was hailed
in his native
Italy yesterday for his
"out of this world" performance that helped seal
a resounding victory for
Europe over the United
States in the Ryder Cup.
The British Open champion became the first
European player to win
all five of his matches
at a Ryder Cup as he
eased to a 4 and 2 win
over Phil Mickelson
to secure the hosts
the trophy by 17.5
to 10.5 at Le Golf
National outside
Paris on Sunday.
"There's just
one Tiger and
he's called
Chicco," headlined Corriere
Dello Sport ,
BOXING
Britain's Tyson Fury
(below) denied he
was the "challenger"
to heavyweight world
champion Deontay
Wilder as he tried to
rile the American by
promising to make
"lemonade out of a
lemon" yesterday.
The two unbeaten
boxers will meet
for Wilder's World
Boxing Council
version of the title
in Los Angeles on
December 1.
PHOTO | AFP
Europe's Spanish golfer
Sergio Garcia raises the
trophy to celebrate winning
the 42nd Ryder Cup at Le
Golf National Course at
Saint-Quentin-en-Yvelines in
Paris on Sunday.
using 35-year-old Molinari's nickname.
" M o l i n a r i i n o u te r s p a ce i n
the Ryder Cup: decisive point
and record wins," it said.
Gazzetta Dello Sport wrote: "Mr
Ryder is an Italian. Molinari goes
beyond the limits of expectations."
Molinari's performance capped a
remarkable season that began with
his maiden major title at Carnoustie
in July.
He is the first player from either
side to claim five points at a Ryder Cup
since the USA's Larry Nelson in 1979.
The Turin native's heroics were seen
as a boost for golf in Italy with the
2022 Ryder Cup to be hosted at the
Marco Simone Golf and Country
club outside Rome
"The hope is that the great performances of Francesco were only
a warm-up for the Ryder Cup in
Rome," said Franco Chimenti, president of the Italian Golf Federation.
" I n f o u r ye a rs we ' l l h ave
an even more beautiful
Ryd e r C u p t h a n k s to h i m . "
Chimenti added: "A player who wins
everything in the Ryder Cup for three
consecutive days must be considered
among the most important athletes
not only in Italian but world sport.
"He has all the qualities to be the
number one in the world."
Ryder Cup 2022 Project Director Gian Paolo Montali said he
hoped the Francesco effect would
rub off on the popularity of golf
beyond the Rome Ryder Cup.
"The eyes of the whole world
will be on us," said Montali.
"The goal is to get from 90,000 to
118,000 registered golf players by
2027, but I hope we can do that
much sooner." (AFP)
PHOTO | AFP
Europe's English golfer Tommy
Fleetwood (right) and Italian golfer
Francesco Molinari hold the trophy
as they celebrate winning the 42nd
Ryder Cup on Sunday.
Sports | 47
DAILY NATION | Tuesday, October 2, 2018
Golf>Ladies amateur champion Wafula cards seven over par 80 gross to win Nakuru tourney
Limuru's Karichu puts daylight between
himself and opponents on Vet Lab course
Golfer wins
Kabete
Open by
whopping
eight
points from
nearest rival
BY LARRY NGALA
36 and winning the nines were Joel Kaindi
and Stanley Nganga on 21 points each.
At Royal Nairobi, Rowny Ngetich fired 44
points to claim the overall title among the
club members in the Sunset golf Society
Day tournament where Salim Bwika on 42
points emerged the men's winner, beating
Anthony Muiruri by two points. Shaukat
Gulamhussein posted 39 points to finish
with Ramesh Sachdeva emerging the senior
winner on 38 points.
Robert Nyanchoga took gross title on
76 gross, and Irene Kinyanjui claimed the
ladies first prize with an impressive 42,
followed in second place by Evelyn Noah
on 38. In the Sunset members category,
Nyanza Golf Club's Charles Odawo carded
41 points to win ahead of Lucas Oluoch on
37 after beating Shadrack Ogindo and John
Odhiambo on countback.
Wycliffe Onyango was best senior on 36
and Njeri Onyango fired 42 points to claim
the ladies prize ahead of Pat Odima (30).
The sponsors were led by Joe Muganda
with 27 points, with Muthaiga's Olive Njagi
leading the guests with a fine score of 40
points, winning well ahead of Patrick Kariuki
on 33 points.
L
imuru Country Club's John Karichu
completed a 54-hole total of three
under par 213 gross, to win the 2018
Kabete Open golf tournament by a big margin of eight shots from the Great Rift Valley
Resort's Simon Njogu, at the par 72 Vet Lab
Sports Club course on Sunday.
The handicap plus one Karichu carded
rounds of 70, 72, and 71 to clinch the title
just a week after finishing second in Uganda
Open at Entebbe Golf Club. Njogu carded
73, 76, and 73 for the second place, just two
shots better than home player Mike Kisia
on 223. In the nett section, Isaac Makokha
won the overall title on 217 points, one shot
better than Ebill Omollo while David Ongeri
was third on 219 nett.
Taking the three rounds gross were
George Felix (73), Robinson Owiti (71)
and Edwin Mudanyi on 71 gross. The nett
rounds winners were Leo Zurovac on 70
nett, Raphael Lemengai on 71 and Peter Ekai
who carded 71 nett. Winning the stableford
subsidiary was Emmanuel Owiti on 39, one
better than club captain Mark Karobia while
Onesmus Kibuna on 36 was third after a
ciountback with Sudhir Modak.
At Nakuru Golf Club, Kenya ladies amateur champion Naomi Wafula carded seven
over par 80 gross to win the Nakuru Ladies
Open title. She won by a shot from Royal
Nairobi's Serah Khanyereri while in third
place on 85 was Ashley Awuor of Golf Park.
The nett title remained at home with Eleanor Wambui on 74, with Loise Akinyi on
75 finishing second. Esther Chumo posted
nett 76 to take the third prize. In the Bronze
section, Catherine Oosterwijk posted 96 to
beat R. Mathenge and R. Angote by a shot.
Winning the nett was Jennifer Mugweru on
69, winning ahead of Lydia Mokaya who
posted 75 while Martha Munene was third
on 77 nett.
At Kenya Railway Golf Club in Nairobi,
Machakos Golf Club chairman Swarn Singh
carded 40 points made up of 20 in each nine
to win the Kenya Wines Agency-sponsored
Njuri Ncheke golf tournament.
Taking the men's first prize was D.G.
Muchungu who posted 38 points, one better
than J.W. Kariuki while in third place was
George Wakaba with 35 points. Taking the
gross title with 32 points was John Lejirmah
while also on 32 points for the ladies prize
was Wanjiru Karume. Leading the sponsors
was Joseph Murungi who carded 36 points
to win by two points from Edwin Murungi.
In the guest category, Robert Kibet posted
38 points to win ahead of Fred Nyenjeri on
WEEKEND ROUND-UP
Muthaiga: Sedgwick Insurance Brokers Golf Day
in Memory of the Late Abdallah Bekah; Winner;
Juser Lamuwalla 40 points, Njuguna Ndungu, 39 cb
Yogesh Nandha. Lady winner; Florence Marangu 35,
Dianne O'Connor 33, staff winner Nderitu Wachira
33, Guest Euince Kinungi 32 points. Thika: Tourism
Fund Golf Day; Overall winner: Judy Waihenya
42pts, Men winner: Benard Musau 40pts, Hon A.G
Monyo 39pts. Lady winner: Agnes Kuria 39pts cb
Diana Kaburu 39pts Guest winner: Paul Kyengo
40. Nines; David Njehia 23, Chris Karanja 20pts.
Ruiru: Fresha Golf Day; Overall winner William
Ndonga hcp 48pts, Men winner Ken Waruingi 41,
Josphat Mbugua 40, Lady winner Margaret Kamau
40, Wambui Rugu 38,Winnie Kamau 37. Nines;
Ciira Kiiyukia 21, Jessy Ndegwa 22pts Guest winner
John Nduati 41pts. Karen: Karen Day Trophy; Gross
winner- Anthony Mogere 76 gross, Sam Muraya
78, Owino Ayodo 80. Nett winners- Alex Mwai 70
cb Stephen Wang'ombe 70, Patrick Kagiri 71. Best
Lady- Louisa Gitau 80. Best net- Carol Kiengo 62
nett.
Kiambu: Monthly Mug; Division "A" Winner David
Ndirangu 68 nett, "B" Samuel Macharia 71, "C"
Godfrey Wambaa 72. Lady Winner Lucy Karau 78
cb Catherine Nines; Joel Wanyoike 33.5. Michael
Kamau 33.5 nett.
KANYIRI WAHITO | NATION
Limuru Country Club golfer John Karichu won 2018 Kabete
Open golf tournament at Vet Lab Sports Club on Sunday.
Njoro: Ladies Invitation; Overall winner; Njguna
Njoka 39 pts, Men Winner; J. Chege 39m Charles
Angwenyi 37, Lady- L. Mokaya 38, M. Muthoni 35.
Gross – Luther Kamau 32, Nines; W. Muthoki 21, S.
Mwangi 20.
Vettel refuses to give up Formula One title hopes
Sochi, Russia
Russia's President Vladimir Putin shakes hands with winner
Mercedes' British driver Lewis Hamilton after Sunday's Formula
One Russian Grand Prix at the Sochi Autodrom Circuit, Sochi
Sebastian Vettel yesterday made
clear he still believes he can win a
fifth world title this year despite sliding 50 points behind Lewis Hamilton
after the Russian Grand Prix.
Hamilton's victory, after Valtteri
Bottas followed Mercedes team orders to let him take the lead, lifted
the Briton further clear of Vettel with
five races remaining this season.
But the Ferrari driver insisted
he has not given up hope despite
seeing his in-form rival reel off a
fifth win in six races to maintain
his momentum as Ferrari struggled to keep pace. "I go race by
race," said Vettel. "Obviously, it's
not getting easier if we lose points.
"But I still believe in our chances.
Yes, it's not getting bigger, as I said,
if you finish behind, but who knows?
Things changed
"It takes one DNF (Did Not
Finish) - ideally two! - and then all
of a sudden things look different.
"I'm not wishing that on Lewis, but
you never know what happens, so
we need to stay on top of our game
which maybe we haven't been completely this weekend.
"We must make sure that
from where we are now we
focus on winning the last races."
Hamilton's 50-point advantage is
the equivalent of two race victories
worth 25 points, a lead he could
relinquish only if he fails to finish,
or score points, and Vettel wins.
Vettel was unexpectedly encouraged
by Ferrari's performance on Sunday
when he followed Hamilton and Bottas.
"It's not entirely in our hands,"
he added. "We need a little bit of
something to happen, but we need to
make sure that we are always there.
"If it's a third we can get, or a win,
you need to get those places to
make sure that we do everything.
"The rest, unfortunately, is not anymore entirely in our hands, but I
still think that if we win the next few
races we can put a lot of pressure
on them and make something to
happen. (AFP)
48 | Sports
Tuesday, October 2, 2018 | DAILY NATION
Hockey>Victorious Telkom surge in race for women's title
Police narrow gap on
Butali in men's league
Football>
Mathare make
champs Gor
fight every inch
BY SAMUEL GACHARIRA
[email protected]
SportPesa Premier League
(SPL) champions Gor Mahia
were handed a record 17th title
in a colourful ceremony at Moi
Stadium in Kisumu on Sunday.
K'Ogalo were however made
to sweat for a point by a defiant
Mathare United side who rallied
from two goals down to hold the
champions 2-2. The 'Slum Boys,'
clad their traditional yellow with
new sponsors Odibets on the
front, mounted a guard of honour
in respect of the champions just
before kick –off and eight minutes
into the game, Jacques Tuysienge
showed why Gor had won the
league with six matches to spare.
Tuyisenge scored
KANYIRI WAHITO | NATION
Amos Barkibir of Kenya Police shields the ball from Bonface Ndombi of Parklands during their Kenya
Hockey Union men's Premier League match at Parklands Hockey Stadium on August 12, 2018.
Victory over
Greensharks
puts the law
enforcers
on 39
points, two
adrift of the
leaders
BY AYUMBA AYODI
[email protected]
K
enya Police and Telkom both took
a step closer to retaining their titles
with wins against Greensharks and
Sliders respectively in their Kenya Hockey
Union (KHU) league matches played at
the weekend.
Amos Barkibir rifled in a double as
Police claimed a swift revenge, beating
Greensharks 3-2 on Sunday at City Park.
Police, coached by Fredrick Masibo, had
suffered a painful 4-3 defeat to Greensharks in the first leg.
Barkibir scored in the 10th and 31st
minutes with Samuel Wokila's smashing
strike in the 58th giving them the victory.
David Kiberenge and Victor Osiche scored
in the 27th and 59th minutes, but that
failed to rescue Greensharks.
The victory saw Police consolidate their
second place, taking their tally to 39 points
from 13 wins and one loss.
Police now only have one game in
hand against Strathmore University as
they continue playing catch up to leaders
Butali Sugar who have 42 points from 14
We were cautious in our
approach so as to avoid
cards, having suffered
three green cards and two
yellow cards in the first leg
defeat"
Fredrick Masibo, Kenya Police
coach
wins and one loss. Greensharks remain
fourth with 24 points.
"We were cautious in our approach so
as to avoid cards, having suffered three
green cards and two yellow cards in the
first leg defeat," said Masibo.
"We were laid back in the first quarter
but gradually opened up. That was our
plan," revealed the experienced coach.
Greensharks deputy coach Thomas
Mucheni conceded defeat admitting that
they were second best. "Police wanted the
ball more than us," he said.
In the women's league, Audrey Omaido
netted a hat-trick to spur champions
Telkom to a sublime 7-0 victory against
sloppy Sliders and solidify their chase
for their 19th consecutive league victory
on Sunday.
Earlier on, Omaido struck for Telkom
in ninth, 13th and 47th minutes to move
the champions' points to 30 points
from a clean run in 10 matches. Others
scorers were Lilian Aura (11th), Jackline
Mwangi (22nd), Caroline Guchu (23rd)
and Maureen Okumu (38th). Telkom are
unbeaten in 10 matches while Sliders, who
have seven points, slumped to their fifth
defeat this season.
Elsewhere, relegation-threatened Western Jaguars and Nakuru rediscovered their
'A Game' with stunning victories. Jaguars
edged out Wazalendo 2-1 at Eregi Teachers Training College (ETTC) ground,
Kakamega while Nakuru shocked visiting
Kenya College of Accountancy University
3-2 at the Greensteads grounds, Nakuru
on Saturday. The win, their second this
season, saw Jaguars take their tally to 11
points though they are still in the relegation
zone in the 12-team league.
The Rwandese forward opened
the scoring with a brilliant solo
effort in the eighth minute, rounding Job Ochieng' before calmly
slotting into an empty net. Humphrey Mieno doubled the hosts'
advantage shortly after the restart
and at that point the champions
looked to have snapped their
four match losing streak. However Klinsman Omulanga came
off the bench to inspire Francis
Kimanzi's charges to a remarkable
comeback. He halved the deficit
with an easy tap-in on 67 minutes
after some good work from Daniel
Mwaura on the right. He then won
a penalty that was successfully
converted by Cliff Nyakeya with
only ten minutes left.
Mwaura almost won Mathare
the game at the death but his
curler from the edge of the box
was brilliantly kept out by a fullstretch Peter Odhiambo. Gor
coach Dylan Kerr was irked by
his boys for giving away a healthy
lead and not crowning their big
day with a win.
"We should be here celebrating,
giving the fans something to
celebrate but we didn't do that
today. We played well, we should
have scored three goals today but
we didn't," began Kerr.
"We were not professional.
That's the word! Professional
people shut the shop, two nil
and go home champions. With
two goals we should have sealed
the game. "They had two shots
and scored two goals. It's good
that we got a point (didn't lose)
but it's also bad that we got a
point (drew) because we should
have got three points. Fair play
to Mathare they kept going,"
griped Kerr who later did a lap
of honour around the stadium
on top of the team bus carrying
the glittering trophy.
His opposite number Kimanzi
spoke glowingly of his second
half inclusions, Omulanga and
Mwaura, who turned the game
on its head.
Sports | 49
DAILY NATION | Tuesday, October 2, 2018
BUSINESS OF SPORT >
Kenyan marketers should support our stars
ELIAS MAKORI
O
ver the last few years,
Global Sports Communication (GSC), a
Netherlands-based athlete and
sports management concern,
has raised the bar in marketing.
From its Nijmegen base close
to the German border, GSC has
spent unlimited time and resources
embracing innovation in sport,
distance running in particular, while
pushing their athletes to vantage
positions in product endorsement.
Led by 1975 Dutch sportsman
of the year and 10,000 metres
national champion Jos Hermens,
GSC boasts of having nurtured
the careers of the world's finest
athletes. Through guidance from
some of the world's best coaches,
including Kenya's Patrick Sang
and Ethiopian-born Dutchman
Getaneh Tessema, the GSC stable
has groomed the likes of Ethiopia's
superstar trio of Haile Gebrselassie,
Kenenisa Bekele and Almaz Ayana,
along with Kenya's marathon superman Eliud Kipchoge.
GSC's Kenyan camp in Kaptagat
also boasts of multiple world half
marathon and cross country champion Geoffrey Kamworor, who
is also the defending New York
Marathon champion, and middle
distance star Augustine Choge, who
will graduate to the full marathon
in Chicago this Sunday.
Choge will be in good company
at "Windy City" on Sunday as his
GSC team-mates Abel Kirui, a twotime world marathon champion,
and Geoffrey Kirui, the reigning
world champion and 2017 Boston
Marathon winner, are also in the
mix. Diamond League double
champion in the jumps, Caterine
Ibuargen of Colombia, is also
among GSC's elite squad in field
events with Kenya's Olympic 1,500
metres champion Faith Chepng'etich topping the middle-distance
roster and Florence Kiplagat,
a former world half marathon
record holder who will also line
up in Chicago as a late entry this
weekend, among the stellar road
running cast.
Botswana sprinter Isaac Makwala is also managed from GSC's
Nijmegen headquarters. That Hermens and GSC have been able to
create a niche for each of their star
athletes could make for a perfect
manual in athlete management.
About two years ago, GSC, keen
on raising its profile and competi-
tiveness on the road racing circuit,
started the NN Running Club from
where the company's distance
runners launch their assault on
numerous global road races and
marathons.
The NN Running Team is an
outfit that draws together about 60
athletes from 15 countries running
under sponsorship from Nationale
Nederlanden, a Dutch firm that
specializes in retirement services,
insurance, investment and banking.
Through the global successes of
the NN Running Team, Nationale
Nederlanden continues to enjoy
prominence and increased brand
loyalty that comes with such association.
The executives at Nationale
Nederlanden, led by chairman and
CEO Lard Friese, have no regrets.
It was, therefore, good to see
Isuzu East Africa also come on
board and sign up Kipchoge as
their brand ambassador, eventually
rewarding him with an Isuzu D-Max
double cab they had promised if
he broke the world marathon record, which he did in convincing
fashion at the Berlin Marathon on
September 16.
Sadly, not many Kenyan corporates have embraced our athletes
to push their brands, these stars'
global triumphs notwithstanding.
Other than Betin (Mcdonald
Mariga), Kiwi (David Rudisha),
Orange (Julius Yego), SportPesa
(Fatuma Zarika), Bank of Africa
(Edna Kiplagat) and, to some
extent Milo (Ezekiel Kemboi),
little comes to mind in terms of
sustained, local marketing and
brand promotion through Kenya's
sporting icons.
Just like Nationale Nederlanden,
Isuzu East Africa, along with US
sports apparel manufacturer Nike,
will not regret their association with
Kipchoge. After falling 25 seconds
short of breaking the two-hour
marathon barrier on the Monza
Formula One race-track last year,
Kipchoge triggered mass demand
of the Nike Zoom Vaporfly Elite
running shoe which he wore in
the brave attempt, with the limited
stocks zooming off the shelves.
Equally, managing director Rita
Kaveshe and her Isuzu East Africa
team on Mombasa road are rubbing
their hands with glee as they will
most certainly note a difference in
sales figures of the D-Max through
their association with Kipchoge,
with the superstar's admirers,
especially in the North Rift, seeking to jump onto the brand and
bandwagon.
This is a route we hope to see
other corporates take.
Sadly, our streets are inundated
with billboards of nondescripts
models wearing broad smiles
after pocketing a pittance from
blinkered marketing executives
who, apparently, have scant regard
for our world-beating stars. Yet
abroad, our athletes are celebrated
JARED NYATAYA | NATION
World marathon record holder
Eliud Kipchoge flanked by his
coaches Richard Metto (left)
and Patrick Sang, receives a new
Isuzu D-Max car he was gifted
by Isuzu East Africa at Eldoret
Sports Club in Uasin Gishu
County on September 27.
with television commercials and
endless marketing tours fittingly
appreciating their world-beating
performances. It would be encouraging to see local concerns backing
not just our elite stars, but also the
amateur running clubs that have
mushroomed across the country,
especially in Nairobi, as a way of
promoting healthy living.
It's interesting to note that over
20 amateur Kenyan runners will
travel to Chicago this week to run
in the Chicago Marathon, with
another group destined for the New
York Marathon on November 4.
Running clubs such as Urban
Swaras, Kitengela Mbuni Runners,
Hash Harriers, etc, could do with
local corporate sponsorship as
they juggle fitness and professional
engagements. Besides running to
keep fit and challenge the global
circuit, these "fun" runners also
provide welcome moral support to
the elite athletes, as will be the case
this weekend in Chicago and next
month on the streets of New York.
[email protected]
50 | Sports
Tuesday, October 2, 2018 | DAILY NATION
Uefa Champions League>Coach Lopetegui looks to groom new stars
Madrid head to Moscow
Modric returns to
Luzhniki Stadium, scene
of his World Cup final
heartache, this time as
star of Real in Group G
battle against CSKA
petegui, is strengthening its search
for young players that will become
the next great players of the sport,"
president Florentino Perez said in July.
Alvaro Odriozola, the 22-year-old right
back, could make his Champions League
debut tonight in the absence of Marcelo
and Sergio Ramos.
He was signed from Real Sociedad
for 35 million euros in the summer.
Dani Ceballos, bought as a 20-year-old
for 17 million euros from Real Betis, came
on for Bale against Atletico Madrid
last weekend.
And Marco Asensio, perhaps the policy's poster
boy, was brought in
for a just under
f o u r
mil-
Madrid
L
uka Modric returns to the Luzhniki Stadium tonight, the scene of
Croatia's World Cup final defeat
to France, not only as FIFA's best
men's player but the star of Real
Madrid too.
For the first time in his
six seasons at Madrid, Modric will
line up for a
Champions
League tie
without
Cristiano
Ronaldo,
who was
sold, or Gareth
Bale,
who is injured.
There
will be no Kaka,
Angel di
Maria or James Rodriguez either, all of whom Modric has
rubbed shoulders with. At 33, he has
outlasted them all.
Together, that quintet cost Madrid
almost 400 million euros ($464 million), and each considerably more than
Modric, whose fee of around 30 million
pounds in 2012 would not even have got
Richarlison out of Watford last summer.
But in this current squad, Modric stands
out. In part, because of his brilliance,
which has never been in doubt, but also
because of Real Madrid too.
The Galacticos are, just about, all gone.
Bale is the last, and he would have
been playing against CSKA Moscow, had it not been for a thigh
injury picked up on Saturday.
After him, Madrid's most expensive
starters are likely to be Karim Benzema
and Toni Kroos -- both, like Modric,
signed for around 30 million euros.
Meanwhile, elsewhere in Europe, Barcelona will be fielding Philippe Coutinho
and Ousmane Dembele against Tottenham. Manchester United will have
Paul Pogba, and Paris Saint-Germain
Neymar and Kylian Mbappe. All of them
surpassed the 100-million euro mark.
Since being wooed by James' sumptuous volley at the Maracana in the 2014
World Cup, Madrid have changed their
approach.
As the remnants of the old mode depart -- Ronaldo is gone, James unlikely to
return -- the new, younger and cheaper,
batch have risen to the surface.
"Madrid, coached by Julen Lo-
10pm
Kick-off of tonight's Uefa
Champions League Group F match
between Real Madrid and CSKA
Moscow at Luzhniki Stadium
PHOTO | AFP
Croatian midfielder Luka Modric leads Real Madrid
against CSKA Moscow tonight in Group G match of the
2018/2019 Uefa Champions League.
lion
euros as an
1 8 -ye a r- o l d f ro m
Real Mallorca.
All three of them
Spanish, not signed
for
the present , but the future.
The list of those nurtured in the Real
Madrid youth teams is longer.
On the plane to Moscow on Sunday was Dani Carvajal, Nacho, Lucas
Vazquez, Mariano Diaz, Marcos
Llorente, Kiko Casilla and Sergio
Reguilon, all academy graduates.
World Cup winner Raphael Varane came
from Lens for 10 million euros as a teenager and it is believed Vinicius, signed for
40 million euros from Flamengo in July,
can be the next big talent from Brazil.
There is a temptation to recall
the days of Zinedine Zidane, Figo,
David Beckham, Brazil's Ronaldo
and Kaka, and feel underwhelmed.
M a d r i d h ave b e co m e sy n o nymous with superstar names and
this was a World Cup year too.
But the shift has been deliberate. The
swelling market has played a part,
with the club no longer the dominant power-player among Europe's
elite, as have plans to upgrade the
Santiago Bernabeu, for which a loan
of 575 million euros will be taken out.
"The only way to remain independent is
to be financially healthy," Perez said at
the club's annual general meeting earlier
this month.
"That is the base of our sporting success."
Zidane was an advocate too. His method
centred on improving those players he had
by blocking out the noise from outside.
That translated into faith in humility and
hard work, not more big-money signings.
"There is often talk of transfers, but I am
not that type of coach," he said in January.
Modric, Ramos, Benzema and Bale -- all
approaching or past 30 -- will soon need
replacing and few would bet against
Perez joining the chase when Mbappe,
Neymar or Pogba become available.
But for now, this is a different Real
Madrid. Modric can enjoy the limelight.
(AFP)
Sports | 51
DAILY NATION | Tuesday, October 2, 2018
Group matches> Man United entertain Valencia, Man City on parade
tonight, Bayern host Ajax
Weak defence, blunt
striking force haunt
German giants
ahead of date with
invading Dutch side
Muniuch
B
ayern Munich host Ajax in
the Champions League tonight from 10pm (Kenyan
time) with Niko Kovac needing to
fix a leaking defence and lack of
finishing after yielding top spot
in the Bundesliga.
The clash at Munich's Allianz
Arena could well decide Group E
after Bayern claimed a 2-0 win at
Benfica in the opening round a
fortnight ago while Ajax won 3-0
at Greek side AEK.
Dauntingly for Ajax, Bayern
have won the last 12 matches at
home in the Champions League's
group stages.
However, the five-time European champions finished the
weekend second in the German
league after crashing to a shock
2-0 defeat at Hertha Berlin on
Friday after being outplayed in
the capital.
"It is an important game
against Ajax. A win would make
things easier for us going into
our next four games," said Bayern
head coach Kovac.
Lost league match
"Many people said we wouldn't
lose a game in the (Bundesliga)
this season, but now it has happened in no time at all," he added.
Uncharacteristically for Bayern, they leaked a late equaliser in
a 1-1 league draw with Augsburg
last Tuesday, which was followed
by the defeat in Berlin, but Kovac
remains unfazed.
"You have to differentiate, one
is not directly linked to the other,"
he insisted.
"You could also say we won
seven out of nine games."
However, the Bayern boss
will be troubled by the ease
with which Pal Dardai's Hertha
unpicked the lock of the Bayern
defence.
He will seek a tighter performance against Ajax, who are
second in the Dutch league after
a 2-0 win at Fortuna Sittard on
Saturday.
Ajax coach Erik ten Hag will
have taken note of how Bayern's
defence was shaken in the first
half by Berlin.
Jerome Boateng needlessly
gave away penalty by fouling
Salomon Kalou which Vedad
Ibisevic converted for the opening
goal. Niklas Suele, Bayern's other
centre-back, was out of position
when Hertha's Ondrej Duda, the
league's current top-scorer with
five goals in six games, smashed
home a close-range cross.
Bayern's star-studded attack
also has a point to prove against
Ajax after just having just one
Arjen Robben goal, in the draw
with Augsburg, to show for 40
shots on goal in their last two
games.
Even the likes of James Rodriguez, Franck Ribery, Robben and
Robert Lewandowski could not
breach Berlin's defence despite
25 shots.
Kovac is concerned by a lack
of precision after his team "were
not clinical" and more mistakes
in defence "will be punished"
against the Dutch.
Nevertheless, a win over Ajax
would boost confidence before
Saturday's home league match
against Borussia Moenchengladbach when they can aim to
make up the one-point gap behind
new Bundesliga leaders Borussia
Dortmund. (AFP)
October 2, 2018
UEFA CHAMPIONS LEAGUE
Champions Real Madrid travel to Moscow tonight for
Group H match against CSKA, United host Valencia as
Man City travel to Hoffenheim PAGES 51, 52
Scan this QR code with your
smart phone for pictures,
videos and more stories.
Fraud > Police say foreigners have been in the country for over 10 years and have been defrauding Kenyans
Suspects arrested over
fake Sh1 billion notes
A Malian, his son
and their Kenyan
driver said to be part
of a fraud scheme
BY NYABOGA KIAGE
[email protected]
T
wo foreigners and a Kenyan
were yesterday arrested
after they were allegedly
found with fake currency in
Westlands, Nairobi.
Detectives said the suspects,
Mr Abdulah Tamba and his son
Abdoulaye Tamba, who hail from
Mali, and the Kenyan, Mr Anthony Mwangangi — their driver
— were arrested with more than
Sh1 billion in foreign currency.
One of the suspects managed
to go into hiding, but the police
gave an assurance that they will
arrest him.
Mr Musa Yego, the Flying
Squad boss in Nairobi, said the
foreigners have also been deceiving Kenyans that they would help
them get rich but end up stealing
from them. "The foreigners have
been in the country for over 10
years and we want the owner of
the apartment to explain what he
knows about them," said Mr Yego.
He said the suspects have
been living in a three-bedroom
apartment located on Brookside
Lane in Westlands.
Mr Tamba was also found
with a machine, which detectives
suspect was being used to make
the fake currency.
Detectives from the Directorate
of Criminal Investigations said
they have been trailing the suspect for weeks and were tipped off
on his whereabouts by those he
had conned. "We also ask anyone
with information about the three
2015
Year when police say
suspects and three others
were deported in another
case on counterfeit notes
to report so that we can have
enough evidence to arraign the
suspects in court," said Mr Yego.
The driver, in his defence, told
the detectives that he has never
been allowed to step into the
house and he was equally shocked
that the two have been processing
fake currency.
In October 2015, the suspects
together with Mr Suleiman Musa,
Mr Mahmat Tamba and Mr Yahya
Kangweri were arrested allegedly
with $1.5 million (Sh153 million)
in counterfeit notes.
According to police records,
the suspects said they were
nationals of Central African
Republic, which contradicts the
current information that they
were from Mali.
Police said they were deported
and they will have to explain how
they returned.
The suspects were arrested
after a complaint by Mr Abdullah
Hassan who told the police that
they owed him $4 million and that
they had refused to pay the sum.
EVANS HABIL | NATION
Mr Abdulah Tamba, a Malian, who was arrested
together with two others over fake currency in
Westlands, Nairobi, yesterday. Above: Other items
police recovered from his house.
Fake foreign
currency notes
amounting to Sh1
billion that were
recovered at the
apartment in
Nairobi.
EVANS HABIL | NATION
COMMENTARY
MEDICAL CLINIC
Accord people the
dignity due to them
even in death P. 3
Doctor, will I have to
take anti-depressants
for life? P. 7
at the heart of the story
NOT FOR SALE. FREE
WITH YOUR DAILY NATION.
No. 092
Tuesday, October 2, 2018
A G R I C U LT U R E
Cancer in
a packet?
CONTENTIOUS HERBICIDE LINKED TO
C A N C E R S T I L L O N K E N YA N S H E LV E S
P.4&5
views
2 | Healthy Nation
Tuesday, October 2, 2018 | DAILY NATION
All it would take to
have a faster, safer,
simpler cure for TB is
for governments to care
enough to make it a
political priority. World
leaders must show some
spine and take collective
responsibility to fight this
global health emergency, so we don't
keep losing a person to TB every 18
seconds. Sharonann Lynch, HIV
& TB Advisor, Medicines Sans
Frontieres Access Campaign
BRIEFLY
funding
CALL FOR INNOVATIONS TO
IMPROVE ACCESS TO WATER
AND SANITATION
KENYAN INNOVATORS with technologies
that can improve access to water and sanitation
in urban areas will receive up to Sh10.1 million
in the fourth round of the global funding competition Grand Challenges Africa. The African
Academy of Sciences, the administrator of the
funds, invites technologies that will improve
access to clean drinking water, sanitation and
hygiene in homes, and address urban pollution.
The call which closes on November 24, is seeking
cost-effective technologies that will encourage
hygiene and sanitation in public places such as
schools and markets. According to the Kenya
Demographic Health Survey of 2014, 67 per cent
of Kenyans do not have access to clean drinking
water, exposing them to waterborne diseases
such as cholera. Dr John Kiiru, an expert in waterborne diseases at the Kenya Medical Research
Institute (KEMRI), welcomed the call, saying
that technology can stop the infection cycle of
the waterborne diseases that afflict many urban
areas. He urged a focus on schools and markets,
where there are gaps in sanitation. "People boil
water to drink, but they cannot afford to boil water for washing dishes or for washing the fruits
they are eating," he said, "Alternative methods
that can meet that gap would reduce infections."
The competition funded by the Bill and Melinda
Gates Foundation, Unicef, ARM Technology, and
Swedish International Development Agency,
asks for innovations that can use data to monitor
environmental contamination – at what point the
disease-causing germs contaminate the water
and the use of data in mapping areas that are
most affected by lack of water in Kenya.
– Verah Okeyo
nutrition
SKIPPING MEALS CAUSES
DEPRESSED MOOD
www.nation.co.ke/
healthynation
@DNHealthyNation
@DailyNation
84,905
Meru
A look at the health of Kenyans aged over 60 years
Counties with
lowest elderly
population
Marsabit
Kenyans are aged 60 years
and above
9,944 7,586
Samburu
life expectancy of a Kenyan
10,206
77,383
934,142
Kiambu
Machakos
73,294
23%
always add salt
before or when
eating
ALCOHOL
24%
drink
2
TOBACCO USE
22%
use tobacco
44%
have tried to stop smoking
in the last 12 months
23%
are exposed to
secondhand smoke
minutes of
moderate
intensity
ĂĐƟǀŝƚLJ
32%
5,431
cuts
Lamu
Kitui
SALT
3
DIET
91%
take less than
5 servings
of fruit and/
or vegetables
per day as
recommended
4
CHOLESTEROL
95%
have never had their
cholesterol levels measured
47%
of those with elevated
cholesterol are taking
medication
5
6
WEIGHT
21%
overweight
11%
obese
20%
underweight
EDITOR-IN-CHIEF: Tom Mshindi EXECUTIVE EDITOR, PRINT: Mutuma Mathiu HEAD OF PRODUCTION: Kariuki
Waihenya HEALTH & SCIENCE EDITOR: Felista Wangari PHOTO EDITOR: Joan Pereruan CHIEF GRAPHIC DESIGNER:
Andrew Anini DEPUTY CHIEF GRAPHIC DESIGNER: Michael Mosota REPORTERS: Elizabeth Merab, Verah Okeyo,
Eunice Omollo, Adrams Mulama, Aggrey Omboki, Angela Oketch COVER DESIGN: Freepik
65%
feel they
consume
just the right
amount of salt
71%
know that too
much salt can
cause health
problems
In partnership with
the Bill & Melinda
Gates Foundation
7
SelfŵĞĚŝĐĂƟŽŶ
2 days
150
falls
75,649
8%
Physical activity
recommendations per week
47%
97,389
Lifestyle habits
that affect health
(60 to 69 years)
29%
Tana River
Murang'a
number of elderly
Kenyans registered
for Inua Jamii cash
transfer programme
plus NHIF benefits
Dispensary/
health
centre
Sub-county
hospitals
Common
unintentional
injuries
72 years
target life expectancy
by 2030
62%
Counties with the
largest elderly
populations
Isiolo
60 years
Primary source of
healthcare for the elderly
Key
17,278
1.9 million
1
THE SUDDEN DROP in glucose people experience when they are hungry can have a lasting
impact on their mood, new research has found.
Researchers examined the impact of a sudden
glucose drop on emotional behaviour by injecting
rats with a glucose metabolism blocker to induce
hypoglycaemia (low blood glucose). The rodents
were then placed in a specific chamber. On another
occasion, the rats were injected with water and
placed in a different chamber. When given a choice,
the rats actively avoided the chamber where they
had experienced hypoglycaemia, indicating that
they were avoiding it because they had experienced
a stressful experience there. The rats also had more
corticosterone levels in their blood, an indicator of
physiological stress, and appeared more sluggish
when given the glucose metabolism blocker. "You
might argue that this is because they need glucose
to make their muscles work," said researcher Prof
Francesco Leri. "But when we gave them a common
antidepressant, the sluggish behaviour was not observed. The animals moved around normally. Their
muscles still weren't getting the glucose, yet their
behaviour changed." "The factors that lead someone
to develop depression and anxiety can be different
from one person to the next. Knowing that nutrition
is a factor, we can include eating habits into possible
treatment," said lead author Thomas Horman. These
findings provide insight into the connection between
depression and diseases such as obesity, diabetes,
bulimia and anorexia. The researchers added that
habitually skipping meals can be problematic. "It
can become a vicious cycle. If a person isn't eating
properly, they can experience a drop in mood, and
this drop in mood can make them not want to eat.
If someone is constantly experiencing this stressor,
the response could affect their emotional state on a
more constant level." The study was published in the
journal Psychopharmacology.
Hotels next to the
hospital are expensive,
so most patients who
come for treatment
sessions, spending at
least a week in Nairobi,
end up putting up on
the corridors. The hostel
will offer them a dignified place to stay
while they seek treatment. Kenyatta
National Referral Hospital Acting
CEO Thomas Mutie
There is a serious
problem of cash
flow in these
institutions
including
Pumwani. Nairobi
has allocated
20 per cent of
its total budget to health, but the
hospitals need more money than they
are getting. Nairobi City County,
Acting Executive for Health Charles
Kerich
Elderly health
BRIEFLY
SUGAR
27%
always add sugar to beverages
58%
say they consume just the right
amount of sugar
77%
know that too much sugar can
cause health problems
61%
are minimising the amount of
sugar they add to beverages
1 out of 10
use natural and unrefined
alternatives to sugar
2–3
days of
balance
and fall
ƉƌĞǀĞŶƟŽŶ
ĂĐƟǀŝƟĞƐ
RAISED BLOOD
SUGAR
8
9
PHYSICAL
ACTIVITY
52%
do not engage in
vigorous physical
activity
74%
have never been
screened for raised
blood sugar
32%
of those diagnosed
with diabetes mellitus
are taking medication
for it
24%
of those diagnosed
with diabetes are
taking insulin
of muscle
strengthening
ĂĐƟǀŝƟĞƐ
Compiled by:
Felista Wangari
Sources:
World Health
Organisation, National
Council for Population
Development,
National Policy on
Older Persons, Kenya
Stepwise Survey for
NCD Risk Factors
Graphic by:
Michael Mosota
magazine is published weekly by Nation Media Group Limited and distributed
free with the Daily Nation. Unsolicited manuscripts, artwork, transparencies are
submitted at sender's risk. While every care is taken on receipt of such material, NMG Ltd cannot accept
responsibility for accidental loss or damage. ©Nation Media Group Limited, 2016. All rights reserved.
views
DAILY NATION | Tuesday, October 2, 2018
Healthy Nation | 3
SOCIAL ISOLATION
Kericho youth fight loneliness among the elderly
BY ANITA CHEPKOECH
[email protected]
LONELINESS and social isolation are
two of the most serious problems that
confront the elderly.
Loneliness increases an older person's
chances of premature death, and the
risk of coronary heart disease and
stroke.
Feeling isolated can disrupt sleep,
raise blood pressure, increase levels of
the stress hormone cortisol, interfere
with immunity, increase depression and
anxiety and lower feelings of wellbeing
and quality of life.
It is not the solitude or physical
isolation itself, but rather the sense of
isolation that is problematic.
People may live alone but not feel
lonely, or live with others and feel lonely.
Living alone does not necessarily
mean loneliness if one remains socially
engaged and enjoys the company of
people around him or her. However,
some aspects of ageing such as
blindness and loss of hearing place the
elderly at a special risk for becoming
isolated and lonely.
Loneliness is caused by low level of
social fulfilment (not enough activity to
keep one busy, and not feeling needed),
poor health, changed marital status,
reduced income, anxiety and infrequent
contact with others.
To measure loneliness, answers to
these two questions can help: Do you
have someone to talk to when you need
it? Do you feel alone when you want to
be with someone?
Joshat Koech did not know all this
when he started Friends of the Elderly
(FOTE), a 200-member group of youth
in Kericho County.
He was prompted to action when he
saw and empathised with the state of
Mzee Kimalel, an elderly man in Kipsolu,
Belgut Sub-county.
He was moved by the thought of
how difficult it must be for senior
citizens with little strength to fend for
themselves. So he organised a visit to
Mzee Kimalel's homestead with a friend.
They carried a blanket and a bag of
groceries.
"Our number grew from two to
more than 50 in a few weeks and we
registered as a community based
organisation," said Mr Koskei.
The group visits elderly members of
society in villages across 30 wards every
Sunday afternoon.
Their aim is to ensure that the
elderly feel appreciated, happier and
consequently healthier. Since inception
in January 2016, the group has visited
2,000 senior citizens.
Healthy Nation accompanied them to
visit the 1,184th senior citizen, an ailing
retired teacher in Kelunet, Belgut Subcounty. Nearly 20 members turned up
for the visit, with blankets for the seven
elders they were seeing that day.
They cut cake and staged a
ceremonial handing over of blankets
to the elders. FOTE members sang
vernacular ceremonial songs as they
wrapped a blanket around the shoulders
of each elder in turns. They got to
learn about their ancient culture and
practices, and the health habits of their
people and more.
This fits in well with
recommendations from researchers
on combatting loneliness, which is
becoming a major public health threat.
Researchers recommend staying in
touch and sharing good times, including
family traditions, with people who care.
"Doctors should be encouraged to
include social connectedness in medical
screening and people should prepare
for retirement, not just financially,
but also socially, as many social ties
related to the workplace are cut off,"
said researcher Julianne Holt-Lunstad
in a study published in July last year,
at the 125th Annual Convention of the
American Psychological Association.
She also recommended resources
to protect individuals and the society
from the the public health threat of
loneliness.
Friends of the Elderly members wrap a blanket
around an old man at Kibugat, Belgut Subcounty. ANITA CHEPKOECH | NATION
GUEST COMMENTARY
Accord all
patients dignity
after death
BY DR NELLY BOSIRE
T
LACK OF
DIGNITY
IN DEATH
IS NOT
UNIQUE TO
PUMWANI;
IT HAPPENS
ACROSS THE
COUNTRY,
BUT WE
MUST
CHANGE
THIS
NARRATIVE
GOING
FORWARD.
[email protected]
he public exposure of the
bodies of the tiny little babies at
the Pumwani Maternity Hospital in
Nairobi, during the governor's visit
to the hospital, left a bitter taste in
our mouths.
As if dealing with the loss of life
at such a tender age wasn't bad
enough, the real devastation was
in coming to terms with how these
little ones were handled after death.
Putting them in cartons and disposal bags is certainly no way to see
them off!
As we ponder the inefficiencies
of a health system that has left us
feeling very vulnerable, the reality is
that we shall exit this world. Death
takes away everything from a person
with such finality. We immediately
stop being referred to as person X
and become a 'body'. We cease to occupy a space in the midst of others
and immediately become past tense.
Our outrage at the situation in
Pumwani is driven by the innate
need to maintain some level of
dignity even in death. Death strips
us of everything; the only thing we
want to exit with is dignity. It is on
this premise that the very important
process of care given to a body after
death, otherwise known as the "last
offices", is based on. According to
Dougherty and Lister (2004), the
process is performed with the aim
of demonstrating respect for the
deceased and focuses on respecting
their religious and cultural beliefs,
as well as health and safety and
legal requirements. It is carried out
by the nurse before the deceased is
released to the mortuary.
Once a patient dies, the first step
is to preserve privacy by drawing the
curtains around the bed. Thereafter,
the doctor confirms death by checking for the presence of a heartbeat,
breathing movements and state of
the pupils (they get really wide and
do not react to light after death).
These are documented in the patient's file, along with the cause of
death. The time of verified death is
documented against the signature
and name of the ascertaining doctor.
Once death has been ascertained,
the patient's next of kin are informed. If they are in hospital, they
are informed immediately, and if
they are away, they are summoned
to the hospital and informed upon
arrival. This is one of the most challenging duties: To be able to pass
on the difficult news with empathy
irrespective of one's own feelings.
Many times, the nurse is deeply
heartbroken to lose a life so young,
or a doctor so distraught to lose the
head of a home to a tragic accident.
Yet, as care providers, it is not our
place to out-mourn the family.
After breaking the news, the body
should be identified correctly with
bands that are properly labelled.
Thereafter, the body is aligned by
straightening the limbs and keeping
the head to face straight ahead. The
Death takes away everything from a person; the least we can do is maintain some level of dignity even in death.
eyes and mouth are closed and the
bladder is emptied. Open wounds
that are oozing are dressed to prevent soaking the whole body and all
medical intervention accessories are
removed. The mouth, nose and anus
are sealed with cotton to absorb
secretions, then the body is dressed.
These procedures make the patient look presentable to ease the
family's discomfort and pain. It
helps them remember the departed
in a dignified manner and brings
some peace of mind.
If a post-mortem is required,
there is minimal intervention. Medical intervention accessories are left
in place for further evaluation by the
pathologist. They should never be
tampered with. After the family has
viewed the body, it is wrapped in a
bed sheet or hospital linen ready for
transportation to the mortuary. If
the patient is suspected to have died
from a contagious disease, the body
is put in a body bag.
The doctor fills the notification of
death form, stating the identity of
the patient, the immediate cause of
death and all factors that may have
contributed to death. The notification slip is given to the family, and
a copy accompanies the body to the
mortuary.
In all these steps, there is need for
compassion and capacity to accom-
modate everyone. The mother who
lost her baby in labour should be
accorded a secluded area to hold her
baby and bid him farewell. Muslim
and Jewish families should be allowed to perform religious cleansing
rights on the body in preparation for
immediate burial within 24 hours.
Resource-starved public and private health facilities lack the means
to accord the departed the dignity
they deserve. It is not unique to
Pumwani; it happens across the
country, but we must change this
narrative going forward. We cannot
drop the ball on dignity immediately
after death only to pick it up after
the departed is in a coffin.
cover story
4 | Healthy Nation
Tuesday, October 2, 2018 | DAILY NATION
RISKY» NEARLY 825,804 TONNES OF GLYPHOSATE PRODUCTS WERE USED WORLDWIDE IN 2014. IN KENYA, WHERE ABOUT 30 GLYPHOSA
For Kenyan fa
comes in pac
In August, a US jury
found that a herbicide that is popular
among farmers in
the world and in
Kenya might have
caused the cancer of
a groundskeeper. He
was awarded millions
of dollars in damages. Many countries
around the world
are implementing
restrictions, but the
Pest Control Products Board remains
mum, offering no
caution or guidance,
and leaving local
farmers possibly exposed to health risks
BY HEALTHY NATION TEAM
A
[email protected]
t an agrovet shop in downtown
Nairobi, James Mutegi, an agronomist,
pulls out 26 glyphosphate-based herbicide brands from the shelves – Kausha,
Glyphogan, Panga, Roundup, Glycel,
Clampdown, Touchdown, Woundout,
Zoomer Combi, Clear Up, Clinic, Kick
Out, Dkphosate, Eraser Max, Dasate,
Fagilia, Fire All, Glyfos, Gugusate, Herbistop, Klinswip, Mamba, Kwik, Rondo,
Ridweed and Rophosate.
Farmers use them as post-emergence
systemic herbicides to control weeds in
coffee and tea plantations and sugarcane
farms as well as in pasture and tillage
reduction. A litre of the most popular
brand goes for Sh1,200 in Nairobi and
Sh800 in most stores in the Rift Valley
region. Other glyphosate products cost
between Sh650 and 1,100. Many farmers
have no idea, that this is not just the cost
of procuring a weed killer, it could also
be the cost of exposing themselves to
health risks. Many farmers we talked to
were not aware that a glyphosate user
in the US had been awarded millions of
dollars in damages, after the weed killer
allegedly predisposed him to cancer. We
found them using the herbicide without
protective gear, oblivious of the dangers
they were exposing themselves to.
Samuel Sigei, a farmer at Kapkormom
in Kericho County, has been using the
glysophate-based herbicide for nearly 20
years, and prides himself as someone who
is fairly knowledgeable on current affairs.
He was shocked when Healthy Nation
informed him about the US ruling on his
dependable solution against weeds.
"I handle this chemical every year. It
causes dizziness and nausea, which is
pronounced if you use it in sunny weather,
but I have never thought much of it,"
he exclaimed, adding that farmers have
learnt to use it at dawn, just as the sun
rises, to fight these effects.
Like many of his peers, Mr Sigei handles the herbicide without proper protective clothing. He only wears a heavy
trench coat, which is not waterproof as
required, and doesn't cover his mouth
and nostrils.
"It has a strong smell, so I gulp a glass
of milk after coming from the fields and I
will be okay," he adds.
The chemical comes into contact with
his skin, and sometimes leaks from the
pump, spilling on his back, but he has
never seen any skin irritation or effect
that would cause him to worry. The popular chemical clears bushes and grass from
his four-acre farm before ploughing is
convenient. He has trusted and depended
on its effectiveness for years. He ponders
turning to four other brands, but questions their safety too.
"They are all the same, aren't they? The
contents are the same, the difference is
that some brands are more concentrated
than others," he says creasing his face in
concern.
"I will stop using these chemicals im-
mediately!" he declares after brief contemplation, "Anything to do with cancer
is a death sentence. No one wants to go
that route."
The use of glyphosate-based weed-killers as a perennial weed control measure,
is widespread, because it entails little or
no field preparation, hence minimal farm
machinery use and expense. The herbicides enable farmers kill weeds without
killing their crops. An increasing number
of crops have been genetically engineered
to be tolerant of glyphosate allowing
farmers to use glyphosate as a post-emergence herbicide against weeds. In 2014,
nearly 825,804 tonnes of glyphosate
products were used worldwide according
to Statista a consumer survey and industry studies, global statistics company in
the US.
Mutegi, the agronomist, told Healthy
Nation that the herbicide is preferred by
farmers for its distinct capacity to completely impair weeds from the roots in one
or two weeks.
"Farmers love it because it works in
hours. The weeds wilt and start to yellow
within six hours of application," he said.
"A small quantity is enough to wipe out
weeds, making it more cost-effective than
other agrochemicals," said James Too, a
farmer from Chepkumia, Nandi County.
He uses glysophate to kill weeds in his tea
and maize plantation, applying the herbicide once a month.
"I have no idea that it is hazardous to
human health. Maybe it is only harmful
if inhaled frequently … Maybe if we exercise precautionary measures we will
DAILY NATION | Tuesday, October 2, 2018
cover story
Healthy Nation | 5
ATE PRODUCTS ARE ON SALE, FARMERS USE THEM WITHOUT PROTECTION, OBLIVIOUS OF THE HARM THEY MIGHT BE SUBJECTED TO
armers, cancer
cket of herbicide
be protected from harm," he mused. His
sentiments are shared by George Otieno, an
agronomist at Agri-Tech, who argues that
the herbicide has no effect on health as long
as one follows the specified instructions.
"It has been in the market for decades,
and I have never heard anyone who developed health problems from using it," said
Mr Otieno.
However, he added that some livestock
have died after feeding on silage or grass that
had been sprayed with glysophate.
"This is a result of negligence. Farmers
need to protect livestock from areas sprayed
with the chemical," he explained.
A survey of agrovets around the country
indicated that most dealers had glysophate
in stock.
"We have not received orders from any
relevant authority suspending the sale of the
chemical. In any case most farmers prefer it
to other herbicides," said David Koskei, an
agrovet dealer in Eldoret Town.
Agronomists interviewed for this story
urged farmers to wear protective gear and
stick to instructions on the label when using
glysophate.
"We are aware that most farmers ignore
the instructions on the label. They don't even
read them," said Mutegi, the agronomist
from Nairobi.
One of the farmers who tries to use it as
recommended is Sabina Muriira, a farmer
from Imenti Central Sub-county, who has
been using glysophate since 1985 and not
seen anyone suffer harmful effects. She
said that following warnings by agricultural
extension officers, she and other farmers
started using protective garments when using the herbicide.
Effective herbicide
"It is the only effective herbicide against
stubborn weeds. There are new ones in the
market but they cannot match this," she said,
adding that farmers were unlikely to stop
using it since it is "the best" in the market.
For Moses Muriuki, a farmer from South
Imenti Sub-county who uses glysophate at
least once a year to kill invasive weeds, the
discovery that the pesticide kills moles offered him a way to get rid of the rodents too.
"It was a coincidental discovery, but now
when we want to eradicate moles we use
glysophate, because after spraying, within a
month or so the moles are all dead."
"As for whether it causes cancer, we would
have to check the scientific basis," said Prof
Paul Kimurto, from the Crop Science Department at Egerton University. He noted
that use in huge quantities for a long time is
a cause for worry.
"What we do know is that it affects biodiversity and kills the micro-organisms in the
soil that it comes into contact with. It kills
beneficial insects, including nitrogen-fixing bacteria, and other beneficial flora and
fauna," he added.
He warned that all agrochemicals will have
negative effects on people, animals and other
living organisms and the environment if precautionary measures from the manufacturer
are not followed.
"They are toxic. That's why they kill their
LANDMARK RULING
ON WEED KILLER
AND CANCER
FILE | NATION
Farmers should wear recommended protective gear when using herbicides, but many don't.
targets, but unfortunately, they can harm
more than just the targeted nuisances," he
added. He also suggested that prolonged
exposure to such chemicals can cause a
number of health effects in workers exposed
to glyphosate formulations.
"They are associated with dizziness, pneumonia, scorching of skin and respiratory
problems," he said, adding that there is need
to train farm labourers on the safe handling
of chemicals.
He also raised concern that residues remain in the environment for a long time after
application, especially because of overuse.
"There is a danger that they may be consumed in food by casual labourers in the
fields, who eat on site where the chemicals
are applied, with residues hanging in the air.
Moreover, if applied to food crops just before harvest, people may ingest them. They
should be applied at least a month or three
weeks before harvest.
There is also the critical issue of herbicide
drift, with the wind carrying the chemical to
non-target crops.
Take a case where a neighbour sprays their
crops with herbicide. Residues drift in the air
and fall on your garden of ripe tomatoes or
sukumawiki that is ready for harvest. If you
unknowingly consume your produce before
three weeks have elapsed, you unwittingly
consume the chemicals.
Consumer safety and environmental advocacy groups around the world are raising
concerns over the possible presence of herbicide residues in certain foods, especially
grains. Grain products in Canada were found
to exceed the maximum (glyphosate) residue
limit (MRL) about four per cent of the time,
a report by the Canadian Food Inspection
Agency showed.
Overall, glyphosate was detected 29.7 per
cent of the time in 3,188 food samples. However, only 1.3 per cent of samples were above
the maximum limit. In the US there were
reports of relatively high concentrations of
glyphosate in Original Cheerios due to its
main ingredient, whole grain oats.
Some countries have imposed restrictions
on the chemical. Germany is working on a
draft regulation to end use of glyphosate in
household gardens, parks and sports facilities, and to set "massive" limits for its use in
agriculture.
Following a re-evaluation of the potential
carcinogenic risk to humans of several pesticides, including glyphosate in 2015, the
World Health Organisation's International
Agency for Research on Cancer (IARC)
concluded that glyphosate is 'probably carcinogenic'.
The announcement has been highly criticised for not showing evidence that glyphosate causes cancer. The WHO's cancer
research agency is widely considered to be
the gold standard for research on cancer, but
was accused of editing out portions of the
documents they used to review glyphosate
to make the chemical look far more harmful
than its own research had concluded.
Nvertheless, as a result of the re-classification, a number of governments are considering establishing restrictions on the use of
glyphosate in agriculture.
Sri Lanka banned the use of glyphosate
in 2017, after it was linked to an increase in
the prevalence of chronic kidney disease.
Argentina and the Netherlands have also
banned its use for similar reasons. Last year,
the European Parliament voted in support
of phasing out glyphosate over the next four
years and immediately banning its use in
households.
In Kenya, there is still no official direction.
Efforts to reach the government pesticide
and pesticide products regulatory agency,
the Pest Control Products Board have been
futile, with questions the writers sent to the
agency in August remaining unanswered.
The Board regulates the importation, export,
manufacture, distribution and use of products that control pests.
"The news is out," screamed a US lawyer's
blog following the ruling in which a California jury awarded $289 million in damages
to a school groundskeeper who claimed to
have gotten terminal cancer from chronic
use of the herbicide Roundup.
The jury at San Francisco's Superior Court
of California concluded that the manufacturer of Roundup had failed to warn DeWayne "Lee" Johnson and other consumers
of the cancer risks posed by the weed killer,
the most popular around the world.
The event has culminated in a horde of
other cancer patients including farmers,
landscapers, agriculture workers, professional gardeners, groundskeepers, and pesticide and herbicide applicators, coming out
of the woodwork to pursue cases against
Roundup's manufacturer, which faces more
than 5,000 similar lawsuits across the United
States, Reuters has reported.
Several studies have linked glyphosate,
the chemical used in the popular weed killer
to cancer. The chemical is associated with
other maladies like kidney diseases, spontaneous abortions, birth defects, skin diseases,
respiratory illness, and neurological disease.
However, the most thoroughly researched
link is the one between glyphosate and
non-Hodgkin lymphoma – a blood cancer
that affects the lymph nodes and tissues,
and sometimes even bone marrow. Johnson
who suffers from non-Hodgkin lymphoma,
says he used Roundup up to 30 times a year.
This was the first case against the manufacturer to go to trial. But Mr Johnson's lawyers said they were swamped with calls as
thousands more people sought to file more
suits against the agrochemical and agricultural biotechnology corporation.
Johnson's case, filed in 2016, was fasttracked for trial due to the severity of his
non-Hodgkin's lymphoma, he alleges was
caused by Roundup and Ranger Pro, another glyphosate herbicide. His doctors say
he is unlikely to live past 2020, added the
Reuters' account.
While glyphosate and formulations
have been approved by regulatory bodies
worldwide, concerns about their effects on
humans and the environment persist.
But glyphosate's sweeping implications on users have been the subject of
wide-ranging debate for some time now.
It is a contentious subject, and scientists,
industry, activists and government remain
divided on whether the chemical has any
direct link to the array of health concerns.
Report by Pauline Kairu, Barnabas Bii, Anita Chepkoech and Gitonga Marete
FILE | NATION
A farmer uprooting invasive weeds from
his farm.
health
6 | Healthy Nation
Tuesday, October 2, 2018 | DAILY NATION
FAMILY PLANNING
Birth control: The different methods and how they work
CONTRACEPTIVES can be
classified under two categories; nonhormonal and hormonal.
Non-hormonal contraceptives
include male and female condoms,
cervical cap or diaphragm, copper
intrauterine device (IUD) commonly
called the coil, natural birth control
and sterilisation (tubal ligation
in women or vasectomy in men).
Hormonal birth control consists
of pills, injections, contraceptive
patches, implants and the hormonal
IUD (coil).
Condoms: the male condom is
widely available and prevents both
pregnancy and sexually transmitted
infections. However, if not used
correctly or consistently, condoms
can fail a fifth of the time.
Emergency contraceptive pills
are among the most misunderstood
BRIEFS
weight
HEALTHY WEIGHT GOOD
FOR MENTAL WELLBEING
Does poorer physical health cause
lower mental wellbeing or are individuals
with lower mental wellbeing more likely to
have problems with their physical health?
Researchers sought to find out by testing
11 measures of physical health including
coronary artery disease, heart attack,
cholesterol, blood pressure, body fat and
body mass index. They analysed records of
300,000 people aged 40 to 70 years and
found that people with a high body mass
index had lower levels of mental wellbeing
and lower satisfaction with health. "The
next question is why we found this link. We
are keen to explore the role of body satisfaction and self-esteem, which could help
practitioners know how best to support individuals to remain physically and mentally
healthy," said lead author Dr Robyn Wootton. The researchers added that becoming
happier and more satisfied with their lives
might be the extra motivation people need
to maintain a healthy weight, beyond the
usual encouragement to do it for physical
health. The findings were published in the
British Medical Journal (BMJ).
brain
BRAIN WAVES POINT TO
CHILD AGRESSION
When children are presented with an
ambiguous social cue, they can either
interpret it as neutral, playful or hostile. If
they interpret it as hostile, they are more
likely to act aggressively. To establish why
this is the case, researchers measured
the activity of the P3 brain wave in 153
toddlers. The P3 wave is generated when
an individual evaluates and responds to
a change in the environment, such as
changed cues in a social interaction. People with shorter P3 wave peaks are more
aggressive when confronted with a change
in the environment. For instance, a child
with shorter P3 wave peaks is more likely
to interpret an ambiguous social cue from
another child as hostile, rather than playful.
P3 is also associated with depression and
schizophrenia. Researchers found that
toddlers with smaller spikes in the P3 brain
wave were more aggressive than toddlers
with larger P3 brain-wave peaks, when
confronted with a situational change.
and abused contraceptives. The
most commonly used e-pill contains
the hormone levonorgestrel. It is
98 per cent effective in preventing
pregnancy if taken at the earliest after
unprotected sex, but within 72 hours
of sexual activity. It is more likely to
fail if taken after 72 hours of sex, in
obese women or if taken repeatedly
over short durations.
Unknown to many, the copper
coil is an alternative emergency
contraceptive that is more than 99
per cent effective and works if fitted
up to five days after unprotected
intercourse. Moreover, it continues
to offer long-term reversible
contraception after insertion.
Contraceptive pills require
consistent daily intake. If you can't
sustain the daily demand to pop a
pill, a contraceptive patch is a good
alternative. Stick the small adhesive
patch on your skin and change it
every seven days. If fixed on dry skin,
it will withstand taking a bath and
even swimming.
Implants are small flexible plastic
rods about the size of a matchstick
embedded with hormones and
implanted under the arm skin. An
implant can last three or five years.
An implant prevents pregnancy more
than 99.9 per cent of the time.
The most popular contraceptive is
the three-month 'Depo' injection. It
has hormone content like the implant,
but is slightly less effective.
Natural birth control methods
work by understanding the female
reproductive cycle and fertile window.
They are used by couples who are
either not willing or able to use
other contraceptive options. Natural
methods require a very predictable,
regular cycle, partner cooperation
and consistency, so their typical
failure rate can fluctuate from one
couple to the next and can be quite
high.
Male and female sterilisation are
permanent birth control options for
couples who do not wish to have
more children. They entail a small cut
to block the fallopian tubes in women
or semen passages in men. Both can
be performed at an outpatient clinic.
Sterilisation is fraught with many
misconceptions. The commonest
are that tubal ligation diminishes a
woman's libido, causes excessive
lubrication during sex or causes
menopause. For vasectomy, men
express fear that it will diminish their
masculinity and libido. None of these
is true. - Dr Mukaindo Mwaniki
BARRIERS » ADOLESCENT GIRLS ARE THE MOST AFFECTED BY UNMET NEED FOR BIRTH CONTROL
What they told you about
contraceptives was wrong
The fact that a
friend or relative
used a certain birth
control method and
it worked (or didn't
work) for her doesn't
mean you'll have the
same experience
BY DR MUKAINDO MWANIKI
W
hen it comes to contraceptives many girls and women of
reproductive age seek information
from their social circles first, and
the internet, before consulting a
health worker.
As a result, they may pick up
myths and misconceptions that
can influence the uptake of contraceptives. When women get their
contraceptive information from
specialists, they are more likely to
continue with the chosen method
for longer and be comfortable with
it.
Before settling on a contraceptive, there are factors such as effectiveness, health, age, side effects,
cost and lifestyle to look at. The
fact that a friend or relative used a
certain contraceptive and it worked
(or didn't work) for her, doesn't
mean you will have the same experience.
As the theme for this year's
World Contraceptive Day goes "It's
your life; it's your responsibility".
Therefore, you cannot leave it to
someone else to make this decision for you. Birth control is a
personal affair and having the facts
at hand will help you make the
fitting choice. Many women are
concerned about weight gain, when
considering hormonal birth control, and anecdotes from friends
may act as a deterrent. It is not
a given that you will pile on the
kilogrammes if you use a hormonal
method. Other factors such as your
genes, physical activity or inactivity, diet or change in metabolism,
are more likely to influence your
weight.
Another concern is whether
birth control methods affect sex
drive. Many women on hormonal
contraceptives report no change in
libido; only a small fraction report
a reduction. Again, other factors
such as dissatisfaction with the
relationship, stress and hormonal
fluctuations, may be at play.
Do coils (intrauterine devices)
make women more prone to pelvic
infections? Research shows that
they don't. However, if a coil is
inserted into a womb with an ongoing, but symptomless infection,
the infection will flare up, leading
to the mistaken assumption that
the coil caused the infection.
Some women fear that contraceptives will make them infertile or
that it won't be easy to get pregnant
once they stop using the contraceptive. Truth is: No contraceptive,
other than sterilisation, causes
infertility. Ovulation and fertility
resume soon after one stops using
a contraceptive. Moreover, even
without prior contraceptive use,
a healthy couple may take up to a
year to conceive. Therefore, couples are advised to be patient and
manage their expectations. However, whether a couple has a history
of using birth control or not, if they
have not conceived after a year of
regular unprotected intercourse,
they should get a medical check-up
to establish if all is well.
The last common concern is
that the contraceptive might fail.
Contraceptives are safe and provide good protection against pregnancy, but nothing is perfect. Failure rates are very low and depend
on the method used. For example,
instances of women conceiving
while on the coil are very rare, but
when they happen, they receive
the most coverage. The reason for
conceiving on the coil could be a
downward placement or expulsion
of the coil due to contractions of
the uterus during menstruation.
As a preventive measure, women
usually receive instruction on how
to check for the position of the coil.
If there is any doubt about the position of the coil in the womb, a visit
to the clinician is required.
Myths and misconceptions
aside, many couples wish to delay
pregnancy, but are having sex,
without the protection of a contraceptive. This high unmet need for
family planning is due to many factors such as lack of knowledge, fear
of side effects or even opposition
from the sex partner or religious
beliefs. These barriers affect adolescent girls more than any other
age group.
Moreover, frequent stockouts of
some or all methods and the cost of
some methods such as hormonal
coils reduces alternatives especially
for couples in low-income brackets.
These gaps need to be addressed
by policy and implementation of
policy to ensure that couples who
need to prevent pregnancy get the
contraceptives they need.
Dr Mwaniki is a consultant obstetrician/gynaecologist at the Aga
Khan University Hospital, Nairobi
Female reproductive system and
the intrauterine
device (IUD) or
coil contraceptive
method
medical clinic
DAILY NATION | Tuesday, October 2, 2018
BRIEFLY
Q&A » DR FLO
Doctor, will I have to take
anti-depressants for life?
Dr Flo, what causes depression? If you start taking anti-depressants, will you be dependent
on them for life? How can one
overcome the feeling of drowsiness from taking anti-depressants? Ali
Dear Ali,
Major depressive disorder is a serious mood disorder that affects
how you feel, think and act. It is
quite common, and affects one
in six people at one point in their
life. The symptoms include:
Feeling sad, crying a lot, feeling
hopeless or having low mood
Anger, irritability or frustration
over small things
Loss of interest or pleasure in
things you previously enjoyed
Loss of appetite or eating too
much
Lack of sleep or sleeping too
much
Loss of energy or feeling tired
Anxiety, agitation or restlessness
Slow movements, thinking and
speech
Feeling worthless or guilty
Difficulty thinking, concentrating, remembering or making
decisions
Thoughts of death or suicide
Unexplained physical problems
The symptoms persist for
more than two weeks and cause
problems in day to day life at
home, work, school or in social
interaction.
The risk factors for developing
depression include having an
imbalance in some of the chemicals (neurotransmitters) in the
brain; having a close relative who
has depression and other mental
illnesses; having a pessimistic
personality with low self-esteem
and low stress tolerance; having a
history of another mental illness;
traumatic or stressful life events;
having a serious or chronic
illness; and continuous exposure
to a difficult environment e.g.
abuse, neglect and violence. Substance abuse (alcohol and other
drugs) may also induce a mood
Healthy Nation | 7
miscarriage
STUDY ON MISCARRIAGE RATES IN SIAYA
A STUDY DONE in Siaya
County by the Kenya Medical
Research Institute (KEMRI)
and the Centers for Disease
Control and Prevention has
shown the extent of miscarriages in rural communities.
Researchers studied more
than 5,000 women of childbearing age between 2011
and 2013. Of those, 1,453
women got pregnant and
1,134 of those pregnancies
were analysed. Eight per cent
of the pregnancies ended
with miscarriage at a median
gestational age of 13 weeks.
Most of the miscarriages
(75 per cent) occurred by 18
weeks. Known risk factors for
miscarriage such as maternal
age, occupation, household
wealth and HIV infection
were confirmed. The cohort
study was carried out in 33
adjacent villages under the
Health and Demographic
Surveillance System. "Miscarriage is a challenging endpoint to ascertain and there
is scarce information on its
rate in low-income countries. Most occur without
any contact with the formal
healthcare system and are
not registered," noted the
study. This is the first report
of weekly miscarriage rates
in a rural African setting in
the context of high HIV and
malaria prevalence.
- Angela Oketch
If medication is prescribed, psychiatrists recommend taking it for at least six months after symptoms improve.
disorder or can point to a mood
disorder.
Some medical conditions can
also have depression as a symptom. Hormonal changes in pregnancy, after delivery and at menopause can also trigger depression.
Depression can be treated.
After a thorough evaluation, and
ruling out other physical illnesses,
treatment can begin. Medication is given by the psychiatrist,
when necessary, to balance brain
chemicals. The effects may take
some time to be felt, and if the
medicine does not work, or you
cannot tolerate the side effects,
the medicine can be changed
until you find one that works for
you. Psychiatrists recommend
taking medication for at least six
months after symptoms have improved. You may be put on longterm treatment to prevent future
episodes if you are at higher risk.
Discuss the duration of treatment
with your psychiatrist.
Psychotherapy or talk therapy
may be used alone in mild depression, or with medication in moderate to severe depression. This
focuses on changing the pattern
of thinking, behaviour change and
acquiring coping skills. It may involve individual, family and group
therapy.
Dr Flo, I have three questions:
How do I remove pimples from
my face? How do I make my
teeth white and how do I make
sure I don't become dysfunctional? Sylus
Dear Sylus,
Pimples are small swellings on
the skin caused by blockage of
skin pores by excess oil (sebum),
dead skin cells and bacteria. Further irritation and/or infection can
make the situation worse, causing
bigger swellings, some of which
are painful, and cause scars. To
manage the pimples, clean your
face with warm water and a mild
cleanser in the morning and
before going to bed. Avoid scrubbing your face, eat a lot of vegetables, take a lot of water, and avoid
picking or squeezing the pimples.
Avoid touching your face and use
sunscreen. See a skin specialist to
HEALTH BRIEF
get treatment, and be patient because clearing pimples takes time.
Teeth whitening is done by
the dentist. Some drinks like tea,
coffee, red wine and blackcurrant
can stain your teeth. Smoking
also stains teeth. Tartar can also
stain teeth (hard deposits that
form between the tooth and the
gum) and can be removed by the
dentist. Regular dental hygiene
includes brushing your teeth last
thing at night and at least one
other time during the day using a
fluoride toothpaste, reducing sugary drinks and foods and visiting
the dentist at least twice a year.
To avoid being dysfunctional
you need to leave a balanced life,
with physical, mental, social and
economic good health. Have regular well balanced meals, take adequate water, avoid smoking and
other drugs, avoid over-indulging
with alcohol, maintain a healthy
social circle, work hard but take
time out to rest, spend less than
you earn, manage stress, exercise,
pray, and seek help when you
need it. Changes are a constant in
life, so find ways to adapt.
Pregnant woman at 40 weeks. In Siaya, most miscarriages occur at 18 weeks of gestation. FILE | NATION
cancer
NEW DRUG STOPS PANCREATIC CANCER
SCIENTISTS have developed a drug that can prevent
the most common type of
pancreatic cancer from growing and spreading.
Tested in mice, the drug,
known as Metavert, may
prevent patients from developing resistance to currently
used pancreatic cancer chemotherapies.
It may also improve patient survival rates.
"If the results are confirmed in humans, we could
have a drug with the potential to significantly extend
the lives of patients with
pancreatic ductal adenocarcinoma, which is very difficult
to treat," said lead author and
assistant professor of medicine and biomedical sciences
Dr Mouad Edderkaoui.
The five-year survival rate
for patients with this cancer,
which develops from cells
lining small tubes in the pancreas, is seven per cent.
It is difficult to treat because the cancer cells prompt
normal cells in the pancreas
to produce scar tissue, which
makes it difficult for chemotherapy agents and blood to
enter the pancreas.
Moreover, certain enzymes
build up, fuelling resistance to
cancer treatments.
Offer of dignified stay for cancer patients
BY ANGELA OKETCH
[email protected]
PHOTO | NATION
The Kenyatta National Referral Hospital is setting up a hostel for cancer patients.
Cancer patients at the Kenyatta
National Referral Hospital will not have
to lie on the corridors as they wait for
tests, chemotherapy and radiotherapy,
once the construction of a three-storey
hostel is completed.
The 80-bed hostel will have a place
for the patients to rest as well as a
cancer information centre.
The national referral hospital starts
3,000 new patients on treatment each
year.
Given that it is an outpatient service,
patients referred from other counties
such as Kisumu, Mombasa, Nakuru,
Malindi or Machakos have no option but
to sleep in the corridors, so that they
can make it to the treatment queue early
enough, because treatment is offered on
a first-come-first-served basis.
Some have to make do with no
accommodation for weeks or even
months.
The Sh200 million hostel built with
support from the American Cancer
Society, will offer a place for these
patients to lay their heads as they wait
for treatment.
It will offer accommodation to more
than 200 patients at a cost of Sh500 a
night.
"Hotels next to the hospital are
expensive, so most patients who come
for treatment sessions, spending at least
a week in Nairobi, end up putting up
on the corridors. The high number of
patients and the congested corridors
informed the idea for the project," said
KNH acting Chief Executive Thomas
Mutie.
He added that the money charged
would be for the maintenance of the
hostel.
"Cancer patients require six cycles
of treatment which can be completed
in 10 days. The hostel will offer them a
dignified place to stay while they seek
treatment," said Dr Mutie.
Apart from accommodation, patients,
many of whom seek treatment at the
public hospital because the cost is
subsidised, also face challenges with
transport costs.
research
8 | Healthy Nation
Tuesday, October 2, 2018 | DAILY NATION
SCIENCE BRIEFS
NEW CURE» MULTI-DRUG RESISTANT TB SUFFERERS TO HAVE ACCESS TO NEW MEDICINES
bees
Kenya to put 650 TB
patients on new drugs
Treatment
with new TB
regimens
approved in
2013 incur
high costs
of up to
Sh450,00
per course,
but the
government
is
negotiating
to access
them at
lower cost
SUNFLOWER POLLEN
BOOSTS COLONY HEALTH
BUMBLE BEES on a sunflower diet
have better colony health than bees fed
on other flower pollens. According to
a study published in Scientific Reports,
sunflower pollen reduced infection by the
Crithidia bombi and the Nosema ceranae
pathogens, which have been implicated
in slowing bee colony growth rates and
increasing bee death, in bumble bees and
honey bees respectively. "Sunflower could
be a good addition to a diverse wildflower
population for bees," said co-senior author Rebecca Irwin. Further research will
establish if sunflower pollen is beneficial
to other bee species and explain if sunflower pollen helps host bees fight off
pathogens or if it does something to the
pathogens themselves.
BY ANGELA OKETCH
N
@angieoketch
[email protected]
early five years after the approval of new tuberculosis drugs,
fewer than 25 patients in the country are on them.
Bedaquiline and delamanid were
approved in the US in 2013 to treat
patients with extremely drug-resistant tuberculosis (XDR-TB) and
multi-drug resistant tuberculosis
(MDR-TB). The World Health
Organisation (WHO) recommends
adding either of them to the
MDR-TB regimen. By 2015 only
5,700 patients in the world were
on the drug. In 2017, two-thirds
of patients on bedaquiline were
in South Africa, where of the approximately 11,000 patients being
treated for drug-resistant TB,
7,000 are on the drug, giving them
higher chances of survival.
In Kenya, Head of the Division
of Leprosy, Tuberculosis and Lung
Disease Maureen Kamene, says
that only patients with XDR-TB
were chosen for the drug pilot.
However, there are plans to expand prescription to patients with
MDR-TB, with 300 to 500 patients
expected to be put on the drugs
every year. Data from the National
Tuberculosis, Leprosy and Lung
Disease Programme shows that
Kenya recorded 3,000 cases of
drug-resistant tuberculosis.
"A dose of both bedaquiline and
delamanid costs Sh50,000 but
we are negotiating to purchase it
at Sh40,000," said Dr Kamene,
adding that they anticipate to have
650 patients on the drugs by the
end of the year.
Last month, Kenya's TB programme reduced by half the time
call for action
Last week, world leaders held the
first high-level meeting on tuberculosis, to accelerate efforts to reach all
affected people with prevention and
care, and end TB by 2030. TB is the
world's deadliest infectious disease,
with 10 million new infections, and 1,6
million deaths in 2017. Under-diagnosis and under-reporting remain major
challenges, with more than a third
of infected people going diagnosed.
Nevertheless, chronic underfunding
of research and development for TB
treatment has gone on for decades.
Tools available to treat TB have not
changed much since the 1940s, and
only two new TB drugs have been
developed in the last 50 years. Moreover, uptake of newer drugs remains
low, with the medicines remaining inaccessible to 90 per cent of patients
who could have benefitted from them
in 2017. Dr Gabriella Ferlazzo, the TB/
HIV advisor at MSF's Southern Africa
Medical Unit said that improved
treatments, fast and simple diagnostic tests and effective vaccines need
to be urgently developed.
patients with drug-resistant TB
need to take their drugs after
research showed that the drugs
can achieve the same cure rate
whether taken for two years or
nine months.
MDR-TB regimens last 18 to
20 months and are designed to
include at least five medicines.
The idea is to increasingly replace
injectable drugs which are considered painful and more toxic with
oral medicines.
In Kenya, the government caters
for tests and drugs. A six-month
treatment regimen for drug-resistant TB costs about Sh1.5 million.
Kenya has been receiving drugs
FILE | NATION
A patient looking at her chest x-ray.
quality
for patients with XDR-TB for
compassionate use for free from
USAID.
TB regimens with delamanid
cost between Sh100,000 and
Sh450,000 per treatment course
at the lowest prices available to
developing countries, which is
considered unaffordable for governments.
To help with widespread
scale-up of drug resistant TB
treatment, MSF (Doctors without
Borders) is advocating a target
price of Sh50,000 per treatment
course to make it sustainable without having to rely on donors like
the Global Fund or PEPFARr.
The recommended dose for bedaquiline is 400 mg a day for two
weeks, followed by 200 mg three
times a week for 22 weeks.
The WHO first recommended
the use of bedaquiline for treatment of drug-resistant TB in 2013,
but uptake remains low, with the
medicines remaining inaccessible
to almost 90 per cent of people
who could have benefitted from
them in 2017.
"We have seen too many senseless and painful deaths because
people are still not getting access
to today's best-available TB tests
and treatments that are more
effective and cause fewer severe
side effects," said Dr Gabriella Ferlazzo, TB/HIV advisor with MSF's
Southern Africa Medical Unit.
"Today, only 25 per cent of
people with multi-drug-resistant
TB are properly diagnosed and
treated. People 'lucky' enough
to start the treatment have to go
through a two-year-long painful
process, involving nearly 170 injections and more than 12,000 pills,
with harsh side effects including
deafness, psychosis and even suicide," he added.
SMARTPHONE CAN
DETECT LEAD IN WATER
RESEARCHERS have created an inexpensive system using a smartphone that
can detect lead in tap water at levels commonly accepted as dangerous. Even small
amounts of lead can cause serious health
problems, with young children especially
vulnerable to neurological damage. Lead
levels in drinking water should be below
15 parts per billion. Researchers spiked tap
water with varying amounts of lead, ranging from 1.37 parts per billion to 175 parts
per billion. By using an inexpensive smartphone with an eight-megapixel camera,
an inkjet-printed lens and the dark-field
imaging mode, researchers produced a
portable and easy-to-operate system that
detects lead concentrations at five parts
per billion in tap water. The sensitivity
reached 1.37 parts per billion in deionised
water. The findings were published in the
journal Analytical Chemistry.
AID
Large organisations lose out as HIV funding shifts to grassroots
BY AGGREY OMBOKI
[email protected]
The United States has announced a shift
in donor funds for fighting HIV/Aids from
large organisations to community-based
organisations by 2020.
According to the President's Emergency
Plan for AIDS Relief (PEPFAR) Country
Director Dr Tamu Daniels, the organisation
will shift up to 70 per cent of funding given
to countries to grassroot organisations. The
policy shift is meant to ensure that funds
meant for assisting communities to fight the
HIV pandemic are used in the areas where
they would make the most significant impact.
"We are responding to ideas by communitybased organisations on how to improve the
economic conditions of people infected or
affected by HIV. We will give resources directly
to organisations that are local and homegrown and have answers to the epidemic from
their perspective for their communities," said
Dr Daniels.
"We believe there a lot of people with
the capacity to use the funds to do what is
required for Kenyans in regards to an effective
response to the HIV pandemic," she added.
Among the programmes that Pepfar
runs in Kenya is the PEPFAR Community
Grants Program, which focuses on assisting
communities with projects that promote
prevention, care and support for those
infected or affected by HIV.
"The programme provides one-time
funding to expand, extend or improve existing
community-based healthcare and programmes
for orphans and vulnerable children for a
year," said Dr Daniels, noting that the fund has
distributed Sh116 million to 123 groups.
She was speaking during a meeting
between the agency and the First Ladies'
Association hosted by Makueni County's Nazi
Kivutha.
Among the issues discussed was the
incorporation of the governors' spouses
in the fight against HIV/Aids, to support
and influence the delivery of HIV control
programmes in the devolved units.
The governors' wives do not receive any
funding, and have to identify sources of funds
for their pet projects.
Mrs Kivutha said that they would lobby
county governments to include the activities
of local groups fighting HIV in county budgets
to support their efforts.
Priscilla Oparanya of Kakamega County
added that the groups should engage in
income-generating activities like agribusiness
to improve their economic status.