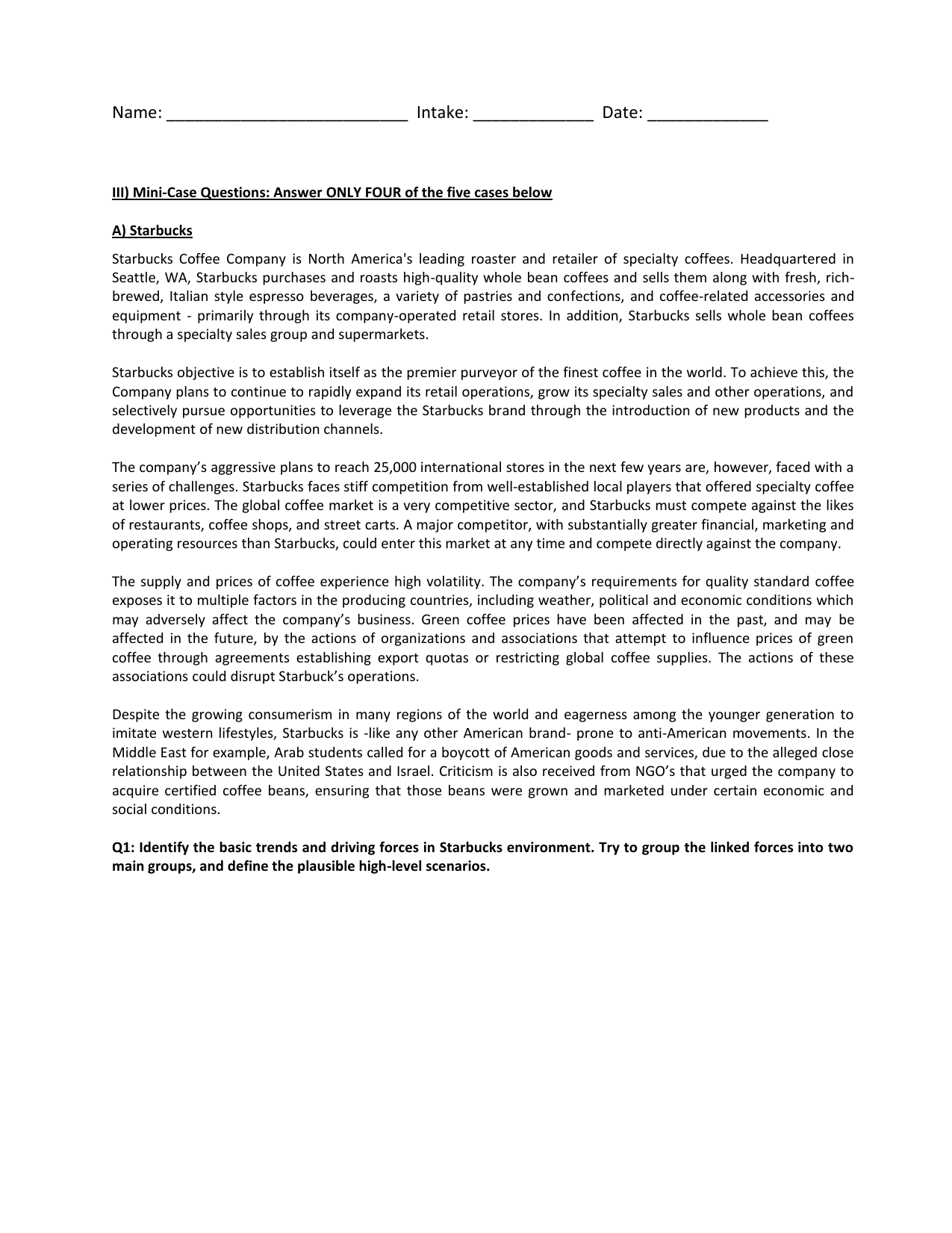 Name: __________________________ Intake: _____________ Date: _____________
III) Mini-Case Questions: Answer ONLY FOUR of the five cases below
A) Starbucks
Starbucks Coffee Company is North America's leading roaster and retailer of specialty coffees. Headquartered in
Seattle, WA, Starbucks purchases and roasts high-quality whole bean coffees and sells them along with fresh, richbrewed, Italian style espresso beverages, a variety of pastries and confections, and coffee-related accessories and
equipment - primarily through its company-operated retail stores. In addition, Starbucks sells whole bean coffees
through a specialty sales group and supermarkets.
Starbucks objective is to establish itself as the premier purveyor of the finest coffee in the world. To achieve this, the
Company plans to continue to rapidly expand its retail operations, grow its specialty sales and other operations, and
selectively pursue opportunities to leverage the Starbucks brand through the introduction of new products and the
development of new distribution channels.
The company's aggressive plans to reach 25,000 international stores in the next few years are, however, faced with a
series of challenges. Starbucks faces stiff competition from well-established local players that offered specialty coffee
at lower prices. The global coffee market is a very competitive sector, and Starbucks must compete against the likes
of restaurants, coffee shops, and street carts. A major competitor, with substantially greater financial, marketing and
operating resources than Starbucks, could enter this market at any time and compete directly against the company.
The supply and prices of coffee experience high volatility. The company's requirements for quality standard coffee
exposes it to multiple factors in the producing countries, including weather, political and economic conditions which
may adversely affect the company's business. Green coffee prices have been affected in the past, and may be
affected in the future, by the actions of organizations and associations that attempt to influence prices of green
coffee through agreements establishing export quotas or restricting global coffee supplies. The actions of these
associations could disrupt Starbuck's operations.
Despite the growing consumerism in many regions of the world and eagerness among the younger generation to
imitate western lifestyles, Starbucks is -like any other American brand- prone to anti-American movements. In the
Middle East for example, Arab students called for a boycott of American goods and services, due to the alleged close
relationship between the United States and Israel. Criticism is also received from NGO's that urged the company to
acquire certified coffee beans, ensuring that those beans were grown and marketed under certain economic and
social conditions.
Q1: Identify the basic trends and driving forces in Starbucks environment. Try to group the linked forces into two
main groups, and define the plausible high-level scenarios.
B) Modern Organization
Danish company Bang & Olufsen (B&O) is known globally for its high-end audio and video equipment. Many of its
incredibly beautiful and artistic products -most of which are made in Denmark- are part of the collection at New
York's Museum of Modern Arts. Needless to say, product design is critically important to B&O. What's even more
unique than its futuristic products, is the company's approach to the design process. Unlike the conventional design
approach used by most companies, in which employees conduct consumer market research and then decide design
direction, B&O uses contracts designers to create the company's products. These designers are empowered to veto
any product they do not like. Giving such power to individuals who are not employees would frighten most
companies. However it seems to work well for B&O. This organizational model depends on the instincts ‫مقدرة بيعيعد‬
‫ موهيه‬of a handful ‫ مقراة قلعل‬of quirky ‫ خاصه‬and creative individuals, and the ability of executives to manage them
Q1: Identify the type of organizational structure adopted by B&O. Mention the main benefits and risks of such
structure to B&O.
Outsource
Internal structure & the other used for external designers ?????
Unique structure ,,,,,,, check the internet
C) Employee Empowerment
Empowering workers is considered the acme of enlightened management in the West, where employees are typically
looking for independence from their bosses and "ownership" of their jobs. But try to empower employees in China,
and you're likely to get the opposite of what you expect.
A certain Harvard MBA with a stellar track record running a Fortune 500 company's manufacturing unit in the U.S.
came to China expecting employees to respond to empowerment just as workers in the States had done. Perceiving
that part of the company's manufacturing process in China needed to be changed, he refrained from laying down the
law and instead asked the senior team members in China to come up with their own recommendations.
"I made it clear that they were the experts in Chinese manufacturing and could do the best job," the executive told
me. "I then asked for questions and reminded them that my door was always open and they could contact me any
time to get clarification or make comments. There were no questions, so I said my goodbyes and told them I was
looking forward to being back in two weeks."
Two weeks later, nothing had been done. "What's wrong with these people?" he asked. "If I empowered my team in
the U.S., they would have delivered as expected."
Q1: Aside from the apparent cultural differences that might have contributed to the failure of empowerment in
the above case, what are the steps that the executive might have missed in creating an effective empowerment to
his Chinese team?
D) Influence Situation I
The Research and Development Manager is trying to complete a project to develop a new type of diagnostic
instrument for medical laboratories. This project is important, because the new instrument could be a major source
of future profits for the company. To keep the project on schedule, the R & D Manager needs the Information
Services department to prepare a report earlier than initially expected. The R & D manager has no direct authority
over the IS Manager.
Q1: What should the R & D Manager say to influence the IS Manager to complete the report quickly?
E) Influence Situation II
The Production Manager has an innovative idea for a change in procedures to reduce costs and increase profits, but
implementation of the idea would involve a purchasing some new equipment as well as hiring and training two
operators. To make the change requires the approval of the immediate boss, the Production Vice President, who is
usually reluctant to make risky decisions.
Q1: What should the manager say to influence the Production VP to approve the proposed change?