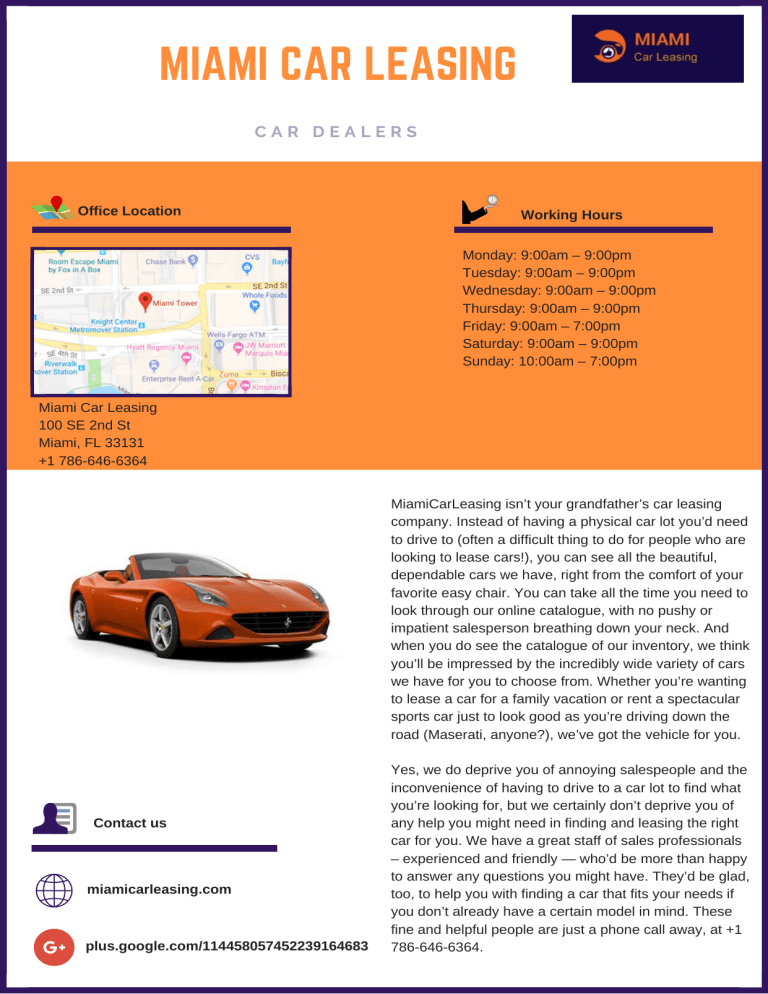 MIAMI CAR LEASING
CAR DEALERS
Office Location
Working Hours
Monday: 9:00am – 9:00pm
Tuesday: 9:00am – 9:00pm
Wednesday: 9:00am – 9:00pm
Thursday: 9:00am – 9:00pm
Friday: 9:00am – 7:00pm
Saturday: 9:00am – 9:00pm
Sunday: 10:00am – 7:00pm
Miami Car Leasing
100 SE 2nd St
Miami, FL 33131
+1 786-646-6364
MiamiCarLeasing isn't your grandfather's car leasing
company. Instead of having a physical car lot you'd need
to drive to (often a difficult thing to do for people who are
looking to lease cars!), you can see all the beautiful,
dependable cars we have, right from the comfort of your
favorite easy chair. You can take all the time you need to
look through our online catalogue, with no pushy or
impatient salesperson breathing down your neck. And
when you do see the catalogue of our inventory, we think
you'll be impressed by the incredibly wide variety of cars
we have for you to choose from. Whether you're wanting
to lease a car for a family vacation or rent a spectacular
sports car just to look good as you're driving down the
road (Maserati, anyone?), we've got the vehicle for you.
Contact us
miamicarleasing.com
plus.google.com/114458057452239164683
Yes, we do deprive you of annoying salespeople and the
inconvenience of having to drive to a car lot to find what
you're looking for, but we certainly don't deprive you of
any help you might need in finding and leasing the right
car for you. We have a great staff of sales professionals
– experienced and friendly — who'd be more than happy
to answer any questions you might have. They'd be glad,
too, to help you with finding a car that fits your needs if
you don't already have a certain model in mind. These
fine and helpful people are just a phone call away, at +1
786-646-6364.