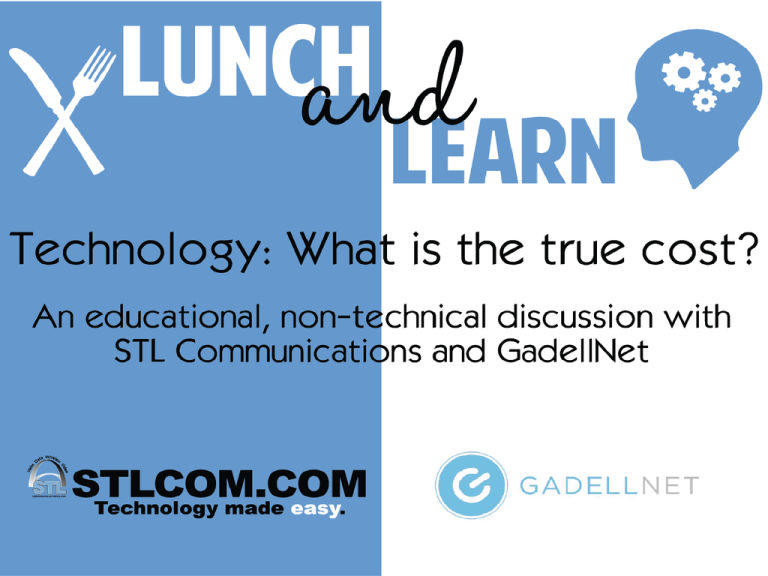 Total Cost of Ownership for your IT Budget
Technology is a part of your entire Organization
Communications
• Phone
• Email
• Video conferencing
Accounting
Sales
HR
Management Duties
Core Business Functions
• Manufacturing
• Financial
• Design
So you've bought hardware. That's it right?
Think about the technology your organization uses
like an automobile.
1.Cost of Maintenance
2.Cost to learn to drive (what happens if you don't)
3.Protect your vehicle
4.Purchase upgrades/replace (tires, stereo, floor
mats?)
Costs beyond the Initial Purchase
1. Maintenance- you have to make repairs, be proactive in keeping
your technology running. What happens if the tools your organization
need don't work as well as your competitions, or at all?
2. Need to know HOW to use your technology and what is available
that could help your business function more efficiently. Your
employees need to know how to use the technology. What happens
if they don't?
3. Protect your Vehicle with Alarms and steering wheel locks. You
would do the same for your organization, spam filters, antivirus,
constant security monitoring. What would happen if you didn't?
4. Upgrades/Updates to your organizations IT. You can't work in the
present if all your technology resides in the past. Version 3.3, 8.5,
there are always updates. That can affect applications working
together properly. What if employees are using different versions of
applications? Silly, but one may have a type of font and one may
not…
Doing business the same way we did in1955 doesn't mean you
can still afford to use the same tools
• Protect your investment.
• Use technology to enable your organization not hinder it.
• Keep your employees knowledgeable about the tools they have
and how to use them. DON'T be afraid to invest in them.
• Saving a dollar today could cost you 5 tomorrow. Efficiencies,
Security, and Capabilities. All add Value back into the
companies bottom line.
• Budget for IT. You can take small steps in adding or changing
your technology. Just make them count. Don't go in without a
plan.
Who is GadellNet?
GadellNet is a Managed Service Provider delivering efficiency, a happier
workforce, and profitability for our clients through technology. We were
founded in 2003 by 3 SLU Alumni and have expanded to four branches
across the Midwest in Madison WI, Chicago IL, Carmel IN and our
headquarters here in St. Louis Missouri. We are an INC 5000 fastest
growing company the past 3 years as well as Best in Business by the St.
Louis Small Business Monthly.
•
•
Luke Dudenhoeffer
VP Sales
314-736-5379
1520 S. Vandeventer Ave.
St. Louis MO 63110
Network Engineering
Business and technology
Management
•
AV
•
Email
•
Application Development
•
MDM
•
Hosted cloud services
•
Patching
•
BCDR
•
Full help desk
•
SPAM
•
VCIO Services
Luke Dudenhoeffer
VP Sales
314-736-5379
1520 S. Vandeventer Ave. St.
Louis MO 63110
NICK SMARRELLI | P: 314-920-1736 | NICK.SMARRELLI@GADELLNET.COM
Latest Trends in
Cloud/Hosted/Managed
Services
Cloud, hosted, managed service, hosted VoIP, public, private,
hybrid, VaaS, UCaaS - all this has become very confusing. What
are the reasons an organization would consider these offerings?
•
Operating expense vs. Capital expense
•
The end user doesn't want to manage or deal with implementation or
ongoing management of the solution
•
Staffing; especially in the call center area that requires unique technical
skills for reporting and recording
•
Outsourcing of reporting, enabling consistent reporting even when user
has personnel changes. Especially important in any business where
historical records must be readily available and consistent.
There are so many different offerings available –
let's talk about their definitions.
Cloud
Cloud is the delivery of computing or Telephony as a service rather than a
product, whereby shared resources, software, and information are provided to
computers, phones and other devices as a utility (like the electricity grid) over a
network (typically the Internet).
Public cloud
A cloud is a "public cloud" when services are rendered over a network that is
open for public use.
Private cloud
Private cloud is infrastructure operated solely for a single organization, whether
managed internally or by a third-party and hosted either internally or externally.
There are so many different offerings available –
let's talk about their definitions.
Hybrid cloud
Gartner defines a hybrid cloud service as a cloud computing service that is
composed of some combination of private, public and community cloud
services, from different service providers.
Hosted
A business that delivers a combination of traditional IT functions such as
infrastructure, applications (software as a service), security, monitoring,
storage, web development, website hosting and email, over the Internet or
other wide area networks (WAN).
There are so many different offerings available –
let's talk about their definitions.
Managed service
The practice of outsourcing day-to-day management responsibilities and
functions as a strategic method for improving operations and cutting
expenses. Typically, the Managed Service Provider (MSP) remains
accountable for the functionality and performance of the managed service and
does not relinquish the overall management control and responsibility of the
system
Now that we have defined what these terms and services mean,
let's talk about why they are becoming so popular.
What are the trends driving these requests?
• Increased popularity of home based workers and remote offices
• Complexity of supporting multiple devices; mobile phones, softphones, IP
phones
• Growth of Data Centers; more of them and prices are dropping
• Computer virtualization
Current STL Total Voice Solution
Call Control
Voicemail Pro
One-X Portal Apps
IP Office Server A
0
2
4
1
3
5
M
U
L T
Synchronization Link
I
RECORDER
PSTN
Failover Link
T1 Interfaces
System
Server
IP Office 500
1
2
3 4
5 6
3
5
4
6
DS (1-6)
700476013
BBX Server
7 8
9 10
1112
1 2
7
8
9
10
11
12
1
2
3 4
5 6
7 8
9 10
1112
7
8
9
10
11
12
3
5
4
6
DS (1-6)
700476013
9 10
1112
9
10
11
12
Avaya Network
1 2
DS (1-6)
700476013
0
2
4
1
3
5
M
U
L T
I
RECORDER
Uptivity Server
0
2
4
1
3
5
M
U
L T
I
RECORDER
Faxfinder
0
2
4
1
3
5
M
U
L T
I
RECORDER
Speed
1
3
5
7
9
11
2
4
6
8
10
12
Link/Act
13
15
17
19
21
23
21
14
16
18
20
22
24
22
In Use
Link/Act
3524GT-PWR+
Speed
23
PWR
1
3
5
7
9
11
2
4
6
8
10
12
Link/Act
13
15
17
19
21
23
21
14
16
18
20
22
24
22
In Use
Link/Act
3524GT-PWR+
23
PWR
Status
Status
Up/26
Up/26
Down/25
Console
Base
PoE+
PoE+
24
Down/25
Base
Console
PoE+
PoE+
Avaya one-X
Avaya one-X
OK
OK
MESSAGE
.,@
FORWARD
MESSAGE
PHONE
CONTACTS
MENU
ABC
PHONE
CONTACTS
CALL LOG
.,@
DEF
ABC
CALL LOG
DEF
2
3
1
2
3
JKL
MNO
GHI
JKL
MNO
4
5
6
PQRS
TUV
WXYZ
7
8
9
FORWARD
HEADSET
MUTE
SPEAKER
4
5
6
PQRS
TUV
WXYZ
7
8
9
VOLUME
[
VOLUME
[
*
SPEAKER
MENU
1
GHI
HEADSET
0
0
2
4
1
3
5
M
U
L T
I
RECORDER
Primary Link
IP Office 500v2
IP Office Server B
*
#
0
#
MUTE
24
Call Control
Voicemail Pro
About STL Communications
Located and headquartered in St. Louis, Missouri, STL
Communications blends that "can do" spirit and desire to
help clients with the latest communications products and
services. With over 400 years of experience and
manufacturer best-in-class and world-class ratings, STL
Communications has the knowledge, strength, ability,
and support to meet all of your collaboration and
communication challenges.
We have a staff of fully certified technicians who will
keep your technology running strong. In addition, our
sales people and engineers will keep bringing new ideas
and innovation to help your business increase employee
productivity and information, drive better customer
satisfaction, while striving to bring more profit to your
bottom line.