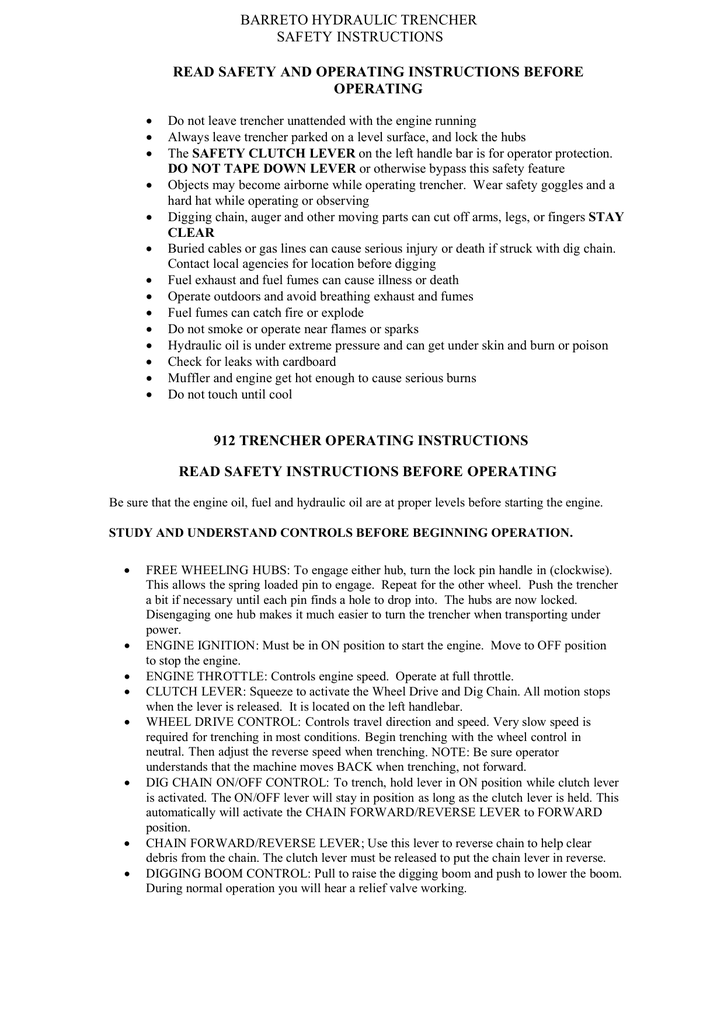 BARRETO HYDRAULIC TRENCHER
SAFETY INSTRUCTIONS
READ SAFETY AND OPERATING INSTRUCTIONS BEFORE
OPERATING
•
•
•
•
•
•
•
•
•
•
•
•
•
•
Do not leave trencher unattended with the engine running
Always leave trencher parked on a level surface, and lock the hubs
The SAFETY CLUTCH LEVER on the left handle bar is for operator protection.
DO NOT TAPE DOWN LEVER or otherwise bypass this safety feature
Objects may become airborne while operating trencher. Wear safety goggles and a
hard hat while operating or observing
Digging chain, auger and other moving parts can cut off arms, legs, or fingers STAY
CLEAR
Buried cables or gas lines can cause serious injury or death if struck with dig chain.
Contact local agencies for location before digging
Fuel exhaust and fuel fumes can cause illness or death
Operate outdoors and avoid breathing exhaust and fumes
Fuel fumes can catch fire or explode
Do not smoke or operate near flames or sparks
Hydraulic oil is under extreme pressure and can get under skin and burn or poison
Check for leaks with cardboard
Muffler and engine get hot enough to cause serious burns
Do not touch until cool
912 TRENCHER OPERATING INSTRUCTIONS
READ SAFETY INSTRUCTIONS BEFORE OPERATING
Be sure that the engine oil, fuel and hydraulic oil are at proper levels before starting the engine.
STUDY AND UNDERSTAND CONTROLS BEFORE BEGINNING OPERATION.
•
•
•
•
•
•
•
•
FREE WHEELING HUBS: To engage either hub, turn the lock pin handle in (clockwise).
This allows the spring loaded pin to engage. Repeat for the other wheel. Push the trencher
a bit if necessary until each pin finds a hole to drop into. The hubs are now locked.
Disengaging one hub makes it much easier to turn the trencher when transporting under
power.
ENGINE IGNITION: Must be in ON position to start the engine. Move to OFF position
to stop the engine.
ENGINE THROTTLE: Controls engine speed. Operate at full throttle.
CLUTCH LEVER: Squeeze to activate the Wheel Drive and Dig Chain. All motion stops
when the lever is released. It is located on the left handlebar.
WHEEL DRIVE CONTROL: Controls travel direction and speed. Very slow speed is
required for trenching in most conditions. Begin trenching with the wheel control in
neutral. Then adjust the reverse speed when trenching. NOTE: Be sure operator
understands that the machine moves BACK when trenching, not forward.
DIG CHAIN ON/OFF CONTROL: To trench, hold lever in ON position while clutch lever
is activated. The ON/OFF lever will stay in position as long as the clutch lever is held. This
automatically will activate the CHAIN FORWARD/REVERSE LEVER to FORWARD
position.
CHAIN FORWARD/REVERSE LEVER; Use this lever to reverse chain to help clear
debris from the chain. The clutch lever must be released to put the chain lever in reverse.
DIGGING BOOM CONTROL: Pull to raise the digging boom and push to lower the boom.
During normal operation you will hear a relief valve working.
GETTING STARTED
• Start and warm up engine
• Put Wheel Drive control in neutral.
• One wheel hub may be disengaged (free-wheeling) for easier steering before driving
machine to work location.
• Squeeze the clutch lever and change the Wheel Direction Control to desired speed and
direction.
• Adjust the wheel speed and navigate the trencher to the starting position. The trencher is
designed to dig toward the operator (with the Wheel Drive Control in reverse). With this in
mind, position the machine to start the trench.
TRENCHING PROCEDURE:
• Put Wheel Drive Direction Control in neutral
• Be sure both hubs are engaged.
• Have engine at full throttle (forward).
• Hold Dig Chain On/Off Control in On position.
• Squeeze the clutch lever.
• Slowly lower the digging boom until the desired trench depth is achieved.
• Put Wheel Drive Control in reverse. Start at slow speed.
• Adjust the wheel speed until a workable speed is reached. Use a very slow speed for
trenching and adjust for soil conditions as necessary. If objects such as rocks or roots jam in
the chain, release the clutch lever, and then reverse the chain to dislodge the debris. If
necessary move the trencher forward a few inches and trench the area again.
DISCLAIMER: Customer must read, utilize and understand manufacturer's safety instructions prior
to equipment operation. Rental Center may provide supplemental information; however, such
supplemental information should not be used by Customer if it is in conflict with manufacturer's
instructions. Ordinary rules of safety require machinery or equipment to be operated only in the
manner and for purposes for which it was intended.