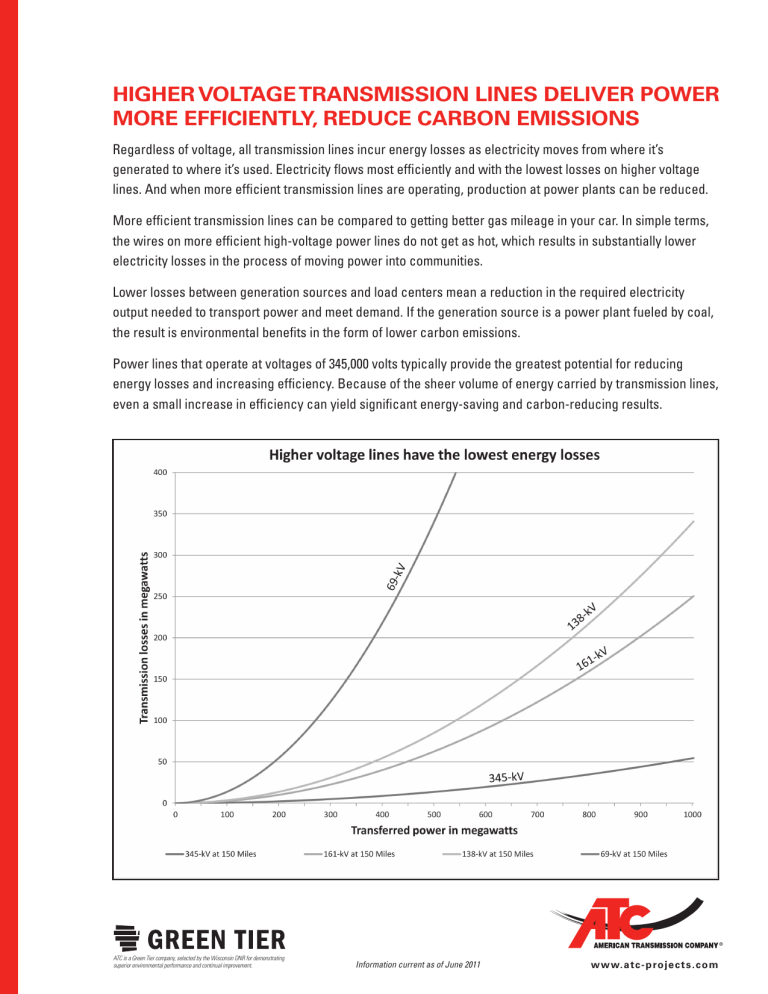 HIGHER VOLTAGE TRAnsmIssIOn LInEs dELIVER pOwER mORE EffIcIEnTLy, REducE cARbOn EmIssIOns
Regardless of voltage, all transmission lines incur energy losses as electricity moves from where it's generated to where it's used. Electricity flows most efficiently and with the lowest losses on higher voltage lines. And when more efficient transmission lines are operating, production at power plants can be reduced.
More efficient transmission lines can be compared to getting better gas mileage in your car. In simple terms, the wires on more efficient high-voltage power lines do not get as hot, which results in substantially lower electricity losses in the process of moving power into communities.
Lower losses between generation sources and load centers mean a reduction in the required electricity output needed to transport power and meet demand. If the generation source is a power plant fueled by coal, the result is environmental benefits in the form of lower carbon emissions.
Power lines that operate at voltages of 345,000 volts typically provide the greatest potential for reducing energy losses and increasing efficiency. Because of the sheer volume of energy carried by transmission lines, even a small increase in efficiency can yield significant energy-saving and carbon-reducing results.
––
ATC is a Green Tier company, selected by the Wisconsin DNR for demonstrating superior environmental performance and continual improvement.
Information current as of June 2011 www.atc-projects.com