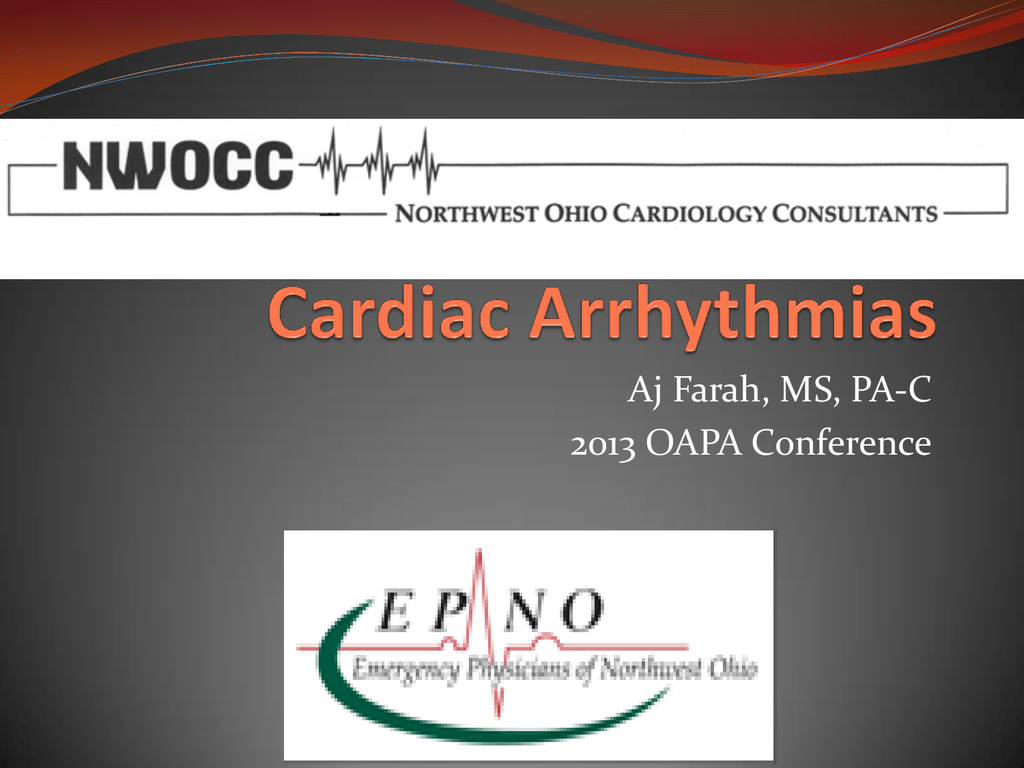 Aj Farah, MS, PA-C
2013 OAPA Conference
Objectives
 Review differentials of cardiac arrhythmias
 Discuss the most common arrhythmias
 Review the latest treatment guidelines for each
 Review EKG's of selected arrhythmias
Cardiac
Arrhythmias
Tachycardic
Wide Complex
QRS > 120ms
Regular:
* V. Tach
* ST, SVT, A.
Flutter with
Aberrancy
Bradycardic
Narrow Complex
Wide Complex
Narrow Complex
QRS < 120ms
QRS > 120ms
QRS<120ms
* Sinus Tachycardia
* A. Flutter
Irregular:
Irregular:
* AFib, MAT,
A.Flutter with
Variable
conduction with
Abarrency
* A. Fib
* Tosades de points
Regular:
* CHB
* SVT
* WPW
*V. Fib
Regular:
Regular:
* A . Flutter with
variable conduction
* MAT
* Sinus Brady
* 1st degree AVB
* 2nd degree Type 1
AVB
Irregular:
Irregular:
* AFib with BBB
with Slow AV
nodal conduction
* 2nd degree Type 2,
Weinkebach
* Afib with Slow
conduction
Normal Values
 P Wave - Atrial Depolarization
 PR Interval - AV node Conduction
 QRS Complex – Ventricular Depolarization
 ST Segment – Plateau of all ventricular action
potentials
 T Wave – Repolarization of Ventricular cells
 U Wave – Follows T wave, etiology unclear
Regular Narrow-Complex Tachycardias





Sinus Tachycardia: Normal P-waves, HR usually
<150 bpm
Proxysmal Atrial Tachycardia (PAT): P-wave
Morphology is different from sinus (may be
inverted) or absent
Atrial Flutter: Large "saw-toothed" flutter-waves,
+/– variable AV-block
AV-Nodal Re-entrant Tachycardia (AVNRT):
Most common form of PSVT, +/– P-waves
AV Re-entrant Tachycardia (AVRT): A common
form of PSVT, +/– P-waves, + accessory pathway
Irregularly Irregular Narrow-Complex
Tachycardias
1. Atrial Fibrillation: No recognizable P-waves
Irregularly Irregular Ventricular Rhythm
2. Multifocal Atrial Tachycardia (MAT): Three (3)
consecutive P-waves with different morphologies,
usually associated with COPD
3. Any "regular" SVT with variable AV-block:
Examples: PAT or a. flutter with variable AV-block
Ventricular Tachycardia
A 60 year old man with Ischaemic Heart Disease.
Polymorphous ventricular tachycardia (Torsade de pointes).
•This is a form of VT where there is usually no difficulty in recognising its ventricular origin.
•wide QRS complexes with multiple morphologies
•changing R - R intervals
•the axis seems to twist about the isoelectric line
•it is important to recognise this pattern as there are a number of reversible causes
•heart block
•hypokalaemia or hypomagnesaemia
•drugs (e.g. tricyclic antidepressant overdose)
•congenital long QT syndromes
•other causes of long QT (e.g. IHD)
Polymorphic VT – Torsades de pointes
 Causes:
 Family History of Congenital Long QT
 Hypomagnesiumia
 Hypokalemia
 Congenital long QT syndrome
 Female gender
 Acquired long QT syndrome (causes of which include medications
and electrolyte disorders such as hypokalemia and
hypomagnesemia)
 Bradycardia
 Renal or liver failure
 Treatment – Magnesium
 Mexilitine, Esmolol, isoproterenol (for Brady induced torsades)
VA & SCD Related to Specific Populations
Examples of Drugs Causing Torsades de Pointes
Frequent (greater than 1%)*
Less Frequent
•Disopyramide
•Amiodarone
•Dofetilide
•Arsenic trioxide
•Ibutilide
•Bepridil
•Procainamide
•Cisapride
•Quinidine
•Anti-infectives: clarithromycin, erythromycin,
halofantrine; pentamidine, sparfloxacin
•Sotalol
•Ajmaline
•Antiemetics: domperidone, droperidol
•Antipsychotics: chlorpromazine, haloperidol,
mesoridazine, thioridazine, pimozide
•Opioid dependence agents: methadone
* (e.g., hospitalization for monitoring recommended during drug initiation in some circumstances)
Adapted with permission from Roden DM. N Engl J Med 2004;350:1013-22.
Ventricular Tachycardia
A 36 year old lady with recurrent blackouts.
Implantable cardioverter defibrillator
Most of this 12-lead recording is polymorphic ventricular tachycardia but, in the rhythm strip,
the large deflection (arrowed) is the defibrillator discharging.
Following the defibrillation a dual chamber pacemaker can be seen.
Clinical Presentations of Patients
with VA & SCD
•Asymptomatic individuals with or without electrocardiographic
abnormalities
•Persons with symptoms potentially attributable to ventricular
arrhythmias
♥ Palpitations
♥ Dyspnea
♥ Chest pain
♥ Syncope and presyncope
•VT that is hemodynamically stable
•VT that is hemodynamically unstable
•Cardiac arrest
♥ Asystolic (sinus arrest, atrioventricular block)
♥ VT
♥ Ventricular fibrillation (VF)
♥ Pulseless electrical activity
Epidemiology of VA & SCD
Classification of Ventricular Arrhythmia
by Disease Entity
•Chronic coronary heart disease
•Heart failure/LV Dysfunction
•Congenital heart disease
•Neurological disorders
•Structurally normal hearts
•Cardiomyopathies
♥ Dilated cardiomyopathy
♥ Hypertrophic cardiomyopathy
♥ Arrhythmogenic right ventricular (RV)
cardiomyopathy
VT Causes
 Common causes:
 Coronary artery disease with myocardial infarction
 Nonischemic cardiomyopathy
 Infiltrative disease (eg, sarcoidosis, amyloidosis)
 Infectious disease (eg, viral myocarditis, Chagas disease, Lyme disease)
 Inflammatory diseases that affect the myocardium (eg, systemic lupus erythematosus,
rheumatoid arthritis, giant cell myocarditis)
 Digitalis toxicity (bidirectional ventricular tachycardia)
 Mitral valve prolapse
 Electrolyte (notably potassium and magnesium) abnormalities
 Structural, toxic, or metabolic derangement affecting the homogeneity of ventricular
repolarization (eg, prolonged QT syndromes, Brugada syndrome), most often associated with
torsade de pointes, polymorphic ventricular tachycardia, or ventricular fibrillation
 Arrhythmogenic right ventricular dysplasia
 Blunt chest trauma
 Rare causes:
 Congenital myocardial defects (eg, tetralogy of Fallot, pulmonary stenosis) previous corrective
surgery for congenital heart defect)
 Marfan syndrome with aortic dissection
 Torsade de pointes is caused by certain drugs (eg, haloperidol, erythromycin, quinidine, and
methadone, among others) or by inherited defects in cardiac ion channels (eg, cardiac
channelopathy)
 Carbon monoxide poisoning
VT - Risk Factors
 Risk factors











Ischemia
Cardiomyopathy
Heart failure
Cocaine use
Use of certain medications, such as quinidine, phenothiazines,
and tricyclic antidepressants
Congenital heart disease
Surgical repair of congenital heart defects
Primary and metastatic malignancies involving the heart muscle
QT prolongation and Marfan syndrome in neonates
Trauma
Pericardial inflammation
Therapies for VA
 Antiarrhythmic Drugs
 ♥ Beta Blockers: Effectively suppress ventricular ectopic beats &
arrhythmias; reduce incidence of SCD
 ♥ Amiodarone: No definite survival benefit; some studies have
shown reduction in SCD in patients with LV dysfunction especially
when given in conjunction with BB. Has complex drug interactions
and many adverse side effects (pulmonary, hepatic, thyroid,
cutaneous)
 ♥ Sotalol: Suppresses ventricular arrhythmias; is more proarrhythmic than amiodarone, no survival benefit clearly shown
 ♥ Conclusions: Antiarrhythmic drugs (except for BB) should not be
used as primary therapy of VA and the prevention of SCD
Therapies for VA
Non-antiarrhythmic Drugs
♥ Electrolytes: magnesium and potassium administration can favorably
influence the electrical substrate involved in VA; are especially useful in
setting of hypomagnesemia and hypokalemia
♥ ACE inhibitors, angiotensin receptor blockers and aldosterone
blockers can improve the myocardial substrate through reverse
remodeling and thus reduce incidence of SCD
♥ Antithrombotic and antiplatelet agents: may reduce SCD by reducing
coronary thrombosis
♥ Statins: have been shown to reduce life-threatening VA in high-risk
patients with electrical instability
♥ n-3 Fatty acids: have anti-arrhythmic properties, but
conflicting data exist for the prevention of SCD
Nonsustained Monomorphic VT
Sustained Monomorphic VT
72-year-old woman with CAD
Nonsustained Polymorphic VT
Sustained Polymorphic VT
Exercise induced in patient with no structural heart disease
Bundle Branch Reentrant VT
Ventricular Flutter
Spontaneous conversion to NSR (12-lead ECG)
VF with Defibrillation (12-lead ECG)
Wide QRS Irregular Tachycardia:
Atrial Fibrillation with antidromic conduction in patient with accessory
pathway – Not VT
SVT
Atrial Fibrillation
 Characterized by the absence of
coordinated atrial systole
 ReEntrant Waves (Wavelets) Theory
 Small multiple waves initiate in the
atrium spreading chaotically to form
small circuits of reentrant electrical
activity
 Atrial Myocyte Theory
 Rapid repetitive impulse generation by
atrial myocytes located near the orifice of
the Pulmonary veins
 Afib begets Afib
 Anatomical remodeling, disruption of
electrical circuits, and cellular damage
and fibrosis results in permanent Afib
www.nhlbi.nih.gov/health/health-topics/topics/af/
Triggers
Types of AF
Paroxysmal AF
(< 7 days)
Ectopic foci
Persistent AF
(> 7 days)
Electrophysiologic
Remodeling
Permanent AF
Chronic Substrate
fibrosis
Other Types : Lone AF, AF-CHF, Holiday heart
Stambler et al JCE 2003;14:499
Li, Nattel et al. Circulation. 1999;100:87-95
Prevalence
 The most common Chronic Arrhythmia, increasing
worldwide
 Incidence Increases with age
 4% of pop 60-75 y/o
 10% of pop >75y/o
 2.2 million US adults
 Male > Female, Whites>Blacks
 Increased risk (age/disease matched controls)
 1.5-2.0 increased mortality
 Markedly increased risk of embolic events and CHF
Etiology - Cardiac
 Structural Heart Disease  Other Heart Disease
 CAD
 Pericarditis/Myocarditis
 Mitral Valve Disease
 Wolff-Parkinson-White
Syndrome
 Systolic or Diastolic
dysfunction
 Sick Sinus Syndrome
 Congestive Heart Failure
 Congenital Heart Disease
(15-30%)
 Post Coronary Artery
 Myocardial Infarction
Bypass Surgery (40%)
 Atrial Enlargement
 Post Valvular Sx
 Rheumatic Heart Dz
 Hypertension
 Hypertrophic CMP
 Diabetes
Etiology – Non Cardiac

Acute or Chronic alcohol
ingestion (Holiday Heart
Syndrome or Alcoholic
Cardiomyopathy)
Hyper or Hypo –
thyroidism
 Alteration in vagal or
sympathetic tone
 Pulmonary Embolism
(PE)

Sepsis
 Chronic Obstructive
Pulmonary Disease
(COPD)
 Theophyilline
 Pheochromocytoma
 Lone Atrial Fibrillation
(< 10%)

Clinical Presentation
 Asymptomatic /






Incidental Finding
Palpitations
Skipped Beats
Bradycardia/Tachycardia
Lightheadedness
Malaise/Weakness
Shortness of Breath
 Anginal Symptoms
 Syncope
 CHF presentation –
Mostly Diastolic Dysfunction
Ventricular filling dependent on
Atrial Kick
 TIA/CVA
 Thromboembolic event
 Hyper/Hypo-thyroid
symptoms
Atrial Fibrillation
A 76 year old man with breathlessness.
Atrial fibrillation with rapid ventricular response
•Irregularly irregular ventricular rhythm.
•Sometimes on first look the rhythm may appear regular but on closer inspection it is clearly
irregular.
Figure 1. Therapy to maintain sinus rhythm in patients with recurrent paroxysmal or persistent atrial fibrillation. Drugs are listed
alphabetically
and not in order of suggested use. The seriousness of heart disease progresses from left to right, and selection of therapy in
patients with multiple conditions depends on the most serious condition present. LVH indicates left ventricular hypertrophy.
Modified from Fuster et al. (2) (formerly Figure 15 from 2006 Section 8.3.3).
Na/FastIa channel
blockers
•Quinidine
•Procainamide
•Disopyramide
Ib
•Lidocaine
•Phenytoin
•Mexiletine
Ic
•Flecainide
•Propafenone
•Moricizine
(Na+) channel block
(intermediate
association/dissociation)
(Na+)
channel block (fast
association/dissociation)
(Na+)
channel block (slow
association/dissociation)
•Ventricular arrhythmias
•prevention of paroxysmal recurrent
atrial fibrillation (triggered by vagal
overactivity),
•*procainamide in Wolff-ParkinsonWhite syndrome
•treatment and prevention during and
immediately after myocardial infarction,
though this practice is now discouraged
given the increased risk of asystole,
• ventricular tachycardia
• atrial fibrillation
•prevents paroxysmal atrial fibrillation
•treats recurrent tachyarrhythmias of
abnormal conduction system.
•contraindicated immediately postmyocardial infarction.!
•Propranolol
•Esmolol
•Timolol
II Beta-blockers
•Metoprolol
•Atenolol
•Bisoprolol
III
Prolong AP
and RP
•Amiodarone
•Sotalol
•Ibutilide
•Dofetilide
•Dronedarone
•(Multaq)
Calcium/slow•Verapamil
IV channel
•Diltiazem
blockers
V
•Adenosine
•Digoxin
beta blocking
•decrease myocardial infarction mortality
Propranolol also shows some
•prevent recurrence of tachyarrhythmias
class I action
•In Wolff-Parkinson-White syndrome
•(sotalol:) ventricular tachycardias and
K+ channel blocker Sotalol is
atrial fibrillation
also a beta blocker[7]
•(Ibutilide:) atrial flutter and atrial
fibrillation
Ca2+ channel blocker
•prevent recurrence of paroxysma
supraventricular tachycardia
•reduce ventricular rate in patients with
atrial fibrillation
Work by other or unknown
mechanisms (Direct nodal
inhibition).
Used in supraventricular arrhythmias,
especially in Heart Failure with Atrial
Fibrillation, contraindicated in
ventricular arrhythmias.
Amiodarone
(Pacerone, Cordarone)
100-400 mg/day
Liver, lung, thyroid, skin,neuro
toxicity, interaction with
warfarin/digoxin etc
Sotalol (k blocker)
(Betapace)
80-320 mg/day
QTc prolongation, Torsades,
Renal excretion, CAD pts
Dofetilide (k blocker)
(Tikosyn)
500-1000 ug/day
(Inpatient load!!!)
QTc prolongation, Torsades,
Renal excretion, Drug
interactions, CAD/CHF pts
Flecainide (Tambocor)
200-300 mg/day
VT, enhanced AVN conduction
Propafenone (Rythmol)
450 – 900 mg /day
VT, enhanced AVN conduction
Quinidine
600 – 1500 mg /day
VT, enhanced AVN conduction,
Last resort in ICD pts
Disopyramide (Norpace)
400-750 mg /day
VT, Last resort in ICD pts
Procainamide
1000-4000 mg /day
VT, Lupus, last resort in ICD pts
Dronedarone
(Multaq)
400 mg PO BID
Renal failure, Contraindicated in
NYHA III-IV, thyroid/skin
toxicities
Ibutilide (k blocker)
(Corvert)
1 mg IV (with Mg)
PMVT 3.6-8.3%, Safe only if
LVEF >30%
European Society of Cardiology – Guidelines for Management of Atrial Fibrillation Sept 2010
New Anticoagulation Guidelines
 CHA2DS2-VASc
 CHF/LV Dysfunction
 Hypertension
 Age >75
 Diabetes Mellitus
 Stroke/TIA/Thrombo-Embolism
 Vascular Disease
 Age 65-74
 Sex – Female
 Total Score Possible
Score
1
1
2
1
2
1
1
1
9
European Society of Cardiology – Guidelines for Management of Atrial Fibrillation Sept 2010
Adjusted Stroke Risk
 CHA2DS2-VASc
0
1
2
3
4
5
6
7
8
9

% Risk/year
0%
1.3%
2.2%
3.2%
4.0%
6.7%
9.8%
9.6%
6.7%
15.2%
Suggested Tx
ASA 75-325 mg
ASA 75-325 mg
OAC
European Society of Cardiology – Guidelines for Management of Atrial Fibrillation Sept 2010
Bleeding Risk HAS-BLED Score










HAS-BLED Characteristic
Hypertension
Abnormal Renal Function
Abnormal Liver Function
Stroke - Hemorrhagic
Bleeding
Labile INR's
Elderly > 65y/o
Drugs/Etoh
1 pt each
Total Possible
Score
1
1
1
1
1
1
1
1-2
9
 If score > 3, pt is at "High Risk" Needs regular follow up
Coagulation Cascade
Anticoagulants
 Vitamin K antagonist
 Coumadin/Jantoven- Warfarin
 Factor Xa Inhibitors – Approved for prevention of
Thromboembolic events related to AFib
 Xarelto - Rivaroxaban
 Abixiban – Not yet on the market but we are anxiously
awaiting it
 Direct Thrombin Inhibitor
 Pradaxa - Dabigatran
Vit K Antagonist
 Vit K is essential for hepatic synthesis of Factors II,
VII, IX, and X, as well as Protein C and S
 VKA – therefore stops the coagulation process on
multiple levels, which is useful in the prevention of
clots
 Complications
 Narrow therapeutic window
 Frequent monitoring
 Easily affected by Vit K rich foods and medications
 Metabolized in the cytochrome P450, CYP2C9
Warfarin
 5 prospective randomized controlled clinical trials 3711






non valvular Afib patients
60-86% Risk Reduction of Thromboemolic Event
compared to Placebo
Incidence of major Bleeding 0.6-2.7%
INR range 1.4-4.5
Peak Anticoagulation affect 72-96 hours
Duration of action 2-5 days
Reversed with Vit K and Fresh Frozen Plasma
Factor Xa Inhibitors
 Mechanism of Action - Block activity of clotting
Factor Xa.
 Factor Xa is generated in the extrinsic and intrinsic
coagulation pathways, which activates prothrombin
and thrombin which triggers the final components of
the coagulation pathway to form clots
Advancements in Anticoagulation
 Factor Xa Inhibitors – Apixaban
 AVERROES: Efficacy and Safety Endpoints
 Average CHADS2 Score in ARISTOTLE Trial = 2.1
Endpoint
Apixaban
Aspirin
Hazard Ratio
(95% CI)
Stroke or systemic
embolism (% per year)
1.6
3.7
0.45 (0.32 - 0.62) < .001
Mortality (% per year)
3.5
4.4
0.79 (0.62 - 1.02) .07
Major bleeding (% per year)
1.4
1.2
1.13 (0.74 - 1.75)
.57
Intracerebral bleeding (n)
11
13
NA
NA
First cardiac hospitalization
(% per year)
12.6
15.9
0.79 (0.69 0.91)
< .001
P Value
Brand name
Manufacturer
Rivaroxaban
Apixaban
Xarelto®
Eliquis®
Bayer HealthCare and Janssen
Bristol-Myers Squibb and
Research and Development,
Pfizer
LLC
Factor Xa inhibitor
Factor Xa inhibitor
No
No
75
~80
~6676
92–95
87
Mechanism of action
Prodrug
Bioavailability, %
Protein binding, %
Coagulation monitoring
No
required
No
Dabigatran
Pradaxa®
Warfarin
Coumadin®
Boehringer Ingelheim
Bristol-Myers Squibb
Thrombin inhibitor
Yes
7.277
35
Vitamin K antagonist
No
~10078
9979
No
Yes
Tmax, h
2–475,80
0.5–281
1.25–1.582
T½, h
Main mode of
elimination
7–1150
Average 12.781
7–1782
Slow onset (peak
anticoagulant effect may
take up to 96 h after
administration)83
~4083
Renal/hepatobiliary84
Renal/faecal81
Renal85
Renal78
Potent inhibitors of CYP3A4
and P-gp86
No
10 mg od (VTE prophylaxis)*
15 mg bid (days 1–21) followed
by 20 mg od (DVT
treatment/prevention of
recurrent VTE)† 20 mg od
(AF)‡
Potent inhibitors of
CYP3A487
No
Drug interactions
Antidote
Typical effective dose
Approved indications
2.5 mg bid (VTE
prophylaxis)*
Potent inhibitors of P-gp87
No
Multiple drugs, dietary
vitamin K78,88
Yes
150 mg or 220 mg od (VTE
prophylaxis)* 75 mg or 150 INR-guided
mg bid (AF)‡
Approved for VTE
Approved for VTE prevention
prevention and treatment,
Approved for VTE
after elective hip or knee
prevention and/or
prevention after elective hip
replacement in adults, for
Approved for VTE
treatment of the
or knee replacement in
prevention of stroke and
prevention after elective hip
thromboembolic
adults and for prevention of
systemic embolism in patientsor knee replacement in
complications associated
stroke and systemic
with non-valvular AF, and for adults
with AF and/or cardiac
embolism in patients with
treatment of acute DVT and
valve replacement, and
non-valvular AF
prevention of VTE recurrence
secondary prevention after
MI
Xarelto - rivaroxaban
 Indicated for Non Valvular Atrial Fibrillation
 Use of drugs that interact with CYP3A4 Inhibitors may





increase bleeding risk
NO Known Reversal Agent
ROCKET AF Trial – 7111 patients
Average CHA2DS2 Score = 3.5
Xarelto relatively equal risk of Stroke Prevention
compared to Coumadin
Major Bleeding 5.6 (Xarelto) Vs. 5.4 (Warfarin)
Direct Thrombin Inhibitor
 Thrombin plays a central role in thrombus formation
through its conversion of fibrinogen to fibrin and
activation of platelets as well as amplifying its own
generation by feedback activation via factors V, VIII,
and XI.
Pradaxa - dabigatran
 RE-LY Trial 18, 113 patients
 1.11% risk of Stroke with 150mg dabigatran vs 1.69% on
warfarin (significant)
 Risk of Major Bleeding 3.36 on Warfarin and 3.11 on
dabigatran (not clinically significant)
 New England Journal of Medicine September 17, 2009
 Average CHA2DS2 Score = 2.1
Surgical and Percutaneous Tx of AFib
 Corridor Procedure – Surgical pathway from SA
to AV node
 MAZE Procedure – Incisions to isolate and
interrupt abnormal re-entry circuits
 Radiofrequency Catheter Ablation – Isolates
foci of early depolarizing atrial cells around the
pulmonary veins
 AV Node Ablation/Permanent Pacemaker
Implantation – SN Dysfunction, Tachy-Brady
Syndrome, Excessive Bradycardia d/t medications.
Intra Operative Surgical
Techniques
New Treatments –
Watchman Device
New Treatments – LARIAT Snare
Sinus Arrhythmias – APC's
APC's
 Atrial Ectopics
 Arise from ectopic pacemaking tissue within the atria.
 There is an abnormal P wave, usually followed by a normal QRS complex.
 Electrocardiographic Features
 An abnormal (non-sinus) P wave is followed by a QRS complex.
 P wave typically has a different morphology and axis to the sinus P waves.
 The abnormal P wave may be hidden in the preceding T wave, producing a "peaked"




or "camel hump" appearance — if this is not appreciated the PAC may be mistaken
for a PJC.
PACS arising close to the AV node ("low atrial" ectopics) activate the atria
retrogradely, producing an inverted P wave with a relatively short PR interval ≥ 120
ms (PR interval < 120 ms is classified as a PJC).
PACs that reach the SA node may depolarize it, causing the SA node to "reset" — this
results in a longer-than-normal interval before the next sinus beat arrives ("postextrasystolic pause"). Unlike with PVCs, this pause is not equal to double the
preceding RR interval (i.e. not a "full compensatory pause").
PACs arriving early in the cycle may be conducted aberrantly, usually with a RBBB
morphology (as the right bundle branch has a longer refractory period than the left).
They can be differentiated from PVCs by the presence of a preceding P wave.
Similarly, PACs arriving very early in the cycle may not be conducted to the ventricles
at all. In this case, you will see an abnormal P wave that is not followed by a QRS
complex ("blocked PAC"). It is usually followed by a compensatory pause as the sinus
node resets.
APC's
 Patterns






PACs often occur in repeating patterns:
Bigeminy — every other beat is a PAC.
Trigeminy — every third beat is a PAC.
Quadrigeminy — every fourth beat is a PAC.
Couplet – two consecutive PACs.
Triplet — three consecutive PACs.
 Clinical Significance
 PACs are a normal electrophysiological phenomenon not usually requiring
investigation or treatment.
 Frequent PACs may cause palpitations and a sense of the heart "skipping a
beat".
 In patients with underlying predispositions (e.g. left atrial enlargement,
ischaemic heart disease, WPW), a PAC may be the trigger for the onset of a
re-entrant tachydysrhythmia — e.g. AF, flutter, AVNRT, AVRT.
 Causes
 Anxiety.Sympathomimetics.Beta-agonists, Excess caffeine, Hypokalaemia.,
Hypomagnesaemia, Digoxin toxicity, Myocardial ischaemia

Wagner, GS.
Marriott's Practical Electrocardiography (11th edition), Lippincott Williams & Wilkins 2007
.
CHB - A 70 year old man with exercise intolerance.
Complete Heart Block
•P waves are not conducted to the ventricles because of block at the AV node.
• The P waves are indicated below and show no relation to the QRS complexes.
• They 'probe' every part of the ventricular cycle but are never conducted.
•The ventricles are depolarised by a ventricular escape rhythm.
Thank you
 Questions?