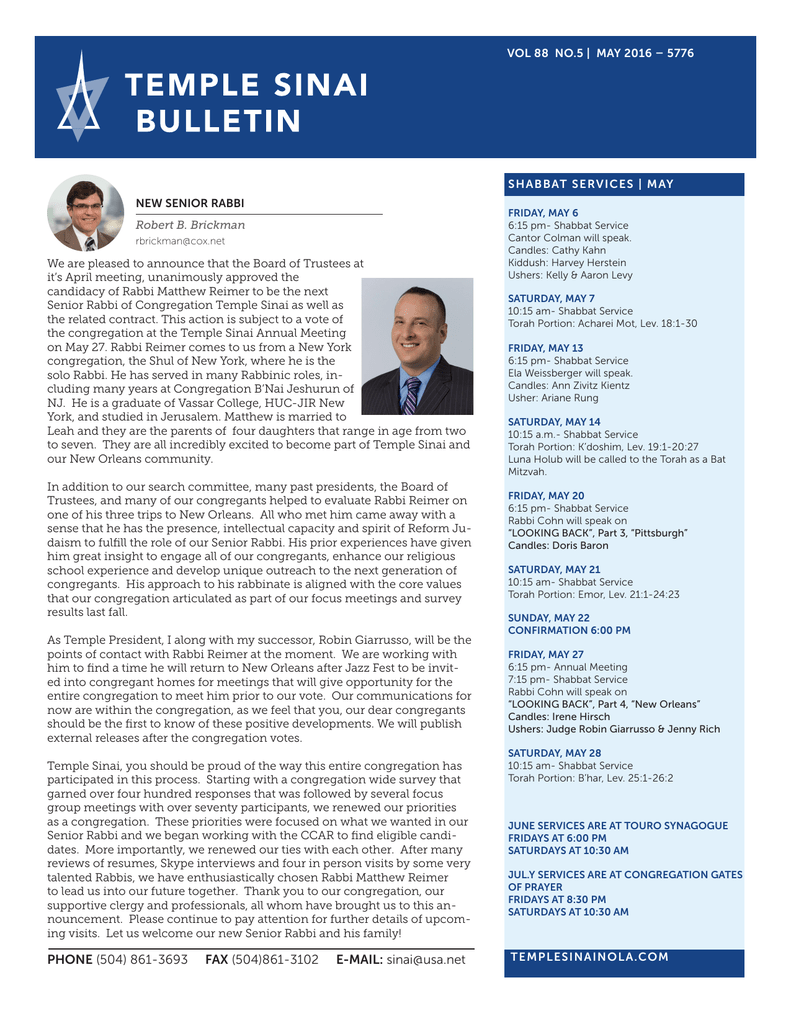 VOL 88 NO.5 | MAY 2016 – 5776
S HABBAT S ERV ICES | M AY
NEW SENIOR RABBI
Robert B. Brickman
[email protected]
We are pleased to announce that the Board of Trustees at
it's April meeting, unanimously approved the
candidacy of Rabbi Matthew Reimer to be the next
Senior Rabbi of Congregation Temple Sinai as well as
the related contract. This action is subject to a vote of
the congregation at the Temple Sinai Annual Meeting
on May 27. Rabbi Reimer comes to us from a New York
congregation, the Shul of New York, where he is the
solo Rabbi. He has served in many Rabbinic roles, including many years at Congregation B'Nai Jeshurun of
NJ. He is a graduate of Vassar College, HUC-JIR New
York, and studied in Jerusalem. Matthew is married to
Leah and they are the parents of four daughters that range in age from two
to seven. They are all incredibly excited to become part of Temple Sinai and
our New Orleans community.
In addition to our search committee, many past presidents, the Board of
Trustees, and many of our congregants helped to evaluate Rabbi Reimer on
one of his three trips to New Orleans. All who met him came away with a
sense that he has the presence, intellectual capacity and spirit of Reform Judaism to fulfill the role of our Senior Rabbi. His prior experiences have given
him great insight to engage all of our congregants, enhance our religious
school experience and develop unique outreach to the next generation of
congregants. His approach to his rabbinate is aligned with the core values
that our congregation articulated as part of our focus meetings and survey
results last fall.
As Temple President, I along with my successor, Robin Giarrusso, will be the
points of contact with Rabbi Reimer at the moment. We are working with
him to find a time he will return to New Orleans after Jazz Fest to be invited into congregant homes for meetings that will give opportunity for the
entire congregation to meet him prior to our vote. Our communications for
now are within the congregation, as we feel that you, our dear congregants
should be the first to know of these positive developments. We will publish
external releases after the congregation votes.
Temple Sinai, you should be proud of the way this entire congregation has
participated in this process. Starting with a congregation wide survey that
garned over four hundred responses that was followed by several focus
group meetings with over seventy participants, we renewed our priorities
as a congregation. These priorities were focused on what we wanted in our
Senior Rabbi and we began working with the CCAR to find eligible candidates. More importantly, we renewed our ties with each other. After many
reviews of resumes, Skype interviews and four in person visits by some very
talented Rabbis, we have enthusiastically chosen Rabbi Matthew Reimer
to lead us into our future together. Thank you to our congregation, our
supportive clergy and professionals, all whom have brought us to this announcement. Please continue to pay attention for further details of upcoming visits. Let us welcome our new Senior Rabbi and his family!
PHONE (504) 861-3693
FAX (504)861-3102
E-MAIL: [email protected]
FRIDAY, MAY 6
6:15 pm- Shabbat Service
Cantor Colman will speak.
Candles: Cathy Kahn
Kiddush: Harvey Herstein
Ushers: Kelly & Aaron Levy
SATURDAY, MAY 7
10:15 am- Shabbat Service
Torah Portion: Acharei Mot, Lev. 18:1-30
FRIDAY, MAY 13
6:15 pm- Shabbat Service
Ela Weissberger will speak.
Candles: Ann Zivitz Kientz
Usher: Ariane Rung
SATURDAY, MAY 14
10:15 a.m.- Shabbat Service
Torah Portion: K'doshim, Lev. 19:1-20:27
Luna Holub will be called to the Torah as a Bat
Mitzvah.
FRIDAY, MAY 20
6:15 pm- Shabbat Service
Rabbi Cohn will speak on
"LOOKING BACK", Part 3, "Pittsburgh"
Candles: Doris Baron
SATURDAY, MAY 21
10:15 am- Shabbat Service
Torah Portion: Emor, Lev. 21:1-24:23
SUNDAY, MAY 22
CONFIRMATION 6:00 PM
FRIDAY, MAY 27
6:15 pm- Annual Meeting
7:15 pm- Shabbat Service
Rabbi Cohn will speak on
"LOOKING BACK", Part 4, "New Orleans"
Candles: Irene Hirsch
Ushers: Judge Robin Giarrusso & Jenny Rich
SATURDAY, MAY 28
10:15 am- Shabbat Service
Torah Portion: B'har, Lev. 25:1-26:2
JUNE SERVICES ARE AT TOURO SYNAGOGUE
FRIDAYS AT 6:00 PM
SATURDAYS AT 10:30 AM
JUL.Y SERVICES ARE AT CONGREGATION GATES
OF PRAYER
FRIDAYS AT 8:30 PM
SATURDAYS AT 10:30 AM
TEM PLES IN AIN O L A.COM
T EM P L E S INAI EVENT S
M AY 2016 / 57 7 6
Golden
Gala
Honoring
Rabbi
Edward
Paul
Cohn
May 21,
2016
Don't miss this elegant evening!
Send in your reply card today!
SUNDAY, MAY 22
CONFIRMATION 6:00 PM
Confirmation Class of 2016/5776
Jessica Addvensky, Daughter of Jennifer &
Michael Addvensky
David Fried IV, Son of Judy & David Fried III
Jarred Feibelman, Son of Morgan & Eli Feibelman
Rebecca Kornman, Daughter of Janice & Keith Kornman
Mose Mayer, Son of Jill Dupre & Joshua Mayer
Sam Moses, Son of Leann & Ted Moses
Leo Roos, Son of Rebecca & Christopher Roos
Axel Teboul, Son of Elodie Turries & Jacques Teboul
Annual Meeting
Friday, May 27th at 6:15 pm
Followed by Shabbat Services
Brotherhood Bingo
Sunday, May 29th at 4:00 pm
MAY YAHRZEITS
MAY 6-7
HortenseIsrael Aron
Bernard J. Aronson
Lucile Jacoby Blum
Kathryn Cross Bressler
Mary Anna Feibelman
Rudolph Garfunkel
BenjaminR. Heninger
Nettie Hirsch Kern
Sol S. Kerner
Jeannette Sack Levy
ErnestineM. Metzger
Warren Gustave Moses
Carrie G. Steeg
Tennie Pressburg Toups
Herbert Leon Weinberger
Audrey Burka Wormser
Morris Wright
Hermina Finger Zeve
MAY 13-14
Justine Haas Abrams
Felicia L. Alcus
Samuel Sidney Birke
Moise B. Bloch
Cecilia Steeg Block
Barbara Schreier Edisen
Christine Lee Frank
Jack Stanley Hyman
Betty Margulis Jacobs
Matilda C. Katz
Amanda B. Levy
Edna M. Lichtenstein
Martin S. Litwin
Freda Dresner Polson
Isaac A. Sasso
Charles Schwartz
J. Philip Stein
Mervin Wallick
BenjaminB Weinstein
Mark J. Zelman
May 20-21
Isadore Brickman
Ann S. Corenswet
John William Field
Jennie Greenberg Goldstein
Mildred Harris Heller
Alfred Stanley Hirsch
Helen Aimee Hyman
Mayer Israel, Jr.
Sarah Bromowicz Kierr
Fanny Haasburg Lengsfield
William Mayer
Claire Hyman Moses
Sara Dinkelspiel Moses
Miriam Hirsch Posner
NathanielB. Rosenberg
Max Scheinuk
Bertha Wolff Seidenbach
Ethel D. Stern
Paula Rubin Tuman
Anita Wolff Warshauer
Herman Aaron Yuspeh
May 27-28
Jake Buring
Edward (Fanny) Feibleman
Courtney Elizabeth Giarrusso
Cora Tanner Godchaux
Blanche Feitel Kollitz
Sadie S. Krauss
Loris Katten Levy
Leo Love
Henry Sigmund Mayer
Alan William Pailet
Goldie R.Rabin
Samuel Schornstein
Leah Beer Stern
George Mayer Stern
Walter H.Weil
Charlotta Wolf
We Come Together as a Community
Congregation Beth Israel's Rabbi Gabe Greenberg
and his family recently experienced a tremendous loss from a fire in their home. If you would
like to donate to assist the Greenberg family, you
can send in a donation to Temple Sinai and we
will send donations to the Greenberg family.
You can also go to either the Go Fund Me page
https://www.gofundme.com/2g63ppys or
directly to the Beth Israel website; bethisraelnola.
com.