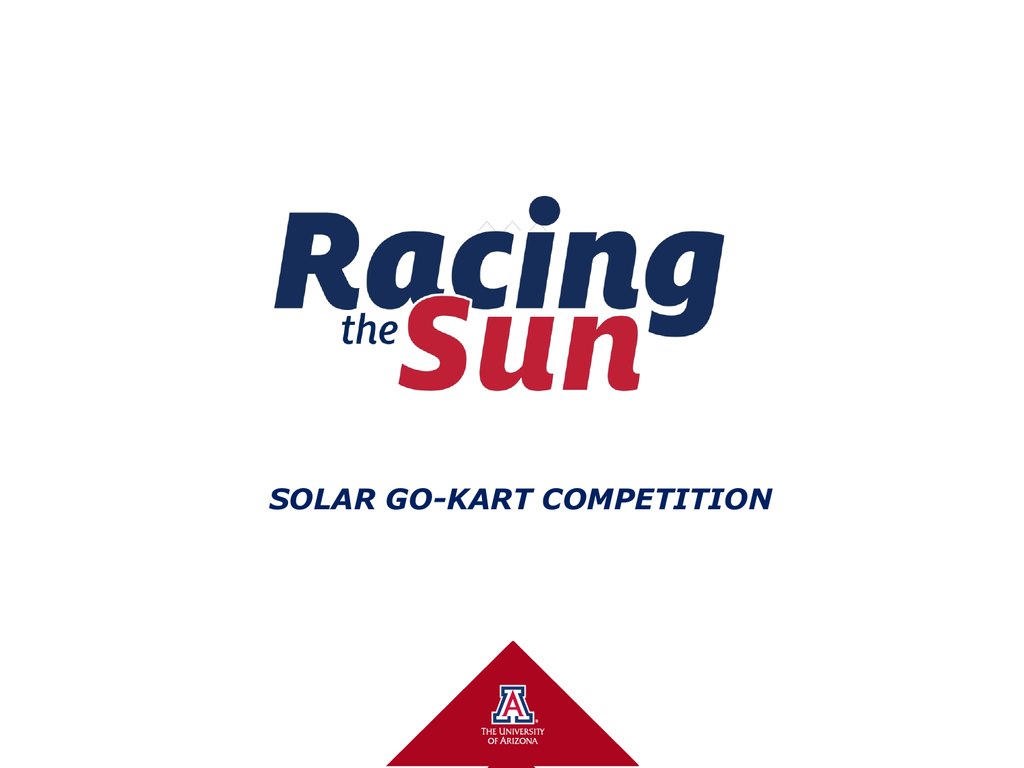 SOLAR GO-KART COMPETITION
WELCOME AND INTRODUCTIONS
•
•
•
•
Tech Parks Arizona
Teachers
Musselman Honda Circuit
Mentors
(11800 S. Harrison Road, Tucson, AZ 85747)
We are here to help you with the competition. If you have questions, Brenda
Hough (520-382-2453) is the primary contact throughout the year. If you are not
getting the help you need, Molly Gilbert is the second point of contact (520-6214088). If you are still having issues, Bruce Wright is the CEO of the UA Tech Park
and he is the final point of contact. Kathy Williams is the office manager and can
help you get into contact with Brenda, Molly or Bruce if necessary (520-621-4088).
WELCOME SCHOOLS AND TEACHERS !
2015-2016
TUCSON –
Steve Brachamonte and Alex Silva(Tucson Magnet), Mark Calhoun and Ann
Marie Condes(Palo Verde), John & Cameron Carver (Sabino), Dennis Conner (Gregory), Kenny
Harrelson (Andrada), Erin Murphy (SACA), Jim Nelson (Andrada), Robert Prater (SACA),
Enrique Santa Cruz (Sahuarita), Jeremy Tarbet and John Lee (Canyon Del Oro)
PHOENIX –
DJ Garry (Tolleson), John Hankinson (McClintock), Larry Huff (Corona Del Sol),
Debbie Kovesdy (Shadow Mountain), Melissa Wendell (Mountain Pointe), Kurt Woods and Eric
Bennett (Dysart and Shadow Ridge), Dan Zavaleta (Desert Vista)
SIERRA VISTA –
Jeff Ofstedahl (Center for Academic Success)
Racing the Sun is organized by Tech Parks Arizona
Please review the website periodically to see if we have posted new relevant information that might help
you. The website contains registration documents, competition guidelines, videos, Q&A's, mentor contact
data, etc…It will be updated in the first part of September and then throughout the year.
www.techparks.arizona.edu
www.racingthesun.net
RACING THE SUN
Statewide STEM Competition now in its 5th year. High school students design, build, test and
compete with solar-powered go-karts. Workshops, Career Day, and Verbal Presentations are
also part of the competition.
CONGRATULATIONS WINNERS
2014-2015
GRAND CHAMPIONS – Desert Vista Team 5
SPEED STD KART - Sabino Team 2
SPEED MODIFIED KART – Desert Vista Team 5
ENDURANCE STD KART – Canyon Del Oro
ENDURANCE MODIFIED KART – Desert Vista Team 5 & 7 (Tie)
BEST TEAM SPIRIT – Mountain Pointe
BEST VERBAL PRESENTATION – Desert Vista Team 7
COMPETITION GUIDELINES
The primary goals of the competition guidelines are
safety, fairness, clarity of rules, impartiality,
educational outcomes, and good sportsmanship
Please be sure you have the newest guidelines which will be emailed or posted to
the website on or before September 1st. They will be marked 2015-2016.
Teachers must read the guidelines and share them with the students. If updates to
the guidelines are made during the year, these updates will be emailed to you.
2015-2016
GO KARTS
1"STANDARD" CLASS
New Design by CAID
Cost Savings (tentative)
Lighter frame (tentative)
Best for new teams and teams that don't want to build from the ground up. For teams considering this option, we
anticipate having costs, an illustration of the kart and potentially a prototype by 9/26 for the workshops. We
anticipate the kart being ready to deliver or pick up by November 1.
2"MODIFIED" CLASS
Former Standard Chassis, pre-built
Specs: Steel Metal Frame
Modifications permitted; per guidelines
Dimensions: must meet guidelines
3"MAKER" CLASS
Teams build from scratch
Specs: Material of choice (no PVC)
Customized within guidelines
Dimensions: must meet guidelines
Best for advanced teams
New teams are highly encouraged to use the Standard Chassis. Batteries for the "Modified Class" will
be rated as 6amp hours due to the heavier weight of this kart.
COST
NEW TEAM ESTIMATED COSTS:
Registration Fee
Chassis
Motor, Controller, Throttle Kit
Solar Panel (Donated)
MPPT charge controller
Batteries
Track Fee & Field Trips
Misc. expenses (fuses, etc)
$200
$1,300 (TBD)
$155
No charge
$80
$65
$250 (TBD)
$200
TOTAL ESTIMATED COST
$2,250
Costs will vary depending on whether you are a new or returning team and whether you have a chassis or
need to purchase a chassis. We will be sending an ORDER FORM to each team so you can indicate exactly
which parts you need and how many of each part you need; as some teams will build more than one kart.
IMPORTANT DATES & EVENTS
REGISTRATION DOCUMENTS:
1) Team Application Due 9/1
The team application indicates your commitment to participate and must have your principals signature
indicating your schools knowledge and support of your involvement in the competition.
2) Team Roster Due 9/15
The team roster is the list of students and volunteers participating on your team along with contact
information. When recruiting students please consider trying to involve girls and minorities as these groups
are typically under represented in STEM and we would like to encourage more girls and minorities to get
involved in this program. Please send updated team rosters if you add students throughout the year.
3) Waivers, Checklist & Fee Due 9/26 (at workshops)
All participants including teachers and volunteers must sign waivers. There is a Tech Park Waiver (3 pages), a
Musselman Honda Waiver (2 pages for minors, and 1 page for adults), and a Photo release. All waivers must
be submitted at the workshops on 9/26 or sooner. Please do not fax the waivers, scanning and emailing is
best. Please submit your $200 registration fee on or before 9/26.
If you add students after your initial submittal, send in waivers for those students.
Mark your calendar now
IMPORTANT DATES & EVENTS
WORKSHOPS – Saturday September 26, 2015 (3/4 day)
1) Mark your calendar and RSVP 2 weeks in advance
2) Indicate the number of students attending (overall)
3) Indicate number of students attending each individual workshop
so we can assure adequate seating.
Participation points will be awarded for attendance at all events.
IMPORTANT DATES & EVENTS
PROJECT PLAN - Draft due 10/16 Final due 12/15
The project plan teaches students to plan out incremental steps to complete the challenges of this competition.
The project plan should list the materials needed, the fundraising that will be completed, and the steps
necessary to build and test the karts in order to be ready for Test Day and Race Day. The project plan should
assign roles and deadlines to each student. There will be roles in planning, electrical design, mechanical or
structural design, building, testing, and competing with the kart, etc…
ELECTRIAL SCHEMATICS – Draft due 11/6 Final Due 12/4
The electrical schematic teaches students to plan the electrical system and graphically depict the system prior
to actually putting parts together. It allows the mentors and organizers to see that the system is safe, and will
function properly.
MECHANICAL DRAWINGS – Draft due 11/6 Final Due 12/4
The mechanical drawing teaches students to think through the structural design of the go-kart and graphically
depict their design. It allows the mentors and organizers to see that the design is structurally sound, safe, and
in compliance with the guidelines.
We will provide workshops to guide the students in preparing the above documents and we will describe in
more detail what the expectations are for these submittals.
Tes
Mark your calendar
IMPORTANT DATES & EVENTS
PROGRESS CHECKS:
Tucson – Wednesday January 20th
Phoenix – Friday January 22nd
The primary goal of the site visit or progress check is to ensure teams are adequately preparing for the
competition. Students will be encouraged to interact with industry professionals or graduate students who will
act as mentors. Students must show their kart and describe the status of their project. They will be expected
to share individual roles within the team and discuss their challenges, ask questions, and describe what they
have learned. Teacher are encouraged to share feedback with the organizers and mentors. Objectives that
were outlined in the workshops will be reviewed as necessary.
Don't forget to RSVP 2 weeks in advance
IMPORTANT DATES & EVENTS
CAREER DAY – Wednesday February 24, 2016
Don't forget to RSVP
This is an opportunity for students to visit STEM related organizations such as Raytheon, IBM, Global Solar, TEP
or the University of Arizona for example. Students will be encouraged to think about how STEM education and
careers might fit into their future. Teachers must RSVP for this event 2 weeks in advance and indicate the
number and names of students who will attend each tour. Some organizations require students to be US
Citizens and some will do background checks. Tours will fill up on a first come first served basis.
Lunch will be provided.
IMPORTANT DATES & EVENTS
TEST DAY – Saturday March 19, 2016
All waivers due no later than March 1
Test Day will serve as a "dress rehearsal" for Race Day. Students will go through a series of safety and
compliance checks with judges or mentors. The karts will be weighed, brakes will be tested and safety issues
will be addressed. Driver's must have their safety gear including full coverage helmets. A driving workshop
will be mandatory for all driver's. Test Day allows the students to see the track, run their kart on the track and
see the other karts in the competition. The kart is expected to be fully functional on Test Day. In addition,
Test Day will serve as a "pre-qualifying" for line up on Race Day. Karts that function on Test Day may line up
in preferred spots on Race Day. Karts that do not function properly on Test Day may line up in less preferable
spots on Race Day. Students who are added to the team over the course of the year must submit waivers as
they join the team. Anyone that has not submitted a waiver by March 1 will not be allowed to participate in
Test Day or Race Day. In addition, chaperones or additional adults participating with the team must submit
waivers no later than March 1 in order to be on the track or near the kart on Test Day and Race Day.
IMPORTANT DATES & EVENTS
VERBAL PRESENTATIONS
Tucson – Tuesday April 12
Phoenix – Thursday April 14
Sign up for verbal presentations will be on a first come first served
basis. Teams are expected to attend all presentations within their
city so they can benefit from hearing other discuss their challenges
and learning experiences. Industry professionals will judge the
presentations with the goal of getting industry interested in the
competition and the students.
RSVP no later than 2 weeks in
advance for all events
IMPORTANT DATES & EVENTS
RACE DAY – Saturday April 30, 2015
See next page for details
Back up date in case of inclement weather May 7, 2016
IMPORTANT DATES & EVENTS
RACE DAY – Saturday April 30, 2015
Race Day will include a trouble shooting challenge which
will be described on Test Day or before. Race Day may
include a College Level Solar Car Exhibition. Family,
friends, sponsors and others will be invited to attend Race
Day.
Teacher's may not be permitted hand's on access to the
karts on Race day nor will they provide advice during the
troubleshooting challenge. Teacher's may offer advice to
their students throughout Race Day (with the exception of
the trouble shooting challenge).
It will be expected that the students will do all hand's on
work to their kart. Karts should be fully functional on Race
Day and additional work should not be necessary.
Trophies, medals and ribbons will be awarded for Grand
Champion, Speed and Endurance winners, Best
Presentation winners and Best Team Spirit winners.
In case of an inclement weather forecast, Race Day could be
postponed to the following Saturday, May 7, 2016, with 24 hours
notice provided to teams.
Join us for the Competition!