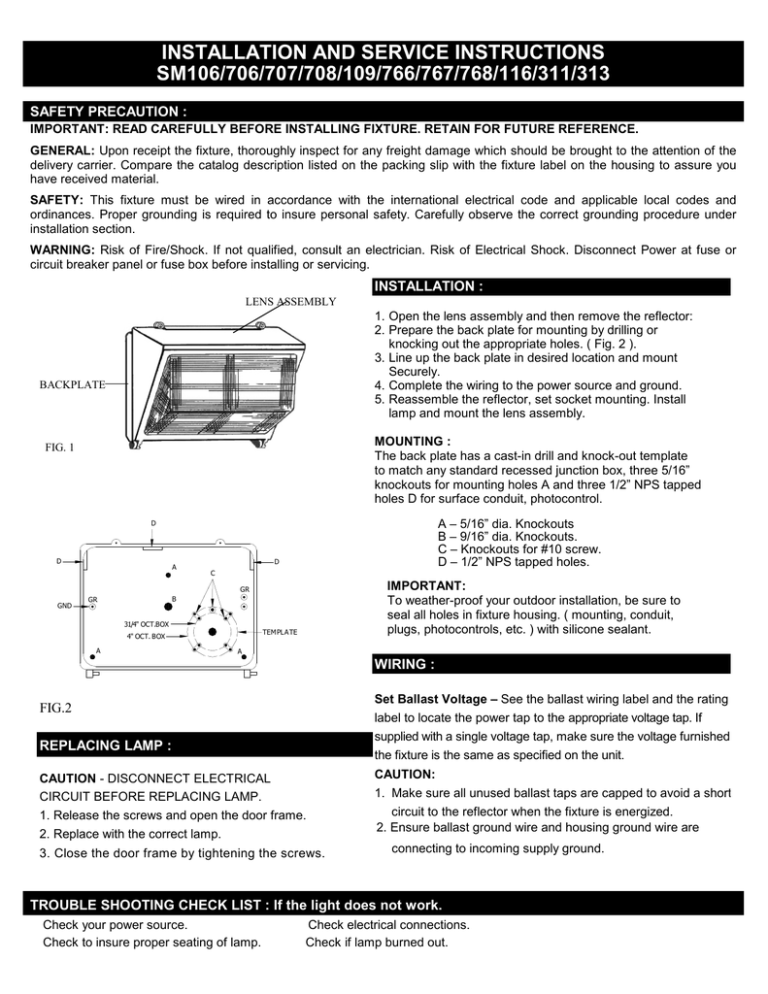 INSTALLATION AND SERVICE INSTRUCTIONS
SM106/706/707/708/109/766/767/768/116/311/313
SAFETY PRECAUTION :
IMPORTANT: READ CAREFULLY BEFORE INSTALLING FIXTURE. RETAIN FOR FUTURE REFERENCE.
GENERAL: Upon receipt the fixture, thoroughly inspect for any freight damage which should be brought to the attention of the
delivery carrier. Compare the catalog description listed on the packing slip with the fixture label on the housing to assure you
have received material.
SAFETY: This fixture must be wired in accordance with the international electrical code and applicable local codes and
ordinances. Proper grounding is required to insure personal safety. Carefully observe the correct grounding procedure under
installation section.
WARNING: Risk of Fire/Shock. If not qualified, consult an electrician. Risk of Electrical Shock. Disconnect Power at fuse or
circuit breaker panel or fuse box before installing or servicing.
INSTALLATION :
LENS ASSEMBLY
1. Open the lens assembly and then remove the reflector:
2. Prepare the back plate for mounting by drilling or
knocking out the appropriate holes. ( Fig. 2 ).
3. Line up the back plate in desired location and mount
Securely.
4. Complete the wiring to the power source and ground.
5. Reassemble the reflector, set socket mounting. Install
lamp and mount the lens assembly.
BACKPLATE
MOUNTING :
The back plate has a cast-in drill and knock-out template
to match any standard recessed junction box, three 5/16"
knockouts for mounting holes A and three 1/2" NPS tapped
holes D for surface conduit, photocontrol.
FIG. 1
A – 5/16" dia. Knockouts
B – 9/16" dia. Knockouts.
C – Knockouts for #10 screw.
D – 1/2" NPS tapped holes.
D
D
A
D
C
IMPORTANT:
To weather-proof your outdoor installation, be sure to
seal all holes in fixture housing. ( mounting, conduit,
plugs, photocontrols, etc. ) with silicone sealant.
GR
GND
B
GR
31/4" OCT.BOX
TEMPLATE
4" OCT. BOX
A
A
WIRING :
Set Ballast Voltage – See the ballast wiring label and the rating
FIG.2
label to locate the power tap to the appropriate voltage tap. If
supplied with a single voltage tap, make sure the voltage furnished to
REPLACING LAMP :
the fixture is the same as specified on the unit.
CAUTION - DISCONNECT ELECTRICAL
CIRCUIT BEFORE REPLACING LAMP.
CAUTION:
1. Release the screws and open the door frame.
circuit to the reflector when the fixture is energized.
2. Ensure ballast ground wire and housing ground wire are
1. Make sure all unused ballast taps are capped to avoid a short
2. Replace with the correct lamp.
3. Close the door frame by tightening the screws.
connecting to incoming supply ground.
TROUBLE SHOOTING CHECK LIST : If the light does not work.
Check your power source.
Check to insure proper seating of lamp.
Check electrical connections.
Check if lamp burned out.