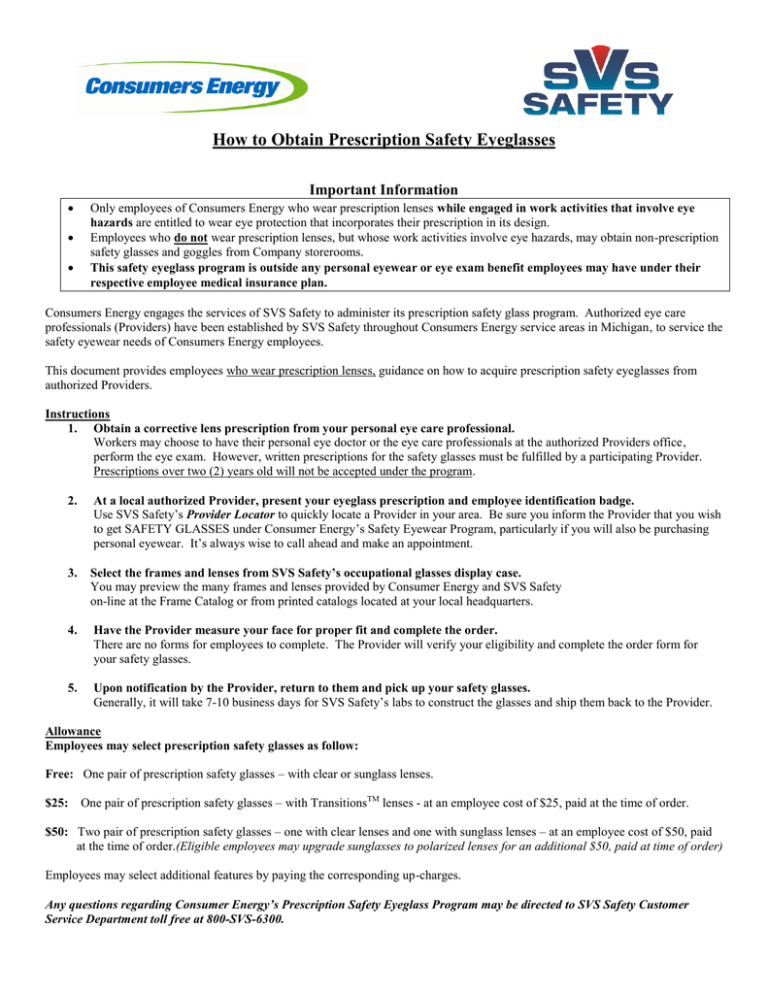 How to Obtain Prescription Safety Eyeglasses
Important Information



Only employees of Consumers Energy who wear prescription lenses while engaged in work activities that involve eye
hazards are entitled to wear eye protection that incorporates their prescription in its design.
Employees who do not wear prescription lenses, but whose work activities involve eye hazards, may obtain non-prescription
safety glasses and goggles from Company storerooms.
This safety eyeglass program is outside any personal eyewear or eye exam benefit employees may have under their
respective employee medical insurance plan.
Consumers Energy engages the services of SVS Safety to administer its prescription safety glass program. Authorized eye care
professionals (Providers) have been established by SVS Safety throughout Consumers Energy service areas in Michigan, to service the
safety eyewear needs of Consumers Energy employees.
This document provides employees who wear prescription lenses, guidance on how to acquire prescription safety eyeglasses from
authorized Providers.
Instructions
1. Obtain a corrective lens prescription from your personal eye care professional.
Workers may choose to have their personal eye doctor or the eye care professionals at the authorized Providers office,
perform the eye exam. However, written prescriptions for the safety glasses must be fulfilled by a participating Provider.
Prescriptions over two (2) years old will not be accepted under the program.
2.
At a local authorized Provider, present your eyeglass prescription and employee identification badge.
Use SVS Safety's Provider Locator to quickly locate a Provider in your area. Be sure you inform the Provider that you wish
to get SAFETY GLASSES under Consumer Energy's Safety Eyewear Program, particularly if you will also be purchasing
personal eyewear. It's always wise to call ahead and make an appointment.
3.
Select the frames and lenses from SVS Safety's occupational glasses display case.
You may preview the many frames and lenses provided by Consumer Energy and SVS Safety
on-line at the Frame Catalog or from printed catalogs located at your local headquarters.
4.
Have the Provider measure your face for proper fit and complete the order.
There are no forms for employees to complete. The Provider will verify your eligibility and complete the order form for
your safety glasses.
5.
Upon notification by the Provider, return to them and pick up your safety glasses.
Generally, it will take 7-10 business days for SVS Safety's labs to construct the glasses and ship them back to the Provider.
Allowance
Employees may select prescription safety glasses as follow:
Free: One pair of prescription safety glasses – with clear or sunglass lenses.
$25:
One pair of prescription safety glasses – with TransitionsTM lenses - at an employee cost of $25, paid at the time of order.
$50: Two pair of prescription safety glasses – one with clear lenses and one with sunglass lenses – at an employee cost of $50, paid
at the time of order.(Eligible employees may upgrade sunglasses to polarized lenses for an additional $50, paid at time of order)
Employees may select additional features by paying the corresponding up-charges.
Any questions regarding Consumer Energy's Prescription Safety Eyeglass Program may be directed to SVS Safety Customer
Service Department toll free at 800-SVS-6300.