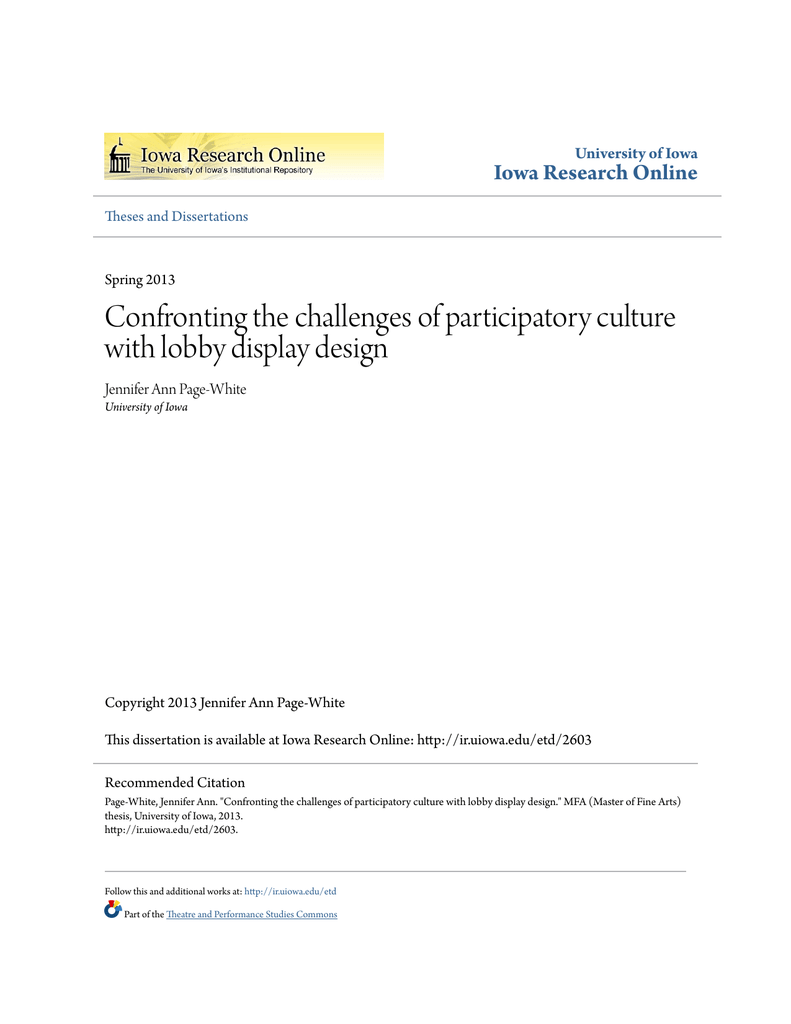 University of Iowa
Iowa Research Online
Theses and Dissertations
Spring 2013
Confronting the challenges of participatory culture
with lobby display design
Jennifer Ann Page-White
University of Iowa
Copyright 2013 Jennifer Ann Page-White
This dissertation is available at Iowa Research Online: http://ir.uiowa.edu/etd/2603
Recommended Citation
Page-White, Jennifer Ann. "Confronting the challenges of participatory culture with lobby display design." MFA (Master of Fine Arts)
thesis, University of Iowa, 2013.
http://ir.uiowa.edu/etd/2603.
Follow this and additional works at: http://ir.uiowa.edu/etd
Part of the Theatre and Performance Studies Commons
CONFRONTING THE CHALLENGES OF PARTICIPATORY CULTURE
WITH LOBBY DISPLAY DESIGN
by
Jennifer Ann Page-White
A thesis submitted in partial fulfillment
of the requirements for the Master of Fine Arts degree
in Theatre Arts (Dramaturgy)
in the Graduate College of
The University of Iowa
May 2013
Thesis Supervisor: Associate Professor Art Borreca
Copyright by
JENNIFER ANN PAGE-WHITE
2013
All Rights Reserved
Graduate College
The University of Iowa
Iowa City, Iowa
CERTIFICATE OF APPROVAL
_______________________
MASTER'S THESIS
_______________
This is to certify that the Master's thesis of
Jennifer Ann Page-White
has been approved by the Examining Committee
for the thesis requirement for the Master of Fine Arts
degree in Theatre Arts (Dramaturgy) at the May 2013 graduation.
Thesis Committee: __________________________________
Art Borreca, Thesis Supervisor
__________________________________
Sydne Mahone
__________________________________
Kim Marra
ACKNOWLEDGMENTS
I am indebted to a number of people who have impacted the work reflected in this
thesis. Many thanks to Sydne Mahone, Art Borreca, Kim Marra, Dare Clubb, Kristi
Banker, Sarah Johnson, the 2010-2013 members of the Iowa Playwrights Workshop,
Rebecca Rugg, Jacob Padron, and Catherine Rodriguez. In particular, I would like to
thank Nathan Halvorson and Aaron Carter for their generosity, keen instincts, and general
excellence as collaborators. I would especially like to thank Chuck White, whose love,
support, and sacrifice has wholly made possible my growth as an artist and as a human
being.
ii
TABLE OF CONTENTS
LIST OF FIGURES ........................................................................................................... iv
INTRODUCTION .............................................................................................................. 1
PART ONE. LOBBY DESIGN IN A PARTICIPATORY CULTURE ............................. 6
PARTICIPATORY CULTURE ...................................................................... 7
TRANSITION/TRANSFORMATION: HISTORICAL
PERSPECTIVES ON LOBBY FUNCTION................................................. 12
LOBBY DESIGN FOR A NEW CULTURE ................................................ 16
PART TWO. CASE STUDY: GOOD PEOPLE .............................................................. 20
PRODUCTION CREDITS ............................................................................ 21
SYNOPSIS OF THE PLAY .......................................................................... 22
ANALYSIS OF THE TEXT ......................................................................... 23
LOBBY DISPLAY DESIGN PROCESS ...................................................... 36
LOBBY DESIGN IMAGES .......................................................................... 44
PRODUCTION IMAGES ............................................................................. 54
PART THREE. CASE STUDY: SPRING AWAKENING .............................................. 57
PRODUCTION CREDITS ............................................................................ 58
SYNOPSIS OF THE PLAY .......................................................................... 59
ANALYSIS OF THE TEXT ......................................................................... 61
LOBBY DISPLAY DESIGN PROCESS ...................................................... 74
LOBBY DESIGN IMAGES .......................................................................... 79
PRODUCTION IMAGES ............................................................................. 85
CONCLUSION ................................................................................................................. 89
BIBLIOGRAPHY ............................................................................................................. 91
iii
LIST OF FIGURES
Figure
1.1
"Me to We" design .................................................................................................. 18
2.1
My prototype of a "born rich" flowchart ................................................................. 44
2.2
My hand-drawn prototype of an "event-based" flowchart ...................................... 45
2.3
Aaron Carter's prototype of a "good person?" flowchart ........................................ 46
2.4
A second version of Aaron Carter's prototype of a "good person?" flowchart ....... 47
2.5
A prototype of a "fill-in-the-blank" flowchart ......................................................... 48
2.6
Examples of the final lobby design EVENTS ......................................................... 49
2.7
Examples of the final lobby design BRANCHES ................................................... 51
2.8
Examples of the final lobby design CONNECTORS .............................................. 52
2.9
Examples of the final lobby design INSPIRATION ............................................... 53
2.10 Margie gets fired ...................................................................................................... 54
2.11 Dottie, Jean, and Margie play Bingo ....................................................................... 55
2.12 Mike, Kate, and Margie in Mike's Chestnut Hill home .......................................... 56
3.1
Lobby display background close-up ........................................................................ 79
3.2
Lobby display mid-run............................................................................................. 80
3.3
Audience responses posted to lobby display ........................................................... 81
3.4
Audience response close-up..................................................................................... 82
3.5
Audience response close-up..................................................................................... 83
3.6
Audience response close-up..................................................................................... 84
3.7
The world of Spring Awakening in dialogue ........................................................... 85
3.8
The world of Spring Awakening in song ................................................................. 86
3.9
Dialogue overlapping with swirling voices during "I Believe" .............................. 87
3.10 The sermon overlapping with song during "Guilty Ones"...................................... 88
iv
1
INTRODUCTION
Having been immersed in the culture of student life for the past three years at the
University of Iowa, it is easy for me to forget how disproportionate the audience makeup
of university theatre is in relation to professional theatres outside the campus. Every arts
event I attend on campus is packed with young people. Arts attendance is affordable,
accessible – and of course, required by the curriculum of some general education courses.
Yet step outside the university, and arts audiences are largely older retirees. Hardly a
young person is to be found. When I spent the summer of 2012 interning for Steppenwolf
Theatre Company, I was once again struck by the generational divide of Chicago theatre
audiences. One particular night, in a small storefront theatre that had a full-house
audience of about sixty people, I counted just two other people outside of myself who
appeared to be under the age of sixty-five. Why are professional theatre audiences so
disproportionate? Why don't young people enjoy going to the theatre?
A fairly common explanation is that theatre is simply too expensive for young
audiences. I find this reasoning flawed, however. There are plenty of deals that cater to
young people: rush tickets, flex passes, and under-thirty discounts are common among
professional theatres, and they all appeal to the spur-of-the-moment buying habits and
financial capabilities of young people. Even without these discounts, a regularly priced
theatre ticket is comparable to the price of a video game or a rock concert ticket, both of
which enjoy sales to mostly younger patrons.
Not all theatre experiences the dearth of young audiences. Theatre companies like
the Neo-Futurists thrive on under-thirty audiences, offering late night performances and a
variety of audience participation tactics. Their longest-running show, Too Much Light
Makes the Baby Go Blind (or TML) is an evening of 30 two-minute plays, and the
audience helps to curate each performance by selecting the order in which the plays will
2
be performed. Now in its twenty-fourth year, TML has withstood the test of time in
attracting younger audiences due in large part to its interactive and participatory nature.
Much has been researched about the rise of participatory culture that has
accompanied the digital age. The digital era has decimated entire arts industries, but it has
also democratized access to the production of art. No longer does one need to devote
years of study to learning an instrument; instead we now have access to entire digital
recording studios where we can produce music for free. No longer does one need to toil
away in a dark room processing expensive film; now we can take extraordinarily sharp
photos and even edit, crop, and publish them with our mobile devices. No longer do we
need to pay years of tuition at film school and compete for the distribution services of
film producers; instead, we can shoot and edit digital film cheaply and upload it to
websites like YouTube, where it will enjoy worldwide distribution instantaneously.
Young adults under the age of twenty-five are the first generation to have grown up
digital, and it is changing their tastes in and expectations of arts participation. According
to Brian Newman in his article, Inventing the Future of the Arts: Seven Digital Trends
That Present Challenges and Opportunities for Success in the Cultural Sector,
"Audiences no longer want to just consume their art – they want to be involved, to
engage in conversation around art and creativity and perhaps participate in its
production."1 Perhaps this accounts for the extraordinary popularity of audience
participation theatre like the Neo-Futurists.
And yet, by and large, most theatrical performances are still passive experiences
for the audience. Only a small portion of theatre events today invite the audience to
directly co-create the art happening on stage. In the traditional model, there is both an
1 Newman, Brian. "Inventing the Future of the Arts: Seven Digital Trends that Present
Challenges and Opportunities for Success in the Cultural Sector." 20 Under 40: Re-inventing the
Arts and Arts Education for the 21st Century. Ed. Edward P Clapp. Bloomington: AuthorHouse,
2010. 3-19. Print.
3
ideological and physical divide in the form of a proscenium arch, separating the
performance from the passive viewer. As Daniel Dayan and Elihu Katz describe in
Electric Ceremonies: Television Performs a Royal Wedding:
Performers are set apart and audiences asked to respond
cognitively and emotionally in predefined categories of approval,
disapproval, arousal, or passivity. Audience interaction with the
performance may enhance it, but it is not meant nor allowed to
become part of its definition.2
The viewer may engage intellectually (hopefully), but there is often no room inside the
performance event for audience dialogue about its meaning or audience manipulation of
its shape. But really, what's wrong with that? Can you imagine how drastically different
the towering works of Eugene O'Neill or Caryl Churchill might be if the audience were
held responsible for designing the structure of the performance? Theatrical texts that do
not include the opportunity for audience participation have sustained the theatre for
thousands of years, and I am a firm believer that these aesthetic experiences are valid
ones, and should not be thrown out with the bathwater in trying to appease a new
generation of theatregoers.
The event and rituals surrounding going to the theatre include more than just the
performance event, however. A night of theatre is often accompanied by pre-performance
dinner or post-performance drinks. Even less-conspicuous rituals can be included in the
concept of the theatre-going event: picking up the tickets at will call, browsing through
program materials or merchandise, conversing in the bathroom during intermission, even
crowd-watching before and after the show. Much of an audience's social engagement
occurs outside of the performance proper. The theatre lobby is often the social center of
the theatrical event, serving an entirely different function than the theatre auditorium,
where the art is consumed more passively. Perhaps our engagement strategies for a new
2 Dayan, Daniel and Elihu Katz. "Electronic Ceremonies: Television Performs a Royal
Wedding." In Signs Ed. Marshall Blonsky. Baltimore: John Hopkins, 1985. 16-32. Print.
4
participatory culture should focus on reimagining the lobby rather than the performance
itself?
My summer spent interning at Steppenwolf revolutionized my thinking about how
a theatrical lobby display might function successfully. My previous attempts at lobby
design had mostly consisted of historical research, extra information about the content or
themes of the play, or attractive photos of the cast. I often became discouraged about the
impact that these designs had on the audience; I frequently saw most audience members
walk right past the display without a cursory glance, and the audience members who did
stop to look only did so for a short time. Although I think providing historical context or
extra information about the play's themes is a useful way of inciting deeper reflection on
the play, the displays didn't seem to provoke dialogue in the way that I hoped they
would. Looking back on these designs, I see that they were extensions of the passive
experience the audience had just had in the theatre. I simply provided more content for
them to consume.
If I was hoping to create a participatory experience for the audience through the
lobby display, what these displays were missing was an explicit invitation to participate –
both with the display and with their fellow audience members. This was not a question of
content as much as a question of design. In my previous displays, I had focused on
providing authoritative knowledge and providing a consistent experience for the
audience. But if I were to let go of that control a little, and allow for the audience to share
their voices as co-creators, contributors, or remixers, I could connect audience members
in a new way. It was a fundamental shift from the audience's passive experience of the
performance event. By allowing the audience to contribute to the content of the display or
remix its structure and thereby its meaning, I could provide a platform for the audience to
engage socially with each other, to express themselves in meaningful ways, and to
experience a broader diversity of cultural perspectives.
5
As I started to revise my thinking about how to construct an invitation for
participation, I collaborated on two productions that became the testing grounds for these
new ideas: Steppenwolf's 2012 production of David Lindsay-Abaire's Good People, and
The University of Iowa's 2012 production of Spring Awakening: a rock musical. Neither
of these performances included explicit audience participation within the performance
event, and both were performed on a proscenium stage. My hope is that these two lobby
design processes will reveal some practical ideas for theatres interested in providing
participatory experiences for their audiences without restructuring the traditional
experience within the performance event itself.
6
PART ONE
LOBBY DESIGN IN A PARTICIPATORY CULTURE
7
PARTICIPATORY CULTURE
Technological innovation has drastically changed our lifestyles in the past thirty
years or so. We can now perform many daily tasks from the comfort of our home office,
tasks that would have previously required some sort of interpersonal engagement. We can
order a pair of shoes without ever having to speak to a salesperson, deposit a paycheck
without ever standing in line at the bank, and even self-diagnose our ailments without
ever seeing a doctor. In many ways, the digital era has made us a less personal, more
isolated society, even while connecting us digitally to people and cultures around the
world.
You might think then, that our hunger for the arts would have drastically
increased as our social interactions became less interpersonal. This appears to not be the
case, however. A 2008 National Endowment for the Arts survey researched arts
participation trends and found a nationwide decline in arts performance attendance.3 Not
only that, but arts attendees are increasingly older than the average American adult (45).
Though the results are undoubtedly disappointing, researchers also discovered that mass
media is reaching substantial audiences for the arts. About 70 percent of U.S. adults went
online for any purpose in the 2008 survey, and of those adults, nearly 40 percent used the
Internet to view, listen to, download, or post artworks or performances.4 It seems that
technology is not just changing our everyday habits, but it is also changing the way we
connect with the arts.
Previously, if you wanted to become an artist, you had to devote years of study to
learning "the rules" of the form. But now, technological innovation has created more
3 United States. National Endowment for the Arts. 2008 Survey of Public Participation in
the Arts. Washington: GPO, 2009. Web.
4 Ibid.
8
artistic opportunities for novices, allowing people to create their own digital art and
publish it to the web for others to view. Software such as GarageBand and Photoshop,
and sharing sites such as YouTube and Flickr provide easy-to-use platforms for
producing and publishing amateur art. Many young people now learn about art by doing
it, a process that is considerably more accessible and less expensive with digital tools.
This innovation has changed our expectations for involvement in the arts, particularly for
younger audiences who have grown up entirely in the digital era, and resulted in the
emergence of participatory culture. As media scholar Henry Jenkins defines it,
A participatory culture is a culture with relatively low barriers to
artistic expression and civic engagement, strong support for
creating and sharing creations, and some type of informal
mentorship whereby experienced participants pass along
knowledge to novices. In a participatory culture, members also
believe their contributions matter and feel some degree of social
connection with one another (at the least, members care about
others' opinions of what they have created).5
All social media participation is not the same, however. There are many ways that
we engage creatively online besides just producing creative content. Along with the
release of their book Groundswell: Winning in a World Transformed by Social
Technologies, Forrester Research released a "social technographics" tool that profiles the
different ways that audiences interact online. The researchers divided participatory online
audiences into seven fluid, overlapping categories of activity:
1. Creators who produce content, upload videos, write blogs
2. Conversationalists who update statuses on social networking sites
3. Critics who submit reviews or ratings, comment on someone else's blog
4. Collectors who organize links and content for personal or social use
5. Joiners who maintain profiles on social networking sites
5 Jenkins, Henry. Confronting the Challenges of Participatory Culture: Media Education
for the 21st Century. Cambridge: MIT Press, 2009. Web.
9
6. Spectators who read blogs, watch YouTube videos, listen to podcasts
7. Inactives who don't visit social sites6
Many people fall into several categories at once, but one thing remains constant: creators
are only a small portion of the participatory landscape. You are far more likely to make a
collection of recipes or DIY projects, review a book or movie, or read someone else's
blog than you are to upload a movie or post digital art. Much of our online energies are
spent interacting with or conversing about others' social content rather than churning out
our own original works. Nonetheless, the categories outside of creators are not passive
roles, but participatory ones. Nina Simon explains in her book, The Participatory
Museum, that participation differences aren't a matter of technological abilities, but a
matter of preference.
There are some people who are drawn to create, but many more
prefer to participate in other ways, by critiquing, organizing, and
spectating social content. This isn't just a question of making
creative tools as easy to use as possible. There are some people
who will never choose to upload content to the Web, no matter
how easy it is. Fortunately, there are other participatory options for
them.7
Many people may have assumed that the ease of technology would turn everyone into
creators, but these online behaviors tell a different story. It seems that online social
engagement has primarily created a hunger for interacting with, rather than creating,
social content.
These emerging online behaviors seem to conflict with many of the rituals and
experiences offered by the theatre-going event. The traditional theatre auditorium, with
its division between audience and performer, is designed to deliver institutional content
to a passive viewer. While the performance event may (and hopefully does) spark social
6 Bernoff, Josh and Jacqueline Anderson. Social Technographics Defined. 2 Aug 2010.
Forrester Research, Inc. Web.
7 Simon, Nina. The Participatory Museum. Santa Cruz: Museum 2.0, 2010. Print. 9.
10
engagement, it prioritizes engagement with the performance on stage, particularly when
the seating arrangement involves the proscenium divide. The audience sits together and
focuses their gaze towards the stage rather than each other, relegating their role to
consumer and creating barriers for multidirectional artistic expression. The traditional
role offered to the audience during the performance does not include active social
participation such as critiquing, collecting, or creating content. Spectating is the only
activity available to the audience, but as Forrester Research tells us, audiences are likely
to prefer engagement through diverse activities. It's no wonder that passive viewing does
not appeal to a participatory culture that defines itself through a multidirectional
experience.
There are many benefits of participatory culture, however, which might advocate
for including more participatory experiences in the total theatre-going event, even if the
relationship between performer and audience during the performance is not the ideal
platform for participatory activities. Jenkins cites peer-to-peer learning, changing
attitudes towards intellectual property, diversification of cultural expression, and an
empowered conception of citizenship as possible outcomes of a more participatory
culture.8 Participatory activities can benefit both the needs of the audience to offer
significant contributions to a larger community, and the needs of the institution to attract
new audiences, incite meaningful civic discourse, and empower their audiences. Civic
engagement is one of the long-held values attributed to the performing arts, so if
participatory activities can empower audiences as citizens and promote a more diverse
sense of community, we should actively pursue ways to include these activities as an
element of the theatre-going event. How then, can we include these activities without
radically changing the nature of many theatrical performances? Is there another element
8 Jenkins, Confronting the Challenges of Participatory Culture.
11
of the theatre-going experience that is a more suitable platform for participatory
activities? Perhaps a closer look at the way theatre lobbies function as part of the total
theatre-going experience will reveal more suitable opportunities for participatory
engagement.
12
TRANSITION/TRANSFORMATION:
HISTORICAL PERSPECTIVES ON LOBBY FUNCTION
As theatre moved indoors, the theatre lobby became the site where audiences
could transition from the reality of the outside world to the illusionary world of the play,
from individual to a cultural collective. This transitory space offered a center for social
engagement where audiences could see and be seen, meet friends, and discuss the
performance. Theorists have contributed a growing body of scholarship on the function
of the lobby in relationship to the larger experience of theatre-going.
Performance theorist Richard Schechner has given significant attention to the
rituals of theatre-going that surround the performance proper. In his book, Performance
Theory, Schechner describes the audience's experience of theatre attendance as similar to
the dramatic structure of a play; both involve "gathering, performing, and dispersing."
The audience agrees "to gather at a specific time and place, to perform – to do something
agreed on – and to disperse once the performance is over."9 These formal transitions
allow the audience to enter a "theatrical frame" and enjoy deep feelings during the
performance without feeling compelled to intervene in the drama unfolding. Schechner's
concept of the "theatrical frame" suggests a transition of the mind, but this is supported
by the physical transition space of the lobby area, as the lobby generally initiates the
gathering stage.
For Schechner, social gathering is fundamental to the theatre-going experience.
He is one of the few scholars to examine the intermission in terms of how it shapes
theatre experience.
The intermission served a purpose, not necessarily either in
outdoor or fully lit theatres: that of giving the spectators a chance
to see themselves. Intermission confirms the existence of the
9 Schechner, Richard. Performance Theory. New York: Routledge, 1988. Print. 169.
13
"gathering," a group assembled specifically to attend this particular
theatrical event.10
Schechner explains that as drama became increasingly more naturalistic, encouraging the
audience to feel like peeping-Toms, it became necessary to reaffirm the existence of the
theatrical frame during intermission and allow audience members to reconnect with each
other socially. It is important to note that Schechner reifies the performance event as the
purpose of the gathering, and that audiences "see themselves" in relation to the
performance.
In Space in Performance: Making Meaning in the Theatre, Gay McAuley
examines the relationship between theatre-maker and the audience, and the space where
these two groups meet. She describes the transition that audiences undergo as one of
individuals to collective.
Spectators go to the theatre as individuals, or more frequently as
members of subgroups (couples, families, groups of friends, even
teacher and students) and through the process of responding to the
performance they become a collectivity, a group with a particular
quality that can be perceived by the actors and differentiated from
other similar groups.11
For McAuley, responding to the performance is what initiates the transformation from
individuals to a collective, but she also believes other aspects of going to the theatre can
contribute to the audience's transformation, such as "the socializing that may take place
before the show and in the interval."12 Socializing in the lobby can often be an extension
of responding to the performance, a response that is more deliberate and less immediate
due to the temporal distance to the performance. While McAuley acknowledges that
socializing before and during the show can initiate the transition from individual to
10 Ibid. 174.
11 McAuley, Gay. Space In Performance: Making Meaning in the Theatre. Ann Arbor:
University of Michigan Press, 1999. Print. 250.
12 Ibid.
14
collective, she also describes audience social areas as a place where the individual is both
part of a group and separate from the group: "The experience of the individual spectator,
while always personal, is also occurring at group and collective levels."13
Susan Bennett explores this duality further in her book, Theatre Audiences: A
Theory of Production and Reception. She points to the role of the audience as involving
both an audience's social (audience member) and private (individual) capacities, and
acknowledges "the spectator takes on his/her role(s) before the performance per se
begins."14 This transformation from individual to audience and back again occurs not
only in the theatre auditorium, but also in the liminal space between the performance and
the outside world. In terms of the total theatre-going experience for the audience, the
undertaking of these roles is part of the gathering process; therefore, the lobby serves a
social function.
Of course, the very existence of the foyer emphatically points to
the social construction of theatre. The small groups of people who
come to the theatrical event are deliberately assembled as a
collective in a space which has, in its historical development,
increasingly been designed to permit social display.15
Bennett notes that the activities of observing and being observed remain a primary
function of lobby spaces even in more recently constructed theatres.
All of the theories discussed above refer to the social function of the lobby as a
place of transition or transformation: either as one from individual to collective (and back
again), or as one from the outer world to the world of the play (and back again). Since the
lobby seems to already house much of the potential for social engagement in the theatregoing experience, this seems like an appropriate place to stage participatory experiences
13 Ibid. 251.
14 Bennett, Susan. Theatre Audiences: A Theory of Production and Reception. New
York: Routledge, 1990. Print. 133.
15 Ibid. 139.
15
for the audience. The trick, I believe, is designing participatory activities that capitalize
on this experience of transition, allowing audience members to participate both as
individuals and as a community, drawing on their personal knowledge from the outer
world to discover a deeper relationship with the world of the play.
16
LOBBY DESIGN FOR A NEW CULTURE
Designing participatory projects in a theatre lobby must be fundamentally rooted
in the content of the performance, the primary reason for audience attendance. A great
number of participatory projects could be designed that have nothing to do with the
theatrical production, but they would not serve the function of the lobby as a place of
transition.
Additionally, because participation is a multidirectional experience, these
participatory activities must take into account the needs of both the participant and the
institution – and the audience members who prefer to spectate. Designing for the
institution's needs is a little easier than designing for participants: the theatre's mission
statement and all of the reasons that a particular production was selected for the season
should inform what the institution hopes to get out of participating with its audience,
whether it's attracting younger audiences or providing a platform for meaningful civic
discourse. On the other hand, participants have idiosyncratic needs and different
preferences for how they like to engage with creative content, as the Forrester research
revealed. Some may prefer to spectate other participants, which has historical precedence
in the lobby space. Still others may want to manipulate creative content in order to
engage with it on a deeper level, or some may want to create their own content. The point
is: you can't please everyone.
Luckily, participation projects can be spread over a variety of mediums that
appeal to different audience preferences. Some theatres may offer pre- or post- show
discussions about the performance, or may provide online platforms for audiences to
explore the world of the play further. Many theatres offer a display area in the lobby
space that audiences can observe and interact with before or after the performance or
during intermission. It is this design platform that I'd like to explore more in depth.
Lobby displays are somewhat similar to online interactions in that lobby displays, like
17
digital environments, serve as mediating platforms for participants. In the case of theatre
lobby displays, they mediate between individual audience members and the theatrical
performance, and also between individual and individual. Successful lobby display
design can, in its mediating capacity, offer supportive scaffolding that facilitates
interactions between audience members and between the audience and the performance.
Part of the goal in adding opportunities for participation to a traditional theatregoing model is to allow the audience a platform to share their opinions and reflections
through their participation. Encouraging the audience to share their voice, however, is not
as simple as asking, "What do you think?" Open-ended self-expression relies on selfguided creativity and appeals to only a small fraction of participatory audiences. Selfexpression without guidance is difficult and daunting for most participants. Potentially
rich experiences like detecting patterns, comparing and contrasting, and expressing
opinions need institutional scaffolding to guide audience response and help audiences
feel comfortable engaging in the activity. A lobby display can provide the scaffolding
required to elicit meaningful audience response with clearly described, specific tasks and
supportive guidance. Nina Simon identifies two principles at the heart of successful
participation design:
First, participants thrive on constraints, not open-ended
opportunities for self-expression. And second, to collaborate
confidently with strangers, participants need to engage through
personal, not social, entry points. These design principles are both
based on the concept of scaffolding. Constraints help scaffold
creative experiences. Personal entry points help scaffold social
experiences. Together, these principles set the stage for visitors to
feel confident participating in creative work with strangers.16
Constrained projects help guide audience members towards participating collaboratively,
allowing for both individual creative expression and social awareness. Personal entry
16 Simon, The Participatory Museum. 22.
18
points can help illuminate relationships between the audience and the characters, between
the audience and the institution, and between individual audience members.
Another useful strategy in designing participatory activities around a lobby
display is to employ what Simon describes as "me-to-we" design. This design strategy is
particularly effective in the liminal space of the lobby that activates the audience's
identities both as individuals and as a collective group. The goal of the strategy is to build
on individual (me) experiences to support collective (we) engagement. The process is
somewhat akin to being a cocktail party host, graciously welcoming each individual and
then facilitating introductions between guests. Simon describes the evolution of audience
experience from personal to communal interactions via five stages of interface between
institution and visitor.
Figure 1.1 "Me to We" design
Source: Simon, The Participatory Museum. 26.
19
What is important to note is that these stages are progressive: you cannot jump straight to
a stage five communal experience without first laying the groundwork for stages one
through four. All participatory lobby experiences are founded on the stage one experience
of consuming the performance content. Moving to stages four and five, however, requires
initiating individual responses and then providing a framework for those responses to
interact with each other. This movement towards more communal interactions should
also hopefully move the audience from simplistic responses like, "I liked it/I didn't like
it" towards "I didn't like it and I'm interested in exploring why with other people." It is a
process that involves careful planning, testing, and revision.
The following case studies explore in depth two lobby display designs for
theatrical productions with non-participatory performances. In detailing the process of
designing opportunities for audience participation in the theatre lobby, I hope to reveal in
practical terms how specific design strategies and techniques can facilitate the
development of more communal social interactions amongst theatre audiences, and
maximize the potential of the lobby space to serve as a transitional/transformational
framework for the performance.
20
PART TWO
CASE STUDY: GOOD PEOPLE
21
PRODUCTION CREDITS
Good People
by David Lindsay-Abaire
Cast
Margaret
Mariann Mayberry*
Stevie
Will Allan*
Dottie
Molly Regan*
Jean
Lusia Strus*
Mike
Keith Kupferer*
Kate
Alana Arenas*
Voice of Old Lady
Martha Lavey*
Voice of Priest
Alan Wilder*
Production Team
Director
K. Todd Freeman
Scenic Design
Walt Spangler**
Costume Design
Nan Cibula-Jenkins**
Lighting Design
Kevin Rigdon**
Sound Design and Original Music
Rob Milburn** and Michael Bodeen**
Casting Director
Erica Daniels***
Dialect Coach
Eva Breneman
Stage Manager
Christine D. Freeburg*
Assistant Stage Manager
Michelle Medvin*
Good People was presented by Steppenwolf Theatre Company in special
arrangement with Dramatists Play Service, Inc. It opened on September 13th, 2012 and
closed on November 18th, 2012.
*Member of Actors' Equity Association, the union of professional actors.
**Member of United Scenic Artists, Local 829 of the IATSE.
***Member of the Casting Society of America.
22
SYNOPSIS OF THE PLAY
When Margie Walsh is fired from her low-wage job in South Boston because the
inconsistent care for her mentally disabled adult daughter, Joyce, has caused her to be
chronically late, she's just a single paycheck away from serious financial troubles and
eviction. Her friends encourage her to reach out to her old high school boyfriend Mike, a
Southie boy who left the neighborhood and became a successful doctor. Margie
approaches Mike at his office to seek employment with no success, and after some verbal
sparring, Margie pressures Mike into inviting her to a party at his home in Chestnut Hill
so that she can ask his bourgeois friends for work. When Mike calls her later while she's
out playing Bingo and tells her that the party has been cancelled, Margie assumes that he
is disinviting her out of embarrassment and she vows to go anyway.
At the beginning of Act Two, Margie arrives at Mike's house to discover that the
party was indeed cancelled. Mike's wife Kate (after an embarrassing moment of mistaken
identity) welcomes Margie into their home and asks her to regale them with stories about
Mike's humble beginnings in Southie. As the conversation progresses, Margie reveals
that she feels she never had a chance to escape her socio-economic situation. Mike
dismisses her, and suggests that his hard work and resulting success is proof that
Margie's current financial troubles are her own fault. Margie challenges this notion by
pointing out all the lucky circumstances that helped Mike rise out of poverty: his parents
encouraged his education; his father intervened in a racially-charged fight that could have
possibly ended in Mike murdering an African-American boy; and most notably, Margie
reveals that Mike is actually Joyce's father, but she never pressured him into taking
responsibility because she wanted him to "get out." When pressured, Margie later retracts
this story and leaves empty-handed. At the end of the play, Margie's former boss Stevie
pays Margie's rent with his Bingo winnings and offers to help her find another job, and
Margie's friend Jean reveals that "everyone knew" Mike was Joyce's father.
23
ANALYSIS OF THE TEXT
Good People takes a scathingly hard look at the plight of the working poor in
America today, with particular reference to how the myth of meritocracy focuses blame
on poor people for not being able to overcome their economic circumstances. The
American Dream is deeply entrenched in our belief that we are a meritocratic society:
everyone has equal opportunity to success regardless of race, class, or gender and the
only barrier to unlimited wealth is our willingness to pull ourselves up by our bootstraps.
Many social scientists have challenged this idea, pointing to unseen obstacles like
discrimination, "choice fatigue," and being in the right place at the right time. Even
Lindsay-Abaire has acknowledged the role that luck played in his own journey from
blue-collar South Boston to Pulitzer Prize-winning playwright. In an interview with the
New York Times, he said:
I've worked really hard, but I know people who have worked even
harder but didn't have the chances I've had. We have this myth
that if you work hard, you can accomplish anything. It's not a very
American thing to say, but I don't think that's true. It's true for a
lot of people, but you need other things to succeed. You need luck,
you need opportunity, and you need the life skills to recognize
what an opportunity is.17
Good People meticulously explores the relationship between luck and choice and affirms
neither element as the sole indicator of success or failure.
One of the primary systems that foregrounds this relationship in the play is the
game of Bingo. For Dottie, Jean, and Stevie, a fun night out in South Boston means
playing Bingo in the basement of a Catholic church, but the game takes on new
importance for Margie after she loses her job. Faced with no job prospects, a game of
chance might be the only way she is able to scrape together rent. The first Bingo scene
17 McGrath, Charles. "A Return to Southie, by Way of Broadway." New York Times 3
Feb 2011: Web.
24
takes place immediately after Margie has muscled her way into an invitation to Mike's
party, an event which not-so-incidentally can be traced back to a chance encounter
between Jean and Mike. Jean was serving at a catered dinner for the Boys and Girls Club,
where Mike happened to be a speaker. It was this coincidental meeting that prompted
Jean to encourage Margie to ask Mike for a job. During the first Bingo scene, the women
discuss the upcoming party, the likelihood that Margie might get a job opportunity from
Mike's friends, and the recent death of a former classmate just days after they had a
conversation about how she ended up homeless; meanwhile, the voice of a priest
punctuates the scene with bingo numbers called over a cheap sound system, underscoring
the element of luck at work in their lives.
VOICE OF PRIEST
I-17. I…17.
(they play)
B-11.
DOTTIE
They gave me shit cards.
VOICE OF PRIEST
B…11.
DOTTIE
(leans over to Jean)
You got anything?
JEAN
Are you kidding?
DOTTIE
They always give me shit cards.
MARGARET
I'm down to two numbers.
DOTTIE
You're down to two?
25
JEAN
Ooo, Margie's got a little heat under her.
DOTTIE
I find it awful strange that someone with no money can afford Bingo.
MARGARET
Jean treated me. If I win, we're splitting it.
DOTTIE
Huh.
JEAN
It's just a few cards.
VOICE OF PRIEST
O-70. O…70.
JEAN
He looked good, right?
DOTTIE
Who did?
JEAN
Mickey Dillon.
(to Margaret)
You did good, Margie, going down there.
MARGARET
Tell me that after the party.
JEAN
It's gonna go great.
DOTTIE
Or it won't.
VOICE OF PRIEST
B-3. B…3.
Both in the game and in her personal life, Margie seems poised on the edge of a lucky
break, but it's clear that her odds of success are uncertain.
26
The second Bingo scene, the final scene of the play, occurs after the "party" at
Mike's house where Margie reveals that Mike is the father of her disabled daughter but
later says it's not true. In the time that passes between the end of that scene and the start
of the Bingo scene, a mysterious envelope filled with cash has arrived in Dottie's
mailbox with a note, "Margaret's rent." Again, the voice of the priest calling out Bingo
numbers underscores the scene.
VOICE OF PRIEST
N…33.
JEAN
(to Margaret)
Did Mikey say he was gonna send money?
MARGARET
No.
JEAN
Did you ask for it?
MARGARET
No, Jean, of course not. Did I ask for it?
STEVIE
Maybe he just wanted to help out.
MARGARET
Yeah, I don't think so.
STEVIE
Why not?
MARGARET
It's not in his nature.
DOTTIE
Of course it is. Why else would he send that envelope?
MARGARET
It doesn't matter, I'm not taking it.
27
VOICE OF PRIEST
I-22.
DOTTIE
She goes there looking for money, then she gets all proud when she gets it.
VOICE OF PRIEST
I…22.
MARGARET
I went looking for a job, not a handout.
DOTTIE
Tomato-tomahto.
JEAN
What'd you say to him?
MARGARET
Nothing.
JEAN
And he just pays your rent?
MARGARET
He's not paying my rent.
DOTTIE
He already has.
VOICE OF PRIEST
O-61.
JEAN
Maybe the wife sent it.
VOICE OF PRIEST
O…61.
JEAN
You think the wife sent it?
MARGARET
I don't know. I don't care. I'm sending it back.
28
JEAN
I swear to god, Margaret, the first break you've gotten since I've known
you, and you want to toss it back in. It's not like you don't deserve it.
MARGARET
I don't want that money.
DOTTIE
It's already been deposited.
MARGARET
What are you talking about? It's not your money to deposit, / Dottie.
DOTTIE
The envelope was / addressed to me!
JEAN
You're being awful hard-headed, / Marg—
MARGARET
I'm not taking his money.
STEVIE
Jesus! It's not his money!
(Silence. He looks up at them.)
He didn't send the money. And neither did the wife.
MARGARET
(beat)
Stevie…
STEVIE
You make everything so difficult, you know it? Don't you know what a
gift-horse is?
MARGARET
I assumed Mike sent it.
STEVIE
Well he didn't.
MARGARET
You don't have money to be paying my rent.
29
STEVIE
I won last week. It wasn't much, but it was enough. And I never win at
bingo.
MARGARET
Stevie—
STEVIE
You needed it more than I did.
MARGARET
Still, you can't—
STEVIE
Can you stop? You'll pay me back when you can.
The scene works in a particularly complicated and nuanced way, highlighting the
multidimensional effects of both luck and personal choice on our lives. Because Margie
believes Mike knew – or at least should have suspected – that Joyce was his daughter and
that he chose to ignore his parental responsibility, she cannot swallow her pride and take
the token rent money now – not when what he really owes her is twenty years of support.
Jean refers to the money as Margie's lucky "break," but Margie chooses to refuse it. The
calling of the Bingo numbers serves to emphasize this tenuous relationship between
choice and luck, particularly when it appears as punctuation to Margie's line, "I'm not
taking it," and Dottie's line, "She goes there looking for money, then she gets all proud
when she gets it."
This element of choice in Margie's socio-economic status is a sticking point that
Mike's wife, Kate, lays out very clearly in the preceding scene at their home.
KATE
You talk about how hard it's been and how you've struggled with her all
these years—
MARGARET
I have.
30
KATE
Why? If you didn't have to struggle, why would you? Because you didn't
want to inconvenience Mike?
MARGARET
No, that's / not—
KATE
I'd do anything for my daughter. If there was / something—
MARGARET
So would I.
KATE
Then your story doesn't make any sense.
MARGARET
No of course not. You gotta stand by your man, so—
KATE
No, I don't actually.
MARGARET
Well I don't know what to tell ya.
KATE
You could've looked him up at any point, and said, "Hey, I know this
sucks, but I could really use your help with our kid." That's what I
would've done.
MARGARET
Well I'm not you.
KATE
That's right. You're not.
(beat)
I could never put my pride ahead of my daughter.
The echo of this condemnation ripples through the final Bingo scene as Margie once
again makes a choice to put her pride ahead of the opportunity to change her financial
situation. Nevertheless, the money is in fact not Mike's, but Stevie's. Margie's financial
troubles are solved not with hard work, but with a bit of luck from knowing a good
31
person like Stevie. Even Stevie's ability to help Margie pay her rent originates in the luck
of winning Bingo. Still, the question of whether Margie's economic mobility hinges only
on luck remains a complicated one, given Kate's stinging condemnation that Margie's
refusal to swallow her pride was a matter of choice, not luck.
Lindsay-Abaire's exploration of the element of luck in class mobility comes to the
fore in the scene that takes place in Kate and Mike's Chestnut Hill home. Kate's curiosity
about Mike's rougher days in the urban jungle of Southie sets off a series of comparisons
between Margie and Mike's childhoods. In pitting Mike and Margie against each other –
two characters who shared similar childhoods, but experience vastly different levels of
success in their adult years – the question of why their lives are so disparate bubbles just
under the surface for most of the scene. It doesn't take much prodding from Kate for
Margie to start poking holes in Mike's mythology about being a self-made man.
MARGARET
You want Mike's big secret? Here it is: he didn't have it so bad.
MIKE
Come on, Margaret.
MARGARET
Not compared to other people.
MIKE
The way my father worked?
MARGARET
Let's start with the fact that you had a father, and he worked.
MIKE
The clothes from Morgan Memorial? The food stamps? The Welly
Cheese?
MARGARET
You seemed like a pretty happy kid. You have some nice memories.
MIKE
Of course I do / but—
32
MARGARET
You obviously like to reminisce. So it couldn't have been too bad. Least
you managed to get out.
MIKE
Because I worked my ass off. That's the only way out of there.
MARGARET
(pause)
Right.
MIKE
I didn't mean you don't work your ass off.
MARGARET
No?
MIKE
Obviously you work hard.
MARGARET
Hey, thanks.
MIKE
Don't take it the wrong way. I was talking about scholarships and what / I
had to—
MARGARET
No, you worked hard, you're right. You escaped. I didn't.
(beat)
You had a little help, but you did it.
While this interaction feels fairly polite, the conversation eventually evolves into a much
more heated argument between Mike and Margie about their own agency in the outcomes
of their lives.
MIKE
I'm sorry that you made some bad choices in your life, but that is not / my
fault.
MARGARET
Oh, I had choices?
33
MIKE
Yeah. And if thinking you didn't makes your life a little more bearable,
that's fine. But it isn't true.
MARGARET
What choices did I have?
MIKE
All the way back. The things you did, the people you hung out with.
MARGARET
The people I—? We hung out with the same people!
MIKE
Plus you never applied yourself. Not at school or / anywhere else.
MARGARET
I didn't have someone checking my homework like you did, Mikey. My
mother was too busy killing herself at that box factory.
MIKE
Oh poor you.
MARGARET
And you're right, I did drop out of school. Was that a choice though?
MIKE
Of course it was. Girls have babies, and still stay in school.
KATE
Are you serious?
MIKE
They do!
MARGARET
Well I chose to take care of the baby instead. Because that's what people
did. I got a job. I got a bunch of jobs in fact. And every one of them
sucked, because what other job could I get? Not much of a choice there
either, I'm afraid.
MIKE
And you lost most of those jobs?
MARGARET
As a matter of fact, I did.
34
MIKE
Why?
MARGARET
Usually because I was late.
MIKE
Well there's a choice.
KATE
Would you stop it?
MIKE
What, she chose to be late.
MARGARET
I didn't choose to be late. Shit happened, that made me late! Sometimes it
was Joyce. Sometimes it was the T.
KATE
You don't have to explain / yourself to him.
MARGARET
One time I got my car taken. Why'd I lose the car? Because I missed a
payment. Why'd I miss a payment? Because I had to pay for a dentist
instead. Why'd I have to pay the dentist?
MIKE
We don't need the / sob story—
MARGARET
No, I've done this a hundred times in my head, Mikey. I think you should
hear it too. Why'd I have to pay the dentist? Because I didn't have
insurance, and I cracked a tooth and ignored it for six months, until an
abscess formed. Why'd I crack a tooth?
MIKE
I don't /care!
MARGARET
Because one night I thought I'd save a little money, and skip dinner! But I
got hungry and decided to snack on a piece of candy brittle. And that's all
it took - a piece of fucking candy brittle, and I was out of a job again.
And that's how it always is. And if it's not the candy brittle then it's
Joyce's medication, or my phone getting cut off, or Russell Gillis breaking
in and stealing my goddamn microwave! And you wanna tell me about
35
choices? While you sit up here practically breaking your arm patting
yourself on the back for all you accomplished. Lucky you. You made
some wise choices. But you're wrong if you think everyone has 'em.
In fact, the only real choice I ever did make was dumping you. And yeah,
I've thought about it a million times since. "What woulda happened if I
hadn't dumped Mikey Dillon?" Maybe I wouldn't have ended up with
Gobie, or maybe I woulda finished school, or maybe this coulda been my
house.
(Silence. They look to her, confused.)
MARGARET
Maybe it coulda been. All of this. Maybe it coulda been mine.
Margie's monologue here eventually became the centerpiece of Steppenwolf's lobby
design: a confusing mix of bad luck and choice that Margie follows down the rabbit hole
to explore the question, "What might have happened if…?" The technique of this scene
encourages the audience to explore the limits of their empathy by illuminating an implicit
parallel between Margie and the audience as she imagines a different set of circumstances
for her life (something all great theatre invites the audience to imagine). The laundry list
of unfortunate results that all began with a small twist of fate strikes at the heart of the
play, and thus the design for Steppenwolf's lobby used this monologue as a guiding light
for how to activate the audience's engagement with the dynamics of luck and choice in
their own lives.
36
LOBBY DISPLAY DESIGN PROCESS
Creating a display for Steppenwolf Theatre Company's production of Good
People was rooted first, of course, in the mission of Steppenwolf as a cultural institution.
When it was founded in the mid-1970's, the ensemble conceived it as an artist-driven
organization where a commitment to continued artistic collaboration would benefit both
the artists and their work. According to Steppenwolf's mission statement,
Steppenwolf Theatre Company is where great acting meets big
ideas. Our passion is to tell stories about how we live now. Our
mission is to engage audiences in an exchange of ideas that makes
us think harder, laugh longer, feel more.18
This mission statement reflects not only a commitment to actors, but also a commitment
to help audiences explore the meaning and their experience of the work on the stage. The
artistic administrators of the organization often shape event planning around the idea of
Steppenwolf as a "public square": a place where people can come together, galvanized by
a theatrical experience, to engage both in external discussion and internal exploration of
its meaning. Martha Lavey, artistic director of Steppenwolf, speaks about the relationship
the organization attempts to achieve with its audience:
We see our work at Steppenwolf to be the creation of a multilayered conversation with our audiences. …Our audiences come to
the theatre to watch characters engage in a conversation. The hope,
in their doing so, is that we engage them in a conversation with the
work. We ask them to negotiate the meaning of what they have
seen by talking about it – among themselves and with us.19
To this end, Steppenwolf operates a multi-pronged audience engagement strategy.
The principle venue for their commitment to dialogue is the post-show discussion series
that Steppenwolf hosts after each performance. The discussion moderators are trained to
18 "About Us." Steppenwolf Theatre Company, n.d. Web. 19 March 2013.
19 Harlow, Bob et al. Building Deeper Relationships: How Steppenwolf Theatre
Company Is Turning Single-ticket Buyers into Repeat Visitors. New York: Bob Harlow Research
and Consulting, LLC, 2011. Print.
37
present themselves as discussion facilitators rather than experts, typically refraining from
providing background or context and instead focusing the dialogue on the audience's own
experiences. Steppenwolf seasons are also planned around a theme – Good People was
part of a theme called "The Reckoning" – as a way of extending the conversation through
the entire season as the audience discovers thematic echoes in each theatrical work. As a
way to reach audience members who do not stay for post-show discussions (and even
interested members of the public who cannot attend the production), Steppenwolf
produces a variety of digital content that can be accessed through their website. Visitors
can watch videos of audience responses, read interviews, reviews, and program articles,
listen to podcasts, and look at behind-the-scenes production photos. Steppenwolf
administrators are aware that their audiences like to engage in content in a variety of
ways, so they try to spark audience interest through a broad range of platforms. One of
the presiding questions, then, as we began discussions about lobby display design for
Good People, was "How do we achieve Steppenwolf's goal of activating a multi-layered
conversation with its audience, but do so in a way that is unique to Steppenwolf's other
engagement strategies?"
In the initial design meeting, a wide variety of display ideas were discussed.
Steppenwolf had recently enjoyed an enthusiastic audience response to their design for
Bruce Norris's Clybourne Park, which explored racial and economic tensions in Chicago
neighborhoods over a 50-year span. A giant map of Chicago was affixed to the wall, and
audience members were invited to respond on a Post-it note to where they would like to
live or where they would definitely not like to live. The success of the design seemed to
hinge on its interactivity, and if appropriate, we were interested in including that as an
element in the design for Good People. Since Good People also explores racial and
economic tensions unique to its setting, and Boston shares many tribal and socioeconomic commonalities with Chicago, we considered whether a similar design might
activate some useful dialogue.
38
Literary Manager Aaron Carter then posed a direct question about precisely to
what in the play we were trying to orient the audience: the location? the dialect?
Southie's peculiar brand of aggressive dark humor? We then circled around to the core
exploration of luck and choice in this play. Perhaps we could have fortune-tellers in the
lobby? Or maybe we could stage a Bingo game during intermission? Perhaps the lobby
display could consist of a giant replication of Hasbro's Game of Life, where players roll
dice and make choices that control the outcome of the game. This last idea felt a little
closer to the mark, particularly in the way that the framework of a game combined with
the high stakes socio-economic implications of Good People seemed to uncover the dark
humor so evident in the world of the play. We put the game idea on our short list. None
of these ideas, however, even though they foregrounded the notion of luck, seemed to
inspire meaningful dialogue – dialogue that reflects how the most significant parts of our
lives can be shaped by luck.
We discussed Margie's monologue about how a piece of candy brittle started a
chain reaction that ended in a lost job, and how this monologue could inform the design
for the lobby. Part of what felt important about this monologue was the way it highlights
the question of "what if?" Certainly if we could explicitly ask the audience to imagine
what they might do in Margie's shoes, it might open up meaningful discourse about how
much control we exert over our own lives through personal choice, and alternately, how
much is controlled by fate. This discussion led to the proposal of a display titled with a
provocative question, such as "What would you do?", followed by a decision tree in
which the audience could track the results of their decision. Margie's monologue has the
feel of a flow chart in the way that she specifies how each event connects to the next, and
it was easy to imagine what this proposal would look like visually. We all agreed that this
idea was exciting, and it quickly became our top contender.
After a clear direction was determined in the larger initial meeting, Aaron Carter
and I met separately to discuss prototypes for the content. A little Internet research
39
yielded multiple variations of flowcharts, and we were both struck by their sheer aesthetic
beauty. We made a list of the types of flowcharts that might elicit deeper reflection of
Good People: one that started with the lucky – or unlucky – circumstances of your birth
(i.e. born rich or born poor), one that started with a decision-provoking life event (Good
People starts with Margie getting fired), and one that asked the audience to evaluate
whether they were "good people" or not based on a series of yes or no questions. We
agreed to create a few prototypes for each category and set a date to reconvene and
examine what we discovered. (See Figures 2.1, 2.2, 2.3, and 2.4)
As we reviewed our prototypes, we became aware of the uncomfortable presence
of the institutional voice as "expert." By nature of having a "fixed" flowchart, we were
limiting the available choices for each decision and also limiting the ways that the events
could connect to each other. The design restricted the voice of the audience and created a
hierarchy wherein the institution's perspective was prioritized – an effect that was
counter to Steppenwolf's mission. The flowcharts didn't allow for much audience
interactivity besides following the branching paths, so the design seemed to fall short of
the ideal Nina Simon lays out in "me to we" design. Our prototypes yielded results that
remained stuck in "Stage 2: Individual Interacts with Content." How could we redesign
with the goal of "Individuals Engage with Each Other Socially" in mind?
We went back to the drawing board and considered the idea of a blank flowchart
created on chalkboard, framed by a starting point and ending point, with directions for the
audience to fill in the steps. By leaving the steps along the journey blank, we could
prompt the audience to make their own decisions about the best way to tackle a problem
like losing a job. Perhaps we could even inspire more dialogue if we added a directive to
rate each other's choices. (See Figure 2.5)
Somehow, this option seemed a bit too open in its focus, and it dodged a real
exploration of one of the key elements in Good People: the element of luck. No matter
how meticulously we might plan our lives, Good People proposes that sometimes luck is
40
a bigger factor in our socio-economic situation. Going back to Margie's monologue, the
event of losing her job was all precipitated by eating candy brittle one night instead of
dinner. This event was unlikely to come up as an audience response however, if the
instructions prioritized decision-making over dumb luck. We decided that the design
must include elements of luck that might change the course of audience decisions.
As we contemplated a design that might encourage redirection, Aaron
reintroduced the idea of magnetic poetry, an off-hand suggestion that was first floated in
the initial group brainstorming session. If we used this method to create a flowchart, we
could provide the audience with a pool of possible events that included elements of luck,
like getting hit by a car or winning the lottery. And even though we were returning to the
original design issue wherein the institutional voice limits the possible events, we were
providing a platform for audience to share their perspective by allowing them to control
how the events connected to each other. Aaron suggested keeping the framework of a
game as well. A game is a relational object, and requires more than one audience member
to function optimally. By providing instructions to take turns in choosing events to play,
we could both invite interactive play among the audience and further manipulate the
audience's awareness of events beyond their control in the construction of a life narrative.
We then set about creating a pool of events and testing the way the game might
work. We quickly jotted down life events, choices, and lucky/unlucky breaks on pieces of
paper, then Aaron and I took turns playing one piece at a time. What we initially
discovered, and what helped reveal that we were on the right track, was that taking turns
to construct a life narrative was fun. By splitting up the narrative-creating duties between
two people, we discovered surprising connections in the events; i.e. "Meet the love of
your life" followed by "Quit your job," or "Have an affair with a co-worker" followed by
"You are exhausted." (See Figure 2.6)
What we also discovered, however, was that our test was strangely linear. It
lacked all the splitting paths that we found so aesthetically pleasing in our flowchart
41
research. To remedy this, we created a new category for "branches" that explicitly
prompted multiple options; i.e., "You were worried that THIS would happen, but luckily
THAT happened." Clearly these pieces also required a different shape than the "events,"
so we wrote text from this category on pieces with arrows pointed in opposite directions.
(See Figure 2.7)
Our test run also revealed that occasionally, the events had no logical connection
to each other at all. We discovered that in addition to the random events that seemed
rooted in luck, most of our initial brainstorming of events produced results that fit into
one of three life-stage categories: education, relationships, and work. Perhaps if we just
had more event options for each of these categories, we could create a life narrative that
was influenced by luck and yet still logical. After adding new events in these categories, I
noticed that a few of the events had hanging conjunctions at the end of the phrase; i.e.,
"Start a small business, but…" I suggested separating these conjunctions into an entirely
new category so that they could be used more broadly, which seemed to help create
logical connections between events where we previously couldn't find any. After creating
a new category for "connectors," Aaron tweaked the text a bit to generate a deeper
emotional connection to the event on either side; i.e., "And despite your worst fears…"
Once again, we created a new shape for the new category. (See Figure 2.8)
Aaron and I felt pretty confident after another trial run with just the two of us and
felt it was time to include neutral participants who had no knowledge of the previous
design flaws we had tried to solve. But before we could do that, we needed to prototype
some instructions for gameplay. We knew that we wanted to foreground the question of
whether luck or "the right decision" would matter more while creating a life story, and
we clearly needed to include a directive that the audience should build the narrative
together. After a bit of brainstorming, we produced these instructions:
A life story isn't just a series of linear events that happened. It also
includes all the things that might have been. Help build this story
42
with your fellow audience members by taking one piece from the
pool and placing it in the developing narrative below.
Will you create a path to success?
Will you find a way out of crisis?
Will hard work matter more than luck?
To provide a more direct link to the text of Good People, and perhaps provide a more
emotionally complex reference point for the stakes of the game, we added a quote from
the play as the title: "Maybe it coulda been mine." – Margaret.
With that, we invited Artistic Intern Catherine Rodriguez, Associate Director of
Marketing Erika Nelson, and Artistic Producer Rebecca Rugg to play the game with only
the instructions and pieces we had provided them. The new trial revealed that the
instructions and the new design for the game pieces worked, and the playing of the game
seemed to provoke new insight and discussion amongst the players. We added one new
category as a result of feedback from Rebecca Rugg: "inspiration." (See Figure 2.9) She
remarked that certain life events leave more of an emotional mark on us and have the
ability to catalyze our decision-making processes in a more intuitive, less logical way; i.e.
"Have a near-death experience" followed by "End up living on the streets." The new
category seemed to function similarly to "connectors" in that it provided an avenue
between unrelated events, but it seemed to connect the element of luck more concretely
to our emotions in a way that enhanced the discussion that flowed from the game.
In reflecting on the completed lobby design, we created a social object that not
only supports Steppenwolf's institutional goals of providing a platform for social
discourse spurred by the drama on the stage, but it also appeals to participatory culture by
giving the audience tools to create an exploration of luck and decision-making together.
The project had clear instructions that prompted strangers to engage with each other
through a mediating relational object – the magnetic poetry flowchart. There was no
presumed "right answer." In fact, the display encouraged multiple perspectives by
explicitly calling for splitting paths and blindsiding moments of luck. In terms of
43
transitioning the audience from the outside world to the world of the play, a simple
glance at the lobby display instructions on the way into the auditorium would highlight
key themes that the performance would soon explore, and perhaps make metaphors like
the Bingo game resonate more clearly during the performance. Its ultimate value,
however, lies in its ability to elicit a deeper relationship with the work on the stage and a
richer aesthetic experience of the meaning of the performance.
44
LOBBY DESIGN IMAGES
Born the eldest child
of a hotel magnate
Obey
your
nanny?
Groomed to take
over the family
business.
Bother
going to
college?
No
Yes
That's okay, your
parents don't really
care anyway.
Develop rep as
famous "wild
child."
No
Become Vice President at age 20.
Offered lucrative
clothing line ad
campaign.
Yes
Yes
Amazing parties.
Show up
for photo
shoot?
Spend Earnings on high end sports
car.
No
Drug problem.
Turns out you've been chauffeured
all your life.
Use your considerable
allowance to invest in
nightclubs.
Judge slaps you on the
wrist.
Overdose.
High speed car accident.
Luckily, you survive and can
afford extensive reconstructive
surgery.
Figure 2.1 My prototype of a "born rich" flowchart
Relax in Barbados
while your investment
multiplies.
Figure 2.2 My hand-drawn prototype of an "event-based" flowchart
45
46
Figure 2.3 Aaron Carter's prototype of a "good person?" flowchart
47
Figure 2.4 A second version of Aaron Carter's prototype of a "good person?" flowchart
48
Figure 2.5 A prototype of a "fill-in-the-blank" flowchart
49
!
!
!"#$+''"/#"()$
!"#$&*$+$%&,-#)$
7#+'#$/#"+8&*,)$
!"#$%&'"()$
7#+'#$+$/2+88$94/&*"//)$
7"88$134'$5320+*1$%3'$2&88&3*/)$
:"58+'"$9+*;'40#51)$
.&//$0+12"*#/$3*$134'$5+')$6+'$,"#/$
'"03//"//"()$
Figure 2.6 Examples of the final lobby design EVENTS
Note: A complete list of EVENTS includes:
1. End up living on the streets.
2. Spend time in a mental hospital.
3. Get arrested.
4. Get in a fight.
5. Start stealing.
6. Quit your job.
7. Start a small business.
8. Sell your company for millions.
9. Declare bankruptcy.
10. Miss payments on your car. Car gets repossessed.
50
(Figure 2.6 continued)
11. Get a second job.
12. Get fired.
13. Get married.
14. Meet the love of your life.
15. Have children.
16. Drop out of school.
17. Apply to school.
18. Attend community college.
19. Attend prestigious university.
20. Land your dream job.
21. Back injury forces you to take significant time off from work.
22. Break up with your significant other.
23. You are consistently late to work.
24. Have an affair with a co-worker.
25. Get hit by a car.
26. Win the lottery.
27. You are exhausted.
28. You are ecstatic, and spend the night celebrating.
29. You don't have enough money in your bank account to cover bills. Minimum
account balance fees and late fees start to add up.
30. Find an excuse. Any excuse
31. Work hard.
32. Goof off.
33. Lose your temper.
34. You're in the right place at the right time.
35. You are awarded a scholarship.
36. You dedicate your life to the cause.
37. You are ashamed.
38. You are jealous.
39. Recommendation from an acquaintance results in a great job offer.
40. Rejected from a prestigious university.
41. You are a social outcast at school. Your grades suffer.
42. You buy a new wardrobe.
43. You risk your life savings.
44. Retire in Europe.
45. Find your spouse of 20 years in bed with another man.
51
!
!
!
!
"#$!%&'&!%#''(&)!*+,*!-./0!%#$1)!+,22&34!!
!
5$*!1$67(18!-.9-!+,22&3&):!
!
;<&'8#3&!*+#$=+*!-./0!%#$1)!+,22&34!!
!
5$*!(3>*&,)!-./0!+,22&3&):!
Figure 2.7 Examples of the final lobby design BRANCHES
Note: A complete list of BRANCHES includes:
1.
2.
3.
4.
5.
You hoped for THIS, but instead THAT happened.
You were worried that THIS would happen, but luckily THAT happened.
You prayed for THIS, but God granted you THAT.
You knew THIS would happen, so instead you did THIS.
Everyone thought THIS would happen, but instead THIS happened.
52
!
!
"#$!%&!'()#'*+,!
-./!0/!1)023!
403*5)%2&+!36,!
Figure 2.8 Examples of the final lobby design CONNECTORS
Note: A complete list of CONNECTORS includes:
1.
2.
3.
4.
And by chance,…
But it fails miserably, so...
But surprisingly,…
And despite your worst fears,…
5. And so,… 53
!
!
"#$%!&'(!"$(%)*!
!"#$%&'()*++,-.!
+$,#!$!(#$-.%#$/0!
#12#-3#(4#5!
Figure 2.9 Examples of the final lobby design INSPIRATION
Note: A complete list of INSPIRATION includes:
1.
2.
3.
4.
Read Ayn Rand's Atlas Shrugged.
Have a near-death experience.
Get dragged to Burning Man.
Visit an industrial cattle farm.
5. Read Howard Zinn's A People's History of the United States. 54
PRODUCTION IMAGES
Figure 2.10 Margie gets fired
* Photo Credit: Michael Brosilow
55
Figure 2.11 Dottie, Jean, and Margie play Bingo
* Photo Credit: Michael Brosilow
56
Figure 2.12 Mike, Kate, and Margie in Mike's Chestnut Hill home
* Photo Credit: Michael Brosilow
57
PART THREE
CASE STUDY: SPRING AWAKENING
58
PRODUCTION CREDITS
Spring Awakening
Book and Lyrics by Steven Sater, Music by Duncan Sheik
Based on the play by Frank Wedekind
Cast
Wendla
Aneisa Hicks
Ilse
Ali Borchers
Martha
Jessie Traufler
Anna
Haley Courter
Thea
Amelia Peacock
Melchior
Andrew Wilkes
Moritz
Ben Rausch
Georg/Dieter
Kevin Argus
Otto/Ulbrecht
Josh Ollendick
Ernst/Reinhold
Michael Sotelo
Hanschen/Rupert
Thomas Eslinger
Adult Women
Sasha Hildebrand
Adult Men
John Whitney
Production Team
Nathan Halvorson
Director and Choreographer
Jason Sifford
Music Director
Jenni Page-White
Dramaturg
Kevin Loeffler
Scenic Design
Patricia McGourty Palmer
Costume Design
Lighting Design
Bryon Winn
Dance Captain
Margaret Mead-Finizio
Stage Manager
Amber Lewandowski
Assistant Stage Manager
Kathleen Hains
Assistant Stage Manager
Kristine Moffitt
Spring Awakening was presented by the University of Iowa in special
arrangement with Music Theatre International (MTI). It played November 9th through
November 17th, 2012.
59
SYNOPSIS OF THE PLAY
Through an episodic structure, the musical follows the lives of eleven teenagers
discovering their budding sexuality and their new selves at the end of the 19th century in
provincial Germany. In the opening scene, Wendla explores her changing body and
pleads with her mother to discuss how babies are made, but her mother avoids the issue.
Meanwhile, Moritz is so traumatized by puberty that he cannot concentrate at school, and
when his best friend Melchior tries to defend him, they are both beaten. Melchior vows to
trust his inner voice and change the narrow-mindedness of his school and society.
Elsewhere, the girls gather and Martha reveals that she suffers beatings and sexual abuse
at the hands of her father, but she makes them promise not to tell for fear of being kicked
out of her home. Troubled by this, Wendla happens upon Melchior in the woods and
convinces him to beat her with a switch, because she's "never felt…anything." Melchior
lets his aggression get the best of him, and he runs away in horror at his capacity for
brutality. Moritz learns that he will not be passed into the upper grade, and when his
father reacts with contempt and Melchior's mother gently refuses his pleas for help,
Moritz considers suicide. Wendla searches for Melchior and finds him hiding in a
hayloft. After an awkward reconciliation, they begin to kiss, and though Wendla seems
uncertain and reluctant, they begin to have sex as the lights fade on Act One.
As Act Two begins, Wendla and Melchior reflect on their feelings of guilt. Moritz
has acquired a pistol and is just about to commit suicide when he is discovered by Ilse, a
free-spirited former playmate that was kicked out of her home and now resides in an
artist colony of questionable repute. Recognizing his sadness, she tries to relive the
innocence of their youth, but Moritz refuses her and eventually commits suicide alone on
stage. At school, the headmasters discover an essay about sexual reproduction that
Melchior had written in an attempt to assuage Moritz's terror of erotic dreams, and
Melchior is expelled. Elsewhere, Wendla learns that she is pregnant and rebukes her
60
mother for not telling her about reproduction when she asked. When word reaches
Melchior's parents about Wendla's pregnancy, they send him away to a reform school,
but he receives a letter from Wendla and escapes. Hoping to meet her secretly in a
cemetery so they can run away and start a new life for their child, Melchior discovers
Wendla's grave and learns that she died from a back-alley abortion. He takes out a razor
to commit suicide, but the ghosts of Wendla and Moritz rise and persuade him to find
strength in their memories and carry on. The entire cast then appears on stage to sing
about the hope of a brighter future.
61
ANALYSIS OF THE TEXT
Frank Wedekind's 1891 play, Frühlings Erwachen (or The Awakening of Spring),
was groundbreaking not just for its frank portrayal of masturbation, homosexuality, rape,
abortion, and suicide, but also for its early-expressionist form. Wedekind was disgusted
with the pretense and sexual hypocrisy of bourgeois society, and his theater aimed to
delve beneath surface morality and instead portray inner crises. His play employs nonrealistic elements, such as the ghostly apparitions who appear to pacify (and in
Wedekind's original text, mock and tempt) Melchior. The graveyard scene even features
a mysterious Masked Man whose only purpose in the play is to comment on the meaning
of the teenagers' experiences. The characters live with ever-present anxiety, and the
emotional language in the play is often exaggerated, such as when Melchior and Wendla
discuss their future lives in overtly flowery poetry. Wedekind's play foregrounds the
inner experience of his characters in ways that naturalist theatre could not.
When Steven Sater and Duncan Sheik turned Wedekind's play into a musical,
they extended its exploration of inner experience through the structure of a musical.
Musical language (lyrics), by nature of making more formal the elements of pitch,
rhythm, and rhyme, stands at a greater remove from natural speech than non-sung
theatrical language. Lyrics are an elevated medium of pure emotion. Sheik and Sater
capitalized on this quality of musical language, and the meaning of Wedekind's drama is
freshly revealed in the juxtaposition of spoken dialogue and the heightened, expressionist
emotion of the sung text. In an article in American Theatre, Sater wrote about the
surprising ways that adapting Wedekind's play into a musical transformed the work:
Then, perhaps there is something in the nature of song itself that
opens the door to story—that admits us to the heart of the singer—
as if every song tells of a sort of unacknowledged "I want." For
62
what we sing is what is unspoken, what is hidden. The "real
story."20
In contrast to other musicals, the songs in Spring Awakening are particularly
lacking in narrative. The songs do not progress the plot; rather, they exist as suspended
moments in time when the singer's hidden emotional life is revealed. Songs like The
Mirror-Blue Night are decidedly non-narrative:
(A minimalist electronica motif sounds. Melchior is
revealed in a haunted world of song. Distraught. Unable to
shake the thought of what he's done to Wendla. He hounds
his body with his hands. The Boys look on, and join as a
Chorus.)
BOYS
FLIP ON A SWITCH AND EVERYTHING'S FINE –
NO MORE LIPS, NO MORE TONGUE, NO MORE EARS, NO MORE
EYES
THE NAKED BLUE ANGEL, WHO PEERS THROUGH THE BLINDS
DISAPPEARS IN THE GLOOM OF THE MIRROR-BLUE NIGHT
MELCHIOR
BUT THERE'S NOWHERE TO HIDE FROM THESE BONES, FROM MY
MIND.
IT'S BROKEN INSIDE – I'M A MAN AND A CHILD.
I'M AT HOME WITH A GHOST, WHO GOT LEFT IN THE COLD
I'M LOCKED OUT OF PEACE, WITH NO KEYS TO MY SOUL.
The "haunted world of song" is demonstrative of the unique importance given to lighting
as a transportation device between two distinct worlds: Wedekind's 19th century
Germany, and the "real story," the hidden yearnings of the singer. The lighting for the
musical numbers is sensuous and moody, variously described as electric, shimmering,
brilliant concert light, or a vibrant world of shadows. In opposition to more realistic
lighting during the scenes, the musical numbers stand apart from the spoken dialogue as
fully realized excursions into the depths on inner monologue.
20 Sater, Steven. "Awaken and Sing." American Theatre. July/Aug 2007: 28-31, 76.
Print.
63
In addition to the formal contrast between Spring Awakening's spoken dialogue
and sung text, the lyrics embrace anachronism in a way that further divorces them from
the reality of the scene. The spoken world of 19th century repression stands in stark
contrast to a world sung in contemporary pop idiom.
HERR KNOCHENBRUCH
Two days after his father learned of the young, uh…
FRAULEIN KNUPPELDICK
(supplying the name)
Moritz Stiefel…
HERR KNOCHENBRUCH
…Mortiz Stiefel's death, he searched through the boy's effects and
uncovered a certain depraved and atheistic document which made terribly
clear –
FRAULEIN KNUPPELDICK
Terribly clear…
HERR KNOCHENBRUCH
…the utter moral corruption of the young man. A corruption, no doubt,
which hastened the boy's end.
FRAULEIN KNUPPELDICK
Without question, Herr Knochenbruch.
HERR KNOCHENBRUCH
I am referring, as you may know, to a ten-page essay entitled, coyly
enough, "The Art of Sleeping With" …accompanied by – shall we say –
life-like illustrations.
MELCHIOR
Herr Knochenbruch, if I could –
HERR KNOCHENBRUCH
Behave properly? Yes, that would be another affair entirely.
FRAULEIN KNUPPELDICK
Entirely.
HERR KNOCHENBRUCH
For our part, we have made a thorough examination of the handwriting of
this obscene document, and compared it with that of every single pupil –
64
MELCHIOR
Sir, if you could show me only one obscenity –
HERR KNOCHENBRUCH
You must now answer only the precisely stated questions. With a swift
and decisive "Yes" or "No."
HERR KNOCHENBRUCH
(a beat)
Melchior Gabor, did you write this?
(Herr Knochenbruch and Fraulein Knuppeldick turn and
stare at Melchior. Music sounds – a dirty electric guitar
chord, seemingly prompting a song. Herr Knochenbruch
and Fraulein Knuppeldick exchange a look, then turn again
and stare at Melchior. The guitar chord sounds again.)
FRAULEIN KNUPPELDICK
Did you write this?
(Herr Knochenbruch and Fraulein Knuppeldick turn and
stare – awaiting an answer. The lights shift. A rocking beat
kicks in. The Boys and Girls appear. Melchior turns out.)
MELCHIOR
THERE'S A MOMENT YOU KNOW… YOU'RE FUCKED
NOT AN INCH MORE ROOM TO SELF-DESTRUCT.
NO MORE MOVES – OH YEAH, THE DEAD-END ZONE.
AND YOU JUST CAN'T CALL YOUR SOUL YOUR OWN
OTTO
BUT THE THING THAT MAKES YOU REALLY JUMP
IS THAT THE WEIRDEST SHIT IS STILL TO COME.
YOU CAN ASK YOURSELF: HEY, WHAT'VE I DONE?
YOU'RE JUST A FLY – THE LITTLE GUYS, THEY KILL FOR FUN
Not only do the lyrics and the spoken dialogue differ stylistically, but when the music
kicks in, the characters are suddenly released from the temporal reality of the scene: they
sing about "khakis" and "gym class." They are no longer German adolescents repressed
by the Morality Movements of the late 19th century, they are contemporary teens
rebelling against shame, silence, and oppression today. Sater observes,
65
Wedekind's play is full of the unheard, anguished cries of young
people. It struck me that pop music—rock music—is the exact
place that adolescents for the last few generations have found
release from, and expression of, that same mute pain.21
The hidden yearnings and anguished cries of Wedekind's characters feel instantly
familiar and relatable to young people struggling with sexual curiosity, self-doubt, peer
acceptance, and school troubles today. This time-jumping structure speaks to the
enduring relevance of the difficulty of adolescence.
Structurally, Sheik's and Sater's musical adaptation deals more overtly with
exposing silence as a source of ruination by moving Wedekind's scene where Wendla
asks her mother to explain reproduction to the first scene of the musical. By starting the
performance with this moment, the musical foregrounds the void of parental guidance
and establishes the necessity for these adolescents to discover – and trust – their own
voice now that they are on the brink of adulthood. This thematic preponderance with
trusting your inner voice manifests in a variety of ways throughout the musical – not the
least of which is the emphasis on the tension between the outer world and the inner world
through the relationship of scene to song. The musical numbers give the characters the
opportunity to connect to and be emboldened by their inner voice, but the scenes often
reveal a disconnect between the confidence of the sung world and the uncertainty of the
spoken world. Melchior may appear unruffled and self-assured when he sings:
STILL I KNOW
TO TRUST MY OWN TRUE MIND
AND TO SAY: "THERE'S A WAY THROUGH THIS…"
ON I GO,
TO WONDER AND TO LEARNING –
NAME THE STARS AND KNOW THEIR DARK RETURNING.
21 Ibid.
66
I'M CALLING,
TO KNOW THE WORLD'S TRUE YEARNING –
THE HUNGER THAT A CHILD FEELS FOR EVERYTHING THEY'RE
SHOWN.
YOU WATCH ME –
JUST WATCH ME –
I'M CALLING,
AND ONE DAY ALL WILL KNOW…
Yet clearly, Melchior's confidence fails him in the scene where he beats Wendla with a
switch. He discovers a part of himself, a part filled with frustration, aggression, and
sexual desire, that he didn't know existed before this moment.
MELCHIOR
I could never beat you.
WENDLA
But if I let you?
MELCHIOR
Never.
WENDLA
But if I asked you to?
MELCHIOR
Have you lost your mind?
WENDLA
Martha Bessell, she told me MELCHIOR
Wendla! You can't envy someone being beaten.
WENDLA
But I've never been beaten - my entire life. I've never ... felt ...
MELCHIOR
What?
WENDLA
Anything.
(No response)
67
WENDLA
Please. Melchior ...
(She offers him her backside. He considers, then strikes her
lightly)
I don't feel it!
MELCHIOR
Maybe not, with your dress on.
(Wendla hikes her skirt, offering Melchior the prospect of
her somewhat more exposed backside)
WENDLA
On my legs, then.
MELCHIOR
Wendla!
WENDLA
Come on. Please.
MELCHIOR
I'll teach you to say: "Please" ...
(He firmly takes her by the arm, and strikes her with the
switch)
WENDLA
(Winces from the pain, but...)
You're barely stroking me.
MELCHIOR
(He strikes her again)
How's that then?
WENDLA
Martha's father, he uses his belt. He draws blood, Melchi.
(Melchior strikes her again)
MELCHIOR
How's that?
WENDLA
(A lie)
Nothing.
68
MELCHIOR
And that?
WENDLA
Nothing.
MELCHIOR
You bitch. I'll beat the hell out of you.
(Melchior flings the switch aside and throws Wendla to the
ground, so violently that she begins sobbing.
Suddenly, he realizes what he's done. He stumbles,
sobbing, into the woods.)
The exposure of Wendla's backside is a turning point in the scene. It stirs some deep part
of Melchior, a titillating mixture of aggression and sexual desire. "Trusting his own true
mind" and acting on the "hunger he feels for everything he's shown" results here in a
frightening encounter with real violence. His inner self is suddenly untrustworthy, and he
runs to a hayloft to try and reconcile this new information with his former vision of self.
Perhaps one of the most complex scenes of the musical is the climactic scene of
Act One, where Wendla and Melchior lose their virginity in the hayloft. In Wedekind's
version of this moment, the act is unquestionably rape, but Sater and Sheik consciously
softened the tone of the scene to something more like coerced consent. Sater writes about
the change:
We wanted to see him make love to her. More: We wanted to show
how this young man (who jests at his friend's puberty wounds) first
uncovers ineluctable sexual feelings; how he begins to own his
sexual identity; how he helps Wendla awaken to hers.22
Sater here focuses on Melchior's evolution from ashamed boy to a man confident in his
sexuality, and assumes that Melchior understands Wendla's reluctance better than she
22 Ibid.
69
does herself. While the adaptors may have attempted to change the tone of the scene,
giving Wendla a clear "yes" before Melchior penetrates her, the remnants of Wedekind's
rape still linger in the musical.
WENDLA
Melchior...
(He kisses her again. Presses his body onto hers)
No – wait – no –
MELCHIOR
Wendla...
WENDLA
Wait – stop. I can't. We're not supposed to.
MELCHIOR
What?
(No response)
Not supposed to what? Love? I don't know – is there such a thing? I hear
your heart.
(Gospel-tinged music with a modern groove begins. The
Boys and Girls are revealed, gathered in quiet Chorus)
MELCHIOR
I feel you breathing – everywhere – the rain, the hay...
Please. Please, Wendla.
(He presses himself forward. Kisses her)
BOYS AND GIRLS
(Quietly)
I BELIEVE,
I BELIEVE,
I BELIEVE,
OH I BELIEVE.
ALL WILL BE FORGIVEN - I BELIEVE.
(The song continues under, growing in intensity, for the
rest of the scene)
WENDLA
Melchi, no – it just – it's...
70
MELCHIOR
What? Sinful?
WENDLA
No. I don't know...
MELCHIOR
Then, why? Because it's good?
(No response)
Because it makes us "feel" something?
(Wendla considers, then suddenly reaches and pulls
Melchior to her. She kisses him. He holds her, and gently
helps her lie back)
BOYS AND GIRLS
I BELIEVE,
I BELIEVE,
I BELIEVE,
OH I BELIEVE.
ALL WILL BE FORGIVEN - I BELIEVE.
I BELIEVE;
I BELIEVE,
OH I BELIEVE.
THERE IS LOVE IN HEAVEN - I BELIEVE.
MELCHIOR
Don't be scared.
(Wendla hesitates, then nods. Melchior kisses her. Touches
her breast)
WENDLA
No.
MELCHIOR
Please –
WENDLA
Don't. It...
MELCHIOR
What?
(Wendla takes his hand, places it back on her breast)
71
BOYS AND GIRLS
I BELIEVE,
I BELIEVE,
I BELIEVE,
OH I BELIEVE.
THERE IS LOVE IN HEAVEN - I BELIEVE.
I BELIEVE,
I BELIEVE,
OH I BELIEVE.
ALL WILL BE FORGIVEN - I BELIEVE.
(Melchior starts to unbutton Wendla's dress. He gently
reaches up her legs)
WENDLA
Wait...
MELCHIOR
It's just me.
(Off her look; reassuring her)
It's just me.
BOYS AND GIRLS
I BELIEVE,
I BELIEVE,
I BELIEVE,
OH I BELIEVE,
THERE IS LOVE IN HEAVEN.
ALL WILL BE FORGIVEN.
THERE IS LOVE IN HEAVEN.
ALL WILL BE FORGIVEN.
I BELIEVE...
THERE IS LOVE IN HEAVEN.
I BELIEVE...
ALL WILL BE FORGIVEN.
I BELIEVE...
THERE IS LOVE IN HEAVEN.
I BELIEVE...
ALL WILL BE FORGIVEN.
(Melchior reaches inside Wendla's undergarments, strokes
her softly)
72
WENDLA
Now, there – now, that's...
MELCHIOR
Yes... ?
WENDLA
Yes.
(As the song continues, Melchior climbs on top of Wendla,
lowers his pants)
BOYS AND GIRLS
I BELIEVE...
THERE IS LOVE IN HEAVEN.
I BELIEVE...
ALL WILL BE FORGIVEN.
PEACE AND JOY BE WITH THEM,
HARMONY AND WISDOM...
WENDLA
Melchior – oh...!
BOYS & GIRLS
I BELIEVE...
(The song ends. The lights fade. End of Act I)
For Wendla, this scene is as much about discovering her sexuality as it is about finding
her voice in the midst of a whirlwind of competing agendas. Wendla is hesitant and
uncertain of how much physical intimacy she wants from Melchior – she says "no" a
total of five times during the scene, along with several utterances of "wait" and "don't."
Each time, Melchior persuades her to continue, challenging her adherence to a
hypocritical moral code rather than accepting her denial no matter what reason from
which it may stem. Wendla vacillates between frightened retreat and empowerment,
pulling Melchior to her and placing his hand on her body. It is hard to pin down at any
73
given moment when Wendla is acting on her own desires, and when she is acting to
please others.
All this is underscored by a gospel chorus chanting the refrain, "I believe," as
though certainty were possible in this slippery, unspoken world of desire. Gospel music
traditionally features a great deal of repetition, allowing those who could not read the
opportunity to participate in Christian worship. Its driving repetition also encourages
group participation, which has particularly complex implications in the meaning of this
scene in the hayloft. The choral voices could possibly represent shared experience
amongst the adolescents, a gathering together to support what Wendla deeply wants: the
abandonment of shame and the enjoyment of the flesh. But given that Wendla never
actually sings with them, the chorus of voices could alternatively represent peer pressure
in opposition with her inner voice. The meaning of this scene is further complicated by
the summoning of Christianity through the style of gospel music. Christianity, in this
play, is used as a tool of oppression. Indeed, though the foreplay at the end of Act One is
underscored by a gospel choir singing "I believe," when the lovemaking resumes in Act
Two, it is now underscored by a sermon that asks us to consider "in what ways have we
strayed – in soul, in body – from all the wise instruction of our clergymen, our teachers?"
Wendla not only has Melchior's desires to contend with, but she also must struggle
through the voices of her adolescent peers and the moral code of her religion.
Wendla's struggle to hear her own voice amongst all the others is at its greatest
urgency in this moment, and so this moment became the touchstone of my discussions
with director Nathan Halvorson about the meaning and shape of the play. It ultimately
also became the foundation of the design for the lobby display.
74
LOBBY DISPLAY DESIGN PROCESS
As I began discussions with director Nathan Halvorson about the meaning and
impact of Spring Awakening, we both divulged our excitement about how this musical
might resonate with the largely undergraduate audience at The University of Iowa.
Thematically, the production specifically addresses the challenges that many young
people face as they experience the freedom of adulthood for the first time away from the
watchful eyes of their parents. College life is traditionally a time when young people
explore their sexuality and begin to shape their adult identities through experimentation.
We were confident that our audience would find the content engaging, since it so directly
related to their life. But what did we want the production to do for these students after the
performance was over? How could we engage them with these issues in a way that
appealed to their behaviors and attitudes about arts interaction?
The content that we felt was most vital in the production also turned out to be a
key engagement strategy. In the musical, the culture of silence bred from shame wreaks
horrific outcomes. Many of the adolescent characters in the play suffer in silence because
they are too ashamed to reveal what is happening inside them. Moritz is so ashamed of
his failure at school that he cannot admit his situation to Ilse even as she tries to offer him
a way out, which results in his suicide. Martha has a terrible home life, but she begs her
friends not to reveal her plight for fear that her situation will get worse. Wendla dies from
a clumsy abortion because her mother is too ashamed to admit publicly that her daughter
is pregnant. Silence saves no one in this musical. A key part of the display, then, should
be an invitation to discussion.
Asking a thoughtfully composed question is a simple way to motivate audience
members to engage deeply and personally with the work on the stage and to motivate
interpersonal dialogue amongst themselves. The matter at hand was composing the right
question. Perhaps the invitation to discussion should revolve around the issue of shame
75
and the value of dialogue that overcomes shame? Maybe I could create a wall where
people could anonymously share what they were ashamed of? As soon as the thought
crossed my mind, I felt that the idea was too invasive. Not only was I asking people to
publicly air secrets they categorized as shameful, but it also excluded those who were not
harboring a shameful secret from participating. It turned those audience members into
voyeurs and created a divide between participants and non-participants. And also, the
story of Spring Awakening doesn't just advocate for using your voice to admit shame.
The musical also advocates for curiosity, for being willing to act on personal desire, and
for hope of a brighter future. Though the circumstances these adolescents face are dire,
there is an underlying message, as Melchior says, "there's a way through this." Perhaps
the display should prompt the audience to leave messages of hope for each other? This
idea felt a little more right, but it still seemed to miss the mark. Though I hoped that a
general optimistic tone might emerge from the contributions, I thought the aim of the
invitation should be about connecting with the voice inside you rather than providing
words of hope for others.
Going back to the performance text, I looked for inspiration from moments in the
play when characters connected with their inner voice. It seemed like almost every song
could be an example of the characters expressing something inside themselves that they
could not express in the scenes. But I couldn't very well ask the audience to participate
through song. As joyful as that sounded, I didn't think it would be logistically possible.
One song in particular, however, stood out as a moment of confluence – a moment when
a character found a voice for her desire and a voice of authority over her body, a moment
when a group of voices came together to challenge fear and shame, a moment when a
character finally heard her own voice the loudest in a sea of other voices. This song that
closes Act One offered an incomplete phrase that could be completed by the audience: "I
Believe…" This phrase seemed open-ended and provocative enough to ignite interesting
76
individual responses, and it also seemed like it would elicit useful discussion if the
responses were aggregated and displayed as a group.
I then began to think about how the responses would be collected and displayed.
In addition to selecting a provocative prompt for the audience to respond to, I wanted to
provide some visual scaffolding for the participatory experience so that audience
members could feel confident in forming their response. I knew that I would be giving
the audience visual cues about the length, tone, and importance of the response that was
expected of them with the choices I would be making about the size of the paper, the
method of curating, and the aesthetic of the display wall. Something I decided early on in
the process was that I would not be personally selecting responses for display, but rather I
would allow the audience to add their response to the collection themselves. If part of this
engagement strategy was about validating the voices of the audience, I did not want to
appear to give preference to any particular response. Furthermore, there seemed to be a
significant act in empowering the participants to add their individual voice to a collective
of audience responses. I also decided fairly early that the size of the paper for the
responses should be somewhat small. Given too much room for a response, audience
members could become overwhelmed with the task of describing everything they believe,
or feel burdened with the implication that they should explain why they believe it. The
responses that would provoke the most discussion, I thought, would be short and sweet –
pithy even.
Once that was decided, I set about determining the look and feel of the display
board. I was interested in recreating the feeling of swirling voices that was so stirring in
the final song of Act One. I knew that feeling would be achieved once the display board
began to fill with responses, but filling the board would take some time and I wanted the
first responders to feel the same sensation of speaking their mind amid competing voices
that the audiences from late in the run would feel. How could I create that sensation
before any responses were added? My initial thought was that rather than posting
77
responses to a blank background, the display could feature a variety of images of people,
with the implication that the images could be covered with responses. This way, diversity
of perspectives could be implied through image in addition to text. The time-jumping
structure of Spring Awakening proved to be fertile inspiration for choosing images. By
including images of both contemporary teens and young people from the late 19th
century, I could highlight both a diversity of voices and a key theme of the play: that all
teens struggle with the challenges of adolescence, regardless of their era. This
juxtaposition of individuality and similarity might also inform how the audience could
grapple with the phrase, "I Believe..."
To visually extend this metaphor, I manipulated the images in two ways. After I
collected images of 19th century teens and contemporary teens in a variety of poses, using
both images of individuals and of groups, I removed the color from each photo and
turned it into a black-and-white image. I then selectively added a pop of color back into a
part of the image, drawing from the production's vivid lighting scheme for the musical
numbers. Now, the display background would not only imply a sea of perspectives
against which the audience could measure their responses, but it also implied a
momentary isolation of each perspective and gave equal weight to the expression of that
perspective. I placed the images on the display board in an overlapping pattern, like
billboards with advertisements pasted one on top of the other over time. Their placement,
I thought, could both imply a passage of time and encourage the audience to pin their
response anywhere on the board, even if it was already covered. As a final background
element, I selected some quotes from the performance text that revealed moments when a
character was too ashamed to engage in dialogue (i.e., "No, no – not here! I can't talk it!
Do me a favor: write it down. All of it") and randomly scattered them on top of the
images.
In terms of creating instructions for participation, I decided to offer guidance in a
variety of sources. I added a title to the display board that simply proclaimed in large
78
letters, "I BELIEVE." Then, in a small station near the display, I provided a stack of
4"x5" notecards with the words "I BELIEVE" written at the top, and a small note at the
bottom that read, "Feel free to add your response to the lobby display." Also at this
station were a jar of thumbtacks and pens. In addition to leaving a stack of cards at this
station in the lobby, I decided to stuff the production programs with these inserts so the
audience might be inspired to reflect on this prompt from their seats. I also knew that the
particular scene that the prompt references occurs just before intermission, when the
audience was likely to reopen their programs during the break.
Because I was not posting explicit instructions on the lobby display, I thought it
would be a good idea to post a few model responses before the display was open to
audience contributions. So, I used the opportunity to test the design of the prompt and
asked two groups to fill out response cards: members of the production team of Spring
Awakening, and theatre students who had no connection to the production. I was
pleasantly surprised by the responses they gave, and was assured that collecting and
displaying responses to this question was a worthwhile endeavor. With that, the design
for the lobby display was complete.
From a distance, I observed how audience members interacted with the lobby
display over the course of several performances. Though each performance had nearcapacity audiences, only a small fraction of audience members actually posted responses
to the display. And yet, large groups of people would linger at the display for long
periods, reading over the contributions of their peers and pointing out particular
responses to their companions. It seemed that even when people choose not to offer their
own reflections, they could still benefit from engaging with the voices of their
community. By issuing simple, specific instructions for how to participate, supplemented
with visual scaffolding to help audiences participate confidently without prescribing the
result, the display provided a platform for social awareness, if not direct social
interaction.
79
LOBBY DESIGN IMAGES
Figure 3.1 Lobby display background close-up
80
Figure 3.2 Lobby display mid-run
81
Figure 3.3 Audience responses posted to lobby display
82
Figure 3.4 Audience response close-up
83
Figure 3.5 Audience response close-up
84
Figure 3.6 Audience response close-up
85
PRODUCTION IMAGES
Figure 3.7 The world of Spring Awakening in dialogue
* Photo Credit: Eric Stone
86
Figure 3.8 The world of Spring Awakening in song
* Photo Credit: Eric Stone
87
Figure 3.9 Dialogue overlapping with swirling voices during "I Believe"
* Photo Credit: Kevin Loeffler
88
Figure 3.10 The sermon overlapping with song during "The Guilty Ones"
* Photo Credit: Kevin Loeffler
89
CONCLUSION
During my time spent at The University of Iowa, my role as a dramaturg has often
been focused on the spaces "in between." In production, I function somewhere in
between a theatre-maker and an audience member: I assist the production team in making
informed creative choices by building a deeply complex and intimate knowledge of the
play, but while watching the results of those creative choices in performance, I see the
play with the unbiased eyes of a naïve spectator. In developing a new play, I read the play
both as an audience member so I can discover what is already on the page – its structural
characteristics, its thematic explorations – and also as a surrogate for the playwright so I
can discover what is beneath the text – the emotional subtext, the writer's intention. I
move between these roles constantly, shifting the framework of my viewing to uncover
assumptions and reveal possibilities.
In part, this is why I'm drawn to the concept of the theatre lobby. This liminal
space where my intellectual and emotional response to the play is fresh and at the surface,
and yet my view has enlarged to include the realities of the world outside the theatre, is a
particularly fertile and stimulating place for my imagination.
But then, the lobby is also a place of conversation. As a dramaturg, I consider
myself an expert conversationalist. Questioning, hypothesizing, and oblique rambling are
often the methods that result in new insight as I explore the play with a playwright, a
director, or a design team; frankly, conversation is the most powerful tool in my toolbox
for transforming a written text into a three-dimensional reality. Conversation is the way I
participate in that transformation.
Exploring other methods of participation beyond conversation has radically
altered my understanding of how to provoke insight in a diverse audience with different
needs and preferences, and how to create a lobby display that encourages diverse forms
of engagement. Key to my understanding of what makes a good lobby display is the
90
concept of encouraging audience interactions at both the individual level and the
collective, and providing a framework that exploits the audience's transition between
those two roles. I am indebted to the practical applications that Nina Simon lays out in
The Participatory Museum, but also to Steppenwolf Theatre Company for expanding my
knowledge of audience engagement strategies. This thesis simply marks the development
of a new tool in my dramaturgical toolkit, one that will certainly morph and expand as the
culture of the audience changes over time.
91
BIBLIOGRAPHY
"About Us." Steppenwolf Theatre Company, n.d. Web. 19 March 2013.
Bennett, Susan. Theatre Audiences: A Theory of Production and Reception. New York:
Routledge, 1990. Print.
Bernoff, Josh and Jacqueline Anderson. Social Technographics Defined. 2 Aug 2010.
Forrester Research, Inc. Web.
Dayan, Daniel and Elihu Katz. "Electronic Ceremonies: Television Performs a Royal
Wedding." In Signs Ed. Marshall Blonsky. Baltimore: John Hopkins, 1985. 16-32.
Print.
Harlow, Bob et al. Building Deeper Relationships: How Steppenwolf Theatre Company Is
Turning Single-ticket Buyers into Repeat Visitors. New York: Bob Harlow
Research and Consulting, LLC, 2011. Print.
Jenkins, Henry. Confronting the Challenges of Participatory Culture: Media Education
for the 21st Century. Cambridge: MIT Press, 2009. Web.
Lindsay-Abaire, David. Good People. New York: Dramatists, 2012. Print.
McAuley, Gay. Space In Performance: Making Meaning in the Theatre. Ann Arbor:
University of Michigan Press, 1999. Print.
McGrath, Charles. "A Return to Southie, by Way of Broadway." New York Times 3 Feb
2011: Web
Newman, Brian. "Inventing the Future of the Arts: Seven Digital Trends that Present
Challenges and Opportunities for Success in the Cultural Sector." 20 Under 40:
Re-inventing the Arts and Arts Education for the 21st Century. Ed. Edward P
Clapp. Bloomington: AuthorHouse, 2010. 3-19. Print.
Norris, Bruce. Clybourne Park. New York: Dramatists, 2012. Print.
Sater, Steven. "Awaken and Sing." American Theatre. July/Aug 2007: 28-31, 76. Print.
Sater, Steven and Duncan Sheik. Spring Awakening. New York: TCG, 2007. Print.
Schechner, Richard. Performance Theory. New York: Routledge, 1988. Print.
Simon, Nina. The Participatory Museum. Santa Cruz: Museum 2.0, 2010. Print.
United States. National Endowment for the Arts. 2008 Survey of Public Participation in
the Arts. Washington: GPO, 2009. Web.
92
Wedekind, Frank. The Awakening of Spring, A Tragedy of Childhood. Philadelphia:
Brown Brothers, 1910. Print.